October 13, 2006
SSSSS : Returning to check up on things
Recently I had another opportunity to stop at the Bellmead Exxon, the subject of our very first edition of Super Shitty Service Station Spectacular.
This time the men's was out of order. Probably because someone shit out a volkswagon and tried to flush it down, along with 200 lbs. of toilet paper.
Which left the ladies. I'll be honest, my expectations were high even though I'd been trained to expect little from Bellmead Exxon. Ladies are supposed to be neat and discreet. However, this experience left me secure in the knowledge that y'all are some nasty bitches.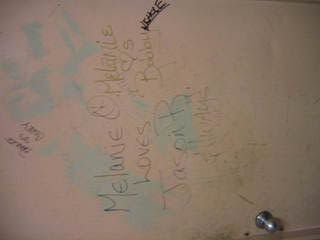 Melanie is a slut. Good thing Jason B. and Bobby don't go into the ladies room. Going to make things very confusing when Melanie turns up pregnant.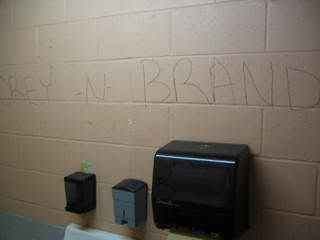 Corey -n- Brandi. How sweet. Declaring your love on the wall of the Bellmead Exxon ladies room is Klassy.
The hover toilet. You'll want to hover over it ladies, know what I'm saying?
Someone who feels genuinely sorry, as I do, for the people who have to live in Bellmead. Or are simply too stupid to leave.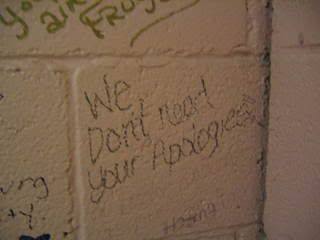 One of the inmates citizens of Bellmead got a little offended by the pity. It's pity, by the way... not an apology.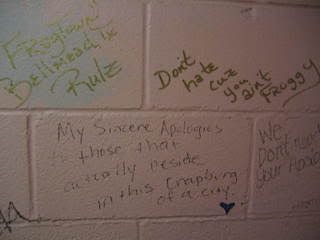 Other denizens of Bellmead chime in. They call Bellmead Frog Town. That seems about right.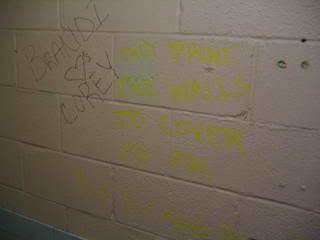 Again with Brandi and Corey. WTF? Trash. And what's with the highlighter?
Like a tatoo, things written on the wall of Bellmead Exxon ladies room can't be easily erased. Melanie did love Nathan. Now she loves Jason B. and/or Bobby. Melanie is a bit like a slot machine, I'm guessing.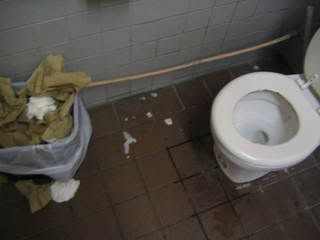 Yeah. Girls are gross.
Posted by mcblogger at 10:30 AM | Comments (13) | TrackBack
May 30, 2006
SSSSS : Another day, another shitty Exxon
Everytime I pull off the freeway for a pit stop the anticipation rises. Is this going to be like that place in Waco? Or will it be a nice station like the Valero at Great Hills and Braker? Recently, I've been overwhelmed by NICE GAS STATIONS. Seriously, it's like they have people, you know, actually cleaning the shit and vomit off the toilets almost as it erupts from someone.
Not at all what I'd learned to expect from service stations in Texas. I began to think my luck had changed, that somehow SSSSS had purged the curse that made my constant stops to pee a miserable testament to just how nasty guys can be. Then I happened upon this jewel, the Exxon at Solms Rd and the 35 in New Braunfels. OR San Antonio. No one really knows were one ends and the other begins.
Here is a map so you can avoid it in your travels. Officially, the address is 4340 S IH 35. However, I can tell you... it's the only structure at the intersection of the 35 and Solms Rd. You can't miss it, should you be in the neighborhood. As a side note, the people inside were VERY nice and tried to make up for the horrendous state of the station. Almost seems mean to rip on their station but honestly you need to be warned... and I got all these great pics!
Here's the front of the place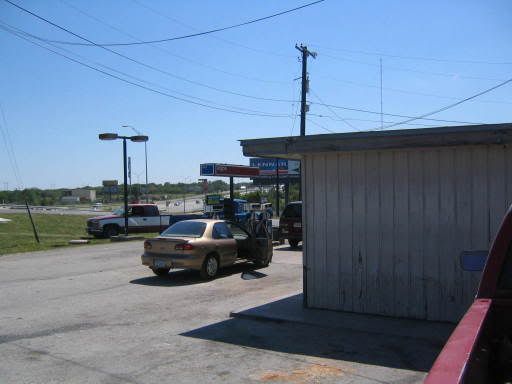 Tasteful, isn't it? Let's jump right in, shall we...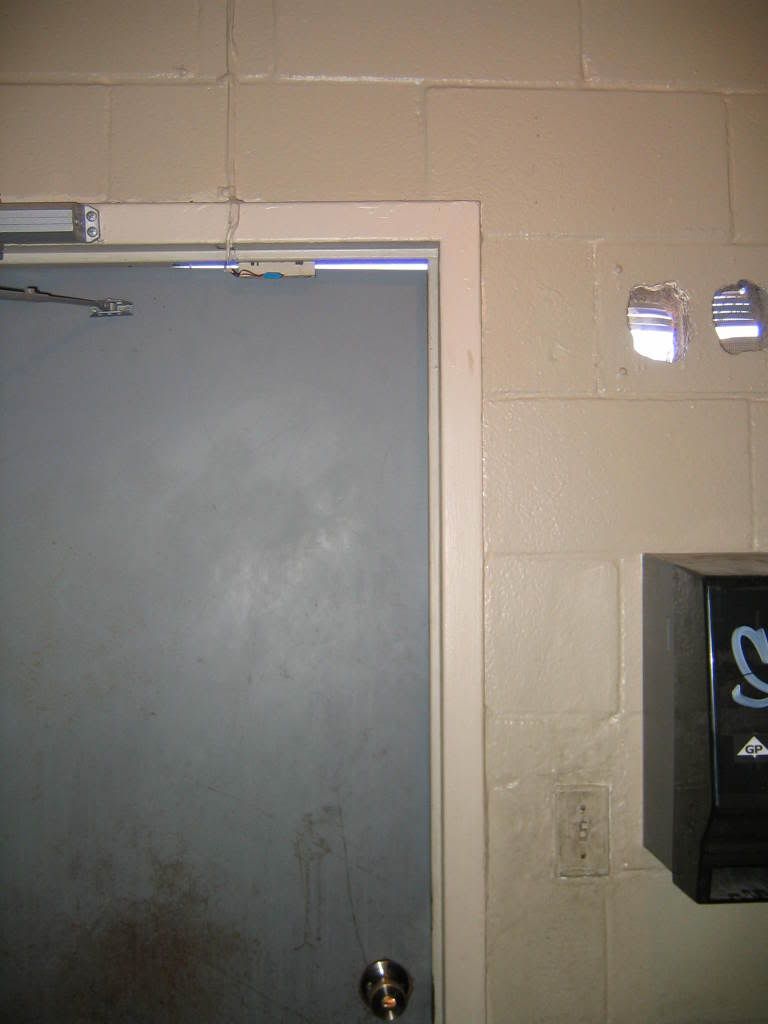 The door to the mens (and, I might mention, LADIES as well) room. The lock doesn't work. For it to work, the door would have to shut completely. That wasn't happening on this particular visit.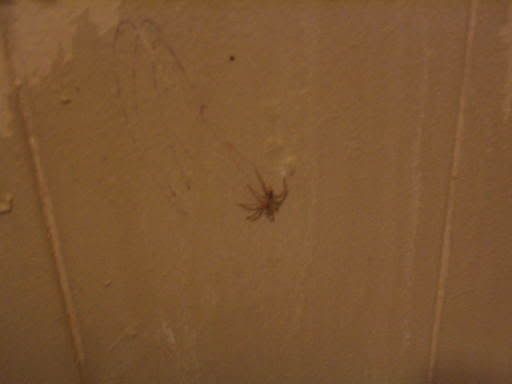 I thought about killing it as I hate spiders. I decided to let it live. So sad and pathetic that it called this home.
The toilet (recently used, natch). Guys... seriously. FUCKING FLUSH. It's less than 2 seconds out of your day you slobs.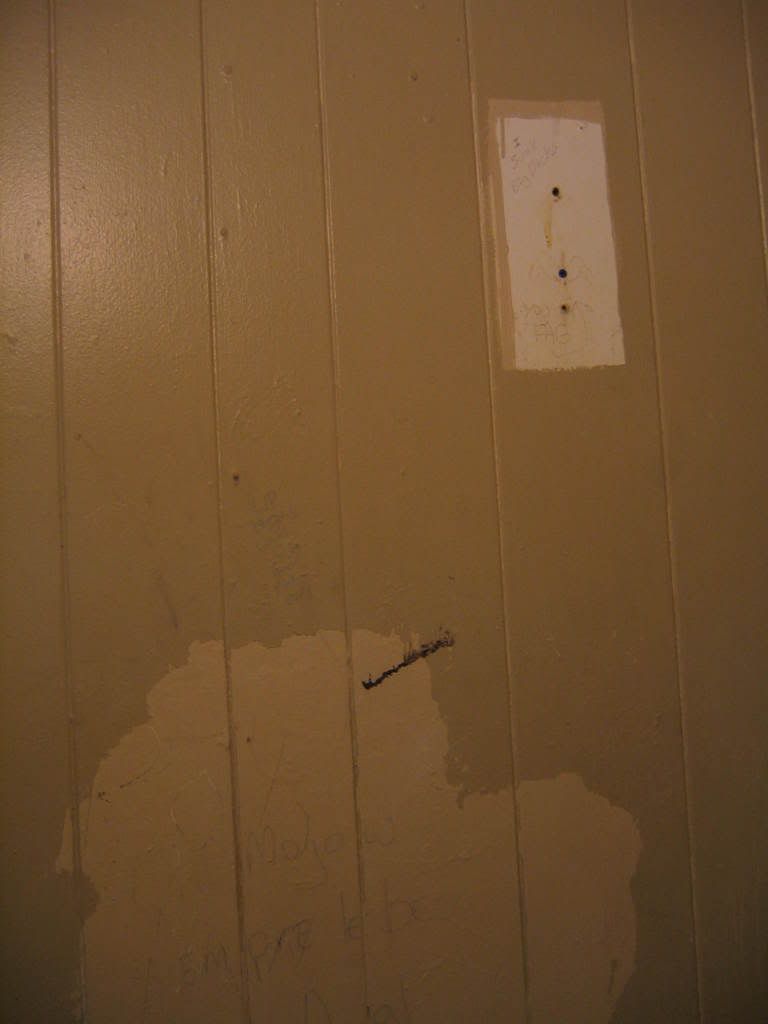 Can you read that? Neither can I. Write LEGIBLY you mooks.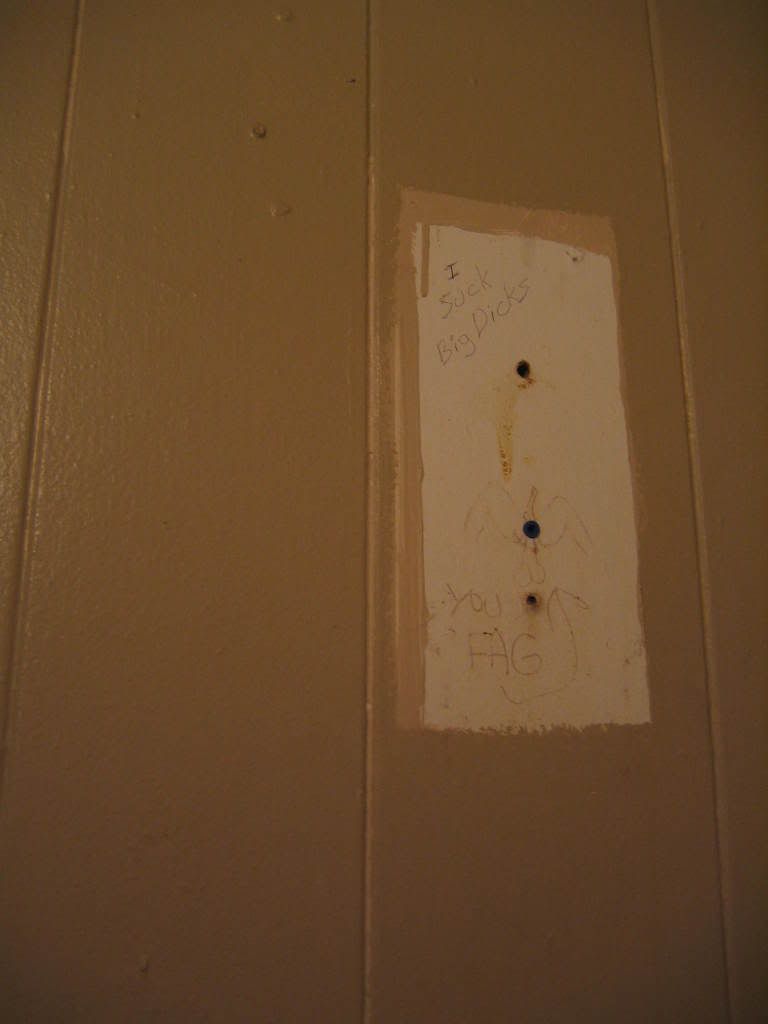 Oh... blow jobs and gays. Yep. This is definitely Hicksville, TX. The only people more obsessed than gay men with sucking cock are rednecks and preachers.



No paper towels. IN EITHER DISPENSER. Not that it would have really mattered since there was no soap. I opted for a handiwipe when I got back in my car.
This was a bad one but not nearly as bad as some of the ones I've been to. At least this time I didn't have to destroy my shoes because the floor was a puddle. What, like you've never done that?
Posted by mcblogger at 11:05 AM | Comments (4) | TrackBack
May 26, 2006
... in which we present another SSSSS
It's commonly accepted that there are only two constants in life... death and taxes. As any accountant can tell you, there are ways to engineer around the taxes. Death is a little harder to beat, especially if you're a kitten and Senator Herr Doktor Frist has recently adopted you. I believe, and experience has born out my belief, that there is another constant, the shitty service station. You know, the one you're forced to stop at because of an insistent bladder, despite the fact that you seriously think it could pose a substantial biohazard risk.
This weekend we bring you another installment of SSSSS. Not today. Don't even ask. We're far too busy.
Posted by mcblogger at 09:33 AM | Comments (0) | TrackBack
April 02, 2006
It's been a long time coming...
... and at last the wait is over! This edition of SSSSS we go off the beaten path to that hotbed of political activism... the campus of the University of Texas at Austin. While recently there, I happened on this bathroom in the UTC...
As you walk in, to your right, please note the elegant urinals and the messages above them. Note how the messages offer the finest in political discourse. The Republican thinking is truly worthy of Bob Jones University.
And the political discourse continues...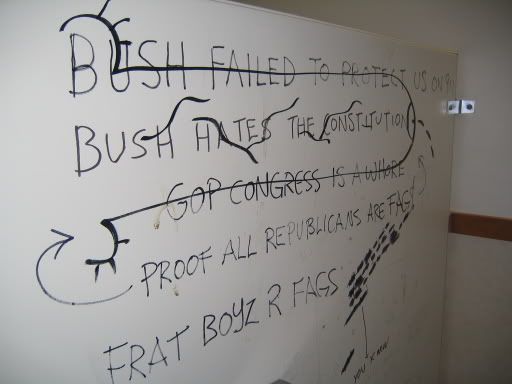 Oh, and the requisite nasty toilet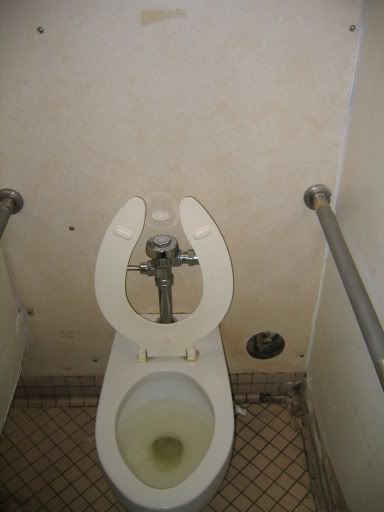 Still more of the great debates of our day. Granted, it's a little more intelligent than what you'd normally find at a trashy truck stop but still...
Please don't forget to washup... and thanks for visiting!
Yes, even on a college campus, it's possible to find a disgusting place to pee.
Posted by mcblogger at 05:41 PM | Comments (0) | TrackBack
March 31, 2006
That's right, Bitch... it's on it's way
Oh yeah, my problems with my computer have come to an end and soon there will be another installment of SSSSS. It'll be this weekend but just to whet your appetite for yet another nasty bathroom...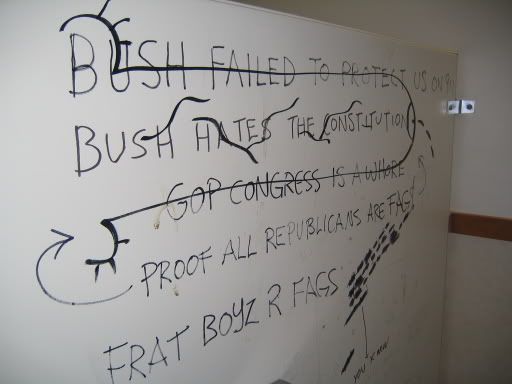 You've been patient this long, what's a few more days? Just focus on the inevitable... more pix of a shitty bathroom. Goodie.
Posted by mcblogger at 02:27 AM | Comments (0) | TrackBack
March 13, 2006
Of food and disk space...
Just FYI, the coq au vin turned out very tasty. I would enjoy being able to claim ' like everything I cook, it turned out beautifully' but we all know that's not true (or at least I'm sure many of you suspect as much). I'm posting the recipe after the jump...
As for the next installment of SSSSS, I know you're beginning to feel like a 16 year old girl who's just been fucked by a guy and is anxiously waiting for him to call because she thinks the sex 'meant something' to him. It did, just FYI... bragging rights is what it meant. Now go read some Plath, sweets...
Seriously, I'm going to be posting the next installment up soon but there is a little problem with disk space on my computer at the moment. Of course, I will be uploading everything onto the server, unfortunately, I can't load from my camera to the server without the intermediate step of putting them on my computer. Hopefully, I will be able to rectify the situation soon. Until then, just be patient damn it!

Mine SOOOOO didn't look like this picture...
INGREDIENTS:
Marinade:
3 cups dry white wine
1 cup (about 1 medium) chopped onion
1/2 cup (about 1 small) sliced carrot
1/2 cup (about 1 stalk) sliced celery
3 cloves garlic, chopped
2 tablespoons olive oil
1 to 2 tablespoons fresh whole parsley leaves
8 whole black peppercorns
1/2 teaspoon salt
6 pounds assorted chicken pieces (thighs, breasts, drumsticks)
Coq au Vin:
4 slices bacon, chopped
1 tablespoon olive oil
12 fresh or frozen small white onions, peeled
2 cups (about 5 medium) carrots, peeled and cut into 1-inch chunks
1 cup (about 2 stalks) sliced celery
3 cloves garlic, chopped
1 shallot, chopped
1/4 cup unsifted all-purpose flour
3 cups chicken broth
1 tablespoon balsamic vinegar
1 bay leaf
1 teaspoon chopped fresh thyme leaves
1/2 teaspoon salt
1/4 teaspoon ground black pepper
1 pound small red potatoes

DIRECTIONS:
1. Prepare Marinade: Combine white wine, onion, carrot, celery, garlic, oil, parsley, peppercorns, and salt in a 3-quart saucepan. Bring to a boil over medium-high heat. Reduce heat to low and simmer 5 minutes. Remove pan from heat and let marinade cool to room temperature.
2. Arrange chicken pieces in a large nonreactive container and pour cooled marinade over them. Cover and refrigerate at least 4 hours or overnight.
3. Prepare Coq au Vin: Remove chicken from marinade and pat dry. Strain marinade and reserve liquid; discard the vegetables.
4. In a 6-quart heavy kettle or Dutch oven, cook bacon over medium heat until crisp. Using a slotted spoon, transfer bacon to paper towels. Brown chicken parts in bacon drippings in Dutch oven. Remove chicken from Dutch oven and discard all but 1 tablespoon fat. Add olive oil and onions; sauté onions until lightly browned -- 8 to 10 minutes. Add carrots, celery, garlic, and shallot; sauté 5 minutes longer.
5. In a medium bowl, combine the reserved marinade liquid and the flour. Add mixture to the Dutch oven with the chicken broth, vinegar, bay leaf, thyme, salt, and pepper. Return chicken to Dutch oven and cook, covered, for 45 minutes. Add potatoes and cook until potatoes are fork-tender -- about 20 minutes more. Divide the mixture evenly among six serving bowls. Garnish each serving with reserved chopped bacon.
Posted by mcblogger at 03:36 PM | Comments (0) | TrackBack
February 11, 2006
New! Super Shitty Service Station SPECTACULAR
This is the first entry in what is bound to be recognized decades from now for it's brilliance and amazing clarity of vision. I say decades from now because there is NO way you bitches will think this is anything other than funny.
Trash.
Still, much like pearls before swine, I offer you SUPER SHITTY SERVICE STATION SPECTACULAR!
We've all been in some rather heinous bathrooms at service stations across the country. In fact, I seem to have a knack for finding them. Some say it's because I have a bladder the size of a shot glass. Others think it has something to do with the fact that I am never in the car without a 44 oz. Diet DP. Personally, I blame Scientology. Whatever the reason, and wherever I am, I manage to find some truly disgusting places to empty my bladder.
This first post takes place while on a trip to visit my parents in East Texas. See, my parents have mastered the art of guilt. In fact, they are currently writing the definitive book on the subject to be used by Catholic and Jewish parents everywhere. So, they're constantly on my ass to visit which leads us to the the trip back home and a stop at an Exxon Station in Bellmead, TX. This particular station isn't the nastiest I've ever been to, but it's pretty damn close. Ladies and Gentleman, Boys and Girls, I present to you the first Super Shitty Service Station, Bellmead Exxon.
Here's the outside of the store, the typical run down, small town Exxon...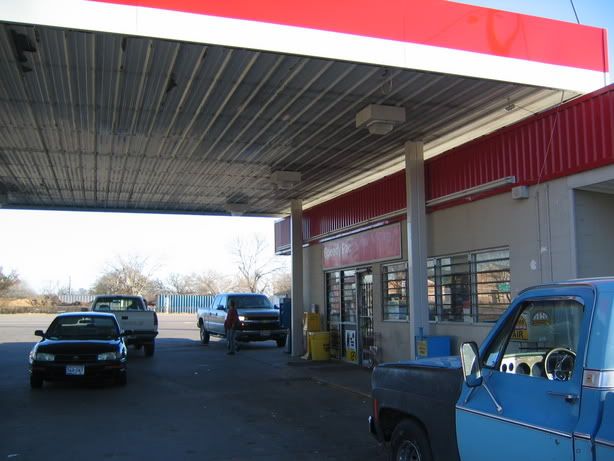 Here's the door with no lock. There was someone sitting in that blue truck outside the bathroom. I didn't think he'd join me, but a lock would have made me feel much better.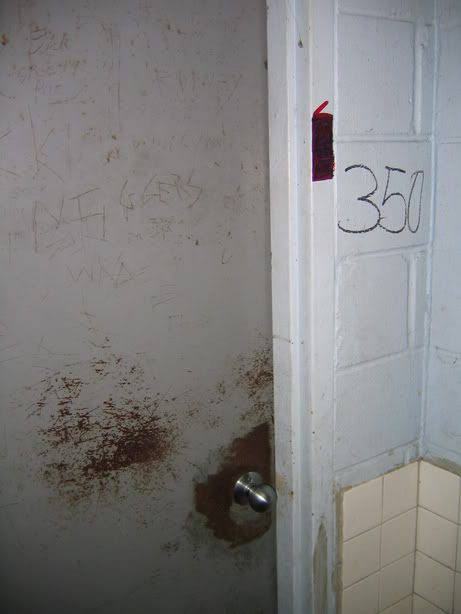 Someone loves them some Zepplin


And here's the rest in all it's putrid glory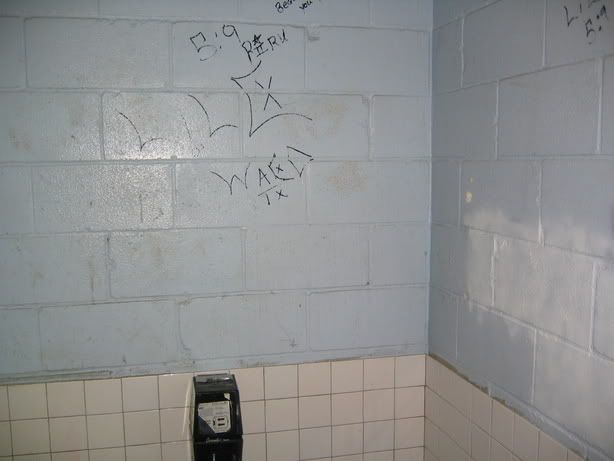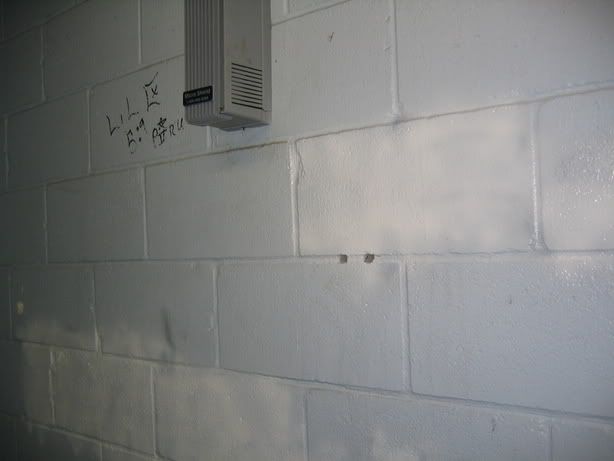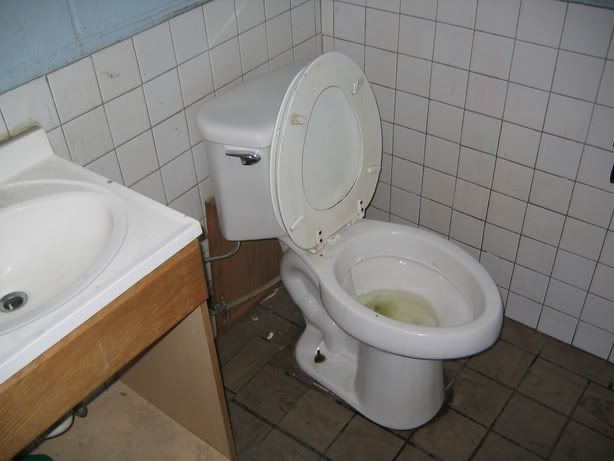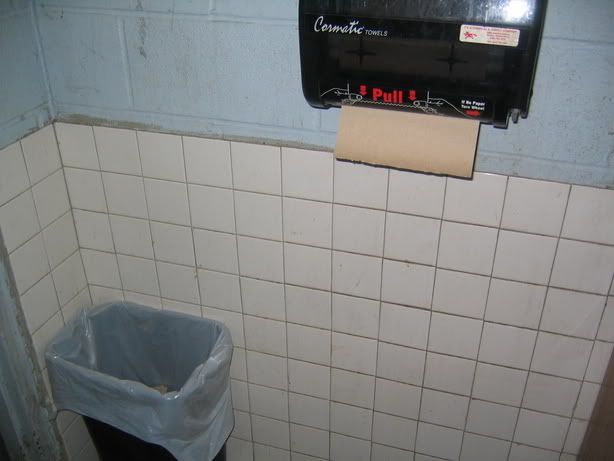 Oh, believe me, there's more on the way. This is, after all, Texas.

Posted by mcblogger at 09:47 PM | Comments (2) | TrackBack