July 21, 2009
Is it wrong? Tour de France edition
I just read this article from AP that makes it pretty clear Lance Armstrong isn't going to win the TDF this year. Which, frankly, made me so happy I'm ready to be NICE to people today!
Y'all HAVAGOODUN!!!!!
Posted by mcblogger at 10:41 AM | Comments (0) | TrackBack
August 14, 2008
Am I the only one...
... that wants to fuck Michael Phelps? Or at least use those ears as handles?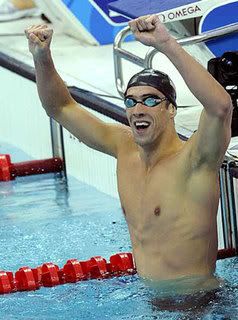 Don't look at me that way... you know damn well what I mean.
Posted by mcblogger at 03:40 PM | Comments (0) | TrackBack
August 25, 2006
Speaking of Questionable Naming
Speaking of questionable naming, check out what company is pursuing a $30 million bid for the naming rights of the National Football League Arizona Cardinals Stadium:
First, they shook up the Scottsdale establishment. Now the family behind the Pink Taco restaurant chain is rattling the Arizona Cardinals' cage.

Would you believe Pink Taco Stadium? That's what the Morton family, famous for creating the Hard Rock Café and Morton's Steakhouse, is saying they want to name Cardinals Stadium.

They are offering $30 million for 10 years as evidence of their commitment and are promising to pursue an agreement with the Arizona Cardinals.
For anyone who is familiar with NFL football, you are well aware that this would be the perfect name for the Cardinals Stadium. For those of you who are not familiar, here is a look from Wikipedia:


The Cardinals have historically been known as a chronic loser. They were NFL Champions in 1925 and 1947. However, the team has not won a league title since then, and thus currently holds the NFL record for the longest championship drought. The team has also won only two division titles (1974 and 1975) since their 1947 NFL championship. Despite being the oldest existing professional football franchise in the United States, the Cardinals have an all-time postseason record of 2-5 (not counting the 1964 Bert Bell Benefit Bowl)."
How awesome is it that one of the worst football teams in existence could theoretically play at Pink Taco Stadium?
Locally, the restaurant, named after a slang term for the vulva, caused a stir in Scottsdale when Mayor Mary Manross objected to the restaurant's opening in Scottsdale's Waterfront project.

Dalton said the team doesn't wanted to be associated with the Pink Taco brand, but wouldn't say exactly why.
Me likes.
Posted by grimace at 11:19 AM | Comments (2) | TrackBack
July 16, 2006
LaBare-ing Your True Beliefs
This story was just too great not to pick up and pick apart.
Austin tries to close male strip club
Officials in Austin, Texas, are trying to close down a male strip club that caters to women, arguing that LaBare lives up to its name.

The club's owner, Kevin Cox, told the Austin American-Statesman...
Wait. Stop right there. LaBare is owned by a man named COX?!?!? Fucking awesome. I think it should be pointed out right here and now that the ASS, I mean, AAS is owned by, yes, wait for it, COX Newspapers, Inc.
...the dancers do not go beyond the topless stage, with boxers or briefs covering their genital areas.
Who wears boxers at a strip club? Where are the thongs people? I wouldn't want to go see some ladies prancing around in granny's knickers! Hell, that's a better reason to shut the place down.
He describes the dance routines as fantasies in which the strippers do standup comedy or dress up as firefighters or police officers.
What is this, the YMCA? Or do I just really not understand what the hell straight women think is a 'hot night out at the strip club'?
But city officials say some of the routines imitate sex acts and the men sometimes bare their rear ends. Because the club is within 1,000 feet of the Texas School for the Deaf and Town Lake Park, that would be illegal.
The school for the deaf?!?! So just how bad is the dance music and that stand up comedy act? *eye roll* Somehow I'm really doubting that anyone is going to LaBare while class is in session. You know, because most people go to class during the daylight hours, and to strip clubs when it's dark outside?
Still, this story would be about 249% more hilarious if the strip club were within 1,000 feet of the Texas School for the Blind. Or if LaBare was the headquarters for Quest Personals phone division.
So here is my solution for the whole bootylicious problem with LaBare and the School for the Deaf.
Posted by spamburgler at 06:23 PM | Comments (8) | TrackBack
April 20, 2006
Virgin Bride Wanted; Pig Worshippers need not apply
Oklahoma, where the wind comes sweepin' down the plain ...
BRAY, Okla. - A man has caused an uproar in this southwestern Oklahoma town by advertising in an unusual manner that he'd like to pay for a virgin to be his bride.

A sign that 45-year-old Michael Thelemann posted in his yard Sunday said that he'll pay $1,000 for a virgin bride between the ages of 12 and 24.

Neighbors asked the Stephens County sheriff's department to stop Thelemann from displaying the sign, but Undersherriff Bob Hill said the sign was gone by the time deputies visited Thelemann's home.

That's because it was stolen, Thelemann said. He put up another sign Wednesday that didn't include the minor ages. The new sign also noted he's not interested in a "pig-worshipping, heathen, white-supremacist wife."
Posted by mayor mcsleaze at 01:16 PM | TrackBack
March 09, 2006
I wish I could quit ewe
Enough of this electoral bullshit. Let;s get back to the sort of stuff that made this country great. The Old West. Where men were men. And the sheep were afaid.
A Mesa Fire Department battalion chief was placed on administrative leave on Monday after being arrested in a bestiality case.

Police say Leroy Johnson went to a residence and knocked on the door of a home where a 13-year-old girl was staying home alone this weekend. When she didn't answer, he went into the back yard, police said, and took a lamb into a nearby barn.

"One could certainly ascertain that if you're in a barn and in a secluded area with a lamb and you're behind her and your pants are down by your ankles, then an unnatural sex act is probably occurring," said Lisa Allen of the Maricopa County Sheriff's office.
Posted by mayor mcsleaze at 09:12 PM | TrackBack
January 30, 2006
You can't chop your papa up in Massachusetts
Way, way back during the Great Folkmusic Scare the Chad Mitchell Trio had a hit with a ditty celebrating Bay State ax murderess Lizzie Borden...
But you can't chop your papa up in Massachusetts
And then get dressed and go out for a walk
No, you can't chop your papa up in Massachusetts
Massachusetts is a far cry from New York
Oh, such simple, innocent times those! It seems that the law about who may chop up whom is... evolving.
Dominatrix not guilty in bondage death

DEDHAM, Mass. - A dominatrix was acquitted of manslaughter Monday in the death of a man who prosecutors say suffered a fatal heart attack while strapped to a replica of a medieval torture device.
Then she summoned her boyfriend, who chopped up the body of the 275-pound retired telephone company worker before they dumped it behind a restaurant in Augusta, Maine, Nelson said. His remains have never been found.
Prosecutors said Asher confessed to police, but the alleged confession was not taped, and police investigators who testified said they did not save their notes from the interrogation.
Asher's lawyer, Stephanie Page, said there was also no DNA evidence recovered from the bathtub, and without a body there was no real evidence that Lord was even dead.
Posted by mayor mcsleaze at 04:20 PM | Comments (1)
December 05, 2005
My housemate's dog...
Completely random thought, but I thought I should share and solicit opinions from the 4 or 5 people out there who still have some of their own...
We're starting a new category today called Is it wrong? that will be used primarily to address retarded things done by the peeps here at McBlogger. Or the retarded things we are currently doing. Or planning today. I'm going to lead with
Is it wrong for me to refer to my housemates dog as Zoetrina Navratilova because she likes to lick carpet?
Please let me know via email or the comments section. There may be a prize for the best answer.
It's slow as hell today, or could you already tell that from this entry?

Posted by mcblogger at 11:48 AM | Comments (2) | TrackBack