October 07, 2009
Study Finds Brainiest States Voted For Obama
It must be true, it's on the internet...
The District of Columbia was at the top of the pack, thanks to the high amounts of fish and DHA omega-3-fortified foods and supplements consumed there, the quantity of fruits and vegetables its residents eat and the fact that many of the capital's residents are bookworms. (Interestingly, Alaska tied with D.C. in the rate at which residents read for personal interest.)

Also receiving high marks were Connecticut (ranked fifth brainiest overall), thanks in part to the quality of its education system; Massachusetts (ranked seventh), for its high rates of health insurance coverage; and New Jersey (ranked eighth), for having one of the lowest rates of psychological distress in the nation. The complete top 10:

1. Washington, D.C.
2. Maryland
3. Washington state
4. Vermont
5. Connecticut
6. Colorado
7. Massachusetts
8. New Jersey
9. Maine
10. New Hampshire
Yeah, we'll see who's laughing when the zombies attack.
Posted by mayor mcsleaze at 12:16 PM | Comments (0) | TrackBack
August 28, 2009
Thinking about the food baby...
...this will create makes me all warm and happy inside.
KFC's newest "sandwich" is a heart-stopping creation that seems literally to die for:

it layers two kinds of cheese with bacon and oozes "Colonel's sauce." The twist? Instead of bread, two deep-fried chicken breasts

round out the calorific concoction.

Dubbed the Double Down, the sandwich is in test markets so far, which means that only overeaters in Providence, Rhode Island, and Omaha, Nebraska, can get their greasy fill. The buzz is that it's got more than an entire day's worth of the recommended allowance for fat, cholesterol, sodium and protein, according to an analysis in the Vancouver Sun.
A couple of thoughts... one, what some have estimated to be a 1200 calorie disaster is actually only around 600 cals. Which will leave you enough room to go ahead and get the super megahuge assload of fries. Oh, and a soda that's actually run up with more corn syrup than water.
Second, why the fuck not Austin as a test market? Why do we always get some earth-mother vegetarian (sorry, Harry but this man can not live on black beans and Gardenburgers alone) bullshit that's NOT deep fried and doesn't come with delicious bacon? HOW MUCH MORE SOYA CHEESE WILL YOU BITCHES MAKE ME EAT?!?!!?
Now, much like a certain other restaurant I patronize a few times a year (I'll never tell you... ), I eat at KFC only 2-3 times per year. But with this on the menu, which I can only imagine is analogous to eating a baby angel, I will go a few times more. I couldn't make it weekly... I'd burn out and burning out on something like this, while decadent as a motherfucker, would ultimately make me sad. Like getting to the bottom of a really good bottle of scotch the same night you opened it.
Posted by mcblogger at 09:49 AM | Comments (2) | TrackBack
September 15, 2008
To the first person who brings me...
... a bottle of this will receive my thanks.
Açaí, pronounced ah-sigh-EE, is the basis of VeeV, a new 60-proof liqueur that is an infusion of the berries and some other tropical fruits. It is not too sweet, and would be a fine component in cocktails, even replacing the vermouth in a martini or the Grand Marnier in a cosmopolitan. It is about $35 in liquor stores, including Astor Wines & Spirits. A dollar of every bottle is contributed to the Sambazon Sustainable Açaí Project, which works to ensure that the harvesting of açaí does not harm the environment.
Fruity? Sure. But so am I.
Posted by mcblogger at 11:52 AM | Comments (0) | TrackBack
August 18, 2008
FDA, once again, dismisses a preponderance of evidence...
... and says that Bisphenol A, a plastic additive so common in food containers that it's found in the urine of 93% of Americans, is safe. But don't take it from me...
Posted by mcblogger at 01:41 PM | Comments (0) | TrackBack
March 11, 2008
Are you hungry?
Apparently, so is the rest of the world.
Farmers the world over are producing flat-out. American agricultural exports are expected to increase 23 percent this year to $101 billion, a record. The world's grain stockpiles have fallen to the lowest levels in decades.

"Everyone wants to eat like an American on this globe," said Daniel W. Basse of the AgResource Company, a Chicago consultancy. "But if they do, we're going to need another two or three globes to grow it all."

In contrast to a run-up in the 1990s, investors this time are betting — as they buy and sell contracts for future delivery of food commodities — that scarcity and high prices will last for years.

If that comes to pass, it is likely to present big problems in managing the American economy. Rising food prices in the United States are already helping to fuel inflation reminiscent of the 1970s.
UGH. Why is it that an article about tight commodities markets always has the doom and gloom quote from some guy who thinks the future is going to look a lot like Soylent Green? There's never the quote from the fella who points out that, historically, times of limited supply and relative scarcity have always been of relatively short duration and are always followed by long periods of overabundance?
As for needing two or three earths? Not at all. What we need is for the rest of the planet to start farming like us. Well, maybe not with all the pollutions and problems of the past but instead with the best practices of today. Let's see some modern farming in Africa instead of the poor ass subsistence farmer plowing a field with technology from the 1860's.
When you read the article, please note how much Nigerians love them some toast.
Posted by mcblogger at 10:35 AM | Comments (0) | TrackBack
March 09, 2008
Someone put Rachael Ray out of my misery
This weekend, Food Network will be showing (in prime time, natch) Rachael Ray Feeds Your Pets.
This hour-long prime time special combines two of Rachael Ray's greatest passions: food and animals.

Rachael prepares three homemade recipes for her beloved dog, Isaboo, who gobbles them right up!

Rachael Ray Feeds Your Pets entertains and informs as it brings practical advice about safe and nutritious food for your pets.
This bitch and her ersatz food drives me crazy. Anyone else remember her hot dog casserole? Or maybe you remember her other elegant hot dig dishes, hot dog salad or hot dog pizza. This all pales in comparison to her scrumptious ham dip. Girl do lover her nitrates, don't she? Be honest. Even looking at this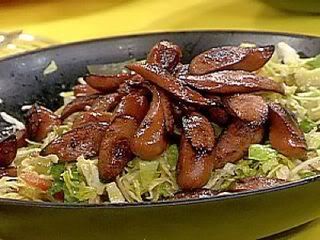 makes you wanna throw up a little, right?
If she feeds this kinda crap to humans, just what do you think she's going to feed her dog? The contents of the TB, soaked in EVOO? Why don't you watch it and tell me.

Posted by mcblogger at 11:56 AM | Comments (1) | TrackBack
February 29, 2008
If you bought me these I might like you more
This is a bag of Zapp's Spicy Creole Tomato Chips Spiked with Tabasco. These are, quite simply, the most delicious food since bacon. The best part? They have them at HEB AND Randalls!
And yes, all you aspiring candidates out there, we DO change endorsements for those who give us delicious things to eat or drink (like scotch!)
Posted by mcblogger at 10:57 AM | Comments (0) | TrackBack
June 19, 2007
A tale of two Czech restaurants
I've long been a fan of Czech Stop in West, Texas about 20 miles north of Waco. Good cookies, cakes and yummy kolaches filled with tasty sausage, cheese and jalapenos. I've often thought that no one's kolaches even come close. I was wrong. Between Columbus and LaGrange on HWY 71 are two gas stations practically side by side. One is called Hruskas. Stop there on your next trip to Houston from Austin or vice versa. The pan sausage, jalapeno and cheese kolaches are scrumptious and make the ones from Czech Stop look like something out of a box from Randall's.
Posted by mcblogger at 09:18 AM | Comments (0) | TrackBack