December 17, 2008
Chris Bell's Statement on SD 17
"I entered this race because I truly believe it is vital for us to change the overall direction of our state. Though we came up short tonight, I am very proud of the campaign we have run - a campaign that focused on the issues that matter to the people of Texas and Senate District 17.

I traveled across this district and visited with so many of its residents about the concerns they face. It only reinforced my belief that in order to create a brighter future for our kids, we must act now to implement real education and health care reform.

I want to thank all of my supporters and campaign volunteers who worked tirelessly to bring real reform to the Texas Senate. We could not have made it without your time, energy and commitment to this campaign and to the future of Texas."
Thank you for running, Chris. While the result may not have been what we desired, we can't thank you enough for stepping up on the plate.
Posted by mcblogger at 06:57 AM | Comments (0) | TrackBack
December 11, 2008
Help Chris Bell!
Don't forget, we have one more Democrat to elect! In SD 17, Chris Bell is fighting to beat some nightmare woman from hell who apparently casually conflates the Bible with the Constitution.
And no, it's not Cynthia Nutbar.
Needless to say, our work is not done until we put one more Democrat in the Texas Senate. Click here to donate. Click here to volunteer.
Posted by mcblogger at 11:57 AM | Comments (0) | TrackBack
November 14, 2008
Racist, homophobic and stupid (or, The Electorate)
There are two stories that are kinda funny from last week in the same way that a mother killing her children is funny. Which is to say, it's not really funny at all. It's more of a 'tilt your head in confusion' moment.
First off, while President-Elect Obama was winning Florida, a measure on the ballot to repeal an old FL law that prohibited Asians from owning property failed. No joke, a majority of voters in Florida voted FOR a black guy for President, then decided to keep Asians from owning homes. And minimalls.
The group's president, William Gheen, did not respond to e-mail messages seeking comment but Enos Schera, 81, who posted the message, said that he was "1,000 percent" satisfied that the law remained in place.

He is a founder of Citizens of Dade United, a Miami group opposing illegal immigration, and he said he knew the provision's history but hoped that keeping it on the books would encourage lawmakers to prevent all illegal immigrants from owning property.

"They're buying up the whole country," he said.
I guess it's kinda belaboring the point to remind Enos that for someone to buy, someone must sell. Unless we're talking about some branch of the Yakuza that's gone seriously off the reservation by buying residential real estate instead of their more usual activities.
And of course, a whole bunch of Obama supporters and Republicans got together and decided to keep the gays from getting married. IN CALIFORNIA. And Florida. And Arizona.
One step forward and a whole lotta steps back...
Posted by mcblogger at 11:14 AM | Comments (0) | TrackBack
November 13, 2008
Go help Chris Bell!
We still have one more race to win...Chris Bell's in SD 17.
Come to a meeting to see how YOU can help
Friday, Nov. 14, 7:00pm @ Pappas BBQ - 7007 Hwy 59S at Bellaire Blvd
Make sure that every precinct is represented by at least ONE person but the more the better!

Hope to see you there!!!
RSVP by replying to Bert Anson, SD17 Chair, at sd17hcdp@gmail.com so we are sure to have enough handouts

Questions: Bert Anson 713-667-5250 bertanson@yahoo.com or John Gorczynski 713-667-8990 johng@chrisbell.com

***If you cannot attend the meeting at Pappas BBQ on Friday evening, you can still contact the campaign DIRECTLY to help. (713) 667-8990, 4019 S. Braeswood @ Stella Link, 77025, 9:AM - 9:PM Even if you do not live in Senate 17, you can help.***
Posted by mcblogger at 12:58 PM | Comments (0) | TrackBack
November 11, 2008
Election Fallout Fun
McBlogger was to post this last week, however, HE saw fit to wait. So, I'm doing it. Most of you know I'm in Northeast Texas near Dallas. This is a letter I sent McBlogger the day after the election...
Yes, I am trying to keep my mouth shut today, and focus on the inner peace that winning brings. Already today I have witnessed every person I work with, save Lydia, audibly query whether pondering Obama's assassination makes you a bad person. Like it is really a question of whether you should want that. For real. Shellie stated that McCain won the popular vote until my search on yahoo corrected her. She said that she is completely floored by that. In fact, she also said that the only thing keeping her from opening a vein is that once somebody shoots Obama, then we will have Biden, whom she said was 'okay'.

Lunch was spent likening Obama to Lenin, Hitler, and Castro. When I informed them that his victory has been attributed to college educated white voters, Ted said that they did not take history. Ted stated that Obama is just like the "sand niggers that we are fighting overseas". The word nigger is very popular today. Doreen said that they just don't know. That they are voting in the now and not looking to the future. Of course she finds it plausible that Obama might be the antichrist. Oh, and socialist. I almost asked her what she thought a socialist was, but I thought it would turn ugly.

Sorry, just had to vent a little. I know I should just feel sorry for them. I mean, really, they loved Sarah Palin. Like, no joke. It just gets a little tough to take at times. Sad to say, but I was actually somewhat relieved when Shellie moved the conversation to an alarmingly cruel story involving her, Jack In The Box, and a short bus full of special needs children in helmets. Yeah, it was getting that bad. I think I am going to stay in my office this afternoon.
There you have it, a view from a county where the population is fighting common sense and what's best for the nation tooth and fucking nail.
Posted by barfly at 12:32 PM | Comments (2) | TrackBack
November 10, 2008
What NOT to do with your free time

Obama Win Causes Obsessive Supporters To Realize How Empty Their Lives Are
Posted by mcblogger at 12:12 AM | Comments (0) | TrackBack
November 08, 2008
Election map of the US by counties
Just look at all that lovely blue, even in the South...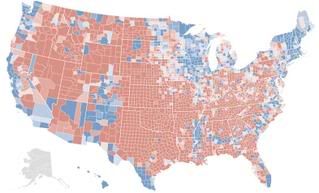 (via the NYT)
Posted by mcblogger at 01:30 PM | Comments (0) | TrackBack
November 06, 2008
Election thoughts and apologies
Just wanted to put something up regarding our rather light posting yesterday and today. For one thing, we've been busy. For another, we've still got a lovely case of cocktail flu. That tends to happen when you drink an entire bottle of scotch.
Anyway, there a few things we'd like to say we're happy about...
Maldonado in WilCo. We called this seat a long time ago, but the reality is that they threw everything they could at Diana and she beat it. But that's only part of the story... in almost every race Democrats competed in, they came close to winning or continued to build support.
Oh, yeah... and Richard Morrison is now a county commissioner in Fort Bend County.

There are a bunch more but I have a million things I have to deal with. So, enjoy your Thursday.

Posted by mcblogger at 10:28 AM | Comments (0) | TrackBack
November 04, 2008
Election results?
Seriously, K-T is WORKING this shit and I'll be buying him a drink for keeping up with this. We're having drinks. And crying over the Texas House. And our Congressional delegation.
Don't get us wrong. We're THRILLED with Congress and the Presidency. Just sad at how fucked up Texas is. The tendency is to blame the candidates. However, we KNOW who to blame. And some of you staffers need to know our knives are long.
Posted by mcblogger at 10:58 PM | Comments (0) | TrackBack
We're doing a dance for Liddy Dole...
... to bring on her defeat.
And Saxby Chambliss...
Posted by mcblogger at 06:55 PM | Comments (0) | TrackBack
PROJECTIONS - Warner in VA, GA too close to call
MSNBC just called VA Senate for Mark Warner. Eileen is wet like a water park. Also, they are calling Georgia too close to call which pisses me off since I want Saxby Chambliss to lose. Badly and early.

Posted by mcblogger at 06:09 PM | Comments (0) | TrackBack
Funny times at the Driskill and internal numbers
Team McBlogger (well, most of it) is ensconced at the Driskill having drinks and working the phones. Well, we're having drinks.
We also have some internal numbers...
Up 7 in Colorado 9 in Nevada 5 indiana 5 NC 5 Virginia 8 New Mexico 21 NH 18 mich 2 MO
Don't ask where we got them. We will KILL you before we tell.
Posted by mcblogger at 06:00 PM | Comments (0) | TrackBack
Teh Market... it speaks...
It says it lurves some Obama

Posted by mcblogger at 10:14 AM | Comments (0) | TrackBack
November 03, 2008
Roundin' Up The TPA
It is Monday, November 3, 2008. In less than 24 hours, the United States will have elected a new President and Texas will send Rick Noriega to the U.S. Senate and a host of new State Representatives and Senators to Austin.
In the meantime, here is your Election Eve edition of the Texas Progressive Alliance's weekly roundup.
Bradley from North Texas Liberal lets us know that you should be careful not to lose your vote if you have to use an electronic voting machine, like TV personality Oprah Winfrey almost did.
jobsanger believes an avalanche of new voters could produce some surprises on election day, including the possibility that Georgia will turn blue, and even though an amazing 23% of Texans think Obama is muslim, a huge turnout in the urban areas and South Texas could produce some surprises in Texas, and early voting totals show this is happening.
Justin at AAA-Fund Blog is glad that 60% of Asian Americans polled in Harris County support the Democrats. He also is glad that voting this year was not a chore as it often feels. Justinurges everyone to support AAA-Fund's five Texas endorsees: Rick Noriega, Al Green, Nick Lampson, Hubert Vo, and Sandra VuLe.
It's been an exciting week for Democrats. First up was Hank Gilbert asking a Cornyn staffer to take a walk from a Rick Noriega event. Then there was Texas Blogger (and current TPA Chair) Vince Leibowitz spanking the Mike McCaul campaign for their amateurish content theft. Finally, we at McBlogger received word that Dr. Dobson had traveled to the future and didn't like what he saw. Which is something you'll probably love.

The Texas Cloverleaf notes that
Barack Obama leads John McCain in fundraising in Denton County of all places! In nonpartisan news, while Obama is raising money, Ron Natinsky is spending it. The Dallas City Councilmember is spending your tax dollars on trinkets bearing his name. In shocking news, a 9 year old is electrocuted by a McCain-Palin yard sign. No, we couldn't make this stuff up if we wanted to.

Vince at Capitol Annex tells us how State Rep. John Davis (R-Clear Lake) is sending out his wife to attack Netroots backed candidate Sherrie Matula (D-Houston). In return, he opens John Davis' own personal Pandora's Box and tells the world about Davis' record.
The Texas Cloverleaf notes that Barack Obama leads John McCain in fundraising in Denton County of all places! In nonpartisan news, while Obama is raising money, Ron Natinsky is spending it. The Dallas City Councilmember is spending your tax dollars on trinkets bearing his name. In shocking news, No, we couldn't make this stuff up if we wanted to.
After record breaking early voting in Williamson County, Eye On Williamson is ready for the general election. The HD-52 race has been the focus of attention this election cycle. The issues concerning voters in HD-52 include the Trans-Texas Corridor, insurance reform, and the economy. No matter the issue Diana Maldonado is the best choice in HD-52.
WhosPlayin looks at the early voting turnout in Texas' 26th Congressional District, and thinks Ken Leach just might be able to upset incumbent Michael Burgess. WhosPlayin asks you to guess whether this incident of political suppression happened in Liberia or Texas. (Hint: It was Harris County, Texas.) Most of all, WhosPlayin wants Denton County residents to get to the polls and VOTE!
Off the Kuff takes his last looks at early voting, and makes fun of some whining by Republican enablers Texans for Lawsuit Reform.
El Paso is going Democratic in a big way. As El Paso goes so should South Texas. CouldBeTrue of South Texas Chisme is looking for a blue, blue
Thanksgiving!
BossKitty at TruthHugger is laments pre-election jitters, Oh The Stress Of It All - Op Ed, and how many years will it take to recover because, Divided We Fall.
Neil at Texas Liberal says think about the future when you vote. Don't be like Galveston voters who in 1886, 14 years before the 1900 hurricane, voted no on building a seawall. Texas Liberal also offers up a post on how Texans have voted for President since 1948, and, finally, submits for your review some election predictions.
Over at TexasKoas, TxSharon tells us that somebody is finally looking at the Barnett Shale Gas Wells . Its called accountability and its about time.
boadicea provides some excellent resources/talking points on the ACORN non-story. Give a look.
Txsharon kicks off a lively debate on the the training of 4000 troops in the use of non-lethal weapons for possible domestic use.
Texas politics is screwed up for at least two obvious reasons this week: because Tom Craddick has his debates sponsored by AT&T -- complete with a lobbyist on the panel, and because 23% of all Texans think Barack Obama is a Muslim. The sad details at Brains and Eggs.
Nat-Wu discusses the long tradition in the Republican of crying wolf about voter fraud in an effort to minorities from legitimately exercising their right to vote, and Xanthippas rips into anti-woman bloggers for brewing up a faux controversy over their DART bus ads.
Posted by mcblogger at 10:22 AM | Comments (0) | TrackBack
November 01, 2008
Harry Balczak's Reminder To You People, Part 3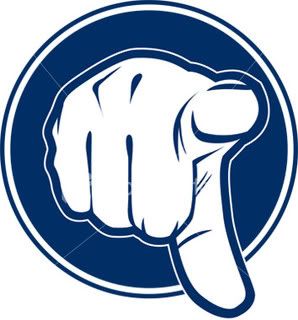 Well folks, I guess it's about time for the finale to this series of installments. Well, maybe not the final finale, because if I know You People, you're going to need continual reminders about all the boneheaded political choices you're known to make.

Suffice it to say this will be the final installment in the Election '08 Trilogy of the Harry Balczak's Reminder to You People Series (A Balczak Media, L.L.C. Production, all rights reserved, void where prohibited,...and other boilerplate stuff you've been programmed to scan past without reading). I'll admit, this one's tough to write, because to your credit, a lot of You People have really come around lately in a way I didn't think was possible.

What was it? The negative balance in your 401k giving you nightmares of destitution in your Golden Years? Imagine the shame of having to wash dishes to cover your bill at Luby's, or the torment of having to order biscuits WITHOUT GRAVY at the Cracker Barrel (incidentally, I like to call that establishment "the Honky Bin" - get it? tee hee hee). Winnebago Schminnebago indeed.

Or maybe it's that an economic shitstorm of these proportions brings into sharp focus what most of You People usually can't see: that most of us are much closer to being jobless and broke than we are to being insanely wealthy and "burdened" with a punishing 38 percent tax rate ("ummm, lessee.....point thirty-eight times unfathomable fuckloads equals.....shit! i'm going to have to start rationing my Dom Perignon baths! There goes my plan to buy a plumbing company, too....").

Erie-guardless, You People have given me a glimmer of hope. And for that, I thank you. Just the same, I'm not letting you off that easy. Because you see, even as you look hopefully to the future under new leadership, THE CURRENT LEADERSHIP (if you can call it that) IS WORKING 24/7 TO PERPETUATE AND WORSEN THE PROFOUND AND HISTORIC UPFUCKEDNESS OF THE STATUS QUO.
Hence the old saying, "Elections have consequences". In this case, we can thank You People for the consequences.

This administration is like the girlfriend/boyfriend you never should have gone out with in the first place, and never should have stayed with after you caught them cheating, and then they leave you an STD on their way out the door so you'll always remember them. There is a giant Q-tip in our nation's future, is what I'm saying. And it's going to sting a little, my friends (damn you, John McCain, for permanently ruining a perfectly good rhetorical crutch).

So You People should remember, as the take-away lesson of this decade, that qualities like competency, intellect and a genuine concern for the public good are positive qualities to have in a president. Hell, if You People made every day choices according to the same principles you used to vote with back in 2004, Joe would be your Plumber. And there would be a Port-a-John in your backyard next to the kids' swingset. Which would be in a collapsed heap of rusting aluminum because you didn't cotton to those fancy assembly instructions written by eggheaded elitists who make lousy drinkin' buddies.

But let's not dwell in the past. For now, I'm content to remind You People who have come around that you need to get your ass out there and get it right this time at the polls. As for the rest of You People, don't forget to cast your vote on Wednesday, November 5th.
Posted by hbalczak at 12:50 PM | Comments (0) | TrackBack
October 30, 2008
RSB 2008 : Ticket information
I know you're excited about Red State Blues! We just got an update from the promoter and you can, apparently, get tix at TCDP coordinated HQ (11th@35) for $25. Online there's an additional charge so if you have a chance I'd run over to TCDP and pick up your tix!
Posted by mcblogger at 12:54 PM | Comments (0) | TrackBack
Vouchers... again.
Like cockroaches, vouchers keep popping up despite the best efforts of EVERYONE to get rid of them. WHY? Because James Leininger wants MORE government money than he already gets. In late 2006, it was Sen. Shapiro who was talking about this. Now, it's Bill Keffer in his quixotic quest to retake the seat he lost to Rep. Allen Vaught.
Let's be clear... these vouchers will not be enough, on their own, for most families with ASD kids. Further, it's the responsibility of the district to provide for special needs kids, and children with ASD fall into that group. However, they often don't have the money to create the learning environment these parents demand. BECAUSE PUBLIC SCHOOLS ARE UNDERFUNDED. THERE is one part of the reality these parents don't want to face. The other is that even with a voucher, they still wouldn't be able to afford the school.
This honestly pisses me off because we need to be doing better for ALL TEXAS CHILDREN, regardless of their abilities. Bill Keffer, time and again, has done everything he can to make that impossible. It's high time we stop worrying just about individual kids and start focusing on solutions that will help all kids.
Posted by mcblogger at 01:08 AM | Comments (0) | TrackBack
October 29, 2008
Stand up for Sherrie!
Coby has a good run down on John Davis than and now... and, I gotta tell you, it's a good piece on someone who has absolutely no integrity. And would say anything to stay in office.
He'll also take money from anyone to stay in office. Which makes him something of a poliwhore.
Help Sherrie Matula today to send Davis back to Houston next week.
Posted by mcblogger at 10:46 AM | Comments (0) | TrackBack
October 28, 2008
Oh, I feel hella bad
for this bitch's husband
Overfed and under read, the perfect southern fried cracker combo. And, if I may speak directly to little miss Freakeyes McFatterson, rather than make up ridiculous excuses why not just say "I'm not voting for That One". It'll be easier on you.
And for the love of all, would you please lay off the Ho-Ho's? Maybe go out into the world and find a job that pays you something so as to take a little pressure off your poor husband?
Sorry about that... apparently, the fuckballs at Jumpstart Productions removed the video from YouTube. It was PBS, yo! What, did they think they wouldn't get paid?
Posted by mcblogger at 01:37 PM | Comments (0) | TrackBack
Hank has some fun with Cornyn's guy
Hank Gilbert was campaigning for and with Rick Noriega in East Texas yesterday. While at the Smith County Democratic Party HQ, Hank noticed a guy with a video camera. Hank asked who it was and he was told that the guy worked for the Cornyn Campaign.
Which tickled Hank and when Hank walked up to the guy and asked him to leave, the idiot actually asked if he was serious.
No, the poor guy didn't end up at Mother Francis with a boot stuck up his ass. But he sure as hell didn't stay in the office at the Smith County Democratic Party.
This little story made me realize
1) That Hank Gilbert STILL rocks!
2) That John Cornyn is scared to death of Rick Noriega.
Posted by mcblogger at 10:23 AM | Comments (0) | TrackBack
RSB 2008 : A Concert For Change
In what has been an historic year, Austin has stood out. We have been one of the largest, most supportive communities for Democrats in the country but this year the bright, shining star in the center of Texas got the attention of the nation. And Red State Blues is continuing that by sponsoring A Concert For Change next week.
Red State Blues
A Concert For Change
A one night concert event that fuses the temperature of our historic political times with modern music for all to celebrate!




Austin Music Hall
Monday, November 3rd
Doors Open for General Admission? at 7:00 pm




Featuring
Sharon Jones and the Dap Kings
James McMurtry
Brownout
General Admission $25.00?
(tickets can be purchased online)




VIP Reception Happy Hour
5:30pm-7:00pm
Musical Performance by Paris 49 with Special Guest Chrysta-Bell
Complimentary hors d'oeuvres and cocktails
VIP Reception ticket to concert is just $75.00
(tickets can be purchased online)
All proceeds will benefit the Travis County Democratic Party and the Sims Foundation, two very worthy causes both seeking to make Austin (and Travis County) a better place.
For more information visit Red State Blues Concerts.
Posted by mcblogger at 09:20 AM | Comments (1) | TrackBack
Roundin' Up The TPA
It's time for another edition of the Texas Progressive Alliance Weekly Roundp-Up. This week's edition is compiled by Vince from Capitol Annex.
Oh, and don't forget to vote early!
The Texas Cloverleaf helps spread the truth about ACORN.
McBlogger takes a look at our own Congressman from Clear Channel, Mike McCaul, and discovers that he is indeed different.
jobsanger points out the dysfunctional aspect of this year's Republican campaign, first in Palin Disagrees With McCain, and then in Repubs Can't See The Reality.
BossKitty at TruthHugger is sad to recognize that while America's Foreign Policy Suffers - Unemployment Soars - Religion Goes Toxic America's short attention span has been grabbed by personal survival and courted by political and religious philosophies.
As early voting begins Eye On Williamson charts the early voting numbers in Williamson County. HD-52 Democratic candidate Diana Maldonado continues to rack up the endorsements and launches her latest ad, taking on the insurance companies and high homeowners insurance.
Neil at Texas Liberal posted the second part of his Who I Would Have Supported For President series. The latest entry covered the years 1824-1852.
Gary at Easter Lemming Liberal News is keeping the early voting info up for the voters who need it but did notice that all the PUMAs have come home to Obama.
Vince at Capitol Annex notes that the Texas Association of Business has finally pleaded guilty in connection with its 2002 violations of Texas' campaign financing laws and that State Rep. John Davis (R-Clear Lake) and State Sen. Kim Brimer (R-Fort Worth) have taken big bucks from a company the TCEQ fined more than a quarter million dollars last week for polluting.
CouldBeTrue from South Texas Chisme has some hints about how to get your specific sample ballot. Be prepared!
Off the Kuff analyzes the high level of early voting in Harris County so far.
XicanoPwr analyzes the GOP attack on ACORN and the disenfranchisement of thousands of voters carried out by Paul Bettencourt in Harris County.
John McCain describes the economy as a drive by shooting. The Texas Cloverleaf calls it a whack job.
North Texas Liberal reports on Sarah Palin's $150,000 shopping spree at Neiman Marcus and Saks Fifth Avenue, and discusses why it could signal the end for her and John McCain's faltering campaign.
As Democrats in Harris County appear on the verge of something historic, the trends in the extraordinary early voting turnout portend the same blue surge that the rest of the country
is about to experience. PDiddie at Brains and Eggs has the deets.
refinish69 at Doing My Part For The Left wants everyone to say thanks to Barbara at Avenue Gallery- NOT!!!
nytexan at Bluebloggin points out just how McCain and Palin are alike with their FEC violations. We've gone from 8 years of the "emperor has no clothes" to "the empress has new clothes." The GOP is priceless. Palin is following in McCain's footsteps for FEC violations, what a pair of mavericks. CREW Files FEC Complaint Against Palin. And, for McCain, apparently he and Palin have an affection for Russia; McCain's New FEC Violation: Asks Russia For Campaign Money.
George at The Texas Blue wants you to know your job's not over just because you voted. We look at the early voting excitement across the state and remind you that it's critical
to tell your friends and family to vote as well!
Posted by mcblogger at 09:08 AM | Comments (0) | TrackBack
Divided Nation?
No, Richard Schiff, your wife is just an idiot.
Posted by mcblogger at 12:09 AM | Comments (0) | TrackBack
October 27, 2008
Someone take Palin's Neimans card away
The most irritating thing about this whole 'Palin+Neiman's+Sak's' (other than the fact that Madam Hick managed to find a Neiman Marcus) is that it's given Biden another reason to remind everyone that he's an average Joe.
It's funny to note how rats always jump from the sinking ship. We can't wait to bring all our old hits back when Governor Palin decides to reinvolve herself in politics in 2012 or 2016.
Posted by mcblogger at 09:50 AM | Comments (0) | TrackBack
The Crystal Method ft. Obama
CM has remixed Now Is The Time and incorporated Sen. Obama's acceptance speech. Download it for free here.
Posted by mcblogger at 12:28 AM | Comments (0) | TrackBack
October 26, 2008
Tator-tot assaults self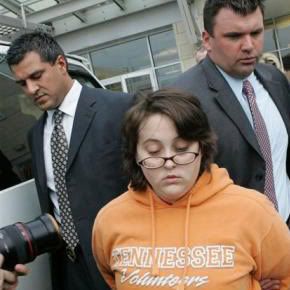 This is 20 year old Ashely Todd. She's a College Republican working for McCain in PA. She claimed she was assaulted by an Obama supporter but as it turns out, she was lying like the dog she is.
The sad part, she's from Texas. The good part (for all you straight boys) is that she's not in Texas.
Bless her heart!
Posted by mcblogger at 10:58 AM | Comments (0) | TrackBack
October 25, 2008
Roundin' Up The TPA
It's time for another edition of the Texas Progressive Alliance's weekly round-up. This week's round-up is compiled by Vince from Capitol Annex.
The Texas Cloverleaf took part in Blog Action Day this past Wednesday. Find out how you can combat poverty in your neck of the woods.
Bay Area Houston listed the fines for State Representatives and Senators issued by the Texas Ethics Commission in 2007 and 2008. Enjoy!
jobsanger discusses voting and registration. He says the E-Voting Can't Be Trusted without a paper trail, and ACORN Is Not Committing Fraud in their effort to register over a million new voters.
Vince at Capitol Annex notes that State Rep. John Davis (R-Clear Lake) is misleading voters about his poor record on education in his newest mailer, and that the mainstream media is calling John Cornyn's performance in the final senatorial debate "less than senatorial."
In the first of a series of posts on past presidential elections, Neil at Texas Liberal offers up Who I Would Have Supported For President 1788-1820.
WhosPlayin goes off on a Republican County Chair who thinks a candidate's sexual preference is more important than the substance of his ideas.
Off the Kuff takes a look at why some people won't be able to cast their ballot during the first few days of early voting.
CouldBeTrue of South Texas Chisme wants a fair election without Republican voter suppression and questionable electronic voting machines.
WCNews at Eye On Williamson posts on the fake controversy about voter "registration" fraud, Gone nuts about ACORN. And Diana Maldonado released her first TV ad this week, HD-52: Diana Maldonado is on TV, "Texas' Comeback".
Now that McBlogger has torn him a new cesspool, Joe The Plumber's fifteen minutes of fame are OVER
North Texas Liberal dissects Obama's wide lead on McCain in the polls and the projected electoral map. Also, former Secretary of State Colin Powell endorses Obama for president. (Start following us on Twitter for mini-updates and breaking news!)
North Texas Liberal dissects Obama's wide lead on McCain in the polls and the projected electoral map. Also, former Secretary of State Colin Powell endorses Obama for president. (Start following us on Twitter for mini-updates and breaking news!)
Gary at Easter Lemming Liberal News has put up his Early Voting Info post but also announced he is rapidly becoming a clueless Cassandra.
BossKitty at TruthHugger is sad to recognize that Sex Scandals, Scams, Phishing and Your Bank Account are signs of deeper disorders. Power, Money and Sex are hopelessly intertwined with EGO.
Justin at AAA-Fund Blog laments the loss of Gordon Quan as a future candidate.
Burnt Orange Report takes a look into the numbers of the latest poll in the U.S. Senate race and tells why it might be even closer than it looks.
Over at TexasKaos, fake consultant discovers a Gaint Load of Hooey in one of THOSE emails. Just for fun, he investigates the "facts". The result is an education in how desperate the McCain-Palin crowd have become.
Posted by mcblogger at 12:26 PM | Comments (0) | TrackBack
October 23, 2008
You SUCK : Albert Gonzales Edition
You may have heard that Albert Gonzales, who lost to Karen Huber in the Democratic Primary, decided to endorse Libertarian Wes Benedict. If you were one of the, like, 20 people who know who Albert Gonzales AND Wes Benedict are.
We at McBlogger would just like to let you all know we think sour grapes suck. And so does Albert Gonzales.
Karen DID beat you, Albert and she'll win the general. And you'll still be sitting there, sucking.
Posted by mcblogger at 09:18 AM | Comments (4) | TrackBack
October 22, 2008
Things that you can tell just by looking at polls
I gotta tell you, I'm pretty sick of this cycle. I'm tired of the inept people running the online portions of the campaigns who have decided to masturbate by sending 20-30 emails. A DAY. This long ago stopped being communication and has become polivomit.
Take the latest from the Obama campaign imploring us Texans to go to Ohio. Or New Mexico. As if Texas was solidly red and not at all in play. Obvs, it was written by someone who has no idea WTF is going on here, how close things are in Lege races and good local races around the state are looking.
Of course, while I'm irritated about all the emails from the campaigns, I'm even less tolerant of all the puma garbage coming over...
As a former Clinton supporter, y'all can go fuck yourselves. Slowly. With a telephone pole. Seriously, you may not like Obama but making shit up about him is just goddamn stupid. Even dumber is using the goddamn NY Post as a source. And your defense of Joe The Plumber was laughable. Seriously. The only reason the media cares about old Joe is because McThuselah kept using it over and over again in the debate. Unfortunately for McThuselah, his campaign didn't bother to vett him beyond the 'he doesn't like Obama' stage.
All this campaign garbage is a necessary evil. You have to win if you want to govern. However, we can't ever forget that the right is to blame for the mess we're in. The right got what they wanted, control over a major political party. They used this power, along with some help from some stupid Democrats and more moderate Republicans, to create the most business friendly environment since the robber barons. Ideologically, the right won and we've had 30 years of concentrating wealth at the top, stagnate wages and a deteriorating standard of living. Now we're at the point where tax cuts won't work to stimulate the economy... and no one is buying the bullshit.
And no, Grover, this wasn't the failure of Bush. It was the failure of you, your friends and your desire to put ideology over reality.
So, here I am realizing that the emails aren't done quite yet and that, in the end, they irritate me less than Grover Norquist.
Posted by mcblogger at 09:28 AM | Comments (0) | TrackBack
October 21, 2008
Good news in CD 10
The Statesman has a good piece up about just how competitive CD 10 is...
Now Democrats are giving McCaul his toughest challenge yet in the form of Washington County lawyer Larry Joe Doherty, the former star of a TV courtroom show.

McCaul's district, which includes much of northern Travis County, stretches east along U.S. 290 to the western suburbs of Houston. Doherty can expect to run well in Democrat-friendly Travis County but will need to eat into McCaul's sizable advantage in the conservative areas near Houston and between the two big cities.
Given Larry Joe's roots in the Houston area, it's likely that McCaul's advantage there will be cut down significantly from 2006. If the numbers hold, it should be enough (if LJD can hold on to Ankrum's voters in 2006) to elect LJD.
Of course, this will help...
McCaul is an engaging, interesting former prosecutor with the U.S. Department of Justice. But his low profile and support for so much of the Bush administration program over his past two terms makes him an ill fit for Austin. That's one of the reasons we are endorsing Larry Joe Doherty for this seat.
This is a particularly interesting endorsement given The Statesman's support in the past for McCaul. Of course, most of that was driven by the execrable Rich Oppel who lived in McCaul's colon when he was in town.
Posted by mcblogger at 11:53 AM | Comments (0) | TrackBack
But, Senator McCain! She IS a liar!
Click here for Sen. McCain's latest race baiting piece of filthy advertising. It's what prompted me to wonder exactly HOW Senator McCain could claim Senator Obama was out of bounds for calling Governor Palin a liar. She DOES lie. It's been well documented and she continues to do it.
I think what's really eating McSame is that a black man is telling the truth about a white woman. The reality is that she's incompetent and a liar. Of course, lying and philandering is nothing new to John. Just ask his first wife.
Time to put the n*gger in his place, right Senator McCain? I know how you can pull yourself up! Talk some more about your imprisonment. We've not heard nearly enough about that and why you think it qualifies you to be President.

Posted by mcblogger at 11:04 AM | Comments (0) | TrackBack
October 16, 2008
Peering into the future
With all the hubbub and anxiety surrounding the election and the economy, some recent accomplishments in time-travel technology have been overlooked. It is now possible, through the magic of YouTube, to peer into the future, if only for brief moments.

For example, here's a snippet showing Senator McThuselah a few years after his embarrassing landslide loss in next month's election. Apparently, he gets out of politics altogether and becomes a film producer.
What's really impressive about this technology is that it even shows alternative future scenarios! Apparently, in a parallel future, McThuselah snaps in a major way and winds up in jail, where he is visited in jail by his friend, G. Gordon Liddy, who apparently decides to start wearing a toupee in the future
...or, maybe he has a total change of heart about the environment and becomes a leading advocate in the treehugging movement?
It works in reverse, too! Here he is telling his first wife he wants a divorce
Posted by hbalczak at 12:09 PM | Comments (0) | TrackBack
October 15, 2008
Reading comprehension 101
Let's be honest, Sarah Palin is a very good natural politician. Her delivery is virtually flawless and her ability to connect with the Republican base has been likened to Reagan.
However, we also have to be honest and acknowledge that she lies like a dog. Take TrooperGate. The report was pretty clear, if a little like War and Peace in terms of length, that she abused her power. Period. She's saying it vindicates her which the dummies out in the hinterlands will believe because they are the product of Republican education systems and don't know how to read anything more complex than the graphics on Fox News.
For the rest of us who will not read the report (seriously, don't you have something better to do?) there's this from the Anchorage Daily News.
Sarah Palin's reaction to the Legislature's Troopergate report is an embarrassment to Alaskans and the nation.

She claims the report "vindicates" her. She said that the investigation found "no unlawful or unethical activity on my part."

Her response is either astoundingly ignorant or downright Orwellian.

Page 8, Finding Number One of the report says: "I find that Governor Sarah Palin abused her power by violating Alaska Statute 39.52.110(a) of the Alaska Executive Branch Ethics Act."

In plain English, she did something "unlawful." She broke the state ethics law.

Perhaps Gov. Palin has been too busy to actually read the Troopergate report. Perhaps she is relying on briefings from McCain campaign spinmeisters.

Posted by mcblogger at 09:20 AM | Comments (0) | TrackBack
October 13, 2008
Around Town : Jones gets endorsement; Eckhardt on CAMPO
Woodie Jones received the AAS endorsement for the CJ spot on the 3rd Court of Appeals. This comes as a huge surprise considering that Jones is by far the more qualified and capable candidate (not to mention having far more experience ON the Court than his opponent).

Yeah, the Statesman endorsed a Democrat in a judicial race. Shocked the hell outta me, too.
Sam Houston and Linda Yanez picked up some important endorsements from the DMN and HousChron
In advance of tonight's CAMPO meeting, Commissioner Sarah Eckhardt released the following:
Just over one year ago, at the height of public outcry over toll roads, the Policy Board of the Capital Area Metropolitan Planning Organization (CAMPO) unanimously passed a set of covenants to govern the use of toll revenue collected from the Phase II toll roads. The covenants generally require that toll revenues stay within two miles of the road on which they were generated. The covenants allow for diversion of excess toll revenues from one toll road corridor to other projects only after specific public input and a 2/3 vote of the CAMPO Policy Board. Finally, the covenants require that tolls be reduced and eventually eliminated after the debt for the toll road has been retired and potential improvement projects within the corridor have been exhausted. On Monday, the CAMPO Policy Board will consider overturning some of these covenants, including the public meeting requirements.

The first of the toll roads formerly known as Phase II is 290E, also known as the Manor Expressway. Because the project cannot stand on its own merits from a financing perspective the Central Texas Regional Mobility Authority (CTRMA) is proposing to "backstop" the debt financing of 290E with toll revenue from 183A through the creation of a "system." In this system comprised of 290E and 183A, toll revenue and resultant debt capacity/obligation for both roads would be commingled and belong to the system, not to the transportation shed in which the user fees were collected. This diversion of revenue is exactly the circumstance the covenants were designed to address.

Under this circumstance the public comment provisions in the covenants should kick in. But they haven't. Although the covenants require that a Statement of Purpose be developed and that public hearings be held both region-wide and within the donor corridor, none of these steps have been taken by CAMPO. The CTRMA seeks to waive these requirements. Some have even suggested repealing the covenants entirely.
No word on who would like to kill the covenants. Of course, it's probably the usual suspects, like Gerald Daugherty, who love them some toll roads and hate the pesky input from their constituents. If you live in Travis County Commissioner Precinct 3, help out Karen Huber today.
We've all known for quite some time that the SBOE is populated with a lot of Republican nuts. Take this mad old cow...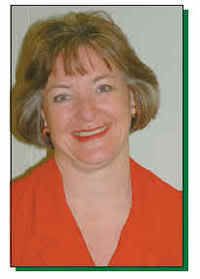 I know... the haircut does kind of remind me of a friend's mother who last sported that 'do in 1993. However, this isn't that mother. This is Gail 'Freakshow' Lowe who represents a swath of Texas stretching from the Hill Country to the Red River on the SBOE. She's just your normal, average, everyday lunatic who thinks:
1)Evolution is a theory without understanding what a 'theory' means in natural sciences
2)Teh Gays are Teh Bad
3)Her opponents are not family friendly, whatever the hell that means
Gail, this the SBOE not one of your nutter tent revivals. If you don't want to take the damn job seriously, then we'll surely find someone to replace you. I hate stupidity and incompetence and you are cursed with a plethora of both.
Posted by mcblogger at 10:15 AM | Comments (0) | TrackBack
October 10, 2008
I'm voting for you, Rick
...but this was politics, it's shitty and you're a goddamn braindead simp for saying it. Cornyn has done soooo many things wrong that there are tons of issues to attack on. Instead, like any other craven politico, you attack him on the right decision on an unpopular issue that the mouthbreathers out in the hinterlands don't understand (but just so happens to be the one thing that might keep them from abject poverty).
You could have beaten him up for supporting the very deregulation that created this mess. You could have gotten him on supporting the very lack of oversight that allowed companies to offer mortgages at insane rates to borrowers who were clearly not qualified.
"We can't believe anything that we hear out of Washington, D.C., any more," Mr. Noriega said in a debate broadcast statewide on public television.

"This decision was made in haste," he said, adding that the stock market's negative reaction shows the bailout wasn't well thought out.

"It didn't have the accountability," Mr. Noriega said. "Quite frankly, we need to see that people go to jail.
WOW. Where to begin... the first sentence is just stupid. THIS WASN'T COMING FROM WASHINGTON YOU ASSHOLE. This has been rolling downhill all over the planet for a year. Just because you only recently became aware of it doesn't mean it wasn't out there and it wasn't just as big as many of us said.
The second point shows nothing of the sort. This is about redemptions and people panicking, it's hardly the market passing judgment on the TARP. TARP hasn't even been started. That's analogous to saying that a miscarriage was God's way of saying that he didn't want someone to be a mother.
As for sending people to jail, for what? Doing stupid, but legal, things? Wanna make changes to the law and regs retroactive?!
That's fucked up, hermano. As someone who has supported you from the Draft movement on, it's absolutely shameful to me that you would politicize what is in fact a very real disaster. If this really is how you feel, then I have serious doubts about your temperament and capabilities. If I were to tally up good vs bad decisions under both you and Cornyn, I'd have to say that you're still solidly beating the hell out of Cornyn. And I'm still voting for you.
But I'm no longer voting FOR you. I'm now simply voting for the lesser of two evils and despite the fact that you're dumb enough to box yourself in on this, you're still the lesser of the two which ain't saying much.
Thanks a lot, Prick.
Posted by mcblogger at 11:30 AM | Comments (3) | TrackBack
October 08, 2008
Debate Recap
Posted by mayor mcsleaze at 06:06 AM | Comments (2) | TrackBack
October 07, 2008
Palin, McCain, Gramm and the Stupid House Republicans
The NYT ran a great piece last weekend taking Little Sister Sarah to task for her admiration of the job Dick (Just Call Me Dick) Cheney and his 'reimagining' of the Constitution to expand the role of the Vice President.
The Constitution does not state or imply any flexibility in the office of vice president. It gives the vice president no legislative responsibilities other than casting a tie-breaking vote in the Senate when needed and no executive powers at all. The vice president's constitutional role is to be ready to serve if the president dies or becomes incapacitated.

Any president deserves a vice president who will be a sound adviser and trustworthy supporter. But the American people also deserve and need a vice president who understands and respects the balance of power — and the limits of his or her own power. That is fundamental to our democracy.

So far, Ms. Palin has it exactly, frighteningly wrong.
Little Sister Sarah has been talking about the specious link between Obama and some guy in Chicago (they once served on a board together. And they live in the same neighborhood so you can totally understand her assumption that they're the best of friends) which led someone at the WaPo to talk about McCain's friendship with the craziest A&M prof in recorded history, Phil Gramm. He's the good ole boy with the fish eyes who thinks it's just great (GREAT!) that we deregulated financial services so that they could run amok.
Take a bow, Jeb Hensarling. You've now separated yourself and your fellow Stupid House Republicans from even the Republican mainstream.

Conservatives? My ass. Combined, y'all don't have the intellectual capacity to handle a job as a cashier at Wal Mart.
Posted by mcblogger at 01:23 PM | Comments (0) | TrackBack
Campaign Updates
Really, I'm voting for all of you and I like a great many of you. Some of you, frankly, I can't stand and I promise I'll eviscerate you at every opportunity.
But that's enough about my feelings for little Patty Rose who, coincidentally, had a big, big, BIG fundraiser recently to celebrate his ability to take money from someone, then stab them in the back. Congrats, Patty!
I just gotta tell you that I LOVE the 18,000 emails I get a day from candidates around the country, not just those in Texas. At least 4,000 of them alone come from Jeff Merkley who is running in OR to unseat Sen. Smith who is just slightly more stable than the lady down the street who tried to kill her husband.
I kid. She's actually a rock in comparison to Smith who damn near went into seizures over the Emergency Economic Stabilization Act of 2008 (or, as I like to call it, the I Won't Have To Eat Ramen Economic Recovery Act Of 2008).
Sherrie Matula moves into the final stretch of the cycle with a BIG fundraising advantage over a certain Republican douche who unfortunately DIDN'T receive the endorsement of ParentPAC... Matula got that as well.
Sen. Brimer lost his appeal to get Wendy Davis off the ballot. With all the bullshit he's pulled, we're wondering not if Davis will beat him, but by how much
Some bitchface retard Governor of some state that has a total population less than Austin called Texas "Alaska's little sister". Why don't you come back after the election, say that over the PA in a bar and then try to make it to the door. I know more than a few ol' gals who would beat your hockey mom ass down like a baby seal.
Larry Joe is kicking some ass in CD 10. A recent poll has him within 5 points of Mike McCaul (R-Clear Channel). I'm moving this race to TOSS UP given Doherty's talent in the campaign organization and in media and McCaul's polling weakness. This is an election that is going to bring large numbers of voters who are outside the usual polling samples and those voters are going to be overwhelmingly Democratic.
We're still waiting to hear about Diana Maldonado's CFR. Word on the street is more than $200k was raised this quarter. This is a seat we KNOW is Democratic. We're only sad Diana has to win it from some nebbish and not from that ratfucker Krusee.
Havagoodun!
Posted by mcblogger at 09:54 AM | Comments (0) | TrackBack
October 06, 2008
McCain (hearts) Deregulation
It's the part with Phil Gramm at the end that's the best. Never before has a dumber person spoken more authoritatively on subjects about which he knows absolutely nothing.
Seriously, Phil, you're a BIG reason why I'm not a shareholder in UBS. Any company dumb enough to have you on the Board of Directors is clearly not an organization that cares about it's owners.
Posted by mcblogger at 01:32 PM | Comments (1) | TrackBack
October 03, 2008
The Sideshow
At a time when politicians pander, on both the right and left, while the economy hangs in the balance, I can't honestly say I expected much from the Vice Presidential Candidates Debate. I expected no obvious gaffes from Palin and I expected Sen. Biden to show his formidable command of the facts.
I also expected those ridiculous looking glasses, perched on Governor Palin's face and her silly chrysanthemum hair which looked worse in HD with the highlights than I've ever seen it.
The debate was Biden's. But there were a few things that struck me as, well, irritating.
1) Palin's crooked mouth. She's forming it to give her voice that Minnesota tonality. I'd been wondering if maybe that was fake and now I feel pretty sure.
2) The cutesy, smarmy, Eddie Haskell-like charm she exudes like an odor. Exhibit A, her use of the word 'heckuva'. Coming from her, it's anything but genuine. Exhibit B, her walking out asking Sen. Biden if she could call him 'Joe'. It's always nice when people like Sarah act down to earth and chummy. It's also complete bullshit.
3) Her thorough command of the financial meltdown as seen through the eyes of the most Americans. And her thorough misunderstanding of taxation in relation to patriotism.
It's point 3 that gives me the most pause. If it's genuine, then that's scary because most Americans haven't the faintest idea how close THEY are to oblivion. If it's not, then it's nothing more than pandering. Either way, it's pretty scary coming from a person who could be President.
As for the patriotism and paying taxes, well, you all know how I feel about that. We live in an amazing country that allows us all to live well and financially benefit. We all have opportunities unavailable in other countries around the world. And our tax dollars support that. I find it DEEPLY OFFENSIVE that a candidate for the Vice Presidency of the United States would denigrate the patriotism of paying your taxes. I thank God every year when I do my return because I did well enough to pay into the country that has, in every way, shaped who I am. And I won't put up with people who say we pay too much or who cheat. The only way this country, our grand collective experiment in self governance, endures is if we all do our part.
And people like Sarah Palin glibly decide that it's something they shouldn't have to do.
I'll leave you only with this... Governor Palin at several points made a comment that we NEED oversight of our financial institutions and in damn near the same breath stated that we need LESS government regulation.
Now, if you can square up that non sequitur, you're a better person than I.
Posted by mcblogger at 12:04 AM | Comments (1) | TrackBack
October 01, 2008
Obama to McCain : YA BURNT!
For those of you who were sad there wasn't a gotcha moment during the debate, this should make you hap, hap, happy!
Posted by mcblogger at 11:52 AM | Comments (0) | TrackBack
September 30, 2008
BREAKING : Dodd says "We're looking at expanding FDIC"
As part of a stop gap measure after yesterday's failure of the recapitalization package (which the media is STILL calling a bailout though they never quite explain exactly who will be 'bailed out'. I'm certain it's not shareholders. It never is), Chris Dodd is looking at expanding FDIC's role and allowing them to take a more active role in all this, including taking over whole banks. Which is what they did during the S&L crisis.
This solution will cost us a cool $1 TRILLION vs. making money off the recapitalization plan that you guys hated.
WAY 2 GO, ASSHOLES!
I'm excited, y'all! You thought you knew everything and fought this tooth and nail. You won. Now, it's time for me to vulture your ass because you're obviously too stupid to help.
I missed out on the first S&L party so I'll be happy to join in on this one at taxpayer expense. I know a lot of people who got hella rich buying RTC's underpriced assets. I personally can't wait! And it was handed to us by the braindead masses.
Morons. But even you guys pale in comparison to some of the Republicans...
Representative Jeb Hensarling, a Texas Republican, said most Republican conservatives oppose the idea of Treasury purchasing troubled assets, because it puts too much of the expense on taxpayers.

``That is a model that House conservatives feel is fundamentally flawed,'' said Hensarling, the chairman of a group of more than 100 House Republican conservatives called the Republican Study Committee.
Oh, Jeb. You and the House conservatives are stupid and completely out of your depth when it comes to modern finance. Let's see here, Jeb. You and the connie's think that the government backstopping losses, without having a pre-existing premium cushion, is cheaper than actually buying the hard assets and recasting them?
Really? Jeb, seriously, there's politics and then there's just plain stupid. You and your fellow conservatives know less about finance than a box of hair and you certainly wouldn't know the first thing about fixing this problem.
Some of you think these assets are like a disease and they have to be purged (shades of Andrew Mellon, one of the architects of the Great Depression). Can't even begin to work through that one.
Seriously, you are all so far out of your league it's truly scary. Frank and Dodd are the only two who REALLY seem to get it and they are doing yeoman's work to keep this all from really going off the rails.
Posted by mcblogger at 11:17 AM | Comments (2) | TrackBack
September 26, 2008
All I'll Say About This Debate
McCain's tie is more animated than he is.
Posted by mayor mcsleaze at 08:37 PM | Comments (1) | TrackBack
September 25, 2008
I know this isn't real, but it's...
... but it's hella funny.
Posted by mcblogger at 12:01 PM | Comments (0) | TrackBack
September 24, 2008
May you live in interesting times...
This financial crisis is finally waning. They always end when buyers finally realize that the firesale won't last forever and they dip back into the market to buy deeply discounted assets. We got a big boost of this yesterday.
Until now, Mr. Buffett, who has navigated the stock market with legendary prowess, has largely refrained from investing in the stricken financial industry, saying repeatedly that things could get worse.

Thousands of people on and off Wall Street follow Mr. Buffett's moves, so his decision to invest in Goldman immediately heartened investors. After falling nearly 1.5 percent during the day, the Standard & Poor's 500-stock index erased half its loss in after-hours trading Tuesday evening on news of the investment.

"Buffett is saying he's confident," said Brad Hintz, an analyst at Sanford C. Bernstein & Company.

Mr. Buffett's conglomerate, Berkshire Hathaway, unveiled the move only days after Goldman, long the premier investment house on Wall Street, embarked on a radical plan to transform itself into a traditional bank to ensure its survival. Goldman, which examined various options over the last week as its shares tumbled and some clients abandoned the firm, also said Tuesday it would sell at least $2.5 billion of common stock to the public.
The difference between Buffett and others is that HE can afford to hold something for decades until BRK makes a profit on it. Even if he dies, there is management at BRK that thinks exactly like him. And his success has not been the result of luck, it's research and thorough analysis. It's making the right decision.
Be fearful when others are greedy. Be greedy when others are fearful.
Last night and this morning I posted a couple of emails to Carl Whitmarsh in Houston regarding something he'd sent out on his massive email list. The first article was this from George Will. Now, George has never been a big fan of McCain. However, that's not the meat of the article. It's the craptastic analysis of the US falling into socialism. Here's what I sent to Carl:
It's funny to me that McCain would attack Cox for not regulating the very securities that McCain voted to keep unregulated.

I LOVE the way conservatives have decided that this is socialism, as if the entire
capital market is now under the absolute control of the Treasury and Fed. Their
plan, buying assets that the free market has assigned zero value to, is absolutely
sound. Why? Because occasionally the market goes crazy and won't buy something
that's worth a dollar even if it's discounted to 10 cents. The market, in short, is
not always right.

The Fed was CREATED to avoid panic and provide liquidity in times of market
dislocations. Which is exactly what we have now.

That being said, Paulson's plan, as presented on Sunday, is a thoroughgoing mess.
There will have to be oversight. There will have to be caps on CEO compensation.
However, the basic idea to add liquidity to our deflated economy is a good one.
The second comment was related to a piece Harvey Kronberg ran from Royal Masset
I love Royal but he's wrong on what's happening in the financial industry. This is a panic, pure and simple, and it should wake people up to the reality that markets are far from perfect.

Markets are nothing more than buyers and sellers. Period. They are dependent on
humans and their imperfect decision making. The idea that markets self regulate with
minimal impacts is ALWAYS wrong. They do self regulate and in the process create
what can charitably be called distress.

Regulation and enforcement, while imperfect and sometimes overreaching, is a hell of
a lot better than mass unemployment and starvation.

That's the lesson most of the 'free market' Republican's have never learned.
Of course, there are number of others who have problems with buying assets. They see another solution, lend directly to the banks.
Here's why you can't just lend money to banks, allow them to take the losses in selling these assets, and then repay the debt over time. For one thing, these losses are going to (in many cases) wipe out all the equity in banks, rendering many insolvent. You can't replace that equity with debt owed to the government. Debt is Debt. For another, the market is so freaked out and dislocated (not to mention fearful) that no one wants these securities at any price. It's not that these securities aren't worth something. After all, the vast majority are A paper mortgage credits. It's that investors can't see the value and won't take ANY risk.
What is needed is a prime mover to get these assets moving, worked out and restore the market. That prime mover is the only entity capable of operating for the long haul, the Federal Government.
The issue is that these assets, when marked to market, have no value because the market is buying and selling NOTHING. However, the loans underneath are STILL performing. On a cashflow basis, many are performing exactly as predicted. We may now need to look at discounted cash flow as a value model to fall back on when MtoM fails. Which it is prone to do when the market seizes up. Which it, of course, does from time to time despite what the Republicans say.
We have to stabilize home prices which means we need people with jobs who can buy homes with mortgages. Unfortunately, as this crisis deepens, it begins to effect employment AND the ability of people to secure financing for homes. Without a market, the value of homes continues to drop. In the end, we fall into a Depression. THAT'S the end result of doing nothing.
Finally, there are some lesson we all need to take from this experience...
1) Regulation and enforcement are not obstacles to the success of the market. They are ESSENTIAL to the success of the market.
2) Capitalism has not failed. What failed was our obligation to oversee it and make it work for the majority.
3) Just because something is valued at nothing right now, it doesn't mean it's worthless.
One last point... one that everyone needs to understand unequivocally, if we don't do this the whole damn country fails. THAT'S the reality and all the whining about taxpayers footing the bill (which is a load of crap) isn't going to change it.
Posted by mcblogger at 03:10 PM | Comments (0) | TrackBack
September 22, 2008
Good to see the US media is still up to the task
Why in the hell do I have to go to the Guardian for the lowdown?
Posted by Captain Kroc at 06:33 PM | Comments (0) | TrackBack
The fallout...
First off, for a moment, take a look at this again. Specifically point one. Think about that every time you read something from one of the chicken little's on the right (or left) who are bleating on about toxic securities.
One more time, there is no such thing as a toxic security. There is only a toxic price. In other words, be rational about the prices you pay for assets and you'll be happy. The market for credits got very frothy and people overpaid either because they were dumb or they didn't really understand the securities they were buying. Now people have gone the opposite way and are unwilling to buy these assets at any price.
As the old saying goes, be greedy when others are fearful. Be fearful when others are greedy.
Unfortunately, it looks like many investors are going to take a pass on these assets. Which leaves the Fed's and the few willing and smart enough to jump into the fray (like JPM). First off, I'm pleased as punch about the government getting involved since the 'free' market has completely gone off the rails. However, Paulson's plan is still the wrong way to go.
We're also mostly on the same page (though I, unlike Stirling, don't subscribe to conspiracy theory) except for a few highlights...
1) Cramdowns - Basically, this is a modification for mortgages in markets with declining values. It's also useless. What about the homeowner who is making their payments EVEN though their home is worth less than they paid? There's really no need for this unless you're talking about doing a workout on someone who really can't afford the mortgage and the value has declined dramatically. However, I don't like the government getting a piece of the inevitable increase in value down the road through some kind of hitherto unknown lien position. If you're going to help people, help people.
My advice : Don't do this with anyone who has had a greater than 50% decline in value. That's what you'll get on a foreclosure. Anyone more underwater needs to just walk away with a wipeout on the mortgage history so they don't have an adverse hit on the credit report.
Last thing... change the tax laws to benefit workouts rather than foreclosures. It's easy... if a company does a workout that results in the loss of loan balance (say, from $200k to $150k) then they can take that as a loss against ordinary income immediately. If they foreclose, they have to take the loss on that against income over THREE years. Either way, you have to alter the law to keep these companies from 1099ing the people effected for the difference.
2) Not so much with a national emergency and rationing. Let's look at changing tax policy to increase wages for ordinary people. That'll take care of commodities inflation and our negative savings rate. And that whole petroleum thing can be easily fixed with biofuels. Actually, it WILL be fixed fast as long as oil is over $50/bbl.
I'm fine with expanding FDIC and LOVE what Obama is hitting on. Plus, as many of you know, I've always hated excessive levels of executive compensation. I say go for it, Congressional Democrats! Take this time to make this a real solution, instead of another Paulson bandaid.
Now, onto what's happening today. Obvs, the market loved the Paulson/Bush/McCain plan as much as we did. The Dow is down around 3% and oil has shot back up to $120/bbl as investors pull out of equities and dump speculative money into oil.
Needless to say, we ALL apparently want something other than another silly gimmick. Except for Michelle Malkin who has turned this into yet another attempt to divorce herself and her Party from responsibility for this problem.
Robert Novak called attention to Paulson's Democrat DNA last October. It's worth reminding you of Paulson's instincts and the liberal allies he has installed at the Treasury Department
No, no, Bitch. Paulson's one of yours. And quit quoting that sad, old alcoholic. As for him bringing in 'libruls', the problem is that all your financial guys suck balls. They all end up going broke.
Posted by mcblogger at 03:16 PM | Comments (0) | TrackBack
Everyone starts to get it...
It's becoming painfully obvious that even our friends on the right are beginning to realize that Sarah Palin's not ready for prime time. It's also becoming pretty clear that McCain's ads have been over the top which we've all been saying. But now, even Karl Rove is saying it which prompted this from the Obama campaign...
"In case anyone was still wondering whether John McCain is running the sleaziest, most dishonest campaign in history, today Karl Rove - the man who held the previous record - said McCain's ads have gone too far," said Obama campaign spokesman Tommy Vietor.
On the topic of what the Dems in Congress could be doing, it's also abundantly clear that THEY are getting it. First up is our old buddy Nancy P who finally decided to take the gloves off and hit the glib, ridiculous and more than little incompetent Palin in the mouth.
Pelosi compared Palin's resume to that of President Bush's before he assumed the mantle of commander in chief. "I have a very high standard for president of the United States," the Speaker said. "I guess George Bush has proven that anybody can do it, but can they do it well? I think he has not. I think he has done great harm and damage to our country. I don't think this is something that you'd take a chance on. I think I've yet to see the credentials and the depth that the most powerful position in the world, the president of the United States, that somebody with her resume is able to take over that job."
Yeah, I know it's not much but at least Pelosi is finally off dead center and saying SOMETHING. Honestly, her mealy mouthed bullshit irritates the hell out of me, too. However, this is at least a sign of life and a hit. Luckily, we're getting much better stuff out of the Senate.
"One Senator -- John McCain -- woke up yesterday morning, surveyed the state of the U.S. economy, summoned the ghost of his fellow Republican, Herbert Hoover, and declared, 'The fundamentals of our economy are strong,'" said Senate Majority Leader Harry Reid, before laying responsibility for the current woes in part on McCain's economic adviser Phil Gramm.
Goddamn, Harry! Where the fuck have you been??!?! Welcome to the party and keep on chatting up the band. We're sick of their usual tune and we want them singing yours.
Finally, I leave you with ... well... this.
Posted by mcblogger at 12:06 PM | Comments (0) | TrackBack
September 21, 2008
A special invitation to the Secretary of the Treasury
Seriously, THIS is what you came up with? A massive expansion of the Executive Branch, no help for homeowners and absolute power with a blank check?
It's clear to me now that Paulson has got to go and we need Bob Rubin back at Treasury. Larry Summers is wrong for the job (honestly, he's a dumbass anyway) and Rubin is the only one with the kind influence in financial and political circles to get something done. He's also far smarter than Paulson which should help.
We need to re-regulate commodities and derivative trading (fuck you, Phil Gramm, you dirt leg moron) and begin requiring a lot more capital be held by companies wishing to operate in the securities industry. No more of this 30 to 1 leverage bullshit. But I don't see that it this little 'plan'. I also don't see anything to help expand efforts already proceeding to pull borrowers out of bad mortgages. No, I'm not talking about a cram down and share the wealth plan (seriously, why even bother, Ian? You gonna give everyone who's upside down on a car note a bail out, too? Just get them outta the bad loan and regular appreciation will work out the gap), just a reworking of underwriting guidelines and insuring to allow people to get into affordable mortgages.
We needed real solutions and an indication of some sort of contrition. Instead, we get a brazen attempt to steal still more power for an out of control President.
Congress should act. The Democrats should write one hell of a bill and tell the President to sign it or we'll let everything go down the tubes.
Enough bullshit and politics. And Chairman Frank should immediately demand Paulson's resignation.
Posted by mcblogger at 04:37 PM | Comments (0) | TrackBack
No, REALLY, Senator. We know where you REALLY stand
Y'all know I'd rather walk on my own tongue than say something nasty about someone...
BUT...
John McCain as REFORMER and REGULATOR?!?! Didn't we go over this already?
YEAH, we did. Which makes me wonder why this old, stupid bastard is trying to keep this shit up? It makes me so goddamn mad I just want to strike someone. How else can you DEAL with someone who lies just to lie, completely irrationally and has no sense of remorse about it. You don't reason with that person and debating with them is like arguing with a television.
Seriously am I the only one just sick of it? And the fact that media is covering it as if it were something other than categorical bullshit?
Posted by mcblogger at 01:01 PM | Comments (0) | TrackBack
September 20, 2008
Thanks, but I'm really busy that day...
Last night while having drinks with Barfly, she asked a very interesting question regarding AK First Dude Todd Palin's refusal to heed a subpoena.
Since when do you have the choice? I mean, Karl Rove was subpoenaed and he just said THA SHITS to all that. Now this Palin asshat has decided he'll not show up to answer TrooooooperGate (HATE THAT NAME) questions.
So can we all start ignoring subpoenas? Tell Congress to go fuck itself because it's just one giant bitch?
Posted by mcblogger at 01:11 PM | Comments (0) | TrackBack
September 19, 2008
Dregs : Things you should care about...
McCain is having some problems hitting on economic policy. Don't you just hate it when bad things happen to even suckier people. Who own more houses than the vast majority of Americans will ever even live in
Douchie Donna Keel is running a push poll. Yeah, I was shocked, too. It's a lot like how a felt when my housemate's dogs started barking at someone coming to the front door.

Hard to get mad at a dog who acts like a dog.
Think economic problems are limited to the US? Think again. Lehman apparently was damn near big enough to cause problems for Russia.
Posted by mcblogger at 11:43 AM | Comments (0) | TrackBack
Republican plot with a special twist
The Obama campaign has filed suit in federal court to keep Republicans in Michigan from using foreclosure lists to challenge voters at the polls. How's THAT for a Republican plan? You lose your house and we take away your right to vote.
Of course, that's nothing compared to what's allegedly being talked about here in Texas... using Ike to keep people who've lost homes from voting. No, no... you read correctly. Texas Republicans are looking for a way to keep people who lost their homes to a natural disaster from voting.
Posted by mcblogger at 07:48 AM | Comments (0) | TrackBack
Are you there money? It's me, John Davis.
Last night while I was looking at all the money I've lost in my brokerage account (thank you Lehman bankruptcy! You're soooo totally my friend!) from the current financial collapse (not to be confused with the financial collapse of a few months ago. Or the one from last fall. Or the one from last summer) I started thinking about what I could do with some of the money I've not lost as the result of the collapse of a financial giant run by dipshits with MBA's from Wharton.
The most appropriate thing was to donate to Sherrie Matula. Because she rocks and because she's got a real douchebag for an opponent.
How big a douchebag you ask? Well, you know how his district was hit pretty hard by Ike? And how other politicos and candidates have suspended campaigning to help their friends and neighbors with recovery efforts? Yeah, he kinda said THA SHITS to all that and has decided to press on with a high rollin', lobbyist funded hoe down here in Austin where the power is still on and the drinks flow like water from a tap that's actually working. Which is kind of ironic since some of Johnny's constituents don't have running water in their homes.
I would say something stinks down in HD 129 but since we don't really know if Rep. Davis is even there, or even if he's in Texas, it's hard to pinpoint from exactly where the smell is coming. But we can say, with an unbelievable amount of certainty, that it is him that stinks.
Posted by mcblogger at 12:58 AM | Comments (0) | TrackBack
September 18, 2008
Q: What is change?
A: Rick Noriega.
What? You REALLY though John Cornyn wasn't more of the same?
Posted by mcblogger at 11:24 AM | Comments (0) | TrackBack
September 15, 2008
But you voted for it, Senator...
Think Progress has a great hit up about Palin and McCain's support of the Agency bailout (I'll post my thoughts in the supersize).
In an op-ed in yesterday's Wall Street Journal, Sen. John McCain (R-AZ) and Gov. Sarah Palin (R-AK) reluctantly endorsed the federal takeover of Fannie Mae and Freddie Mac, arguing that the two institutions' lobbyists are the "primary contributors to this great debacle." McCain and Palin wrote that, should they be elected, their administration would "no longer use taxpayer backing to serve lobbyists, management, boards and shareholders."
Here's the thing, John. You VOTED, over and over again, to deregulate. Because you thought that would free up the Invisible Hand and we'd all be better off. Lo and behold, you and the other Republicans discovered that what the Democrats knew and were SCREAMING all along was right... business needs oversight because left to it's own devices, it'll foul it's own bed.
Now that it's all come crashing down, you can't admit your error and are, like a degenerate gambler, doubling down in an all-or-nothing effort to deflect blame and avoid the inevitable conclusion that your ideology is a bankrupt as the banking system.
But, I guess I'd do the same thing if so many of the staffers, senior advisers and FRIENDS were lobbyists at one point or another for the Agencies. You should be proud, John McCain. You've mastered the art of talking out of both sides of your mouth.
As for the bailout, I'm pretty disappointed but not really surprised. For one thing, there were easier ways to inject capital into Fannie and Freddie without taking on as much risk or wiping out the poor shareholders. I am THRILLED to see management turned out of both companies as I had absolutely no respect for either of them. All in all though, the Friedmanites engineered their chance and now Fannie and Freddie are on the chopping block.
What kills me about this is that it was purely and simply a crisis of confidence. People were afraid the government wouldn't backstop the Agencies which forced them to do just that. And then there is Lehman today which is reporting close to $640 bn in assets and a little over $600 bn in liabilities. Sounds good, right? We'll see how much of that is marketable and how much is pure level three and untradable at any price. I'd also like to know non-performance in the mortgage pools. But that's just my curiosity... I have a feeling that as bad as things are, they ain't that bad.
What brings down a bank like Lehman is the same thing that brought down Bear and would bring down any investment bank. Their funding, the money they need to revolve to float their balance sheet, evaporated. Without it, the bank couldn't survive. The fun part of all this is figuring out how much of this was Lehman... and how much was the result of it's financiers getting cold feet (not to mention it's counterparties).
This should SOLIDLY put the lie to all those morons on the right who think everything would be better... without as much regulation. As predicted, no regulation means common sense is replaced with raw greed and poor credit decisions. Discipline, when billions are involved, goes out the window when their is no examiner coming into your office a few times a year to make sure you haven't gone hog wild.
Posted by mcblogger at 08:57 PM | Comments (2) | TrackBack
PULL!
And here is Eileen's review of Governor Palin with Charlie Gibson. The verdict? Exceeded the already low expectations. On the downside.
Posted by mcblogger at 09:32 AM | Comments (0) | TrackBack
September 12, 2008
Calling all math majors!
Quick, what is 313,000 divided by 400?

Because that's the multiplier the media needs to apply to the John Edwards Haircut Quotient in determining the frequency, saliency and duration of its reporting on Cindy McCain's conventioneering wardrobe.

I trust the "Liberal Media" will strictly adhere to this equation.
Posted by hbalczak at 02:04 PM | Comments (0) | TrackBack
McThuselah and his minions
These are just a few of the WTF things that McThuselah has done that you may have missed. We're sure there's more, this is just the poop we caught.
McThuselah went to Ohio a while back to talk to autoworkers about how much he loves him some free trade. Oh, and what he's going to do to help folks who lose their jobs as a result of it.
Instead, he said his job re-training proposals coupled with an "emphasis on new technology" in the automotive sector would boost employment.

McCain, battling a slight cold, was responding to an employee at the Lordstown General Motors plant who asked him what he would to make trade agreements "a little bit more fair."

The presumptive GOP nominee said he does not believe "that every trade agreement is totally fair" and promised to "do everything in my power to make sure that trade practices practiced by our trading partners are fair and equitable."
See, this is what's funny about McThuselah and his shitty memory... We had programs to help retrain and educate workers for new programs. At least, we did until McThuselah and his Republican buddies killed it in the name of 'fiscal responsibility'.
As for working to make things fair, there are some things that need to change in CAFTA to make it fair. And NAFTA. If you're not going to work to do that, WHAT ARE YOU GOING TO DO? Other than pander and lie?
(h/t TTB)
McThuselah goes to visit with the Log Cabin Republicans and tells them he's Mr. Gay Republican. Then he talks to conservatives in OH about how much he hates him some gays and is all about supporting an anti-gay marriage amendment. So, which is it?
The Daily Mail ran a great story about McThuselah's first wife, the one he abandoned when he started fucking Cindy. Of course, he can be excused from his wedding vows... after all, she did get fat and short. AFTER BEING INJURED IN A TERRIBLE ACCIDENT. The sad part? She still loves the old son of a bitch. I wonder if he calls her a cunt.
On the subject of his incompetent and unusually laughable veep pick, she's apparently stonewalling on the investigation into her presumably illegal actions to get her former brother-in-law fired. Which makes her less a reformer and more just another corrupt politician. There is also some news out about her, well... there's no nice way to say this... LIES. As it turns out, that story about selling that state plane on the EBay wasn't altogether true. Apparently she had it listed on EBay but no one wanted it for the price she listed (which was exactly what the State of Alaska paid for it, $2.7mn). So, they handed it off to an airplane broker who ended up selling it at a loss of almost $700k. Which means she's about as good at managing taxpayer funds as any other Republican.

I can totally see how she'd make the mistake of not know where something was actually sold and for how much. It's not like it was her money. She was just the one Alaskan's hired to look over it.

There's also this list of lies, distortions and exaggerated myths about Palin. Which makes for a good read if you're looking for the real Sarah, especially since the media's not going to get a crack at her.
While McCain had slightly more viewers than Obama for his acceptance speech, his bounce appears to be rather meaningless. In the latest Gallup tacking poll (which includes the RNC and some of the most heated anti-Obama and Democratic Party lies and distortions speeches during it) Obama is almost within the margin of error in beating McThuselah with a decidedly skewed sample.
Posted by mcblogger at 01:21 PM | Comments (0) | TrackBack
September 10, 2008
Just a question...
If Sarah Palin is so tough, so competent, so ready to assume the Presidency should McCain die (as seems very possible), why is it so hard to get her to talk about anything or accept an interview? I mean, she can give one hell of a speech (even if it is full of lies).
And then there was Rick Davis. McCain's campaign manager, appearing on the Fox New Channel, told Chris Wallace that Palin would not be subjected to reporters questions "until the point in time when she'll be treated with respect and deference."

Ripping the fourth estate for a perceived bias towards the Alaska Governor, Davis went on.

"She's not scared to answer questions," he said, "but you know what? We run our campaign not the news media... Sarah Palin will have the opportunity to speak to the American people. She will do interviews, but she'll do them on the terms and conditions" the campaign decides.
Respect and deference? This is politics, booboo, and if you can't stand in the light and account for yourself then you ain't up to the job. Period. Will the campaign get to decide what problems she'll face if, God forbid, McCain wins and then dies?
Here's the thing, Ricky. Your candidate's running mate lies. A lot. She may be common as dirt, but she's still a liar. Even still, that doesn't mean any of the sad sacks in political reporting today (looking at YOU, Stephanopolous) will call out her bullshit. So what ARE you afraid of? What is SHE so afraid of?
Could it also be that her radical views won't be shared by the majority of Americans? They certainly aren't shared by her close, personal friends.
And to THIS loser, you need a klonopin. Really.
Here's another question... why doesn't McCain want children educated to know when they are being assaulted by a pedophile? Maybe he doesn't want children to know what touching is OK and what isn't? Maybe McCain has something he'd like to share?
Posted by mcblogger at 11:29 AM | Comments (0) | TrackBack
September 08, 2008
Oh, yes... let's just elect the man in the pulpit
I've long been of the opinion that when you mix politics and religion, you (as unbelievable as it may sound) cheapen both. That's really saying something considering that neither have what would be considered a stellar brand. Now some asshat group is trying to get churches to help with an experiment that stands a good chance of breaking down the laws restricting churches from endorsing political parties and candidates.
What KILLS me about this is that Churches CAN endorse political candidates and parties now. All they have to do is give up their tax exempt status. What these people want to do is maintain their tax exempt status and actively campaign for political candidates.
Here's how this plays out... if they win, they lose as a movement will grow to tax churches. It'll also signal the end of the megachurches as the vast majority of Americans really don't want to hear a stump speech Sunday morning along with their weekly passage from the Old Testament (that's for the Baptists).
No one will really care in the end because deep down, Americans may love Jesus and God Almighty, but we really think our preachers are a bunch of strange drunks. Which they usually are.
Posted by mcblogger at 10:46 AM | Comments (0) | TrackBack
Liberal bias in the media? Oh, pish...
Listening to McThuselah rage about the liberal bias in the media got me thinking that it might be a good idea to actually analyze this supposed media bias and find out if he was whining about something real or just whining.
According to the LATimes, someone beat me to it.

Haters of the mainstream media reheated a bit of conventional wisdom last week.

Barack Obama, they said, was getting a free ride from those insufferable liberals.

Such pronouncements, sorry to say, tend to be wrong since they describe a monolithic media that no longer exists. Information today cascades from countless outlets and channels, from the Huffington Post to Politico.com to CBS News and beyond.

But now there's additional evidence that casts doubt on the bias claims aimed -- with particular venom -- at three broadcast networks.

The Center for Media and Public Affairs at George Mason University, where researchers have tracked network news content for two decades, found that ABC, NBC and CBS were tougher on Obama than on Republican John McCain during the first six weeks of the general-election campaign.

You read it right: tougher on the Democrat.

During the evening news, the majority of statements from reporters and anchors on all three networks are neutral, the center found. And when network news people ventured opinions in recent weeks, 28% of the statements were positive for Obama and 72% negative.

Network reporting also tilted against McCain, but far less dramatically, with 43% of the statements positive and 57% negative, according to the Washington-based media center.
So that covers the broadcast folks... what of the other anklebiters like Fox News?
By the way, Lichter's group also surveys the first half-hour of "Special Report With Brit Hume," Fox News' answer to the network evening news shows.

The review found that, since the start of the general-election campaign, "Special Report" offered more opinions on the two candidates than all three networks combined.

No surprise there. Previous research has shown Fox News to be opinion-heavy.

"Special Report" was tougher than the networks on Obama -- with 79% of the statements about the Democrat negative, compared with 61% negative on McCain.

There's plenty of room for questioning the networks' performance and watching closely for symptoms of Obamamania.

But could we at least remain focused on what ABC, NBC and CBS actually put on the air, rather than illusions that their critics create to puff themselves up?
Now, would someone tell Ted Baxter to quit whining before 'the folks' decide to spit on him?
Posted by mcblogger at 09:38 AM | Comments (0) | TrackBack
September 06, 2008
THIS is our VP
I'll admit, I wasn't super enthusiastic about Sen. Biden. Until now.
Go get 'em, Joe!
Posted by mcblogger at 02:41 PM | Comments (0) | TrackBack
September 05, 2008
The Leo Berman Funny
I don't know if BurkaBuddy (that's our new name for him) was trying to be funny or was just reporting the funny...
Leo Berman, the strange old man from Tyler who decided last session that the Texas Constitution trumps the FEDERAL Constitution (and he wouldn't change his mind even when CradDICK explained to him that it wasn't the case. And that he was a fucktard), is seriously considering a run for Governor.
One of the first Texans I saw was Leo Berman. I asked him if he had heard any of the delegates express unhappiness that McCain had chosen Sarah Palin instead of Kay Bailey Hutchison. "Oh, no," he said. "Kay is pro-choice. There isn't a single person in this delegation who is pro-choice." We also talked a little about immigration. "David Swinford [chairman of State Affairs] killed all the bills last time," he said. "That isn't going to happen this time. If it does, if we can't get our immigration bills passed, there are going to be some more people in the governor's race. I'm considering running for governor myself."
But wait... it gets better!
Leo Berman also bravely stepped into the fray to defend the honor of none other than Phyllis Schlafly
Yesterday there was an altercation at the Phyllis Schlafly luncheon. Sarah Palin was supposed to attend, but she couldn't make it. An uninvited guest showed up — a peace activist who ran up to the front of the room carrying a banner that said "PEACE!" Two intrepid Texans — state reps. Leo Berman and Jodie Laubenberg — wrestled her away.
What bitches y'all are! Two of you were necessary to 'wrestle' a peace protester? Are you kidding? Leo, you're really a giant worthless cuntrag.
Posted by mcblogger at 12:49 PM | Comments (0) | TrackBack
September 04, 2008
Roundin' up the TPA
It's time for another weekly roundup of the Texas Progressive Alliance. Click on for the week's highlights.
Is John McCain's vice presidential pick some kind of joke? McBlogger's Mayor McSleaze thinks it's more like a situation comedy.
CouldBeTrue is happy for Webb County! Finally, the long sheriff's primary is over and Martin Cuellar is the official sheriff-to-be. And, yeah, the AG is looking into the hinky first recount.
With Tom DeLay and the TRMPAC indictments back in the news, Off the Kuff conducts an interview with Cris Feldman, one of the attorneys who won a civil judgment against TRMPAC for its violations of campaign finance law in the 2002 elections.
Stace Medellin at DosCentavos is celebrating ten years of living in the Houston area. Read about what brought him to Houston and what has kept him in the big city.
Neil at Texas Liberal is glad to note that the Galveston County Democrats Club http://texasliberal.wordpress.com/2008/08/28/galveston-county-democrats-club-is-working-hard-for-victory/ is, as always, working hard for all the people of Galveston County---Both on the mainland and on the island.
The Texas Cloverleaf reminds everyone that McCain is older than fiberglass. His new sidekick leads a state with a population smaller than Collin County. Sitcom indeed.
jobsanger wonders why the Democratic Convention didn't show a little respect for Lyndon Johnson's 100th birthday, and prepares to enjoy the prospect of dueling Republican conventions.
What is the linkage between radioactive waste dumps, smear ad campaigns and HD-52 Republican nominee Bryan Daniel? Dembones at Eye On Williamson follows the money trail back to Swift Boat financer, Dallas billionaire Harold Simmons, whose latest smear campaign tries to link Barack Obama to '60s radical William Ayers.
Doing My Part For The Left's refinish69 wonders if Texas Deferred Adjudication is helpful or shameful.
North Texas Liberal has video of Sen. Hillary Clinton condemning John McCain's use of her picture and quotes in his ads.
PDiddie assembled some of the satirical ridicule of John McCain's selection of Elaine Benes from Seinfeld Sarah Palin of Alaska at Brains and Eggs.
BossKitty at TruthHugger observes "
and what our fearless leaders plan to do about it THIS TIME.
Vince at Capitol Annex offers his opinion on Michael L. Williams' manipulation of the words of Dr. Martin Luther King, Jr. concerning Barack Obama's experience. For added value, one of Williams' campaign staffers decided to comment on the post and attempt to defend his boss.
nytexan at BlueBloggin wonders why PUMAs are exhibiting a high level of disrespect to Hillary and her request for full support and asks PUMA, Was It Ever About Hillary Clinton ?
Mike Thomas at Rhetoric & Rhythm is unhappy with some liberal bloggers who decided to label his Congressman - Ciro Rodriguez - as a so-called "Bush Dog Democrat".
Posted by mcblogger at 09:53 AM | Comments (0) | TrackBack
September 03, 2008
What a bunch of damn bullshit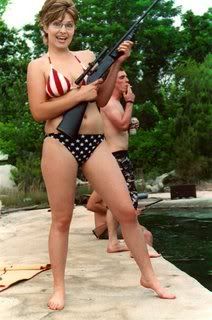 You know, there a number of things I'd like to say about Palin and her 'reformer' image. But it's hard to call someone a reformer when their only true reform is to leave their constituents more in debt than they were prior to their 'service'. To the tune of $4,000 per resident in tiny Wasilla. See the extended for some good stuff on her tenure from someone who knows her. I think the phrase 'RANK INCOMPETENCE' pretty much sums it up.
Of course, there's the matter of the pregnant daughter. I knew girls that got pregnant in high school. Some of them graduated with me, some did not. Some of them had the kids and some did not for one reason or another. I never lost respect for them and I certainly won't say that this revelation has negatively effected my opinion of Palin. I had a negative opinion of her from HER actions, not those of her daughter. But, this pisses me off...
When Pam Younggren, 61, of Fargo, N.D., was told the news of the 17-year-old's pregnancy, she shrugged. "Well, she wouldn't be the first one," she said.

"We can't control what our daughters do," she said. "I don't see it as a problem. She will have appropriate care for her baby."
And this one...
"People are looking for real," he said in an interview. "Real means blemishes, real means warts, real means real. These family imperfections make people say, 'That family isn't so different from my family.'"
Uhm, they aren't like the rest of us. My parents kept rather strict controls over Barfly and I when we lived under their roof, so yeah... you can control your kids. It's called PARENTING. Palin did not. Period. My parents also made sure we KNEW the implications of intercourse and were prepared for it with appropriate protection. Palin did not. Now, even with these precautions, some kids end up being parents. My problem with this is that Palin willfully decided NOT to prepare her daughter with information and protection. That's not a knock on her daughter, that's her OWN very real character flaw. And it's one I would find unacceptable in any public official, Democratic or Republican. Especially one that's traveled far and wide preaching the wonders of abstinence only sex education, not to mention parental and personal responsibility.
What's most galling about this situation is that had this been the Democratic VP candidate, there would have been endless sermons and screeching rants from the far right (including some of the women quoted in the NYT piece) denouncing their family values and judgment, among other things. And calling them an unacceptable choice for America.
HOWEVER, I'm hearing quite the opposite from the folks in the bully pulpits of talk radio. And it's causing the words of Harry Truman, after reading McArthur's farewell address to Congress, to echo through my mind:
"It was nothing but a bunch of damn bullshit."
Beat up on Bristol? Not at all. But am I going to light into Palin EVERY TIME the phrase 'personal responsibility' leaves her lips? You betcha. Muse has a different take... she's a mother, she can go there. But her take on it dovetails nicely with the emails floating around from Wasilla residents. From them, it's pretty obvious that the only person who has benefited from Palin's service is Palin. It's certainly not her constituents, most of whom are decidedly worse off for her 'unbridled ambition'. Take a look in the supersize...
This email is floating around the 'sphere. I've received two other very similar accounts from different people.
ABOUT SARAH PALIN

I am a resident of Wasilla, Alaska. I have known Sarah since 1992.
Everyone here knows Sarah, so it is nothing special to say we are on a
first-name basis. Our children have attended the same schools. Her
father was my child's favorite substitute teacher. I also am on a
first name basis with her parents and mother-in-law. I attended more
City Council meetings during her administration than about 99% of the
residents of the city.

She is enormously popular; in every way she's like the most popular
girl in middle school. Even men who think she is a poor choice and
won't vote for her can't quit smiling when talking about her because
she is a "babe".

It is astonishing and almost scary how well she can keep a secret. She
kept her most recent pregnancy a secret from her children and parents
for seven months.

She is "pro-life". She recently gave birth to a Down's syndrome baby.
There is no cover-up involved, here; Trig is her baby.

She is energetic and hardworking. She regularly worked out at the gym.

She is savvy. She doesn't take positions; she just "puts things out
there" and if they prove to be popular, then she takes credit.

Her husband works a union job on the North Slope for BP and is a
champion snowmobile racer. Todd Palin's kind of job is highly
sought-after because of the schedule and high pay. He arranges his
work schedule so he can fish for salmon in Bristol Bay for a month or
so in summer, but by no stretch of the imagination is fishing their
major source of income. Nor has her life-style ever been anything
like that of native Alaskans.

Sarah and her whole family are avid hunters.

She's smart.

Her experience is as mayor of a city with a population of about 5,000
(at the time), and less than 2 years as governor of a state with about
670,000 residents.

During her mayoral administration most of the actual work of running
this small city was turned over to an administrator. She had been
pushed to hire this administrator by party power-brokers after she had
gotten herself into some trouble over precipitous firings which had
given rise to a recall campaign.

Sarah campaigned in Wasilla as a "fiscal conservative". During her 6
years as Mayor, she increased general government expenditures by over
33%. During those same 6 years the amount of taxes collected by the
City increased by 38%. This was during a period of low inflation
(1996-2002). She reduced progressive property taxes and increased a
regressive sales tax which taxed even food. The tax cuts that she
promoted benefited large corporate property owners way more than they
benefited residents.

The huge increases in tax revenues during her mayoral administration
weren't enough to fund everything on her wish list though, borrowed
money was needed, too. She inherited a city with zero debt, but left it
with indebtedness of over $22 million. What did Mayor Palin encourage
the voters to borrow money for? Was it the infrastructure that she said
she supported? The sewage treatment plant that the city lacked? or a
new library? No. $1m for a park. $15m-plus for construction of a
multi-use sports complex which she rushed through to build on a piece
of property that the City didn't even have clear title to, that was
still in litigation 7 yrs later–to the delight of the lawyers
involved! The sports complex itself is a nice addition to the
community but a huge money pit, not the profit-generator she claimed it
would be. She also supported bonds for $5.5m for road projects that
could have been done in 5-7 yrs without any borrowing.

While Mayor, City Hall was extensively remodeled and her office
redecorated more than once.

These are small numbers, but Wasilla is a very small city.

As an oil producer, the high price of oil has created a budget surplus
in Alaska. Rather than invest this surplus in technology that will
make us energy independent and increase efficiency, as Governor she
proposed distribution of this surplus to every individual in the state.

In this time of record state revenues and budget surpluses, she
recommended that the state borrow/bond for road projects, even while
she proposed distribution of surplus state revenues: spend today's
surplus, borrow for needs.

She's not very tolerant of divergent opinions or open to outside ideas
or compromise. As Mayor, she fought ideas that weren't generated by
her or her staff. Ideas weren't evaluated on their merits, but on the
basis of who proposed them.

While Sarah was Mayor of Wasilla she tried to fire our highly respected
City Librarian because the Librarian refused to consider removing from
the library some books that Sarah wanted removed. City residents
rallied to the defense of the City Librarian and against Palin's
attempt at out-and-out censorship, so Palin backed down and withdrew
her termination letter. People who fought her attempt to oust the
Librarian are on her enemies list to this day.

Sarah complained about the "old boy's club" when she first ran for
Mayor, so what did she bring Wasilla? A new set of "old boys". Palin
fired most of the experienced staff she inherited. At the City and as
Governor she hired or elevated new, inexperienced, obscure people,
creating a staff totally dependent on her for their jobs and eternally
grateful and fiercely loyal–loyal to the point of abusing their power
to further her personal agenda, as she has acknowledged happened in the
case of pressuring the State's top cop (see below).

As Mayor, Sarah fired Wasilla's Police Chief because he "intimidated"
her, she told the press. As Governor, her recent firing of Alaska's top
cop has the ring of familiarity about it. He served at her pleasure
and she had every legal right to fire him, but it's pretty clear that
an important factor in her decision to fire him was because he wouldn't
fire her sister's ex-husband, a State Trooper. Under investigation
for abuse of power, she has had to admit that more than 2 dozen
contacts were made between her staff and family to the person that she
later fired, pressuring him to fire her ex-brother-in-law. She tried to
replace the man she fired with a man who she knew had been reprimanded
for sexual harassment; when this caused a public furor, she withdrew
her support.

She has bitten the hand of every person who extended theirs to her in
help. The City Council person who personally escorted her around town
introducing her to voters when she first ran for Wasilla City Council
became one of her first targets when she was later elected Mayor. She
abruptly fired her loyal City Administrator; even people who didn't
like the guy were stunned by this ruthlessness.

Fear of retribution has kept all of these people from saying anything
publicly about her.

When then-Governor Murkowski was handing out political plums, Sarah got
the best, Chair of the Alaska Oil and Gas Conservation Commission: one
of the few jobs not in Juneau and one of the best paid. She had no
background in oil & gas issues. Within months of scoring this great
job which paid $122,400/yr, she was complaining in the press about the
high salary. I was told that she hated that job: the commute, the
structured hours, the work. Sarah became aware that a member of this
Commission (who was also the State Chair of the Republican Party)
engaged in unethical behavior on the job. In a gutsy move which some
undoubtedly cautioned her could be political suicide, Sarah solved all
her problems in one fell swoop: got out of the job she hated and
garnered gobs of media attention as the patron saint of ethics and as a
gutsy fighter against the "old boys' club" when she dramatically quit,
exposing this man's ethics violations (for which he was fined).

As Mayor, she had her hand stuck out as far as anyone for pork from
Senator Ted Stevens. Lately, she has castigated his pork-barrel
politics and publicly humiliated him. She only opposed the "bridge to
nowhere" after it became clear that it would be unwise not to.

As Governor, she gave the Legislature no direction and budget
guidelines, then made a big grandstand display of line-item vetoing
projects, calling them pork. Public outcry and further legislative
action restored most of these projects–which had been vetoed simply
because she was not aware of their importance–but with the unobservant
she had gained a reputation as "anti-pork".

She is solidly Republican: no political maverick. The State party
leaders hate her because she has bit them in the back and humiliated
them. Other members of the party object to her self-description as a
fiscal conservative.

Around Wasilla there are people who went to high school with Sarah.
They call her "Sarah Barracuda" because of her unbridled ambition and
predatory ruthlessness. Before she became so powerful, very ugly
stories circulated around town about shenanigans she pulled to be made
point guard on the high school basketball team. When Sarah's
mother-in-law, a highly respected member of the community and
experienced manager, ran for Mayor, Sarah refused to endorse her.

As Governor, she stepped outside of the box and put together of package
of legislation known as "AGIA" that forced the oil companies to march
to the beat of her drum.

Like most Alaskans, she favors drilling in the Arctic National Wildlife
Refuge. She has questioned if the loss of sea ice is linked to
global warming. She campaigned "as a private citizen" against a state
initiaitive that would have either a) protected salmon streams from
pollution from mines, or b) tied up in the courts all mining in the
state (depending on who you listen to). She has pushed the State's
lawsuit against the Dept. of the Interior's decision to list polar
bears as threatened species.

McCain is the oldest person to ever run for President; Sarah will be a
heartbeat away from being President.

There has to be literally millions of Americans who are more
knowledgeable and experienced than she.

However, there's a lot of people who have underestimated her and are
regretting it.

CLAIM VS FACT
•"Hockey mom": true for a few years
•"PTA mom": true years ago when her first-born was in elementary
school, not since
•"NRA supporter": absolutely true
•social conservative: mixed. Opposes gay marriage, BUT vetoed a bill
that would have denied benefits to employees in same-sex relationships
(said she did this because it was unconsitutional).
•pro-creationism: mixed. Supports it, BUT did nothing as Governor to
promote it.
•"Pro-life": mixed. Knowingly gave birth to a Down's syndrome baby
BUT declined to call a special legislative session on some pro-life
legislation
•"Experienced": Some high schools have more students than Wasilla has
residents. Many cities have more residents than the state of Alaska.
No legislative experience other than City Council. Little hands-on
supervisory or managerial experience; needed help of a city
administrator to run town of about 5,000.
•political maverick: not at all
•gutsy: absolutely!
•open & transparent: ??? Good at keeping secrets. Not good at
explaining actions.
•has a developed philosophy of public policy: no
•"a Greenie": no. Turned Wasilla into a wasteland of big box stores
and disconnected parking lots. Is pro-drilling off-shore and in ANWR.
•fiscal conservative: not by my definition!
•pro-infrastructure: No. Promoted a sports complex and park in a city
without a sewage treatment plant or storm drainage system. Built
streets to early 20th century standards.
•pro-tax relief: Lowered taxes for businesses, increased tax burden on
residents
•pro-small government: No. Oversaw greatest expansion of city
government in Wasilla's history.
•pro-labor/pro-union. No. Just because her husband works union
doesn't make her pro-labor. I have seen nothing to support any claim
that she is pro-labor/pro-union.
Posted by mcblogger at 10:15 AM | Comments (0) | TrackBack
September 02, 2008
Reality and Charles Krauthammer
Charles Krauthammer is decidedly unimpressed with Sen. Obama. Which isn't surprising because they only person who impresses Charles Krauthammer is Charles Krauthammer. However, he's really stretching to be negative about Sen. Obama, to wit
The oddity of this convention is that its central figure is the ultimate self-made man, a dazzling mysterious Gatsby.
Of course, change Gatsby to Horatio Alger and you have the perfect sentence written by Charles Krauthammer about a Republican candidate. And the funny thing about it? Millions of Americans saw more substance out of Obama Thursday night than they've seen out of decades of McCain.
Posted by mcblogger at 01:18 PM | Comments (0) | TrackBack
August 29, 2008
Roundin' up the TPA
Do you know what the Texas Progressive Alliance blogs and bloggers have been up to this week? Well, our weekly round-up will tell you. This week's round-up was compiled by Vince from Capitol Annex.
refinish69 explains why Travis County and Texas doesn't need another Keel at Doing My Part For The Left.
Two White guys in Houston want each others' jobs. Former Gov. Mark might run for for mayor, and current Mayor Bill may run for governor. PDiddie at Brains and Eggs has the Frick-and-Frack report.
Prepare yourself for a shock when you visit Bluedaze and see the BILLIONS in handouts given to Big Oil. TXsharon shows how these handouts, paid with our taxes, enable Big Oil to buy influence, work against our best interest, blatantly ignore laws and keep the US dependent on hydrocarbons rather than moving forward.
Mayor McSleaze at McBlogger wonders why, if Washington is broken as McThuselah's campaign says, McThuselah himself hasn't done something to fix it since he's been there more than, you know, 25 years.

The major media outlets may be arguing about whether experience, the war or the economy is the most important issue in this year's presidential election, but jobsanger says there is only one issue that matters , and it's not any of those three.
The Texas Cloverleaf exposes the plan by Congressman Michael Burgess and the Bush DOT to make I-35 from Dallas to Denton a toll road!
BossKitty at TruthHugger is concerned about WATER and what our fearless leaders plan to do about it: "Water, water everywhere and not a drop to drink."
Justin at AAA-Fund Blog wonders when Houston will find good leadership – in government, in corporations looking for good PR, anywhere – for recycling.
Off the Kuff criticizes State Sen. Dan Patrick and State Rep. Frank Corte for their request for a ruling from AG Greg Abbott that the Lege can require cities to enforce federal immigration laws.
Off the Kuff criticizes State Sen. Dan Patrick and State Rep. Frank Corte for their request for a ruling from AG Greg Abbott that the Lege can require cities to enforce federal immigration laws.
Texas Liberal says that he is not a bridge builder.
Before she took off for the DNC convention in Denver, and the Big Tent, Texas Kaos frontpager SCCS took a look at the state of the Central Texas Congressional races.
The rich get Visas while the poor were asked to self-deport notes CouldBeTrue of South Texas Chimse.
WCNews at Eye On Williamson posts about Perry, Dewhursts, and Craddick's new toll road plan, Texas GOP Leaders Want To Use Public Pension Funds To Build Corporate Toll Roads.
Vince from Capitol Annex takes a look at Republican State Representative candidate Van Brookshire's stupid press release about immigration and the incorrect facts he based it on.
North Texas Liberal shares a stunning tribute to Rep. Stephanie Tubbs Jones, penned by a great friend of the late congresswoman.
Posted by mcblogger at 01:40 PM | Comments (0) | TrackBack
McCain gets frigid
Sen. McCain is rumored to have picked Alaska Governor Sarah Palin to be the Republican nominee for Vice-President.
Palin, 44, is a reform-minded governor in Alaska who's challenged the party's old guard, attacked pork-barrel spending and taken a keen interest in energy and environmental issues. A former Miss Alaska runnerup, Palin hold a degree in journalism and has five children, including one with Down Syndrome. If Palin is selected, it could indicate a strategy on McCain's part to siphon off women voters disaffected by Sen. Hillary Clinton's loss in the Democratic primaries to Obama, D-Ill.
First, this ain't gonna peel off any of Hillary's diehards, nor is anyone going to be persuaded that her goodwill and character will rub off on McCain. At the end of the day, the veep is largely irrelevant and the only way Independents and Democrats will vote for a Republican is if the Republican nominee stopped being John McCain.
Update 11:45 - Watching the speech now and it's clear they are going to focus on reform. I guess no one told her that the man she's running with has been an integral part of what she'd like to reform for decades. Also, I don't think she realizes she's a Republican. Look for the Democrats to make the point that we can't really afford anymore Republican 'Reform' like ever expanding deficits, low job and wage growth and dramatically higher energy prices.
Posted by mcblogger at 10:08 AM | Comments (3) | TrackBack
Change I believe in...
After watching Sen. Obama's acceptance speech, it occurred to me that anything I could post would be woefully inadequate. His words were precisely chosen, his delivery was flawless and for 42 minutes he held a crowd of millions with specifics. And with hope.
I can, without reservation, say I am a tough sell. Yesterday afternoon while talking to Sister Ruth, I told her I wanted to be inspired by his speech. I was going to vote for him, but I wanted to believe that he was what he claimed to be, a candidate who would transcend politics and really talk about issues, frankly and fearlessly. One who would fight, head to head, on every front. Frankly, I didn't see it. Even yesterday afternoon.
Early this morning, however, I'm still in awe of the man who was willing to stand in front of a crowd of more than 80,000 and speak about real issues, genuine ideas and not worry about the smaller, pettier matters and conflicts. One who was clearly focused on leading his party and his nation back from the brink of oblivion.
Leader. That's the word that describes the man I saw just a few hours ago. A man I'm proud to say I'm voting for in November.

Posted by mcblogger at 01:25 AM | Comments (1) | TrackBack
August 27, 2008
Great speeches overcome objections, but not ignorance
After Hillary Clinton's rousing speech, CSPAN had their call-in segment. A woman from Alabama said she would not vote for Obama because of the radical talk he had heard as a member of "that" black church. Another woman from California, whose speech seemed slurred by intoxication, rambled on about this and that. However, her premise was she was not going to vote for any Democrat because she didn't like giving her tax money to lazy people, and that the Dems were socialist.
This is more than anecdotal. From all the conversations and what has been spoken and printed, we find this is a disturbing attitude of many. Are they a tiny minority? After seeing current polling data, I think not.
From now until the election, do we need to waste time and energy talking to people - many in despair of personal tragedy caused in general by contemporary American conservatism and specifically by policies initiated and enacted by Republican Party rule - who will never vote for Obama?
Why is it wrong to leap to conclusions about what is in the heart of people who feel the need to denigrate equality, diversity, compassion, and the common good.
Let them fester in their own cesspool of racism and hatred.
We have our work cut out.

Posted by Captain Kroc at 07:02 PM | Comments (0) | TrackBack
August 26, 2008
Frank Corte in a box?!
There IS a structure on the empty lot that Frank Corte calls home. It's a mailbox.
Now, the question is, can he live in it? I guess I could have called this post 'DICK (in a box)'.
Posted by mcblogger at 08:58 AM | Comments (0) | TrackBack
August 25, 2008
The Transportation Daisy Chain
A certain political consultant emailed the release of the Republican Leadership (now ain't that just one hell of an oxymoron?) regarding their willingness to work with one another. After reading it, I responded to him with
Craddick sucks off Dewhearst sucks off Perry eats out Delisi sucks off Craddick?
To which he responded
I'd rather not have that image in my mind, but, yes, I think you have it about right.
Here's the gist...
Highlights of the new plan:

Stop funding the Texas Department of Public Safety with gas tax funds, and divert those millions to road construction. DPS could instead be funded with general revenue tax funds.
What an AWESOME idea, y'all! We've only been asking for it for years but it's good to see that you're finally doing what we told you to do. Next, find the revenue to fund DPS without the gas tax. Good luck with that, R's. WITHOUT taking away CHIP.
Create a special Transportation Finance Corporation to allow Texas-based investment funds to directly invest in state transportation projects.
Rutro! This is the kind of place where you people normally take a nosedive. Here's the inside skinny... the folks at Morgan Stanley and Goldman Sachs (whatup, peeps!) are having problems selling toll bonds. Which means that road privatization has pretty much ground to a halt along with everything else in the debt markets, at least everything risky (read: toll revenue bonds). If Texas had issued tax-backed revenue bonds and indexed the gas tax (AS ADVISED YEARS AGO) they wouldn't have had any problems selling off the debt. However, toll bonds (much like subprime and Alt A mortgage credits) are questionable at best, valueless at worst. Which means nothing is selling and there's no way for Perry and his cronies at Zachry (and THEIR friends, Cintra (Bluebonnet)) to get the money to buy the roads. Burka has some great stuff up on just how successful road privatization has been. For investors.
So, now that private money has evaporated to finance your questionable plans, you morons want to dip into the underfunded public pensions!??!?!?! Lemme guess, you'll be giving the investment banks a cut on that transaction to work as adviser, right? And, of course, Zachry will be brought in to manage everything and take a cut. Annually. So, what does that leave for the pension fund?
Great idea, you guys! Precisely what I'd expect from folks with the intellectual capacity of sparrows.
Authorize perhaps as much as $5 billion in bonds for additional highway construction projects. Voters approved a constitutional change in November 2007 to allow these bonds, but legislation is still needed to authorize them.
Oh, those tax backed bonds! Yeah, you should totally issue those. Here's the thing, though... at some point, you R's are going to have to finally admit to folks you've been lying to them about the possibility of having economic growth, good public infrastructure and excellent services (schools, fire and police) all while paying less in taxes. Simply put, you've been selling (but not delivering) a free lunch. It's worked so far because no one's been real hungry. Now they're starving and they want something to eat.
EOW nails it and picks up on what the Statesman (and other major media sources) have always missed. These aren't REAL solutions, it's a shell game designed to make it appear that something is happening... and to put off the day when the bill really comes due.
The really wonderful post on all this comes from Paul Burka at Texas Monthly who lays it out beautifully.
The reality that no one on the R side wants to admit is that their ideology is fundamentally flawed. In the real world, privatization does not always work to the benefit of consumers, especially in the absence of substantive GOVERNMENT oversight. An old school economic conservative can you tell you that. In fact, I've done it several times. We, unlike the ideologues running the government who've never really worked in business, know from first hand experience that private enterprise can be every bit as wasteful as big government.
And we hate waste, whether it's Democratic or Republican. And crony capitalism is definitely waste.
One last point, there appear to be those who still want to parrot the old estimate that our transportation funding shortfall is $80-100 bn. It's NOT. It's not even close especially when you aren't building TODAY for capacity you won't need until the late 2040's. As a side note, I'd also like to ask the Lege to set up an independent body, appointed by the LEADERSHIP from both parties in the Lege, to audit TXDOT and what they are paying suppliers. I find it UNBELIEVABLE that true road constructions costs have escalated more rapidly than anything other than gold bullion.
Posted by mcblogger at 09:06 AM | Comments (0) | TrackBack
August 20, 2008
We (heart) Hector Nieto (and Jesmer's a tool)
No, Hector, not in THAT way. So you don't have to feel nervous around us...we love you for saying this...
"Instead of resurrecting a non-issue like Fred Baron, why doesn't John Cornyn explain to the people of Texas why he voted six times against bipartisan legislation to expand the Children's Health Insurance Program? Every time a child goes to the emergency room because a parent couldn't afford quality healthcare, that parent can thank John Cornyn."
Yesterday, dippy little Rob Jesmer of the Re-Elect A Worthless Douchebag campaign (AKA, Cornyn for Senate) sent out an email about Fred Baron (who?) giving money to Rick Noriega and the Texas Democratic Party and Girl and Boy Scouts of America. While he mostly left Noriega and the TDP alone, Rob went hog wild on the poor little scouts.
"No, we don't want any more of your Fred Barron cookies. We don't want anymore of your trial lawyer sing alongs or massive settlement knots. We certainly don't want to see any more of your tort pine car derby's..." Jesmer went on to discuss the Freemason's, threatening to teleport laughing reporters into the sun (with his MIND) and the Illuminati/Rothschild/Bilderberg grand unified conspiracy theory.
He did not comment on when Cornyn will be giving up the MILLIONS in oil and energy company money he's taken while those same companies have raped Texans on a daily basis.
Meanwhile, the Noriega campaign was taking a nap.
Posted by mcblogger at 09:47 AM | Comments (0) | TrackBack
Roundin' up the TPA
It's time for another edition of the Texas Progressive Alliance's weekly round-up.
To kick the week off right, the TPA is unveiling its newly redesigned website where you can connect with the Alliance and our member bloggers via Twitter, Facebook, MySpace, DFA, Party Builder, Ning and other social networking tools.
Mike Thomas of Rhetoric & Rhythm looks at a week's worth of opinion columns from the San Antonio Express-News and determines there is a nearly three-to-one imbalance of conservative/Republican columns compared to liberal/Democratic ones.
On Bluedaze, TXsharon busts the myths that Natural Gas is cleaner, that shale drilling will make us safer, and that Domestic Drilling can make us Energy Independent.
There was no attempt of a citizens' arrest of Karl Rove while he visited Houston last week, raising money for Texas House Republicans. PDiddie at Brains and Eggs hoped it would happen, to no avail.
WhosPlayin is concerned about operators wanting to drill for gas in Lewisville's urban forest area near Central Park.
CouldBeTrue of South Texas Chisme wonders why sexual assault equates to perjury - wink, wink - if you're a person of power in Texas.
WCNews at Eye On Williamson posts on HD-52 Democratic candidate Diana Maldonado's opponent Bryan Daniel sharing his campaign office with a local charity, IRS Complaint Filed Against Round Rock Charity.
Off the Kuff takes a look at the possible effect Libertarian candidates may have on some close State House races.
Texas Liberal uses the ancient epic Gilgamesh to discuss reactions to vulnerability and innocence in both the ancient and modern world.
McBlogger takes a look at the latest Republican fundraising pitch and finds that it's only appealing only to the same geriatric patients who are McThuselah's base. And those elephants are very tacky.
This week jobsanger is outraged by an Arkansas city that's trashing the Constitution and a small Texas country school that's allowing teachers to carry guns.

refinish69 awards the Infamous Cheese Tray Awards over at Doing My Part For The Left.
Mean Rachel supports Obama but argues against Maureen Dowd's assertion that Hillary Clinton's appearance in Denver will "dampen the dreams of our daughters."
Libby Shaw puts the pieces together for us over at TexasKos in his dairy Military Contractors Charge U.S. Taxpayers $85 Billion. Not only are we NOT saving money by outsourcing military support functions, we are pissing off people worldwide. Worst of all? Eisenhower's worst fear has come to pass, the MIC is real , alive and in control....
Justin at Asian American Action Fund Blog marvels at the coming Charlie Wilson Chair at UT, which will become the first Pakistan Studies chair in the nation.
Vince at Capitol Annex takes a look at a scandal that links State Sen. John Carona (D-Dallas) to a condo development in Houston that is falling apart.
Don't forget to check out other TPA member blogs for the latest news on Texas and national politics: The Agonist, Asian American Action Fund, B & B, Bay Area Houston, Beginning to Wonder, BlueBloggin, Bluedaze, Brains & Eggs, Burnt Orange Report, Capitol Annex, The Caucus Blog, Common Sense, Dallas South Blog, Dig Deeper Texas, Doing My Part For The Left, Dos Centavos, Easter Lemming Liberal News, Eye on Williamson, Feet To Fire, Grassroots News U Can Use, Half Empty, In The Pink Texas, jobsanger, Latina Lista, Lubbock Left, Marc's Miscellany, McBlogger, Mean Rachel, MindSpeak, MOMocrats, Musings, North Texas Liberal, Off The Kuff, Para Justicia y Libertad, The Red State, Rhetoric & Rhythm, Same Blog, Different Day, South Texas Chisme, StoutDemBlog, The Texas Blue, The Texas Clover Leaf, Texas Education, Texas Kaos, Texas Liberal, Texas Truth Serum, There... Already, Three Wise Men, TruthHugger, Who'sPlayin'?, and Xpatriated Texan.
Posted by mcblogger at 09:18 AM | Comments (0) | TrackBack
August 15, 2008
(Not so) Great Ideas
Bad Decision
Mixing bourbon, vodka and gin with root beer (in my defense, I was 12)
SUPER Bad Decision
Making Chet Edwards the nominee of the Democratic Party for Vice-President.
Seriously, I'm not going to go on some asinine rant about how Chet's not liberal enough. Or progressive enough. Or attractive enough. Or interesting enough. He's not enough of any of those things, but at the end of the day, he's perfect for Waco and it's environs. He's conservative, he's moderately attractive, boring as a motherfucker and basically a perfect fit to represent people who voted for Bush. Four times.
And I'm certainly not going to beat up on a Democrat who can get re-elected, cycle after cycle, in the red territory most us only know as the asshole on the 35 between Austin and Dallas. Seriously, voting for the bankruptcy bill was THE right thing to do, mostly because those yokels are too stupid to realize he worked to restrict their Constitutional right to wipe the slate clean and get a fresh start in their lives. They're not too bright, much like their asshat Congressman.
However, while all this not great, it's not the end of the world. Chet votes his district. However, there is one issue which makes Chettie boy as goddamn unacceptable as John McCain. On several occasions he's voted for actions and laws that were unconstitutional. He's voted to give up our rights, freedoms and disregarded his duties as a member of the United States House of Representatives. Needless to say, having a man so willing to surrender what makes us Americans a heartbeat away from the Presidency shouldn't make anyone excited.
Of course, having the endlessly spineless Pelosi pulling strings for him also makes him pretty unacceptable. Let's face it... when the American people put the Democrats in the majority they expected the Executive Branch to be held accountable. They expected a restoration of the Constitutional power of Congress. They expected Democrats to stand up and say that prosecuting the War on Terror does not mean we have to abandon what makes the US the land of the free. I'm one of millions not willing to give up my privacy so Democrats in Congress can act tough and I'm certainly not one of these crazies who thinks an imperial Executive is a good thing. I was one of the millions who helped put Democrats into office in 2006 and we expected to see accountability in Washington.
What we got, instead, were Democrats like Chet Edwards caving on issues large and small, joining with the minority Republicans to form a majority and pass bad legislation. Maybe that's why the approval rating for Congress is so low.
I refuse to stand up and endorse a man who thinks compromising his Oath of Office is good politics. I won't do it for McCain and I certainly won't cut the Bastard Of The Brazos any slack for being a Democrat. If anything, he gets double black marks for voting give up what makes this country great to add perceived safety and security.
And we all know what Benjamin Franklin had to say about those people.
As for me, I'll just call him worthless... well, except for his work for Veterans. However, given his district, is it any wonder that someone looking to get re-elected would be a big believer in giving Veterans a voice? However, maybe that is the one thing he does purely because it's the right thing to do.
Oh, and let's remember that the DMN has been Chet's biggest booster in Texas. You should keep in mind that in 2000 and 2004 the bright Ed Board at the DMN decided to endorse Bush over the Democratic nominee. The same people who see in Edwards the same things, apparently, that they saw in Bush.
Don't say you weren't warned.
Posted by mcblogger at 03:30 PM | Comments (0) | TrackBack
August 04, 2008
Notes on a scandal
So, Pete Sessions (R - North Texas Douchebag) had a fundraiser in a Vegas strip club. He called it a burlesque show, but we've all been to one of those places and we think Pete's a lying sack of shit (granted that's not much of a stretch for the retard).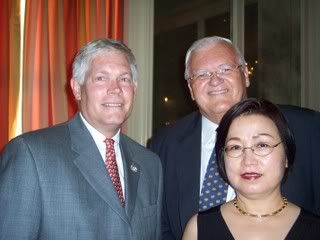 Here's Pete with some supporters. We're really not sure which one is Pete (it was hella dark in the club) but we're reasonably certain he's not Asian. And that he's not a woman.
Here's some more on the scandal with audio and then there's this from D Magazine.
Really, Pete, a burlesque show? What is this, the 1890's??!? Do you really think anyone's going to be believe that you weren't watching the dancing ladies and that 'Little Pete' (girls talk) wasn't standing at full mast?
Posted by mcblogger at 03:27 PM | Comments (0) | TrackBack
August 03, 2008
Roundin' up the TPA
It's time once again for another Texas Progressive Alliance roundup. Here are the blog highlights for the week of July 28:
TXsharon challenges you to view these pictures of Domestic Drilling Armageddon in the Barnett Shale and still support the Drill and Burn Domestic Drilling agenda.
U.S. Rep. Ciro Rodriguez' Republican challenger for the 23rd Congressional seat is taken to task by Mike Thomas of Rhetoric & Rhythm for shirking his responsiblity on a critical hospital expansion vote before the Bexar County Commissioner's Court.
WCNews at Eye On Williamson posts on the GOP's "latest" energy plan in Carter, Oil, & Hair Of The Dog.
Neil at Texas Liberal asks what would be the impact if Polar Bears could vote.
Off the Kuff looks at a Texas Monthly overview of the effects of the Presidential race on downballot elections in Texas and offers his criticism of it.
Guest Columnist JR Behrman at Texas Kaos has a few strong words about Energy Policy: Democrats Routed. He also has a Texas Plan.
Julie Pippert of the MOMocrats asks the Obama campaign to explain its absence in Texas after they announced the roll-out of their Spanish-Language ads as an outreach to Hispanic voters, then discusses a Senate proposal that would require 50% of US cars to have a flexible fuel system by 2012, and finally the MOMocrats share the draft of their position paper to be submitted to the Democratic National Committee for inclusion in the party platform.
McBlogger had a great time in the subprime panel at Netroots Nation. So good in fact that he decided to offer some of his own solutions since the panelists, including the dimwitted Rep. Brad Miller, decided to offer nothing of substance.
XicanoPwr reports on the latest poll by the Pew Hispanic Center on the Latino vote. Latino polling shows that 66% of Latino registered voters will support Obama.
Burnt Orange Report points out that Ag Commissioner Todd Staples finally comes around to what Democrat (and future Ag Commissioner) Hank Gilbert has been saying all along- Texan's are being overcharged at the gas pump due to lack of state inspections.
BossKitty at TruthHugger dreams about the "Count Down To Accountability - Bush, Cheney Indictments"
refinish69 from Doing My Part For The Left invites everyone to meet Annette Taddeo- A True Progressive Democrat.
jobsanger writes about how after years of the Bush Presidency even our cloest traditional ally no longer trusts us in Brits Don't Trust Bush On Torture.
Obama and the down-ballot races in Texas are the focus of two articles by R.G. Ratcliffe of the Houston Chronicle. PDiddie at Brains and Eggs summarizes, and finds some to agree with and some not.
Mean Rachel writes an open letter to Rep. Elliot Naishtat, encouraging him to consider joining the technology age and starting an inexpensive, easy-to-use website tailor-made for state legislators with Wired for Change's DLCCWeb, a Netroots exhibitor.
nytexan at BlueBloggin keeps an eye on Mitch McConnell, the GOP king of distortion and extortion. McConnell plans to block legislation that can impact Americans now and push for a bill whose product will not be seen for 10 years; McConnell Extorts Senate For Off Shore Drilling. McConnell never fails to please Bush and his corporate buddies.
WhosPlayin looks at a new USGS petroleum estimate for the Arctic Circle, and notes that only a small portion of ANWR is estimated to be productive, and that the study doesn't address economic feasibility. (Includes Map)
Vince from Capitol Annex tells us that, while indicted former U.S. House Majority Leader Tom DeLay (R-Sugar Land) won't accept a presidential pardon, he'd love one from Texas Governor Rick Perry.
CouldBeTrue from South Texas Chisme gets upset with crappy newspaper article.
Posted by mcblogger at 04:48 PM | Comments (2) | TrackBack
August 01, 2008
Sen. Kirk Watson NAILS IT
Here's a sample of today's WatsonWire...
But the Mansion fire isn't only a symbol. It's a symptom of the self-interested neglect and mismanagement that have come to define those who purport to lead this state. While Texas is blessed with dedicated, hard working, public service-oriented employees, they have been denied the tools and leadership they need.

Texas, and every Texan, deserves better. It's time to demand a government that works.

Read the rest here. Kirk, we need this from you... and we need you desperately to be a leader on transportation funding that won't leave the majority of the state in the slow lane.
Posted by mcblogger at 01:13 PM | Comments (0) | TrackBack
July 30, 2008
I really gotta stop reading Salon
I, like many of you, am feeling let down by Democrats in Congress and by our own candidate. From FISA to faith based initiatives, the Democrats seems as willing to trash the Constitution as the Republicans. Greenwald thinks it's all because of the Blue Dogs... stop them and you regain a progressive agenda. Basically, we have to target the Blue Dogs or even, God forbid, allow Republicans to win these races to make a point with the leadership and the caucus that taking voters for granted is a super bad idea.
There is another theory that I like better... simply, we need to put a super majority of Democrats into Congress to completely marginalize the Blue Dogs.
What are your thoughts? I know where I'm falling on this... and the polling should be showing the Democrats that playing the same old games, instead of actually taking a stand and leading, is their ticket to a loss in November.
Obama offered his own horse-race assessment ...

... while attending a fundraiser in Arlington, Va., Monday night. Talking to about 40 supporters, he opined that when he began his White House quest, "there weren't too many people who thought we were going to pull this off."

Now, he said, "We are ... in a position where the odds of us winning are very good. But it's still going to be difficult.... We're not going to see a huge gap develop between now and Nov. 4 [in the polls]. This is going to be a close election. I'm new on the national scene. People sort of like what they see, but they're not sure."

Uhm, Senator, the fact that in this environment you're having problems beating a guy who is so close to Bush they smell the same is a pretty clear indication that your strategy isn't working. Seriously, rethink your excuses. You're close because you caved on things that Democrats, Republicans, Independents and even Libertarians can agree on. So, that leaves us all wondering why the hell we should vote for you.
If you lose this, Senator Obama, you have no one to blame but yourself.
Posted by mcblogger at 12:55 PM | Comments (0) | TrackBack
July 29, 2008
The Tubes reveal indictments
Sen. Ted Stevens (R - The Tubes) has been indicted. Which came as a huge surprise to those of us at McBlogger. Of course, we were all shocked (SHOCKED, I TELL YOU!) when Tom DeLay was indicted and everyone apparently knew about that like a week before.
Of course, we were having one of our famous month long party's at the time. And if you weren't invited there probably was a reason. And yes, we realize this will probably cause your anxieties to escalate and you'll want to cut yourself. We really don't care.
Posted by mcblogger at 12:36 PM | Comments (0) | TrackBack
McCaul gets pwn'd
A couple of boys are attending a school that a US Congressman doesn't like and labels a 'jihadist seminary' without knowing anything about it. He then makes sure, through some hitherto unknown mechanism available to members of Congress, that they are removed from the school.
Who would dare to violate the religious and intellectual freedom of Americans? None other than our own Republican Congressman, Mikey McCaul (R - ClearChannel). Regardless of how pro- or anti-American this school is, their FATHER sent them there. Why did McCaul feel a need to violate the wishes of a parent? Will he be stepping in to assist other children who don't like the schools they are attending? Maybe even beat up on parents for sending their kids to bad summer camps?
Finally, these kids were from ATLANTA, GEORGIA. Not Texas. It's great that Mikey can spend so much time working on violating the wishes of a parent who isn't even his constituent, but we'd love it if he'd start doing what WE, his actual constituents, would like him to do.
Mean Rachel has more and some video.
Oh, and it would be nice if you'd help us get rid of Mikey by throwing some support to Larry Joe!
Posted by mcblogger at 10:50 AM | Comments (0) | TrackBack
July 25, 2008
A Buttertroll, CradDICK and John Davis walk into a bar...
The more things change... John Davis is in trouble. Sherrie Matula is kicking his ass for being as useless as tits on a boar. She's outraising him and now little Johnny is starting to freak out. So bad, in fact, that he's requested none other than the electorally toxic CradDICK and Karl "Buttertroll" Rove to come to his aid. While they aren't good for votes, they're great for money.
So, we need to make sure Sherrie keeps in the advantage. Give what you can, even if it's a dollar, and let's help the folks in HD 129 get rid of this worthless bastard. Remember, change in one seat in the Lege may be the advantage we need to get rid of CradDICK and start rebuilding our State.
Posted by mcblogger at 01:00 PM | Comments (0) | TrackBack
July 22, 2008
Roundin' up the TPA
It is time for another edition of the Texas Progressive Alliance's weekly round-up.
This week's round-up is compiled by Vince from Capitol Annex.
The Texas Cloverleaf asks if John Cornyn and Kay Bailey Hutchison want more HIV in the global pandemic? Our TX Senators were 2 of the 16 votes against the latest HIV/AIDS bill in the Senate this week that passed overwhelmingly.

WCNews at Eye On Williamson posts on Diana Maldonado's great fundraising numbers in Diana Maldonado Has Almost 4 to 1 COH Advantage In HD-52.
WhosPlayin at WhosPlayin steped outside of his comfort zone a bit and commented on the Fannie and Freddie situation.
jobsanger blasts Republican attempts to allow offshore and ANWR drilling in Drilling Won't Make Us Energy Independent and in Bush Playing Politics With Oil.
The bar may be open, says TXSharon at Texas Kaos in Fire Water: With Compliments from EnCana, but if Encana's serving up the cocktails, it might be better to abstain.
McBlogger's own
Harry Balczak has a new recurring feature, href="http://www.mcblogger.com/archives/2008/07/harry_balczacs.html">Harry Balczak's Reminder To You People. In this edition, he'd like to remind Those Of You Who Just Couldn't Vote For Kerry that your decision was, well, pretty stupid. He is nice about it, though.
Vince at Capitol Annex notes that poultry kingpin Bo Pilgrim paid to jet around Texas Governor Rick Perry's staff to promote the ethanol waver he bought and paid for with a $100,000 contribution to the Republican Governor's Association.
Mean Rachel contemplates whether Fannie and Freddie have anything to do with being raised in 78704, but living through young-adulthood in 78749 in Crashes.
The final word, for now, on the Webb County Sheriff's race says Martin Cuellar wins by 41 votes. Since the various 'official' totals for Cuellar have been +37, -133, +39 and finally +41, CouldBeTrue of South Texas Chisme wonders what the h*ll happened!
Off the Kuff looks at the Harris County campaign finance reports and finds good news and not-so-good news for Democratic campaigns.

The Texas Observer's Melissa Del Bosque had an observation about one
of the panels at Netroots Nation this past weekend, and PDiddie at Brains and Eggs had some observations about what she observed.
BossKitty at BlueBloggin shows us smuggling humans into the US is no problem at all; From Africa to Mexico to US, Any Way They Can Immigrate.
BossKitty as TruthHugger points out the continued struggle by our soldiers suffering from PTSD and the inadequate response by the incapable VA, in But, When They Come Home ….
Posted by mcblogger at 12:17 PM | Comments (0) | TrackBack
July 18, 2008
Harry Balczac's Reminder To You People, Part 1
Even though it's 2008, I'm still good and stewed over that dumb, dumb thing You People did in 2004 - all 62 million plus of you. (I won't bring up 2000 or what a smaller subset of You People did in '98 and '94, because I'm magnanimous that way).

So just to make sure You People don't do something similarly stupid this year, I'm introducing a new recurring feature from now until Election Day: Harry Balczac's Reminder To You People. In this series, I will periodically chime in with some reminder of the ridiculous sales pitches that duped all You People just four short years ago.

Hopefully, being made to inhale your own brain farts in this manner will build up your resistance to future campaign sophistry (a more accurate term would be McThuselan Bullshit or GOP Projectile DooDooBomb, but again, my magnanimity...). So without further ado, I bring you Installment One: "The Commander In Chief....Of T-Ball!!"

Remember when all You People were scared that terrorists were under the bed, but you felt safe because His Deciderness wore a fighter pilot uniform, and said "Bring it on" to the "Terr'rists", and swaggered a lot, and had his surrogates slander the other candidate who actually went into combat instead of playing hookie from stateside duty, and all You People positively SWOONED over what a strong, manly, Alpha-male Commander In Chief we had, like old-timey women who got the vapors while entertaining gentlemen callers in the parlor?

Well, the war in Iraq is still on, Afghanistan is still a festering Stage IV decubitis ulcer on the ass of the Asian landmass, Pakistan is getting worse in a hurry, the military is more demoralized than ever, but our Commander in Chief, who YOU PEOPLE elected, can't be bothered right now...because he's got a T-Ball game to officiate. Dana Milbank of WaPo has the story here.

Nero played the violin while Rome burned. Our commander-in-chief plays T-ball with a chipmunk. You People think about that.

Posted by hbalczak at 08:59 AM | Comments (0) | TrackBack
July 10, 2008
Thank you, Rick
Ladies and Gentleman, our candidate for US Senate...
"Many times throughout my lifetime I have sworn an oath to protect and defend the Constitution of the United States. This isn't a part-time Constitution. We as a nation cannot grant anyone sweeping amnesty if they break the rules. It's appalling that my opponent, John Cornyn, puts his special interest campaign contributors ahead of the Constitution. Texans have had enough.

Americans will not accept an abuse of power, and they will not accept corporations getting away with breaking the law.

We already have a law in place that balances national security concerns while adhering to the Constitution. This is not the time to compromise the privacy of the American people and not the time to disregard the Constitution of United States. I regret that the Senate has voted this way."
Spot on, sir.
Posted by mcblogger at 10:36 AM | Comments (0) | TrackBack
FISA and the dumb things people do
Well, to start Digby has a good recap and some information on the folks who voted against cloture in the Senate. Obama's not one of them so don't freak out. He lost his balls in a tragic polling accident (well, tragic because he didn't have the huevos to stand up to a President with a 28% approval rating). The NYT ran a great op/ed about this but, sadly, the Republicans in the Senate decided to ignore it. As well as a minority of the Democrats.
A few thoughts...
We don't need this bill to modernize FISA. Forget the fact that we have a FOURTH AMENDMENT protection against unreasonable searches and seizures without warrants. The reality is that the terrorist threat we face NOW is not that much different than the threat we face from drug cartels. Or the threat we faced from organized crime. We can fight it with the same tools we've always used... signal and human intelligence.

This bill allows for a dragnet, broad access to telecom infrastructure in the US, in an effort to capture terrorists communicating. So, let me tell you how this'll go... One terrorist decides to have some fun. He makes calls to 200 people, at random, in the US, using IP phones. He uses a voice activated computer program and peppers the conversation with bits and pieces of code, code the government is looking for. The next thing you know, there are thousands of federal agents combing the US picking up these people and asking them questions. If you're one of them it's going to suck.

And it's going to waste resources we don't have, looking for a threat that's not there, and doing nothing to stop real threats. Sleep well, kids
The political implications are enormous... Congress just caved into a crazed, weak President. Including our nominee. How DO you handle something like this? Easy. You pass the bill without immunity and with restrictions on unconstitutional wiretapping. Bush, true to form, vetoes it. Congress overrides the veto by beating the hell out of Republicans in a PR war. Like they did on Medicare which Junior John just caved on after Rick Noriega beat the hell out of him. THAT'S how you do things.
Let's all take a moment to remember that this shields the illegal actions of Bush and the telecom companies. It does so by creating a precedent... Let's call it the Nuremberg Precedent. The Nazi's at Nuremberg claimed they were not responsible for their actions because they were just following orders. Though not as severe as killing 6 million people, the telecoms DID violate the constitutional rights of millions. And their excuse was that they were doing it under the orders of Bush which they, reasonably, should have known were illegal. So, ANYONE can claim an 'acting under orders' defense.
The ACLU has already pledged to take this to court. Throw them some money and support, the same money and support you were going to throw to Obama. He'll win anyway but we can't afford not to stand up for our rights. Since it's clear he won't.
Posted by mcblogger at 12:58 AM | Comments (0) | TrackBack
July 07, 2008
Really, Boone?, TOD problems, $1 Trillion Deficit and more
Boone Pickens, one of the financiers responsible for the Swift Boat attacks on John Kerry in 2004, is going back on his word to pay $1 mn to anyone who can refute the attacks. Boone, it's a $1mn and an "I'm Sorry". Just do it already
The Lakeline TOD, planned as part of the commuter rail line in Austin, has his a snag... one parcel of land developers were going to use may be foreclosed.
At least 141 acres of the planned 326-acre Lakeline Station project, near U.S. 183 and RM 620, have been posted for foreclosure after California-based developer Pacific Summit Partners failed to make at least one quarterly payment to William Savage, the previous owner of the property.

Savage, who sold the land in 2006, could not be reached for comment Thursday. Messages left for his attorney, Rick Hightower, were not returned.

Pacific Summit principal Steve Levenson said his partnership missed a payment because of problems arranging financing and asked for an extension; Levenson didn't say when the payment had been due.
Bill Gross, manager director of PIMCO, has a letter of advice for Obama that positively spot on and very surprising coming from a Republican. In it, he clearly delineates where we are heading fiscally and puts forth that President Obama may be the first to run a $1 Trillion Annual Deficit.
While the Republicans will blame you for years and label you "Trillion Dollar Obama" in future campaigns, there is in fact not much that you or any other President can do. You've inherited an asset-based economy whose well has been pumped nearly dry with lower and lower interest rates and lender of last resort liquidity provisions that have managed to support Ponzi-style prosperity in recent years. Foreign lenders have cooperated by purchasing Treasuries at yields which when combined with dollar depreciation have resulted in negative returns on their money. Even if these charades continue (and they may not), their stimulative effects – their magical powers to transform a 110-pound weakling into a Charles Atlas/Arnold Schwarzenegger mensch of an economy – are gone. What you need now is fiscal spending and lots of it. No ordinary Starbucks will do, Mr. President, you need to step up for a six-pack of Red Bull.
Gross is uncannily accurate and has been talking for years about the profligate spending (and lax taxation) of Bush and the Republicans. What he presents in his letter is real and not altogether unlikely. However, it'll also go a long way to insuring that the future is far brighter for all Americans.
It appears Obama got a discounted mortgage, much like many Republicans and Democrats in the Congress. And, possibly, then Governor George W. Bush. Here's a newsflash for all you people out there not in the mortgage business... Some banks will give you a discounted rate on your mortgage in exchange for other banking business. My own company has a friends and family loan that is discounted from our published rates. It's a perk for working here. Get over it.
Is Chris Bell going to run in SD 17? It appears so, though the announcement has, again, been put off. Come on, Chris. Just RUN.
Once more, Warren Chisum is speaking about his intention to file his insane, two years to get divorced, bill. The Statesman calls it a bad idea. I agree with them and will go one step further... Chisum, you're a dumbass.
The NYT has an awesome editorial up about banning nuclear weapons and the renewed effort to do just that. Apparently, the movement has some surprising bipartisan support. We couldn't agree more.
Two decades later, a who's who of the national security establishment — George Shultz, Henry Kissinger, William Perry and Sam Nunn — is calling on the United States to lead a global campaign to devalue and eventually rid the world of nuclear weapons.

None of these men (two former secretaries of state, a former secretary of defense and a former chairman of the Senate Armed Services Committee) are given to casual utopianism — or anything casual. They are trying to shock sensibilities.

In two opinion articles in The Wall Street Journal, they described a frightening new world of ever-expanding nuclear appetites, in which traditional deterrence no longer works. They argued that the only way for the United States to rally the cooperation it needs to confront such dangers is with a clear commitment to the goal of a world without nuclear weapons.

They called for backing that up with policies that have also long been anathema to hawks: including banning all nuclear testing, taking American and Russian missiles off of hair-trigger alert and agreement on "further substantial reductions" in both countries' arsenals.

"I do not believe we can do this as a demand by countries that have nuclear weapons to countries that do not," Mr. Kissinger says.

It is hard to see their proposals as anything but a rejection of President Bush's failed nuclear weapons policy. Mr. Bush's aides have spent eight years ridiculing arms control agreements as "old think" and denying any relationship between what America does with its own nuclear weapons and its obvious inability to constrain others' behavior.
Jobsanger has some information up on Sen. Brimer's renewed effort to keep Wendy Davis off the ballot because it's, frankly, the only hope he has of holding that seat. Come on, Kim, why not let the voters decide?
On drilling OCS and ANWR, Hal at Half Empty, GETS it. Why doesn't Cornyn?
TX10 is definitely in play
Dobson v Obama... guess who wins? You know, Dobson is old as hell... when IS he going to die?
Posted by mcblogger at 12:48 PM | Comments (0) | TrackBack
July 05, 2008
Take action on FISA
Well, as individual citizens who are not members of the US Senate, there's very little we can do to stop the freight train of telecom immunity and the ultimate effect of it, to protect Bush from ever having to answer for his illegal actions.
However, sometimes 'very little' is enough. Sign the petition here, donate a few bucks here and, if you're on Sen. Obama's campaign site, click here to ask him to join the filibuster.
Posted by mcblogger at 05:56 PM | Comments (0) | TrackBack
Whining? No, this is ANGER.
I've heard from a brave few of you, and one of you posted, about my 'whining' about Obama's cave in on FISA. And Faith Based Initiatives. You're brave because you know I can be, to be perfectly honest, a little volcanic in response to criticism.
First off, let me make one thing perfectly, crystal clear. IT'S NOT WHINING. IT'S ANGER.
Let's make something else crystal clear, we live in a REPUBLIC. We elect officials to serve us. We do not need them to 'carry a banner', especially not on these issues. We need them to do the right thing and when they don't we express our displeasure in a number of ways. Finally, they are the ones we have placed in positions to effect change. If they don't do it, what the hell are we supposed to do?
These are Constitutional issues. There is NO compromise on them. This isn't a litmus test issue, like gay marriage, abortion or any of the other issues that people vote on. THIS IS THE FOUNDATION OF ALL OUR LAWS AND OF OUR COUNTRY.
My question to you is why the hell YOU aren't as mad as I am. Make no mistake, this isn't about a lingering primary that still festering. This is about OUR candidate for President blithely agreeing with, even extending, some of the most ridiculous programs of the Bush regime.
I have been opposed to wiretapping since it was discovered in December, 2005. I have ALWAYS been opposed to faith based initiatives. I did not oppose these programs because they came from President Bush's rotten brain. I opposed them because they violated the Constitution of the United States (and, in the case of the wiretapping, because it was also a violation of federal law). I would have opposed them just as ardently had Bush been a Democrat. Integrity demands nothing less.
Take me to task over my very solid criticism? Like hell. Why aren't YOU fighting alongside me?
Posted by mcblogger at 12:43 PM | Comments (0) | TrackBack
McCain attacks Obama
And this one wins the MOTO of the day award...
McCain typically leaves the sharpened criticism to others, in the hope of being able to claim the high ground of conducting a "respectful" campaign. But the abrupt shift in tone among his paid staff members, volunteer surrogates and other Republican staples of the cable news circuit is unmistakable, and it resembles the unified message the GOP used to paint the 2004 Democratic candidate, Sen. John F. Kerry, as a flip-flopper.

It also reflects a growing belief among McCain's strategists that the campaign for the White House will be won or lost based on voters' view of Obama's character. In a strategy memo released Thursday, McCain's top political adviser accused Obama of "self-serving partisanship."

"In his time on the national stage, he has consistently put his party and his self-interest first," McCain strategist Steve Schmidt said in the memo. "We have seen Barack Obama forced to choose between principle and the interests of himself and his party. He has always chosen the latter."

Schmidt said in an interview that the campaign intends to point out "every day" that Obama broke his promise to accept public financing for his campaign, and that he has not made good on his pledge to debate his Republican opponent anytime and anywhere.

"It's a statement of fact that he discards people, and he discards positions when they become inconvenient for him," Schmidt said Friday. "When politicians say one thing and then do another, like Senator Obama has done, voters wonder about the steadfastness of the character of the person sitting in the Oval Office."

Obama spokesman Bill Burton said he is not surprised by the sharp attacks from McCain's surrogates: "It's our view that's exactly the politics that the American people are sick and tired of. The only ideas they have to promote are the failed ones for the last eight years."
Kinda a puts the Gen. Clark bullshit in perspective, no? So now it's all about flip flopping, eh? Well, he's in favor of faith based bullshit and that's nothing new. He's been talking about the smallness of our politics, as if that was our biggest problem, for a while as well.
Exactly how has he flip flopped?

Posted by mcblogger at 12:19 PM | Comments (0) | TrackBack
July 03, 2008
Stop Surrogate Silliness
Actually, we kind of agree with the WaPo on this one... bitching and moaning about what a surrogate says is kind of dumb. Unless that surrogate happens to hit on something accurately.
Which Gen. Clark did. The WaPo, of course, doesn't like it. After all, he was pointing out that their beloved (and they've been loving McCain for two decades) didn't deserve a free pass into the White House because he was a POW. They also know, or should know, that this would be FAR nastier if McCain was a Democrat. You know damn well, there'd be people at the RNC with POW band-aids on, dishonoring those who have been wounded or died while serving the nation.
I'll make you a deal, WaPo. You stop asking the Obama campaign what they think and start talking to General Clark about what he actually said. Don't editorialize and tell us he 'demeaned McCain's service'. We already know he didn't do that. Everyone knows that wasn't what he meant. Well, everyone that is except the narrow sliver of the electorate that is on or watches Fox.
But no one gives a damn about them, anyway. They were handing out the Purple Heart band-aids in 2004.
Posted by mcblogger at 12:11 PM | Comments (0) | TrackBack
July 02, 2008
Work to stop fraud, get fired by DoD
This is, I would assume, largely the fault of the political appointees at DoD, not the career military personnel. At least I hope so. If it's not, then we're in deep trouble.
Mr. Smith, a career civilian employee, did his duty: He confronted KBR and warned that unless they supplied credible justification, he would levy penalties of 15 percent on future work payments while also, needless to say, blocking any performance bonuses for the company.

Whoops. Mr. Smith was replaced suddenly by the brass in overseeing the contract and the Pentagon took the unusual step of second-guessing its own auditors by hiring an outside contractor to reconsider the claims from KBR. Such is the clout of the Texas-based company and largest Pentagon contractor in Iraq, once part of the Halliburton conglomerate so dear to the heart and wallet of Vice President Dick Cheney.

Sure enough, KBR's claims were soon unblocked. The contract Goliath got performance bonuses, too.
It's going to take an act of Congress to put KBR and it's professional employees on the EPLS. Where they belong. So, what's holding you up, Pelosi?
Posted by mcblogger at 01:13 PM | Comments (0) | TrackBack
July 01, 2008
Eye of Newt (and John Sharp, too)
This was forwarded to me Monday night...
Although my Winning the Future message has always been directed at all Americans, whether they consider themselves Republicans, Democrats, or independents, today I am directing my message specifically to Democrats. And my message is this:

The American people have spoken. Are your leaders listening?
Over 1.1 Million Americans Call on Congress to "Drill Here, Drill Now"

We really had no idea, just 35 days ago when we first posted the "Drill Here, Drill Now, Pay Less" petition here, that we would provide the spark that has ignited a fire among frustrated, struggling Americans.
So, Newt, what you're saying is that .03% of the American public is as dumb as you are when it comes to energy supply and energy security (two very separate issues)? I'll buy that. Hell, it appears you've even managed to suck that assweevil John Sharp into your stupidity...
Secondly, cut the capital gains tax from 15 percent to 7.5 percent for investments in new domestic energy. History has shown that capital gains cuts produce more revenue for government, not less. These two actions would unleash the economic power of America towards solving our energy crisis by allowing Americans to do what they do best ... produce. This country has never conserved its way to greatness, but many times we have produced our way to greatness.
A couple of things here, John. First, cuts in cap gains ALWAYS normalize. See, it's called 'tax planning' and people do it all the time. Fund managers, for example, will sell badly performing equities leading up to the end of the year, only to repurchase them in January. Why? Because they get to book a loss on the stock, which are then used to offset gains on other sales. Then they get to rebuy at, if they're lucky, a slightly lower price than they got on the sale, covering their frictional costs. THE SAME THING APPLIES TO CAPITAL GAINS. If I'm sitting on a massive capital gain, and legislation changes the rate at a known date in the future to a lower rate than current, I'm going to put off selling that investment until the rate goes down. Then, I'm going to sell. That's why it looks like tax cuts pay for themselves. As long as you don't think too much about it, which John has evidently not done. Next he'll be telling us that deficits don't matter.
Now, on to conservation... we actually did that. In the 1980's. Consumption went down dramatically as people started driving more energy efficient cars. That coupled with increased production led to oil at $10/bbl. However, the overwhelming factor was the drop in demand. That's in process right now.
Look, I'm going to let y'all in on a little secret. Newt's playing politics and quite stupidly as just about everyone knows that it's a lie that there is enough oil on the continental shelf and in ANWR to satiate our demand for oil.
The world's energy needs are so great that it's going to take an immediate production increase roughly equal to the output of Saudi Arabia, for there to be significant supply side downward pressure on oil prices. When thinking about U.S. based energy projects, the question offered is: "on aggregate are these projects capable of rivaling the present day output of the Saudis?" If the answer is no then we have to question those who claim that a particular energy project is going to make gas/oil cheaper. It's probably better to view the projects as a possible way to reduce some of our energy dependence, as opposed to being a solution to the larger energy problem.
The Saudi's produce 12 million bbl/d. ANWR can't fill that. OCS can't fill that. Shale can't fill that. Neither can oil sands. Combined they STILL aren't close and the oil sands, well, they have their own unique problem of natural gas AND there's a possible political consideration. Remember, we've been through this already. One last point for the 'Drill Everywhere' crowd... the capacity TO DRILL is too low to do anything for five years. Which puts most of the OCS output MORE than a decade away.
So what about Sharp's brill idea about tax incentives for solar, wind, etc? Those are all great, but they can't run a car. Unless we have battery technology far in advance of what we have available now. It's coming, but it's a decade away barring some miracle. Plus, most of these renewables already get some pretty nice tax breaks. Tax breaks aren't the issue. Sharp's an idiot for thinking it is when gas fired power prices are approaching those of more advanced PV solar. Sharp's the perfect kind of old school Democrat, too stupid to know what the hell he's talking about and willing to give away the farm when it's completely unnecessary. I'd love to play no limit with you sometime, John. It'll be fun selling your house after I win it.
Some of you budding candidates out there may be thinking about joining with John on this. Don't. Just keep your mouths shut or we'll excoriate you in the same manner. Let the Republicans be the ones who open their mouths and let the stupid spill out.
Here's where all this is heading... within 5 years gasoline is going to be less than $1.50/ gal. It'll probably happen sooner, but I'll run it out 5 years because right now politics is overriding good decision making. I will throw John a bone by letting him know that the market WILL make the decision. See, I know something that John apparently doesn't : Humans don't like restrictions on their growth. When there is a restriction, we find a way around it. You could say we're large like that. We'll do it this time as well, because speculators have rather firmly planted the seeds for their own destruction.
At $140 a barrel, there's as much incentive as anyone needs to find new sources of oil (such as the tar sands, and even oil shale), and more importantly, substitutes. At $10 a barrel, no one's going to take the time and trouble to find a way to make an electric car viable. At over $100 a barrel, it's a Nobel prize winner.
That's what'll create the solution. And no, it won't be shale oil. It'll probably be something like this. Or maybe something better. I know it'll happen because Malthus was wrong and his followers today are still wrong.
One thing's for sure... it won't be drilling, no matter how much Newt and John may wish for it. If it was, you'd already see some new supply starting to hit. It's not there. Speculation has driven prices and as a result, we're now destroying demand as people change their lifestyles. However, it's only part of the problem since the increased price has not sparked additional supply. Which means we're producing at marginal max capacity.
Of course,with Gwahar producing a 28% water cut, THAT data point should be obvious to anyone with a brain. And no, I don't include those 'Drill Everywhere' people in that group. They're hellbent on politics over substance. For them I have nothing but scorn.
It would be nice, John, if rather than parrot R bullshit, you'd start focusing on some real issues. Better yet, just keep your mouth shut. We'll call you when we need you.
Posted by mcblogger at 09:21 AM | Comments (0) | TrackBack
June 29, 2008
There's Reality... and then there's what Cornyn thinks
It's been an exciting week for Jr. John... let's just jump right in, shall we?
On Friday, Cornyn's brill campaign sent out an email mischaracterizing (or, if you'd rather, outright lying about) Rick Noriega's Energy Plan as continuing our dependency on foreign oil. We thought it was pretty clear Rick was about conservation and alternative fuels, but we have to make allowances for Cornyn and his staffers. After all, they have to be pretty dumb to work for him.

So, just out of curiosity, you may be wondering what Cornyn has planned. Well, it's basically allowing his friends in the oil and gas industry (to whom he's been VERY generous with our tax dollars) to drill. Which is interesting as hell since they are already can and are. Of course, it's understandable that a US Senator and his idiot staff wouldn't know this and bloggers would.

Of course, acknowledging that would require Jr. John to admit that there is not, in fact, enough traditional petroleum to get us off foreign sources. Not to mention there's not enough to drop prices. Which makes Cornyn a LIAR.

None of this is especially surprising when you consider the disorganization and chaos within The 28 Gauge Senator's campaign...
There's a rumor that Karen Hughes, just off her unmitigated failure to make us loved in Latin America, is taking an active role in the Cornyn campaign. By firing the dumbass responsible for the Big Bad John video.
Senator Cornyn joined with an adulterer and a guy with a wide stance to sponsor an amendment to the Federal Constitution to ban gay marriage. Really, Cornyn? This is the company you want to keep? The guy who got caught trying to hook up with some fattie in a public restroom at MSP?
On a sad note, Cornyn also lost the endorsement of Texas Medical Assoc. Which isn't surprising since he was one of the ones who enabled tort reform by promising the doctors they'd get cheaper malpractice insurance. As it turns out, not so much and they're hella pissed. Well, about that and some Medicare thing

What's going to be really funny is watching all the other R's get tagged on tort reform which was supposed to make health care cheaper, lower insurance costs and increase the number of doctors. It's failed on every count, except increasing the number of doctors, slightly, which was going to happen anyway. We keep churning them outta medical school.
Posted by mcblogger at 04:50 PM | Comments (0) | TrackBack
June 27, 2008
No, really. You really are the suck, John Davis
Just to let y'all know, this is cut and paste copy from Vince at Capital Annex. I didn't want y'all to think I was plagiarizing. Actually, that's not true. I really don't care what you think.
If you have been following the videos we released on Monday and Tuesday, no doubt your appetite has been sufficiently whetted and you are eager to know just exactly who the most endangered Republican in the Texas House that you don't know actually is. Wait no longer, as the answer is below:
What makes John Davis the most endangered Republican in the Texas House? It's a good question, and we've got the answer.
John Davis is out of touch with his district. HD 129 is a district that includes El Lago, Nassau Bay, Seabrook, Shoreacres, Taylor Lake Village, and Webster and parts of Friendswood, Houston, La Porte, League City, Pasadena, and Pearland--all in Harris County.
A common misconception is that HD 129 is a "silk stocking" House District full of wealthy folks. That's not true, however. While a majority of families do have an annual income of over $50,000 according to the 2000 Census (the most recent numbers broken out by House District), the population of HD 129 is more "middle class" than anything.
Davis' voting record, however, is pretty shoddy when it comes to the needs of middle class families.
Davis voted for tuition deregulation. It doesn't take a genius to tell you that middle class families have been impacted significantly by the Legislature's decision in 2003 to deregulate college tuition. It has become very difficult for middle class families to afford to send their kids to college because tuition costs are skyrocketing. Clearly, tuition deregulation is not a middle class value that the people of House District 129 support. Davis has even put the interests of one of his big supporters, Houston home builder Bob Perry, above middle class students who want a college education when it came time to cast votes on the Appropriations Bill on the House floor!
He's for dirty air. Once again, it doesn't take a genius to tell you that the air quality in Harris county is somewhat lacking. Heck, even the American Journal of Epidemiology has taken note of the fact that lung cancer mortality in Harris County is high--and that isn't because more people in Harris County enjoy the occasional Marlboro or Kool, either. Yet John Davis--time and time again--has voted against improving the air quality in his own district. Here is some of what Davis actually has to say about this topic:
"It's much cleaner than it was 20-30 years ago. I believe we are on the right track. I don't want to choke off industry.
You can also watch a YouTube of Davis actually making that statement here.
Davis also voted for raising taxes on small businesses. Even though Republicans are typically pro-business, Davis is surely no friend of small business. Even others in his own party call the tax John Davis supported an "abject failure." Taxing small businesses out of business isn't exactly a middle class value, either.
And, there is plenty more where that came from: Davis voted to disenfranchise minorities and the elderly (Voter ID), to waste taxpayer dollars on state-funded lobbyists (more than once), and even allowing the state to seize homes of Medicaid patients (HB 2922).
Does Davis share his district's values? We think not.
Davis' failure to reflect the values of his district alone, however, doesn't make him endangered. It is, rather, a variety of factors.
One of the key factors that makes Davis terribly endangered is the quality of his opponent, Democrat Sherrie Matula, and the campaign she is running down in HD 129.
Posted by mcblogger at 12:30 PM | Comments (0) | TrackBack
June 25, 2008
Oh. God. No.
Right up there with the news that Kinky wants to run as a Democrat in 2010 at the top of a list of 'Things That Will Make Me Vomit', is the news that Congressman Chet Edwards is being seriously considered as a VP nom. For Obama, not McCain.
Seriously, Pelosi is out of touch. This is the same guy who turned tail on his own Oath of Office, sided with the Republicans and PASSED A BILL TO LET THE GOVERNMENT INDISCRIMINATELY SPY ON ITS OWN CITIZENS. But, of course, so did Pelosi.
Lookit, boys and girls, this IS a big issue. This isn't gays and lesbians getting married and any one of a thousand other issues we give these assholes passes on because 'they're in a tough district full of mouth breathers'. In other words, This is the foundation of our country. The basis of our laws. The Republicans disregarded it and we've seen the results. Do you have any idea how crushing it is to watch DEMOCRATS now taking their turn shitting on the document that created the nation our ancestors fought desperately to establish?
Today is the vote in the Senate. Feingold is nervous.
Holding up his BlackBerry, Feingold warned, "Every time you e-mail my daughter or text message her in England, anybody contacts their son or daughter in Iraq, anybody has kids [spending] junior year abroad, anybody that has a business associate anywhere around the world, all of that is now sucked up into a database over which there is essentially no control for the first time in American history. All of this has happened to you, and your communications, in a way that you never would have thought was possible in this country.... We're going to fall over on this."
There's more from PDiddie and FDL. If this thing passes, we will never get a determination from a court that the actions of the President were illegal. And make no mistake, they were...
SPECTER: OK. So what the administration, executive branch of the president, did was not illegal.

COMEY: I'm not saying -- again, that's why I kept avoiding using that term. I had not reached a conclusion that it was.

The only conclusion I reached is that I could not, after a whole lot of hard work, find an adequate legal basis for the program.

SPECTER: OK.

Well, now I understand why you didn't say it was illegal. What I don't understand is why you now won't say it was legal.

COMEY: Well, I suppose there's an argument -- as I said, I'm not a presidential scholar -- that because the head of the executive branch determined that it was appropriate to do, that that meant for purposes of those in the executive branch it was legal.

I disagreed with that conclusion. Our legal analysis was that we couldn't find an adequate legal basis for aspects of this matter. And for that reason, I couldn't certify it to its legality.
And don't kid yourself, this isn't about terrorists. It never has been. And it certainly doesn't give me a lot of faith in our nominee, who is apparently as big a booster for this bill as his opponent. And President Bush.
Posted by mcblogger at 12:56 AM | Comments (0) | TrackBack
June 24, 2008
The most endangered R you don't know
Oh, and there's more to come... just wait.
Posted by mcblogger at 12:27 AM | Comments (3) | TrackBack
June 20, 2008
I have but one question...
HOW COULD YOU BE SO STUPID, DEMOCRATIC LEADERSHIP??!?!?!
Here's how this going to go... You candidates all write constantly asking for support. For you, I have only one question: Will support our current corrupt leadership or will you support leadership changes that will return this country to the rule of law?
How about it, Larry Joe? What are YOU going to do Michael Skelly? Rick Noriega? If you're going to support the absurd leadership of Pelosi and Reid, then there is really no point in electing you.
WHERE DO YOU STAND?
Posted by mcblogger at 01:06 PM | Comments (4) | TrackBack
Carbon and Energy...There's dumb and then there's DUMB
Here's a nice op/ed piece on global efforts to reduce carbon and switch to green technologies. The bottom line is it's going to cost us about $1trillion/year over 40 years. GLOBALLY. In the US, it'll be around $7 trillion which is really nothing over 40 years. Especially when you consider this will create jobs. And save us money on OIL. In fact, if oil keeps increasing the way it already has, spending this money will actually be cheaper than maintaining the status quo. And I'm not even worrying about the other negative effects of global warming.
It is not, admittedly, a trifling sum. The International Energy Agency reckons it will cost US$45 trillion to develop and deploy the technologies needed to halve carbon emissions from the energy sector (including transport) by the middle of the century.

That is about what would be required to stabilize the levels of carbon dioxide in the atmosphere at 450 parts per million...

It ought to be enough to keep the rise in average global temperatures below 2.4C and is the target the leaders of the Group of Eight leading industrial powers agreed last year they would seriously consider.

While $45 trillion is a lot of money, it has to be put in perspective.

It would be spread over more than 40 years and across the whole world economy. It would equate to just over 1 per cent of global gross domestic product over that period, the IEA estimates.

And it would be offset by the cost of the fossil-fuel use avoided, which could be of a similar order, the IEA says. As it acknowledges, however, in a world where the oil price can jump $11 in a single day, any estimates of that are "debatable".
Obvs, Cornyn and the idiots who love him, don't get any of this. Of course, I wouldn't take any of them seriously, after all they think oil is completely fungible and that a barrel pumped out of VZ is the same as one pumped out of the North Sea. I guess no one ever explained assays and that some refineries can only take certain types of oil. It's certain no one ever explained to them that the cheap oil is gone.
Seriously, what is IT with you Republicans and thinking that we can drill our way out of high prices? Even 39% has jumped into the debate...
With Texas one of the few states that allows offshore pumping, Perry disagreed with Obama: "One of the fastest ways to bring down prices is good old supply and demand."
WOW. Just WOW. I couldn't agree more. However, where you've gone off the rails is in thinking that you can drill for the additional supply. All of you Republicans seem to think there's more than enough oil in the ground for infinity. There isn't. Sure, there's a lot of oil all over the place. The problem is, it's not economically recoverable. Which means it's SO MUCH MORE EXPENSIVE THAN ALTERNATIVES THAT THERE'S NO WAY ANYONE WILL EVER BOTHER WITH IT.
Two years ago, one of our long departed authors posted this...
America and the world face a real problem... the end of cheap, portable energy. Note I'm not writing about the end of oil because that's just stupid. We will NEVER pump the last bit of crude from the ground. For one, fossil fuels ARE a replenishing resource, they just happen to be created over thousands, sometimes millions of years. The second reason we'll never extract the last drop of oil is that it will simply be too expensive. By the time you get to that point, oil would be at $100,000/barrel in 2006 dollars. At that level, it's probably cheaper to power your car off some kind of nuclear power source.
Take off the ideological blinders for a second and realize that this is real and that failing to take action will result in TRILLIONS of dollars per year in losses just in our economy.
One last thing, there seems to be a central objection about 'freeloaders', namely India and China who'll not comply with the treaty. The objection goes that since they aren't going to do it, why should we.
The answer, for all you supposed conservatives, is that it will be cheaper. For one thing, biofuels are already cheaper than traditional petroleum based fuels. And they take carbon out of the air. Carbon put into the air by India and China. As we convert more and more to biofuels, we'll leave them behind... and get their carbon emissions for free.
Posted by mcblogger at 11:17 AM | Comments (0) | TrackBack
June 19, 2008
Winning the stupid olympics
Even though there's very little cheap oil left, that didn't stop the Republican Pander Express from making it's way to Dallas to talk about their brill plan to deal with energy costs... drill. Lookit, there isn't enough in the ground that you can bring up in any cost effective way to reduce oil prices. You've got to stop speculation, then you have to develop real alternatives.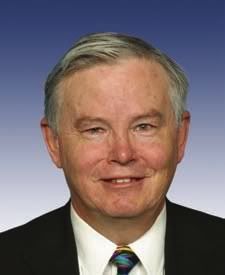 There is NOT some giant, trillion barrel reserve under the Rockies. Or ANWR. Or the Gulf. Oh sure, there's a ton of oil down there but it's expensive to bring up. Too expensive by far to help us out. So quit lying to people, Joe Barton. And lose some weight because you're getting hella fat. Assweavil.
Hey MSM... ask Kay Granger what the per barrel cost will be to produce oil out of ANWR and how much it could realistically produce in a year. Watch the steam come out of her ears. Yes, Reporters, things really are that goddamn simple. Ask any analyst. Better yet, since you won't believe my blogging ass, ask Matt Simmons.
WP has more including information on Burgess' little Energy Expo which just sounds precious. If you like pandering bullshit and lies. Someone go and tell us if he actually says prices will fall immediately.
Apparently, the R's had themselves an interesting vendor at their little convention.
And finally, there's this from our moribund friends on the right. Love y'all, but y'all have to understand. People hate you. Seriously, I love my Republican friends, mostly because even they hate the R electeds. Especially 39%.
Hava Goodun!
Posted by mcblogger at 01:45 PM | Comments (0) | TrackBack
Help Democrats TODAY
Today you have a chance to help Lt. Col. Noriega... click here to make him Sen. Boxer's Challenger! Keep in mind, Sen. Boxer was the 3rd highest vote recipient in the 2004 election, behind Bush and Kerry.
Take Sen. Watson's challenge and help the Travis County Coordinated Campaign
Posted by mcblogger at 12:53 AM | Comments (0) | TrackBack
June 17, 2008
The Republican Convention
Well, I'm sad to report that no one from Team McBlogger made the trip to Houston for the Republican Convention. The excuse I heard most often (other than "Are you fucking kidding me?") is that we don't like funerals. Or the walking dead. Apparently, neither do Republicans since they had around half as many delegates as the Democrats did at their convention.
This post over at BOR tells the story...and leads me to a question. If the Republicans and the Democrats and the Libertarians are against the TTC, then WHY THE HELL DO WE STILL HAVE THE TTC? Is it just 39%'s massive ego?
Apparently, the R's also aired this video. It shows Sen. Cornyn play acting like a real Texan. Yeah, we know all about that. Now run on, Jr. John, and play with your little shotgun.
Finally, is Newt Gingrich going senile? I mean, senility is the only plausible explanation for thinking we can drill for oil to make ourselves energy independent. Then again, fantasy is the basis of Republican reality.
Come on... I can't be the only one who remembers such classics as "Deficits don't matter/pay for themselves" and "The Iraq invasion will pay for itself".
Y'all need a whole new set of bullshit free leaders. Check that, you just need to vote for Democrats.
Posted by mcblogger at 08:04 PM | Comments (0) | TrackBack
More good polling out of CD10
Matt over at BOR has some details. When polling head to head with issues, LJD is beating McCaul. Which is some really good news.
Posted by mcblogger at 11:53 AM | Comments (0) | TrackBack
Culberson steps in poop
This is a not-so-brill article about members of Congress and their staffers using BlackBerry's, basically saying that they are addicts (full disclosure : SO AM I AND MILLIONS LIKE ME) in constant contact with lobbyists, etc. Which is bullshit, but someone in the comments called that out.
And they make Rep. Culberson (R-Asshat) a hero. For using Twitter. When I read it I thought, "Surely it's not that asinine thing that Pink Lady got me wrapped up in that's currently showing me playing with my balls while sitting in a Starbucks. Which is what I'm most definitely NOT doing". But, alas, it was. Which means Rep. Culberson is wasting untold amounts of time detailing the minutiae of his daily actions.
The comments are truly enlightening for a thoroughgoing indictment of Culberson. And leaves us with only one question... Why is Culberson afraid of Michael Skelly? Well, that and WHY THE HELL DO POLITICOS GET ON BLOGS?!?!?!
Posted by mcblogger at 08:55 AM | Comments (1) | TrackBack
June 16, 2008
What smart people do about immigration...
In Spain, they use it to their advantage. Here, we act like it's the worst thing ever. And you know who complains the most? Transplants, not native Texans.
This dovetails rather nicely with this report that shows the real, positive economic impact of immigration.
Sorry about the brevity. It's Monday and I'm feeling it.

Posted by mcblogger at 11:15 AM | Comments (0) | TrackBack
June 12, 2008
In other news...
Tonight you have an opportunity to meet the man who's running against CradDICK!



June 12, 2008 * 5:30-7:00
Scholz Beer Garten
$20 Donation Suggested
Senator Chris Bell? Apparently so. If he'll just decide to run. I'm short on patience and tact this morning, so I'll be brief:

GET OFF YOUR MOTHERFUCKING ASS AND ANNOUNCE.

Jesus. If you make us wait again for some lameass kick off speech at UT where you'll talk about video game violence, I will bitchslap you AND Stanford. Either that or I'll run you down with my car. That speech was a BIG part of the reason I ended up supporting Gammage in the primary.

BE YOURSELF AND RUN. You'll win.
Hava goodun!
Posted by mcblogger at 10:52 AM | Comments (3) | TrackBack
June 06, 2008
We went drinking
And by WE, I mean I. AND I TRIED TO DRINK EVERY THING AT CEDAR DOOR.
I'd like to take this opportunity to apologize to absolutely no one. Except Eileen who came late after suffering through the Clinton party.
I'm sorry for laughing at you.
OH MY GOD, was I the only one freaking out a little at the number of people at the Blogger's Caucus last night? And, yes! I've already been informed that I was 'a little embarrassing'. I don't need you to remind me.
Right now there's a song by Eazy E going through my head...
I gotta get drunk before the day begins before my mother starts bitchin about ma friends
To whoever 'supplemented' the tab last night at Cedar Door, my thanks.
Posted by mcblogger at 10:29 AM | Comments (1) | TrackBack
If Gene Kelly and Rhett Smith had a child...
THIS is what that child would grow old to be.
Like Gene Kelly, he has run for office on a lark a gazillion times. Like Gene Kelly, he is about a gazillion years old. Like Gene Kelly, he has really pissed off a major party by actually winning a primary and fucking up whatever longshot hope they had of maybe winning the general. But notice how he changes parties every damn time he runs for something? That, my friends, is vintage Rhett Smith....

Or am I thinking of Carole Strayhorn?
Posted by hbalczak at 08:05 AM | Comments (1) | TrackBack
June 05, 2008
Shhhh... don't anyone tell Sen. Cornyn how much Rob Jesmer sucks
Rob Jesmer works for Sen. Cornyn. He's not the sharpest tool in the shed, but then again neither is Sen. Cornyn (the man with a hardon for ladies' firearms) which may explain why Cornyn hired him to send out inane emails like this one. Even the old, standard "let's beat up on the Democrat by calling him a librul" is just so goddamn tired I want to fall down right now and sleep.
Really, Rob? This is the best you fucko's can come up with?
You know, it's pointless talking about how many jobs will be created by this bill. Or how well Texas will do because of it. It's not even worth discussing the benefits to us all of arresting, then reversing, the carbon load in the atmosphere. Why bother even considering that this will help free us from dependence on foreign energy sources, saving us close to $1 TRILLION PER YEAR (and, coincidentally, defunding terrorism).
Let's forget about all that because it's really a point by point refutation. Let's just look at one simple fact...
CORNYN IS A LIAR
This is, after all, one of the people who told us the Iraq Invasion would pay for itself. The same guy who has claimed that tax cuts pay for themselves. It's also the same idiot who has let the utility companies bleed Texans dry.
Needless to say, as a real Texan would put it, your credibility (and that of your boss) is shot all to shit. I'd sooner believe Ralph Nader than John Cornyn, any day of the week and twice on Sunday.
While you're good and irritated, go throw Rick a few bucks.
Posted by mcblogger at 11:41 AM | Comments (0) | TrackBack
The Convention Post We Can No Longer Avoid
Right now, as I write this (and while I'm enjoying MY LAST BOWL OF CAUCUS CRUNCH ... THANK GOD), thousands of people are gleefully packing their bags in preparation for a trip to Austin for the Democratic State Convention. They are earnestly working through their tackiest accessories in an attempt to come up with the most repulsive thing they have which will let all who see them know that THEY ARE DEMOCRATS. Very, very tacky Democrats, but Democrats nonetheless.
I'm not one of THOSE Democrats. I'm one of the "Oh my God, when can we get done with this so we can get to the bar" Democrats. I really don't look at the convention any differently than, say, Tuesday. But that's me. If you it's you as well, email me at mcblogger@mcblogger.com. I might tell you where we'll be drinking. Or I might email you porn. You wouldn't BELIEVE some of the japscat I have on my blackberry.
BOR has the breakdown on the caucuses and meetings. I'm thinking the energy, then transportation and then Stonewall so I can vote. I'd love to go the gun caucus but energy's a little more interesting right now. And I'm expecting no Democrat to advocate taking away my shotgun.
There is apparently a Chair's race. We're sticking with Boyd. Why? Because the other candidates haven't even mounted real campaigns for THEMSELVES. Needless to say, we're decidedly unimpressed.
Tim Kaine will be speaking. Yeah, THAT Tim Kaine. And no, goddamnit, I don't have to be nice. If he has not improved on his Shatneresque delivery, then you can expect me to heckle.
See y'all this weekend!
Posted by mcblogger at 09:14 AM | Comments (1) | TrackBack
June 04, 2008
Thank you, Hillary!
We couldn't agree more. The only thing we'd add is the hope that Sen. Obama will look to Sen. Clinton for advice on how to trip up Republicans.
It's not like she hasn't been doing it since 1992.
Posted by mcblogger at 02:34 PM | Comments (0) | TrackBack
TXDOT, Tolls and riding off into the Sunset
Some interesting things floating 'round the sphere...
Both Sal and EOW have the deets on the Sunset Commission's report. All in all, nothing terribly exciting and they're sticking with a Gubernatorial appointment to head the TXDOT, albeit shrinking the number to one person. We're continuing to think three elected officials would be better than any number of appointees, especially if elected to staggered terms.
3 TXDOT officials plead guilty to taking bribes and rumors continue to circulate that Amadeo Saenz is involved.
TXDOT, after YEARS of ignoring Texas Democrats in Congress and spending lavishly (and illegally) on some of Tom Delay's former staffers turned lobbyists, is going hat in hand to those very same Representatives. A word of advice to the D's who are about feel the love... disregard it. Stomp on these people and create a federal law banning that unique form of corporate welfare known as the public private partnership
Is Perry contemplating a special session to kill 391 commissions (the citizen planning commissions that are right now creating very real problems for infrastructure privatization and the TTC)? In an election year? Are you kidding me? If he does, I'll put my money on the Lege being pissed and not doing much of anything. Which would be absolutely perfect for the Democrats running
Finally... proof that toll roads really are made of inferior materials and construction standards. I'll never drive over another toll bridge without thinking about disintegrating, substandard concrete
Can Sen. Hinjosa make TXDOT his bitch? One things for sure, he's actually achieving something unlike a certain fatass blowhard we could mention. Good thing the people of North Dallas have a choice this year.
Speaking of the Lege, it's pretty clear that 39% and TXDOT really aren't in a moderating mood...
"While I am looking forward to addressing this issue [transportation] when the Legislature meets in 2009, " Perry said, "the state cannot afford to repeat 2007. Members of the Legislature must understand that 'no' is not a solution to this challenge. It is an abdication of responsibility." Perry made clear his determination to defend the renting of state right-of-way to private companies in exchange for a fee and building and operating a toll road.
Actually, you ridiculous twerp, selling off your roads IS AN ABDICATION OF RESPONSIBILITY. Not only that, but you and your appointees are so incompetent or corrupt that you didn't even get us a good price. Probably because you're, again, either too incompetent or corrupt to calculate the present value of a revenue stream over time.
This preceded their new Statement on Toll Projects which I'll take a moment to summarize and explain.
1) Not selling the tolls roads... This is pretty dumb since a 50 or more year lease is widely considered a functional sale. In my industry, we call it a leasehold.
2) No roads will be owned by foreign entities. No, but the leases will be held by them.
3) We'll have a way to buy back the roads. Sure, but at what price? I don't expect the crack team at TXDOT to do a good job negotiating this. They're completely out of their element, just as former Commissioner Williamson clearly was.
4) Tolls will be initially set by TXDOT, with formulas and government input for increases. Input isn't control. Nice try, Deidre, but only an idiot would fall for that turn of phrase.
5) No restrictions or non-competes? I'll believe it when I see it, Deidre.
6) Freeways not converted... but if we shrink down the freeway lanes to add a lane, we'll call that added capacity and we'll toll it
This, my friends, is the translation. If you're dumb enough to fall for ANYTHING from this Commission, then you really don't deserve any spot at the table.
All in all, this pretty solidly leaves corporate welfare proponents in the drivers seat and continues to ignore the most cost effective solution, which Burka NAILED.
At the end of the day, this is so transparently a 'Let's give a perpetual revenue stream to a campaign contributor (ZACHRY)' that it surprises me so many 'fiscal conservatives' are in favor of it. Wonder if they're getting paid by Zachry as well. I already know 39% is.
Hava goodun!
Posted by mcblogger at 10:04 AM | Comments (1) | TrackBack
June 03, 2008
Will she or won't she?
Here's the obligatory link to the news... Whether it's tonight or this week, it seems likely Clinton's out. Which shatters my belief in justice, truth and the strange idea that the seemingly impossible can happen (or is real).
Which means I'm also fucked on the Easter Bunny, Santa Claus and Environmentalist Republicans (which I'm convinced exist). Not to mention that whole winning the lottery plan which, up until now, has been my retirement strategy. And yes, I do underwrite loans for a living.
So, what's next? Some think that both Clinton and Obama may be here this weekend for the convention. Others, like me are PISSED AS HELL because now EVERYONE is going to be running as an Obama delegate. Which means delegate selection will be ENDLESS. Which, in turn, will delay my arrival at a bar of my choosing. While I won't be running for national, I will be voting so, a word to the wise, if you're in SD 14 KEEP.IT.SHORT.
I'm very persuasive and will shit can the first person who goes over 60 seconds. Seriously, who are you, why do you want this, and what will you do when you return. That's what we need to know. Anything more is ego masturbation and an automatic 'I hate you'. We also won't tell you where we're going to drink which will mean you'll be forced to enjoy Bennigan's on Riverside. BY YOUR SELF.
Finally, I'm not particularly glad this is over. I still have serious doubts about Sen. Obama in the general. That doesn't mean I won't vote for him or that I don't think he's a swell guy. However, I do have doubts about whether he's mean enough. Many of you out there are true believers. Take some time to convince me.
And do it without using the words 'hope' or 'change'.
Posted by mcblogger at 11:35 AM | Comments (0) | TrackBack
May 25, 2008
Energy and Reality (Or, What to do about high gas prices)
With gas prices approaching or exceeding $4.00 all over the country, it's pretty obvious we're all in for some rough times. I know I've had to make sacrifices (moving from Grand Marnier to Cointreau) and I'm sure you've had to make adjustments as well. Like getting the kids to like cat food instead of Cheerios.
Politically, it's the Democrats year as long as gas stays above $3.00/gal. Actually, I think the pain threshold is probably around $2.50/gal. That being said, this isn't a post about high gas prices and hurray for Democrats in November. This is about what the hell we're going to do.
This is going to be a little different from my usual posts. This is policy and not terribly exciting. I'm going to break things down into two areas of focus... what to do in the short term and long term fixes. Obvs, this issue touches on a hundred issues and disciplines, so please bear with me. While it may not be readily apparent where I'm heading, I promise it'll all come together.


The Short Term Solution


People are hurting now and something has to be done. Sure, it's great to focus on CAFE standards and expanding public transportation. Both of those things have to be done, but before they'll start affecting things, gas will be $9.00/gal. Both of these take years to cycle through the economy.
What? You doubt me? Think about hybrids and diesels. Both are available now and have been for about 4-5 years. Still, they haven't made a dent in demand. Because people are pretty strapped right now and spending money on a car is, for many, impossible. That being said, what do we do?
Raise taxes on capital gains made on non-real estate investments with a holding time of less than 18 months to 75%.
Balance the federal budget and run surpluses, half to shore up social programs, half to start buying down federal debt
Remember that thing about disparate ideas coming together? Here it is. Basically, in the energy markets right now there is a tremendous amount of money sloshing around due to lax policy from the Fed. That's creating inflationary pressures in various classes of investments which is especially evident in commodities. Low capital gains taxes are making it extremely easy for people to trade the market and constantly make profits. Who wouldn't like to be able to invest $1 mn and come away in 6 months or less with $10 mn? Oh, and pay practically nothing in tax?
Low capital gains and lax monetary policy are driving speculation in the energy markets. The only way to stop it is to tax the hell out of it and starve out the short term traders. That will deflate the bubble and take us down to around $95/bbl.
The second part, balancing the federal budget, will help to stabilize the dollar and lead to it's reappreciation. That should strip about $20-35 out of the price of oil, taking us down to a far more manageable $60-75/bbl. YES, it will mean raising taxes. Get used to it. We've been paying in the minimum for years and as a result our infrastructure is crumbling, our schools are deteriorating and our currency is in functional freefall. It's about time liberals AND conservatives come together and realize we need to make some investments in the future.
The next part is a little more tricky...

The Long Term Solution
We've now got oil down to more affordable levels and we didn't even have to go begging the Saudi's. So why isn't it back down in the $20's? Simple. There's still instability in many areas of the world where we get oil and demand is still high. That's the dirty little secret... we've apparently reached global peak and new discoveries aren't offsetting declines in major fields. In other words, while we're not running out of oil, we're running out of cheap, plentiful easily marketed oil. Which means we have to do something now before we go through something analogous to the worst of the 70's dystopia movies.
We could start drilling in ANWR. It contains about as much oil as we use in 18 months and the costs to produce it full out could top $75/bbl. Not exactly a bargain and it's not a long term solution, despite what the R's may have told you. And everyone else.
What about shale oil in the Rockies? Sure. There's a ton of oil trapped in shales, but the cost to produce will easily top $90/bbl. Why do you think none of the major integrated oils are clamoring over the prospect? Oh, yeah, and it also tears up the mountains. And pollutes the hell out of the environment BEFORE you've even had a chance to refine the first gallon of gas.
Oh, but the Athabasca oil sands (not to mention those in Venezuela's Orinoco Belt) are our savior, right? Sure, the oil there's being produced for around $30-40/bbl. Which is fantastic until you realize the environmental damage that's done to get at that oil. That, and it's not exactly the yummy West Texas Intermediate Equivalent that we've all come to know and love. Nah, this a dead end with escalating costs and nasty environmental effects.
All of the 'solutions' mentioned above do nothing but exacerbate the increase in atmospheric carbon. Even in the case of Athabasca, where they are using nuclear power, just pulling the oil up releases carbon. Before you even refine a gallon of gas, you're already increasing the carbon load.
The only solid long term solution is biofuels. Forget soya diesel and corn ethanol, two biofuels that are about as useless as tits on a boar. The future is cellulosic ethanol made from miscanthus and biodiesel made from cassava. The best solution is algae and cyanobacteria. However, there's a lot of land that should be converted from corn and cotton production (hello West Texas) to biofuels. And you can do it in a way that will lessen water requirements and make farming more dependable and profitable. Still, the biofuel panacea is going to be either cyanobacteria or algae held in suspension and contained in mile after mile of snaking tubes.
The best part? While it's making the transportation fuel, it's also scrubbing the atmosphere of CO2. You could even sequester CO2 from utility plants to juice growth. All around, it's THE solution, at least until we have practical fusion, solar panels with 70% efficiency that are commercially produced and ultra high density capacitors and batteries. While this doesn't do a lot to get rid of the carbon already floating around, it does put a stop to emissions growth. At that point, the environment will take care of the rest.
Now that we have the blue sky solution, how the hell do we implement it. Therein lies the rub... it's not easy and it'll take the kind of political acumen that few in Washington have. On our side. The Republicans are absolutely hopeless, bleating on as they are about offshore drilling, ANWR and shale.
For one thing, increasing the capital gains rate is going to make the investment banks and hedge funds very angry. Short term gains are their bread and butter, they're rich and they love donating money. And spending some of it on lobbyists. Still, our long term prosperity depends on shifting from a focus on short term to long term gains. In all honesty, if we allow them to buy into what's going to be the next big growth industry, they'll fall into line. And that's the key... the horse trading on this is going to be an absolute nightmare and the reality is that it's going to require getting everyone to buy in. Most of the integrated oils will, but Exxon will be unhappy with any solution.
That's where the power of government comes into play. Until now, it's been used to hold back advances in public policy that will benefit the country. This time, we can use to play hardball with those companies that are uncooperative. Don't like our solution? Forget about patent protection, for example.
The market is eventually going to go with this solution. However, it'll take them 20-30 years. That's why we need the government to step in and force the market's hand. This is going to require some monstrously intelligent people. The good news is, we have them. The bad news is that most of them are narrowly focused on one solution, not to mention that the vast majority of them have extraordinarily shallow knowledge bases. They're going to have to stop listening exclusively to the echo chamber composed of their fellow classmates from grad school.
Finally, what's all this going to cost? My estimates are upwards of $2 trillion after you hand out all the lulu's and get everyone happy with the outcome. You can do it now, but that kind of borrowing in addition to current fiscal insanity would promptly drive interest rates up to 12% or more. That would put consumer rates in the 17-20% range which would effectively kill commerce in the US. And employment. That's where that whole fiscal responsibility thing comes from and the certain knowledge that this will have to gradual so as not to cause a sudden shock to an already shaky financial system.
Of course, there's something else that makes the cost palatable. Biofuels keep our existing infrastructure mostly in place which reduces the cost to build out the production facilities. It also creates jobs which we desperately need, it lowers the cost of transportation fuel AND strengthens the dollar just from the simple fact that we'll not have to send as many of them out of the country to buy energy.
There will be moaning and whining about this from all sides. We'll have to ignore it, especially when it comes from the National Review, The Washington Times and R candidates. Eventually though, it'll become evident that this is a good solution that will readily benefit everyone.
Posted by mcblogger at 11:40 AM | Comments (12) | TrackBack
May 23, 2008
The Republicans beg for money
I'm on the RPT's email list (YAY ME!) and just got this today. It's inline with their other emails, which Coby over at BAH has been tracking (here and here). Today's missive is from TinaFish herself, Empress of all the Republicans. I decided to translate from Republicanese to English but if you want to see the raw text, it's in the supersize.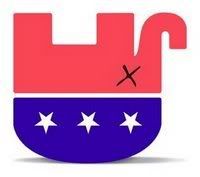 Dear Sucker,
You love you some Barack Obama, but we're still going to stick to the lame talking point that he insulted everyone in Texas when he told a group of San Francisco donors...
"People in small towns cling to guns or religion or antipathy to people who aren't like them or anti-immigrant sentiment or anti-trade sentiment as a way to explain their frustrations."
We know, we're pulling things way the hell out of context, but there are still like 20 of you out there who will send us a few bucks every time we mail this shit out. Y'all are like little human ATM's and we love you for it. Especially because we're broke and could really use the money. As offensive as our pandering is, the mainstream media is totally passing it up and focusing on dumb shit Obama said. Kinda like us.
Michelle Obama's out of context comments from earlier this year are still making headlines mostly because we keep screaming that they were 'un-American'. You know what else is un-American? Making us eat at motherfucking Taco Bell which is all we can afford right now.
"For the first time in my adult life, I am really proud of my country, because it feels like hope is making a comeback."
Yeah, we know we're stretching this like Linda Harper-Brown trying to wedge into a girdle, but damn! We gotta do something! Sure, we're embarrassed by her honesty (and even know how she feels ... we have been, after all, the ones dismissing 'hope' for almost 30 years and focusing on pandering and hatred), but Obama's campaign kept explaining how we and the media were taking this out of context (which we really are all the time doing). AND YOU KEEP LISTENING TO HIM! DON'T YOU REALIZE HE'S BLACK?!?!?! WHAT'S WRONG WITH YOU PEOPLE?!?!?!
And we've all heard the sickening comments of Obama's minister, Reverend Jeremiah Wright (it's a strategy we call Fun With Partial Quotes). We know you've heard them because we've been like a goddamn broken record with that shit. Once again, we're hoping it'll shake the money tree so we can make rent this month. At first Obama dismissed Rev. Wright's comments. That's when we smelled blood in the water. Then the Democrats did the unthinkable... they brought up McCain's support from that psycho Hagee. AND YOU LISTENED TO THEM? What do we have to do? Fake a terrorist incident to get you people to pay attention to us?!?!?!
Sucker, I refuse to sit back and watch you keep your money. I NEED a lot of it and frankly, it'll help me more than it will you. We keep trying to make you understand that Barack Obama and his allies are trying to tear down everything we hold so dear. You just refuse to believe us. That makes us mad. Especially because if you keep your money we'll be poor. And we CAN'T have that.
If you agree, then I urge you to make a special emergency contribution of $25, $50, $100 or more to our Republican Party of Texas today. Seriously, I had to eat chili out of a can today and it was hella gross. This is really an emergency.
www.texasgop.org/donate
Not only are you and I in a battle for control of the White House (with us on one side and the rest of the country on the other), the United States Senate and the House of Representatives…
We're in a battle for the survival of that conservative bullshit you've been buying from us for 30 years, too. Don't make us retool our message and strategy... we REALLY don't want to. That takes work and we're nothing if not lazy.
Here in Texas we don't "cling" to anything (except your money), but we are guided by faith (in your stupidity) and believe deeply in the time-honored values (like taking your donations) that have made this nation the greatest on the face of the Earth. Well, it was before we took over and let our friends come and rape everything. Thank you all so much for voting for Perry in 2006. Now we can give back to the Spanish some of what we took from them. Viva La Reconquista!
But the Democrats clearly have quite a different view of the world than you or I. They keep fighting diligently for your rights and freedoms, not to mention your economic security. And unless you give us money now, they're likely to win overwhelmingly in November. And then we'll have to find real jobs and our skills are kinda the suck.
Through literature drops, and calls and targeted mailings to undecided voters, your special emergency gift of money will help us expose just how nasty and stupid we can be. It'll also help pay our tab at Ruth's Chris.
And if you can help now, we'll have the funds for that awesome vacay we've been planning to Bali. It'll also, if there's any left over, contrast our so-called conservative values with the strong, all-American ideals of the Obama Democrats.
www.texasgop.org/donate
Together, we'll stop the Obama Democrats from disrupting our stranglehold on power and corruption. With your money, we'll also be able to pay off the bills the Speaker ran up redecorating his apartment. And pay off our Amex.
Sincerely,
Thanks and God Bless,
TinaFish, State Chairman
P.S. I'm sure you're shocked and appalled by how craven we are. We know you're impressed by the ideas being put forth by Barack Obama and his campaign. I am, too. But really, we have do something about it as we can't allow you people to think for yourselves. Will you help me protect my privileged position by making a special gift to the Republican Party of Texas?
Dear Friend,

Support our conservative ideals - Support RPT Today!

Barack Obama insulted everyone in Texas when he told a group of left-wing San Francisco donors...

"People in small towns cling to guns or religion or antipathy to people who aren't like them or anti-immigrant sentiment or anti-trade sentiment as a way to explain their frustrations."

As offensive as that shocking statement is, the mainstream media dismissed Obama's ideas because they share his views.

Michelle Obama's anti-American comments from earlier this year are still making headlines.

"For the first time in my adult life, I am really proud of my country, because it feels like hope is making a comeback."

Embarrassed by her candor, Obama's campaign tried to divert attention by saying that her remarks were taken out of context.

And we've all heard the sickening comments of Obama's minister, Reverend Jeremiah Wright. At first Obama dismissed Rev. Wright's comments. But only recently, bowing to political pressure, has he criticized them.

Friend, I refuse to sit back and watch the unchallenged agenda and words of Barack Obama and his allies tear down everything we hold so dear.

If you agree, then I urge you to make a special emergency contribution of $25, $50, $100 or more to our Republican Party of Texas today.

www.texasgop.org/donate

Not only are you and I in a battle for control of the White House, the United States Senate and the House of Representatives…

We're in a battle for the survival of our common-sense conservative ideals, too.

Here in Texas we don't "cling" to anything, but we are guided by faith and believe deeply in the time-honored values that have made this nation the greatest on the face of the Earth.

But the Democrats clearly have quite a different view of the world than you or I. And unless you want to see them seize total control of our federal government, Texas Republicans must step up to the plate like never before.

Through literature drops, and calls and targeted mailings to undecided voters, your special emergency gift of will help us expose the liberal Obama agenda for all Texans to see.

And if you can help now, we'll have the funds for media opportunities that contrast our timeless conservative values with the radical, anti-American bias of the Obama Democrats.

www.texasgop.org/donate

Together, we'll stop the Obama Democrats from ruining everything that has made Texas and America great.

Sincerely,

Thanks and God Bless,
Tina J. Benkiser
Tina J. Benkiser, State Chairman

P.S. I'm sure you're shocked and appalled by some of the ideas being put forth by Barack Obama and his campaign. I am, too. Let's do something about it. Will you help me protect our conservative cause and make a special gift to the Republican Party of Texas?
Posted by mcblogger at 02:58 PM | Comments (1) | TrackBack
People die every single day...
Why aren't any of them that lying sack of shit Rick Santorum?
We get it, Rick. You don't like the homo's. Why not just say that rather than make up some ridiculous lie (that's easily discovered) about how gay marriage has 'destroyed' Norway? It'll stop me from claiming that 30% of the time your awful haircut turns 25% of the women who see it into lesbians.
Posted by mcblogger at 10:40 AM | Comments (0) | TrackBack
May 22, 2008
Dear Kevin McLaughlin
Hey Kev (or, is it is Kevster, Kevina or Kevaroonie?)!


We've never really talked and frankly, this is hella awkward. Obvs, no one is giving you the advice you need to be a good Republican spokespuppy in this day and age. You really need to sit down and have some drinks with Scotty McClellan... if he's not still curled up in the fetal position rocking back and forth.
If I may be so bold, you might find more gainful employment in another area. You kinda suck at the whole 'defending your boss' thing. Now, of course, we're willing to acknowledge that your boss is a waste of skin. And hair. And teeth. And air. But honestly, you don't have to make it EASY for us to tear him down by calling Sen. Webb and Lt. Col. Noriega members of the 'Anti-War Crowd'. These two guys served in war. Your boss didn't. You've just allowed everyone and their dog to make that contrast over and over again in the context of rebutting your retarded remarks. The opponent of your boss actually SERVED in Afghanistan. Meanwhile your boss was out hunting with a ladies shotgun.
Then, of course, there is Cornyn's lack of support for the 21st Century GI Bill which would help our troops returning from war. Your boss is saying he doesn't like it because it spends too much money. Which is funny because he wasn't worried about that when we voted to cut the hell out of capital gains taxes which benefited the wealthy and turned the focus of our equity and commodity markets from investment to speculation. Guess which will cost taxpayers more?
On second thought, you REALLY shouldn't go there because I'll shred the amateurish talking points you've diligently memorized from Heritage and the AEI.
Here's the thing... Cornyn is going to lose and you'll be out of a job. If you go down with the ship (or, in this case, the walking dead) you could be out of work for a while. And welfare isn't what it used to be so you'll be pretty much broke (ask former AG Gonzales). Best idea is to get out while you can. Before you flub up even worse.
HAVA GOODUN!
McB
Posted by mcblogger at 12:56 PM | Comments (0) | TrackBack
Help Them Help You
Annie's List is matching your donation to Diana Maldonado . Go give her some money already!
John Sharp is having a fundraiser for Sherrie Matula tonight.

Thursday, May 22, 5 - 7 PM

Aquarelle Restaurant, 606 Rio Grande Street, Austin


hors d'oeuvres & refreshments


Requested Donation:$50 (but all contributions gratefully accepted)


Sponsorships$2,500, $1,000, $500, $250, $125


For information: 512-535-1235

Or, if you're a good person, you could just click here to donate. I first met Sherrie in 2006 and LOVE her.
Until we put these two in the House, they can't do much for you other than complain. Help elect them today by throwing them even $5. You really will feel better about your self. And maybe women (or men) will want to meet you and get to know you 'in a special way'.
I'm not promising anything but I'll admit I'm more inclined to view someone's advances favorably if they give money to good causes, like Democratic Candidates. If they give money to the GOP, they're worthy of a donkey punch. See how that works?

Posted by mcblogger at 10:55 AM | Comments (0) | TrackBack
A fat douche says what?
Ladies and Gentleman, I give you a clearly delusional Rush Limbaugh
"I don't think my 'profile' needed elevation because it never waned with my audience and my audience is for whom I do my show," Limbaugh wrote. "Not the MSM. So when the MSM decides to acknowledge my existence it doesn't mean anything to me."
A couple of things... I'm thinking he's back on the drugs. I also think he's desperate to remain relevant to his dwindling audience (and it is dwindling, a fact which he refuses to acknowledge). All in all, it's funny as hell.
Posted by mcblogger at 08:48 AM | Comments (0) | TrackBack
May 21, 2008
Leo Berman : The Prince of Hypocrisy
Sal Costello has the story on Leo Berman's promise to kill the TTC next session...
Mr. Costello:

A number of legislators are committed to killing the TTC next session. Sen. Kevin Eltife and I have gone public with that commitment. Both of us will work hard toward that end.

Sincerely,
Leo Berman
State Rep. District 6
What little old Leo isn't saying is that he VOTED TO BUILD THE DAMN THING NOT ONCE BUT TWICE.


TWICE


We at McBlogger would like to welcome Berman to the fight against the TTC and toll roads. We'd like to start by asking him to commit to making the remaining sections of Loop 49 NON TOLL.
Yeah, we knew he'd balk on that. Idiot.
Berman, a word of advice. Don't grandstand on this. You vote and that's it. Hey, it's nice and all for you to finally be paying attention to your constituents, instead of CradDICK, but you need to know no one really likes you.
Beside, you'll have very little power in January. You'll be part of the minority. Better be wise and join in with the Democrats on this. If you don't, a replacement will be easy to find in 2010. And I've already seen the oppo book on you.
Posted by mcblogger at 02:13 PM | Comments (0) | TrackBack
We're done with you
Is 2008 a transformative year? It's hard to say but I'm thinking that in 20 years we'll look back and see that this was the year where things started to change. No, it's not about Obama or Clinton or the lackluster Democratic Congress constantly stymied by incompetent and petty Republicans and a childish President completely out of touch with the country he leads.
It's about people waking up and realizing that the 'conservative' agenda of the radical right over the last 28 years was a massive, unadulterated failure, as much if not more than the Great Society which did much but ultimately failed to achieve the goals set for it.
Reality is a bitch as many are learning on a daily basis when they go to fill up the gas tank or when they try desperately to figure out how they will be able to feed their family. In the harsh light of that reality, two men getting married thousands of miles away is pretty irrelevant. Worry about abortions, the number of which was always grossly exaggerated, is a distant second to how to buy the $7 box of Cheerios. The realization that constant tax cuts lead to deficits and higher interest rates, not to mention a massive failure to invest in our future through new infrastructure, has certainly hit many like a bag of hammers. Every month when the credit card bills come.
Burka on Sunday posted a memo from some R Congressman who understands just a small fraction of what's happening. Even Rove is apparently getting it. Their solution? Pound on the Democrats about gas prices by pointing out that they don't support drilling in ANWR (with a projected production cost of $50-60/bbl and not enough of it to affect prices) and destruction of the Rocky Mountains to get at oil shale (at a cost of more than $90/bbl and, even when combined with ANWR, not enough to affect prices).
See how I did that? I'm one blogger, I don't work in the energy sector and even I know how ridiculous the Republicans (especially Cornyn and Hutchison) are on energy policy and what needs to happen to fix the constantly accelerating consumer costs. This isn't hard to understand unless you're incapable of looking at things through anything other than a partisan, ideologically tinted, glass.
On the economy and tax cuts, the Republicans are decimated by Democrats. On National Security, they poll better but still heavily damaged. Just wait until Americans learn just how much of Afghanistan we really control. The R Congressman Burka posted about wants to talk about FISA, especially if there's another terrorist attack (a prospect he views with glee as he's of the opinion it will help Republican chances in November). For the FISA debate, feel free to bring it up. It's not like we aren't ready. By the time that debate is over, the American people will be looking for convictions of those in the Administration who aided and abetted the illegal wiretapping.
Again, I'm just one blogger. There are others, like Eye on Williamson, that are seeing the same damn thing.
There is a baseline from which things will stabilize for the Republicans. We've yet to reach it. You'll see the crescendo this year when angry people confront Republican candidates loudly and unyieldingly. Once one voice is heard, others will chime in and soon it will become a chorus. Many of you are incredibly weak people who have never faced a really angry crowd. You're going to get to this year and, frankly, you deserve every bit of the verbal and written abuse coming to you.
Posted by mcblogger at 08:53 AM | Comments (1) | TrackBack
May 20, 2008
Really, Michael? Really?
Texas Railroad Commission Chair Michael Williams isn't the sharpest knife in the drawer, nor is he the dullest. In fact, he's not a knife at all. He's a rusty bottle opener in a world full of twist offs and every bit as worthless.
There's been a lot of action regarding the RRC in the last couple of weeks. As always, TXSharon over at BlueDaze is keeping a watch on coverage around the 'sphere.
For my part, Williams' defense of big oil's record profits betrays a stunning naivete at best, willful ignorance (or a willingness to lie) at worst.
Who's getting fat from higher crude oil and gasoline prices?

The Saudi, Russian, Venezuelan, etc. nationalized oil companies. They own 75% of the world's crude oil reserves. Exxon, the veritable villain for high gasoline prices, controls less than 3% of world reserves.

The pump price is comprised of four components. The main one is the cost of crude oil. As a share of the retail price we pay at the pump, the cost of crude oil has risen dramatically to historic levels since 2000.

Which means the Saudi royal family, Chavez and others are making money hand over fist as the recipients of the lion's share of what we pay at the pump
For Mikey to be right, Exxon and the other integrated oils (that's the technically correct name for oil companies that control everything from production/sourcing all the way to consumer sales/marketing) would have to be buying oil at NYMEX spot prices. And we all know that's not happening. Why? BECAUSE THEY'RE STILL MAKING A PROFIT. You see, all these large oil companies have extensive long term contracts with suppliers like, for instance, Saudi Aramco. Not to mention the fields around the world they control where they pay royalties as low at 15% at a contracted price.
This brings their cost of crude to significantly less than $130/bbl. I'd put it closer to $58-65/bbl on average. There's probably a clause in the contract that puts it in a band based on spot, probably no more than 75% of spot and no less than 50% of spot.
You and I, however, don't get the benefit of this great deal. We get to pay spot prices because we're instant, on-demand (not contract) consumers. I'll even go Mikey one better and tell him that I don't expect Exxon to sell me gas based on their cost of crude. I know I'm a consumer and I have little or no bargaining power so I'm not gonna even whine about that.
I will scream at the top of my lungs about their tax breaks and credits. Oh yeah, that's pretty useless to us, especially since these companies are making billions PER QUARTER and can easily afford to prospect for more crude*. Mikey doesn't address that. He does go on to some really, really, funny stuff...
• Distribution and marketing costs and profits slid from a high of 13% in 2000 to about 8% today; and

• Refining costs and profits have remained at about 8% from 2000 through 2008.
He means as a percentage of the price at the pump. Refining costs have remained constant at about 8%. So, in 2000 it was roughly 9 cents/gallon and now it's more than 33 cents/ gallon. What changed? It's not like some super new and expensive refining process has been invented. It's not like they refiners are paying their employees much more.
It's profit. Pure and simple. Part of me wonders if even Mikey believes this crap. As for the distribution, lets keep in mind that the oils now own a much larger number of service stations than they did in 2000 and have shut down a large number as well. They control the retail channel and have squeezed margins to starve out independent convenience stores. Oh, and while the percentage may have changed, the dollar amount today is still higher... 13.9 cents in 2000 per gallon vs. 29.6 cents today. How's that for a nice inflation adjusted return?
Is this REALLY the best you Republicans can do? Really? Tina Fish, is this the man you want to be your standard bearer? Someone who's either too dumb to get how capitalism works or lies just for the hell of it?
My prediction? No one in the real world is dumb enough to believe Williams. And they're going to turn on him on November. And I'll laugh and laugh.
*On the subject of exploration, the integrated oils aren't doing a lot of prospecting because they know what Matt Simmons over in Houston has known for a while. We're running out of cheap, readily exploitable oil. These profits the oils are piling on are going to be used for something and I'm damn sure it won't be drilling a dry hole in West Texas. Which means their tax cuts need to be repealed. Bless Mikey's heart, I bet he hasn't even come to that conclusion. Poor dumb thing is probably waiting for the next strike near Humble.
Posted by mcblogger at 01:49 PM | Comments (3) | TrackBack
A duck is a duck is a duck
The Institute for Legal Reform is a new organization dedicated to changes at the national level to restrict what they think of as frivolous lawsuits.
What no one from any of these groups has ever been able to explain to me is how you tell a father who sued a doctor with a history of substance abuse who, while inebriated, operated on and killed his daughter, that his lawsuit is frivolous?
Here in Texas, we've had 'tort reform' which has allowed us to 'stop lawsuit abuse' for years. It's meant that corporations can mistreat their customers as much as they'd like with no fear of reprisals. It's meant that insurance companies can increase their profits astronomically while doctors continue to pay through the nose and the cost of health care is still unbelievably high.
In other words, it's failed to do anything... except keep consumers from suing when they've been wronged. Oh, but they can go to the State regulators, right? That's pretty funny considering that most of them are industry shills appointed by a Republican Governor (39%) who's been taking money from these business and industry groups for years.
Oh, but don't take my word for it... go visit the nice people here.
As for the new organization, you'll see their commercials soon. They are all about the small business owners who've been 'hurt' by 'lawsuit' abuse. I think they should be hurt by a consumer boycott. This group isn't funded by small business owners... it's funded by big business and the insurance industry. And any small business owner dumb enough to get sucked into this deserves to have some problems.
Posted by mcblogger at 08:48 AM | Comments (0) | TrackBack
May 16, 2008
Bless Junior John's Heart!
Poor, stupid, pathetic idiot...
Cornyn's staff has been busy. First, there was this email
Recent polls have claimed Senator Cornyn is in a much tighter race than many of you may have thought possible.

We don't put much validity in either poll, but Democrats certainly are. Liberal bloggers and Democrat partisans alike have pounced on the results, claiming they spell doom for Senator Cornyn this fall.

The Democratic Senatorial Campaign Committee, lead by liberal New York Senator Chuck Schumer, proclaimed in an email that the polls show "John Cornyn in serious trouble…"

Ultra-liberal blogger Daily Kos, who commissioned and paid for the second poll, called the results "nothing short of remarkable," and claimed they "hint that this may be a top-tier race before long…"

No one can deny that our opponent and his allies are in desperate need of anything to help them raise resources and give national Democrats reason to invest untold millions into the race, and we must stop them.

Please contribute $10, $25 or $50 to help debunk the myths our opponent and his liberal allies are trying to tell about Senator Cornyn.

The facts are clear, the extreme left is energized and unscrupulous, and our opponent is shamelessly aligned with them and will say and do anything it takes to gain much needed relevance and resources.

Your contribution of $10, $25 or $50 will go a long way towards setting the record straight. It will also send a loud and clear message to national Democrats that Texans won't fall for their dirty tricks, deceit and deviousness.

Please give what you can to make sure we re-elect John Cornyn and ensure our true Texas values are represented in Washington!
This is funny as hell since Junior John already has a significant funding advantage over Noriega. Even with that money, we have two solid polls that make it clear this election is about getting rid of old caca. And of course Junior John is scared. Just watch this video which makes it pretty clear they ARE taking the polls seriously.
Then there was CA's Supreme Court saying that bans on gay marriage are unconstitutional. Which prompted Cornyn to go into full tilt pander and start discussing (you knew it was coming) a constitutional amendment to ban gay marriage.
Thursday's California court ruling striking down that state's ban on gay marriage will spark a fresh push to add a nationwide ban to the U.S. Constitution, Texas Sen. John Cornyn said shortly after the ruling was announced.

"It's certainly surprising. Many of us thought that the efforts to overturn the tradition marriage laws would be confined just to Massachusetts," said Mr. Cornyn, a chief backer of a push to enact a constitutional ban, which failed in 2004.

The California Supreme Court issued a 4-3 ruling Thursday that overturned a voter-approved ban on gay marriage, finding that domestic partnerships laws are an inadequate substitute for allowing same-sex couples to enter into formal marriages.(DMN via Texas Blue)
Here's the thing... I don't think, if the election were held today, that an anti-gay marriage amendment would pass in Texas again. Oh sure, folks in East and West Texas are just as homophobic as they always were (don't get mad at them, they don't know gay people and it's all strange and foreign to them). The difference is, THEY'RE ALL SICK OF PANDERING AND NONSENSE ISSUES. With gas near $4.00 a gallon, people know there are more important things to worry about. They also know that they can't afford six more years of fancy John Cornyn taking care of himself while he lets important business slide by.
Hava Goodun! Junior John sure as hell won't!
Posted by mcblogger at 08:29 AM | Comments (0) | TrackBack
May 14, 2008
Defending Obama... Again.
You know, some of you so busily tracking 'how Obama can definitely win the nomination' and projecting an easy win in November need to understand that victory is far from assured. In fact, if you're telling yourself that 'Hope Changes Everything', then come closer and let me hit you. In the head.
I do that from time to time with stupid people who refuse to realize there's nothing new under the sun.
Many of you are worried about quasi-racist attacks that imply Sen. Obama is some sort of ultra-black nationalist. Or a strident Muslim. Or the love child of Malcolm X and Mary Tyler Moore. Just to alleviate some of your worry and concern, these are stupid things you don't need to worry about. They'll persuade 5% of the electorate and those people weren't going to vote for him anyway.
What you need to watch out for are ginger columnists in swing states like Will Manly. Will got his panties in a twist over the small town comment but there's so much more there...
I couldn't vote for you — but not because of your funny name or your lunatic pastor. I couldn't vote for you because you say we should raise taxes (even on the rich, who I'm convinced already pay too much), and because you say we should abandon Iraq (which I'm convinced would be surrendering a war we must win), and because you don't respect the Second Amendment (which I'm convinced should disqualify any politician from any office).

Still, I've liked your message of unity and your ability to inspire. And, since your rise I've hunted, quite frantically, for young conservative leaders with your talent. (To my relief, I found Bobby Jindal.)
Whoa. Where to begin... First off, Taxes. Will's obvs unaware that the rich pay less than him or me. Wait. What am I thinking? HE'S a newspaper columnist and they don't make shit. Let me rephrase...
THE RICH PAY LESS THAN ME.
On average, the rich pay around 18-20% of their income in taxes. On average, most of us pay 25-30%. Which makes our current tax system regressive, not progressive. However, let's forget all that for a second and just acknowledge one critical reality. We need a massive amount of investment in public infrastructure and services. From public schools to mass transit, we need to set ourselves up for the next 30-50 years of economic growth. That means higher taxes. Why would we want to pay higher taxes? Because that investment in our future makes sure that we're able to enjoy prosperity in 2025. That's what this debate is about... higher taxes and long term prosperity and growth or lower taxes and poverty well into the future.
And don't get me started on higher taxes being necessary just to balance the budget. But then, Will's a Republican so he's not real concerned with balancing the books... why should he be when he can keep running up Daddy's credit card? I love it when 'fiscal conservatives' are more worried about taxes than the deficit. I guess no one ever bothered to explain the linkage between interest rates, federal debt and real disposable income. I should throw the value of the dollar and oil prices in there as well but I don't want to fry little Will's rat brain.
As for abandoning Iraq, what's left to achieve? A military force is good at one thing... eliminating an enemy. Ours did that. Everything that has followed has been a waste of time. Still, none of us can turn our back on Bush's mistake. However, that doesn't mean we have to be trapped there for a generation. It's time for the Iraqi's to stand up and the only way that will happen is if we start to leave.
On the subject of the Second Amendment, why not use the Fourth Amendment as your yardstick for holding public office? Bush has trampled all over that one. Or the First which Bush has also used to neatly wipe his ass? Just curious, but what I really want to know is exactly WHERE Sen. Obama talked about not respecting the Second Amendment. Will would be the only one who has the story since I couldn't find anything except a speculative "what if..." work of fiction masquerading as news on NewsMax. So, Will's made the accusation, now we want to see his evidence. Cough it up, Manly.
As for finding Bobby Jindal, I wouldn't get too excited, Will. He's way more our style than yours. For one thing, he's not a nut.
Just in case you thought Will was done, he goes on to discuss some areas where he's been disappointed with Obama...
First came your wife's comment about being proud of America for the first time — conveniently, right after you started winning primaries. Then came your own words about your grandmother, who is just a "typical white person" — a racist, or at least someone with racist tendencies. (I'm a "typical white person," I suppose, and I'm no racist. In fact, little makes me angrier than when it's insinuated I am.)
Don't you just know that Will's the kind of guy who has said "some of my best friends are black" in the past to deflect calls that he's a bit of a racist?
The rest of his piece is a rambling defense of small town America from someone who obviously views the world in start black and white. It's also clear he's completely unfamiliar with Peyton Place. Still, followers of the Obamessiah, this is the kind of attack you're going to have to learn to defend against.
That's why I'm supporting Clinton. There's a reason this little prick hates her and it's because she'd eat him alive.
Posted by mcblogger at 09:05 AM | Comments (2) | TrackBack
May 13, 2008
JUST like a football game...
Making fun of Chris Matthews and Tim Russert is surprisingly easy. However, some manage to screw it up. Much like McBlogger with his Chris Matthews impersonation which is analogous to a bad blow job. You had high hopes at the beginning, maybe you were even anxious with anticipation. But then, well... there were teeth and in the end you find yourself just praying it will be over soon.
What? Too graphic? Sorry about that...
These people have created the best satire of MTP and Hardball I've ever seen. Here's an excerpt:
Chris: Let's bring on Tim Russert here. Tim, don't you think this election is just like a great FOOTBALL GAME?

Tim: You said it. A real barnburner, Chris.

Howard: Jesus.

Tim: You know, it reminds me a lot of when my dad, BIG RUSS, and I watched Bills games together. Just one of those real back-and-forth games. You had Jim Kelly, the great, All-pro quarterback. And you had Thurman Thomas, the wonderful running back. Those were real competitions. And that's what we have here. A REAL competition. With Barack Obama, whose this sort of great, unpolished talent. Very much like Vince Young, the quarterback down in Tennessee.

Chris: I agree. I think he's just like Vince Young, right down to the gay throwing motion. This REALLY is astounding. I've always said politics is just like football, and it's showing here.

Tim: Actually Chris, you have deviated from that platform on occasion. I have a quote here that YOU gave to MSNBC just two months earlier where you said, quote: "I think this election is just like a GREAT HEAVYWEIGHT BOXING MATCH," unquote. So you said boxing match back then, and now you're saying football. How do you reconcile those two positions?

Chris: HA! That's amazing, Tim! God, you're just like a GREAT TENNIS PLAYER! Always volleying back and forth with all kinds of moves. It's amazing! Let's bring on Senator Clinton here for a moment. Senator Clinton, don't you think you're just like BILL BELICHICK? Always scheming, sort of seeking out that winning edge any way you can find it? In fact, don't you and your husband combine to represent Belichick perfectly, with your knack for evil plotting and your husband's penchant for hot cougar tail?
Seriously, you'll want to read the whole thing.
Posted by hbalczak at 09:33 AM | Comments (2) | TrackBack
May 07, 2008
McCain and Cornyn stand up to put down Vets
WOW. And you only thought Hillary was going a little tone deaf. As many of you already know, the GI benefits to which veterans are entitled have been shrinking for a number of years, so Senator Webb decided to do something about it and even managed to line up bipartisan support.
Two Republicans noticeably absent? Why none other than John McCain and our own John 'I hunt with a 28 gauge' Cornyn. McCain put up his own, woefully inadequate bill that the President likes. Because it spends $4 billion less than Webb's bill. And doesn't provide nearly as much for the people who are actually, you know, fighting the war on terra. Cornyn just likes screwing over vets, we suppose. We can't think of any other rationale since he's been wholly unconcerned with fiscal responsibility. President Bush is using that excuse which is kind of like a serial killer claiming to be worried about abortion.
As for McCain, there's no excuse. These men and women are worth whatever money we have to spend. If y'all hadn't focused so much on handouts to the oil companies, we wouldn't have to worry about paying for it. If you'd get out of the way and return taxes to where they should be, we'd easily have the money.
Or if we just stopped wasting BILLIONS in Iraq.
Posted by mcblogger at 08:45 AM | Comments (0) | TrackBack
May 06, 2008
Oh, Cornyn... Really? This is what you want to talk about?
OMG... you know, you're not a good Senator. You were a piss poor AG. You're a terrible columnist and now we can add bad natural science teacher.
Posted by mcblogger at 08:57 AM | Comments (3) | TrackBack
May 05, 2008
Noriega within FOUR POINTS of Cornyn?
According to Rasmussen... yes. Even HRC and Obama are within a few points of McCain in Texas putting us solidly in play.
Keep in mind, Noriega is a relative unknown with little name ID. This is a PARTY ID poll and it's clear that whatever advantage the R's had in the past has evaporated under the heat of rank incompetence.
Posted by mcblogger at 10:40 AM | Comments (0) | TrackBack
May 01, 2008
We tell you how you should vote (Austin City Council Ed.)
Why bother calling them 'endorsements' when we really mean 'This is how you should vote'? The election is, of course, May 10th but that's a Saturday and it's right before Mother's Day so don't even bother waiting (EV locations here, Mobile Voting here).
Place 1 - Demling - First Choice, followed by Leiffingwell.
No votes for Meeker. I know that will come as a hooooooge surprise. This was nearly a unanimous vote. Except for Harry who voted for the man referred to by some as a human narcolepsy canon.
Place 3 - Kim - First Choice, followed by no one.
Randi, we love 'ya but we just don't completely trust 'ya. Jennifer can be a little impersonal and abrasive (who the hell isn't, especially on a SUNDAY MORNING WHEN I'M HUNG OVER AND NEED SOME EGGS AND HOTD, Julie) but she's also a terribly hard worker who has come together with some of her colleagues on the council to solve some serious problems. Policy wonk? Yep. And that, at this time, is what we need.
Place 4 - Cravey - First Choice, followed by Morrison and Gale.
We like Galindo as a person, but we find some of his ideology ridiculous and ideas patently absurd (community land trusts... great idea, an absolute motherfucker to finance. NOT a viable solution anytime in the next five to ten years). He needs some seasoning and a massive CTJ on housing in the central city. Morrison is a great lady who is very involved with the ANC... and apparently, not much else. Still, it's good that she IS involved especially since it pisses off Mike Dahmus and that always makes me laugh.
There was one vote for Gale and no, it did not come from me. I thought she was far too serious as a candidate this time. I frankly miss the whimsy of her previous campaigns. I think those people in Dallas did something to her... they turned her into someone kinda serious.
As for Osemene, we like you but there's MUCH less to city council than the Federalist Papers would have you believe. MUCH LESS.
In case we're not getting through to you and you stubbornly insist on doing your own research, Phillip over at BOR has the resource page we totally would have created if we had the time (and actually, you know, cared about these people and their campaigns). Go check it out.
But really, what we tell you should be enough.
Posted by mcblogger at 01:49 PM | Comments (2) | TrackBack
I've got gas (tax relief) like a mother!
So, Sen McThuselah proposes a gas tax holiday during the summer without proposing any way to pay for it. I know. It IS rather shocking that I've already given up on calling him Olden Times. I blame the media. And Hillary. Speaking of, she decided to AGREE with McThuselah about the gas tax holiday.
But wait... before you jump all over her for bad economic policy, at least she bothered to pay for it. That's a huge step up from McThuselah who apparently thinks his road to the White House should be paved with promises of FREE MONEY (cue Matthew Lesko). Of course, a gas tax holiday is just going to end up in Exxon's quarterly dividend (that's when GIANT oil companies send shareholders, the owners, some of the profit. It's one of only four times a year my father smiles) which kind of mitigates that whole 'we're helping people thing' since the savings won't, you know, be passed on to people.
Pandering? Yes. An empty gesture? Absolutely. Should they be focusing on this or this? Sure... well, that is, if you wanted to actually mitigate the economic costs of high fuel prices and stop using food to make fuel.
Meanwhile, Clinton and McCain criticized Obama for not going along with their little scheme.
Would someone please tell the Clinton folks that Obama is right? That'd be great! And then, could you fire the idiot on her policy team that keeps copying shit McCain does? It's embarrassing to those of us who, you know, SUPPORT HER.
Posted by mcblogger at 08:41 AM | Comments (0) | TrackBack
April 30, 2008
I listen to Rev. Wright as much as I listen to any preacher
Rev. Wright does his little song and dance, pisses up the media's leg and predictably they throw a fit about the whole thing. Why the hell does anyone care what this idiot preacher has to say? Is he the one running for President? No? Ok, then WHAT THE FUCK ARE YOU ALL KVETCHING ABOUT?!?!!
I'm also sick of hearing how Clinton is behind the whole thing. It occurs to me that if the Clinton's were really as evil as some of you morons would have us believe, Bill never would have left office. What you really don't like is that Obama's preacher is a racist weirdo with delusional fantasies. Big deal. That makes him not much different from that freak Hagee whose ass is covered in soft kisses from that sycophantic loser, McCain.
Not all clergy are stupid, but many of the loud obnoxious ones certainly are. I prefer my faith with VERY little religion. Mostly because I don't believe any man speaks for God. Certainly not Rev. Wright and definitely not that fatass Hagee.
Maybe, just maybe, instead of focusing on what some asshole who claims to speak for God (or claims to have THE only legitimate interpretation of the Bible/Koran/Torah) has to say and playing guilt by association, why not take a moment to listen to the candidate?
Posted by mcblogger at 08:39 PM | Comments (0) | TrackBack
Really? You're going to stick with that?
Sen. McCain, leaving a Tempe area Cracker Barrell at 5:45 this morning, revealed his brill health care plan which, as it turns out, is little more than the same one President Bush tried to float. Last year.
Apparently, Sen. McCain forgot that people already said not so much to it, just like he forgot that a 5% tip is really not so much a 'tip' as it is a 'pittance'.
So, what IS wrong with his market based plan? For one thing, it's predicated on medical savings accounts (where you pull pretax income from your paycheck and put it into an account for health care costs... the money expires annually, by the way). That works well when people have extra income they can save. Unfortunately, right now more than half the country is literally living paycheck to paycheck. There's not anything to put in these accounts AND save for retirement.
Oh, and delinking health care from the employer and making individuals select (that's called a 'market based approach!'). Because that'll really ignite the market as insurers fight over the healthiest people and refuse to insure the other 200 million of us.
When HMO's first were floated, they were touted as a way of keeping health care affordable. What they really did was juice insurance company profits. This has never been about 'affordability' or the market...which has consistently driven up health care insurance costs...it's about profits to the exclusion of all else. And FAT. Lots and lots of fat in bloated management structures. Who get's screwed? Everyone NOT in administration.
You really want to cut costs? Make insurance cheaper? Help doctors concentrate on medicine and forget the bureaucratic crap? THEN ELIMINATE THE HEALTH INSURANCE INDUSTRY.
Posted by mcblogger at 10:35 AM | Comments (0) | TrackBack
April 28, 2008
Thanks, Justice Stevens. No. Really. Thanks a lot.
Well, our Supreme Court has decided that Jim Crow is A-OK...
The 6-3 vote allows Indiana to require the identification when it holds its statewide primary next week. It also will give most state legislatures time to revise their voter laws for the November elections.

This was perhaps the biggest voter rights case taken up by the justices since the 2000 dispute over Florida's ballots, in which George W. Bush prevailed to gain the presidency.

At issue was whether state laws designed to stem voter fraud end up disenfranchising large numbers of Americans who might lack proper documents to prove their voting eligibility. The case raised important constitutional questions, but also involved race and partisan politics.

Writing for the majority, Justice John Paul Stevens said any political issues considered by the state were mitigated by its desire to stop voter fraud.

"The state interests identified as justifications for [the law] are both neutral and sufficiently strong to require us to reject" the lawsuit, he wrote.

But in a toughly worded dissent, Justice David Souter said "Indiana has made no such justification" for the statute "and as to some aspects of its law, it hardly even tried."

Indiana Secretary of State Todd Rokita has conceded the state has never presented a case of "voter impersonation," which the law was designed to safeguard against. The 2005 Indiana law requires that a valid photo identification be presented by a person casting a ballot at a polling stations. Previously, most citizens needed only to sign a poll book to vote.
So, though there is no need for it, and in spite of it's cost which makes it a de facto poll tax, voter ID is good idea?
So much for this idea that the Republicans don't like activist judges. All the R appointees were in the majority along with old Justice Stevens. Seriously, man, why couldn't you have retired when Clinton was in office?
At this point, I don't want to hear another goddamn word from anyone about NOT voting for the Democrat in November, regardless of who that person is. Seriously, I'm ready to lose friends over this, mostly because I'm sick of your shit. If I can suck it up, so can you.
It's time y'all realize there's more than some petty soundbite at stake and stop playing the 'I don't like Obama/Hillary' song.
Posted by mcblogger at 01:53 PM | Comments (2) | TrackBack
Movie Star
Check Out Robin Cravey's Movie!!! AND dont foget to VOTE!!!
Posted by Lovelie99 at 12:06 PM | Comments (0) | TrackBack
Fun with the columnists
There have been some great columns out recently that you may have missed. You're so lucky I love each and every one of you for now, I will share them with you, my brilliant readers.
Oh, who the hell am I kidding... it's pearls before swine. Here's to hoping some of you learned how to read something more complex than my usual 'kindergarten words'.
First up, this piece in the NYT by David Leonhardt, a brill take down of Lou Dobbs. Make sure you also take a look at his analysis of the 'Bush economic boom' that's bypassed just about, well, everyone you and I know.
In part one of The Sun Rises In The West... Burka thinks it's a bad idea for Perry to run in 2010.
In part two, I agree with Gardner Selby. Well, at least on what a prolonged primary will do to the Democrats... absolutely nothing.
Finally, there's Frank Rich. Seriously, you need more than that to click the link?
Posted by mcblogger at 11:51 AM | Comments (0) | TrackBack
April 27, 2008
Roundin' up the TPA
Once again, it's time for the Texas Progressive Alliance Blog Round-Up. This week's round-up is compiled by The Texas Cloverleaf.
In honor of Income Tax day, Lightseeker at TexasKaos examines the Republican's tax cut claim here in Texas and discover that what it really amounts to is "tax shifting" and we are the ones getting shafted. Tax Shifting With Bohac's Assessment Cap as Our Example.
WhosPlayin notes that John McCain has proposed suspending the federal gasoline tax, and points out that McCain would do just as well to try to suspend the law of gravity.
The Texas Cloverleaf is helping to save the earth on Earth Day weekend with helpful tips for saving energy and your wallet, as well as picking up trash with Stonewall Democrats. Don't mess with Texas!
CouldBeTrue from South Texas Chisme wonders if all Republicans are Tom Craddicks in training. Listen to Nueces County Republican chair Mike Bertuzzi ignore all the 'Point of Order' calls at the county convention. Sound familiar?
John Coby of Bay Area Houston has the real press release from Rick Perry about his run for Governor in 2010.
Here are local activist Jose Orta's Impressions Of T. Don Hutto, Williamson County's immigrant detention facility, that were posted at Eye On Williamson after his recent visit.
At McBlogger, barfly analyses what's really important to the American voter in this hour of cultural brouhaha.
Off the Kuff takes an early look at the race for District Attorney in Harris County, which is sure to be one of the hottest local races this year.
Today is San Jacinto Day and PDiddie of Brains and Eggs will be at the commemorative ceremonies taking place at the battlefield near Houston.
BossKitty at BlueBloggin points out that Your $300 - $1,200 Economic Stimulus Payment Cost $767 Million
Hal at Half Empty questions whether one person running for President is actually temperamentally fit to be in that office.
Vince at Capitol Annex thinks it is terrible that Texas teacher salaries are so low that that more than a quarter of all teachers must work a second job to make ends meet.
North Texas Liberal reports on a homophobic journalist's question to White House Press Secretary Dana Perino, and the smackdown she gave in response.
George Nassar at The Texas Blue takes some time out of Friday's morning news roundup to point out that were the Bush administration to use a logical metric, it would be clear to them that the surge has failed.
Posted by mcblogger at 12:47 PM | Comments (0) | TrackBack
April 24, 2008
Them's Fightin' Words
And it sounds like most of Prince Charming's beefs are with his own party
Posted by mayor mcsleaze at 09:35 AM | Comments (0) | TrackBack
April 23, 2008
Hillary CRUSHES Obama
How's THAT for an inflammatory headline, mooks?
Hillary won PA. Yes, yes... we're totally excited. Mostly because the Clinton campaign is back to doing what it does best (winning) and also because it rains shit all over the little parade the Obama folks have had going (the more obnoxious ones, anyway) about how she should 'drop out'.
Lookit, folks, if you can't support the Democratic nominee over McCain, whoever it may be, you need to look closely at where you really stand on politics in general. This ain't all or nothing. There are things you have to accept about candidates you may not like. For example, while I love me some Strama (not THAT way, you freak) I have come to terms with some of his more lame ideas. Like his stupidiotic desire to tax cigarettes at $10 per pack.
Some of you clearly hate Hillary and wonder what the hell happened that made me turn to her. It's simple. She's mean. I think Obama is too nice and I can tell you from first hand experience, being the bigger son of a bitch is usually what wins. Or in this case, just simple BITCH.
Whatever your thoughts or fears on Hillary (however rational or irrational they may be), she's sharp, able and she's been an asset in the Senate. Those are three qualities she shares with Sen. Obama and which are completely lacking in Sen. McCain who has spent the better part of this decade as a maverick door mat for the corrupt President Bush.
Tone down the rhetoric. Let the primaries play out. You should be in love with this because the longer this drags out, the more air is sucked out of the McCain's moribund campaign. While our candidates were making national news last night, McCain was having dinner. At a Shoney's in Alabama. And even the local paper ignored it.
Posted by mcblogger at 10:36 AM | Comments (2) | TrackBack
Just listen to me this time, K?
Well, folks, we can now say public consensus has made it official: Worst. President. Ever.

Be sure and congratulate all of your family, friends, coworkers and neighbors who hold the distinction of voting once or even twice for the person now officially known as "the president worse than Nixon."

I gotta hand it to you, though. You people might be responsible for bestowing upon our Nation the most colossal failure in the history of the White House - twice - but at least you didn't vote for that guy said to take credit for inventing the internet. Or that other guy who "flipflopped," windsurfed, and looked French. How utterly ruinous to the country would THAT have been? Not to mention embarrassing?

Lest we forget, insanity is when you keep doing the same thing over and over again, yet expecting a different result. Think about that between now and November, my friends.
Posted by hbalczak at 12:18 AM | Comments (0) | TrackBack
April 22, 2008
Gibson's capital-gains tax assertion during debate disputed
During the April 16 Democratic presidential debate, Charles Gibson asserted of capital-gains tax cuts that "in each instance, when the rate dropped, revenues from the tax increased. The government took in more money. And in the 1980s, when the tax was increased to 28 percent, the revenues went down." In fact, economists dispute Gibson's assertion.
The most interesting thing about this is that it betrays a deep lack of knowledge both of economics and tax policy, a glib and remarkable naive view of what capital gains really represent. For one thing, capital gains are the gains made on assets held for sale. Homes, stocks, bonds and commodities are all examples of assets that can be sold at a capital gain. In other words, they aren't usually considered regular income which is why they are treated differently. Just like all taxes, capital gain taxes are subject to the Laffer Curve meaning that there is a sweet spot at which you maximize revenue to the government with a minimal impact on economic activity. Cut it too far and you're starving the government, our government, of the revenue it needs to be build roads, hire police and firefighters and provide that national defense people are all the time talking about. Increase it too much and you'll stifle economic growth and starve the government. Gibson's ridiculous question ignores this little fact which is understandable since the Republicans have been ignoring the reality of Laffer's research for more than 28 years.
Still, there is another problem with Charlie's little question in that it ignores the very real effect of ultra low cap gain rates, especially on short term profits. They make people more willing to report their income as a capital gain and they increase speculation to near epidemic levels. The same speculation that has helped to drive oil to $117/bbl. The same speculation this is raising prices on a broad basket of commodities. You and I get to experience that at the grocery store. Of course, there's also another behavior which explains Charlie's numbers, namely that when the tax is increased, immediately before the increase goes into effect, revenues shoot up as people take advantage of the old rate. When the rate falls, people hold off on realizing gains until the cut goes into effect. And there's your boost. Over time, though, the revenues always return to nominal levels.

The simple answer is the one from Warren Buffett. His solution is to raise short term capital gain taxes to a very high level in order to starve off speculation and short term thinking in the market. Of course, this would reduce income to the government but it would be offset by longer term employment and a more vibrant economy that is capable of growing faster with less inflation (less speculation = less inflation). Frankly, speculation and the resulting price fluctuations and increases cost American businesses and consumers far more than any tax.
Posted by mcblogger at 12:03 PM | Comments (0) | TrackBack
April 20, 2008
How Well Do You Know The Republican Playbook?
Take the quiz!
Posted by mayor mcsleaze at 12:38 PM | Comments (0) | TrackBack
April 17, 2008
The Debate From Hell
Yes, Charlie you moron, the crowd IS turning on you. Wanna know why people are turning to blogs? Because we can strip off your bullshit and just link to you for background, Charlie. FDL has a series of good posts up about the debate last night which we mercifully missed.
Olden Times, thankfully, is learning to keep his mouth shut when it comes to his betters in the Democratic Party. That seems to be the one highlight.
Phillip has more on the reaction nationwide.
Posted by mcblogger at 11:23 AM | Comments (0) | TrackBack
City Council Candidates R Teh Phunnee
The ugly stepchild to the Primary (at least this year) is the City Council Election. I capitalize that because really it's quite awful and distinctive. I've been to three candidate forums/endorsement meetings/ tedious wastes of time and there's only one thing of which I'm sure...
Jason Meeker is a DOUCHE

Of course, we'll have endorsements later as we get closer to the start of early voting. I will say this, after last night's KAB forum, I like all the candidates a lot more. You all were excellent in the face of an adverse condition, namely the drunken jr. copywriters from GSD&M. If it's any consolation, they probably won't have jobs much longer and will be moving to Dallas.
I know, it totally makes me cry, too.
Posted by mcblogger at 09:05 AM | Comments (0) | TrackBack
April 15, 2008
Uhm, sure... whatev. Obama's still right.
You all know that The Mayor and I endorsed, voted and caucused for Clinton. We are both Clinton delegates to the state convo. So, understand that when I say Obama was spot on about this, it doesn't come from a supportive, "We LOVE us some Obama" place.
"You go into these small towns in Pennsylvania and, like a lot of small towns in the Midwest, the jobs have been gone now for 25 years and nothing's replaced them," Mr. Obama responded, according to a transcript of the fund-raiser published on Friday on The Huffington Post Web site.

"And they fell through the Clinton administration, and the Bush administration, and each successive administration has said that somehow these communities are gonna regenerate and they have not," Mr. Obama went on. "And it's not surprising then they get bitter, they cling to guns or religion or antipathy to people who aren't like them or anti-immigrant sentiment or antitrade sentiment as a way to explain their frustrations."
Was it sloppy? Sure. He makes it sound like only the unfortunate would want to keep guns and maintain religious traditions. But that's not what he meant. And you're a real idiot if you think otherwise. Seriously, go get back on the short bus, tardy.
What Sem. Obama meant was that Republicans, and to a lesser extent, Democrats, have left these people behind. They have no economic growth and are in many ways worse off than they were prior to 1980. Sure, they stabilized a bit or even grew their incomes in the 1990's, but all that evaporated rapidly once Bush took office. Not to mention their roads are falling apart, their schools are mostly shitty and gas is eating up an ever larger portion of their incomes. In this type of environment, these people have nothing left but their faith and their Constitutional right to bear arms. And blame. Blame for the immigrants, trade policy (though they are right on this one... Obama's wrong and a wholesale economic neophyte. The only one worse is McCain who doesn't even know they redesigned the $10 bill) and for the faggots wanting to get married. And it IS understandable... how many of YOU have some solid ideas on how to fix the economy that the Republicans have worked so hard to loot over the last 28 years? It's human nature to turn from the real problem that's much harder to solve to something understandable at a gut level.
"I'm voting for a flat tax because it's fair"-from a minimum wage worker who doesn't pay any tax now, but will under a flat tax. "I just want to protect marriage"-from an unemployed guy in rural OH.
These people are so shell shocked, they have no idea how to deal with the very real problems they see on a daily basis. Instead it's easier to focus their anger and frustration on those unlike them. Just ask Karl Rove... he's made a career out of convincing people that nonsense issues are the ones on which they should vote.
Hillary is smart enough to know all this and has decided to read it as a more literal statement. Which is pretty dumb. As for McCain, that old man needs to shut up and stay out of it. Every time he tries playing with the big dogs, he comes off like the ankle biting chihuahua he is. And from the press, the stupijectivity continues. No one's asking you to take a side, media. Just don't make shit up. You knew what he meant, write the story that way. If Hillary and McCain want to change the meaning, don't report it because it's not news.
At some point, this kind of gotcha reporting has to stop. If it doesn't, we'll continue dumbing down the population, making them still more reactionary. And that's where our experiment with democracy ends.
Posted by mcblogger at 08:34 AM | Comments (4) | TrackBack
April 09, 2008
Balczak Will Stay In Race
It has come to my attention that a document has recently circulated on the Internets which purports to list the SD 14 delegation in its entirety. It appears my name was mistakenly omitted by the document's mysteriously anonymous author. Naturally, this typographical error has created a widespread impression that I am, in fact, NOT going to be a state delegate this year.

Admittedly, this race has changed since late February, back when it seemed my state delegate status seemed all but inevitable. But I have slogged through this long, hard and vigorous campaign and I'm still in it to win it. When my red cell phone rang at 9:45 a.m. last Saturday and some frantic precinct coordinator screamed "Where the !@#$% are you?!?!?!", I dutifully answered the call and drove to the Travis County Expo Center. It didn't matter that I was hella hung over (i took an earlier call on the big white phone at 6:40 a.m., if you know what I mean)...because my precinct needed me. When the vast Obamaniac conspiracy turned out to deny me my rightful spot as a precinct-elected state delegate, I fought back the tears and pushed onward. When I first tried to turn in my at-large candidacy application at the district convention, a large, angry, blinged-out guy with a mohawk beat my ass senseless right there in the middle of the arena floor as a massive throng of onlookers stood and cheered - just like in Rocky III. But I ignored the prevailing sentiment and kept at it. Just like the producers of Rocky IV and V.

Today, I'm here to tell you that I'm still fighting. And I'm not going to let some smoke-filled backroom "nominations committee" (whatever one of those things are) with their antidemocratic closed-door "meetings" and uppity lists of "approved people" decide the fate of my candidacy. I'm in this until EVERYONE not totally and irrevocably opposed to me maybe being a delegate has a chance to weigh in with their opinion, even while my opponents hide behind underhanded technicalities like only counting votes of district delegates living in my precinct, or disregarding people just because they didn't participate in the Democratic primary at all...or did, but not in Texas (can you say "splitting hairs?").

To all my supporters out there, don't give up. I. Will. Not. Quit. This. Race. (and for all you internet readers out there who can't see me, I'm holding out my left hand and doing that remote control clicky gesture as I say this). We will fight all the way to Denver. And stay until December, if necessary. You don't want an inauguration with all that awkward "unsettled business" vibe looming over DC. That's all I'm sayin'. Just give me the damn delegate slot already and no property gets destroyed. Did I mention I'm a lawyering lawyer who litigates lawsuits about law stuff?

Posted by hbalczak at 10:32 AM | Comments (0) | TrackBack
The runoff hath passed
Yes, in case you (like most Texans) slept through it, yesterday was the joint primary runoff election. 1.55% of you turned out statewide. The rest of you slobs couldn't be bothered though I'm sure even if you had bothered to back away from the buffet long enough to vote, the results would not have been measurably different.
In the RRC race, Thompson soundly beat Dale Henry. We did not endorse Thompson, so we are of course incredulous at his inexplicable win (you know, since our endorsed candidates in every other race won). We'd like to applaud Dale and Team Henry for running a good campaign and we'd like to extend our congratulations Thompson and urge him to use Dale, if he's willing, as a resource on the proper job of the RRC.
In the DA's race, Lehmberg won. That's all I'm writing about this stupid race.
On the R side, CradDICK had a good night with the defeat of Rep. West out in Odessa. He also earned some solid victories in other races around the state. Those seats will more than likely be won by Democrats in the fall but for now CradDICK appears to be a big winner. Phillip has an excellent analysis on these races.
Lastly, we at McBlogger would like to say goodbye to Dracula-Cunt. Laterz, freakshow.
Posted by mcblogger at 08:13 AM | Comments (0) | TrackBack
April 08, 2008
RPT : Come be our bitch!
The crew over at the Republican Party of Texas ('Sup, playas!?) are giving two very special students a chance to be pages at the Republican National Convention in Minnesota. What is a 'page', you ask? Well, a page is a digital or paper document on which words and pictures are placed. That's the nominal definition. 'Page' can also refer to young people who volunteer to give their time to a political party or organization where they will serve as a 'bitch' (i.e., copy bitch, coffee bitch, drycleaning bitch, phone bitch, bar bitch, gotothe711on15thandgetmecigarrettes bitch). In the business world, we call pages 'interns'. And yes, we're totally going to hire you at the end of this internship. Really. All this unpaid work you're doing will pay off big time when we give you a job. Which we're totally going to do. After you come clean and paint my house on the weekend. Now, I really need my dry cleaning and a pack of cigarettes from the 7-11 on 15th.
In Republican circles, 'page' also means 'jailbait'.
Young people can apply for the position by going here. They should understand that they will be required to pay their own airfare and hotel charges. If they happen to be cute young men, they might be able to get some help paying for all this by securing a spot in the Foley Page Program where they will be staying with a Congressman who will teach them about the political process. And rimming.
Posted by mcblogger at 11:18 AM | Comments (0) | TrackBack
April 06, 2008
Roundin' up the TPA
It's time for another Texas Progressive Alliance Blog Round-Up. The weekly round up is compiled from submissions submitted by member bloggers.
Saturday, TXsharon of Bluedaze attended the Barnett Shale Expo and the lies told by John Tinterra, Texas Railroad Commission, in front of citizens who pay his salary and in front of his boss, Victor Carrillo, reminded TXS of a quote from Cold Mountain: "That man is so full of manure we could plant him and grow another one!".
McBlogger's never been a big fan of tax abatements to lure new companies to Austin. He's even less thrilled with them when they are being used to entice developers, especially developers who can't seem to make their finances work without the abatements.
Off the Kuff takes one last look at primary voting in Harris County, this time examining Democratic turnout by State Rep district.
WCNews at Eye On Williamson previews the GOP runoff in HD-52, The Same Only Different.
Over a thousand Harris County voters took "vote twice" too seriously, writes PDiddie at Brains and Eggs.
Hal at Half Empty will vote in the Democratic primary runoff, to be sure, despite the fact that only one race will appear on his ballot. The tables are turned and the Republicans in CD 22 have a much more juicy decision to make. Oh, to be a Republican.
Gary at Easter Lemming Liberal News turned it over to his brother Jim for a few odd links as he was getting ready to be tired out at the third step of the Texas Two-Step. Earlier in the week Gary got his dander riled at racist media conservatives.
nytexan at BlueBloggin tells us that keeping 378 delegates and 275 alternates under control is like herding cats in It's Great To Be A Democrat In Texas at the Senatorial District 18, Bastrop County Convention.
Posted by mcblogger at 04:58 PM | Comments (0) | TrackBack
April 05, 2008
This weekend in FUN!
Nothing on today? Hate toll roads and/or the TTC?
Come join Hank Gilbert and the folks at TURF at the Capitol to let our leaders know that you don't want to pay through the nose for a road to nowhere!
Speaking of leadership, do you want to help support, even in a small way, changes at the top? Then take a moment today to give a few bucks to the TexBlog PAC. We're looking for 50 donors and $1500, the deadline is tonight and we're only 9 short! Help out some candidates and take action to end the corrupt leadership of Tom CradDICK!
Who IS Austin Political Report? Who cares? The site is good, well written and usually pretty well researched. Apparently, there is some controversy now regarding Terry Keel (R-Worthless Parliamentarian) allegedly supporting Mindy Montford. Montford says it's not true. Keel says it's not true. Keel goes on to act totally indignant about the whole thing...
Keel said the report tarnished his reputation.

"The intent was to set up a fraudulent Web site, be able to remain anonymous and make it appear that this was reporting," he said. "I don't care which candidate it's used against; I am not going to be a victim of fraud."
Keel, you stupid bitch. YOU aren't the injured party. You destroyed your own reputation and credibility. Your former constituents mostly think of you much like they do gum on the bottom of an old shoe. Or dogshit. If anyone was injured, it's Mindy. Your precious reputation was worthless BEFORE anyone posted a damn thing about you. Oh, and as for your complaint against Fero, it's bullshit. Nothing more than your pathetic need to play some of sort of part in the process.
And change that stupid haircut, 'tard.
Posted by mcblogger at 01:40 PM | Comments (0) | TrackBack
April 03, 2008
Here's where you're wrong
The primaries this year threw a lot of people off, mostly because it was a much more significant event than anyone realized it would be. Everyone expected record turnout, but no one thought it would be as large as it was. I've waited a month for someone to point out the obvious and damn if it still hasn't happened. Then I read this retarded little analysis and thought "Goddamn, none of the mooks are going to say it". So, allow me.
The Democratic Primary effectively sucked the life out of the majority Republican Party in Texas.
There's a theory floating out there that somehow the non-partisan ParentPAC has lost it's strength. Here's the brill primary analysis...
To make it even worse, best estimates put Parent PAC's arch nemesis, pro-voucher supporter James Leininger, at 4-2 this primary cycle. And three of his four victories came against Parent PAC backed candidates.

Here's a closer look at Parent PAC's primary cycle. In races where they put in 10,000 dollars or more, they managed a mere 2 - 5 record. In their marque race of the season, Parent PAC again targeted a top Craddick Lieutenant in Phil King, but this time they poured over 60,000 dollars into a poor showing with Joe Tison, who got rolled-up by 31 points. Jim Shepherd took 5,000 of their dollars and front-runner status into his quest to not make his run-off to replace Fred Hill. Likewise, Bob Leonard took 7,500 of their dollars only to get trounced by Mark Shelton. But I'm sure that was one they didn't mind losing, this way Parent PAC is saved the awkward moment of having to chose in the general between Leonard and Democrat Dan Barrett, who they've donated to in the past.

The El Paso duo of Moreno and Haggerty took a combined 16,000 Parent PAC dollars and flushed it down the toilet. All in all, in the ten races Parent PAC lost, totaling over 131,000 of their dollars, 6 were by ten points or more. But it's not all bad news. It only took the badly bruised PAC just 161,000 dollars to squeeze out a 17 vote victory over Nathan Macias.
First, there is a really good reason why some of these races were lost. Democrats pulled people out of the Republican primary all over Texas for the first time in decades. That's the only way Haggerty loses and it's not like that will be a CradDICK win. Moody's going to take that seat with ease in November. As for King, shit... I think even he sees Sean Penn when he looks in a mirror. Even if he survives November, he'll be bloodied, beaten down and shrunken under the weight of knowing that it's going to happen all over again in less than 2 years. I don't think those narrow shoulders can bear that kind of load.
Of course, going into the primary, I like many thought it would be business as usual. But I'm a dumbass blogger. Some of these people are well paid political analysts who should have been able to see in the numbers the trouble ahead. My problem was in thinking this was only a slightly larger Pres primary with a 'slightly larger' universe of voters. I certainly never anticipated it would suck the life out of the Republican party and nothing I saw that night made me think differently. I mean, I live in Travis County. I'm used to dramatically outnumbering the Republicans at precinct conventions. What surprised me was that Democrats were doing it all over the state. And those numbers flipping over weakened the chances that challengers and good incumbents in the R primary had against CradDICK and Leininger opponents.
Just like Grusendork in 2006, King would have gone down this year in the primary from crossover support. So, in large part for no real reason, Leininger looks like he's got his teeth back. But looks can be deceiving. He's still the same neutered dipshit he was just after the 2006 primaries. However, no one will see it until November.
Many people are going to be surprised by how many races Democratic candidates win around the state with seemingly little support. It's because overnight March 4th, the Texas Democratic Party became THE 800 pound gorilla in the room.
Posted by mcblogger at 09:10 AM | Comments (0) | TrackBack
So just what DID happen in March?
As I sit with my very first sidecar of the night (ok... you got me. Eighth. And they taste just as good with the bottled lemon juice as they do with fresh, mother) reading letters from some of the you people who are, to be gracious, new to the process, it occurs to me that surely there must be a flowchart that can help explain just what happened from the night of the primary through the 29th. THIS is that flowchart.
Posted by mcblogger at 12:43 AM | Comments (0) | TrackBack
April 02, 2008
One thing all candidates have in common
Sister Ruth has a story she likes to tell about being on MoPac in traffic and seeing a bumper sticker that said "Dear Jesus : Please save me from your fan club". I feel the same about the candidates this cycle. It's not so much that y'all suck (some of you do, but only a few), it's your supporters that are, frankly, asshats.
Y'all take a Klonopin and relax.
Posted by mcblogger at 12:45 PM | Comments (0) | TrackBack
March 27, 2008
Gearing up for more voucher crap...
The reality is that vouchers are not a panacea. They aren't even working where they've been tried.
Voucher students' test scores in the year the study covered were roughly the same as public school students'; the study also found voucher students scored below the national average, between the 28th and 39th percentile, on national reading, math, and science tests.
A frequent argument made against them, that the vouchers won't provide enough money to the poor to put their kids in anything but a parochial school, is in fact true. Even the Catholics can't run schools as cheap as the public education system which is really the crux of the entire 'how to improve education' debate. There are two things you need. One, is a change in what teachers are teaching and a return to a more formalistic curriculum. The other is more money.
What? You too are tired of the kids getting a Wal Mart education? Well, here's what we need to do. Pump money into schools and restandardize the curriculum. The pennies we save by underfunding public education end up costing us billions in lost wages, productivity and taxes down the road. It's time for conservatives to realize that conservatism is about more than just cutting taxes and spending. It's about spending money on things that matter.
Posted by mcblogger at 02:25 PM | Comments (0) | TrackBack
March 21, 2008
Runoff - Henry and Lehmberg
Remember that primary a few weeks ago? Well, some of the candidates are in a runoff. Here are two you need to support:
Dale Henry has secured the endorsement of Burnt Orange Report and a re-endorsement from Brains and Eggs.
Here in Travis County, Rosemary Lehmberg recently received the endorsement of former DA candidate Gary Cobb. We urge you to support her. Because she rocks. And because... well, there's this on her opponent.
Posted by mcblogger at 01:06 PM | Comments (0) | TrackBack
Richardson, with all the enthusiasm of a corpse, endorses the Obamassiah
Yes, that's right... Mr. Personality himself, Gov. Bill Richardson, has endorsed the Obamassiah. I dare ANYONE to come up with ANYTHING less inspiring.
Why, no, I don't like Gov. Bill Richardson. It's because of his 'vast' foreign policy experience and his incredible gullibility, coupled with his egotistical self-importance. I know this is supposedly a blow for Hillary and all, but this guy is like a bad penny... he's nothing but bad luck. I wonder what the Obamassiah dangled before that corpulent face to get him to endorse?
Posted by mcblogger at 08:58 AM | Comments (0) | TrackBack
Hillary's Schedule...
Seriously, this is the best the WaPo could do? These were he first four headlines in Politics Daily...
In Hillary Clinton's Datebook, A Shift (By Peter Baker and Karen DeYoung) Hillary Clinton's White House Schedules Accounts Reveal So Much, Yet So Little (By Libby Copeland) VIDEO: Clinton's Records As First Lady Unveiled
THREE articles and a video?!?!?!? Pink Lady sooo nailed this.
Posted by mcblogger at 08:10 AM | Comments (0) | TrackBack
March 20, 2008
HERA (hearts) Equality Texas
The Houston Equal Right Alliance is announcing is integrating with Equality Texas. Together, they will work to make LGBT Texans safe from discrimination. And, hopefully, polyblend (seriously, have you seen some of the hideous things people are wearing around with a straight face?)
Full release in the supersize... where all the big boys belong.
Houston Equal Rights Alliance (HERA) Announcement EXCITING NEWS!!!

HERA to Integrate with Equality Texas



Dear Friends and Supporters,


The past four to five years have been amazing as we have
seen much progress in terms of electing pro-equality
legislators both at the local and statewide level. HERA has
been the lead organization during this time in identifying
voters, reaching out to the Houston community through our
educational work and building alliances with other GLBT and
progressive organizations. We are proud of our
accomplishments including the identification of literally
thousands and thousands of voters since 2004 who said that
they would without hesitation support gay, lesbian, bisexual
and transgender civil rights. Our progress....simply
put...has been because of YOUR faith and support.

With progress comes change...and we are excited to announce
that as of March 15, 2008 that HERA will officially
integrate with Equality Texas. Equality Texas is our
statewide political organization working to advance the
cause of equality for all Texans. Equality Texas, whose
programmatic and advocacy work across the state has mirrored
HERA's in the greater Houston metropolitan area. Equality
Texas has been a longtime alliance partner of the Houston
Equal Rights Alliance and we are proud of our collaborative
and successful efforts.

HERA's Board of Director's began a dialogue last year with
Equality Texas about how we could best achieve our common
goals and objectives in the Houston metro area. The
decision was made by both Boards to look at the possibility
of an integration. Since then, we have talked to many of
our supporters to get feedback on the proposed integration.
The dialogue and feedback were overwhelmingly positive and
this resulted in our respective Board's adopting a proposal
to integrate HERA with Equality Texas.

There are three primary reasons why the HERA Board voted to
integrate with Equality Texas.

a.. We have a tremendous amount of respect for Equality
Texas and the work the organization is doing across the
State of Texas. We have always considered the success of
Equality Texas core to our work in Houston. This
integration represents an opportunity for Equality Texas
to have a greater level of infrastructure and support in
the greater Houston metro area.
b.. This integration is a natural progression for HERA
considering our key areas: building alliance
relationships, developing infrastructure and a strategic
focus looking out to the next 3-5 years and beyond.
c.. The primary reason is that this integration is in the
best interests of the Houston GLBT community. All the
work and accomplishments through HERA have always been
about serving our community and this decision is no
different.
This is a "win-win" situation because Equality Texas will
benefit from the infrastructure that HERA has developed
through the years and the Houston community wins because we
will have a larger presence with our statewide organization.
We need Equality Texas to be successful...not just for
Houston but for the place we all call home...Texas. The
HERA Board is working to make this integration successful
and we will continue to work with and support Equality Texas
until the day when the gay, lesbian, bisexual and
transgender community is no longer treated as second-class
citizens.

Your support has been and will be critical going forward.
Because of your commitments of time and financial support,
we have achieved incredible programmatic, electoral and
grassroots achievements. And as we look ahead, the HERA
Team is asking you to support Equality Texas because this is
an organization that is truly making a difference 365 days
a year for our community.

Please visit www.equalitytexas.org to learn more about
Equality Texas.

Keep an eye out for an announcement about our Launch
Party!!!! You will have an opportunity to learn more about
the exciting plans for 2008 and beyond.

Thank you again for ALL OF YOUR SUPPORT!

For Equality,

Rob Scamardo
President

Tammi Wallace
Founding Board Member, Former Executive Director and
Immediate Past President


About the Houston Equal Rights Alliance (HERA)

The Houston Equal Rights Alliance (HERA) is an alliance of
individuals and organizations committed to building a
sustainable strategy through community building to promote
equality and respect for gay, lesbian, bisexual, and
transgender people through education and advocacy.


THANK YOU!!!

Thank you for all of your amazing support over the years!!!! The
years ahead are going to be exciting as we push forward with
Equality Texas to work on behalf of gay, lesbian, bisexual and
transgender civil rights.

Look for details on our upcoming Launch Party !!!! You will be
able to hear more about the exciting plans for 2008 and beyond!

Please visit
www.equalitytexas.org to learn more about the amazing work of our
statewide organization.

The HERA Board wishes to express our deepest appreciation for Paul
Scott, Executive Director of Equality Texas and to the Board for
their dialogue, openness and commitment to this integration and
putting our communities best interests in the forefront at every
discussion.

THANK YOU!!!

TO OUR
VOLUNTEERS:

You are the absolute best! All of your blood, sweat and tears
have made a difference in Houston and will continue to do so. We
look forward to working with you through Equality Texas!!!

TO OUR
FINANCIAL SUPPORTERS:

Every voter ID, discussion with a voter about GLBT civil rights,
political victory, etc., is because you funded work that has truly
made a difference in Houston! Every dollar made a difference and
we thank you for your support!

TO OUR
ALLIANCE PARTNERS:

Thank you for every hour, every meeting, collaborative effort and
working together for a cause we all believe in - EQUALITY!

Click here to learn more about Equality Texas:

Mission and Values
Board and Staff
History
Issues
Victories
Press Room
Upcoming Events


Call To Action - Sign up to receive Equality Texas emails.

Visit the Action Center to sign up


Click Here to Contribute to Equality Texas and support the local
work in Houston:

Contribute to ET!!!


DON'T MISS THE LAUNCH PARTY!!!! MORE DETAILS SOON!!!




For more information about the Equality Texas-HERA integration,
please contact:
info@equalitytexas.org
512.474.5475





Email Marketing by


Houston Equal Rights Alliance (HERA) | 1915 Commonwealth, Suite 104 | Houston
| TX | 77006

Posted by mcblogger at 02:08 PM | Comments (0) | TrackBack
Noriega : A Progressive Patriot
Sen. Feingold (who has an 'order' (more like a suggestion, really) saying that Sister Ruth must stay more than 100 feet away from him at all times) needs to know that Rick Noriega IS a Progressive Patriot. Go tell him here.
Posted by mcblogger at 12:15 PM | Comments (0) | TrackBack
March 19, 2008
Cornyn, dodges the draft and only now votes for vets
Apparently, Cornyn has decided to release his military records
1. Private 1st Class Cornyn showed exceptional leadership and courage when he was the first to attack the chow line on mystery meat day, putting himself and his stomach at risk.

2. Later in the day, Private 1st Class Cornyn again displayed exceptional leadership by single handedly clearing the way to the latrine after crapping his pants during live ammo training.

3. Cornyn was eventually given an honorable discharge after whining me and my staff to tears. His service to his country and his dry cleaners has been invaluable.
Cornyn also has finally decided to support a VA hospital. In the Valley. The same one that Sen. Hutchison swore to support. Maybe they should stop calling him Senator Junior John and instead Senator Johnny Come Lately. The funny thing? Somehow, Cornyn's support of this bill causes a problem for Noriega? Oh hell, R.G. What's wrong with pointing out that in SIX YEARS it was a Democrat that got things moving. For four of those six years, Junior John was a leader in the party that controlled Congress AND the White House and he couldn't get this done? Of course Noriega's going to point that out.
And Texans will be listening.
Posted by mcblogger at 08:40 AM | Comments (0) | TrackBack
March 17, 2008
THEY said it would pay for itself...
...and Tom Tomorrow has his take on the Iraq War.
Posted by mcblogger at 03:12 PM | Comments (0) | TrackBack
March 14, 2008
Thank you, House D's! Telecom Immunity goes down in the House like a dirty ho
The House version of the FISA bill passed without telecom immunity! THANKS TO EVERYONE WHO VOTED FOR IT!
Posted by mcblogger at 03:38 PM | Comments (0) | TrackBack
More positive news from the GOP
The Republicans have hired Carly Fiorina to run Victory 2008!, the GOP's fundraising effort to benefit Olden Times. Carly will also be acting as an economic advisor to and evangelist for the economic policies of Olden Times. Conservatives in the GOP are unhappy about all this.
It's probably because they, like myself, remember Carly's last big job which was destroying shareholder value while CEO of Hewlett Packard.
No, Carly, buying Compaq was a piss poor idea.
Posted by mcblogger at 01:48 PM | Comments (0) | TrackBack
March 13, 2008
FISA Update - Conyers is kicking ass
In stark contrast to what happened in the Senate Intelligence Committee when the FISA modernization act was brought up, the House Judiciary Committee, in a VERY nasty way, shut the door on immunity for the telecos.
As a result of our review of classified as well as unclassified materials concerning the Administration's Terrorist Surveillance Program, we have concluded that blanket retroactive immunity for phone companies is not justified.
And this is why we would gladly go down on Rep. Conyers. Well, we would if he wanted it.
In other FISA related news, Jane has (in the last day or so) raised more than $42k to take down Blue Dogs who want to vote for telecom immunity. Go tell her where she should spend it.
On another note, as it turns out that Total Information Awareness Program we all thought Congress killed in 2003 is not so much dead.
Posted by mcblogger at 09:03 AM | Comments (0) | TrackBack
March 12, 2008
FISA - We were right
Well, it appears more is happening in the House on the FISA front and it's not going the White House's way. I know, I'm really sad about that, too. It's always disheartening to me when I hear about something bad happening to someone I really don't like.
As it turns out, the victory of Bill Foster in Illinois was due, in part, to his stand for the rights of Americans against the telecom companies. Foster was against granting telecom companies immunity for their illegal actions in complying with President Bush's illegal wiretap order. So much for the scare tactics of the Republicans and beating the national security drum. If you people couldn't win on this in Hastert's district, you aren't going to win with it. Anywhere. In fact, people may actually boo your candidates. That, you definitely don't want. We did warn you about all this, Republicans. You really should have known better.
One side note, as DKOS points out, is that Mark Klein (the AT&T employee who blew the whistle on NSA eavesdropping) has not been called to testify. If anyone would know about this dragnet intelligence gathering technique, and the laws the telcos broke, it's him.
Meanwhile, back to the debate at hand... Leahy and Conyers are joining forces to take down Sen. Lawn Chair (he's always folding up) and the Administration. Help them push back on Bush by clicking here. The sad part is that it's not just the Republicans pushing to protect the telecoms and the President from well deserved prosecution, it's also a group of 21 blue dogs. Jane Hamsher is thinking it's time to take them down. In case you were wondering, none of them are from Texas. Which makes me hella proud.
Long story short, you need to get involved. This is real, this is totalitarian and we have to stop it. We've got some people in Washington who are refusing to compromise and we have to get their backs.
Posted by mcblogger at 11:54 AM | Comments (0) | TrackBack
Montford receives one hell of an endorsement
I don't think I've ever seen anything like this...
Rosemary Lehmberg has been endorsed by Ronnie Earle as his hand picked replacement. She led the Public Integrity Unit for a time in Travis County and has been an assistant DA in Travis County for many years. She will continue on the policies of Ronnie Earle...policies that most Republicans are not fond of.
For those Republicans that "crossed-over" to become Democrats this year, I ask you to vote in the runoff for Mindy Montford for Travis County DA. The Republicans do not have a candidate in the general election this year, so the winner of the Democrat Primary will be the new Travis County District Attorney. Put your new voting power as a Democrat to good use, and vote in the runoff for Mindy Montford.
So, what Travis Monitor is (in effect) saying is that Montford will be more compliant to the Republicans? And that Rosemary Lehmberg will continue to prosecute political corruption, both Republican and Democratic? Are you saying that Republicans don't want to see public corruption prosecuted and Montford will sit on the prosecutions Republicans don't like? Would that include the one of Tom Delay? The same guy Democratic AND Republican Texans think is carnival scum?
We're sticking with Rosemary.
Posted by mcblogger at 09:48 AM | Comments (0) | TrackBack
CradDICK and Dewhearse SPRING into action
You know, it DOES make me laugh a little to think of tweedle dee and tweedle dum 'springing into action' on anything. Far more likely that they'd be moving with all deliberate sloth. However, this time they are actually being aggressive on transportation funding... and it has nothing to do with tolling.
The short letter — signed by Lt. Gov. David Dewhurst, House Speaker Tom Craddick, Senate Finance Chairman Steve Ogden and House Appropriations Chairman Warren Chisum — recommends that TxDOT borrow another $1.5 billion against future gas tax revenue to bridge a temporary financial tight spot. The Legislature, the letter promises, will make sure that some of the gas tax money now diverted to other, nonhighway-construction needs will be returned to the agency to back the bonds.
Left unsaid? An increase of (and indexing) the gas tax which is what the majority of Texans want and what will likely happen as tolling falls completely off the cliff.
TXDOT, predictably, shifted the response on the letter back to the Governor. Retard Rick's spokesman, Robert Black, said that 39% wasn't interested in any of this and that the Lege would have to reopen road privatization 'to the lowest bidder'.
"What this letter is asking TxDOT to do is a two-year stopgap, two years of going further into debt," Black said. "A long-term solution comes first. Last year the Legislature came in and all they did was say 'no.' With the rate this state is growing and the needs and challenges we have in transportation, we can't afford to say 'no' anymore."
Just as a side note, does Black rock or what? I mean, the guy goes to work for a terrible pig of a man who spends an inordinate amount of time pandering to every special interest that will listen and who may be one of the worst Governors in the history of the State of Texas. Seriously, when we look at his association with privatization interests and the political contributions from them coupled with his support for their cause... well, it looks an awful lot like corruption. And this is what Black has to work with. Robert, I know we used to make fun of you but I've developed a new kind of respect for you. What's your trick? Anti-anxiety meds with a vodka chaser?
But back to the issue at hand... TXDOT's 'financial crises'. TXDOT said it was cutting all constructions projects because of a lack in future years of money to pay for them. Money that the Lege has simply not appropriated. Which is a bit like me saying I won't do my job now because I may or may not get my expense reimbursement in June, 2010. I got news for the folks at TXDOT... you let the Lege worry about your funding. You build the damn roads.
I guess that's a big part of the problem with TXDOT right now. It's controlled by our idiot Governor, Retard Rick, and overly politicized. These folks don't really do their jobs, they don't know how. They're mostly political hacks. The other big problem is that THEY DON'T EVEN KNOW HOW TO COUNT.
TxDOT had announced the construction slowdown in November, citing inflation in construction costs and cutbacks in federal grants. In early February, at a hearing called by two Senate committees, TxDOT revealed that it had double-counted $1.1 billion in scheduling construction projects. That mistake, officials said at the time, had a lot to do with the crunch.

The state auditor is now looking at TxDOT's finances.
There's your funding gap, morons. GET. TO. WORK.
And to our friends at the Lege who will no doubt read this, y'all need to go hyper aggressive against TXDOT. How about dismantling them next year and reconstituting the TTC to make it composed of statewide elected officials, like the RRC?
Seriously, we can't afford to wait out Retard Rick. Hope Andrade alone could do some serious damage and not even realize it.
Posted by mcblogger at 09:05 AM | Comments (0) | TrackBack
March 11, 2008
Relevance and Unity
One thing last Tuesday night made clear was that people are paying attention to Democrats. Recent polls indicate that more than 52% of people in the US are now calling themselves Democrats. None of this is good news to the Republican candidate who now has to convince people he even matters. Which, not surprisingly, even Texans are clearly indicating, he doesn't.
While the Presidential race is going to continue and continue to draw attention, we in Texas have had our primary. We know, mostly, who our candidates are. Now is the time for unity. Frankly, I'm not all that jazzed about certain candidates who will represent us in November. However, the alternative is far, far worse.
While we move in this direction, we should pay attention to runoff races. My two are the RRC race (between Dale Henry and some other guy) and the Travis County DA's race (I'm still for Rosemary). What's on your radar?
Posted by mcblogger at 08:07 PM | Comments (0) | TrackBack
Roundin' up the TPA
It is time for the Texas Progressive Alliance's weekly blog round-up. This week's round-up is compiled by Vince from Capitol Annex.
Refinish69 joins John McClelland, Democratic nominee for Texas House District 64n in asking "Where's Myra"?
Seems Shrub has a new title to add to his list. Torturer in Chief doesn't seem like one most people would want but then Shrub is a fool.
Eye On Williamson wraps up Tuesday's primary. Dembones points out that Obama won Williamson County and SD 5, as well as the unprecedented turnout for the caucuses. WCNews has initial impressions and more impressions from the primary.
Offt the Kuff has been busy poring through the data from Tuesday's primary, with posts about the blueing on Harris County, and a series on Republican crossover votes.
The Texas Cloverleaf begs the question, who the hell is Mark Thompson? Is another dead dancer in our midst, or did voter apathy give us another odd run off?
Where is Myra? State Rep Crownover is missing, and the Leaf wants you to watch a video to help locate her.
PDiddie at Brains and Eggs wrote the advance story of Election Day in his precinct with "Today's agenda", and the postscript in "244".
McBlogger had an exciting and mostly hateful Primary Week. Things kicked off with Mayor McSleaze's recap of the primary itself, while McBlogger took the time to bitchslap John McCain for taking an endorsement from some weird-o preacher in San Antonio and chastise adults for following the lead of a child. McBlogger finishes up the week with a plea for relief from a devastating force, Rachael Ray.
BossKitty at BlueBloggin asks democrats to unite and explore Make It So! A Clinton-Obama ticket?
WhosPlayin thanks his city's staff for the help in Tuesday's primaries, and wonders why the big deal about the use of the "M" word.
John Coby at Bay Area Houston wonders When Hope turns into Whine.
Vince at Capitol Annex starts taking a look at the March 4 primary, with the first of many Primary Postmortem posts.
Posted by mcblogger at 08:41 AM | Comments (0) | TrackBack
March 10, 2008
I'll have water without the diazepam
Feeling a little mellow? Maybe you find yourself developing erections without any provocation? Do you find that you're growing hair in weird places? It's nothing to worry about. It's probably just the pharmacological residue in your drinking water. Unless you live in Austin. Then it's just you being a freak.
A vast array of pharmaceuticals - including antibiotics, anti-convulsants, mood stabilizers and sex hormones - have been found in the drinking water supplies of at least 41 million Americans, an Associated Press investigation shows.

To be sure, the concentrations of these pharmaceuticals are tiny, measured in quantities of parts per billion or trillion, far below the levels of a medical dose. Also, utilities insist their water is safe.

But the presence of so many prescription drugs - and over-the-counter medicines like acetaminophen and ibuprofen - in so much of our drinking water is heightening worries among scientists about long-term consequences to human health.
To expand a bit, we've got a lot of long term usage data about the effects of medicinal doses of Valium, for example. What we don't know are the longer term effects of near constant microdosages. Not to mention that some of these drugs are harmful to reproductive health at ANY dosage. The scary part? That bottled water you're drinking may not be safe either since most of it comes out of a tap.
The good news? Those of us that live in Austin have no detectable levels of pharmacological residue in our water. The bad news? Austin's water has no detectable level of pharmacological res...
Posted by mcblogger at 01:52 PM | Comments (2) | TrackBack
March 08, 2008
Gore/Obama '08?
According to Chris Crain, that may well be the outcome of a brokered convention. Stupid? Oh, fuck yeah. Chris, like most nutters, seems to think that if Obama doesn't get it the whole party will disintegrate. So he proposes a coup led by the superdelegates to install Gore in an attempt to maintain party unity.
The only solution I see is for a group of wise superdelegates to begin a "draft Gore" movement, placing his name in nomination at the convention, and try to organize a large enough bloc of delegates to deny a majority to either Clinton or Obama ballot after ballot. After it becomes apparent that neither will get the nomination, I would hope Obama would throw his delegates to Al Gore, giving him the nomination.

Gore is someone that the followers of both Obama and Clinton could get behind. Each faction would rather have Gore as the nominee than feel they had lost to their primary opponent. Feelings are that hard between these two camps. Gore just may be able to bridge these feelings as well as the fault lines in the party created by the two candidates.

As a reward for throwing his delegates behind Gore, I hope Gore chooses Obama as his VP.
This is the Gore/Obama version of the Gore/______ fantasy that's been making the speculative rounds since, oh, LAST SUMMER. Way to stay on top of things, Chris.
The reality is that we've, in many ways, moved past Gore. There a supporters of both Clinton and Obama that would have a problem with Gore being forced on them from the top as in Crain's little elitist scenario. Of course, that doesn't stop him from predicting calamity should this deal not occur...
Hillary Clinton's problem is that even if she wins big in all the remaining primaries, she will still trail Barack in pledged delegates. To win the nomination, she would have to convince superdelegates to overturn the will of voters, just as the U.S. Supreme Court did in appointing George W. Bush president in 2000.

That result would poison the Democratic Party. Young people and African Americans would be angry, and the party would split in an ugly convention scene that would likely propel John McCain to victory. There is not enough time in the eight weeks between the convention and the November election to heal wounds and win. The irony is this is supposed to be a Democratic year -- and yet the Democrats are on a certain path to blow it.

Barack Obama's problem is that even though he will have the most pledged delegates at the convention, he is having a hard time tapping into the traditional Democratic base to close the deal.
As someone in another forum pointed out to me recently, either way we lose a third. And I don't for a minute buy it. People are voting this year FOR a Democrat. Obvs, some have their preference and I can tell you right now that they WILL show up in November. Either way, there are going to be some people who'll have to vote for someone other than their preferred candidate. There's no way to avoid it. Quit crying about it, Chris.
As if the whole article wasn't bad enough (in that annoying, back-of-hand-to-the-forehead, 'woe is me' way) he then drops the bomb on some of Clinton's adverts leading up to Tuesday.
Additionally, Americans are showing once again that they can be stampeded by fear.

Senator Clinton's closing "3 a.m" ad was very effective, and Senator McCain is guaranteed to use the same tactic, probably just as effectively. And while Obama and Clinton battle each other for six months, McCain will define Obama however he wants to, so if the superdelegates nominate Obama, he will be so beaten up by Clinton and McCain, I think he will fail in the fall.
Oh hell, that ad was WORTHLESS. If it didn't do as much as harm as good, I'd be surprised. For one thing, just from the professional perspective of people who actually produce television spots, it was bad. Like a cheesy attempt by a Democrat to copy a Republican. Whoever did should be shot for rank incompetence. Seriously, y'all, you folks are too nice to really pull off something like this.
Hillary didn't win on Tuesday because of that retard ad. She won because many of us, WANT HER. Yes, we can is a hell of lot less powerful than YES WE WILL.
Posted by mcblogger at 02:41 PM | Comments (0) | TrackBack
March 07, 2008
Thompson concedes
Many candidates impressed those of us at McBlogger. Wednesday, we got an email from one of them, Brian Thompson, congratulating his opponent, Dawnna Dukes. Full text is in the supersize.
Brian, from all of us, thank you. Whether you realize it or not, you made a difference.
I want to congratulate my opponent on her victory yesterday. This was a tough campaign, and she deserves congratulations for her victory. It is incredibly humbling and gratifying to know that in 80 short days were able to convince 8001 people to vote for our campaign for change. I believe that the nearly 40% of voters who voted for me were sending a clear message that they want better representation. Assuming that message was communicated, the real winners are the people of HD 46. I am so proud of what our campaign has accomplished in 80 short days. Regardless of the outcome, our fight for better schools, health care for kids, affordable home ownership, a cleaner environment, and ethical leadership from our elected officials has just begun. I want to thank the hundreds of people who have helped make our campaign the most humbling and rewarding experience of my life. I want to thank every single one of our incredible volunteers, who have given so generously of their time and effort and energy, block walking, phone banking, hanging signs and talking to voters. I want to thank every single one of the 350+ individuals who made financial contributions to our campaign. I want to thank each and every one of the 20+ Democratic, progressive, environmental, and news organizations that entrusted us with their endorsements. And I want to thank every HD 46 constituent who took the time to vote in the Democratic Primary. Whether you voted for me or for my opponent, I want to thank you for participating in our Democratic process. Now we turn our attention to November, and begin the process of capitalizing on the enormous momentum the Democratic Party currently enjoys to win 5 seats in the Texas House and end the reign of Republican Speaker Tom Craddick. I hope Rep. Dukes will join with me in this fight, and I congratulate her once again on her victory yesterday. Sincerely, Brian Thompson For more information contact the campaign office at (512) 524-5682 or e-mail info@electbrianthompson.com [mailto:info@electbrianthompson.com]. Please

click here to donate

or

click here to volunteer
Posted by mcblogger at 01:52 PM | Comments (0) | TrackBack
R in the D
Kuff has an article up about all that talk going on in R circles regarding Hillary's win in Texas. Apparently, some of these mooks think that people were
A) Listening to Rush Limbaugh, and
B) Doing what he says
Now, I have a tremendous amount of respect for Royal Masset. These other children I don't know and they seem to be a little stupid. However, I will take issue with Masset's estimate that 500k of the D voters were really Republicans. I'd place it at about 300k. And Masset should really be thinking of them as 'former Republicans'. That's the situation in Texas today. There's one other problem with his 500k number... that would mean that people in certain heavily R areas just decided not to have their votes counted since in many East Texas counties (for example) there are races decided in the R primary.
Not very likely.
The reality on the ground is that D turnout was, in fact, way up. It was more than double that of Republicans and was massive EVEN IF there were 300k Republicans in the D primary. The interesting thing? They were voting for Obama, not Hillary (which, coincidentally, Kuff points out it in his piece with the breakdown in some of the heavily Republicans counties).
Finally, Republican attempts to 'drive voters to Clinton', if reality, would have to be based on the idea that she can be beaten more easily that Obama. I'd have to disagree with that. After all, the Clintons have beaten Republicans four times since 1992. And she'll handily retire Grandpa McCain to make it five wins.
Lookit, if these theories were right, Clinton wouldn't be anywhere near McCain in Texas. Neither would Obama. And they both are.
Posted by mcblogger at 11:56 AM | Comments (0) | TrackBack
March 05, 2008
As The Dust Settles, Some Thanks And An Observation
Well, the cross-fire hurricane has come and gone and after twelve hours or so of breathing pure oxygen and drinking rain water I'm finally able to type and think somewhat coherently about what went down on March 4.
I want to give huge thanks to Chris Elliot, Garry Brown, Elizabeth Yevitch, and all the rest of the hardworking folks down at the Travis County Democratic Party for the incredible training sessions they conducted and all the documents they provided on conducting the precinct conventions. You guys rock!
And thanks to Sister Ruth and Captain Croc and McBlogger and everyone else I spent time with going over the rules and debating what they really meant, raising questions, seeking clarity. You guys rock as well!
And thanks to everyone who actually showed up on Tuesday night to stand in line for more than an hour or two, sign in, and even if you left without doing anything else, you left having been a part of an historic event.
In a usual year my precinct might have ten or twelve people show up... I'd been trying to make myself imagine what it would be like if a hundred, or maybe even a hundred and fifty showed up. In the end it was more than 425. So thanks to everyone who helped us move to a bigger room, and then finally an auditorium. You guys rock as well.
And finally, an observation. During the few weeks leading up to Primary Day, both national campaigns did a great jobsof spreading distrust and paranoia about all the dirty tricks the other side would be using to steal the election. And of course the Net has been buzzing with tales of wrongdoing; sign-in sheets from caucuses appearing mysteriously in mensroom paper towel dispensers, buses with out-of-stae plates showing up loaded with people demanding to caucus, all sorts of wild stories. Having been through yesterday's storm, watching what happens when people are overwhelmed by crowds, people who've never done this kind of thing but have decided this is their moment to save democracy... well, mistakes get made. Forms get filled out wrong. People lose things, they leave things behind. But I believe that by and large these are honest mistakes that, when they hit the internet and start being posted and reposted by folks who rather TYPE ALL IN CAPS than take a breath, a story becomes a rumor becomes OMG WHAT HILLARY/OBAMA WILL DO TO WIN OMFG!
There's no doubt that politics is a sport not for the squeamish, and keeping an eye on what the other side is up to is always advisable. But the notion that either campaign's successes can be laid at the feet of orchestrated dirty deeds, bullshit says I.
Posted by mayor mcsleaze at 07:22 PM | Comments (0) | TrackBack
The Recap
OK, so maybe I'm a little upset about the poor decision making on the part of some of you. Still there are some bright spots. For one thing, Hillary had a fabulous evening. Noriega is not in a runoff and one CradDICK D went down last night. Actually, CradDICK's money really didn't have as much of an impact as feared as Phillip points out. I'll go a little further out that Phillip on HD 78... I think this is a pickup in the general with Haggerty out of the way.
Now, the bad news... Dale Henry IS in a runoff, with someone named Mark Thompson. CD 10 was bought and paid for by some self-financing from Larry Joe Doherty. Honestly, I'll vote for the guy but I'll hold my nose while I do it. There are some big issues where there is a little difference between LJD and McCaul. Maybe that will change, but for now I feel like we're putting up a DINO. I know from talking to people at my convention last night that people voted ballot placement or media. The few that saw Dan's ad voted for him. Most of them didn't, and those folks didn't have a decision making process that extending beyond "pick 'em" which they proudly admitted while festooned with presidential crap from head to toe. As predicted, the Presidential race sucked all the air and concern for the down ballot.
The other massive disappointments were Maxey and Thompson. On Thompson, the Mayor has been on my ass for even thinking that he had a chance. Still, I had a lot of faith in Democratic voters especially to vote for their best interests. Maybe they did... but I fail to see how. The only people who have apparently benefited from Dawnna's reign have been members of her family and and a few developers with whom she has what can best be described as a special relationship. Maybe it is all a racial thing or even a homophobic thing.
In Maxey's race there just aren't words. A Democrat who supports Republican voter ID laws will be our candidate. So much for Travis County being a progressive paradise.
Sorry about the tone but there were some big races locally that really took me by surprise. One thing is sure, newspapers now have as much endorsement impact as the blogs. That is to say, nada.
I'd seriously love to hear y'alls thoughts on all this. If you voted for some of these folks, tell us why. Email or the comments work great... if you're a trusted user your comment will appear without moderation. If not, I'll have to enable it but I promise I will.
The one thing I feel certain of... the desire for change in Travis County didn't extend beyond the Presidential race.
Posted by mcblogger at 12:07 PM | Comments (0) | TrackBack
March 04, 2008
Election Results
Here's the Travis County results page...BOR also has a page up for results from around the state. We're going to do a recap manana. It's pretty clear Thompson lost and East Austin gets the Representative they deserve. I'm thoroughly disgusted by people who blatantly vote against their self interest.
Posted by mcblogger at 11:55 PM | Comments (0) | TrackBack
March 03, 2008
Crashing the gates
Looks like some R's are going to work hard for Obama... Just have to wonder how much of that cross party support will remain prior to the general.
No, I'm not drinking the Kool-Aid.
However, I will say this. The EV differential between D and R is so huge right now, even if you strip out the R crossovers, D's are CLEARLY now in the majority in Texas.
Posted by mcblogger at 11:15 AM | Comments (1) | TrackBack
Grandpa McCain visits Dell
Elise Hu covered Grandpa McCain's well staged 'townhall' at Dell on Friday. Apparently, the press wasn't allowed to talk to anyone in the audience. Which makes me wonder if this was less a townhall and more a 'corporate party'. One also has to wonder if Dell as a corporation is throwing it's weight behind the Republican candidate. If so, that would indeed be unfortunate.
Well, not really. I hate their shitty computers and that butt ugly logo.
The comedy? McCain said (and I'm paraphrasing) that he would move heaven and earth to find Osama Bin Laden. Which is a really swift way of pointing out that the President he hopes to replace (the same one who leads his party) has failed to do just that. For more than 6 years.
Sure, Senator Dumbass. We totally believe YOU'LL hunt down OBL. Will you be doing that before or after your nap?
Posted by mcblogger at 09:49 AM | Comments (1) | TrackBack
In politics today...
Larry Joe Doherty is apparently distributing campaign lit that doesn't have a union bug on it or 'Printed In House'.
Things are getting really nasty in the Thompson vs. Dukes race for HD 46...First, the ethics complaint filed by a Dukes crony against Thompson has been dismissed. And then there is the ridiculous little lawsuit filed by Dukes' family against Thompson regarding the CTRMA's employment of Dukes' sister immediately before Dukes voted, as part of CAMPO, to turn control of Central Texas toll roads over to CTRMA.

Sal over at Muckracker has brought this up a number of times. So have I. Why she declined to sue us is unknown. I mean, it's not like Sal and I are poor.
Laura Morrison's having an open house at her campaign office on Thursday after all this primary bullshit is over...Thursday, March 6th; 6:00 pm - 8:00 pm; 632 B North Lamar
Dukes Desperately Tries to Stop Thompson's Momentum: Has Family File Bogus Defamation Claim for Ad Based on Austin American-Statesman Reporting

Just a day after the Texas Ethics Commission summarily dismissed a bogus ethics complaint filed by a known Dukes supporter against Democrat Brian Thompson, the Dukes family has filed a lawsuit against Thompson for a campaign ad that contains facts that were first published by the Austin American-Statesman in 2004.

The advertisement over which the lawsuit has been filed can be viewed here.

"I welcome the chance to have my day in court," said Brian Thompson, Democratic candidate for HD 46. "Since defamation cases allow for an open and extensive discovery process, I look forward to exploring Rep. Dukes's and Stacy Dukes-Rhone's alleged contracts and associations with numerous governmental entities around Austin."

The baseless lawsuit takes issue with a campaign advertisement that criticizes Rep. Dukes for voting to toll roads while hiding her sister's $44,000 toll road contract.

"Rep. Dukes's vote for toll roads and her sister's toll-road contract were well-established by the news media in Austin prior to this campaign," said Thompson.

According to the Austin American-Statesman, Rep. Dukes was "feeling the heat for voting to approve a project that financially benefits her sister, Stacy Rhone." (Source: "Questions about conflicts of interest on CAMPO board" Austin American-Statesman, published on September 23, 2004)

With specific regard to whether a member of the Dukes family had a toll road contract, the Statesman makes a definitive and unambiguous statement:

"As the American-Statesman's Ben Wear reported, Rhone holds a $44,000 contract with the general engineering company for the Central Texas Regional Mobility Authority, which will run the toll roads approved by CAMPO. Though officials with the general engineering contractor, HNTB, said Rhone started her public relations work in February this year, she did not sign a contract with HNTB until July 7, about a week before Dukes voted to pass the toll road plan."

(Source: "Questions about conflicts of interest on CAMPO board" Austin American-Statesman, published on September 23, 2004)

The Statesman even called into question the suspicious timing of Dukes' sister's toll road contract: "The timing throws gasoline on a fire of suspicion about the toll roads." (Source: "Questions about conflicts of interest on CAMPO board" Austin American-Statesman, published on September 23, 2004)

The Statesman took Dukes to task for refusing to disclose the fact that her sister had a toll road contract:


"It is her [Stacy Dukes-Rhone's] relationship to Dukes .... that has caused people to criticize the circumstances under which she got a contract with HNTB. That could have been avoided if Dukes had disclosed those details herself."

(Source: "Questions about conflicts of interest on CAMPO board" Austin American-Statesman, published on September 23, 2004)

The Statesman offered two suggestions aimed directly at Rep. Dukes:

"Members of the Capital Area Metropolitan Planning Organization board should voluntarily and immediately disclose their potential conflicts of interest, and moreover, abstain from voting on matters that represent financial gain for themselves, business partners or family members."

(Source: "Questions about conflicts of interest on CAMPO board" Austin American-Statesman, published on September 23, 2004)


"In the meantime, CAMPO members should publicly disclose their potential conflicts of interest, including those that involve siblings."

(Source: "Questions about conflicts of interest on CAMPO board" Austin American-Statesman, published on September 23, 2004)

The facts are clear, and substantiate the ad.

FACT: Rep. Dukes voted for toll roads.

FACT: Rep. Dukes' sister had a $44,000 toll road contract.

FACT: A sister is considered family.

FACT: Rep. Dukes failed to disclose her sister's $44,000 toll road contract prior to voting for toll roads.

FACT: Drivers all across Travis County are now paying tolls on toll roads that Rep. Dukes supported.

In a previous version of the lawsuit that was leaked to the media before Thompson was actually served (which suggests that the true intent of the baseless lawsuit has more to do with trying to score political points than actually litigating a legitimate claim) the Dukes family attempted to sue Thompson for an ad that was not even his.

According to a write-up on the Austin Chronicle web site, "The family of Rep. Dawnna Dukes seems to be trying to sue her primary opponent Brian Thompson for an attack ad he didn't have anything to do with."

(Source: Austin Chronicle, "The Man Behind the Ad" available online here)

The Chronicle confirms that the Thompson Campaign had nothing to do with the primary ad addressed in the leaked petition:


"Now we've heard from the person who did create the ad: Sal Costello, the man behind the People for Efficient Transportation PAC (which runs AustinTollParty.com) and a perennial critic of Dukes, has weighed in. And yes, he confirms the ad the Dukes family quotes at great length in their complaint against Thompson is not a Thompson ad, but came from Costello's group, and is hosted on Costello's YouTube account. Isn't he worried that now he might get dragged into the legal battle? Not so much. "She's threatened to sue me personally, and it's always nonsense," said Costello."

(Source: Austin Chronicle, "The Man Behind the Ad" available online here )

For more information contact the campaign office at (512) 524-5682 or e-mail info@electbrianthompson.com
Posted by mcblogger at 12:14 AM | Comments (0) | TrackBack
March 02, 2008
Roundin' up the TPA
It is time again for the Texas Progressive Alliance's weekly blog round-up. This week's round-up is compiled by Vince from Capitol Annex.
Burnt Orange Report is covering all kinds of races this week. In addition to their notable endorsement of Obama and analysis of how he can win and his Presidential primary poll numbers, Matt Glazer has reported that State Rep. Kino Flores has some ethics violation troubles, beyond the $50,000 he received from Craddick supporters.
Eye On Williamson has two posts on the upcoming Presidential Primary in Texas, Why I'm For Barack Obama and Barack can seal the deal in Williamson County. And locally, The Silly Season Is Upon Us - The WCGOP Machine Makes It's Choice.
TXsharon at Bluedaze, while not a football fan, reports on illegal gifts of SuperBowl tickets to Phil King and Michael Williams. Considering that the most recent pipeline explosion sent flames 600 -700 feet into the air, we need Railroad Commissioners without conflicts making decisions that will keep Texans safe.
WhosPlayin of WhosPlayin.com endorsed Obama for President and Aimlessness thinks Supreme Court Justice Antonin Scalia needs to go back to law school and get a refresher course on the U.S. Constitution. Talk about your "tortured" logic.
Musings endorses Hillary Clinton for President,citing her toughness, service, compassion, ability to work across the aisle and her solutions-oriented approach to governing as reasons why she is the choice for a new direction in Washington.
The Texas Cloverleaf digs up a report by the GAO that toll road public-private partnerships might not be the best thing for taxpayers. While at the same time, a new state rail system venture is brought back into the public spotlight in Texas.
The Texas Cloverleaf gets its hide chapped when the Dallas Morning News endorses the primary opponent of Dallas County Sheriff Lupe Valdez. The endorsement is destroyed in typical Cloverleaf fashion.
CouldBeTrue at South Texas Chisme wonders if James Leininger is giving up the fight for school vouchers, i.e. destroying public schools in favor a theocratic education. In any case, Leininger is distancing himself from Tom Craddick.
Off the Kuff looks at the yard sign primary in his neighborhood.
Team McBlogger has decided to swim against the tide and endorse Senator Hillary Clinton in the Presidential Primary. Then they compounded the good decision making with a trip to the opening of her Texas HQ in Austin to see Bill Clinton. You know, the guy who's married to the candidate. Apparently, a couple of thousand people also had the same idea.
At Half Empty, with Edwards gone, Hal has thrown his support to Barack Obama. And, after a day of sAfter much soul searching, thought and input from great bloggers across the nation, Refinish69 has decided to endorse Obama for President in 2008.eething anger, Hal at Half Empty asks this question of the Republican Party of Texas, who are acting as surrogates for the John Cornyn senatorial campaign: Are you sure you want a dog in this hunt?
After much soul searching, thought and input from great bloggers across the nation, Refinish69 has decided to endorse Obama for President in 2008.
Open Source Dem at Brains and Eggs has`part two of "Texas in Play."
BossKittyat BlueBloggin shows us that voting is still a major problem in this country considering Washington DC Has 10,000 Mystery Voters.
Jaye at Winding Road in Urban Area endorses Hillary Clinton for President.
John Coby's mom is for Hillary Clinton. "I can't remember when our country was in such a horrible situation considering the war in Iraq, our debt, our status in the world. My country is in trouble and I believe Hillary Clinton can begin to solve the problems beginning on day one."
Vince at Capitol Annex notes that Marissa Marquez in House District 77 has been trashing bloggers, and endorses Hillary Clinton for president.
Posted by mcblogger at 12:31 PM | Comments (0) | TrackBack
March 01, 2008
Color me impressed
What many of you know is that we at Team McBlogger seldom unanimously agree on anything. Even when it comes to drinking we're wildly divergent. Some people prefer beer, others prefer real drinks. Obvs, the scotch drinkers are usually right. About everything. The gin and beer drinkers delude themselves into thinking they are right. Mostly because they're dumb (I offer, as evidence of their stupidity, their taste in alcoholic beverage).
However, one thing we can all agree on is the need to acknowledge when one of our own does something incredible. Mike Nicholson has been hard at work for the Obama campaign making television spots. Really good spots.
During elections we're inundated with bad TV ads. The good ones really stand out and the people that make those ads need to be acknowledged.
Take a well deserved bow, Mike!
Posted by mcblogger at 10:58 AM | Comments (0) | TrackBack
February 29, 2008
The Bush Legacy and telecom immunity
Love me some Richard Clarke. He's got the best take on the FISA bill I've seen so far:
Besides overstating successes in Afghanistan, painting a rosy future for Iraq, and touting unfinished domestic objectives, he again used his favorite tactic - fear - as a tool to scare Congress and the American people. On one issue in particular - FISA (Foreign Intelligence Surveillance Act) - the president misconstrued the truth and manipulated the facts.

Let me be clear: Our ability to track and monitor terrorists overseas would not cease should the Protect America Act expire. If this were true, the president would not threaten to terminate any temporary extension with his veto pen. All surveillance currently occurring would continue even after legislative provisions lapsed because authorizations issued under the act are in effect up to a full year.

Simply put, it was wrong for the president to suggest that warrants issued in compliance with FISA would suddenly evaporate with congressional inaction. Instead - even though Congress extended the Protect America Act by two weeks - he is using the existence of the sunset provision to cast his political opponents in a negative light.

For this president, fear is an easier political tactic than compromise. With FISA, he is attempting to rattle Congress into hastily expanding his own executive powers at the expense of civil liberties and constitutional protections.

I spent most of my career in government fighting to protect this country in order to defend these very rights. And I know every member of Congress - whether Democrat or Republican - holds public office in the same pursuit.

That is why in 2001, I presented this president with a comprehensive analysis regarding the threat from al-Qaeda. It was obvious to me then - and remains a fateful reality now - that this enemy sought to attack our country. Then, the president ignored the warnings and played down the threats. Ironically, it is the fear from these extremely real threats that the president today uses as a wedge in a vast and partisan political game. This is - and has been - a very reckless way to pursue the very ominous dangers our country faces. And once again, during the current debate over FISA, he continues to place political objectives above the practical steps needed to defeat this threat.
Of course, this is all about Telecom Immunity. That's the real objective. That's what must be stopped. So, to all the members of Congress who are thinking about voting for this bill (we see your IP's so we know you're paying attention), think again. It will be a campaign issue.
Bush is sticking with his "I'll veto to protect 'merican's" bullshit. Just as an FYI to any Republican thinking of sticking with our douchebag President, you're toast.
Posted by mcblogger at 04:07 PM | Comments (0) | TrackBack
UPDATE - CD10 : Endorsement Fun
Dan Grant has been rolling on with the endorsements. He picked up the Tejano Democrats in Harris County and he picked up the Austin American Statesman. This is, of course, in addition to the plethora he's already received. He also picked up, earlier this week, the Houston Chronicle endorsement.
U.S. Congress, District 10, Democrat Dan Grant - A graduate of the London School of Economics and Georgetown University, Grant has deep foreign policy experience earned as a U.S. Agency for International Development official in Afghanistan and Iraq. He favors an immediate pullout of the bulk of American troops from Iraq. Closer to home, Grant says his domestic priorities will be supporting policies geared to economic recovery and health care reform.
Finally, I just heard that Dan had received the endorsement of long time Travis County DA, Ronnie Earle.
Posted by mcblogger at 04:00 PM | Comments (0) | TrackBack
Hillary says "not so much" to corporate welfare
Senator Clinton (who ROCKS, by the way) is cosponsoring legislation in the Senate to ban the use of private military contractors in Iraq. Some call it the privatization/mercenarization of our armed forces. We call it corporate welfare since prior to Uncle Sam's large checks, Blackwater was a little organization providing corporate security and training to police officers. Full text in the supersize.
In other Hillary news, the campaign announced it raised $35 million. In February. Mostly from small donors. So much for the accusation that Hillary's only raising money from rich lobbyists.
Washington, DC – Senator Hillary Rodham Clinton announced today that she has cosponsored legislation to ban the use of Blackwater and other private mercenary firms in Iraq. "From this war's very beginning, this administration has permitted thousands of heavily-armed military contractors to march through Iraq without any law or court to rein them in or hold them accountable. These private security contractors have been reckless and have compromised our mission in Iraq. The time to show these contractors the door is long past due. We need to stop filling the coffers of contractors in Iraq, and make sure that armed personnel in Iraq are fully accountable to the U.S. government and follow the chain of command," said Senator Clinton. The legislation requires that all personnel at any U.S. diplomatic or consular mission in Iraq be provided security services only by Federal Government Personnel. It also includes a whistleblower clause to protect contract personnel who uncover contract violations, criminal actions, or human rights abuses.
Posted by mcblogger at 12:54 PM | Comments (0) | TrackBack
The Candidate. Brought to you by Valero
(Lotsa posts today... I have more than $4 million wired out that I have to bird dog. SO, while I'm stuck in the office ALL DAY, I'll going to take occasional breaks and give you something fun to read. I'm large like that)
Only in Texas would a candidate for the Railroad Commission ask for ethics guidance from one of the companies said candidate will be regulating if elected. This year the candidate is Art Hall.
Former San Antonio City Councilman Art Hall has accepted more than $5,000 in contributions from Valero Energy's political action committee and several of its employees, according to records from the Texas Ethics Commission.

On February 8, Hall received a $5,000 contribution from the Valero Political Action Committee, a PAC notorious for giving thousands of dollars to Texas' most conservative Republicans-- and Railroad Commissioner Michael L. Williams, the man Hall and Dale Henry (D-Lampasas) seek to replace in the November general election.

In addition to the $5,000 from Valero's PAC, Hall also took more than $2,000 from Valero employees and attorneys in late January and February. According to Hall's most recent filing with the Texas Ethics Commission, he received the following contributions from Valero employees and attorneys:

Robert Bower, Valero Attorney, $500 2/23
Theodore Guidry, Valero employee, $500, 1/26
Diane Hirsch, Valero Attorney, $300, 2/23
Martin Loeber, Valero Attorney, $500, 2/23
Rich Walsh, Valero Attorney, $1,500, 2/23
Parker Wilson, Valero Attorney, $500, 2/23

"The money that Art Hall has accepted from Valero's PAC and its employees is especially troubling given the fact that he is very connected to Valero through the fact that his wife is an attorney for Valero," said Vince Leibowitz, campaign director for Dale Henry, Hall's principal opponent.

According to Hall's Personal Financial Statement on file with the Texas Ethics Commission, Hall's wife owns between 5,000 and 9,999 shares of stock in Valero which, if sold, would represent a net gain of $10,000 to $24,999.

"All of this is especially disturbing given the fact that Art Hall is actually getting advice from Valero on what constitutes a conflict of interest for his campaign," said Leibowitz.
Do yourself a favor, vote for Dale Henry. He'll have an easier time beating Michael Williams. Not to mention that with Henry on the RRC, Texans will finally have someone looking out for them.
Posted by mcblogger at 09:47 AM | Comments (0) | TrackBack
Tara Rios Ybarra and a rabbi walk into a bar
Stop me if you've heard this one before. Texas Republicans, specifically CradDICK, can't get rid of a State Rep (Juan Escobar), who is all the time actually representing his district and making his constituents happy, in a general election. So, they decide to run someone in the Democratic Primary. That person is Tara Rios Ybarra. Vince has more up on her fundraising (lots and lots of money from TLR) as well as some information on her primary consultant whose client lists reads like a biblical list of demons.
Don't look at me that way... How would YOU describe a list that includes 39%, Todd Baxter and Ben Bentzin?
Unfortunately, it doesn't end there. There is also Marisa Marquez in El Paso. She's running against Rep. Moreno. Here's what Moreno's campaign has to say about her...
"Marisa Marquez has shown time and again that when it's time to live up to her campaign rhetoric, she falls short every time," stated Roger Garza, spokesperson for the Paul Moreno campaign. "How can voters honestly expect to believe that she is not a Craddick Democrat when Marquez consistently takes money from Tom Craddick's staunchest supporters?"
Given her funding, which clearly speaks for itself, I'm going to agree with Garza.
Posted by mcblogger at 09:23 AM | Comments (0) | TrackBack
Cornyn fights back (with a 28 gauge)
Sorry, just couldn't resist another dig at an adult who claims to be a MAN and a TEXAN who hunts with a goddamn 28 gauge shotgun. What's the problem, princess? You afraid your shoulder will get sore? Of course, he's worried about more than that. He has to fight someone for re-election. Someone who's already making him his bitch. Which is why his dippy little campaign manager sent out an email talking about Rick going 'over the line'. See, Rick criticized his lame attempt to swiftboat him. He also thought Cornyn was pretty weak for voting against armor for our troops. Cornyn's not happy with that... he doesn't refute the fact that he voted against the armor, he just thinks Rick's mean for bringing it up. He'll of course claim this is patently untrue. Media Matters looked into it and concluded it was true. So did Vote Vets. None of that matters to Cornyn's campaign manager who thinks it's all really mean.
Hon, this is Texas. EVERYTHING is over the line. Maybe you'd be more comfortable running a race in North Dakota.
Lookit, R's. With every email you piss us and EVERY TEXAN off. You wanna play this as politics as usual, go ahead. However you're just going to come away beaten down like a baby seal. We're meaner than you and we know damn well this country and this state can't afford more of your mistakes. Our troops can't afford another WMD goose chase. Our people can't afford higher interest rates because you refuse to tax your buddies. Our economy can't handle your singular focus on high oil prices to help your friends in the energy industry.
We're going to elect Rick. Period. We're going to bloody you while we do it. We're going to be ugly, nasty and downright mean. And the brill part is that all we have to do is tell the truth. We'll call out every lie and we'll make sure the rest of this state knows just what kind of a coward you are for voting to protect telcos and the President over the rights of your constituents.
We'll never let them forget about their fancy Senator who hunts with a 28 gauge shotgun.
While you're good and pissed off at Senator John Cornyn, go take his little poll.
Posted by mcblogger at 12:51 AM | Comments (0) | TrackBack
February 28, 2008
Obama, Clinton trail McCain
We've all got work to do and I don't want to hear another thing from Obama, et al, about how well he'll do in the general election.
Posted by mcblogger at 03:33 PM | Comments (0) | TrackBack
Dr. Hospital Bed is spreading around his money
James Leininger (the DR is silent) is pulling out the stops again this cycle and funding some losers around the state in an effort to continue the corrupt leadership of Speaker CradDICK and the rest of the R's. Of course, Leininger isn't the only R digging deep to keep the R's in power, Bob Perry is also on board and giving not just to R's but to D's as well. Well, they call themselves D's but everyone knows they're really Republicans.
Craddick D Kevin Bailey continues to rake in the Republican money taking $23,500 from Perry and $25,000 from Texans for Lawsuit Reform. Aaron Pena, another Craddick D received $25,000 from Bob Perry, $10,000 from Craddick's Texas Builds Jobs & Opportunity for a Secure Future PAC, and $40,000 from TLR. And Craddick "Wannade" Tara Rios Ybarra received $25,000 from Perry and over $50,000 from TLR. Dawnna Dukes received $24,000 from Bob Perry which is just as good as Craddick money.
We've talked about Dukes quite a bit. Ybarra haven't really talked about much. The reality is that while these are D's they are CradDICK allies through and through. Vote for these people at your peril!
Posted by mcblogger at 01:47 PM | Comments (0) | TrackBack
Hey Non-working slacker! Travis County needs YOU!
Poll workers are needed to serve on Tuesday, March 4th. All poll workers to include Election Judges, Alternate Election Judges and Clerks must go through training provided by Travis Co. Elections.

Trainings are being held both day and evenings now through Saturday.

Pay is $7.00 an hour which is set by the office of the Texas Secretary of State.

Please phone Travis Co. Elections at 854 - 9552.
Posted by mcblogger at 11:49 AM | Comments (0) | TrackBack
Dawnna Dukes and the art of lying like a rug
Dawnna Dukes, unable to refute the arguments made against her re-election and without a leg to stand on, has resorted to out and out lies about her opponent, Brian Thompson.
Oh, and she STILL HASN'T FILED AN ACCURATE ETHICS REPORT. STILL. WE'VE BEEN WAITING BUT THERE'S BEEN NOTHING. Much like what she's done for her constituents, there has been


NOTHING.


Full text of the release from the Thompson campaign is after the jump. When you're done seething about all this, feel free to volunteer for Thompson or send him a few bucks. He needs it and District 46 desperately needs new leadership.
Desperate Dukes Lies in Ads Thompson to File Temporary Restraining Order, Says, "I won't be swift-boated" In a desperate move eerily reminiscent of the Republican tactics that characterize her 'Swift Boat' donors, Craddick Democrat Dawnna Dukes has resorted to bald-faced lies to smear her Democratic challenger, Brian Thompson.

"Dawnna Dukes is following the same script of lies and deception authored by the Republican 'Swift Boat' donors who just happen to be funding her campaign," said Democratic challenger Brian Thompson. "It is pathetic that a 14-year incumbent has such a dismal record that she has to rely on bald-faced lies to try and save her job, a job that apparently kept her from paying her taxes but didn't keep her from taking a luxury vacation to France when Republicans were passing a tax bill by one vote."

Here are the undisputed, irrefutable facts about Brian Thompson's voting record.

FACT: Democrat Brian Thompson voted in Travis County in 2002.
FACT: Democrat Brian Thompson voted in Travis County in 2005.
FACT: Democrat Brian Thompson voted in Travis County in 2006.
FACT: Democrat Brian Thompson voted in Travis County in 2007.
FACT: Democrat Brian Thompson voted in the Democratic Primary eight days ago, on 2/19/2008 at the Fiesta on 381/2 Street, just a few feet from his East Austin home.

The television ad that Dawnna Dukes is continuing to air says, "her opponent, well, he never even bothered to vote ever."

That is nothing more than a bald-faced lie that is quickly proven totally incorrect and inaccurate by the most cursory glance at any number of publicly available documents. These documents proving Thompson's voting record have already been presented to Dukes, and every television station airing these totally false ads.

Apparently, Dukes simply refuses to let the truth or any semblance of decency get in the way of her desperate campaign to totally misrepresent Thompson's voting record.

On Monday, Thompson sent a letter to Dukes, KXAN, KVUE, KEYE, KTBC, Time Warner Cable, and the Austin American-Statesman alerting them to the blatant lies in the Dukes campaign ad. Because those ads are still running, Thompson has been left with no choice but to seek a temporary restraining order to have the inaccurate ads pulled.

This afternoon, Thompson will seek injunctive relief from a Travis County judge, and ask that the inaccurate ads be thrown off the air.

Thompson personally informed Dukes that her ads were blatant lies at the Cherrywood Neighborhood Association meeting on Thursday, February 21, 2008. After that meeting, Dukes had personal knowledge that her ads lied about Thompson's voting record. Dukes decided to run the false ads anyway, despite their total inaccuracies.

"Ms. Duke's intentional effort to score cheap political points by lying about my voting record is merely the latest example in a long line of troubling yet deliberate attempts she has engaged in to mislead the public," Thompson said.

Dukes has acknowledged misreporting 8 years (and approximately $89,000) worth of expenses charged on 18 different campaign credit cards. Even though she promised multiple news outlets more than two months ago that she would fix these mistakes, she still has yet to do so. She continues to mislead her constituents and deny them the opportunity to see exactly how she spent $89,000 worth of campaign funds before they have the chance to vote on March 4.

In addition, according to a KEYE News report titled, "Records show Texas State Rep. Dawnna Dukes failed to pay taxes," she misled her constituents by failing to pay her own taxes and follow the very laws she has been entrusted to pass. Rather than accept responsibility for her tax troubles, she offered three contradictory excuses on three different occasions, misleading the public again about why she refused to pay her taxes. Despite her unwillingness to fulfill her tax obligations in a timely manner, she still managed to pay for a luxury trip to Paris while skipping a crucial school finance vote on the Texas House floor.

Now, Dukes has chosen to focus her pattern of deception on Thompson, and intentionally lie about his voting record to score cheap political points.

"I'm not going to be swift-boated by a Craddick Democrat who just pocketed a $24,000 check from the largest Republican donor in Texas; the same man who gave more than $4,000,000 to the reprehensible 'Swift Boat' attack ads," Thompson said.
Posted by mcblogger at 11:04 AM | Comments (0) | TrackBack
Roundin' up the TPA
This week's round-up is compiled by Vince from Capitol Annex.
TXsharon has a broken modem so Bluedaze is suffering but she managed to post about The RRC's approval of Atmos Energy's extravagant spending--bendover Texans. Also read about howPhil King meets Karma in Wise County and hear the horrendous sounds of the Barnett Shale.
Off the Kuff offers his incomplete list of endorsements for the Democratic primaries, and for his birthday rounds up his complete list of candidate interviews.
Gary at Easter Lemming Liberal News has blogged an eventful week or two climaxing with Paul Burka becoming a believer in the Obama Borg - Democrats can take back Texas. Wow.
Over at McBlogger Mayor McSleaze commemorates Kirk Watson's Deer In The Headlights Moment while McBlogger, beverage in hand, watches the Debate and puts the smackdown on wingnuts still drinking the school voucher Kool-Aid
The Texas Cloverleaf makes it back safely from Oklahoma City and discusses the National Stonewall Democrats meeting there, as well as the upcoming LGBT Presidential Town Hall in Dallas on Monday night.
PDiddie at Brains and Eggs had a report on Obama's visit to Houston last Tuesday, and also noted the end of the Fidel Castro era in Cuba. Open Source Dem had part three of his "Texas in Play" series, entitled "Jim Crow Lives".
Hal, who writes Half Empty, went to early vote last Wednesday and has some poll observations and some Fort Bend County stats.
Bill Howell of StoutDemBlog reminds us of some Texas election history that is relevant for this year's Democratic Primary, in Don't Be Confused By Names.
Muse was at the Bill Clinton fundraiser in Houston this week where she fulfilled a lifelong dream to touch him – handshake! She notes that not all college students are for Obama – witness the Daily Texan endorsement for Hillary. And, she receives an email where Obama encourages Republicans to crash the Democratic primary, to vote against the bad, scary Hillary. More Hillary stuff coming this week on musings!
WhosPlayin tries to explain the "Obama Movement", and has a run-down of which Texas blogs are endorsing Clinton or Obama.
Vince at Capitol Annex notes that the Texas Democratic Party has instructed county and precinct officials not to interpret election results for the media or political campaigns, and asks if national Democrats will still respect us (or call or visit) after March 4.

Posted by mcblogger at 08:30 AM | Comments (0) | TrackBack
February 27, 2008
A word of advice... Keep your vote to yourself
I've received a few emails today from good hearted people who wanted to let me know why they were voting against some of the endorsements we made.
Keep in mind, I'd have absolutely no way of knowing HOW they voted, they could have lied to me or just kept their mouths shut. Nevertheless, they went out of their way to let me know about individual candidates where we differ.
Frankly, I don't care. Vote for whom you want. We didn't publish (yes, WE, not just ME) endorsements as some kind of demand, we published them because they were the candidates we were supporting. Should you go with someone else, just keep it to yourself. We seriously DON'T NEED TO KNOW. And we're sure as hell not going to smooth things over and salve your conscience. If you did something you feel bad about, then feel bad about it.
Don't look to us for redemption or forgiveness.
Posted by mcblogger at 01:52 PM | Comments (1) | TrackBack
Bush and his lies about FISA
Don't cave in, D's (and a few) R's in the House. We're watching you and while this issue may not be foremost on people's minds, imagine how front and center it can become. In an election year. You don't want that so why not do the right thing AND CYA! Drop Bush in the grease on this and stand with Pelosi!
El Presidente is all about telecom immunity because he knows it's the only thing that will save him from an eventual stretch in the federal pen. See, Bush ordered all this. He brow beat the companies into submission. Now he can't deliver the immunity they so desperately need. And he's sounding more and more desperate by the day...
``The House's refusal to act is undermining our ability to get cooperation from private companies, and that undermines our effort to protect us from terrorist attacks,'' Bush said in his weekly radio address, the second week in a row he has discussed the issue.

The Democratic-controlled House of Representatives has balked at passing a Bush-backed bill that would give telecommunications companies such as AT&T Inc. protection from privacy lawsuits for helping the administration conduct wiretapping without warrants.

The bill, approved by the Senate, would extend the spying authority for six years. The prior law expired Feb. 16 after Bush said he wouldn't sign a brief extension while the House debated the issue.

Democrats argued the law's expiration wouldn't hobble surveillance of foreign-based terrorists or other enemies, since orders issued to telephone companies under the law remain in effect for a year.

Bush, in his radio address, said lawmakers who oppose the legislation are favoring trial lawyers over national security. ``Terrorists are planning the next attack on America,'' Bush said. ``To protect America from such attacks, we must protect our telecommunications companies from abusive lawsuits.''
Terrorism is all about instilling fear in a target. Bush is working hard to instill fear in the American people to, yet again, expand the powers of the Presidency. Doesn't that, by definition, make Bush a terrorist? Ponder that for a second...
Interesting, huh?
As for the first quote, these companies, like all entities in the US, can be compelled to cooperate with a court order, usually in the form of a warrant. That's what the Fourth Amendment to the Constitution is all about. These companies did what Bush wanted, they did something illegal based on his assurances, which he never should have given. Now, they're in trouble. However, so is he. It's pretty obvious that this ISN'T about these companies... it's about Bush keeping himself out a scenic vacation to a lovely spot in Kansas.
Sign the petition now. Ask The House to uphold the rule of law in the United States and let's restore accountability to the executive branch.
Posted by mcblogger at 09:43 AM | Comments (0) | TrackBack
Tina Fey is making me watch SNL again...
An open letter to Tina Fey:
OK. You got me. I'm not happy about it, but you do. First, it's 30 Rock to which I am thoroughly addicted (it was easier giving up cigarettes... you are making the sitcom equivalent of H... I hope you're happy). Now you're back on SNL talking up Hillary and doing some awesome bit, pleading with Texas and Ohio to vote for her.
I DO things on Saturday night. Now I have to make sure and watch SNL? Damn, you Tina Fey... but thanks for endorsing Hillary!
Bitch is the new black, yo!
Posted by mcblogger at 08:56 AM | Comments (1) | TrackBack
February 26, 2008
Texas House News O The Day - Thompson and Betty Brown
Dawnna Dukes is still, despite her protests to the contrary, taking money from forces aligned with Speaker CradDICK. Some of her contributors include Bob Perry And Harold Simmons (of Swiftboat fame) and Michael Stevens who is one of the largest Republican donors in Texas (in terms of dollars, not physical size)

Brian Thompson could seriously use some of your help... financial or volunteer. If you want better government, then you gotta work to make it happen, folks!

Just for fun, here's a great video from Thomspon and the endorsement from the Slag (hey! Everyone gets one right every now and then!)
Betty Brown up in HD 4 has a serious challenger named Wade Gent. Yeah, they're both Republicans. However, like with some Democrats, there are good and bad Republicans. Gent is a good one who genuinely cares about the people in the district and wants to serve them. Betty Brown would rather toll the whole district, which is exactly what the big business funded Empower Texans wants.

ET has sent out a mailer on Betty's behalf claiming that her opponent has taken money from 'librul casino interests'. It's all a lie since the family in question, The LaMantia's, have given a ton of money to mostly Republicans... like Speaker CradDICK and Lt. Gov. Dewhurst, both of whom are supported by none other than Betty Brown. Which makes Betty a pretty big hypocrite.

The letter claims that Betty is a leader in the Texas House but the reality is that she's, at best, a back bencher with no real power despite being an ardent supporter of Speaker CradDICK. Why else would it take so long for necessary transportation projects in her district to get done? The reality is that the projects now being built were shoved through by former State Rep. Clyde Alexander who was far and away more effective than the tired, old Brown.

They've even gone so far as to cast Betty Brown as a reformer. Which she most certainly is not. Of course, the M Q Sullivan of ET would never want anyone to know about how Betty Brown voted to raise taxes on the middle class and reduce them on the wealthy in some kind trickle down experiment that did exactly what Democrats said it would do... PROVIDE NO PROPERTY TAX RELIEF. Further, her stupid experiments in reforming school funding have resulted in little additional money going to schools. Betty's answer? Throw up your hands, abandon responsibility and talk about how great vouchers would be.

That's pretty ballsy, Betty... to admit you're such a screw up that you can't fix the problem you were hired to solve but STILL want to keep your job? Wouldn't it be great if we could all abandon our responsibilities and give up, yet still get to keep our jobs like Betty Brown of Terrell?
Posted by mcblogger at 01:24 PM | Comments (0) | TrackBack
February 25, 2008
More good news for Skelly
We wrote up Michael Skelly a while back. Tuesday came some more good news for him in terms of polling vs. Culberson and fundraising. Needless to say, it looks like a Democrat has a great chance to take over CD 7.
And the people of Houston could really use the help.
Posted by mcblogger at 02:53 PM | Comments (0) | TrackBack
February 23, 2008
Tolls : Overspending; Safety Concerns and more
It should come as no surprise that despite TXDOT's protestations of poverty, they still found the time to give TXDOT MANAGERS thousands of dollars each from a massive taxpayer funded bonus pool. It shouldn't surprise anyone because it's always the Republican way to give money to managers... not the people who actually, you know, do the work.
Senator Hinojosa is thinking about sunsetting TXDOT? Oh, be still my beating heart! However, we'd much rather you just got rid of the management. Like the 'tards Saenz and Houghton. Seriously, even for Republicans y'all are pretty damn stupid.
There's a rumor going around that Rep. Leo Berman (R - I CAN DO WHAT I WANT) recently told a crowd that he didn't care if taxpayers wanted an indexed gas tax, he was only for toll roads and he'd never work to index the gas tax.

Does he have a Republican opponent? Or D running against him?
No one in East Texas likes TTC - 69. And those good folks own lots of guns.
Toll roads are in even worse shape than non-toll roads? You mean privatization isn't giving us better roads? Say it ain't so
Posted by mcblogger at 04:47 PM | Comments (0) | TrackBack
February 22, 2008
Tolls : Dunnam calls out TXDOT
Spot.On.
Jim Dunnam

Waco Tribune-Herald

Copyright 2008

Take the toll route?

Tolling Interstate 35 lanes through Waco is a terrible idea, and I'm committed to stopping it.

The Texas Transportation Department is claiming budget shortfalls over the next 25 years. Its claims are exaggerated.

One independent analysis says the agency is overestimating the shortfall by $30 billion. In addition, the 2007 state auditor's report identified an $8.6 billion error in the shortfall and questioned another $37 billion because of improper documentation.

At a recent Senate committee hearing, TxDOT admitted to another billion-dollar "accounting error."

At that Senate hearing, Sen. Steve Ogden expressed dismay at TxDOT's financials, calling them "screwed up."

More diplomatic, Lt. Gov. David Dewhurst wrote that TxDOT "does not show the complete financial picture."

Sen. Kirk Watson summed it up best, stating Texans "cannot trust the Texas Department of Transportation or the policies that are consigning Texas to inadequate roads and privatized tollways."

Even a cursory look at the facts proves the senators right. The current state budget appropriates $16.9 billion to TxDOT — that's a $1.8 billion (12 percent) increase over its previous budget. In fact, the 2007 Legislature gave TxDOT over $200 million more than TxDOT even requested.

In addition, TxDOT's planning process doesn't factor another $9 billion in revenue — $3 billion in State Highway Fund bonds, $5 billion in voter-approved general obligation bonds and the possibility of $1.3 billion in Mobility Fund bonds.

At the Senate hearing, Sen. Judith Zaffirini suggested the "funding crisis" and the "solution" of toll roads is simply TxDOT "scheming to promote its own political agenda."

So what is that agenda?

Gov. Rick Perry and his appointees overseeing TxDOT make no secret they want to make Texas a toll road state.

Their ultimate goal is to create a new privatized source of money that will be free from public accountability.

Tolling Texas roads was an idea sold by Perry in 2003 as a limited tool for communities that wanted tolls. However, once voters said OK, Perry revealed his true plans — a Spanish-run Trans-Texas Corridor and a series of toll roads crisscrossing Texas.

The first phase would take 71,661 acres and 8,036 other parcels of private land to build a road that would cost Texans more than $20 to travel one-way from Dallas to Austin.

Once this real agenda came out, the Legislature promptly stopped it, overwhelmingly passing a moratorium on most toll road projects.

Threatening Waco

Perry's reaction was to have TxDOT start threatening local cities. That's exactly what just happened to Waco — either "agree" to toll I-35 lanes or TxDOT will cancel existing projects and delay all plans to expand I-35.

While threatening Waco with "toll lanes or no lanes," TxDOT chose to award more than $84 million from "Strategic Priority Funds" to Grayson County for local projects — that's most of the cost of putting eight full lanes on I-35 through Waco.

While undoubtedly important to Grayson County, these projects are not statewide "strategic priorities" like I-35.
This just shows that the tolls agenda is one of choice, not necessity.

Money from Perry's toll lanes will go to issue bonds for other projects. The bond money will be separate from the main state budget, meaning there will be almost no legislative accountability.

And lack of legislative accountability is the exact reason TxDOT feels safe in threatening our communities and thumbing its nose at the Legislature. TxDOT's main funding, the gas tax, is dedicated by the Texas Constitution.

That means TxDOT can ignore the Legislature and still know it will get its money.

Bonds from toll roads will be like another dedicated revenue source, making TxDOT autonomous and the situation worse.

TxDOT needs to be reined in and made accountable. TxDOT should provide the Legislature with accurate information; but how to pay for the roads should be decided by the Legislature.

The Legislature will work to address Texas transportation needs responsibly through cooperation at the federal, state and local levels. But in order to do that, TxDOT must be an honest and accountable partner.

Our forefathers gave us great free roads in Texas. Our legacy should not mean our children have to pay an extra $3 to drive from Lorena on I-35 to buy a Health Camp burger. Instead, Central Texans need to stand up and say "no" to toll lanes on I-35 — and I intend to do just that.

Jim Dunnam, D-Waco, is State Representative for District 57.

(Via TTC Archives)
Posted by mcblogger at 11:56 AM | Comments (0) | TrackBack
Loving me some Hillary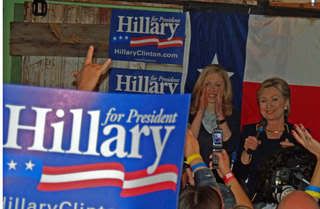 Hill's opening statement and her closing statement. Honestly, The Mayor and I were impressed and the crowd tonight was pretty clearly divided. We did, of course, differ on the impact of this statement...
Hillary just said, "If your campaign is going to be based on words, I think they should be your own." Best line of the night. She added, "If you talk about change, it's not change you can believe in, it's change you can xerox." It's a good line, but... ooh. Ouch. Even the media didn't like that one.

Does she have a tin ear? Or do people just love Obama and don't want to hear it?

When she starts saying things like that, the first reaction is "there's a good line;" the second thing you think is, "ooh, I'm glad my wife isn't like that."
For us, we were thinking..."Damn, I hope she gets to use something like that against Old Grandpa 100 Years In Iraq." Frankly, THAT'S the bite in the knife we need in this country. We need someone who cares enough about winning this election to pull out the stops and call bullshit.
Obama came across as tired and irritable. Hillary had a sharp tongue and used it to great effect. The gooders watching the debate with us of course thought she was over the top. Get over it. Politics ain't an ice cream social in Texas. Feel good crap is only going to get you so far and then you better have something there. Obama's weak on that and that's where Hillary has her impact. She gets it. She knows how to fight and win.
One last note... we got to see some OLD friends tonight, Mike, Melissa and Todd from our Austin For Kerry days. They're all about Obama. We love them anyway!
(Photo : WMM - Taken at Guero's)
Posted by mcblogger at 01:22 AM | Comments (2) | TrackBack
February 21, 2008
It's crowded and I'm not liveblogging
Mother Egans is packed like a package of tuna. Many old KAB people and some folks who are on the mail list who haven't been in months. Wow. The turnout is amazing all over town... Austin has effectively shut down to watch this debate (which may help explain the extraordinary EV turnout...more on that later).
I'm quitting this now because liveblogging this from a BlackBerry is torture when there are two drinks in front of me.

Posted by mcblogger at 07:01 PM | Comments (0) | TrackBack
In which we endorse candidates (Outside of Austin)
This is list of races and the candidates we're endorsing around the State of Texas in the Democratic Primary.
HD 36
Sandra Rodriguez is our pick in a race pitting her against Rep. Kino Flores. The only thing that distinguishes Flores is his support for Republican Speaker CradDICK. That and his ethics issues.
HD 20
Leonard Surrat is the best choice for Williamson County Democrats.
SD 11
We're endorsing Joe Jaworski in this race. He's the best candidate for a number of reasons, among them are his professional experience and the fact that he's clearly positioned best to beat 'Toxic' Mike Jackson.
The rest of these people we're just going to blanket endorse. Many of them have served for years, some are running against CradDICK D's or are being challenged by CradDICK D's. All deserve your support.
State Representative, District 43 - Rep. Juan Escobar
Fighting against Tara Ybarra Rios. A Republican in Democratic clothing.
State Representative, District 77 - Rep. Paul Moreno
State Representative, District 140 - Armando Walle
Running against Rep. Kevin Bailey who really needs to be retired.
State Representative, District 145 - Carol Alvarado
State Representative, District 146 - Rep. Borris Miles
A little crazy at times? Perhaps. The alternative, though, is unthinkable. It's Al Edwards. Ugh.
State Representative, District 147 - Rep. Garnet Coleman
Really? You need to be told to vote for this guy? Really? Just go do it!
Posted by mcblogger at 03:13 PM | Comments (0) | TrackBack
Debate-O-Rama
As you no doubt are aware, the D Presidential candidates (GO HILLARY!) are in town tonight for a debate. I'll, of course, be watching at a bar with a scotch in one hand and a cigarette in the other that I'll be gesturing wildly with to show my support for HILLARY while other, lesser people (Obama people who drink beer, natch) will try to stay out of the way, lest they get burned.
So who is covering all the madness? KXAN, of course! You can access their coverage here. They also have a cool new poll out showing a dead heat here in Texas.
In other Presidential primary news some people endorsed Obama and Todd Hill over at BOR has a great piece up on the Obamathon in Dallas yesterday. Muse over at Musings is loving some Bill (so do I, but not in THAT way).
Posted by mcblogger at 01:32 PM | Comments (0) | TrackBack
Dan Grant and The Ad
Here it is, boys and girls! Dan's television debut. I gotta say I love the endorsement contrast.
Posted by mcblogger at 12:26 PM | Comments (0) | TrackBack
Making the funny go away... The Watson Incident
There are two rules in comedy:
1) NEVER try to piggyback off another comic's work
2) NEVER forget the first rule
Hank Klinger and the always late to the party (to the point where they're hanging out with the dregs) TXGOP, sent out an email this AM about Kirk's little incident on MSNBC. The same one that ran out of funny about the time Kirk sent out an email OWNING the gaffe and making it just another part of who he is.
We had three posts about this up by noon yesterday. It took the TXGOP almost 48 hours to get something mediocre out. Want to know why Republican's suck? Because they're stupid and slow and have all the comedic genius of Larry, The Cable Guy.
You're lame, Hans. LLLAAAMMMEEEE!
Posted by mcblogger at 11:15 AM | Comments (0) | TrackBack
February 20, 2008
UPDATED - In which we endorse candidates (Travis County and Statewide)
This is the mega list... every race in which we wanted to endorse in Travis County. I hope you're happy since it took us literally hours of thinking and many, many bottles of scotch to get through this. The Presidential endorsement was obviously contentious which is why Captain Kroc is now in hospital having a bit of a bottle removed from his, well from various part of him. However, he did help contribute to this despite his near constant pain.
I've never been one to shy away from cutting a motherfucker.
County Court at Law 8
This was an easy decision for us. While we like Mr. Berrera and find him clearly qualified, we feel that Mr. Lipscombe is the better choice. Our recommendation is based on one simple factor. During the endorsement meetings where we've seen both candidates, it's been clear that Lipscombe has a vision for what he'd like to do with the court and the work he'd put into to keep non-violent offenders from being put into the black hole that is the Texas Department of Corrections system. We have confidence in the ability of Lipscombe to be an excellent judge.
District Attorney
First, all of the candidates meet the baseline qualification for this job. They are all extremely competent and seem quite earnest about their desire to serve. However, we have to pick one and our endorsement goes to Rosemary Lehmberg. We've been consistently most impressed with her at endorsement meetings and it's clear she has the broadest base of knowledge and experience from which to draw. In many ways, she is a continuation of the fantastic job that Ronnie Earle has done in the office.
98th District Court
We've damn near had night sweats over this one. Both of the candidates are overqualified for this position. Both would do an excellent job. Both are amazing and wonderful people.
This race has reminded us of Eric Shepherd vs. Elena Diaz in 2006. Two amazing people, one choice. On this race, we decided to go with the person, not the attorney, we knew best. That would be Andy Hathcock.
353rd District Court
Scott Ozmun. Seriously, you have to ask?
427th District Court
This was an extremely difficult decision to make and our endorsement goes to Karyl Anderson Krug.
We kid, kid...we're joking with you! We're totally endorsing Jim Coronado. Despite the best efforts of Krug, we know that Coronado is qualified for the job. We also know that he is a judge. And frankly, we're sick to DEATH of Krug's sniping. Our only regret is that we can't vote for JUDGE Coronado twice.
HD 46
Brian Thompson. No contest. He's extremely qualified and very energetic about the opportunity to serve the people of 46. His stand on the privatization of schools and infrastructure is the right one and diametrically opposed to that of Dukes who, contrary to her advertising, IS more of the same. The candidate of change, of renewal and prosperity for East Austin and Travis County is Brian Thompson. Dukes is a remnant of an inglorious past when Democrats were on the sidelines. It's time to elect someone who cares more for the people in the district than their own success. Not to mention this piece of news which pretty much seals the deal on the need to retire Dukes.
Tax Assessor-Collector
First, let's just state that when it comes to the basic function of this job, tax collection, both candidates are evenly matched. However, when it comes to actually helping people affected by dramatically escalating value and commensurately higher taxes, Nelda has been abysmal. Glen has promised to do a better job of that and we're willing to give him a shot since no similar commitment has been made by Spears. On voter registration, we've been very disappointed with Spears' deficiencies and her unwillingness to correct them.
It's time for a change and that change is Glen Maxey.
US Senate
Rick Noriega. I mean, really. We're written a ton about him. Feel free to click here if you need a reason to vote for him. Chances are, whoever you are, he's voted for YOU at point while in the Lege.
A word about Ray McMurrey... he seems like a genuine and very earnest person. We thought he did fairly well in the debate vs. Noriega. We may find ourselves one day supporting him. That day is not likely to come soon. Too much bad blood and frankly, we've been disgusted at his focus on tearing apart Noriega. Having been involved in statewide campaigns, not to mention all the smaller ones we've advised and worked on, this is a case study in what to do if you want to piss off voters, especially the people whose support you claim to want.
CD10
Dan Grant. There are many reasons why, but this is just one. McCaul is going to be out of office this year and of the two candidates in the Democratic Primary, we're most confident in Dan's ability to offer thoughtful and equitable leadership.
Texas SC, Place 7
Sam Houston is well qualified and the best campaigner.
Texas SC, Place 8
Both candidates are well qualified and here, we decide to stick to our roots. We're going with Judge Susan Criss due to her solid progressive credentials and her ability to fight and win this seat. She is, of the two candidates, the best chance Democrats have in Place 8.
Travis County Commission, PCT 3
Karen Huber gets our endorsement as the candidate with the strongest chance to take on pustule Gerald Daugherty. Huber is staunchly anti-toll and her environmental credentials are impeccable. She's exactly the type of person who has occasionally voted for Republicans and should have been voting for Democrats the entire time.
Travis County Constable, PCT 1
We honestly don't know a damn thing about this race other than that Danny Thomas is running. We urge voters in precinct 1 to vote for anyone other than Danny Thomas. There's been enough bigotry and it's time to put an end to it.
Travis County Constable, PCT 2
Paul Labuda and not just because of the issues Ballesteros will have in the general election. Paul is extremely intelligent, hard working and capable of performing the duties of Constable. In point of fact, he's just as experienced as Bruce Elfant was during his first run for Constable. And we love us some Bruce.
Travis County Constable, Precinct 3
Richard McCain. Duh, Of course. Frankly, we're surprised we even have to announce this since Constable McCain is over and above his Keel-inspired opponent. We're sure he'll glide to easy victory but we want to make clear... if you live in Precinct 3, you need to go vote for the best Constable you've had in decades.
Travis County Constable, PCT 4
Alonzo "Al" Reyes. Seriously, we're tired of the conflict and infighting between certain Constables in this county. If you don't know what we're talking about then don't worry... just go vote for the extremely competent and very reasonable Reyes.
Texas Railroad Commission
Dale Henry is over and above his opponent in terms of competence and general knowledge of the Commission and the industry it regulates. Dale's run a very strong campaign so far and it's certain he'll continue on to beat Republican Michael Williams in November.
Posted by mcblogger at 11:20 AM | Comments (6) | TrackBack
Video of Watson v. Matthews
We love Senator Watson but this is just some funny shit. Mostly because we're going for Sen. Clinton.
Posted by mcblogger at 10:31 AM | Comments (0) | TrackBack
February 19, 2008
CD10 : NAIS on the brain
Remember this post? It prompted this, this, this and this all in a very short timeframe. So what's the dealio?
Well, for one thing, the information WAS up on Doherty's website. For another, KUT did pull it down after being asked by the Doherty campaign. The campaign itself has not, to my knowledge, distanced itself from the comment.

Posted by mcblogger at 10:42 AM | Comments (0) | TrackBack
Dale Henry collecting the endorsements
We've long said that Dale Henry is the most qualified person to serve on the Railroad Commission. Apparently, others are saying the same thing. First, there was the endorsement in the Austin Chronicle. Then Star-Telegram. Now the Brian/College Station Eagle.
Add to them all the Daily Texan at UT. Nice work, Dale!
Posted by barfly at 09:12 AM | Comments (0) | TrackBack
February 18, 2008
Keep This Quiet
Though it might be too early to name a running mate, McBlogger, having a spy embedded in the highest echelon of the Republican Party, can share the prevailing choice among John McCain and his inner staff.
The criterion was someone who epitomized conservative principles and would be tough on the opposition.
The choice came down to a flip of the coin.

Posted by Captain Kroc at 09:39 PM | Comments (0) | TrackBack
Touble ahead for Dukes
Matt's at BOR has been doing some great work keeping the spotlight on Dukes. now it turns out we haven't been the only ones looking at her. It appears that KEYE is also getting it on the action...
Tonight at 10:00pm, investigative reporter Nanci Wilson of KEYE News will be airing an expose on Craddick Democrat, Dawnna Dukes. Yesterday, KEYE teased the story repeatedly. According to the previews aired yesterday, Dukes is running a defunct company that has accepted state dollars, her car has been repossessed, and subcontractors have sued her for non-payment.

Perhaps she couldn't find a way to pay those bills with her campaign credit card.

Tune in to KEYE Channel 42, or for cable subscribers on Channel 5 or in High Definition on 305 tonight at 10:00 to watch.

And remember, Dukes's opponent Brian Thompson is having his final fundraiser tonight from 5:30 to 7:30 at the Belmont on 6th. We are only $300 away from getting the $1,000 match from a donor who wishes to remain anonymous until the 8 day out report. Help raise $300 today.
Could this be yet another in a series of questionable practices by Dukes? Can't wait to see what the people at KEYE have come up with.
Finally, I'd just like to ask once again... where is that damn ethics report, Dawnna? It's been almost 10 weeks and nada.
Posted by barfly at 02:41 PM | Comments (0) | TrackBack
FISA... where lies and exaggeration come to live
Unlike the rubber stamps in the Senate, the House Democrats handed a HUGE victory to citizens in this country when they decided to put off consideration of the Senate FISA bill until they were damn well ready. Which means the temporary law passed in August will expire this weekend.
Bush is already claiming that it leaves us open to terrorist attack. Which is bullshit because the taps already in place have a year to run and new ones can be obtained, instantly, with a 72 hour window in which the government can then seek a warrant from the FISA Court. That's the old law. It gives the government 72 hours to obtain a warrant AFTER a tap has been initiated. Needless to say, Bush's argument is pretty weak that this is about 'protecting 'merucans'. The reality is that this is all about protecting the corporations that cooperated illegally with the government on the illegal wiretaps Bush authorized between 2001 and 2005. See, without immunity, these companies are going to be sued. And during discovery, the people of the US will find out just how it goes up the executive branch. That could leave Bush himself open to prosecution AFTER leaving office.
The funny thing about this? These companies claim they were just doing their patriotic duty which is crap. They knew they were doing something illegal and, in the case of Qwest, some refused because the government wouldn't give the companies a letter from the AG saying this was all legal. THAT'S what they need to be immune from prosecution and lay this all off on the executive branch. They didn't get it because the program wasn't legal which means the boards of these companies should fire and sue the executives and legal advisers who allowed the taps to happen.
Yes, this is all about protecting the illegal actions of telecom companies and the President. Not protecting Americans. Even Cornyn got in on the action...
Sen. John Cornyn (R-Texas) told Cybercast News Service the expiration of the law does in fact present a clear and present danger. "It is a fact that 3,000 people died on September 11. It is a fact we have been able to use this [FISA] capability to stop further terrorist attacks. Now I know it's a little hard to prove something that didn't happen, but the testimony from highly placed officials within the intelligence community, the director of national intelligence, and others say this is an essential activity that will save lives."
Oh, but Senator Cornyn, DNI McConnell directly contradicts you on this. He says this will have no effect on intelligence gathering, other than making the Administration do things legally. Which means, Junior John, that your gutless defense of an illegal program is making you look weak as hell. What kind of a Texan are you, Senator? One of the cowardly ones?
For that matter, what kind of Texans is Hans Klinger of the Texas GOP? Friday afternoon he issued a press release going after Lampson, Rodriguez and Edwards for leaving along with the rest of Congress when it was clear there was an impasse. I guess no one told Hans that the nation IS still protected by wiretapping laws and that the real issue is an immunity deal for companies and President Bush. Wait... just reread the first part.
Hans, bubie, let me clue you in on something since you're evidently smart enough to write but not to keep your mouth closed when you breathe. Lampson is the only one you've got a prayer of beating and considering that only a nutter will get through the R primary in FBC, you're probably screwed there. Rodriguez is in a strong position and Chet Edwards... well, Chet's going to beat down whoever you run against him like Ali did Frazier in Manilla.
Texans know these Congressman did the right thing. It's the President and Congressional Republicans who are off the reservation. And we all know it.
Posted by mcblogger at 12:33 PM | Comments (0) | TrackBack
KUT interviews The Boys in CD10
Both Dan Grant and Larry Joe Doherty were interviewed by Ben Philpott at KUT. Both do a good job, but Grant's idea about how to do the stimulus package the right way was spot on.
Posted by mcblogger at 09:24 AM | Comments (0) | TrackBack
February 16, 2008
Clinton ... too many people
Rep. Eddie R is speaking now. I can hear him but I can't see him because the event has split in two due to overcrowding... Too many people, too many fire marshalls.
No joke.
Everything's going smoothly and people are waiting patiently, but very enthusiastically for the President. If you're coming down, would you PLEASE bring me some scotch? I'm thirsty.

Posted by mcblogger at 09:05 PM | Comments (0) | TrackBack
live from HillaryFest!
The Mayor and I are here and the turnout is AMAZING! The President hasn't made it yet and there's no booze (damn you, broken flask), but I have run into a ton of people. There's a very strong organization in Austin I didn't know existed.
Yeah, The Mayor and I were feeling a little out in the woods with our endorsement. Tonight, though, it's clear there are lot of people who think as we do.

Posted by mcblogger at 08:05 PM | Comments (2) | TrackBack
If it talks like a Republican and thinks like a Republican
It must be Nelda Wells-Spears. The reality, as Spears should know, is that illegal immigrants voting is a non-existent problem. However, requiring a photo ID to vote, instead of just a card, is a de facto POLL TAX. So then, the question becomes what does Spears have to gain from keeping the poorest among us from voting?
In a time when gas is $3.00/gallon, why heap another cost on to the backs of our poor?
Posted by mcblogger at 11:28 AM | Comments (0) | TrackBack
February 15, 2008
ABA Judicial Preference Poll
The Austin Bar Association (it's not what you think it is, trust me) has released their Judicial Preference poll...
1: 98th District Court

Robert D. Ettinger (D) 9.30%

Andy Hathcock (D) 51.87%

Rhonda Hurley (D) 38.83%

2: 353rd District Court

Madeleine Connor (D) 9.94%

Scott Ozmun (D) 90.06%

3: 427th District Court

Jim Coronado (D) 72.69%

Melissa Goodwin (R) 21.38%

Karyl Anderson Krug (D) 5.93%

4: County Court at Law No. 8

Carlos H. Barrera (D) 43.35%

John Lipscombe (D) 56.65%

According to the release, this was a high turn out year.
Posted by mcblogger at 02:04 PM | Comments (0) | TrackBack
How underwhelming...
Hightower, in an effort to stay relevant outside of his weekly column, has endorsed Obama and pledged to campaign for him. This would make it the first time in years he's actually done anything. Remember how much he helped the Democrats in 2006?
Yeah, neither do I. Oh sure, it was promised but there was never any follow through. But maybe this time will be different, Obama people!
Posted by mcblogger at 12:42 PM | Comments (0) | TrackBack
Sandra Rodriguez is NOT Kino Flores
Matt over at BOR has a great piece up about the Flores/Rodriguez race. I know it will surprise none of you, but we're for Sandra Rodriguez. We support her in large part because she's intelligent, talented and will be an excellent representative for the people of HD 36. We also think she'll be much better than Kino Flores by virtue of the fact (and we've confirmed this) that she's NOT Kino Flores.
Kino was one of the members of the Iscariot Caucus. His proudest achievement is continuing the corrupt Speakership of Tom Craddick. So, if you want to help Sandra out, click here. Needless to say, it's a bit like giving money to someone doing God's work.
Posted by mcblogger at 10:21 AM | Comments (0) | TrackBack
February 14, 2008
Presidential Endorsement
Leadership is a word bandied about endlessly by politicians today. All say they have it while campaigning. All candidates claim to be the leader for whom voters are searching. All of them are usually wrong. Living in Texas, we've become absolutely disgusted by the word 'leadership', especially when used by Republicans for whom it is more a punchline than a true description of character. A leader does what's right, regardless of political repercussions, and stands up to defend their actions. We see it more and more from Democrats today, but even in
our party it's still distressingly rare. That's why when we see it, we are so overwhelmed; it causes us to instantly want to pick up a sheaf of slate cards and begin walking door to door.
That, and that alone, is what has made this decision so hard. Both Sen. Barack Obama and Sen. Hillary Clinton are leaders in the highest and truest sense of the word. However, like all voters we must pick one. This year, we pick Sen. Hillary Clinton.
We realize this country is still, to an extent, polarized on significant issues. However, glossing over them will not make the polarization disappear. Neither will wishful thinking or hope. Hard work, communication and defending ideas aggressively will change minds, open dialog and eliminate the vacuum in which bad policy flourishes. While we have been impressed with Sen. Obama's rhetorical skills, we find his substance lacking. We do not find a similar problem with Clinton. On policy, the two are virtually identical having been driven to the center by John Edwards and his balanced proposals, supported by the vast majority of Americans. Preparedness is another factor but none of us view this as a clear indicator of a better candidate. Both Clinton and Obama are prepared, despite what idiotic pundits on Sunday morning entertainment programs may say. No, in the end, it comes down to leadership style and tenacity. While it's wonderful that Sen. Obama has inspired so many, it's also naive to believe that real change can come so easily.
Voters in the United States, Democratic and Republican, want change. Obama has interpreted that to mean that voters want a kindler, gentler politics with the ultimate end being compromise, not consensus. History has proven this position resoundingly wrong. People want to be fought over. People want to be persuaded. Yes, people even want to hear attacks. If it did not work, candidates and strategists would not employ them. Voters want change but the change they want is a return to the rule of law, to fiscal sanity, to policies that make sense for and benefit the majority of our country. Wishful thinking and 'compromising' with the baser impulses of the radical right won't put our listing ship of state on an even keel. A single minded focus on solving problems, gradually if needed, is the only thing that can correct us and keep us sailing into the 21st century. We need a leader who will not back down in the face of intense opposition to the entrenched forces that threaten to destroy our country with their greed and monomaniacal fixation on maintaining the status quo.
Obama's pitch for being the nominee involves the premise that the only way we'll win is to give voters something to vote for. We've also heard the argument that voters will come out in droves to vote against Hillary. As many of us discovered on November 3rd, 2004, having a reason to vote against someone is not enough. Neither is voting exclusively for someone. There must be a synthesis, a reason to support our candidate and a reason to vote against the candidate of the Republicans. If anyone can clearly establish that message, it's Clinton.
Hope and transcendence are all well and good, but we need solid, results-oriented leadership. We need a fighter willing to put herself between them and us, someone who will help restore our rights and prepare our nation for a bright and prosperous future. While we greatly respect the Senator from Illinois, our endorsement and support go to Senator Hillary Clinton.
(This represents the endorsement of The Mayor, Boobilicious and I)
Posted by mcblogger at 10:23 AM | Comments (5) | TrackBack
AusChron endorsements
Disappointment and joy, all mixed into one noxious cocktail. Think a manhattan made with cheap bourbon.
US Senate - Rep. Noriega
353rd Judicial District - Scott Ozmun
District Attorney - Rosemary Lehmberg
Railroad Commissioner - Dale Henry
We couldn't agree more with these. However, it was the dual endorsements that began to show a trend toward the weak.
CD10 - Dan Grant and Larry Joe Doherty
They seem to like Dan and clearly found him to be more knowledgeable on the issues he'll face in Congress. However, they are buying to the hokey idea that Doherty's 'AwShucks' good ole boy manner will win votes and will charm what they perceive to be bunch of yokels in Houston metro and the mid-counties. Despite the fact that Dan is clearly doing well (at least in terms of endorsements) in Houston. And those people are anything but yokels.

TAC - Glen Maxey and Nelda Spears
Oh. Come. On. The TAC from Travis County has been MIA almost as much as Dawnna Dukes (who we'll get to in a moment). Glen is clearly the stronger candidate and a large part of the reason Travis County has a what they call a 94% voter registration rate.
Not to mention their absolute lack of an endorsement of Judge Coronado who is clearly more qualified than his opponent. However, this pales in comparison to their endorsement of Dawnna Dukes for HD 46. There, they spend an inordinate amount of time chastising Thompson for criticizing Dukes' very bad votes including the one that led to many of the bad acts she was supposedly trying to stop, her vote to continue the corrupt Speakership of Tom Craddick. Without that vote, she wouldn't have needed to be such a "strong advocate of crucial social programs on the budget committee". Frankly, I think she could have done absolutely nothing and achieved the same effect. Everyone knows it was the rest of the caucus, NOT DUKES, who did the truly heavy lifting with the help of some Republican allies.
While completely ignoring her absenteeism at critical times, they do chastise her for 'taking her constituents for granted'. What they fail to do is even take her to task for possibly profiting from legislation she helped to pass that also happened to benefit the film community. The same film community that helps make the Chronicle publisher Black's year during the SouthBySouthwest Festival.
It should be noted that Thompson yesterday received the endorsement of the powerful League of Conservation Voters endorsement. Glad to see someone still putting thought into endorsements.
UPDATE - This afternoon I was informed that Black was not involved in the decision to endorse Dukes. I apologize for the error but not for criticizing what was a tone-deaf endorsement.
Posted by mcblogger at 12:56 AM | Comments (3) | TrackBack
February 13, 2008
Tolls : A week of fun
Carona comes out in favor of raising the gas tax. He still won't commit to ending toll deals which is a real concern. The reality is that tolling isn't a good way to raise money. Period. It's not good for taxpayers and it's certainly not good for invesotrs.
Speaking of investors, they're taking a bath on the Central Texas toll roads...
According to that statement, the three roads will make $8.7 billion in toll revenue through 2042. In that same time, there will be $7.2 billion in debt payments for that borrowed $2.2 billion, $1.1 billion in operations costs, $752 million in routine maintenance and $388 million for long-term maintenance. The net of all that? Almost $750 million in the hole over 35 years.

More like an economic jalopy.
Yeah, the traffic projections aren't panning out either. Traffic is about 73% of the projections. Didn't see that one coming
TURF's suit moves ahead with depositions due this week from TTC Commissioners Saenz and Houghton. Good luck, TURF!
In other privatization news, the Camino Columbia toll road (the first private 'superhighway' in Texas) was sold... to one of it's original investors. The road was built for $90million and sold for $12million. What a great investment! If you're looking for other great investments with a similar return, you might try Bear Stearns. I hear they are trying to unload some SIV's chock full of subprime paper.
Posted by mcblogger at 06:30 PM | Comments (0) | TrackBack
A reason to support Dale Henry...
...he actually knows what the RRC does.
Posted by mcblogger at 02:22 PM | Comments (0) | TrackBack
Like hope, but different
Scared, stupid old man...
And here's why I really dislike Grandpa Pander... He's now FOR the tax cuts he was against in 2001 and 2003. Usually it's funny to watch someone compromise their last shred of integrity. However, this is just sad.
``We need to make the Bush tax cuts permanent. We need to abolish the alternative minimum tax,'' he said last week in Wichita, Kansas. ``We need to have a corporate tax cut from 35 to at least 25 percent.'' The cost of those proposals would exceed $5 trillion over 10 years, according to the Center for Budget and Policy Priorities in Washington. ... On the stump, McCain seems uncomfortable with economic prescriptions, preferring to talk about the war on terror. In December, he told the Boston Globe that economics ``is not something I've understood as well as I should.''
The scariest thing? When they started talking about a stimulus package last month, his initial reaction was to propose a spending cut at the Federal level which would have actually SLOWED growth, further damaging the economy.
Whichever Democrat faces this douche needs to call his proposals what they are... bullshit. Supply side economics didn't work for Reagan and they certainly haven't worked for Bush. Not to mention that they are a massive failure for those of us in the bottom 90% of earners.
Posted by mcblogger at 07:58 AM | Comments (0) | TrackBack
February 12, 2008
FISA ... this is just sad
Final passage of the bill is still hours away, but all the amendments to the bill to strip away telecom immunity (basically, giving the telecom companies a pass for their past illegal actions) and restore the rule of law failed overwhelmingly. With help from the Democrats.
More here at FDL, KOS and from Greenwald. You can click here to sign a petition asking the House not to give in on telecom immunity.
In case you were wondering, our own Senator's John Cornyn and Kay Bailey Hutchison voted to keep OFF the amendments protecting the Constitution from the bill. None of this is particularly surprising since Cornyn and Hutchison are well known as nothing more than rubber stamps for President Bush. They've abdicated their responsibility to Texans (and violated their Oath of Office) by voting against these amendments. It's good to see that AT&T's money buys folks that stay bought. You're a real asset to the people of Texas, Senators. Way to sell out your constituents.
Oh, but it was about protecting 'Mericans, right? Not really. The only reason this bill was needed was to strip the requirement that you actually have to obtain a warrant to tap communications so that you can eavesdrop on a US citizen. Now the President can do that at will. The other reason was to protect telecom companies (like SATX based AT&T) from being sued by people whose rights were violated by the company.
Finally, at the end of the day, Cornyn may have actually believed that this was the right thing to do protect us from terrorists. Which makes him a coward. As Franklin said more than 200 years ago, he that would give up essential liberty for temporary safety deserves neither.
Just FYI... exclusivity, the provision within the bill establishing that this bill IS the law and that the Executive must obey it, was stripped. The original FISA had exclusivity which is why Bush and the telco's were afraid of prosecution for their illegal actions. The Senate has now given them a pass on prosecution AND the ability to ignore the provisions of the new law when they feel like it.
PLEASE take a 20 seconds out of your day and sign the petition. If you want to restore the rule of law in the United States, it's one thing you can. Aside from electing BETTER DEMOCRATS and, as it turns out, BETTER REPUBLICANS.
Posted by mcblogger at 02:00 PM | Comments (1) | TrackBack
The Debate
Well, so there will be a presidential debate in Texas, here in Austin no less. If drinks are being served, we'll be happy to attend.
Posted by mcblogger at 12:10 PM | Comments (0) | TrackBack
Well put
I really couldn't have said it better myself. Except for the Obama part... I'm still not convinced that the new Coke is anything other than shit.
Posted by mcblogger at 11:07 AM | Comments (0) | TrackBack
Larry Joe Doherty supports NAIS?
According to the candidate profile over at KUT...
Doherty supports the National Animal Identification System. Opponents of the program claim it is designed to benefit major agricultural software campaign donors. His opponent, Mr. Grant, is fighting against it.
This is interesting because CD10 is composed of a lot of rural area and a large number of farmers and ranchers, none of whom support NAIS. Not to mention that one of the main reasons people in the rural areas are interested in supporting a Democrat in the general is that McCaul (R - Clear Channel Communications) loves him some NAIS. The fact that it will cause small farmers and ranchers to go out of business and drive up the cost of food at the store is irrelevant to a millionaire like McCaul. Apparently, it is to Mr. Doherty as well.
Posted by mcblogger at 09:11 AM | Comments (0) | TrackBack
February 11, 2008
Notes on the TAC race
Oh, this isn't good at all. Recently, and after the recent Voter ID hearing, Nelda Wells Spears, our current TAC, was asked why she'd never taken the time to defend the right to vote in testimony to the Lege on their idiotic Voter ID bills. Her response is chilling...
Ms. Spears response was shocking. She said she thought requiring ID and proof of citizenship when registering to vote was a great idea and something we needed.
No one is sure if Nelda knows she was tacitly supporting Jim Crow laws and poll taxes. I would assume she does but lets be honest, so much has come out about her this cycle that it really wouldn't surprise me if she didn't realize she was actively supporting the disenfranchisement of minorities.
I didn't realize it but there IS a Republican who has filed to run against either Glen or Nelda, Don Zimmerman. His ass website can be found here. If you even think of voting for this guy you are out of your mind. Why? He takes publicity shots with people like Ron Paul and Gerald the Gargantuan. Oh, and he's a PaulTard, one of those people so in love with the Austrian School that they are blind to the fact that it's mostly a massive load. Of doodie.

He also fought valiantly asked a bond issue that would have helped RRISD expand it's strained school system. He was operating under the assumption that portabuildings are good enough for the poor kids who have to go to public school. You're one hell of a guy, Zimmerman! Fighting to keep kids from going to good schools and receiving a good education. Here's a pic of him with his gross pals.
Posted by mcblogger at 08:03 PM | Comments (0) | TrackBack
Does Bob Perry own John Davis?
He does,according to John Davis.
Posted by mcblogger at 02:03 PM | Comments (0) | TrackBack
There's a debate a comin'
This Wednesday, Keep Austin Blue and the University Democrats will co-host a debate between Ray McMurrey and Rep. Rick Noriega. Here are the deets...
The debate will be Wednesday, February 13th. Doors (Jester Center A121A) will open at 8:00 and the debate will start promptly at 8:15.

Here's a link

to maps of the area near Jester.

The Brazos Garage is at the corner of MLK and Brazos, the Dobie Garage is at Whitis and 21st and there is a Central Lot at University and 20th and another at 20th and Whitis. Here is a map of the immediate vicinity.
What is needed right now are some questions for the moderators (Karen Brooks of the DMN and Eileen Smith of Texas Monthly) to select. Please email yours here.
Posted by mcblogger at 11:42 AM | Comments (2) | TrackBack
Endorsement vomit
I thought I would wait and just do one post about all the recent endorsements out... It's like some rank tasting medicine. Better all at once.
Rick Noriega was endorsed on the D side of the US Senate race by the Texas State Teachers Assoc. over Ray McMurrey who is a teacher
CapCity YD's also announced their endorsements. I'd join this if I could find someone who'd take my money. I thought y'all loves alcoholic bloggers? Where's the love, Kim?

U.S. Senate: Richard J. (Rick) Noriega
U.S. House of Representatives, District 10: Dan Grant
Texas Railroad Commissioner: Art Hall
Texas Supreme Court, Seat 7: Sam Houston
Texas Supreme Court, Seat 8: Susan Criss (in a runoff with Linda Reyna Yanez)
Texas State Rep. Dist. 46: Brian T. Thompson (unanimously)
353rd District Court Judge: Scott Ozmun
427th District Court Judge: Jim Coronado
Judge, 98th District Court: Andy Hathcock
Judge, County Court at Law #8: John Lipscombe
Travis County District Attorney: Rosemary Lehmberg (in a runoff with Gary Cobb)
Travis County Tax Assessor/Collector: Glen Maxey
Travis County Democratic Party Chair: Andy Brown
Travis County Commissioner, Precinct 3: Karen Huber
Travis County Constable, Precinct 1: Willie Joe Madison
Travis County Constable, Precinct 2: Paul Labuda
Travis County Constable, Precinct 3: Richard McCain
Travis County Constable, Precinct 4: Maria Canchola
Dan Grant was endorsed by Rep. Senfronia Thompson. This is a huge deal for us, at least, because we love us some Senfronia!
Posted by mcblogger at 10:35 AM | Comments (0) | TrackBack
February 10, 2008
This is what I do for you...
...I give. I share. I bring you the best political cheese.

You people owe me so big. I want drinks from all of you when I see you next.
Posted by mcblogger at 12:35 PM | Comments (3) | TrackBack
February 09, 2008
Obama wins NE, WA, LA
Taking a stand for banality, people in Nebraska, Washington State and Louisiana (it's still a state?!?) voted to make Obama the Democratic candidate.
Obama won NE (both precincts!) as well as Wasington State (well, Seattle but what's the diff) by large margins. No one's told me the differential in Louisiana.
And now, I'm going back to my drinking. And please, Hillary people, don't cry. You'll just piss me off.
Posted by mcblogger at 09:53 PM | Comments (0) | TrackBack
We hear rumors...
... and then we report them to you.

Today's super fun rumor is that Art Hall is dodging and weaving on plans for a debate/discussion in Houston in Late February between himself and Dale Henry. Wonder what gives? I mean, even Noriega is debating McMurrey. What's Art afraid of?
In other RRC election news, Art Hall was apparently confused about what exactly the RRC does. Just FYI to all of you undecided peeps out there, it would be nice if our candidate actually knew what the office does. It would certainly set him apart from the Republican in the race.
Posted by mcblogger at 03:36 PM | Comments (0) | TrackBack
February 08, 2008
May I see your papers?
Customs and Border agents are being a little intrusive in their searches. Two issues here:
1) An electronic device should be as secure as a briefcase. You may be able to look inside the briefcase, but you can't look AT the contents. A computer is the same thing, but easier. You should only be able to xray the damn thing. It's not like anyone has managed to digitize a bomb and put it in a Word document. Unless you count a conference call agenda.
"It's one thing to say it's reasonable for government agents to open your luggage," said David D. Cole, a law professor at Georgetown University. "It's another thing to say it's reasonable for them to read your mind and everything you have thought over the last year. What a laptop records is as personal as a diary but much more extensive. It records every Web site you have searched. Every e-mail you have sent. It's as if you're crossing the border with your home in your suitcase."
2) WTF? Profiling?
Customs sometimes singles out passengers for extensive questioning and searches based on "information from various systems and specific techniques for selecting passengers," including the Interagency Border Inspection System, according to a statement on the CBP Web site. "CBP officers may, unfortunately, inconvenience law-abiding citizens in order to detect those involved in illicit activities," the statement said. But the factors agents use to single out passengers are not transparent, and travelers generally have little access to the data to see whether there are errors.

Although Customs said it does not profile by race or ethnicity, an officers' training guide states that "it is permissible and indeed advisable to consider an individual's connections to countries that are associated with significant terrorist activity."

"What's the difference between that and targeting people because they are Arab or Muslim?" Cole said, noting that the countries the government focuses on are generally predominantly Arab or Muslim.
What's next? Allowing the fuckers at TSA to do shit like this? Congress needs to act to restrict this kind 'security'.
(h/t to BlueBloggin')
Posted by mcblogger at 02:14 PM | Comments (0) | TrackBack
Thank you, Senate Democrats (and FU Sen. Gregg)
By a wide margin, the stimulus package has passed both the House and Senate. It's now on it's way to Bush who has been waiting for it, crayon in hand (make your mark here, Mr. President!).
Senate Republicans blocked a measure Wednesday that would have expanded aid to the elderly and disabled vets. It would have also given subsidies for heating oil and coal to people desperately pinched by the increase in oil prices and would have extended unemployment benefits to those whose benefits had already expired. Senate Republicans didn't like helping out the poor and elderly. Especially our own Senator John Cornyn who was congratulated on the vote by the tone deaf folks over at Lone Star Times (read the comments if you want to see some true 'compassionate' conservatism). Let's hope the senior citizens of Texas don't forget that while they've been going broke on a fixed income paying for gasoline, Sen. Cornyn's more concerned with keeping oil company tax cuts in place than helping them out 'the little people'.
What IS it with you Republicans? You're OK with corporate welfare but extend a helping hand to your fellow citizens and you throw a fit? Damn. And here I thought only Cheney was heartless. You people are so full of hate you'll drive the whole damn country into a depression just to make your damn point. To wit, this from Senator Gregg

"We have to remember that every dollar being spent on the stimulus package is being borrowed from our children. And our children's children," said Sen. Judd Gregg, R-N.H., who voted against the bill.
Gee, Senator, I don't remember you voting against any of those tax cuts that gave us massive deficits and dramatically increased federal debt. Methinks your 'conversion' to fiscal conservatism is a little late in coming.
The good news? Sen. Reid in his first decent act of the new year has decided to bring the extended benefits up over and over again. Good on you, Harry. Now drop this telecom immunity BS and let's get this country working again!

Posted by mcblogger at 12:11 PM | Comments (1) | TrackBack
February 07, 2008
Why solve problems when you can transcend them?
If only it were as easy as Obama wants to think it is. If only there weren't nasty, hateful people in the world (they're known as 'bloggers' and their lesser opposition 'Republican Consultants'). Maybe then we could transcend and take our politics to a higher level.
Or, then again, maybe we could tell the feel good shitheel to shut the fuck up and start talking like a US Senator, not Deepak Chopra. Since my preferred candidate has dropped out of the Presidential race, I'm left having to pick between Clinton and Obama. Neither thrill me but either are infinitely preferable to any of the fucktards on the R side.
I want to like Obama. I loved him in 2004. But this 'new kind of politics' is some of the most cynical bullshit I've ever heard. And people are buying it like discounted gasoline. Dionne nails it over at the WaPo...my favorite part
The larger difference between Clinton and Obama is in their respective theories of change. Implicit in the Clinton narrative, as she put it on the stump last weekend, is the idea that "making change is hard." Only someone with carefully laid plans and the toughness to go toe-to-toe with the Republicans in the daily and weekly Washington slog can hope to achieve reform.

Obama agrees to an extent. "I know how hard change is," he says. But he promises to transcend the old fights -- the liberation narrative again -- by building a "bottom-up" movement to create inexorable pressure for reform that would draw in even Republicans.
Uhm. Yeah. I totally see the people supporting Huckabee just clamoring to join your fight.
Posted by mcblogger at 11:28 AM | Comments (4) | TrackBack
February 06, 2008
Voter ID and Voter Registration : The party never stops
OK, so first off we have Greg Abbott continuing to persecute minority Democrats for helping people vote.
Hebert complained to Berman's committee last week that Abbott has prosecuted Texans "who appear to have done little more than mistakenly help senior citizens by delivering already completed and sealed ballots to the post office or an elections administrative office."

Of 13 voter fraud-related indictments, virtually all are African Americans or Hispanic senior citizens, Hebert noted.

He told the committee: "What is especially troubling is that while Greg Abbott's office has prosecuted minority seniors for simply mailing ballots, he has not prosecuted anyone on the other side of the aisle for what appear to be open and shut cases of real voter fraud."

Hebert told the committee about alleged voter fraud in heavily Republican Highland Park involving the mishandling of over 100 ballots and a memo from local prosecutors calling on Abbott to investigate the 2005 complaint. He explained that the attorney general's office handed off the complaint to the Texas secretary of state "for evaluation of as potential criminal prosecution."

He called that "a stalling tactic" because it is the AG's office that evaluates criminal prosecution.

Nothing has happened, according to Hebert.(HouChron)
This came out during a recent hearing on, AGAIN, voter ID laws that we don't need. Harris County TAC Bettencourt was there. Noticeably absent was Travis County's TAC, Nelda Wells-Spears. She's busy trying to keep her elected office in the face of strong opposition from former Rep. Glen Maxey. Maxey recently released an ad regarding her offices purging of thousands of voters. She blames it on the state. Maxey calls bullshit. The Statesman doesn't really know what to make of all this...

Maxey is widely considered an expert on voter registration and has focused his campaign on that task, which is handled by the tax office. He has accused Spears of mishandling two separate issues.

One involves the possibility that hundreds or thousands of Travis County residents' registrations may have been canceled when a new statewide voter-registration database came online last year.

Spears sent letters to 8,500 county residents warning of a potential problem. She and the secretary of state's office blamed each other for the situation.

Meanwhile, Maxey sent out fliers accusing Spears of being more eager to point fingers than to solve the problem.

On Wednesday, Spears and Scott Haywood, a spokesman for the secretary of state's office, said that they had worked things out.
So there was a problem but it's been fixed? How did it become a problem in the first place? How did the SOS get pulled into what is a in fact a function of the county? The only thing that's clear is that Nelda ISN'T on top of this. While we understand that the TAC can't just register people out of thin air, if a mistake was made, why not send out letters to those who were purged along with a new registration card?
Apparently, no one thought that about. Spears thought the problem would be self evident.
Spears, quoting state law, said she is not allowed to restore those purged voters unless they re-register or the county clerk's office can produce paperwork it says it doesn't have.

She added that those voters had clues that they were not properly signed up, such as not getting a registration card in the mail.
No, ma'am. When something gets screwed up or when a mistake is made, you don't wait for someone to catch it. Unless you're either lazy, immature or stupid. These folks had no idea what was happening and your solution was to just sit back and let those who were purged catch the mistake? You never heard of being proactive when it comes to solving a problem?
It's never been more clear than now that we need a new TAC. Period.
Posted by mcblogger at 03:12 PM | Comments (0) | TrackBack
The TXDOT hearing... doodie aflyin'
Well, it's been interesting. First off was this article in the Star-T detailing out the problems with TXDOT's claims of poverty.
Poor planning inside the Texas Department of Transportation -- and not a shortage of state or federal funding -- is to blame for an ongoing cash crunch that led the agency to stop most road work in 2008, members of two state Senate committees said.

"I think we have an agency in turmoil. I think we have an agency in chaos," state Sen. Judith Zaffirini, D-Laredo, said during a joint meeting of the Senate finance and transportation committees in Austin. "I think it's intellectually dishonest to blame Congress or the state Legislature for problems caused by poor planning."
Then we moved on to the Trans hearing yesterday during which TXDOT got bitchslapped. Or did they? Sources have told us that members of the Senate Trans Committee met with TXDOT officials the day before the hearing a closed door session. Additionally, other's have called the Republicans on the commission 'chummy' with TXDOT officials during the meeting yesterday with the exception of Sen. Ogden who is really feeling the heat from anti-privatization forces. Not from the Stahls, of course, because they have lost all influence as a result of their sellout during the session last year on a toll moratorium.
CapAnnex has their own take and a great quote from Zaffrini

"The impression out there is that, really, this is a ploy to put pressure on us to go back to the toll road plan," said Sen. Judith Zaffirini, D-Laredo, who said the Texas Department of Transportation is scheming to promote its own agenda.(

DMN

)
Then there was this one from Ogden...
"This is screwed up," said Sen. Steve Ogden, chairman of the Senate Finance Committee. "I understand how to do a cash flow statement. I understand how to do an income statement. This isn't one of them. This is really bad."
EOW brings the point home by pointing out (again) that the Republicans who've stood in the way of gas tax increases repeatedly since 1993 are the ones who should bear the blame. These same folks then pushed through the privatization legislation in this first place.
Finally, in what I'd like to call "To MOTO, with love", I'd like to take a moment to say THANK YOU to Sen.'s Watson and Zaffirini. Glad to know you guys are finally seeing through the bullshit and the lies. Welcome back to the light, kids!
Posted by mcblogger at 12:53 PM | Comments (0) | TrackBack
February 05, 2008
Give Brian Some Love
Travis County is the bluest county in Texas and on March 4th, voters have a chance to make it a TRUE BLUE Delegation in the Texas Legislature.
Brian Thompson
is running against Dawwna Dukes for District 46. Brian has received every major endorsement in the Travis County area and for good reason. He cares about the district and is willing to vote for the people of Texas instead of supporting Tom Craddick and his minions who have thrown children of SCHIP, stolen women's rights away each legislative session, sold out Texas land owners for the Trans Texas Corridor, and were instrumental in writing legalized discrimination into the Texas Constitution.
Click here to help Brian beat Dawnna Dukes.
Brian Thompson has been endorsed by the Texas Progressive Alliance. He has also been endorsed by :
Austin Progressive Coalition
University Democrats
Victory Fund
Central Austin Democrats
Texas Environmental Democrats
Southwest Austin Democrats
Capital Area Progressive Democrats
Teamsters Local 657
Capital Area Asian American Democrats
Austin Stonewall Democrats
South Austin Democrats
Austin Gay and Lesbian Political Caucus
Brain has also been endorsed by Lon Burnam
House District 80
Lon Burnam is the only Democrat in the House who has voted against Craddick from the beginning. It is time we had more strong Democrats in the Texas Legislature who are not afraid to speak out against the autocratic rule of
Tom Craddick and the devastation which is being wrought on Texas and our quality of life. The time has come to hold our elected officials accountable for their action and non-action when it comes to taking care of their districts and the rest of Texas.
Brian is willing to work to make the quality of life better for all Texans and not just a select few. Teachers and students alike will have a strong advocate in the Ledge once Brian is elected. Women and children will not
have to worry about their rights being stolen from them by the privileged who can buy their way out of any problem and are willing to let the rest of Texas suffer. Our retired teachers will not see Brian vote against a raise in their pension. Brian will be at the forefront leading the charge for changes and fighting injustice as an elected officials should be instead of skipping votes or voting the right way but not speaking out. It is time for strong leadership in HD46. Brian will be a welcome addition to some of the already strong voices for Texas and Travis County!
Posted by mcblogger at 03:14 PM | Comments (0) | TrackBack
See Dawnna Vote
You've heard time and time again why Dawnna Dukes is wrong for her district. However, much of that has centered around her absenteeism, campaign finance reports, and "Vegas Vacation."
But, what about her voting record? Dukes apologists claim that her voting record is in line with her district. But, it isn't. Here are a large number of reasons you should support TexRoots candidate Brian Thompson in the House District 46 race.
Dawnna Dukes has voted against renewable energy. Dukes voted against requiring that a certain portion of money from Governor Perry's slush funds, (aka the Texas Enterprise Fund and Texas Emerging Technology Fund) be required to be spent on companies that develop renewable energy technologies. [House Bill 1, 80th Legislature, Amendment 8, Record Vote 220, House Journal, p. 1275 & House Bill 1, 80th Legislature, Amendment 12, Record Vote 221, House Journal, p. 1277.]
Dawnna Dukes has voted against Texas children. Dawnna Dukes thought that making sure Governor Perry could give corporate welfare to his campaign contributors was more important than at-risk youth. She voted against taking money from the Emerging Technology Fund to fund programs for at-risk youth prevention with the Department of Family and Protective Services, and voted against additional funding for the same program in another instance on the same day. [House Bill 1, 80th Legislature, Amendment 18, Record Vote 223, House Journal, p. 1283 & House Bill 1, 80th Legislature, Amendment 21, Record Vote 226, House Journal, p. 1278].
Dawnna Dukes voted against HIV/AIDS Prevention. Dawnna Dukes betrayed hundreds of thousands of Texans who need to be educated about the dangers of HIV/AIDS. [House Bill 1, 80th Legislature, Amendment 29, Record Vote 228, House Journal, p. 1291.]
Dawnna Dukes Voted Against Quality Schools & College Students. Dawnna Dukes thought it was more important for the Office of State Federal Relations' budget to have enough money to hire Washington lobbyists than to put more money in the Teach for Texas Loan Repayment Program, which serves to recruit and retain quality public school teachers and help college graduates who are over-burdened with student loans. [House Bill 1, 80th Legislature, Amendment 76, Record Vote 236, House Journal, p. 1324]
Dwanna Dukes Voted Against Halting Public Corruption. Dukes didn't believe it was important to fund the Public Integrity Unit of the Travis County DA's office (which prosecutes public officials) at higher levels. She thought courthouse preservation was more important. [House Bill 1, 80th Legislature, Amendment 84, Record Vote 240, House Journal, p. 1331.]
Dawnna Dukes Voted Against Clean Air. Dawnna Dukes voted against additional funding for the Texas Emission Reduction Plan grants. [House Bill 1, 80th Legislature, Amendment 98, Record Vote 242, House Journal, p. 1345.]
Dawnna Dukes Voted For State Funding For Washington Lobbyists. Dawnna Dukes voted against restrictions that would have prevented state funding being used for hiring Washington Lobbyists. [House Bill 1, 80th Legislature, Amendment 132, Record Vote 246, House Journal, p. 1363.]
Dawnna Dukes Voted Against Restoring CHIP To Pre-2003 Levels. Dawnna Dukes voted against restoring CHIP to pre-2003 levels and voted against using all federal funds appropriated to the state for the Children's Health Insurance Program to actually insure children. [House Bill 109, 80th Legislature, Amendment 23, Record Vote 279, House Journal, p. 1522.] She also voted against paying providers for care provided to eligible CHIP recipients in the event of a state error that led to a child being dropped or denied coverage. [House Bill 109, 80th Legislature, Amendment 24, Record Vote 280, House Journal, p. 1523.]
Dawnna Dukes Voted Against Infant Children. Dawnna Dukes voted to require infant children to be subjected to a waiting period for CHIP qualification. [House Bill 109, 80th Legislature, Amendment 26, Record Vote 282, House Journal, p. 1525]
Posted by mcblogger at 09:33 AM | Comments (0) | TrackBack
February 04, 2008
Paul Moreno - Progressive Leadership for Texas
(McBlogger's note : We're doing something new to promote TexRoots candidates. Today, It's Rep. Moreno)
This election season, Tom Craddick and his allies are playing a skillful game of chess. Recognizing that he is unlikely to gain any votes for his continued Speakership in the general election--as Republicans are projected to fall like flies across the state--Craddick has, in effect moved all of his pawns on the chessboard into Democratic districts in an attempt to defeat progressive, anti-Craddick state representatives.
One district where Tom Craddick has deployed his pawns is Texas House District 77, against none other than the Dean and Conscience of the Texas House--Rep. Paul Moreno (D-El Paso).
Paul Moreno was born in El Paso. He served six years as a U.S. Marine in Korea, and was awarded the Silver Star and numerous Bronze Stars. He earned his bachelor's degree from Texas Western College (now UT-El Paso), and a law degree from UT School of Law. He was first elected to the Texas House in 1967, and is among the longest serving members of that body, and the longest serving Latino elected official in America.
Paul Moreno has a distinguished record of public service to his district, and the entire state. He has been endorsed as part of the Texas Progressive Alliance's TexRoots 08 slate, and needs our support.
Some of the most important legislation of the past three decades bears Moreno's fingerprints, such as The Bilingual Education Act of 1983-84. Moreno, along with the Mexical American Legislative Caucus (of which he was the first Chair in 1975), helped push this legislation through the House. He fought to add farmworkers to the unemployment compensation legislation for the first time since 1913 in 1985. In 1987, he fought for a minimum wage bill for farm workers and helped end conservative attempts to alter House Bill 72 (comprehensive education reform).
Too, in more than four decades in the House, Moreno has worked hard to provide El Paso's citizens with a quality public education system.
Moreno was key to the passage of the Children's Health Insurance Program, and has fought for teacher pay raises and teacher retirement.
Moreno has also brought billions of dollars in appropriations to the el Paso Community. The University of Texas-El Paso, Texas Tech Academic Health Science Center, and Franklin Mountain State Park are only a few institutions which have seen the benefit of Moreno's tenure.
A member of the "Dirty Thirty" and the "Killer Ds," Paul Moreno is a true Progressive. He is a true champion for the poor, the working poor, the elderly, students, teachers, minorities, the handicapped, and more.
Moreno is often called two things, "The Conscience of the Texas House" and "Kill Bill." He's called "Kill Bill" because, over the years, he has killed more anti-Progressive legislation than most any other members. He's called the "Conscience of the Texas House" because he is that not-so-little voice who speaks up when that body goes down the wrong path and does things that aren't in the best interest of ordinary Texans.
Last session, following a hate-filled personal privilege speech by Rep. Leo Berman (R-Tyler), Rep. Moreno took the floor for a point of personal privilege. Many thought it would be the moment he announced his retirement. Instead, he renewed his commitment to the people of El Paso and the people of Texas:

I heard that yesterday, my city, my beloved city of El Paso, was accused of having a bond issue of $240 million, or something like that, and that we were doing nothing but educating illegal aliens. When I heard that, that really hurt me. When you talk about the city of El Paso, educating illegal aliens, you're talking about my children.

My family has been in El Paso for seven generations. Five of my brothers, and many of you have heard this, five of my brothers have served in the military. Five of my six brothers have served in the military. Two of my brothers-in-law, one of them was severely wounded in Europe. My other brother-in-law died as a result of agent orange, suffered in Vietnam. I have a cousin that was killed in Korea with me, died, from Denver. In El Paso, a very good friend of mine received the medal of honor. His name is Sandrocio Guillen, we call him El Mocho. And when they say that they're teaching illegal aliens, that hurts. That hurts very, very, very, very much. We should have the respect and the dignity that we as humans should give other people.

We had a good government here when Pete Laney was speaker. When he was elected the first election, I voted against him. I voted against Pete Laney because I thought he wasn't liberal enough, and I voted against him, and I think I'm the only one who's ever voted against Pete Laney. But most of you members that were here, during the Pete Laney era remember the appropriations bill that we had. Pete Laney placed me in the appropriations committee and we were able to bring an appropriations bill to this house. I opened up the debate in favor of the appropriations bill, thanks to my good friend Representative Pitts. He asked me to open the debate for the approval of the appropriations bill. We passed that appropriations bill without one dissent. At that time I said, "Paul, we're doing a good job." This is Texas, this is finally America, this is finally what you've been looking for—then something happened.

Leadership changed, and please, please, Mr. Speaker, don't take anything personal, but you have your deep political beliefs, and so does your group, and I noticed a lot of changes that happened. And when those changes happened, we started going down. Tonight I was determined to make a decision, and none of my friends changed my opinion. This country, this state, is in a worse position for Mexican Americans than it was when I first got elected. When I first got elected, there were eight of us, eight Mexican Americans. Yes, we knew—we knew our stand, we knew where we belonged. But there was respect. Now, the respect, in my opinion, has somewhat diminished. And in those days, the Mexican Americans were low in numbers, but we were still satisfied because we knew that there were very little of us and we were glad we were getting at least a little bit of it. Now things are changing.
If you have any doubt that Paul Moreno deserves re-election to the House, you should
read his personal privilege speech
.
Paul Moreno is a true progressive champion. He deserves our support, which is why he is endorsed by the Texas Progressive Alliance. Please join us in supporting Rep. Moreno by making your contribution to his campaign today, via the TPA's Act Blue page for TexRoots.
Posted by mcblogger at 08:08 PM | Comments (0) | TrackBack
Earmarks in perspective
Recently, we made reference to Bush's complaints about 'earmarks'. We stated that he was complaining about 1% of the Federal Budget.
We were wrong. It's actually less than that. It's .55% of the Federal Budget that Bush wants Congress to pass. $3.1 trillion and they are complaining about not having enough money to public education and infrastructure projects?
Posted by mcblogger at 01:48 PM | Comments (0) | TrackBack
Granger has an opponent
Kay Granger (R - Really Bad Margaritas) has a challenger according to Vince over at Cap Annex.
Tracey Smith (D-Fort Worth), a former TV and newspaper report in the DF/W Metroplex has stepped up to challenge former Fort Worth Mayor Kay Granger (R-Fort Worth) in her bid for another term as the district's Congresswoman.
Mr. Smith, we hope the people of Fort Worth send you Congress. It'll be a huge improvement over Kay and her hair.
Posted by mcblogger at 09:23 AM | Comments (0) | TrackBack
February 01, 2008
New Republican group to dump money into negative ads
Looks like there are some really rich fat, white people looking to become VERY public. And very unpopular. That's typically what happens when you start playing in politics with heavily negative groups. Like Freedom's Watch. Fresh off their unsuccessful campaign to 'catapult the propaganda' on the surge, they're now trying to scare people about illegal aliens.
Because that's worked so well for the Republicans. Their only success so far was the election of Robert Latta. In a 64% Republican OH district. Against a D who has run three times and was significantly underfunded. And may, in fact, have been mostly dead.
At this point I have to wonder, why would these people still be in business? 9/11 helped Ari's career because Bush was popular afterward. Now, Ari's real lack of talent is showing as is his rank incompetence. So who the hell would continue funding this ridiculously bad PR firm? Why none other than gambling-meister Sheldon Adelson, the billionaire chair of the Las Vegas Sands Corp. which owns the Venetian Hotel. Guess I'll be staying at the Bellagio next time I go to Vegas.
Freedom's Watch, with its close White House connections and network of Bob Perrys, is a whole new breed.

The group aims to raise and spend approximately $250 million for the 2008 cycle, a vast amount of money they apparently plan to use not only on the presidential election, but to greater effect in numerous House and Senate races throughout the country, where six figures can go a long way.

To review the White House connections: the group is headed by Bradley Blakeman, a former Bush White House official, Mel Sembler, a millionaire former Bush admbassador to Italy, and Ari Fleischer, who serves as the group's spokesman. Much of its support so far has come from Sembler and casino magnate and billionaire Sheldon Adelson, the sixth richest person in the world. (The group intends to "broaden its base" as time goes on, Fleischer says.) The group got off the ground with a $15 million effort to support the president's surge strategy in August, but it's sticking around for the long haul.
And more, via Carpetbagger...
Adelson personally wrote an $80,000 check to Freedom's Watch on Dec. 7, according to Federal Election Commission documents, just four days before the election that gave Republican Robert Latta the House seat representing the district around Bowling Green. Behind a blood-red foreground, the group's ad showed Latinos hurrying under fences and being frisked by police as a narrator accused Democratic candidate Robin Weirauch and "liberals in Congress" of supporting free health care for illegal immigrants.

Fleischer said the turn toward the immigration issue should not have been a surprise.

"To us it wasn't a broadening" of the mission, he said. "We said prosperity through free enterprise and domestic issues were going to be on the agenda. But something had to come first, and what came first was the 'surge' and the president's policies in Iraq."

Fleischer cautioned that the scope of the group's involvement in the 2008 elections has not been decided. But the roughly $100,000 ad campaign in Ohio is a good indication.
So, lemme get this straight, Ari... you're going to use an issue that's so divisive it's tearing your own party apart and driving one of the largest voting blocs in the US to your opposition? That's sooper smart, Ari.
More on Ari and BS is over at FDL.
Posted by mcblogger at 11:35 AM | Comments (0) | TrackBack
January 31, 2008
Texas in play?
Hal at Half Empty gives a some intellectual weight to a theory I've been telling people about for a while... that Texas, despite not being part of the Feb 5th mega-primary, may be THE primary for both the Republicans and Democratic candidates.
Posted by mcblogger at 01:06 PM | Comments (0) | TrackBack
January 30, 2008
Art Hall and a real conflict of interest
Let me first state that despite his age and his lack of skill as a politico, I'm voting for Dale Henry for RR Commissioner. He knows the oil and gas industry from the ground up and will do an excellent job both for industry and consumers. The RR Commission regulates the oil and gas industry in Texas and we've had nothing but industry rubber stamps on it. It's time that we have someone there who'll actually do a good job for Texans and our environment.
That said, I didn't have much of problem with his opponent. Until now. Last night in Decatur, during a candidate forum, Art Hall was asked a direct question about a possible conflict of interest should he win. Specifically, he was asked if it was a conflict of interest for his wife to work for Valero Energy, one of the companies he would be regulating if elected. He stated that it wasn't and he knew it wasn't because he contacted Valero and asked them.
Wait... Art, you contacted Valero and asked them, the company you'd be regulating, if it was a conflict of interest? Hall is a bright guy so I'm going to give him the benefit of the doubt and say it wasn't an issue of a lack of knowledge. So, then what was it? What is the explanation for contacting the wolf about whether or not it was OK to allow them to eat the sheep? Was it so easy to accept that her job (working on international issues for Valero) wouldn't be at risk should you vote the wrong way?
BUT, that's not all... the TTC is once again becoming a significant campaign issue and Art was asked directly about his support for tolls and the TTC. His response, to the say the least, was lacking. While the RRC won't have direct authority over privatizing our roads, it is a serious question for a candidate as it can show a willingness to privatize public assets at taxpayer expense. It's not clear where Hall stands on this and until it is, I'd feel a lot better not having him in office.
Posted by mcblogger at 02:02 PM | Comments (0) | TrackBack
Edwards and some R douchebag leave Presidential Race
Sadness. Can't really say anymore. Now I have a choice between lame and grating. No one ever said Democratic primary voters made rational decisions. Remember this? Now the convo turns to delegates and who's likely to get his endorsement. The Other Two are just so dullsville. Like having to hang out with your parents (not my parents, YOURS. Mine are actually kinda cool).
So long, Rudy 9/11. Go fuck yourself, asshat. It's not like we didn't warn you that 39% was an albatross.
Posted by mcblogger at 10:13 AM | Comments (0) | TrackBack
January 28, 2008
FISA SHOWDOWN ALERT
The FISA bill is headed for a cloture vote in about 40 minutes in the Senate. Greenwald has a story up about it and FDL is going to be liveblogging it. We won't because we have day jobs. However, we will be making calls to Senators about it from our personal phones. You should as well!
Posted by mcblogger at 02:20 PM | Comments (0) | TrackBack
January 26, 2008
AFL-CIO endorses Grant
Matt at BOR has the post up...very good news for Dan!
In other Grant related news, it appears that Dan did have a role in the Kerry campaign in 2004. Which puts a lie to the rumors circulating around to the contrary.
Posted by mcblogger at 12:21 PM | Comments (0) | TrackBack
January 25, 2008
Loving the news Edwards video
Posted by mcblogger at 03:22 PM | Comments (2) | TrackBack
Telecom immunity again?
That's right, kids! Much like that horrible casserole your mother LOVED making as a child, telecom immunity is back. This time, the shriveled little troll Harry Reid has joined with Cracker McConnell to shove this through...Greenwald has the text of their convo on the floor yesterday...
We have to finish FISA this week. Everyone should be aware of that point. We have to finish it this week. I know there are important trips people want to take. We have the very important economic conference in Davos that Democrats and Republicans alike would like to go to.

I say, unless we finish the bill Thursday -- and we will not be able to get to it until tomorrow night-- unless we finish the bill on Thursday, then we are going to have to continue working this week until we finish this bill. We have to finish this bill. It is not fair to the House to jam them so that they have 1 day to act on this legislation.

If we finish it this week, I have spoken to the Speaker today and they will work to complete this matter next week. It would be to everyone's advantage if we had more time to do this.

I respect what the Republican leader has said, but everyone here should understand all weekend activities have to be put on hold until we finish this bill. Now, it is possible we could finish it fairly quickly. We are going to work from the Intelligence bill, and if amendments are offered that people don't like, I would suggest they move to table those amendments. Because if people think they are going to talk this to death, we are going to be in here all night. This is not something we are going to have a silent filibuster on. If someone wants to filibuster this bill, they are going to do it in the openness of the Senate.
No, no... that wasn't McConnell. That was OUR Majority Leader, Harry Reid. Makes you feel good to have a Democrat in the Senate who's working so hard to make the President's life easy. Who else but Harry Reid would take
Absolving telecom companies for their illegal actions
Extending Presidential power to dramatic new highs
Creating, down the road, one hell of a Constitutional quagmire
so seriously?
We at McBlogger would like to take a moment to thank Senators Dodd, Feingold and Kennedy for standing up to the little old man from Nevada.

Posted by mcblogger at 01:48 PM | Comments (0) | TrackBack
TOLLS : BUSTED!
Here's a bit of fun... at the TTC-69 Townhall in Hempstead, Hank Gilbert filmed Texas Transportation Commissioner Houghton ADMITTING to using taxpayer funds to lobby for the TTC in violation of state law. In this clip, Houghton admits to hiring a lobbyist in DC to lobby for more highway money for Texas.
He's right about that number. The problem is, we've been sending majority R delegations to Washington for years and getting nothing in return. See, that's what members of Congress from this state are supposed to do... get transportation dollars flowing in.
Way to go TURF and fantastic job to Hank Gilbert for leading this fight. For those of you who don't know, one of Hank's promises during the election was to stay on top of the TTC and tolling whether he won the election or not.
Good to see at least one guy who ran for office is keeping his promises. God knows Staples isn't.
Posted by mcblogger at 11:28 AM | Comments (0) | TrackBack
Senator Watson talks to YOU
Note from McBlogger: State Sen. Kirk Watson (D-Austin) was kind enough to write a guest blog for the Texas Progressive Alliance as we continue to push our TexRoots 2008 Slate of Candidates. Texas Progressive Alliance Blogs are publishing this guest blog today. We have a special place in our heart for this piece... click here to find out why. While we do get irritated with our Senator from Travis County from time to time, we do love him to death.
A few months back, a certain progressive blogger took note of a piece I had published. This writer responded with an entry that was mostly complementary – I'd guess we agree about 90 percent of the time. But then, after hitting a point I thought was pretty inarguable, the writer called me a "MOTO."
Most of you who read Texas' great progressive blogs probably know what a "MOTO" is. I, on the other hand, had to turn to my 18-year-old son (and pop culture crutch) Preston, who steered me to something called urbandictionary.com. There, I finally learned the truth:
I am, it seems, a "Master Of The Obvious".
It was kind of a frustrating revelation, partly because it's true. But if I've learned anything at all in my year as a State Senator, it's that what's so obvious to me (and to acronym-wielding bloggers) seems downright foreign to so many others – particularly the Republican leadership in the Texas Capitol.
Here are just a few MOTO moments from the past few months:
•It's wrong for a governor to use a 39 percent mandate to rig state agencies in ways that benefit corporate contributors, privatize public roads, and ignore the real health and educational needs of this state.
•It's wrong for a lieutenant governor to wage a partisan campaign to ram through a voter screening bill that targets Hispanics and the elderly. It's worse to force a very ill senator set up a sick bed outside the Senate Chamber simply to block such a terrible, discriminatory proposal.
•It's wrong for a speaker of the House to stand before a body of democratically elected officials who gave him his office, and then declare he has absolute power to ignore them.
•It's wrong for Supreme Court justices to stretch campaign finance laws, or to ignore law and precedent in rulings that protect political contributors, or to take advantage of a politicized criminal justice process.
•And it's very wrong for a high court judge to slam shut the doors of justice as early as possible, even when it means sending a man to his death.
All pretty obvious, right? Well, not to the people who've run this state for all these years. And that's where we all have work to do.
We are right. We are anxious to do great things for Texas, to restore opportunity, and to create reasons to hope for a better future.
But we can't just know that. We can't just talk to ourselves.
We can't assume it's obvious.
We must make it apparent to anyone who cares about this state and where it's headed, and we must remind them of the most obvious statement of all: Texans cannot trust the Republican leadership.
I'm talking about the political bosses, bullies, ideologues and figure heads that control the agenda, bury the opposition, and block any bill that runs counter to their dogma.
I'm talking about the folks who are more interested in taking irresponsible pledges than in solving Texas' challenges, who will deny the most verifiable fact if it doesn't conform to their ideology, and who will embrace every budget trick before they level with Texans about what people are worth to them.
I'm talking about the select group that's denied children health care at any cost, that's allowed our colleges and universities to become overcrowded, underfunded and inadequate, that's watched our highways deteriorate while forcing Texans to choose between crushing traffic and private toll roads, and that's denied and deferred environmental problems, leaving our children to fix them.
Here's what's most obvious: only the Democratic Party will bring about the positive changes that Texans need and demand.
That means we have to do all we can this year -- we must make it obvious -- that the people of Texas must challenge the so-called absolute power of the Republican leadership. Once we make MOTOs out of everyone, Texas will elect strong Democrats in 2008.
Posted by mcblogger at 08:09 AM | Comments (0) | TrackBack
January 24, 2008
Huckabee Wins Presidency
Fighting off avatars of monstrous flying beasts, an army of Pee Wee Herman clones, and a zombified Gypsy Rose Lee, Hope, Arkansas' favorite dominionist wins the Second Life presidential race.
The outcome was still in doubt until Mike Huckabee beat back a late surge by Lee Mercer, who in typical fashion was confused by the results and started giving a victory speech, only to be stopped when an irate Al Sharpton tasered him.
Said Sharpton, "Good Lord, the man was setting back the civil rights movement 50 years, and was spouting more nonsense than me on my best days."
The president-elect, who had been trailing Ron Paul early until the residents in this bizarre world figured out that Paul was even crazier than them, was holding his victory celebration in the five million square foot super mega-church built by San Antonio's own dominionist, John Hagee.
His Vice-President running mate, resurrected poltergeist James Stockdale, was nowhere to be seen, but word filtered to Huckabee that Stockdale was still in mortal combat with Dungeon and Dragons aficionado Clement Manor.
Several months ago, Manor had tried to use the Paralytic Poison from Astral Stalker to force Huckabee to deplete his SL teleporting skills. In some quirk of cosmic dustup, the strategy interfaced with Second Life's operating system, pulling the deceased Stockdale, whose afterlife was spent sailing his yacht with Playboy bunnies in a very calm and peaceful Gulf of Tonkin, through a dimensional rift. Needless to say, Stockdale was livid, and swore vengeance on Manor.
In his first speech since winning, Huckabee, who declared that his ulterior motive for winning was to cause an apocalyptic ending to Second Life, was cheered by all out-worlders who have grown increasingly hostile to this wasteful human endeavor.
Not to be outdone, a revived Mercer, said, "Scrumpdelicious attribution from protective regulate the giving of enforcement of exact moment of equivalent regarding federal autobiography through certification….."
He was then vaporized.
Michael Bloomberg, along with running mate Mary Carey, had created a parallel candidacy with the slogan, "Bi-partisan and unity for bi-partisan and unity sake with emphasis on bi-partisan and unity… oh, and change too."
However, the liaisons of community standards for SL invoked the "Big Six" rule on Carey who on campaign stops would clap twice and say "Strap-on, strap-off", and then proceed to demonstrate the act. A bit of a rile developed from a great number of male residences who had marked hard core porn as their number one interest during the SL login process.

Posted by Captain Kroc at 08:42 PM | Comments (1) | TrackBack
A fine candidate for President
As The Mayor said, if Time Cube were a human being, it would be this guy. And he's running for President.
Why don't the crazies ever file to run as a Republican? Oh... wait. Forgot about him.
Posted by mcblogger at 08:36 PM | Comments (0) | TrackBack
Juan Escobar has an opponent with CradDICK connections
Well, it would appear that Juan Escobar's opponent is being helped by none other than Joe Garcia, the Republican Leininger lobbyist who is actively supporting Mindy Montford in the Democratic Primary. I met Mindy last night (Burberry shirt, Mindy) at UDems and honestly found her to be an intelligent person who would make a great DA. Anywhere BUT Travis County.
The unique nature of the Travis County DA's office makes this an important post in statewide politics. I'm sure there's no quid pro quo between her and her R supporters. However, politics is all about perception and the perception is damn hard to shake. Especially when you have a major supporter and contributor pushing hard to take out a good member of the Democratic Caucus in the House.
Posted by mcblogger at 02:05 PM | Comments (0) | TrackBack
January 23, 2008
HD 52 Candidates in Review
EOW has a great piece up with help from the AAS beaking down the R candidates in HD 52. The one that will probably oppose Maldonado is Daniel, the Krusee clone. He loves him some tolls which will go over big with the toll loving people in HD 52.
Posted by mcblogger at 11:33 AM | Comments (0) | TrackBack
January 22, 2008
Ol' Scrotum Face Calls It Quits
Fred Thompson, who for some inexplicable reason was once considered a leading contender for the GOP Presidential nomination, ended his quest for the White House today. Well, "quest" might actually be too purposeful a term. What Fred (described as "dumb as hell" by Richard Nixon) did was more akin to wandering from room to room looking for... oh, damn. "Honey! what was I looking for again?"
Jeri, Thompson's trophy wife. expressed relief that the campaign was finally over and that now hubby no longer had an excuse to put off cleaning out the garage.
Posted by mayor mcsleaze at 06:36 PM | Comments (0) | TrackBack
A Fundraiser for Mindy
There's a fundraiser for Mindy Montford next week... here are the deets:
Dear fellow friends: You are cordially invited to join Chuck Mains and Joe Garcia for a fundraising event for the election of
Mindy Montford Candidate for Travis County District Attorney
Tuesday, January 29th, 2008 5:00 - 7:00 p.m. Ringside at Sullivan's 300 Colorado Street
Cash Bar
Thank you for your consideration.
My problems with this...
Sullivan;s. I mean come on! The place is a joke and the food compares well only to Ryan's Steakhouse Buffet. That place jumped the shark YEARS ago. I evaluate potential dates by their restaurant choices... if they pick Sullivan's, I know they're all flash and no substance. Or stamina.
Cash Bar?!?!! What. The. Fuck. A tab at Sullivan's isn't that bad... maybe $200-300. How much are y'all planning to raise?
Chuck Mains and Joe Garcia. Who are they? Glad you asked... Joe Garcia works as a lobbyist for Dr. Hospital Bed Leininger and is a partner of Mike Toomey (39%'s former CoS) and chief lobbyist for Texans for Lawsuit Reform (the group that gave us HIGH insurance rates and the inability to collect from bad doctors). He's also close to Bill Messer, who is a BFF of Republican House Speaker Tom Craddick.

Chuck Mains is a member of Senator Eltife's (R - Tyler) staff.
You know, I wasn't so much for this 'the Republicans are trying to sneak one in one us' paranoia going around, but now I'm all about it. Which is why I'm pointing you to this link from Vince.
Finally... am I the only one who has a problem with a DA named 'Mindy'? It's like a sheriff named 'Pickles'. Mindy, thrilled you got away from the monomaniacal McCracken. However, you're too close to some people who need to STAY THE FUCK OUT OF THIS RACE. Oh, and if anyone goes to the fundraiser, please let me know. I'll meet you for drinks later to debrief. And I'LL BUY.
Posted by mcblogger at 02:46 PM | Comments (0) | TrackBack
Giuliani the vengeful dick
Bet you money someone in the Giuliani campaign gets fired for not killing this story in the NYT about Giuliani's tenure as Mayor of NYC. Let's just say he left a lot of bodies in his wake...
In August 1997, James Schillaci, a rough-hewn chauffeur from the Bronx, dialed Mayor Giuliani's radio program on WABC-AM to complain about a red-light sting run by the police near the Bronx Zoo. When the call yielded no results, Mr. Schillaci turned to The Daily News, which then ran a photo of the red light and this front page headline: "GOTCHA!"

That morning, police officers appeared on Mr. Schillaci's doorstep. What are you going to do, Mr. Schillaci asked, arrest me? He was joking, but the officers were not.

They slapped on handcuffs and took him to court on a 13-year-old traffic warrant. A judge threw out the charge. A police spokeswoman later read Mr. Schillaci's decades-old criminal rap sheet to a reporter for The Daily News, a move of questionable legality because the state restricts how such information is released. She said, falsely, that he had been convicted of sodomy.

Then Mr. Giuliani took up the cudgel.

"Mr. Schillaci was posing as an altruistic whistle-blower," the mayor told reporters at the time. "Maybe he's dishonest enough to lie about police officers."

Mr. Schillaci suffered an emotional breakdown, was briefly hospitalized and later received a $290,000 legal settlement from the city. "It really damaged me," said Mr. Schillaci, now 60, massaging his face with thick hands. "I thought I was doing something good for once, my civic duty and all. Then he steps on me."

Mr. Giuliani was a pugilist in a city of political brawlers. But far more than his predecessors, historians and politicians say, his toughness edged toward ruthlessnessand became a defining aspect of his mayoralty. One result: New York City spent at least $7 million in settling civil rights lawsuits and paying retaliatory damages during the Giuliani years.

After AIDS activists with Housing Works loudly challenged the mayor, city officials sabotaged the group's application for a federal housing grant. A caseworker who spoke of missteps in the death of a child was fired. After unidentified city workers complained of pressure to hand contracts to Giuliani-favored organizations, investigators examined not the charges but the identity of the leakers.

"There were constant loyalty tests: 'Will you shoot your brother?' " said Marilyn Gelber, who served as environmental commissioner under Mr. Giuliani. "People were marked for destruction for disloyal jokes."

Mr. Giuliani paid careful attention to the art of political payback. When former Mayors Edward I. Koch and David N. Dinkins spoke publicly of Mr. Giuliani's foibles, mayoral aides removed their official portraits from the ceremonial Blue Room at City Hall. Mr. Koch, who wrote a book titled "Giuliani: Nasty Man," shrugs.

"David Dinkins and I are lucky that Rudy didn't cast our portraits onto a bonfire along with the First Amendment, which he enjoyed violating daily," Mr. Koch said in a recent interview.
Oh, yes... it gets better. Apparently, when Mayor 9/11 was contemplating a run against Hillary for Senate, Giuliani couldn't stand the thought of his successor being a political enemy. So, he spent millions on a campaign to alter the city charter that voters soundly rejected, 3-1. Read the whole article to find out just a few of the many things Mayor 9/11 did to enemies, real and perceived. The man made Nixon look perfectly forgiving and magnanimous.

Posted by mcblogger at 01:08 PM | Comments (0) | TrackBack
Oh Really, TinaFish? You're this dumb?
The TXGOP sent out an email yesterday asserting that Rick Noriega 'accused Teachers of being in the cheap seats'. Seriously. What TinaFish didn't pick up on is that Lt. Col. Noriega was talking specifically about Ray McMurrey who has spent an inordinate amount of time in his campaign, and in his speech to the AFL-CIO convo on Saturday, basically trying (unsuccessfully) to tear down Noriega. Here's the quote which TinaFish included in VERY small print:
Go read the article and Vince's summary on Noriega's speech (which received a standing ovation, natch). The reality is that while Ray's been doing an admirable job teaching kids in his school, he hasn't been fighting some of the battles that Noriega's fought in the Texas House against Republicans like TinaFish. Battles to increase Teacher pay, for example.
All this brings to mind, though, just how bad Republicans like Noriega's eventual opponent Senator John Cornyn have been for Texas teachers. Here's one and here's another. Then there was this about Republicans trying to destroy the pensions that Teachers have been promised. Here's something about keeping Teachers from Social Security income they deserve. If memory serves, Senator John Cornyn actually voted for this along with the other Republicans in Congress from Texas.
I'd link more (there are eight pages of them over the last two years) but I think you understand as well as I do that the real people who want to keep Texas Teacher's in the 'cheap seats' are the Republicans. They've certainly been doing a good job of it so far.
Sorry to break this to you, TinaFish, but Cornyn's going to be running against Lt. Col. Noriega. And he's going to kick Senator John Cornyn's ass.
Posted by mcblogger at 09:02 AM | Comments (3) | TrackBack
January 19, 2008
Oh, my... this isn't at all good for Dawnna
Since the recent revelation that Dawnna's now uncommitted in the Speakers race (which is about as believable as me saying I have a 12" cock), we've been looking for an article in the Statesman regarding Dawnna's true intention to stand by her man and finally found it courtesy of a comment by Matt to a thread about Dawnna's fundraising.
A pro-Craddick Democrat, Rep. Dawnna Dukes of Austin, said she's sticking with him. She cited her success on measures offering incentives to companies to make movies and TV shows in Texas

>
Yes, her legislative initiatives to help the film industry. Turns out, she stood to personally gain on that, according to CapAnnex...
Here's a fact pattern that would make any 1st year law student with the intent of becoming a District Attorney froth at the mouth. And every bullet is footnoted so that you don't have to take our word for it, you can see for yourself.

*Dukes's company, DM Dukes & Associates, gets hired by a company named Catellus Development Group sometime during or before 2006. (1)

*Catellus is the developer who is redeveloping the old Robert Mueller Airport, in Dukes's East Austin district.(2)

*Dukes is listed on Catellus brochures as a contact. (3)

*Dukes's company, DM Dukes & Associates is listed on the Robert Meuller web site as a contact for Catellus. (4)

*Dukes attends neighborhood association meetings, not in her capacity as a State Representative, but in her capacity as an agent of Catellus.(5)

*One of the anchor tenants and crown jewels of the new Mueller Development is The Austin Film Society. (6)

*During the legislative session in 2007, Dukes passed HB 1634, a bill that provided a mechanism for $22 million in incentives for the film industry and the Austin Film Society.(7)

*Dukes and one of her Republican pals, Rick Perry, appeared together at a press conference and bill signing ceremony at the Austin Film Studios.(8)

*Dukes issues a press release bragging about her bill that explicitly states that her bill will benefit the Austin Film Studios. "Film Incentive legislation will not only benefit the Austin Film Studios presently located at Robert Mueller in District 46 but also the planned $2.5 billion Villa Muse studio development to be located in District 46." (9)

*Dukes potentially violates Texas House Rules and the Texas Constitution by never disclosing her personal or business interest with Catellus Development.

*Article 3 Section 22 of the Texas Constitution requires "A member who has a personal or private interest in any measure or bill, proposed, or pending before the Legislature, shall disclose the fact to the House, of which he is a member, and shall not vote thereon."(10)

*Rule 5 Section 42 of the Texas House Rules sets out this same requirement

We are that the mainstream media has not picked up on this story!

Here you have an elected official working for a multi-million dollar developer as a consultant, who then goes and gets $22 million taxpayer dollars for an incentive program that benefits one of the developers anchor tenants.
Gee. And here we were thinking that she was at least smart enough just to steer the contracts to her sister. Go help Brian Thompson today.

Posted by mcblogger at 02:43 PM | Comments (0) | TrackBack
January 18, 2008
Landing a solid hit
The Thompson campaign's latest email details out just how many kids have been left off CHIP as a result of what Rep. Dukes and a bunch of Republicans did. Full text in the supersize
Meanwhile, Elise Hu over at KVUE has more on Dawnna's Republican-heavy finance report. Bill Miller and Hillco have been busy writing checks to keep Dawnna in the style to which she's become accustomed. She's also got a rather insignificant fundraising advantage... insignificant since, because of his late entry, Brian has put a chunk of his savings into the race which leaves them pretty evenly matched as far as cash on hand. And Brian's fundraising is just now getting into gear.
The really amusing part of Elise's article is that Dawnna is apparently uncommitted in the Speaker's race. She won't come out and commit to not voting for CradDICK, but her consultant says...
"Dawnna is uncommitted in the speaker's race. She has not signed a pledge card for any candidate. Any assumptions or assertions by Brian to the contrary are complete lies."
Uhm... yeah. Sure. Whatev. I guess the Speaker vote had a bit more traction than anticipated.
If you really want change in the Lege, go throw some support to Brian Thompson.
January HHSC Report Shows Dukes's Vote Against Fully Funding CHIP Leaves 3422 Travis County Children Without Health Care Thompson: "I'll never compromise the health care needs of Travis County kids" According to a recent report from the Texas Health and Human Services Commission (HHSC), at least 3422 Travis County children remain uninsured through the Children's Health Insurance Program (CHIP) as a result of the draconian budget cuts enacted by the Republican-controlled Legislature in 2003. When given the opportunity to rectify this injustice, Rep. Dawnna Dukes joined 74 House Republicans and seven Craddick Democrats to defeat a Democratic amendment that would have fully funded the Children's Health Insurance Program.

"Rep. Dukes's vote against fully funding the Children's Health Insurance Program is a perfect example of why her allegiance to Republican Speaker Tom Craddick is an issue in this campaign," said Brian Thompson, Democratic candidate for House District 46. "Rep. Dukes's vote against fully funding CHIP proves that pledging your absolute loyalty to this Republican Speaker means voting against the best interests of your district and denying at least 3422 Travis County children the health care they need."

Amendment 4 to House Bill 109 would have restored all of the children removed from CHIP in 2003 and would have reverted Texas to pre-2003 CHIP enrollment levels of at least 507,259 children by adding an estimated 200,000 kids back to the CHIP program.

"There are at least 3422 children in Travis County who will go to sleep tonight without health care because Rep. Dukes joined 74 Republicans and seven Craddick D's to vote against fully funding the Children's Health Insurance Program," Thompson said.

According to official HHSC statistics, 12,635 children in Travis County were enrolled in CHIP in September of 2003. Today, 3422 of those children still do not have health care coverage. The January, 2008, CHIP enrollment for Travis County was only 9,213, meaning Rep. Dukes's vote against fully funding CHIP continues to leave thousands of Travis County children uninsured.

One of the most pressing issues for East Austin families is health care for our children. Texas has the highest number of uninsured children in the nation at 1.5 million. More than half of the uninsured children in Texas are Hispanic. Of the 1.5 million children uninsured in Texas, approximately 850,000 of these children are eligible for CHIP or Medicaid.

"It is immoral to deny a child the health care he or she needs," Thompson said. "When my opponent voted against fully funding CHIP, she turned her back on at least 3422 kids in Travis County. If the people of HD 46 vote for change on March 4, I want them to know that I will never compromise the health care needs of Travis County kids."

Rep. Dukes's Record of Failure: denying children health care and voting against making more children eligible for the Children's Health Insurance Program (CHIP)


* FACT: Rep. Dukes voted against fully funding CHIP. Rep. Dukes joined 74 House Republicans and 7 Craddick Democrats to kill a proposal that would have restored CHIP funding to the pre-2003 levels of at least 507,259 Texas kids. (Amendment No. 4 to HB 109, Record vote #267, Tuesday, April 3, 2007, HOUSE JOURNAL PAGE #1505)
* FACT: Rep. Dukes voted against making more families eligible for CHIP, twice. (Amendment No. 5 to HB 109, Record vote #268 on Tuesday, April 3, 2007, HOUSE JOURNAL PAGE #1506, and Amendment No. 6 to HB 109, Record vote #269 on Tuesday, April 3, 2007, HOUSE JOURNAL PAGE #1507)
* FACT: Rep. Dukes voted against allowing thousands of Texas children to qualify for CHIP. (Amendment No. 10 to HB 109, Record vote #271 on Tuesday, April 3, 2007, HOUSE JOURNAL PAGE #1511)
* FACT: Rep. Dukes voted against including enrollment and renewal policies that allow for coverage under the perinatal program. (Amendment No. 17 to HB 109, Record vote #274 on Tuesday, April 3, 2007, HOUSE JOURNAL PAGE #1515)
About CHIP

The Children's Health Insurance Program is designed for families that earn too much money to qualify for Medicaid but cannot afford health insurance for their children. The principal goal of CHIP is to provide primary and preventive care to the uninsured children of Texas families including children with special healthcare needs. CHIP is funded jointly at the federal and state level. For every $1.00 of funding provided by Texas, Texas receives a federal match of over $2.50. The CHIP program was put in place to support the working poor, not the unemployed. Fully funding CHIP is the right, moral, decent, and economically sensible thing to do.
Posted by mcblogger at 08:59 AM | Comments (0) | TrackBack
January 16, 2008
Vicki stands by her man
You gotta love it when people have the integrity to stand up and boldy declare they are FOR pay to play politics, greed and yes, a smattering of corruption. It shows gumption if nothing else, which is what Rep. Vicki Truitt is really all about. Well, that and rank stupidity...
"I have not seen or experienced the injustice that you write about," Truitt said, referring to journalists who she said have unfairly portrayed Craddick as a tyrant.
Rep. Truitt... a word of advice. You RUN from things that can hurt you. In case you didn't realize it, just the mere mention of CradDICK in a race has become enough to swing voters over to a Democrat. In a heavily Republican area. In fact, here in Texas he's become the equivalent of calling your opponent a librul. Texans hate CradDICK more than they hate libruls. Even the man's chief of staff is jumping ship.
Granted, you may well be safe. But then again, Moffat may make this an issue and pull that seat right out from under you. Just sayin' is all.
Posted by mcblogger at 12:34 PM | Comments (0) | TrackBack
January 15, 2008
Presidential Race...Is it just me?
I'm watching the D debate in Nevada right now. They are flashing up the big news that Romney has won Michigan (who cares?) and McCain has come in second (again, big deal). Meanwhile, Tim Russert is talking and it occurs to me that he's kind of an intentional mongo. Am I just being too harsh or is he really just a dumbass in a cheap suit?
If NBC is paying him more than $1000/wk, they are dramatically overpaying.
Meanwhile, the polling in Nevada is basically 30/30/30. Is there anyone out there who still thinks we'll be all done on the 5th of February? But what of the Republicans, you ask (why ARE you asking that)?
John McCain: 22 percent Rudy Giuliani: 18 percent Mike Huckabee: 16 percent Mitt Romney: 15 percent Fred Thompson: 11 percent Ron Paul: 6 percent Duncan Hunter: 1 percent
You know, when the front runner is at 22%, maybe you Republicans should start thinking about laying down for a nap this year.
Posted by mcblogger at 09:07 PM | Comments (0) | TrackBack
LJD and The Case Of The Very Nasty Push Poll
You know, I'm a HUGE fan of push polls, especially when Democrats employ them against Republicans. Though I'm not much of a fan when used in a primary, I also realize they are sometimes a necessity. Only problem is, you better not get caught because the damn things backfire painfully. Let's hope they do for Larry Joe Doherty.
Many of us have been subjected in recent days to a telephone push poll paid for by Doherty in which he spreads personal smears about his primary opponent, Austin's own Dan Grant. This sleazy tactic is straight out of Karl Rove's playbook for negative campaigns. It's also sloppy as hell and everyone who knows Dan realizes it's about as far from the truth as one can get. In fact, much of it is the same crap that a certain former member of the SDEC has been spreading all over Austin. We've all heard it and we all know it's not true.
As far as I'm concerned, the push poll disqualifies Larry Joe for serious consideration as our representative in Congress, mostly because a real push poll would have been about real issues. Not, for example, a bunch of patently false information. That ain't the kind of strategy that's going to be beat the Congressman from Clear Channel.
This transgression is just the latest from the Houston lawyer and former TV judge. Earlier this month, Doherty's dalliance with rightwing Congressman Lamar Smith was uncovered in a bizarre fundraiser for Republican Presidential candidate Mitt Romney. Larry Joe's own finance chairman, Jim 'Mattress Mac" McIngvale, co-sponsored the fundraiser.
But it doesn't end even there. Last fall, Austin Political Report uncovered a clip from the late Anna Nicole Smith's reality show in which Larry Joe, the host of his own (cancelled) show on Fox, invites the troubled socialite to be a judge. Enough said about his judgment.
Serious times call for serious candidates. Larry Joe Doherty isn't serious.
Check out Dan Grant's plan for addressing the economic woes that McCaul and his allies in the White House are inflicting on low-income and middle-class families. Wouldn't it be nice to have a Congressman who wants to do something other than campaign. Badly?
Posted by mcblogger at 08:47 AM | Comments (2) | TrackBack
January 13, 2008
Now that's just stupid
I normally have to go to visit Malkin's site to hear an argument this patently ridiculous...
So, he will continue his simple-minded, losing campaign and deny Barack Obama and Hillary Clinton the one-on-one contest they deserve. If John Edwards stays in the race, he might, in the end, become nothing other than the Southern white man who stood in the way of the black man. And for that, he would deserve a lifetime of liberal condemnation.

Maybe Edwards is already not a factor in the campaign because Edwards voters would split evenly between Senators Obama and Clinton if Edwards dropped out. But we'll never know unless Edwards does the right thing and gets out of the way of the only two candidates who have a chance to get the nomination.
Where to begin... OK, let's jump in on the idea that Edwards is a racist and/or a sexist. First off, this is a race between Democrats and anyone who'd vote for Sen.'s Clinton or Obama because of a uterus or superficial features is no better than the person who won't vote for them because of those things. Sadly, there are a lot of them. Either that, or people really like palliatives such as Obama's 'message of hope' that we can easily have for a better future instead of actually, you know, working and sacrificing for it. As for Clinton, gimme a break... she's 'prepared and ready'. I wonder if she was on the team in the Clinton Administration that decided it would be good to let the refiners cut production capacity, one of the reasons gas is now more than $3.00/gal.
Next up, impossible for him to win... Edwards is beginning to edge higher in the national polls and this will likely continue. Plus, as many have pointed out, Edwards beats all the Republicans. Clinton is beaten by McCain and Huckabee. Isn't this about winning the White House?
Jane Smiley has a nice counterpoint to all of O'Donnell's crap and asks, simply, for him to shut up. I'll leave you with that and one more thing. If Edwards drops out, it isn't Hillary that will benefit.
Posted by mcblogger at 12:07 PM | Comments (0) | TrackBack
January 12, 2008
Delegate counts and why Edwards isn't out yet
The WaPo has an article up about Edwards and the play going forward. To be honest, the thing is overwrought and over concerned about South Carolina and Nevada. However, it does point out that Edwards is not someone that can be ignored. Why? Because this isn't going to end in South Carolina or Nevada. Not by a long shot.
Keep one thing in mind... delegates will decide the nominee and right now Edwards is 5 behind Clinton and 6 behind Obama. Two contests down, and no one has even had a big screw up yet. Needless to say, much can change and, if things keep progressing as they have then my theory about Texas playing a far more substantial role could become reality.
Wouldn't it be funny if the D nomination came down to a state that hasn't voted for a Democratic candidate for President since 1976? Oh, how things change.
Posted by mcblogger at 05:57 PM | Comments (0) | TrackBack
January 11, 2008
Kerry endorses Obama...
Long time readers know that I think Sen. John Kerry is a kind of a douche. When people talk about Democrats being able to snatch defeat from the jaws of victory, they are talking about the horrendous 2004 campaign. That being said, I do respect the man's service and appreciate what he does for the country in the Senate.
I also think his endorsement is largely meaningless, though I must admit I look forward to removing myself from his mailing list when the first one from the Obama campaign comes through. I may respect the man but I don't feel a need to vote for the person he endorses. If anything, it may have hardened my opposition. Which kinda makes this guy look stupid.
Aside from those two practical components, Kerry's support for Obama could have powerful symbolic weight as well. One of the central questions still surrounding Obama is whether he is up to the job of president, whether he carries the requisite experience after just a few years in the Senate to serve as commander in chief. Kerry, a decorated military man and experienced hand in foreign affairs, can help to validate that Obama is indeed up to the challenge.

"Rank and file Democrats view [Kerry] favorably and see him as a serious person," said one source close to the Massachusetts senator. "If he says Obama is 'ready' it will reassure many who were unsure."
No, it will make us think of the miserable 2004 campaign.
Posted by mcblogger at 10:58 AM | Comments (0) | TrackBack
January 10, 2008
Yes. And I hated Jar-Jar as well
Ladies and Gentleman, I give you the Star Wars Guide to the Candidates, 2008

Admiral Akbill
Man, I tell you what... you read Admiral Akbar's resume, take a look at his long career, his credentials, and it's amazingly clear how qualified he is to run a major government. What about his prescient snap evaluation... "It's a trap!" We sure could have used that in Iraq. Well-suited to command, noble, respected by his followers and his peers... but then, Akbar is from a place most people don't care about (Mon Calamari? Are you serious?) and looks vaguely ethnic... is he, I don't know... too fishy to be prez? Anyway, he deserves your vote. Who this Richardson cat is, I have no idea.
Kucinich as a Jar-Jar makes clicking the link worthwhile.
Posted by hbalczak at 04:50 PM | Comments (0) | TrackBack
Yes. And I hated Jar-Jar as well
Ladies and Gentleman, I give you the Star Wars Guide to the Candidates, 2008

Admiral Akbill
Man, I tell you what... you read Admiral Akbar's resume, take a look at his long career, his credentials, and it's amazingly clear how qualified he is to run a major government. What about his prescient snap evaluation... "It's a trap!" We sure could have used that in Iraq. Well-suited to command, noble, respected by his followers and his peers... but then, Akbar is from a place most people don't care about (Mon Calamari? Are you serious?) and looks vaguely ethnic... is he, I don't know... too fishy to be prez? Anyway, he deserves your vote. Who this Richardson cat is, I have no idea.
Kucinich as a Jar-Jar makes clicking the link worthwhile.
Posted by hbalczak at 04:50 PM | Comments (0) | TrackBack
Jay Coxlie is yo mama
(Word to the wise... be careful with the Cornyn links... not all of them go where you think they go)
Apparently, someone tried to social engineer a schedule out of Sen. Cornyn's office and told them they were with McBlogger. Not so much, but to be honest I would have called to get a copy of it if someone had just asked. I'm as curious as the next guy about who Cornyn is sucking off up to for political donations.
Yes, Senator Cornyn, we know fundraising has been tough. CradDICK is having the same problem. Really sorry about all that. It kills us. Really. Now, about that schedule, you can email that bad boy to mcblogger@mcblogger.com.
All this makes me wonder if Selby's out of the loop on the R side or just not interested in doing stories that aren't fed to him. On a plate with a side of pork fat. The really interesting thing is that Sen. Cornyn's fundraising has been pretty lousy. We'll see it on paper soon enough. Maybe Gardner's waiting for that. He sure isn't interested in getting a URL right.
It's WWW.MCBLOGGER.COM
Lucky for Gardner that my server autocreates subdomains on the fly. Like this...
www.senatorjohncornyn.mcblogger.com
www.wgardnerselby.mcblogger.com
Cool, no? Personally. I thought the whole thing was kind of a joke, much like Junior John's tenure in office. The sad thing is how the Cornyn people handled it... the boring nerds called Gardner. Had it been me, I would have sent a fake schedule. That would have been funny. Instead, the not-so-clever folks at Senator Cornyn's office decided to report it to Selby. Morons.
ANYWAY, in other Cornyn related news, our Senator has agreed to debate that whacko Kilgore. Of course, they've yet to set a date and I'd be willing to bet $100 that one just won't come up prior to the primary. Because he'll have to be in Washington or something. Though, I have to admit... I'd love to see them out pander each other on their 'Christian' values. Especially since both of them are about as Christian as the Romans who crucified Jesus.
Finally, we're going to have another episode of Cornyn The Author. In this edition, our very earnest but truly unfortunate Senator is talking about pecans which we're thinking he pronounces Pea-CANS. Because he's damn near a yankee (you did catch that he uses a 28 gauge shotgun, right?) and can't pronounce the word correctly anymore.
Declared "the only tree nuts native to North America," pecans appear early in the recorded history of Texas. Soon after landing on the Texas coast in 1528, explorer Cabeza de Vaca met the Mariame Indians—Native Americans who came to the lower Guadalupe River each fall "when the ripe nuts began to drop like manna," according to historian Paul Schneider.

Newly arriving Texas pioneers would later discover pecans to be a steadfast friend, creating enjoyment when other food was scarce.

Early Texas publisher William A. Trenckmann remembered a childhood holiday season during the Civil War when the family Christmas tree was a "young wild peach tree." Its ornaments included nuts and Christmas cookies created despite wartime shortages of wheat flour. "The baking was accomplished with corn meal and honey," and "scalded peach kernels and shelled pecans were used for decorations."
The rest of the thing rambles on for a while about pecans in Texas history. Something about Governor Hogg wanting one at the head of his grave. Texas grows a lot of pecans (along with Georgia). Pecans are good for you (master of the obvious, this guy). Pecans are an important part of our history.
See, I got that out in one paragraph. It took Senator John Cornyn paragraph after mind numbingly bad paragraph. My condensed version is way better. You'll die of boredom before you finish reading his tome.
Posted by mcblogger at 12:33 AM | Comments (0) | TrackBack
January 08, 2008
What do Larry Joe Doherty and Mitt Romney have in common?
Apparently, a fundraiser. Via CapAnnex
In a Republican primary, this wouldn't make much difference. But, in a Democratic primary, it's another story.

However, the revelation that Larry Joe Doherty's finance chair Jim McIngvale hosted a reception for Mitt Romney in mid-December could change the dynamic of the CD 10 primary–and not in Doherty's favor.
Not much of a political story but hey, it's a slow news day. LJD also did well, according to the campaign, in Q4 fundraising. What's surprising is that he's burned through more than 34% of his total funds, which included $100k from himself.
Posted by mcblogger at 02:46 PM | Comments (0) | TrackBack
A tale of two Candidates
Ratcliffe has some video up of the Democratic event in Sun City - Georgetown last week. It features two of the Democratic candidate, Ray McMurrey and Rep. Rick Noriega. Go watch them as see what you think about them. My opinion has still not changed especially since McMurrey found it perfectly OK to waste some of the time he should be using to talk about himself to discuss 'party politics' and allude to Rick being the preferred candidate of the party leadership.
"This is not about who deserves the seat. This is not about who is connected to the party. This is not about the party bosses picking the next senator," McMurrey said.
William and Ray, how many times do you think I'll have to goddamn explain this before you pull your heads out of your goddamn asses and FUCKING LISTEN? The party leadership tried to get Rick out of the race when Watts was still in it. Myself and many others begged Rick to run and he finally made the decision even though some of the same leaders you deride were telling him not to run. Do you get it? There is no massive conspiracy... the netroots and the grassroots, the people for whom you claim to speak, asked REPRESENTATIVE RICK NORIEGA to run.
As for not giving you a chance, when did you announce your exploratory committee, Ray? In June? No, I would have remembered that. It was after Watts dropped out, wasn't it? If you were really serious about running, you need to start gathering support about 10 months out from the primary. So, what you're in effect asking for is a 'do-over' based on your lack of knowledge and skill? Not so much.
On the topic of issues, as we've discussed before, an issues page does not a candidate make. I would also say that you're probably closer on issues than you think. However, none of that will matter as you'll no doubt argue even the smallest difference.
Not to mention being completely irrational when it comes to troop withdrawal from Iraq. You and Richardson live in this fantasy world where no one will take potshots at the troops as they leave. Things have to gradual and they will take time.
What really pisses you off, Ray (or should) is that we all know more about the issues than you. And we're supporting another candidate.
Posted by mcblogger at 10:49 AM | Comments (4) | TrackBack
New Edwards Ad
Via BlueBloggin'
Posted by mcblogger at 09:18 AM | Comments (0) | TrackBack
January 07, 2008
FISA coming back...
The Republicans and the Administration (along with, unfortunately, Senate Majority Leader Harry Reid) are still pushing for FISA reform to take away your rights and gut the Constitution they've all sworn to uphold.
With a lot of help, Senator Dodd beat them back late last year. Now they're coming back. Just for shits and grins, I thought we'd recap something I found while doing some research last week. What the government wants to do is wiretap at least tens of millions of Americans. What they are doing, because they have credible intelligence, is wiretapping about 100.
What, of course, has never been explained is why they want to violate the privacy of millions. At the end of the day, they are hoping all of us will be more skeered of the terrarists than our government in the hands of the same people who brought you Gitmo! The Holiday Hotspot!. Actually, we're not scared of terrorists or the government.

Posted by mcblogger at 03:47 PM | Comments (0) | TrackBack
Obama and doubt
The WaPo has an interesting article up about transformational change and doubts about Obama's ability (or any Democrat's for that matter) to bring it to fruition. The comedic thing in the article are the quotes from the R's, to wit...
"It's clear he is a phenomenon," said Rep. Patrick McHenry (R-N.C.), a conservative scrapper who revels in Washington's partisan warfare. "He will use style and grace to achieve liberal goals, which is absolutely politically brilliant but intellectually dishonest."
What little Patty is upset about is that the majority of the Republican Party no longer agrees with his worldview and actually has more in common with Democrats. Those are the people who are being pulled into Obama and Edwards. They are the ones that will create a governing majority, a true mandate for taking the US into the 21st century. Patty's also mad because the old 'liberal' vs. 'conservative' labels no longer hold sway when progressives are an easy majority in this country. Just look at Iowa.
I'll be honest, I still think Obama is kind of lame but I do think he'll bring about some of the changes we all so desperately want. I think Edwards, with a strong populist message, will have more success and therein lies the difference between the two.
I'd rather more get done than fewer feelings get hurt. Pretty interesting times when, in a primary, the worst thing you can say about the other guy is that he's too nice. That's something the Republicans definitely can't say.

Posted by mcblogger at 01:19 PM | Comments (0) | TrackBack
Polling in HD46
Wednesday night I got a call from one of my close friends in HD46 who asked me if I knew who was running a push poll in the district. We didn't get to talk long because I was with some great people having drinks, however, we talked again Saturday and he told me it wasn't a push poll.
We're speculating it was Dawnna trying to find out about her negatives. How deeply has information penetrated regarding the fact that most of her funding comes from Republicans like HillCo, for example. And how many people in the district know about her support of CradDICK.
It did not ask if people knew CradDICK was a Republican. It also didn't ask if they knew about her lack of support for fully funding CHIP. It also didn't ask how folks felt about tolling their freeways.
Wonder when that call is coming?
Posted by mcblogger at 10:59 AM | Comments (0) | TrackBack
O'Reilly gets into it with Obama staffer
Via ABCNews...
O'Reilly was trying to get access to Obama, who was unknowingly just working the rope line about ten feet in front of them. Nicholson, standing 6 foot, 8 inches in height and a veteran of Senator John Kerry's, D-Mass., 2004 campaign, was standing next to Obama, as his job calls for, and thus blocking O'Reilly's cameraman from a clean shot of Obama.

So O'Reilly took things into his own hands…literally. He maneuvered around the steel gate barricade, yelled expletives at Nicholson, and called him "low class."

In an interview after the incident, Nicholson said, "He grabbed me with both arms and tried to push me out of the way."

Secret Service then stepped in and told O'Reilly to get back.

After the commotion, Obama shook hands with O'Reilly.

Nicholson, however, said he'd never seen anything like it.

"I've never seen a member of the press lay hands on a staffer before."
I wish Nicholson had hit him. In the face. HARD. And yes, all you wonderful political campaigns out there, that IS what he should have done. Then gut punched him. Someone needs to teach the man some manners.

Posted by mcblogger at 09:03 AM | Comments (1) | TrackBack
January 05, 2008
Calling the election
So, I'm eating dinner before I go out (gotta have a base to dump scotch onto) and watching the Republican debate. The last Q was about energy and the price of oil.
The only one who made sense was Ron Paul. Shit. You. Not. He nailed the question by talking about the collapse in the dollar (though he missed that it was caused in large part by profligate deficit spending resulting from Bush's tax cuts and our trade deficit) and our aggressive posture in the middle east. Everyone else talked about supply and demand. Fred Thompson thinks that the windfall profits of the oil companies are just peachy since they've also had 'lawsuits'. He's not just, as The Mayor calls him, a scrotum face. He's also REALLY stupid which is saying something when you consider he's one of the R Presidential candidates.
All of them talked about capitalism vs. socialism, as if ANY of the Democrats were talking about socialism. It's REGULATED CAPITALISM, you asshats. Your talking points are as crappy as your cheap suits.
If Paul were going to be the Republican nominee, I'd be scared. He's not. He hasn't a prayer. Which leaves the rest of the losers. Any one of which would be hard pressed to beat Dennis Kucinich. I feel sorry for the Republican Party... these people have been pandering and lying for so long they just don't know the difference any more.
Not that it matters much. The only reason Huckabee won Iowa was because the non-religious nutters went to the D caucus. 2-1 and a Democrat gets elected with 60% of the popular vote and 400+ EV's.
Posted by mcblogger at 07:54 PM | Comments (0) | TrackBack
January 04, 2008
Through The Bottom Of A Glass, Darkly
Well, wouldn't you know it, I've finally found Ol' Scrotum Face's people, and they are NOT HAPPY.
Dear Iowa Republicans,

I'll put this in language even your tiny little Iowa brains can understand: What the f*** is wrong with you people?
Posted by mayor mcsleaze at 12:38 PM | Comments (0) | TrackBack
Michael Skelly v. A Douche Named Culberson
There's a dumbass named John Culberson in Congress right now who is embarrassing himself and his fellow Texans. It's because he's stupid and has, in the words of Michael Skelly, the man who has filed to run against him, "...Never Met A Problem He Couldn't Make Worse".
You thought I was just being tacky when I called him a dumbass, didn't you? Those of you in Houston metro know what I'm talking about. He's fucked up or attempted to fuck up light rail and mass transit in Houston more times than Britney's been pregnant. Is it any wonder so many in Houston hate him?
Posted by mcblogger at 09:28 AM | Comments (0) | TrackBack
January 03, 2008
This week in Gay
The WaPo has a fun article up about the other side of gay marriage, gay divorce and what a pain in the ass it is...
"One of the benefits of marriage is divorce," said Joyce Kauffman, a Boston divorce lawyer who has handled a dozen same-sex divorce cases. "But for a lot of couples, that benefit is very complicated and very costly in ways that heterosexual couples would never have to experience."

In the case of the doctor, she and her spouse each gave birth to a boy fathered by the same sperm donor. They then adopted one another's sons. Biologically, their children are half-siblings; legally, they are full brothers.

"Up to now, I've been lucky with the court," said the doctor, who spoke on the condition of anonymity so as not to prejudice her court case. "Giving birth to one of our children has given me leeway because judges often show a preference toward a biological mother. I've spoken to other lesbian women who were in a similar situation, except that they were not the biological mothers of their children, and, in my opinion, they were not treated as fairly by the court."

While the parties are litigating, a family court in Boston has come up with a Solomonic ruling, saying that each of the women can spend half the week alone in the family home with the children.

For same-sex couples, divorce can be financially ruinous. Heterosexual couples claim a tax deduction for alimony payments, but that benefit is not available to gay and lesbian spouses because the Internal Revenue Service does not recognize their marriages.

Divorce lawyers say that, while gay people making alimony payments are hurt the most by the IRS policy, their ex-spouses are also affected, because a tax deduction often provides an incentive for larger payments.

"In a straight context, alimony is an income stream from one person to another and tax-deductible to the person who is paying it," said David W. Eppley, a divorce lawyer with lesbian clients. "But in a gay divorce, there aren't two parties, there are three, and that third party is Uncle Sam."
Oregon passed a civil union law last year. However, an anti-gay group filed a petition to bring this before a public vote as a referendum. In October, the OR SoS told them they didn't have the signatures and the law was set to go into effect on Tuesday. It was blocked by a Federal Judge who is reviewing the petition to decide if the SoS was right. Which makes me wonder why the religious nutters are always hating on 'activist' judges?
Parsing Huckabee...
GOV. HUCKABEE: I don't know whether people are born that way. People who are gay say that they're born that way. But one thing I know, that the behavior one practices is a choice. We may have certain tendencies, but how we behave and how we carry out our behavior
I don't know nothing about no science or genetics, but I do know that if you suck dick it's because you make a choice to suck dick. In other words, even if you are 'that way' you should refuse yourself any love or affection. So as to keep biblically pure and clean (at least according to Mike Huckabee).
-- but the important issue that I want to address, because I think when you bring up the faith question, Tim, I've been asked more about my faith than any person running for president. I'm OK with that. I hope I've answered these questions very candidly and very honestly. I think it's important for us to talk about it. But the most important thing is to find out, does our faith influence our public policy and how? I've never tried to rewrite science textbooks. I've never tried to come out with some way of imposing a doctrinaire Christian perspective in a way that is really against the Constitution. I've never done that. (The Advocate)
No, you haven't tried to rewrite science textbooks... you just tried to buy the ones that represented your belief system, not scientific reality. As for not "imposing a doctrinaire Christian perspective in a way that is really against the Constitution", that's a matter pf perspective and interpretation of the Constitution. I'm partial to the one that has been upheld for centuries by the Federal Courts, that there is a wall separating Church and State. You don't believe that, Mike. You think the US is a Christian Republic, like France or Germany. That ain't the case, hermano.

Have a good'un!
Posted by mcblogger at 02:51 PM | Comments (0) | TrackBack
Economic populism and just how off base the pundits are
David Sirota has a brill piece up at HuffPo regarding hor freaked out the pundits in DC are about Edwards and Huckabee...
Klein's silliness is eclipsed only by Stu Rothenberg - who reliably hands us the old adage that any candidates challenging the status quo will destroy America.

Here's his take today

:

"[John Edwards] is also portraying himself as fighting for the middle class and able to appeal to swing voters and even Republicans in a general election...His approach to problems is likely to frighten many voters, including most middle class Americans and virtually all Republicans...Given the North Carolina Democrat's rhetoric and agenda, an Edwards Presidency would likely rip the nation apart - even further apart than Bush has torn it."

Rothenberg's entire career is predicated on his supposed ability to analyze polling data - which is stunning in juxtaposition to his statements today. After all, polls show Edwards performing the best of any Democrat against any Republican presidential candidate. More importantly, polls also show the vast majority of the country - including Republicans - behind his populist economic positions.

For instance, Edwards has staked his candidacy on guaranteeing health care to every American and on raising the minimum wage - two positions the majority of Americans - and a huge chunk of Republicans - strong support. As I noted in a 2005 Washington Post article, a 2005 public opinion survey by the nonpartisan Pew Research Center showed that about half the GOP's core voters support the "government guaranteeing health insurance for all citizens, even if it means raising taxes" and an astounding three-quarters support an increase in the minimum wage. Pew recently updated these numbers to show that 4 in 10 Republican voters nationally "favor universal health coverage, even if it means higher taxes."

Trade? Same thing. Edwards has been demanding an end to Washington's lobbyist-written, job-killing trade agenda - a demand that the majority of Americans (and Republicans) support. The Wall Street Journal was only the most recent publication to note this fact. "By a nearly two-to-one margin, Republican voters believe free trade is bad for the U.S. economy," the Journal noted, adding that voters in both parties want our trade policies reformed.

Knowing these number, it is difficult to understand how a professional poll-watcher like Rothenberg could say that an economic populist platform "is likely to frighten many voters, including most middle class Americans and virtually all Republicans." It is even more difficult to understand when you consider that the leading Republican candidate right now is Mike Huckabee - a guy being grossly outspent but who is nonetheless surging among Republican voters on the strength of his economic populist themes. In short, all of the actual facts point to exactly the opposite of Rothenberg's conclusions: That power-challenging economic populism is exciting most voters, including most middle class Americans and many Republicans.
The reality is that people are ANGRY and that's really what has the chattering class upset. It's not that they can't read the mood of the country, it's that they refuse to see it because they have a vested interest in maintaining the status quo. There's only one problem... sooner or later things have to change. If they'd changed in 2005 then we'd be talking about something entirely different. It didn't and the longer you drag on the shift back to economic rationality and a fair trade environment, the more massively dislocating the shift will become.
In other words, if you want to avoid a revolution, you want Edwards (for the D's) and, God help us, Huckabee (for the R's).
Posted by mcblogger at 10:08 AM | Comments (2) | TrackBack
January 02, 2008
The Dog Ate My Paperwork
BOR brings us tidings that neither Dennis Kucinich nor Mike Gravel bothered to file their paperwork properly and will not appear on the March Primary ballot.
I guess some people aren't as serious about public service as Gene Kelly.
Posted by mayor mcsleaze at 09:53 PM | Comments (0) | TrackBack
Shit tells vomit IT stinks
Via STC comes word that Perry is calling Bush out on fiscal conservatism while Governor...
Texans expressed surprise Friday at Rick Perry's public suggestion that his Republican predecessor as governor, George W. Bush, was never a fiscal conservative.

Perry stuck by his assessment as aides said he has been more of a fiscal watchdog than Bush. Figures kept by the Legislative Budget Board show spending increasing at about the same pace under each governor.
Posted by mcblogger at 03:32 PM | Comments (0) | TrackBack
Edwards coming on strong...
The Iowa Caucus is manana and Edwards looks poised to repeat his strong 2004 performance. Recently, Ralph Nader announced his endorsement of Edwards which is, IMHO, kind of a double edged sword since many progressives still blame him for the 2000 debacle that gave us el Presidente Arbusto. I guess it will be telling to see how many progessives, greens and liberals heed Nader's call... or follow Denny The Fucktard to Obama.
The next endorsement is a little close to home. The Agonist, one of the major US blogs, has endorsed Edwards. The great part are the comments, specifically the one regarding what a 'hard worker' Obama is. Some of you may remember his questioning of Petraeus. That's a good example of why I think Obama is all hat and no cattle.
Posted by mcblogger at 02:13 PM | Comments (0) | TrackBack
Lame endorses Lame
With the Iowa Caucus just a day away, we find out that the irrepressibly lame Kucinich has endorsed Obama.
It's exciting, isn't it? Well, maybe it is to the oatmeal-eating set.
Posted by mcblogger at 11:53 AM | Comments (0) | TrackBack
Rich on Huckabee
The rabid hunger for change, it turns out, has made the very idea of experience as toxic as every other attribute of the Bush White House. The once-heralded notion of a C.E.O. presidency, overstocked with "tested" Washington and Fortune 500 executives like Cheney and Rumsfeld, is now in the toilet with Larry Craig. You couldn't push the pendulum further in the other direction than by supporting a candidate like Mr. Huckabee, who is blatantly unprepared to be president and whose most impressive battle has been with his weight.
Posted by mcblogger at 10:00 AM | Comments (0) | TrackBack
December 31, 2007
The impossibility of a kinder, gentler politics
Krugman has a great piece up about just how different the parties really are this cycle.
On one side, the Democrats are all promising to get out of Iraq and offering strongly progressive policies on taxes, health care and the environment. That's understandable: the public hates the war, and public opinion seems to be running in a progressive direction.

What seems harder to understand is what's happening on the other side — the degree to which almost all the Republicans have chosen to align themselves closely with the unpopular policies of an unpopular president. And I'm not just talking about their continuing enthusiasm for the Iraq war. The G.O.P. candidates are equally supportive of Bush economic policies.

Why would politicians support Bushonomics? After all, the public is very unhappy with the state of the economy, for good reason. The "Bush boom," such as it was, bypassed most Americans — median family income, adjusted for inflation, has stagnated in the Bush years, and so have the real earnings of the typical worker. Meanwhile, insecurity has increased, with a declining fraction of Americans receiving health insurance from their employers.

And things seem likely to get worse as the election approaches. For a few years, the economy was at least creating jobs at a respectable pace — but as the housing slump and the associated credit crunch accelerate and spill over to the rest of the economy, most analysts expect employment to weaken, too.

All in all, it's an economic and political environment in which you'd expect Republican politicians, as a sheer matter of calculation, to look for ways to distance themselves from the current administration's economic policies and record — say, by expressing some concern about rising income gaps and the fraying social safety net.

In fact, however, except for Mike Huckabee — a peculiar case who'll deserve more discussion if he stays in contention — the leading Republican contenders have gone out of their way to assure voters that they will not deviate an inch from the Bush path. Why? Because the G.O.P. is still controlled by a conservative movement that does not tolerate deviations from tax-cutting, free-market, greed-is-good orthodoxy.
Issues matter and this cycle, it's the Democrats who have the strength. It's also creating a deep contrast between the parties that will play to Democratic advantage. The interesting thing is that many bloggers and some pundits have been talking for years about creating just such a contrast.
There's a fantasy, widely held inside the Beltway, that men and women of good will from both parties can be brought together to hammer out bipartisan solutions to the nation's problems.

If such a thing were possible, Mr. McCain, Mr. Romney and Mr. Giuliani — a self-proclaimed maverick, the former governor of a liberal state and the former mayor of an equally liberal city — would seem like the kind of men Democrats could deal with. (O.K., maybe not Mr. Giuliani.) In fact, however, it's not possible, not given the nature of today's Republican Party, which has turned men like Mr. McCain and Mr. Romney into hard-line ideologues. On economics, and on much else, there is no common ground between the parties.
So much for Obama and the idea that there is some magical common ground we can all come together on. The reality is, the Republicans are not going to let it happen.
Posted by mcblogger at 12:53 PM | Comments (0) | TrackBack
December 29, 2007
Obama, Lameness and Voter Turnout
Last night I had an interesting conversation with a guy who is an ardent supporter of Obama. He was the most persuasive Obama supporter I've ever encountered and I made a comment to the effect that he should be on Obama's payroll.
I was not, however, persuaded. In fact, I came away more convinced that ever that Obama is precisely what the Democratic Party and the US don't need.
Support for Obama hinges on whether you accept the premise that there are voters 'turned off' by hyperpartisan politics and clear choices. The idea that Americans want to vote for the nice guy. Sure, some people might want to vote for the nice guy, but usually the other (the mean son of bitch) makes the nice guy look so bad that he ends up winning. This is why I think Hillary and Edwards can take the White House and why Obama will, like Kerry in 2004, come up short.
Basically, people WANT clear choices and the Republican electoral success since 1980 has depended on making the differences clear and turning it into a life and death decision for American voters. It's worked well. The bottom line, for all of you running polls, is that your samples are wrong for the same reason they are wrong when talking about charitable giving. People always like to say they give to charity, but they usually don't. They also say they want things nicer and less coarse in terms of politics. They are lying through their goddamn teeth.
EOW has more detail on turnout since partisan sniping reached a new level. It's up, not down, since partisan media began to be appear. The reality, no matter what you may see anecdotally, is that Americans want to see candidates clash. They want clear, delineated choices and elegant messaging. And just at the point where Americans are finally starting to see it from Edwards and, to a limited extent, Hillary, Obama pops up. The perfect Democratic Primary candidate who won't be able to win the general. Why? The same reason he'll do well in the primary... he's LAME.
Posted by mcblogger at 01:19 PM | Comments (0) | TrackBack
December 28, 2007
Help Maldonado
Dig deep, my friends. Annie's List has agreed to match $15,000 raised by the Maldonado campaign by the end of the year. Go help her out!
Posted by mcblogger at 12:54 PM | Comments (0) | TrackBack
December 27, 2007
A joke welcomes another joke to the primary
Ray McMurrey is running for the Democratic nomination to be our candidate against Junior John Cornyn. McMurrey's a teacher and we hope he's good at that because he's a lousy candidate focused more on criticizing Rep. Rick Noriega than on actually campaigning for the nom. He's also an idiot for sending out a press release welcoming GENE 'THE SA SHITHEAD' KELLY to the race.
I guess no one told Ray that Gene is a recurring spoiler and last year caused a runoff with Barbara Radnofsky that required her to spend $1mln to beat him in a runoff. The man's death will be celebrated by hundreds of thousands of Democrats around Texas. Including Charles Soechting, who's making sense again, who writes in a letter to William Pate who runs McMurrey's campaign (via Carl Whitmarsh's list)...
Let me see if I get this right. A candidate for the Senate welcomes to the Democratic Primary someone who communicates with the press via messages in a potted plant (yes, that's right, a potted plant), someone who files and then does nothing to secure the nomination but causes other candidates to spend money to counteract the name ID associated with a famous dead dancer. Mr. Pate, anybody can run but the time to get serious about what is happening in this country is long past. Welcoming someone who has caused more problems than any four legged rodent could ever hope to is not the answer. The Democratic Party is inclusive, but inclusion in my book stops when the person doesn't want to be in the race for any reason---and that's where Gene Kelly fits in. As for Rick, he is tried and tested in many ways that of us have not. He is a good, decent and honest man and someone who could step right into the job that our current Senator has failed at.
For someone who calls himself 'the heart and soul of the Democratic Party', you'd think Ray would know all that. You'd also think he'd know that it's grassroots, not institutional, support that brought Noriega into the race. Every time you criticize him, you're stabbing the very people you claim to want on your side. In the eye.
As soon as you decide to really talk about issues and run a serious campaign, come on and talk to us Ray. Until then, take us off your retarded mailing list.
Posted by mcblogger at 10:43 PM | Comments (9) | TrackBack
Now is the time to fight
I like to remind people who long for bipartisanship that FDR's drive to create Social Security was as divisive as Bush's attempt to dismantle it. And we got Social Security because FDR wasn't afraid of division. In his great Madison Square Garden speech, he declared of the forces of "organized money": "Never before in all our history have these forces been so united against one candidate as they stand today. They are unanimous in their hate for me—and I welcome their hatred."

So, here's my worry: Democrats, with the encouragement of people in the news media who seek bipartisanship for its own sake, may fall into the trap of trying to be anti-Bushes—of trying to transcend partisanship, seeking some middle ground between the parties.

That middle ground doesn't exist—and if Democrats try to find it, they'll squander a huge opportunity. Right now, the stars are aligned for a major change in America's direction. If the Democrats play nice, that opportunity may soon be gone.
We've got to start doing things at the grassroots that start shifting the debate from labels to issues. For example, when a Republican asks if you support socialized medicine, tell them you support universal health coverage and ask them why they don't. The only way we're going to win is by turning the arguments around at the ground. Otherwise, our 'leaders' are going to continue to lose their balls in tragic polling accidents.
The reality is that, labels aside, we ARE the majority in this country. It's high time we act like it and stop trying to compromise with a bunch of mindless lunatics.
Posted by mcblogger at 12:07 PM | Comments (0) | TrackBack
December 26, 2007
I'm frustrated when I can't sue
I'm not really a litigation-happy person. Personally, about the only thing I care about in regard to lawyers is that they are back in their coffins by sunrise. I kid, I kid... well, at least I am about the 'care' part of that sentence. Attorneys have a nice way of fucking things up. Still, they are useful when you're threatened with 'legal action' or when you feel like making some asshat's life miserable. Which I wanted to do on Saturday.
Unfortunately, the weak sister's over at Wiki have declined to supply me with an IP address. Bitches.
So, whoever you are, you got a free skate this time. Enjoy it. If I ever find out who you are, you're going to want to spend the rest of your life looking over your shoulder. Paybacks are a motherfucking bitch.
Posted by mcblogger at 07:55 PM | Comments (0) | TrackBack
December 24, 2007
Profiles in Dumb : Cornyn The Author (part 1 in a series)
It's no secret that we at McBlogger don't have a lot of love for Junior John Cornyn. However, what may surprise you are the reasons we don't love him. Frankly, we think he's pretty lame. Sure, we could spend hours writing about how he hates the kids by voting against SCHIP, refuses to acknowledge the reality of illegal immigration and has basically spent his entire term in Congress not fighting FOR the people of Texas but instead actively working against them by being little more than a rubber stamp for President Bush.
We could do that but we're not. In point of fact, we've already gone through most of that (just google 'Cornyn' on the sidebar). What really gets us is just how embarrassingly lame he is. Like that time we took him to a drinks party being thrown by some great friends of mine. He spent the entire party drinking Natty Light (he brought his own) and asking people to pull his finger. Frankly, I'm surprised my friends even talk to me.
Let's not even get into that time I fixed him up with his scorching hot chick I knew from work. She still won't return my calls.
Of course, this is all just a bunch of buffoonish behavior from someone who is seriously socially retarded. It's kind of excusable. However, his lame ass, feel good editorials are another matter entirely. The first one I noticed was this one about Blue Bell Ice Cream. Like all Texans, I love me some ice cream. I also have a lot of respect for the folks in Brenham who have turned what was a small, regional brand into a nationally known and respected ice cream. My only bone of contention with them is that they never make enough lemon. Seriously, it would kill you to make some more for the Randall's on Mesa here in Austin?
Cornyn doesn't have a problem with having enough ice cream because he likes the omnipresent Pecan Pralines and Cream. At this point you're probably wondering, "Who gives a fuck what kind of ice cream Junior John likes?". If so, you're not alone. Basically, our esteemed Senator, who some of you elected to work for us in Washington on serious issues, is taking time to write about Blue Bell Ice Cream. If that doesn't piss you off, maybe this will. Texas, even though we've had a Congressional delegation in the majority for most of the last 10+ years, is always getting shortchanged on federal highway funds. We send more to Washington than we get back.
Things are so bad that TXDOT is even reneging on their bloody agreement with CAMPO (Congrats, Kirk!) because they may not even have the funds to build toll roads. So, in short, we'll have no roads built and the bottlenecks we have now all over the state won't be fixed. Because federal highway dollars are drying up. And we have Junior John to thank for that.
While Cornyn writes about how great Blue Bell is, our infrastructure is getting older and far less capable of accommodating the ever growing numbers of Texans that he supposedly serves. But that doesn't bother Cornyn.
Maybe the next time you're stuck in traffic getting more annoyed with each passing minute at the endless field of lit brake lights in front you, you can think about how much Cornyn likes Blue Bell. In fact, think also about replacing him next November with Rick Noriega. He's the kind of Texan that actually gets things done.
Cornyn's too busy eating yet another bowl of Pralines and Cream to get anything accomplished. Other than writing about how much loves the little creamery in Brenham.
Posted by mcblogger at 08:30 AM | Comments (0) | TrackBack
December 23, 2007
Will No One Rid Me Of This Meddlesome Loser?
Gene Kelly, who has made a political career of sorts by filing for races he has no intention of making an effort to win, has once again filed for the US Senate. In 2006, in conjunction with a another idiot "candiidate" who refused campaign contributions Kelly forced the hapless Barbara Ann Radnofsky into a primary runoff election. Hopefully, in 2008 Rick Noriega should be able to squash both Gene Kelly and neophyte googoo Ray McMurrey like bugs; if not, I'd have to seriously doubt his chances of sending John Cornyn home to the boxturtle he left behind him.
And in the meantime, why can't you ever find a chupacabra when you really need one?
Posted by mayor mcsleaze at 04:58 PM | Comments (0) | TrackBack
December 22, 2007
OK. Now you pissed me off...
You know, other than the occasional (read : RARE) post or my comments at BOR on the subject, I've mostly stayed out of the race for Travis County Tax Assessor Collector. I've not done it out of an overabundance of respect for Nelda (frankly, I don't think she's anything special) or a dislike for Glen (the person for whom I'm more than likely going to vote). I did it because frankly the race is a bit like high school. I mean, come on... we're turning a county office into a life and death matter for voters. The reality is that Nelda's performance as collector has been more about the powers of the office, the excellent staff and technological improvement than anything Nelda's done. Glen would accomplish the same thing. As for handling voter registration and elections, she's pretty crappy. Not trying to be a dick, she's just not done nearly enough with that part of the office. I mean, we have less people registered to vote in Travis County NOW than in January, 2005. Almost three years ago and with more than an additional 80k people moving into TC.
That isn't the mark of someone who takes voter registration seriously.
Nelda's campaign would like you to think the world will end if their candidate isn't re-elected, mostly because it won't. They are operating under the assumption that people will be motivated in the race by fear (apparently having forgotten that this Travis County and we laugh at those campaigns). They tried something similar with Soechting, who came across like a retard writing a letter about a possible Republican win in Travis County if Glen is our candidate. I should have rained far more poop on poor Charles for that one. What a stupid thing to get dragged into.
Then there was the op/ed piece in the Statesman Captain Kroc and I took a swipe at long ago.
Needless to say, over the last six months, that's been the limit of our involvement in the race. That's the way it would have stayed had some douchebag not gone to Wikipedia and edited an entry on Glen as me. Don't worry, Wiki will be getting the IP for the impersonator and whoever did it will be seeing a process server soon. I wasn't kidding about having an attorney on retainer. I'll drag this out for years just to watch you bleed.
A word to the wise for all the budding and established politicos out there... don't pull me into your bullshit. I'm way meaner than you and I'll cut you off at the goddamn knees.
For now, I leave you only with this... if Nelda has done such a great job, then why the fuck is her campaign so goddamn scared they're going to Wikipedia to try to embarrass Glen with things that are patently untrue and libelous.
Further, why be such a dumbass about it by using me? Seriously, you could have used Pink Lady or Pink Dome and they never would have been the wiser. Instead, you used me.
And this is where things get really nasty.
Posted by mcblogger at 11:37 AM | Comments (0) | TrackBack
December 21, 2007
Gerry gets a D opponent
Gerald Daugherty has finally drawn an opponent, Karen Huber. A SW Travis County resident who has grown more and more disgusted with Daugherty and his bullshit, Karen recently filed to run as a Democrat and will more than likely go on to mop the floor with Daugherty who richly deserves all the negative mailers she can send out.
The man is a corpulent douchebag, shortsighted as hell and someone who frequently ignores his constituents, not to mention working diligently to make life hell for everyone else in Travis County.
Good luck, Karen. Everyone here at McBlogger wishes you well. At the very least, you'll make the Commissioners Court more aesthetically pleasing.
Posted by mcblogger at 01:39 PM | Comments (0) | TrackBack
Rarely Is The Question Asked, Is Our Presidential Candidates Learning?
Or even reading at an age-appropriate level? Reports the NYT:
"Who is your favorite author?" Aleya Deatsch, 7, of West Des Moines asked Mr. Huckabee in one of those posing-like-a-shopping-mall-Santa moments.

Mr. Huckabee paused, then said his favorite author was Dr. Seuss.

In an interview afterward with the news media, Aleya said she was somewhat surprised. She thought the candidate would be reading at a higher level.

"My favorite author is C. S. Lewis," she said.
Mike is careful not to boast
He's the one Iowa loves the most
Father, Son, and Holy Ghost
If he wins our world is toast
Posted by mayor mcsleaze at 11:55 AM | Comments (0) | TrackBack
December 20, 2007
Scratch Another Poopyhead
Did anyone catch the news that Tom Tancredo was running for President? Apparently not many people did, since the immigrant-hating Coloradan has now dropped out of the contest. Tancredo threw his support to Willard Romney, which has got be worth dozens of votes.
The five-term congressman announced plans to spend more time with his family, complaining about having to press "1" for English.
Posted by mayor mcsleaze at 05:47 PM | Comments (0) | TrackBack