January 03, 2007
Wanna write on McBlogger?
We're always looking for new talent at McBlogger. Seriously, you think I like being constantly threatened by a far too large dildo? That thing has been working my hole for a while (literally and figuratively) now and with that, I'd like to announce we're looking for new writers.
Can you put a sentence together? Can you spell? Do you have problems making the voices stop? Well, two out of three will be enough to get you a spot on McBlogger (respect is sold separately at the commissary). Use your name, or be completely anonymous... I'm not giving you up and I'm the only one who knows who everyone is.
Ready for the excitement of blogging? Ready to show the world that yes, you too have all the talent of a high school senior? Ready to be berated by McSleaze and forced to admit embarrassing facts about yourself, like that you eat chili out of the can? The kind with the beans? Then take a moment and join the team! Send two samples of your work to mcblogger@mcblogger.com.
If one of the 'samples of your work' is a picture of shit in a toilet, I'm sending McSleaze and Sister Ruth after you.
Posted by mcblogger at 02:53 PM | Comments (0) | TrackBack
August 22, 2006
Win a date with Ernest Borgnine!
We're all about rewards here at McBlogger. From Taco Bell Tuesdays to Friday Happy Hour from 5:00-5:04, the staff enjoys the kind of perks that often make people look for jobs elsewhere.
As a thank you to our readers, we're offering you the chance of a lifetime! That's right, it's all about winning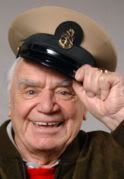 A Date


With


Ernest


Borgnine



Generosity? You don't know the half of it! Whether you are a boy or a girl, hetero or homo, Ernest* will take you out on the town for the meal of your choice (as long as it's lunch) to a restaurant you pick from an extensive list of two (Delaware Subs or Thundercloud Subs). Think about what an amazing experience it would be to actually dine with the winner of an Academy Award who has worked with everyone from Spencer Tracy to Isaac Hayes. Think of the amazing stories you'll hear! Imagine the romantic moment when he breaks from his lunch, mid sandwich and looks deeply into your eyes, smiles, clears his throat and goes back to eating like it's the only meal he's had in a week.
To enter simply email us with the answer to these questions: For which movie did Borgnine's performance earn him an Oscar? What kind of Oscar was it?
That's McBlogger... always going the extra mile for our loyal readers!
*If Ernest Borgnine is unavailable, substitute Judd Hirsch
Posted by mcblogger at 11:10 AM | Comments (2) | TrackBack