September 29, 2009
I'll admit it... it was me...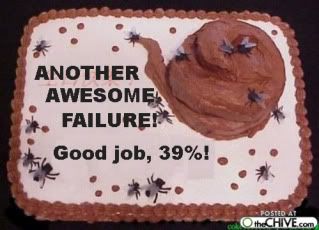 Yes, it's true. It was me. I was the one who screwed up 39%'s little webcast event that Jason Embry was jerking off about this AM (by the way, that was some solid work, Jason... who did you have to give the hummer for that hard hitting piece).
I'm just kidding, I don't have the technical skill to screw up something like that. I wouldn't have bothered even if I did because it would have denied 39% a chance to spout stupid to the few true believers he still has under his spell. Plus, until we're done with the primary, I want him nice and plump.
Before I start to bust him up like a shit-filled pinata.
Phillip over at BOR has been doing an excellent job ripping into the epic failure that was Talkin' Texas. Basically, it all comes down to 39%'s lackluster team being thoroughly jacked up. Read more here, here and here. My favorite part is how 22,000 got to watch a speech before it was given. It's almost as funny as the obviousness of this as 39%'s fuckup, not some hacker being mean.
Pull up your big girl panties, 39% and quit whining.
As for Senator Senile, just keep your crazy old trap shut. No one gives a crap what you think about all this mostly because you keep talking about your cat. And your car keys.
And no, Senator, I don't want a quarter to rub your feet.
In other MASSIVE 39% CAMPAIGN FAILURES, a soon to be former staffer decided to bring Tina Fish on board.
Posted by mcblogger at September 29, 2009 09:12 PM
Trackback Pings
TrackBack URL for this entry:
http://www.mcblogger.com/movabletype/mt-tb.cgi/4823
Comments
Post a comment
Thanks for signing in, . Now you can comment. (sign out)
(If you haven't left a comment here before, you may need to be approved by the site owner before your comment will appear. Until then, it won't appear on the entry. Thanks for waiting.)