October 29, 2008
Why is Dobson all about the gays?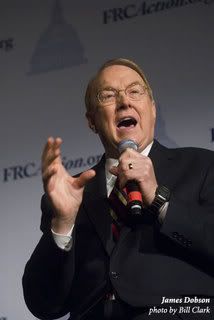 Seriously, WHAT'S YOUR DAMAGE, HEATHER?!?!
Dr. Dobson of the Lunatic Fringe has spent a lot of time thinking about gays and how they are destroying America. With what, you may be asking? Good taste and style? Wicked sharp wit? Drinks parties?
Silly, people... gays are destroying America by irritating Dobson who has gone so far as to pen a Letter From The Future. A future dominated by gays who apparently are exercising some kind of bizarre control over EVERYONE AND EVERYTHING.
The most far-reaching transformation of American society came from the Supreme Court's stunning affirmation, in early 2010, that homosexual marriage was a "constitutional" right that had to be respected by all 50 states because laws barring same-sex marriage violated the equal protection clause of the U.S. Constitution. Suddenly homosexual marriage was the law of the land in all 50 states and no state legislature, no state Supreme Court, no state Constitutional amendment, not even Congress had any power to change it. The Supreme Court had ruled, and the discussion was over. This was a blatant example of creating new law by the court, for homosexual marriage was mentioned nowhere in the Constitution, nor would any of the original authors have imagined that same sex marriage could be derived from their words.
Uhm, he DOES realize that the SC doesn't change when there's an election, right? And that there's ZERO chance of this SC allowing gay marriage? Or has he finally taken that fall down the rabbit hole of senility?
What IS it with this guy and his obsession over teh gays?

Posted by mcblogger at October 29, 2008 12:39 PM
Trackback Pings
TrackBack URL for this entry:
http://www.mcblogger.com/movabletype/mt-tb.cgi/3927
Comments
I think he protests a little too much (to paraphrase Shakespeare). Could there be a little latent homosexuality there?
Posted by: jobsanger
at October 29, 2008 03:36 PM
ewe. That's a terribly unsettling thought
Posted by: mcblogger
at October 29, 2008 04:19 PM
Post a comment
Thanks for signing in, . Now you can comment. (sign out)
(If you haven't left a comment here before, you may need to be approved by the site owner before your comment will appear. Until then, it won't appear on the entry. Thanks for waiting.)