March 31, 2008
Notes Towards A Grand Unified Conspiracy Theory
The McBlogger-sponsored Free Chips and Salsa Resolution mysteriously "disappeared" before it could be considered by delegates at the Travis County Democratic Convention this weekend, no doubt due to the nefarious actions of the secretive Pay For Chips Lobby. Meanwhile, City Council candidate Randi Shade claims to love queso but has so far remained silent on the salsa issue.
Connect the dots, people! Connect. The. Dots.
Posted by mayor mcsleaze at 03:42 PM | Comments (2) | TrackBack
Oh, this could be good!
The Supreme Court is reconsidering the FCC's ban on profanity over the airwaves. FUCK YEAH!
Posted by mcblogger at 09:29 AM | Comments (0) | TrackBack
March 30, 2008
This is me hating you...
..well, at least it's a much gayer and slightly younger (shut up, Mayor) 'version' of me.
On second thought, without the profanity it's clear we've really nothing at all in common. Oh, well.
Posted by mcblogger at 11:03 AM | Comments (0) | TrackBack
March 29, 2008
I'm so excited
Yes, that's right. The Pointer Sisters. Playing in a constant loop in my head because the county convention is today. 13,000 people all of whom are anxious and excited to do something positive to help elect Democrats.
I'm also looking forward to the fruition of the super secret plan to take over the conventions for Hillary. Yes, they totally exist. Of course, that excitement is tempered by the knowledge that the Obama campaign also has a super secret plan to take things over of their own. They're such copycats.
A word of advice? Stop it. Stop the rhetoric, stop the bluster, stop your insane little plans. We're going to get through today in great shape and we're going to be united going into November. So be nice to each other tomorrow.
For those of you hellbent on acting like assholes, remember that I'll cut a motherfucker.
Posted by mcblogger at 05:44 AM | Comments (1) | TrackBack
March 28, 2008
In case you were wondering...
We're having something of a realignment at McBlogger. Frankly, things have been stale. Many of you have pointed that out (thanks for that, BTW) and you're right. We're sick of the constant campaigning. The endless candidate drives. The relentless bullshit.
A word to the wise: Some of you running campaigns really shouldn't. Honestly, you suck at it and what you think is an impressive press hit is basically the political news equivalent of farting. YOU ARE BURNING US THE FUCK OUT. Quit with the daily emails... more than once a week and we're done with you. Seriously, not that much has happened.
All this and the Mayor, Captain Kroc, Harry and I have been hella busy with our respective jobs, not mention helping out TCDP for the Convention tomorrow. So be patient, we're not going anywhere. We're just sharpening our teeth.
We're also looking for some new writers to complement the fabulous people we are NOT WRITING for us now. So, if you feel like your writing is McBlogger Quality (laugh.it.up), please shoot me an email.
Posted by mcblogger at 12:17 PM | Comments (0) | TrackBack
My new favorite websites
Hot Chicks with Douchebags and Postcards From Yo Momma. Brilliance!
Posted by mcblogger at 09:17 AM | Comments (0) | TrackBack
March 27, 2008
Note To The Hillary Campaign
Yes, I am a delegate.
Yes, I plan to attend my county convention on Saturday, March 29.
Yes, I plan to support Hillary Clinton.
The only thing that could change my mind is if you don't stop the freaking phone calls!
Posted by mayor mcsleaze at 06:36 PM | Comments (2) | TrackBack
Gearing up for more voucher crap...
The reality is that vouchers are not a panacea. They aren't even working where they've been tried.
Voucher students' test scores in the year the study covered were roughly the same as public school students'; the study also found voucher students scored below the national average, between the 28th and 39th percentile, on national reading, math, and science tests.
A frequent argument made against them, that the vouchers won't provide enough money to the poor to put their kids in anything but a parochial school, is in fact true. Even the Catholics can't run schools as cheap as the public education system which is really the crux of the entire 'how to improve education' debate. There are two things you need. One, is a change in what teachers are teaching and a return to a more formalistic curriculum. The other is more money.
What? You too are tired of the kids getting a Wal Mart education? Well, here's what we need to do. Pump money into schools and restandardize the curriculum. The pennies we save by underfunding public education end up costing us billions in lost wages, productivity and taxes down the road. It's time for conservatives to realize that conservatism is about more than just cutting taxes and spending. It's about spending money on things that matter.
Posted by mcblogger at 02:25 PM | Comments (0) | TrackBack
Dances With Moms (and Dads)
Watch as 5 boys show off their oedipal complexes, while 5 girls compete to be Daddy's Special Girl! In this reality series, some of America's hottest dancers auditioned for a chance to be a part of a new dance competition show under the pseudonym "ParentFucker," but they had no idea what was really in store for them. They soon discovered that they'd be working with a partner and that their partner would be one of their parents! Gross, right? Fridays at 9 E/P
Posted by mcblogger at 08:43 AM | Comments (0) | TrackBack
March 26, 2008
Federbag and Paris Hilton join forces
Kevin Federbag inexplicably turned 30 recently which completely contradicts my mother's theory that 'what goes around, comes around'. Federbag, the celebridouche golddigger, also announced that he and Paris Hilton will be joining forces to create what will surely be the most loathesome human on the face of the planet.
Posted by mcblogger at 12:33 PM | Comments (2) | TrackBack
Who'll be the loser?
EOW has the deets on the two men vying to be beaten down by Diana Maldonado
Bryan Daniel - He sells insurance which is rad. Especially when people like Bryan hold up people like me from funding a loan because they've managed to screw something up on the insurance. But I'm sure Bryan would never do something like that. He's too busy raising money which he'll spend on embarrassing ads featuring him and his family in a vain attempt to beat Maldonado.
Both of these mooks support Tom CradDICK and are 'against the TTC' and, maybe, tolls? Sure. Right. And Mikey Krusee was going to fight to raise the gas tax. I'd sooner believe OJ's account of the murder than that these boys are against tolls. These two are also all about school vouchers (which will go over really big with the folks in Round Rock who have good public schools) and they love the idea of increasing the sales tax. Because that'll solve all our financial problems on the backs of the poor.
What a bunch of freaks. No matter who Maldonado defeats, both these asshats are LOSERS.
Posted by mcblogger at 08:52 AM | Comments (0) | TrackBack
March 25, 2008
McBlogger's Comedy Tips, Part 1109
FUNNY


Tina Fey. A once-a-year birth control solution. Psychotic periods.Brilliance.
NOT FUNNY


Dogs. A child. A politician. A politician with dogs and a child. Cheese (in a can).
I have no doubt that Mindy's tough enough to stand up to criminals. Rosemary is, too. However, unlike Rosemary, I have serious doubts about whether or not Mindy can stand up to her friends.
Posted by mcblogger at 09:09 AM | Comments (2) | TrackBack
March 24, 2008
Democrats are the new suck
I'm calling on all of the people who went to your precinct convention to once again give a good Goddamn about this. I feel like I'm herding cats with some of you dipshits. You were SOOOOO adamant about going to the county convention and now you're all whining about 'having a meeting'. FUCKALL, you weak fucking sisters.
Pull your head out of your goddamn ass and realize that YOU have a chance to make a fucking difference.
I miss the times when there were only 4 of us at the damn precinct convention. At least we CARED enough. The rest of you are just a bunch of poseurshits.
Posted by mcblogger at 08:23 PM | Comments (1) | TrackBack
Take this 2,000 acre development and shove it!
Let me preface this with the fact that I like development. Not just new construction or renovations of existing buildings, but economic development. I especially like the kind that promises to create a massive number of jobs in our community. There is, however, one thing that'll make me turn into a zero growth nut. That's when developers come 'round asking for tax breaks and abatements and claiming that it's the only way they can bring their project to Austin.
Really? Do you want a virgin to consummate the deal as well?
Seriously, this crap about Villa Muse is about as retarded as I've ever seen. First off, the developers are taking over 2,000 acres in a developing area of Travis County, which just happens to be part of Austin's ETJ. What the developers want is to have that removed from taxation and zoning requirements, effectively reverting the land back to county control and keeping it from being annexed by the city. Not to mention that it would keep it out of city environmental oversight, which is exactly why the city shot down the proposal.
Some council members said the city could not be guaranteed that it would be able to eventually annex the property even if the developers signed an agreement. Leffingwell and Kim were also worried about the lack of environmental oversight of the floodplain remediation that would be necessary and the proposed construction of the studio so close to Gilleland Creek.
All this, of course, has Dawnna Dukes all upset...
Dukes wrote that Villa Muse would have been a "once-in-a-lifetime opportunity for the Central Texas area, especially Eastern Travis County."

"Your decision to deny the temporary release of Villa Muse from the city's Extra Territorial Jurisdiction takes certain financing options off the table, thus making the project financially unfeasible" and probably ensuring its relocation to a different city, she wrote.

Dukes said she questioned whether environmental concerns were the real reason the council members decided refused to support the project, given that the council is considering building a landfill and wastewater treatment plant in Eastern Travis County.

She asked the council members to reconsider their decision: "This project will succeed somewhere in Texas. It would be ideal to have it here."
First off, Dawnna, it's a mixed us development not unlike The Domain whose developers WERE able to talk the city into questionable tax breaks(which folks are even now trying to get rid of). Therefore, it's nothing special. Oh, there's the 70k seat amphitheater that's a huge risk in a town where people will squeeze 100 per square foot into some shitty club to hear some shitty band play shitty music.
And you're wrong, Dawnna. This project will only really succeed here. There really aren't too many other areas of Texas where this can succeed. Maybe in Irving and if the developers want to pick up and move to the artistic hotbed of Irving, they are more than welcome. Have at it, fellas!
As for the project being financially unfeasible, you wouldn't know if it was or wasn't, Dawnna. If their margins were soooo thin that only a tax break put them into the black, then this is really a blessing in disguise. The City Council just saved us from another nightmare because if their finances were THAT flimsy, odds are the developers would have gone bust during construction. Three strikes of stupid on this, Dawnna...
1) You chastise people who clearly have a better understanding of this than you.
2) You fight hard for developers with questionable financing (and who, by the way, was underwriting this package? USB? Lehman? Southwest?).
3) You talk about tax abatements as if they're some sort of economic panacea (which they aren't).
Needless to say, this or something like it is going to happen in this area with or without the wonderful developers who've given Dawnna so much over the years. The developers, for their part, are of threatening to take their toys and move on...
The backers of a proposed entertainment studio and production facility in eastern Travis County say they are negotiating with other Texas cities to move the project after Austin officials refused to temporarily release the project from its regulatory grasp.

Villa Muse Vice President Paul Alvarado-Dykstra would not reveal which other cities the developers are negotiating with but said there was more than one and all were in Texas.

"We haven't closed the door on Austin, but we kind of feel like Austin closed the door on us last Thursday," he said.
Ahhh... so long, fuckball. Try playing your financial shell game with a muni that's controlled by short sighted stupid people.
And here, my friends, is why I'm supporting Jennifer Kim for re-election...
Last week, state Rep. Dawnna Dukes, D-Austin, who represents the area, sent a scathing letter to Mayor Will Wynn and Council Members Betty Dunkerley, Jennifer Kim and Lee Leffingwell, all of whom voted against the release.

Kim and Leffingwell said they were not surprised by the developers' decision to pursue other locations and are not inclined to revisit releasing the land anytime soon.

"It is unfortunate that they are not going to locate here, but we need to make sure that we are protecting our environment and our quality of life," Kim said. "In this case, we couldn't assure that to our constituents."
Translation... you aren't going to get something for nothing. If you want play in Austin, you have to pay just like everyone else. Either that or we'll steal your idea and do it ourselves.
We're mean like that.
Last point then I promise I'll move on to something exciting, the people who really get screwed with abatements are the existing property base. See, development needs infrastructure and services. Even if the developer is paying for the internal roads, power grid and water/wastewater systems, the external hookups will have to upgraded and city facilities will have to be ungraded to take care on the additional burden. That costs money and frankly I don't think any of us mind paying it.
As long as the new development starts paying taxes just like the rest of us. If not, then you're wasting our time and our money. Come back when you have have the wherewithal to do things the right way.
Posted by mcblogger at 10:59 AM | Comments (3) | TrackBack
March 23, 2008
Just in case you were wondering...
... this is the kind of housing you can get for $6 mm. At least, according to the NYT.
Or you could just buy 15-20 houses in my 'hood.
Posted by mcblogger at 08:04 AM | Comments (0) | TrackBack
March 22, 2008
Is it just me...
...or has the Belmont gone lame? Last night I went there for drinks with some people and the goddamn band was making us sick. It's not that they were playing badly, it's that they were playing at all. And no, there weren't many people dancing.
Why the FUCK does every bar in Austin think live music will help their sales?
Posted by mcblogger at 10:19 PM | Comments (1) | TrackBack
March 21, 2008
Runoff - Henry and Lehmberg
Remember that primary a few weeks ago? Well, some of the candidates are in a runoff. Here are two you need to support:
Dale Henry has secured the endorsement of Burnt Orange Report and a re-endorsement from Brains and Eggs.
Here in Travis County, Rosemary Lehmberg recently received the endorsement of former DA candidate Gary Cobb. We urge you to support her. Because she rocks. And because... well, there's this on her opponent.
Posted by mcblogger at 01:06 PM | Comments (0) | TrackBack
Jokes of My Father's : Uncannily accurate
I'm currently reading The Shock Doctrine and most of it I already knew, especially the stuff about AshBritt's brill work subcontracting out their work in the Katrina cleanup. It's well worth the read if only to see how far we've gone down the Friedmanite road... and how much backtracking we have yet to do.
In the meantime, I got this from my father...

Three Government Contractors...


Three contractors are bidding to fix a broken fence at the White House in D.C.; one from New Jersey, another from Tennessee and the third, from Florida. They go with a White House official to examine the fence.


The Florida contractor takes out a tape measure and does some measuring, then works some figures with a pencil. 'Well', he says, 'I figure the job will run about $900: $400 for materials, $400 for my crew and $100 profit for me.'


The Tennessee contractor also does some measuring and figuring, then says, 'I can do this job for $700: $300 for materials, $300 for my crew and $100 profit for me.'


The New Jersey contractor doesn't measure or figure, but leans over to the White House official and whispers, '$2,700.'


The official, incredulous, says, 'You didn't even measure like the other guys! How did you come up with such a high figure?'


The New Jersey contractor whispers back, '$1000 for me, $1000 for you, and we hire the guy from Tennessee to fix the fence.'


'Done!' replies the government official.
It creeps me out when comedy so closely resembles reality. The NJ contractor could easily be Halliburton or Parsons.
Posted by mcblogger at 11:30 AM | Comments (0) | TrackBack
Richardson, with all the enthusiasm of a corpse, endorses the Obamassiah
Yes, that's right... Mr. Personality himself, Gov. Bill Richardson, has endorsed the Obamassiah. I dare ANYONE to come up with ANYTHING less inspiring.
Why, no, I don't like Gov. Bill Richardson. It's because of his 'vast' foreign policy experience and his incredible gullibility, coupled with his egotistical self-importance. I know this is supposedly a blow for Hillary and all, but this guy is like a bad penny... he's nothing but bad luck. I wonder what the Obamassiah dangled before that corpulent face to get him to endorse?
Posted by mcblogger at 08:58 AM | Comments (0) | TrackBack
Hillary's Schedule...
Seriously, this is the best the WaPo could do? These were he first four headlines in Politics Daily...
In Hillary Clinton's Datebook, A Shift (By Peter Baker and Karen DeYoung) Hillary Clinton's White House Schedules Accounts Reveal So Much, Yet So Little (By Libby Copeland) VIDEO: Clinton's Records As First Lady Unveiled
THREE articles and a video?!?!?!? Pink Lady sooo nailed this.
Posted by mcblogger at 08:10 AM | Comments (0) | TrackBack
March 20, 2008
HERA (hearts) Equality Texas
The Houston Equal Right Alliance is announcing is integrating with Equality Texas. Together, they will work to make LGBT Texans safe from discrimination. And, hopefully, polyblend (seriously, have you seen some of the hideous things people are wearing around with a straight face?)
Full release in the supersize... where all the big boys belong.
Houston Equal Rights Alliance (HERA) Announcement EXCITING NEWS!!!

HERA to Integrate with Equality Texas



Dear Friends and Supporters,


The past four to five years have been amazing as we have
seen much progress in terms of electing pro-equality
legislators both at the local and statewide level. HERA has
been the lead organization during this time in identifying
voters, reaching out to the Houston community through our
educational work and building alliances with other GLBT and
progressive organizations. We are proud of our
accomplishments including the identification of literally
thousands and thousands of voters since 2004 who said that
they would without hesitation support gay, lesbian, bisexual
and transgender civil rights. Our progress....simply
put...has been because of YOUR faith and support.

With progress comes change...and we are excited to announce
that as of March 15, 2008 that HERA will officially
integrate with Equality Texas. Equality Texas is our
statewide political organization working to advance the
cause of equality for all Texans. Equality Texas, whose
programmatic and advocacy work across the state has mirrored
HERA's in the greater Houston metropolitan area. Equality
Texas has been a longtime alliance partner of the Houston
Equal Rights Alliance and we are proud of our collaborative
and successful efforts.

HERA's Board of Director's began a dialogue last year with
Equality Texas about how we could best achieve our common
goals and objectives in the Houston metro area. The
decision was made by both Boards to look at the possibility
of an integration. Since then, we have talked to many of
our supporters to get feedback on the proposed integration.
The dialogue and feedback were overwhelmingly positive and
this resulted in our respective Board's adopting a proposal
to integrate HERA with Equality Texas.

There are three primary reasons why the HERA Board voted to
integrate with Equality Texas.

a.. We have a tremendous amount of respect for Equality
Texas and the work the organization is doing across the
State of Texas. We have always considered the success of
Equality Texas core to our work in Houston. This
integration represents an opportunity for Equality Texas
to have a greater level of infrastructure and support in
the greater Houston metro area.
b.. This integration is a natural progression for HERA
considering our key areas: building alliance
relationships, developing infrastructure and a strategic
focus looking out to the next 3-5 years and beyond.
c.. The primary reason is that this integration is in the
best interests of the Houston GLBT community. All the
work and accomplishments through HERA have always been
about serving our community and this decision is no
different.
This is a "win-win" situation because Equality Texas will
benefit from the infrastructure that HERA has developed
through the years and the Houston community wins because we
will have a larger presence with our statewide organization.
We need Equality Texas to be successful...not just for
Houston but for the place we all call home...Texas. The
HERA Board is working to make this integration successful
and we will continue to work with and support Equality Texas
until the day when the gay, lesbian, bisexual and
transgender community is no longer treated as second-class
citizens.

Your support has been and will be critical going forward.
Because of your commitments of time and financial support,
we have achieved incredible programmatic, electoral and
grassroots achievements. And as we look ahead, the HERA
Team is asking you to support Equality Texas because this is
an organization that is truly making a difference 365 days
a year for our community.

Please visit www.equalitytexas.org to learn more about
Equality Texas.

Keep an eye out for an announcement about our Launch
Party!!!! You will have an opportunity to learn more about
the exciting plans for 2008 and beyond.

Thank you again for ALL OF YOUR SUPPORT!

For Equality,

Rob Scamardo
President

Tammi Wallace
Founding Board Member, Former Executive Director and
Immediate Past President


About the Houston Equal Rights Alliance (HERA)

The Houston Equal Rights Alliance (HERA) is an alliance of
individuals and organizations committed to building a
sustainable strategy through community building to promote
equality and respect for gay, lesbian, bisexual, and
transgender people through education and advocacy.


THANK YOU!!!

Thank you for all of your amazing support over the years!!!! The
years ahead are going to be exciting as we push forward with
Equality Texas to work on behalf of gay, lesbian, bisexual and
transgender civil rights.

Look for details on our upcoming Launch Party !!!! You will be
able to hear more about the exciting plans for 2008 and beyond!

Please visit
www.equalitytexas.org to learn more about the amazing work of our
statewide organization.

The HERA Board wishes to express our deepest appreciation for Paul
Scott, Executive Director of Equality Texas and to the Board for
their dialogue, openness and commitment to this integration and
putting our communities best interests in the forefront at every
discussion.

THANK YOU!!!

TO OUR
VOLUNTEERS:

You are the absolute best! All of your blood, sweat and tears
have made a difference in Houston and will continue to do so. We
look forward to working with you through Equality Texas!!!

TO OUR
FINANCIAL SUPPORTERS:

Every voter ID, discussion with a voter about GLBT civil rights,
political victory, etc., is because you funded work that has truly
made a difference in Houston! Every dollar made a difference and
we thank you for your support!

TO OUR
ALLIANCE PARTNERS:

Thank you for every hour, every meeting, collaborative effort and
working together for a cause we all believe in - EQUALITY!

Click here to learn more about Equality Texas:

Mission and Values
Board and Staff
History
Issues
Victories
Press Room
Upcoming Events


Call To Action - Sign up to receive Equality Texas emails.

Visit the Action Center to sign up


Click Here to Contribute to Equality Texas and support the local
work in Houston:

Contribute to ET!!!


DON'T MISS THE LAUNCH PARTY!!!! MORE DETAILS SOON!!!




For more information about the Equality Texas-HERA integration,
please contact:
info@equalitytexas.org
512.474.5475





Email Marketing by


Houston Equal Rights Alliance (HERA) | 1915 Commonwealth, Suite 104 | Houston
| TX | 77006

Posted by mcblogger at 02:08 PM | Comments (0) | TrackBack
Noriega : A Progressive Patriot
Sen. Feingold (who has an 'order' (more like a suggestion, really) saying that Sister Ruth must stay more than 100 feet away from him at all times) needs to know that Rick Noriega IS a Progressive Patriot. Go tell him here.
Posted by mcblogger at 12:15 PM | Comments (0) | TrackBack
City Council Endorsement - ALGPC and SDA
I got to see some of the candidates, hear some of their positions, smoke a cigarette out on the street (because of you goddamn asthmatics who banned smoking indoors) and finally find out who we endorsed.
It was an exciting night down at the Commissioner's Court. At least I was excited. I'd been looking forward all day to seeing Jennifer Gale's first performance of the city endorsement season. Unfortunately, due to an unfortunate oversight on the part of SOMEONE at ALGPC, she wasn't invited. When I protested, the others in the audience, who have no appreciation for raw talent, kinda got irritated AND GROANED. It's a shame so many had to die, but I just couldn't see myself putting up with that kind of behavior. Well, that AND I was nicfitting like a motherfucker. I know, I quit... however, after the day I had I needed a damn cigarette. Cut me some slack, mother. YOU didn't have to deal with your admin asst threatening to quit. At 4:30 in the afternoon, natch.
Though the membership rolls of both the Austin Gay and Lesbian Political Caucus and Stonewall Democrats of Austin were decimated, they did manage to make some great decisions... and some real mistakes.
Place 1
ALGPC - Leiffingwell
SDA - No endorsement
Place 3
ALGPC - Shade
SDA - Shade
I voted for Kim in both and feel that a mistake was made. By letting so many clearly stupid people vote. I kid, I kid... I like Randi and think she's a nice lady. I just like Jennifer's tenacity better and think she's done a much better job than she's generally given credit for.
Place4
ALGPC - Morrison
SDA - Morrison
I gotta say, I'm disappointed Robin Cravey didn't get at least one.
In other exciting city council endorsement news, BATPAC released their endorsements.
Posted by mcblogger at 09:46 AM | Comments (2) | TrackBack
March 19, 2008
Bush to scrap state Homeland Security grants
No, I'm not kidding. Kind of a mixed bag since I thought it was nothing more than a slush fund anyway. However, I just have to ask, what about the terrawrists?
Posted by mcblogger at 01:46 PM | Comments (0) | TrackBack
Don't ask, the policy smells
It appears that the majority of military leaders support Don't Ask, Don't Tell, Don't Persue. The policy has been widely derided as a compromise that delayed full equality for LGBT service members. Without arguing that, it has allowed some members of the LGBT to serve as they wished, even if they couldn't be open about themselves.
What's interesting is not that the majority now supports this policy, it's that a full 22% support repeal and allowing openly LGBT citizens to serve. That's a substantial change from 10 years ago.
Posted by mcblogger at 10:33 AM | Comments (0) | TrackBack
Cornyn, dodges the draft and only now votes for vets
Apparently, Cornyn has decided to release his military records
1. Private 1st Class Cornyn showed exceptional leadership and courage when he was the first to attack the chow line on mystery meat day, putting himself and his stomach at risk.

2. Later in the day, Private 1st Class Cornyn again displayed exceptional leadership by single handedly clearing the way to the latrine after crapping his pants during live ammo training.

3. Cornyn was eventually given an honorable discharge after whining me and my staff to tears. His service to his country and his dry cleaners has been invaluable.
Cornyn also has finally decided to support a VA hospital. In the Valley. The same one that Sen. Hutchison swore to support. Maybe they should stop calling him Senator Junior John and instead Senator Johnny Come Lately. The funny thing? Somehow, Cornyn's support of this bill causes a problem for Noriega? Oh hell, R.G. What's wrong with pointing out that in SIX YEARS it was a Democrat that got things moving. For four of those six years, Junior John was a leader in the party that controlled Congress AND the White House and he couldn't get this done? Of course Noriega's going to point that out.
And Texans will be listening.
Posted by mcblogger at 08:40 AM | Comments (0) | TrackBack
March 18, 2008
Roundin' up the TPA
It is time for another edition of the Texas Progressive Alliance's weekly blog round-up. The round-up is compiled each week by the TPA based on submissions made by our member blogs and bloggers. This week's round-up was compiled by Vince from Capitol Annex.
The leader of McBlogger's crack legal team has an interesting take on Gov. Spitzer's premium taste in hookers.
TXsharon at Bluedaze asks if Texas Railroad Commission malpractice like this will cost you your life or only your health.
WhosPlayin looks at plagiarism by a Republican candidate for city council: John Gorena, of Lewisville who lifted quite a bit of his website from a Democratic judicial candidate.
Off the Kuff takes a look at downballot voting in the Democratic Primary in Harris County.
WCNews at Eye On Williamson shines a light on the latest Texas GOP voucher scam in HD-52, Education Matters.
Hal at Half Empty came across the latest production by the DSCC, and to his surprise and delight, found it was about (or going to be, eventually) our own senatorial candidate, Texas Democratic senatorial nominee Rick Noriega.
Good luck unemployed people of Texas. The Texas Cloverleaf exposes Governor 39%'s recent appointment of GOP idealogue and fellow blogger, Tom Pauken, as the new chairman of the Texas Workforce Commission.
CouldBeTrue at South Texas Chisme shows how Republicans shaft Texas workers on behalf of their business cronies. Insurance companies are forced to reveal medical data on perspective employees and unemployment insurance premiums are cut to give companies a 'tax break'.
Vince at Capitol Annex takes a look at a number of scorecards ranking Texas' Congressional Delegation in which Texas' Republicans score big, fat "F's" when it comes to children, families, the middle class, the environment, working Americans, and more.
In "Bulletins from the front lines", PDiddie at Brains and Eggs advances some of the challenges the forthcoming Senate District conventions will face, with the expected huge turnout expected to overrun facilities and organizers.
nytexan at BlueBloggin looks at the different delegate counts provided by the media and asks So You Think You Know The Delegate Count.
Refinish69 at Doing My Part For The Left writes a Letter to Hillary.
Fake Consultant takes a shot at predicting a perfect VP for Obama at Texas Kaos.
Posted by mcblogger at 03:43 PM | Comments (0) | TrackBack
Wishing Monica the best
Monica Goodling will be getting married and is planning to have more insipid little Republican offspring. That is, if her fiance isn't one of the many gay Republicans living in working in the DC area.
The couple are registered at Wal-Mart, Kohls and Pre-Paid Legal Services.
Posted by mcblogger at 01:54 PM | Comments (0) | TrackBack
Perception is reality
Take a balance sheet weakened by the non-marketability of assets on it. Add in doubts from counterparties and an unwillingness to take the other side of a trade to, for example, assume interest rate risks. Combine with client uncertainty and top it all off with the loss of access to the critical commercial paper market (the financial lifeblood of all the large non-depository banks) and you have the perfect financial storm that destroys an investment bank.
That, in short, is what happened to Bear Stearns. Was Bear in trouble? Sure. The fact that the company made some horrendous bets on some very toxic MBS, mostly filled with Alt A and Sub-Prime credits. Then they dumped them into CDO's, in which interests were sold to investors. Just to add another layer of risk, they then borrowed heavily against the shit credits in the CDO to, wait for it, buy still more shitty credits to juice the return. The CDO could borrow cheaply so the spread income was very good and helped Bear come in with extremely good profits. As long as no one doubted the value of the credits in the CDO. When those became unsaleable, creditors called loans and there was a run on the bank.
And that last bit is what killed Bear. You can't pay off $100 Billion in loans with $20 Billion in equity, for example. If you can't float that $100 Billion with constant funding, you're effectively bankrupt. Well, that's actually putting it mildly. You're a cautionary tale. The fact that the assets you've acquired with that debt are worth less than 1/10 what you paid just seals the deal on the tragedy.
Though the underlying event was different, something very similar happened to Salomon Bros. in 1991. Then, a white knight was able to step in, restore confidence and, by extension, the funding. No such luck this time with JPMorgan Chase. The only question that remains is were their actions deliberate. Consider this...
The swiftness of Mr. Dimon's decision to buy Bear is remarkable given that he has not been an aggressive acquirer since he joined the firm after selling it BankOne, where he was chief executive. He has cautioned patience about making acquisitions, though he had suggested in recent months that the firm might be ready to make a major deal.

Earlier this month, the co-chief executive of JPMorgan's investment bank, William T. Winters, said on a conference call with investors: "If a special opportunity came up to acquire a prime broker at a decent return, we wouldn't hesitate. We've always said, 'Boy, if there was one for sale, we'd love to look at it.' "

A deal needed to be reached quickly to protect the business from collapsing entirely. With most if not all of its clients stopping trading with the firm, its days were numbered.
One has to wonder if maybe the crisis of confidence was, if only in part, exacerbated by JPMC. Of course, we'll probably find out. That's what lawsuits are all about.
Posted by mcblogger at 11:59 AM | Comments (0) | TrackBack
Randi Shade likes queso (and, apparently, tolls)
The city council elections are coming up May 10 and to say I'm excited would be like saying Tina Fey is mildly amusing. I'm ecstatic. Because of endorsement meetings with Jennifer Gale. That's right. That's what has me excited. You people that go to those meetings and bemoan the fact that you've got to listen to her are idiots with no appreciation for her unique comedic talents. Normally you'd have to pay cover and buy two drinks to get that kind of a show.
I'm just thrilled to be quite honest and will try to make as many of her performances as possible. Of course, I will not be voting for her. I'll be voting for one of the other, less amusing though slightly more sane, nuts.
McSleaze and I will be keeping a close watch on the candidates. Mostly because we want to see the moment when a candidate turns into a shit flinging monkey.
Today though, we'd like to point you to a few things floating around, like poop in the toilet at that 7-11 in Round Rock I stopped at today. First off, there's David Mauro's breakdown of the candidates running this year. No Brewster isn't there so you'll not have a chance to vote against him. That's next year. This year we have these folks. Among them, Randi Shade and Cid Galindo stand out, kind of like a guy in a suit at Casino el Camino. Matt at BOR recently posted this piece about Randi and some of her contributors. Randi then posted this piece which is mostly interesting because of the back forth between m1ek, Sal Costello and Kedron Touvell. Oh, and me.
Yeah, yeah... I know there are other issues besides the toll roads but can you think of one that effects as many issues as transportation infrastructure? Randi is coming across more and more as just another politico more interested in a short term fix than a long term solution that might take some work.
Posted by mcblogger at 09:07 AM | Comments (1) | TrackBack
March 17, 2008
THEY said it would pay for itself...
...and Tom Tomorrow has his take on the Iraq War.
Posted by mcblogger at 03:12 PM | Comments (0) | TrackBack
Things to do...
1) Create artificial blackhole
2) Dump douchebags into it
Posted by mcblogger at 12:35 PM | Comments (0) | TrackBack
LOVE me some Peaches
For all of you who have wondered if that Fuck The Pain Away song I've talked about was real. I should probably mention that this is not safe for work. However, this is McBlogger. If you're reading this at work then you're probably looking at porn too. And yes, your entire IT department knows about your japscat fetish.
Posted by mcblogger at 10:29 AM | Comments (0) | TrackBack
Well Fuck Me To Tears
Gary Mauro, head of the Clinton campaign in Texas, has been making noises about suing the Texas Democratic Party to delay the next step in the convention process that began on the evening of March 4. (Full text of Mauro's letter to TDP Chair Boyd Richie in the supersize.)
Seriously, a lawsuit? I cannot imagine any action that would cause more harm to Texas Democrats while availing the Clinton campaign little.
Make no mistake, I continue to support Hillary Clinton for President. She is far more ready to lead this country through the difficult times we will be inheriting from the Bush regime next January. Experience does matter. Hope is not a political philosophy nor a strategy for governance. I fear that an Obama Presidency would become a replay of Carter's: a well-meaning boob without the skill to get anything done who paved the way to an era of GOP tyranny.
That said, the sad fact is that Hillary Clinton's campaign has been one of the worst-run in history. Honestly, who could imagine a candidate with carefully-honed political skills, widespread name recognition, the backing of the party of the Party Establishment, and more fundraising potential than God standing on the brink of defeat as the primary season begins to wind down? (And as an aside, remember all the pundits who spent 2007 talking about "Hillary's flawless campaign"? Why do they still have jobs?)
Nowhere is the incompetence of the Clinton campaign more blatant than their inability to win caucus states. Caucuses are made to order for Establishment candidates to have their way. Unlike primary elections, a process familiar to the voting public, caucuses involve showing up for a few hours, are governed by arcane rules, and involve actually stating where you stand politically in front of your neighbors. No wonder many people don't even know caucuses exist, fewer still actually participate, and even many of those who do barely know what happened. For an insurgent candidate's supporters to win not just one of these contests, but caucus after caucus speaks to their skill and enthusiasm and to utter failure from the Establishment.
So now we come to Texas. For months Texans for Obama had been building a grassroots organization, identifying supporters. The Clinton campaign did nothing of note until it became clear that the primary race would not be decided on February 5. Of course, when the Clinton bandwagon did roll into Texas, they did pull out all the stops, recruiting volunteers, major advertising buys, and Hillary, Bill and Chelsea all barnstorming across the state. It was enough to eke out a narrow victory in the Primary, but in the race to identify supporters and motivate them to come back to their precinct conventions in the evening the Obama campaign had a lead that could not be erased in a few weeks.
Gary Mauro's letter is an insult to all us Texas Democrats who guided their conventions through that Category 5 political storm. Were mistakes made? Undoubtedly. Was there confusion? Of course? Did some ineligible people participate? It would not surprise me. But I am convinced that given the overwhelming turnout that night the percentages were small, the mistakes mostly honest ones and distributed in favor of both candidates so their overall effect on the results pretty close to zero. And for anything beyond that, that's why conventions have Credentials Committees.
Leading up to March 4th, both national campaigns did a great job of promoting paranoia and distrust of the "other side". Gary Mauro's letter continues that harmful process. It should be withdrawn and all plans for legal action that would interfere with our county and district conventions abandoned.
March 14, 2008

BY FEDERAL EXPRESS, EMAIL AND FACSIMILE TO (512) 480-2500

Mr. Boyd L. Richie
Chairman, Texas Democratic Party
State Democratic Executive Committee
505 W. 12th Street, Suite 200
Austin, Texas 78701

Dear Chairman Richie:

We want to congratulate you on the extraordinary turnout of voters across the State of Texas who participated in the March 4 Democratic presidential primary and precinct conventions. We appreciate the unprecedented administrative challenges the high turnout presented. Fortunately, the Texas Democratic Party has under its Rules and the Texas Delegate Selection Plan requirements designed to ensure that the process in which eligible voters participate is fair and one in which they can have confidence, and when there are deficiencies, requirements to ensure that those deficiencies are rectified.

In this regard we are writing to express our concerns regarding the review and tally of the official results of the State Party's precinct conventions on March 4. As you are no doubt aware, there are significant questions about whether the precinct conventions were conducted in accordance with the Party's Delegate Selection Plan and Rules. On the night of the caucus itself we brought many instances of these irregularities to the attention of the State Party. The campaign received in excess of 2,000 complaints of rules violations, indicating widespread violations of the Party's rules, including the following specific occurrences that are clear violations of specific rules:

• Temporary Chair packets were released by the election judge prior to 7:00 pm
• Sign-in sheets were filled out before 7:00 pm
• Precincts were consolidated for purposes of holding a convention
• Precinct caucuses began before polls closed for the primary
• Ineligible participants voted or ineligible delegates were elected, including participants who were not registered voters, participants who did not vote in the primary, provisional voters whose votes were counted, and no verification was made of the eligibility of participants or delegates
• Accurate written records of participants, presidential preferences, and elected delegates were not kept
• Participants' names and presidential preference were entered on sign-in sheets by someone other than the eligible individual participant
• Results were taken from a head count or hand count rather than the written roll
• Delegate votes were not ratified by the precinct convention
• Failure to follow Robert's Rules of Order at the precinct convention

We have had several conversations with the State Party since March 4, including conversations with Chad Dunn, regarding the procedures that the State Party intends to follow to insure that the rules were followed and that only the votes of eligible participants would be considered. We understood that we were to receive a memorandum regarding that process, but were advised yesterday that instead we would be invited to a briefing on Monday, March 17.

Last week our Counsel, Lyn Utrecht, was told by Mr. Dunn that the State Party intended to verify the eligibility of participants and that the Party's IT people were working on a system for doing that electronically. On Tuesday the 11th, when Ms. Utrecht contacted Mr. Dunn to inquire about the status of the memorandum regarding the procedures, she was advised that the State Party no longer intended to verify the eligibility of participants or delegates because the Party would not have the ability to do that before the County Conventions. This was confirmed by Mr. Dunn yesterday.

Therefore, it is our understanding that the results will be counted and delegates awarded based on a count of votes without any determination by the State Party of eligibility of the participants, and without any certification by the Precinct Chairs or County and Senate District Chairs that they completed a thorough review of the eligibility of participants and delegate candidates.

Thus it will be left to the campaigns to file credentials challenges against those delegates awarded based on the votes of ineligible participants, without the State Party making any effort to identify ineligible participants. We were advised yesterday that we will begin to receive copies of the scanned sign-in sheets sometime early next week and that it will not be until the end of next week when we will receive all of this data. In order to review this, the campaigns will also need access to the voter rolls to determine who voted in the primary held that day. While the State Party has indicated that it will request this information from the larger counties and provide it, it is unclear how soon that information will be available. For the smaller counties, the campaigns must request it from each county.

We believe this is in direct contravention of the Rules, which require that the Party determine the eligibility of participants and that only the votes of eligible participants are counted. Moreover, if the Party's reason for not ensuring that only eligible participants are counted is based on the fact that the Party cannot complete the review process prior to the scheduled date of the County and Senate District Conventions, the campaigns can't possibly complete this review in a timely fashion. Credentials challenges are presently due March 26.

We believe that (1) it is a violation of the Party's Delegate Selection Plan and Rules for the Party not to ensure that the eligibility of participants was determined before their votes are counted; and (2) if the Party cannot complete this task in time to hold the next level conventions on March 29, those conventions must be postponed until such time as accurate presidential preference counts can be made based on a review of each and every sign in sheet to determine eligibility of participants and delegates.

It is a violation of the rights of legitimate participants to have their true vote count distorted by violations of the Party's Rules. It is the Party's responsibility to ensure the integrity of the precinct convention process by making sure that the Rules were followed and that the final official results of the precinct conventions are accurate and in compliance with the Rules.

Therefore, we respectfully request that the Party explain to both campaigns what procedures will be followed to ensure the accuracy and integrity of the precinct convention results and agree to postpone the County and Senate District Conventions until such time as that process can be completed.

We look forward to working with you to ensure that the votes of the people who participated in the March 4 primary and precinct conventions are accurately counted.

Sincerely,

/s/

Garry Mauro

Authorized Representative

Guy Cecil

National Political and Field Director
Posted by mayor mcsleaze at 08:07 AM | Comments (0) | TrackBack
March 16, 2008
Andre WIlliams Managed to Stay Concious...!
My favorite thing in life, better than chocolate cake in bed, SXSW!!! Nothing keeps me away from what I consider Austins finest and one of the reasons I believe that I live in the best city possible...those of you jealous haters, its ok I understand. Ok so I said nothing keeps me away which is'nt exactly true because this time around politics did a great job of keeping me out of most every show I wanted to see, actually every show that I wanted to see with the exception of ONE...Ew! Anyway last night I had the great pleasure of seeing the super fantastic Andre Williams perform at the Continental Club, it was one badass funk fest. Williams, 72 has had quite a life, his Mom died when he was just 6, he survived severe poverty, homelessness, some serious drug addiction, and alcoholism. I tell you that partly for good background information as well to to help explain the fact that he appears to be closer to 92. He has worked with many musical greats such as Cab Calloway and Stevie Wonder and his song titles include "Jailbait," "Shes A Bag of Potato Chips," and "Thunder Thighs." He barely moves on the stage except for when he starts to tip over but it works out well due to his lively band and hippy hippy shake go-go dancers, there are lots of great distractions. Andre, dressed head to toe in red staggered around the microphone his eyes half closed and made out with a pint of rum the whole night, all that and he never missed a beat! His songs were just as good as his records and the music was insane. It was an incredible time...check this man out!
Posted by at 02:21 PM | Comments (0) | TrackBack
Condoleezza Rice Was "Bombarded" with Warnings Before 9/11,
Contrary to story we were told by the Administration and our ersatz Secretary of State, she was advised on numerous occasions by Richard Clarke that Bin Laden was ready to attack the US in the months leading up to 9/11. Condi ignored that information and Philip Zelikow (9/11 Commission staff director) helped cover up the discovery that Rice was MIA.

read more
Posted by mcblogger at 09:49 AM | Comments (0) | TrackBack
March 15, 2008
...And the sun also sets
It's always sad when something you really dig starts to, well, suck. Now I guess I know how some of you readers must feel.
If you, like me, are a connoisseur of excellent television, then you've probably discovered the brilliance that is The Bad Girls Club on Oxygen. What an amazing concept... bitches, really mean and nasty bitches, taken out of their ordinary trash environment and forced to live with other trash bitches. Fucking brilliance, I tell you!
And now the ride is over. On the episode this week, they threw out the queen of the bitches, Jennavecia. Which means the conflict is gone and replaced with stoopid laughter and 'getting along'. The preview for the next episode promises some conflict... I may watch it. I may not. I don't think any one of these morons could out badass Jennavecia.
Oh, and Tenisha, brush those fucking cookie crumbs off your boobs. You're gross. Especially when you wax your face.
Posted by mcblogger at 11:48 AM | Comments (0) | TrackBack
March 14, 2008
Thank you, House D's! Telecom Immunity goes down in the House like a dirty ho
The House version of the FISA bill passed without telecom immunity! THANKS TO EVERYONE WHO VOTED FOR IT!
Posted by mcblogger at 03:38 PM | Comments (0) | TrackBack
So, is anyone going to Ultra?
While you're all off enjoying that shitty acoustic band at the Continental (Yes, they do suck. Don't buy the CD. They aren't the next big thing, lamer) remember that there are those among you who making the ultimate sacrifice for you and democracy.
That's right, bitches. I'm staying here for the County Convention instead of going to Miami for Ultra. Which really pisses me off since friends of mine around the country are going. To the three or four that read this, Hiya. Oh, and you are the suck. Pass that around, especially y'all out in OC.
Soulless electronica, electroclash and dance? Yep. Ridiculous mashups of Royksopp and Dolly Parton? Hell yeah. An all out auditory assault? Oh, I sure hope so. For the people who will be there. A group which, unfortunately, will not include me.
Posted by mcblogger at 03:12 PM | Comments (0) | TrackBack
More positive news from the GOP
The Republicans have hired Carly Fiorina to run Victory 2008!, the GOP's fundraising effort to benefit Olden Times. Carly will also be acting as an economic advisor to and evangelist for the economic policies of Olden Times. Conservatives in the GOP are unhappy about all this.
It's probably because they, like myself, remember Carly's last big job which was destroying shareholder value while CEO of Hewlett Packard.
No, Carly, buying Compaq was a piss poor idea.
Posted by mcblogger at 01:48 PM | Comments (0) | TrackBack
Keeping things in perspective
While Elliot Spitzer's actions are sad and all, let's keep things in perspective...
o Democratic president consorts with intern: Impeachment, no conviction.

o Democratic governor consorts with prostitutes (overtones of unsafe sex): Choice of resignation or impeachment.

o Republican senator consorts with prostitutes (overtones of diaper-wearing): No big deal.

o Republican senator solicits gay sex in men's room: Human punchline, Ethics Committee admonishment.

o Republican vice president shoots hunting buddy in the face: No big deal. Victim apologizes.

o Republican president starts war under false pretenses, tortures prisoners, wiretaps American citizens without warrants, etc, etc, etc.: Impeachment "off the table."

o Republican-appointed CENTCOM commander displays sound tactical and strategic judgment that stands in the way of Dubya's shiny new war: Forced to resign.
And let's not forget this bitch (here and here) whose return to the OK House of Reps was treated like a homecoming after doing something brave. Instead of the shunning she richly deserves for being just another badly dressed bigot who thinks homosexuals are a bigger threat than, well... anything. According to her. I guess she doesn't realize that the people who should feel threatened by gays are the badly dressed and coiffed.
Posted by mcblogger at 09:39 AM | Comments (0) | TrackBack
March 13, 2008
Names for McCain
WOW! It's been a while since we've written about the irrelevant Republican candidate, Senator Olden Times. That's what I've decided to start calling him. The Mayor is going with McThuselah.
I really hate McSleaze and his clever little brain sometimes.
Anyhow, OLDEN TIMES is running ads about what he's done to stop pork barrel spending. Specifically on projects he thinks are of dubious value. Like a census of bears. What he didn't realize is that the project was essential to determining if grizzlies were still an endangered species or if their numbers were high enough to support hunting them. See, states like (and I'm just throwing this out here) MONTANA have a pretty good business going on with hunters that travel in. Plus, it would be nice to know if the Endangered Species Act actually worked. Olden Times thought all that was a bad idea. Like those kids playing on that bit of gravel in front of his Arizona home which he insists is a yard.
An article up on AlterNet also talks about how people 'trust' Olden Times on Iraq. And the War on Terror. Of course, it's all hypothetical and people are still more interested in other things but there you are. Just wait until Hillary spins up the campaign in the fall.
So which name do you like better? McThuselah or Olden Times? You get to vote in the comments or via email and we'll go with your decision. As long as it's OLDEN TIMES.
Posted by mcblogger at 02:33 PM | Comments (0) | TrackBack
The high cost of going solar
The WaPo has a great article up about how one of the inputs into the manufacture of photovoltaic cells is causing a lot of problems in China. The input is polysilicon which elsewhere in the world, where there are environmental regulations, costs $84,000 per ton to produce. In China they are doing that for $21,000 to $56,000 per ton. You can do that when you don't worry about what you do with your waste. The waste in the case of polysilicon is silicon tetrachloride which basically kills everything. Not to mention that you can recycle it to create more polysilicon, which is a large part of the increase in cost for western manufacturers.
About nine months ago, residents of Li's village, which begins about 50 yards from the plant, noticed that their crops were wilting under a dusting of white powder. Sometimes, there was a hazy cloud up to three feet high near the dumping site; one person tending crops there fainted, several villagers said. Small rocks began to accumulate in kettles used for boiling faucet water.

Each night, villagers said, the factory's chimneys released a loud whoosh of acrid air that stung their eyes and made it hard to breath. "It's poison air. Sometimes it gets so bad you can't sit outside. You have to close all the doors and windows," said Qiao Shi Peng, 28, a truck driver who said he worries about his 1-year-old son's health.

The villagers said most obvious evidence of the pollution is the dumping, up to 10 times a day, of the liquid waste into what was formerly a grassy field. Eventually, the whole area turned white, like snow.

The worst part, said Li, 53, who lives with his son and granddaughter in the village, is that "they go outside the gates of their own compound to dump waste."

"We didn't know how bad it was until the August harvest, until things started dying," he said.

Early this year, one of the villagers put some of the contaminated soil in a plastic bag and went to the local environmental bureau. They never got back to him.

Zhang Zhenguo, 45, a farmer and small businessman, said he has a theory as to why: "They didn't test it because the government supports the plant."
More and more, everyone should realize that fallacy of free trade. It's trade with with economies that will poison the environment we all share in order to make a buck. Even if it means killing themselves and us.
Posted by mcblogger at 12:54 PM | Comments (0) | TrackBack
Things aren't all that rosy in Iraq... nor are they completely dire
The NYT released their Iraq scorecard which can best be summarized with the following...
It is far too soon to predict that Iraq is headed for stability or sectarian reconciliation. But it is also clear that those who assert that its politics are totally broken have not kept up with the news.
This is all with a lot of stuff in the backdrop, namely the election season. Which is kind of interesting since the Republicans are solidly failing to land hits or adequately defend their position to keep troops in Iraq for the next 100 years. Here's the problem, which the Times glosses over... are our troops worsening or helping the political situation in Iraq? The Iraqi's seem to be pretty clear that it's the former.
Now the Senate wants to know what happened to all the money the Iraqi's have made on oil sales.
Despite the dire need for better health care, more electricity and clean water, a functioning sewage system and other services, the accountability office has previously estimated that Iraq spent only 22 percent of the oil money set aside for reconstruction in 2006. And in January, the office, which is charged with overseeing the Iraqi government's finances, reported that Iraq had spent a meager 4.4 percent of its 2007 reconstruction budget by August of that year, the most recent figures available at the time.

As a result, the letter from the Armed Services Committee says, "we believe that it has been overwhelmingly U.S. taxpayer money that has funded Iraq reconstruction over the last five years, despite Iraq earning billions of dollars in oil revenue over that time period that have ended up in non-Iraqi banks."
The Pentagon is releasing a detailed and thorough analysis of Iraq's connections to terrorism prior to the invasion. The conclusion? It's the same one you've heard before... there were no ties to terrorism. Period. Bush, Condi, Cheney, Rumsfeld and Wolfowitz made it all up. Which makes them liars.
Unfortunately, none of them can be prosecuted. Well, at least not the ones that didn't testify before Congress.
At the end, it's time to acknowledge we've done all we can do. We're more a crutch than a real help at this point and it's time for our men and women to come home from Bush's attempt to create a friedmanite paradise. We owe it to them.
Posted by mcblogger at 11:37 AM | Comments (0) | TrackBack
FISA Update - Conyers is kicking ass
In stark contrast to what happened in the Senate Intelligence Committee when the FISA modernization act was brought up, the House Judiciary Committee, in a VERY nasty way, shut the door on immunity for the telecos.
As a result of our review of classified as well as unclassified materials concerning the Administration's Terrorist Surveillance Program, we have concluded that blanket retroactive immunity for phone companies is not justified.
And this is why we would gladly go down on Rep. Conyers. Well, we would if he wanted it.
In other FISA related news, Jane has (in the last day or so) raised more than $42k to take down Blue Dogs who want to vote for telecom immunity. Go tell her where she should spend it.
On another note, as it turns out that Total Information Awareness Program we all thought Congress killed in 2003 is not so much dead.
Posted by mcblogger at 09:03 AM | Comments (0) | TrackBack
March 12, 2008
Buying the best
Harold Meyerson has a pretty good article about Gov. Spitzer's premium-brand vice in today's Washington Post. The gist being "$5500? I don't think I could come up with a fantasy worth that much. But of course, really it's all about being rich enough that you can shell out that kind of coin without flinching, because you're Mister Big Time So Rich Can Afford Fitty-Fie-Dollah-Hoes Man."

I'm paraphrasing the point of the article, of course. Harold isn't down with the youth street lingo these days like I am. But he makes a point. The same instinct that led Gov. Spitzer to drop major coin on high caliber chickage-for-hire compels me to purchase expensive dijon mustard at Central Market. It's way overpriced and I'm pretty sure its liberal proportion of horseradish is going to leave me without any nasal mucous membrane in my old age, but I can take comfort in knowing that my success in life allows me to buy it instead of Hill Country mustard from HEB; which, to be honest, probably tastes better. (...especially when applied to the exquisite thighs of a $5500 Ho, I'll bet). Some wildly successful men are all about the finest and best hos. I'm all about the fanciest mustard. That's just how I roll.

How about y'all? What do you pay too much for in order to conspicuously highlight your achievements in life?
Posted by hbalczak at 02:22 PM | Comments (0) | TrackBack
FISA - We were right
Well, it appears more is happening in the House on the FISA front and it's not going the White House's way. I know, I'm really sad about that, too. It's always disheartening to me when I hear about something bad happening to someone I really don't like.
As it turns out, the victory of Bill Foster in Illinois was due, in part, to his stand for the rights of Americans against the telecom companies. Foster was against granting telecom companies immunity for their illegal actions in complying with President Bush's illegal wiretap order. So much for the scare tactics of the Republicans and beating the national security drum. If you people couldn't win on this in Hastert's district, you aren't going to win with it. Anywhere. In fact, people may actually boo your candidates. That, you definitely don't want. We did warn you about all this, Republicans. You really should have known better.
One side note, as DKOS points out, is that Mark Klein (the AT&T employee who blew the whistle on NSA eavesdropping) has not been called to testify. If anyone would know about this dragnet intelligence gathering technique, and the laws the telcos broke, it's him.
Meanwhile, back to the debate at hand... Leahy and Conyers are joining forces to take down Sen. Lawn Chair (he's always folding up) and the Administration. Help them push back on Bush by clicking here. The sad part is that it's not just the Republicans pushing to protect the telecoms and the President from well deserved prosecution, it's also a group of 21 blue dogs. Jane Hamsher is thinking it's time to take them down. In case you were wondering, none of them are from Texas. Which makes me hella proud.
Long story short, you need to get involved. This is real, this is totalitarian and we have to stop it. We've got some people in Washington who are refusing to compromise and we have to get their backs.
Posted by mcblogger at 11:54 AM | Comments (0) | TrackBack
Montford receives one hell of an endorsement
I don't think I've ever seen anything like this...
Rosemary Lehmberg has been endorsed by Ronnie Earle as his hand picked replacement. She led the Public Integrity Unit for a time in Travis County and has been an assistant DA in Travis County for many years. She will continue on the policies of Ronnie Earle...policies that most Republicans are not fond of.
For those Republicans that "crossed-over" to become Democrats this year, I ask you to vote in the runoff for Mindy Montford for Travis County DA. The Republicans do not have a candidate in the general election this year, so the winner of the Democrat Primary will be the new Travis County District Attorney. Put your new voting power as a Democrat to good use, and vote in the runoff for Mindy Montford.
So, what Travis Monitor is (in effect) saying is that Montford will be more compliant to the Republicans? And that Rosemary Lehmberg will continue to prosecute political corruption, both Republican and Democratic? Are you saying that Republicans don't want to see public corruption prosecuted and Montford will sit on the prosecutions Republicans don't like? Would that include the one of Tom Delay? The same guy Democratic AND Republican Texans think is carnival scum?
We're sticking with Rosemary.
Posted by mcblogger at 09:48 AM | Comments (0) | TrackBack
CradDICK and Dewhearse SPRING into action
You know, it DOES make me laugh a little to think of tweedle dee and tweedle dum 'springing into action' on anything. Far more likely that they'd be moving with all deliberate sloth. However, this time they are actually being aggressive on transportation funding... and it has nothing to do with tolling.
The short letter — signed by Lt. Gov. David Dewhurst, House Speaker Tom Craddick, Senate Finance Chairman Steve Ogden and House Appropriations Chairman Warren Chisum — recommends that TxDOT borrow another $1.5 billion against future gas tax revenue to bridge a temporary financial tight spot. The Legislature, the letter promises, will make sure that some of the gas tax money now diverted to other, nonhighway-construction needs will be returned to the agency to back the bonds.
Left unsaid? An increase of (and indexing) the gas tax which is what the majority of Texans want and what will likely happen as tolling falls completely off the cliff.
TXDOT, predictably, shifted the response on the letter back to the Governor. Retard Rick's spokesman, Robert Black, said that 39% wasn't interested in any of this and that the Lege would have to reopen road privatization 'to the lowest bidder'.
"What this letter is asking TxDOT to do is a two-year stopgap, two years of going further into debt," Black said. "A long-term solution comes first. Last year the Legislature came in and all they did was say 'no.' With the rate this state is growing and the needs and challenges we have in transportation, we can't afford to say 'no' anymore."
Just as a side note, does Black rock or what? I mean, the guy goes to work for a terrible pig of a man who spends an inordinate amount of time pandering to every special interest that will listen and who may be one of the worst Governors in the history of the State of Texas. Seriously, when we look at his association with privatization interests and the political contributions from them coupled with his support for their cause... well, it looks an awful lot like corruption. And this is what Black has to work with. Robert, I know we used to make fun of you but I've developed a new kind of respect for you. What's your trick? Anti-anxiety meds with a vodka chaser?
But back to the issue at hand... TXDOT's 'financial crises'. TXDOT said it was cutting all constructions projects because of a lack in future years of money to pay for them. Money that the Lege has simply not appropriated. Which is a bit like me saying I won't do my job now because I may or may not get my expense reimbursement in June, 2010. I got news for the folks at TXDOT... you let the Lege worry about your funding. You build the damn roads.
I guess that's a big part of the problem with TXDOT right now. It's controlled by our idiot Governor, Retard Rick, and overly politicized. These folks don't really do their jobs, they don't know how. They're mostly political hacks. The other big problem is that THEY DON'T EVEN KNOW HOW TO COUNT.
TxDOT had announced the construction slowdown in November, citing inflation in construction costs and cutbacks in federal grants. In early February, at a hearing called by two Senate committees, TxDOT revealed that it had double-counted $1.1 billion in scheduling construction projects. That mistake, officials said at the time, had a lot to do with the crunch.

The state auditor is now looking at TxDOT's finances.
There's your funding gap, morons. GET. TO. WORK.
And to our friends at the Lege who will no doubt read this, y'all need to go hyper aggressive against TXDOT. How about dismantling them next year and reconstituting the TTC to make it composed of statewide elected officials, like the RRC?
Seriously, we can't afford to wait out Retard Rick. Hope Andrade alone could do some serious damage and not even realize it.
Posted by mcblogger at 09:05 AM | Comments (0) | TrackBack
March 11, 2008
Relevance and Unity
One thing last Tuesday night made clear was that people are paying attention to Democrats. Recent polls indicate that more than 52% of people in the US are now calling themselves Democrats. None of this is good news to the Republican candidate who now has to convince people he even matters. Which, not surprisingly, even Texans are clearly indicating, he doesn't.
While the Presidential race is going to continue and continue to draw attention, we in Texas have had our primary. We know, mostly, who our candidates are. Now is the time for unity. Frankly, I'm not all that jazzed about certain candidates who will represent us in November. However, the alternative is far, far worse.
While we move in this direction, we should pay attention to runoff races. My two are the RRC race (between Dale Henry and some other guy) and the Travis County DA's race (I'm still for Rosemary). What's on your radar?
Posted by mcblogger at 08:07 PM | Comments (0) | TrackBack
Oh, Really? You sure you want to go there?
Some Republican with no concept of hubris and obvs thinking there are points to be made has called on Governor Spitzer to resign. We're sure 39% will chime in soon which will give us ANOTHER opportunity to discuss rumors about HIS sexuality.
You know what? Unlike a Republican, he's not been accused of influence peddling or accepting bribes or impersonating a public official (here and here). He had sex with a girl which is far more than can be said about most of you (yes, we're looking at you, Retard Rick).
I know now that Republicans were the geeks who never got laid in high school. Maybe that's why they cry after sex.
Posted by mcblogger at 01:34 PM | Comments (0) | TrackBack
Theocracy Rejected: Former Christian Right Leaders Stand Up For America
Frank Schaeffer, John Whitehead and Cal Thomas have repudiated the theocratic movement they once led.
"My doubts really began when I realized that the people we were working with on the Religious Right were profoundly anti-American," Schaeffer said in a recent interview. "I began to get the same vibe from them I got from my friends on the far left during the Vietnam War. They seemed to be rooting for North Vietnam. When I was working with the Religious Right, they seemed be rooting for the failure of America. Bad news was good news for them."
Posted by mcblogger at 12:33 PM | Comments (0) | TrackBack
Are you hungry?
Apparently, so is the rest of the world.
Farmers the world over are producing flat-out. American agricultural exports are expected to increase 23 percent this year to $101 billion, a record. The world's grain stockpiles have fallen to the lowest levels in decades.

"Everyone wants to eat like an American on this globe," said Daniel W. Basse of the AgResource Company, a Chicago consultancy. "But if they do, we're going to need another two or three globes to grow it all."

In contrast to a run-up in the 1990s, investors this time are betting — as they buy and sell contracts for future delivery of food commodities — that scarcity and high prices will last for years.

If that comes to pass, it is likely to present big problems in managing the American economy. Rising food prices in the United States are already helping to fuel inflation reminiscent of the 1970s.
UGH. Why is it that an article about tight commodities markets always has the doom and gloom quote from some guy who thinks the future is going to look a lot like Soylent Green? There's never the quote from the fella who points out that, historically, times of limited supply and relative scarcity have always been of relatively short duration and are always followed by long periods of overabundance?
As for needing two or three earths? Not at all. What we need is for the rest of the planet to start farming like us. Well, maybe not with all the pollutions and problems of the past but instead with the best practices of today. Let's see some modern farming in Africa instead of the poor ass subsistence farmer plowing a field with technology from the 1860's.
When you read the article, please note how much Nigerians love them some toast.
Posted by mcblogger at 10:35 AM | Comments (0) | TrackBack
Roundin' up the TPA
It is time for the Texas Progressive Alliance's weekly blog round-up. This week's round-up is compiled by Vince from Capitol Annex.
Refinish69 joins John McClelland, Democratic nominee for Texas House District 64n in asking "Where's Myra"?
Seems Shrub has a new title to add to his list. Torturer in Chief doesn't seem like one most people would want but then Shrub is a fool.
Eye On Williamson wraps up Tuesday's primary. Dembones points out that Obama won Williamson County and SD 5, as well as the unprecedented turnout for the caucuses. WCNews has initial impressions and more impressions from the primary.
Offt the Kuff has been busy poring through the data from Tuesday's primary, with posts about the blueing on Harris County, and a series on Republican crossover votes.
The Texas Cloverleaf begs the question, who the hell is Mark Thompson? Is another dead dancer in our midst, or did voter apathy give us another odd run off?
Where is Myra? State Rep Crownover is missing, and the Leaf wants you to watch a video to help locate her.
PDiddie at Brains and Eggs wrote the advance story of Election Day in his precinct with "Today's agenda", and the postscript in "244".
McBlogger had an exciting and mostly hateful Primary Week. Things kicked off with Mayor McSleaze's recap of the primary itself, while McBlogger took the time to bitchslap John McCain for taking an endorsement from some weird-o preacher in San Antonio and chastise adults for following the lead of a child. McBlogger finishes up the week with a plea for relief from a devastating force, Rachael Ray.
BossKitty at BlueBloggin asks democrats to unite and explore Make It So! A Clinton-Obama ticket?
WhosPlayin thanks his city's staff for the help in Tuesday's primaries, and wonders why the big deal about the use of the "M" word.
John Coby at Bay Area Houston wonders When Hope turns into Whine.
Vince at Capitol Annex starts taking a look at the March 4 primary, with the first of many Primary Postmortem posts.
Posted by mcblogger at 08:41 AM | Comments (0) | TrackBack
March 10, 2008
Disappointment In A Can
When I first heard of Cheeseburger In A Can I imagined something in a spray can... a CheezBurgerWhiz, if you will. After all, four decades ago we were sending men to the moon, surely there has been some technological progress since then, right? Turns out it's just a crappy cheeseburger-like object in a can. McBlogger will be happy, though, at the theory it might be almost palatable if dipped in plenty of ranch dressing. Of course, so would a roofing shingle.
Posted by mayor mcsleaze at 09:17 PM | Comments (1) | TrackBack
Why is Britian trying to kill a gay kid?
Iran likes to kill that gays that live there and unfortunately for an Iranian student studying in Britian, he's been tagged as gay. The authorities in Iran found out about it when they interrogated his former boyfriend whom they then hanged.
The student has requested asylum in Britian, which, unbelievably, was denied. Gee, fellas, if you just want to kill the kid it would be far more humane to just shoot him in the head.
Posted by mcblogger at 04:05 PM | Comments (0) | TrackBack
Big Pimpin' NY Gov Sptizer
According the LAT, NY Governor Elliot Spitzer implicated as a part of a prostitution ring. He said during his press conference that he was sorry to disappoint his family and the people of NY. He also said something about not living up to his personal standards. He didn't really admit more than that, according to Bloomberg.
ABC-NY is reporting Spitzer will resign but so far there's been no confirmation. Apparently, all this stems from an FBI wiretap that allegedly captured him on tape requesting a prostitute while on a recent trip to Washington.
Which means that this 'ring' isn't so much a ring as it is 'solicitation'. Which means he's still a better person than 90% of the Republicans in Congress.At least he wasn't accepting bribes for military appropriations.
Personally, we at McBlogger would have been more impressed with him if he'd actually been THE PIMP.

Posted by mcblogger at 02:23 PM | Comments (4) | TrackBack
I'll have water without the diazepam
Feeling a little mellow? Maybe you find yourself developing erections without any provocation? Do you find that you're growing hair in weird places? It's nothing to worry about. It's probably just the pharmacological residue in your drinking water. Unless you live in Austin. Then it's just you being a freak.
A vast array of pharmaceuticals - including antibiotics, anti-convulsants, mood stabilizers and sex hormones - have been found in the drinking water supplies of at least 41 million Americans, an Associated Press investigation shows.

To be sure, the concentrations of these pharmaceuticals are tiny, measured in quantities of parts per billion or trillion, far below the levels of a medical dose. Also, utilities insist their water is safe.

But the presence of so many prescription drugs - and over-the-counter medicines like acetaminophen and ibuprofen - in so much of our drinking water is heightening worries among scientists about long-term consequences to human health.
To expand a bit, we've got a lot of long term usage data about the effects of medicinal doses of Valium, for example. What we don't know are the longer term effects of near constant microdosages. Not to mention that some of these drugs are harmful to reproductive health at ANY dosage. The scary part? That bottled water you're drinking may not be safe either since most of it comes out of a tap.
The good news? Those of us that live in Austin have no detectable levels of pharmacological residue in our water. The bad news? Austin's water has no detectable level of pharmacological res...
Posted by mcblogger at 01:52 PM | Comments (2) | TrackBack
Bernanke, Congress, The NYT and new real estate
The NYT has an op/ed piece congratulating Bernanke for suggesting that Congress act to give Bankruptcy judges the ability to reduce principal balances on outstanding mortgages. It's an interesting idea. It's also completely unnecessary and will cause a lot more harm than good.
First off, the market for housing is a very delicate balance of forces and in that balance lies the value of a property. Part of what's killing people in many neighborhoods is NOT that they've lost equity, it's that their neighbors though bad financial planning and decision making, have been forced to 'give up their homes' creating a foreclosure in the immediate vicinity that, by virtue of being a comparable, ends up decreasing the value for all the homes around it. It's financial collateral damage and Bernanke's plan doesn't really address it. That the NYT can't see it is largely unsurprising given their lackluster reporting on this and the effect it's having.
Second, the market for new originations (buyers who need mortgage financing) will be made vastly more expensive because what's being packaged and sold to investors is no longer a sound and safe instrument, it's a financial timebomb which can be modified (against it's owner) by the government at will. So much for the rule of law and the sanctity of contracts.
What needs to happen and what we've been clamoring for is stabilization. What's driving foreclosures is the ADJUSTMENT of an adjustable rate mortgage. This means that consumers have been able to make a payment at a high interest rate... what they are having problems with is the payment when the rate jumps from 8% to 12%. That's a little tough to take. Reducing them balance still leaves them in a high interest rate loan. Wouldn't it be better to refinance them to a lower interest rate at which they can afford to comfortably make the payment on the full principle balance? Dropping the principle balance will help, but it shorts the investor who owns the loan, which makes it unlikely they'll invest in any more mortgages which will, in turn, drive up borrowing costs for Americans across the board.
Why not a program that saves investors AND homeowners (investors by giving them full value on their securities and homeowners by taking them out of an expensive loan)? We've got it and Congress has, apparently unbeknown to the NYT, already taken the first step...they've increase the FHA loan limits. With guidelines tightening for even loans backed by FNMA and FHLMC, more and more loans will start being originated as FHA insured loans. Currently, in Travis County for example, the loan limit was just enough to take a large chunk of the market. Increasing it by almost 50% will help stabilize the market, keep buyers in and allowing those in trouble to hopefully refinance.
The other is to modify FHA Secure to indemnify lenders and broaden the guidelines to cover the more than 2 million homeowners at risk. Instead of the max of 80k under Bush's retard program.
Finally, the market has not responded to the stimuli pushed through by Congress and the Fed. Bank's are still too scared to act, bond insurers are on the brink of insolvency because of their inability to get ANY capital at ANY price. The market is, quite simply, not working and it's the ultimate weakness of Reagan-/Friedman-/Bush-onomics... fear in a market can become reinforcing and in the end, it's the very thing that kills the entire market and spurs a recession or, worse, a depression. The only way it gets fixed is for the lender of last resort to step up and let even the financial masters of the universe know things will be OK.
Finally, in other news, some new real estate has been 'theorized'.
Posted by mcblogger at 10:54 AM | Comments (0) | TrackBack
Why do YOU enjoy fucking?
No, no... serious question time. Why do you enjoy fucking (or, if you're lame, sex or if you're a hopeless romantic AND lame, 'making love')? Is it the post-coital cigarette? The jewelry? Or the afterglow? Is it the orgasmic release or is it the nice long cry (that's for you Republicans... the only people I've had cry were Republicans. What IS it with y'all)? Are you doing it to have yet another kid? If so, we have to ask... are you really that comfortable burdening the earth with yet another mouth to feed? More importantly, do you intend to take said child to the movies while still an obnoxious and LOUD toddler? Will you choose to sit behind me in the aforementioned movie?
Do you really enjoy the cuddling? Or spooning, if you prefer? The money? What IS it that makes you really enjoy getting off? Hit us up in the comments or email us if you're too scared and want it posted anonymously.
Posted by mcblogger at 09:28 AM | Comments (3) | TrackBack
March 09, 2008
Someone put Rachael Ray out of my misery
This weekend, Food Network will be showing (in prime time, natch) Rachael Ray Feeds Your Pets.
This hour-long prime time special combines two of Rachael Ray's greatest passions: food and animals.

Rachael prepares three homemade recipes for her beloved dog, Isaboo, who gobbles them right up!

Rachael Ray Feeds Your Pets entertains and informs as it brings practical advice about safe and nutritious food for your pets.
This bitch and her ersatz food drives me crazy. Anyone else remember her hot dog casserole? Or maybe you remember her other elegant hot dig dishes, hot dog salad or hot dog pizza. This all pales in comparison to her scrumptious ham dip. Girl do lover her nitrates, don't she? Be honest. Even looking at this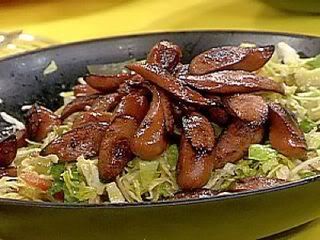 makes you wanna throw up a little, right?
If she feeds this kinda crap to humans, just what do you think she's going to feed her dog? The contents of the TB, soaked in EVOO? Why don't you watch it and tell me.

Posted by mcblogger at 11:56 AM | Comments (1) | TrackBack
March 08, 2008
Gore/Obama '08?
According to Chris Crain, that may well be the outcome of a brokered convention. Stupid? Oh, fuck yeah. Chris, like most nutters, seems to think that if Obama doesn't get it the whole party will disintegrate. So he proposes a coup led by the superdelegates to install Gore in an attempt to maintain party unity.
The only solution I see is for a group of wise superdelegates to begin a "draft Gore" movement, placing his name in nomination at the convention, and try to organize a large enough bloc of delegates to deny a majority to either Clinton or Obama ballot after ballot. After it becomes apparent that neither will get the nomination, I would hope Obama would throw his delegates to Al Gore, giving him the nomination.

Gore is someone that the followers of both Obama and Clinton could get behind. Each faction would rather have Gore as the nominee than feel they had lost to their primary opponent. Feelings are that hard between these two camps. Gore just may be able to bridge these feelings as well as the fault lines in the party created by the two candidates.

As a reward for throwing his delegates behind Gore, I hope Gore chooses Obama as his VP.
This is the Gore/Obama version of the Gore/______ fantasy that's been making the speculative rounds since, oh, LAST SUMMER. Way to stay on top of things, Chris.
The reality is that we've, in many ways, moved past Gore. There a supporters of both Clinton and Obama that would have a problem with Gore being forced on them from the top as in Crain's little elitist scenario. Of course, that doesn't stop him from predicting calamity should this deal not occur...
Hillary Clinton's problem is that even if she wins big in all the remaining primaries, she will still trail Barack in pledged delegates. To win the nomination, she would have to convince superdelegates to overturn the will of voters, just as the U.S. Supreme Court did in appointing George W. Bush president in 2000.

That result would poison the Democratic Party. Young people and African Americans would be angry, and the party would split in an ugly convention scene that would likely propel John McCain to victory. There is not enough time in the eight weeks between the convention and the November election to heal wounds and win. The irony is this is supposed to be a Democratic year -- and yet the Democrats are on a certain path to blow it.

Barack Obama's problem is that even though he will have the most pledged delegates at the convention, he is having a hard time tapping into the traditional Democratic base to close the deal.
As someone in another forum pointed out to me recently, either way we lose a third. And I don't for a minute buy it. People are voting this year FOR a Democrat. Obvs, some have their preference and I can tell you right now that they WILL show up in November. Either way, there are going to be some people who'll have to vote for someone other than their preferred candidate. There's no way to avoid it. Quit crying about it, Chris.
As if the whole article wasn't bad enough (in that annoying, back-of-hand-to-the-forehead, 'woe is me' way) he then drops the bomb on some of Clinton's adverts leading up to Tuesday.
Additionally, Americans are showing once again that they can be stampeded by fear.

Senator Clinton's closing "3 a.m" ad was very effective, and Senator McCain is guaranteed to use the same tactic, probably just as effectively. And while Obama and Clinton battle each other for six months, McCain will define Obama however he wants to, so if the superdelegates nominate Obama, he will be so beaten up by Clinton and McCain, I think he will fail in the fall.
Oh hell, that ad was WORTHLESS. If it didn't do as much as harm as good, I'd be surprised. For one thing, just from the professional perspective of people who actually produce television spots, it was bad. Like a cheesy attempt by a Democrat to copy a Republican. Whoever did should be shot for rank incompetence. Seriously, y'all, you folks are too nice to really pull off something like this.
Hillary didn't win on Tuesday because of that retard ad. She won because many of us, WANT HER. Yes, we can is a hell of lot less powerful than YES WE WILL.
Posted by mcblogger at 02:41 PM | Comments (0) | TrackBack
Bush thought it was wakeboarding
1) Congress voted, in a bipartisan bill, to ban our assets from utilizing the torture method known as waterboarding as part of an interrogation.
2) Waterboarding, even according to the military, provides often useless information from people so desperate to avoid future 'simulated drownings' that they'll say anything.
3) Bush decided to break a tenuous peace with Democrats and moderate Republicans in Congress by vetoing this bill.
Go for the override, Madam Speaker.
Posted by mcblogger at 12:56 PM | Comments (0) | TrackBack
Straight talk my fat white ass
You may have missed that John McCain accepted the endorsement of Pastor John Hagee. This guy, in case you were wondering. Here's a picture of the fatass
What? You thought I was just being tacky? Hell no. This man LIVES for buffet's, especially the ones at 'steakhouses'. I don't eat at steakhouses that have buffets. For one thing, I detest polyester food. For another, I don't want to get as fat as Pastor Hagee.
Pastor Hagee is fond of calling himself a born-again Christian. I'm a Methodist, I worship as a Methodist and will until I die. I was taught to look down on freakish trash like Hagee. I used to think that was wrong. Now I know where my elders were coming from. Hagee is a freakshow. He's the last in a line of fat, white, men who've used God to enrich themselves. Hargis, Falwell and Hagee. Disgusting pigs who'll have to answer to God at some point for their abuse of the faithful.
I'm kinda off topic here, no?
McCain said he was 'thrilled, like a sixteen year old girl on her first date' to have Hagee's endorsement.
It's not often that you get to compromise your integrity so thoroughly. It's once in a lifetime, if you're lucky. For me, It's three times. Once when I gave in to President Bush. Again when I accepted the endorsement of Jerry Falwell and finally today now that I'm accepting the endorsement of Pastor Hagee.
In other news from the malevolent forces of evil, AG Mukasey (thanks Schumer and Feinstein!) has refused to investigate the firings of the US Attorneys. Wonder when our studly man in the Senate, the hottest piece of ass this side of a nursing home, Majority Leader Harry Reid, will get around to the impeachment proceedings.
CBS also claimed that a station in AL going black in the middle of a 60 Minutes expose on Karl Rove's vendetta against the former Governor of Alabama was all the result of an equipment failure. In NYC. That only affected the station in AL.
Vince over at Capital Annex has a great post up about the Republicans who will be beaten by Democrats in the fall here in Texas.
And finally, McCain accepted the endorsement of a man that made him eat shit in 2000 and beat up his family.
"I do not agree with your sentiment that there has been widespread corruption. I just don't accept that. And by the way my friends do you think it would be nice if the President of the United States got a little bit of credit for the fact that there has not been another attack on the United States of America since 9-11? I think he deserves some credit for that. I really do."
No, he wasn't kidding. Or being ironic. He's either senile or he just likes being a bitch. Which is it, Grandpa McCain? Obvs, I'm thinking senility. Only someone operating completely outside reality would think that the Bush Administration in particular, and modern Republicans in general, weren't completely corrupt.
As for giving Bush credit for anything, come on. We all know our borders are porous. We all know that our ports are not secure. We all know that the 9/11 Commission report's recommendations were 86'd. We all know (well, those of us who are rational) that eventually we'll be attacked again. We also know that the country will survive.
We're looking to the future, dipshit. You can either join us or keep beating the drums of past failure and fear. We're moving past your old ass, regardless.
Posted by mcblogger at 11:25 AM | Comments (2) | TrackBack
March 07, 2008
Go Charles Barkley
Via Pink Dome
Charles Barkley is getting the business from the Christian Anti-Defamation Commission.

Said Barkley: "I think they -- they want to be judge and jury. Like, I'm for gay marriage. It's none of my business if gay people want to get married. I'm pro-choice. And I think these Christians -- first of all, they're supposed to be -- they're not supposed to judge other people. But they're the most hypocritical judge of people we have in this country. And it bugs the hell out of me. They act like their Christians. And they're not forgiving at all...they should read the part about they're not supposed to judge other people. They forget that one when it doesn't fit what they want it to say."


Don't apologize for speaking the truth, Charles.
Damn skippy. And let's be clear for a second. Barkley isn't talking about ALL Christians. He's talking about the Republican variety mouthbreather who wants to tell everyone how to think, feel and act. I don't like them much either.
Posted by mcblogger at 06:17 PM | Comments (0) | TrackBack
Thompson concedes
Many candidates impressed those of us at McBlogger. Wednesday, we got an email from one of them, Brian Thompson, congratulating his opponent, Dawnna Dukes. Full text is in the supersize.
Brian, from all of us, thank you. Whether you realize it or not, you made a difference.
I want to congratulate my opponent on her victory yesterday. This was a tough campaign, and she deserves congratulations for her victory. It is incredibly humbling and gratifying to know that in 80 short days were able to convince 8001 people to vote for our campaign for change. I believe that the nearly 40% of voters who voted for me were sending a clear message that they want better representation. Assuming that message was communicated, the real winners are the people of HD 46. I am so proud of what our campaign has accomplished in 80 short days. Regardless of the outcome, our fight for better schools, health care for kids, affordable home ownership, a cleaner environment, and ethical leadership from our elected officials has just begun. I want to thank the hundreds of people who have helped make our campaign the most humbling and rewarding experience of my life. I want to thank every single one of our incredible volunteers, who have given so generously of their time and effort and energy, block walking, phone banking, hanging signs and talking to voters. I want to thank every single one of the 350+ individuals who made financial contributions to our campaign. I want to thank each and every one of the 20+ Democratic, progressive, environmental, and news organizations that entrusted us with their endorsements. And I want to thank every HD 46 constituent who took the time to vote in the Democratic Primary. Whether you voted for me or for my opponent, I want to thank you for participating in our Democratic process. Now we turn our attention to November, and begin the process of capitalizing on the enormous momentum the Democratic Party currently enjoys to win 5 seats in the Texas House and end the reign of Republican Speaker Tom Craddick. I hope Rep. Dukes will join with me in this fight, and I congratulate her once again on her victory yesterday. Sincerely, Brian Thompson For more information contact the campaign office at (512) 524-5682 or e-mail info@electbrianthompson.com [mailto:info@electbrianthompson.com]. Please

click here to donate

or

click here to volunteer
Posted by mcblogger at 01:52 PM | Comments (0) | TrackBack
R in the D
Kuff has an article up about all that talk going on in R circles regarding Hillary's win in Texas. Apparently, some of these mooks think that people were
A) Listening to Rush Limbaugh, and
B) Doing what he says
Now, I have a tremendous amount of respect for Royal Masset. These other children I don't know and they seem to be a little stupid. However, I will take issue with Masset's estimate that 500k of the D voters were really Republicans. I'd place it at about 300k. And Masset should really be thinking of them as 'former Republicans'. That's the situation in Texas today. There's one other problem with his 500k number... that would mean that people in certain heavily R areas just decided not to have their votes counted since in many East Texas counties (for example) there are races decided in the R primary.
Not very likely.
The reality on the ground is that D turnout was, in fact, way up. It was more than double that of Republicans and was massive EVEN IF there were 300k Republicans in the D primary. The interesting thing? They were voting for Obama, not Hillary (which, coincidentally, Kuff points out it in his piece with the breakdown in some of the heavily Republicans counties).
Finally, Republican attempts to 'drive voters to Clinton', if reality, would have to be based on the idea that she can be beaten more easily that Obama. I'd have to disagree with that. After all, the Clintons have beaten Republicans four times since 1992. And she'll handily retire Grandpa McCain to make it five wins.
Lookit, if these theories were right, Clinton wouldn't be anywhere near McCain in Texas. Neither would Obama. And they both are.
Posted by mcblogger at 11:56 AM | Comments (0) | TrackBack
It ain't just subprime...
...that's roiling the capital markets, it's also all the bond guarantees for tolling projects that are failing to meet their projected traffic estimates. Sal has more about FGIC which, like AMBAC and MBIA, is having problems meeting it's obligations to bondholders who hold paper they guaranteed. Why? Poor projections from the same people who've been fucking up traffic projections for years, URS.
Posted by mcblogger at 09:47 AM | Comments (0) | TrackBack
The next leader of the Moral Majority
Those of you who've read McBlogger for a while (or just over five minutes) have probably picked up on my LOVE of profanity. Seriously, I use it constantly. I've been called a 'potty mouth' from time to time, to which I normally respond "You're goddamn right, fatass". Is it rude? Fuckin' A. But it's expressive. If it offends you, then train your browser elsewhere.
Oh, and grow a pair of huevos. The world is needlessly crude? Oh, please. The world is the world and being artificially nice isn't going to change a thing. Sometimes you just have to lay out a good f-bomb to release the stress. Try it some time. I bet the parents of this little douche have, probably over another of his admonitions to be polite. Ladies and gentleman, I give you Emile Post
No Cussing Week was the inspiration of 14-year-old McKay Hatch, the founder of South Pasadena High School's No Cussing Club. Hatch admits he himself engaged in colorful language in the past, but says he tries not to anymore.

Hatch hopes his No Cussing Club will lead to cuss-free zones in other cities. He thinks it could be a quality-of-life issue and says there could be less violence if people behave better.
Oh you vile little bastard. Less violence? Moron. Just like 'less drinking' (Prohibition) led to even more rampant alcoholism and the rise of the mafia. The massive growth of evangelical Christian churches curiously coincided with a massive increase in the divorce rate. It's just like an idiot child and the adults who enable him (the South Pasadena City Council) to NOT get that a veneer of civility is just that, a veneer. Eventually it wears thin and dissolves.
The world doesn't need another gooder, however well intentioned, that will gloss over substantial problems by creating a meaningless initiative.
Finally, I'd like to leave you with a passage from 1 Corinthians...
When I was a child, I spake as a child, I understood as a child, I thought as a child: but when I became a man, I put away childish things.
Amen.
Posted by mcblogger at 08:13 AM | Comments (0) | TrackBack
March 06, 2008
Jokes of My Father's : Running for Congress
An old country preacher had a teenage son, and it was getting time the boy should give some thought to choosing a profession.

Like many young men, the boy didn't really know what he wanted to do, and he didn't seem too concerned about it.

One day, while the boy was away at school, his father decided to try an experiment. He went into the boy's room and placed on his study table four objects:
a Bible,
a silver dollar,
a bottle of whisky
and a Playboy magazine

"I'll just hide behind the door", the old preacher said to himself, "When he comes home from school this afternoon, I'll see which object he picks up.

If it's the Bible, he's going to be a preacher like me and what a blessing that would be!
If he picks up the dollar, he's going to be a businessman, and that would be okay, too.
But if he picks up the bottle, he's going to be a no-good drunkard, and, Lord, what a shame that would be.
And worst of all, if he picks up that magazine he's gonna be a skirt-chasing bum."

The old man waited anxiously, and soon heard his son's footsteps as he entered the house whistling and headed for his room.
The boy tossed his books on the bed, and as he turned to leave the room he spotted the objects on the table.

With curiosity in his eye, he walked over to inspect them.
Finally, he picked up the Bible and placed it under his arm.
He picked up the silver dollar and dropped it into his pocket.
He uncorked the bottle and took a big drink while he admired this month's centerfold.

"Lord have mercy", the old preacher disgustedly whispered, "He's gonna run for Congress!"
Posted by mcblogger at 08:13 PM | Comments (0) | TrackBack
Silicon Valley turns to the sun
Want to know what the next big technology trend sweeping the venture community is? Click here.
Given the valley's tremendous success in recent years with such down-to-earth products as search engines and music players, tackling solar power might seem improbable. Yet some of the valley's best brains are captivated by the challenge, and they hope to put the development of solar technologies onto a faster track.

There is, after all, a precedent for how the valley tries to approach such tasks, and it's embodied in Moore's Law, the maxim made famous by the Intel co-founder Gordon Moore. Moore's Law refers to rapid improvements in computer chips — which would be accompanied by declining prices.

A link between Moore's Law and solar technology reflects the engineering reality that computer chips and solar cells have a lot in common.

"A solar cell is just a big specialized chip, so everything we've learned about making chips applies," says Paul Saffo, an associate engineering professor at Stanford and a longtime observer of Silicon Valley.

Financial opportunity also drives innovators to exploit the solar field. "This is the biggest market Silicon Valley has ever looked at," says T. J. Rogers, the chief executive of Cypress Semiconductor, which is part-owner of the SunPower Corporation, a maker of solar cells in San Jose, Calif.

Mr. Rogers, who is also chairman of SunPower, says the global market for new energy sources will ultimately be larger than the computer chip market.

"For entrepreneurs, energy is going to be cool for the next 30 years," he says.

Optimism about creating a "Solar Valley" in the geographic shadow of computing all-stars like Intel, Apple and Google is widespread among some solar evangelists.

"The solar industry today is like the late 1970s when mainframe computers dominated, and then Steve Jobs and I.B.M. came out with personal computers," says R. Martin Roscheisen, the chief executive of Nanosolar, a solar company in San Jose, Calif.
Remember when laptops weighed 10 lbs , had 7" screens and costs upwards fo $4,000? That's the stage we're at with solar right now. Just wait... give solar ten years and you'll see a similar trend.
Posted by mcblogger at 12:08 PM | Comments (0) | TrackBack
Good Riddance, William F. Buckley
With all the primary excitement going, we kinda skipped the death of con stalwart William F. Buckley. For those of you lamenting his passing, let us remember the man as he was (not as he appeared to be), a nasty, vicious, racist douche. With regard to the civil rights movement in the South, Buckley wrote this is 1957
"The central question that emerges—and it is not a parliamentary question or a question that is answered by merely consulting a catalog of the rights of American citizens, born Equal—is whether the White community in the South is entitled to take such measures as are necessary to prevail, politically and culturally, in areas in which it does not predominate numerically? The sobering answer is Yes—the White community is so entitled because, for the time being, it is the advanced race."
Humanity has not advanced over millennia because of people like Buckley. We have advanced in spite of them.
Posted by mcblogger at 10:38 AM | Comments (0) | TrackBack
Bomb in Times Square prompts yawns
This is the front page of the NYT website. At the bottom is a link to this article about a small explosive that went off in Times Square this AM. Oh... have things have changed. The subject of the attack? A US Armed Forces recruiting station which pisses me off. However, at least it's not prompting a full on 'terrawrist' alert and an increase, by the skeletal Chertoff, in the risk of attack level or whatever he's calling his little color chart.
Posted by mcblogger at 09:33 AM | Comments (0) | TrackBack
The permanent Republican majority: Part one
The idea that a prominent politician -- a former state governor -- could be tried on charges that many observers consider to be trumped-up, convicted in a trial that involved numerous questionable procedures, and then hauled off to prison in shackles immediately upon sentencing would be almost unbelievable. Don Siegelman, governor of Alabama...

read more | digg story
Posted by mcblogger at 12:12 AM | Comments (0) | TrackBack
March 05, 2008
As The Dust Settles, Some Thanks And An Observation
Well, the cross-fire hurricane has come and gone and after twelve hours or so of breathing pure oxygen and drinking rain water I'm finally able to type and think somewhat coherently about what went down on March 4.
I want to give huge thanks to Chris Elliot, Garry Brown, Elizabeth Yevitch, and all the rest of the hardworking folks down at the Travis County Democratic Party for the incredible training sessions they conducted and all the documents they provided on conducting the precinct conventions. You guys rock!
And thanks to Sister Ruth and Captain Croc and McBlogger and everyone else I spent time with going over the rules and debating what they really meant, raising questions, seeking clarity. You guys rock as well!
And thanks to everyone who actually showed up on Tuesday night to stand in line for more than an hour or two, sign in, and even if you left without doing anything else, you left having been a part of an historic event.
In a usual year my precinct might have ten or twelve people show up... I'd been trying to make myself imagine what it would be like if a hundred, or maybe even a hundred and fifty showed up. In the end it was more than 425. So thanks to everyone who helped us move to a bigger room, and then finally an auditorium. You guys rock as well.
And finally, an observation. During the few weeks leading up to Primary Day, both national campaigns did a great jobsof spreading distrust and paranoia about all the dirty tricks the other side would be using to steal the election. And of course the Net has been buzzing with tales of wrongdoing; sign-in sheets from caucuses appearing mysteriously in mensroom paper towel dispensers, buses with out-of-stae plates showing up loaded with people demanding to caucus, all sorts of wild stories. Having been through yesterday's storm, watching what happens when people are overwhelmed by crowds, people who've never done this kind of thing but have decided this is their moment to save democracy... well, mistakes get made. Forms get filled out wrong. People lose things, they leave things behind. But I believe that by and large these are honest mistakes that, when they hit the internet and start being posted and reposted by folks who rather TYPE ALL IN CAPS than take a breath, a story becomes a rumor becomes OMG WHAT HILLARY/OBAMA WILL DO TO WIN OMFG!
There's no doubt that politics is a sport not for the squeamish, and keeping an eye on what the other side is up to is always advisable. But the notion that either campaign's successes can be laid at the feet of orchestrated dirty deeds, bullshit says I.
Posted by mayor mcsleaze at 07:22 PM | Comments (0) | TrackBack
Lieberman loses
Well, not an election unfortunately. Just his status as a superdelegate in the Democratic Party. YAY!
Posted by mcblogger at 03:33 PM | Comments (0) | TrackBack
The Shock Doctrine : The Movie
It's only 7 minutes long so you can totally take the time out of your day... it's well worth it.
Posted by mcblogger at 02:19 PM | Comments (0) | TrackBack
The Recap
OK, so maybe I'm a little upset about the poor decision making on the part of some of you. Still there are some bright spots. For one thing, Hillary had a fabulous evening. Noriega is not in a runoff and one CradDICK D went down last night. Actually, CradDICK's money really didn't have as much of an impact as feared as Phillip points out. I'll go a little further out that Phillip on HD 78... I think this is a pickup in the general with Haggerty out of the way.
Now, the bad news... Dale Henry IS in a runoff, with someone named Mark Thompson. CD 10 was bought and paid for by some self-financing from Larry Joe Doherty. Honestly, I'll vote for the guy but I'll hold my nose while I do it. There are some big issues where there is a little difference between LJD and McCaul. Maybe that will change, but for now I feel like we're putting up a DINO. I know from talking to people at my convention last night that people voted ballot placement or media. The few that saw Dan's ad voted for him. Most of them didn't, and those folks didn't have a decision making process that extending beyond "pick 'em" which they proudly admitted while festooned with presidential crap from head to toe. As predicted, the Presidential race sucked all the air and concern for the down ballot.
The other massive disappointments were Maxey and Thompson. On Thompson, the Mayor has been on my ass for even thinking that he had a chance. Still, I had a lot of faith in Democratic voters especially to vote for their best interests. Maybe they did... but I fail to see how. The only people who have apparently benefited from Dawnna's reign have been members of her family and and a few developers with whom she has what can best be described as a special relationship. Maybe it is all a racial thing or even a homophobic thing.
In Maxey's race there just aren't words. A Democrat who supports Republican voter ID laws will be our candidate. So much for Travis County being a progressive paradise.
Sorry about the tone but there were some big races locally that really took me by surprise. One thing is sure, newspapers now have as much endorsement impact as the blogs. That is to say, nada.
I'd seriously love to hear y'alls thoughts on all this. If you voted for some of these folks, tell us why. Email or the comments work great... if you're a trusted user your comment will appear without moderation. If not, I'll have to enable it but I promise I will.
The one thing I feel certain of... the desire for change in Travis County didn't extend beyond the Presidential race.
Posted by mcblogger at 12:07 PM | Comments (0) | TrackBack
How much is really being held up?
(We're working on the recap... not that any of you psychotics really care. It's pretty clear the lot of you voted to FUCK US in the general by voting for retards. Seriously, re-electing CradDICK D's? Oh, hell... you deserve the 'leadership' you get)
Think the war on drugs is not only essential but going well? You're wrong...
That large number of arrests must also mean they're mainly catching "little fish" with little tangible effect on overall drug supplies. Most of the bigger fish captured, with one or two high-profile exceptions, have come from the Gulf Cartel, which has led me to wonder if the overall strategy of the Mexican government might not be to pick a side in the cartel wars instead of to stop all illegal drugs. The quickest way to reduce violence in Mexico, which after all stems mainly from competition among rival illegal businesses - would be for the government to enforce an informal monopoly for one side or the other, probably the Sinaloa drug syndicate. By comparison, the Sysiphian task of halting all illegal drugs likely cannot be accomplished any time soon, even if it's what the US might prefer.
Posted by mcblogger at 09:26 AM | Comments (0) | TrackBack
March 04, 2008
Election Results
Here's the Travis County results page...BOR also has a page up for results from around the state. We're going to do a recap manana. It's pretty clear Thompson lost and East Austin gets the Representative they deserve. I'm thoroughly disgusted by people who blatantly vote against their self interest.
Posted by mcblogger at 11:55 PM | Comments (0) | TrackBack
Is Krauthammer delusional?
Charles Krauthammer continues his descent into irrelevancy by once against casting the Democrats as defeatist for wanting to get our troops out of there. And people wonder why most Democrats, Independents and even Republicans who want our troops out of Iraq would really like to punch him in his fat face.
Krauthammer, not thinking that anyone has access to the situation in Iraq, mentions the Awakening. We talked about that last week. It's all good except for one thing... our troops keep shooting at them. Of course, Krauthammer uses this as proof that the surge has been successful and that we should keep our troops there indefinitely. My theory? The troops did what they could but the AM's are what is really driving increased security and safety... and the only thing standing in their way is our troops.
It's time to bring our troops home. They succeeded in doing what what they were sent to do... take out Hussein. Now there is no reason for them to stay behind. They have been in the middle of a civil war for years and like all civil wars it's beginning to wind down. Let it, Charles.

Posted by mcblogger at 06:53 PM | Comments (0) | TrackBack
Going To Your Precinct Convention? Screw This Presidential Stuff, Please Introduce And Pass This Resolution!
WHEREAS the cuisine known as "Tex-Mex" is one of the crowning cultural glories of the Great State of Texas, and
WHEREAS the provision of chips and salsa is an essential part of the ambiance of the Tex-Mex restaurant dining experience, encouraging conviviality and promoting the consumption of refreshing beverages, and
WHEREAS there has been a trend at some establishments to charge for chips and salsa, thereby eroding our traditions and promoting a fast-food mentality among patrons;
NOW, THEREFOR BE IT RESOLVED that the State of Texas recognize the inalienable right of access to free chips and salsa for patrons of Tex-Mex restaurants, and
THEREFOR BE IT FURTHER RESOLVED that the Texas Legislature be directed to support this right by appropriate legislation.
Adopted this 4th day of March, 2008 at the Democratic Precinct Convention of Precinct____, ____________County of the State of Texas.
Convention Chair____________________________________
Convention Secretary________________________________
Posted by mayor mcsleaze at 09:39 AM | Comments (0) | TrackBack
March 03, 2008
Crashing the gates
Looks like some R's are going to work hard for Obama... Just have to wonder how much of that cross party support will remain prior to the general.
No, I'm not drinking the Kool-Aid.
However, I will say this. The EV differential between D and R is so huge right now, even if you strip out the R crossovers, D's are CLEARLY now in the majority in Texas.
Posted by mcblogger at 11:15 AM | Comments (1) | TrackBack
Grandpa McCain visits Dell
Elise Hu covered Grandpa McCain's well staged 'townhall' at Dell on Friday. Apparently, the press wasn't allowed to talk to anyone in the audience. Which makes me wonder if this was less a townhall and more a 'corporate party'. One also has to wonder if Dell as a corporation is throwing it's weight behind the Republican candidate. If so, that would indeed be unfortunate.
Well, not really. I hate their shitty computers and that butt ugly logo.
The comedy? McCain said (and I'm paraphrasing) that he would move heaven and earth to find Osama Bin Laden. Which is a really swift way of pointing out that the President he hopes to replace (the same one who leads his party) has failed to do just that. For more than 6 years.
Sure, Senator Dumbass. We totally believe YOU'LL hunt down OBL. Will you be doing that before or after your nap?
Posted by mcblogger at 09:49 AM | Comments (1) | TrackBack
Pondering Maxey
My political epiphany occurred during the South Carolina republican primary in 2000. The notion of being a life-long independent ended, and my conversion to full-fledged liberal began.
Like most major changes in one's life, it took awhile to get my footing. My desire for activism simmered.
The presidential candidacy of Howard Dean gave me the impetus to become active. So with my evolving progressive beliefs and new found motivation, I set out to find someone who could nurture these beliefs and get me involved.
There were consultants, advisers, fundraisers, environmental icons, social justice advocates, and movers and shakers to consider. I was looking for someone who bled grassroots, someone who walked the walk, someone who fought for the poor, disenfranchised and those with little or no representation, someone passionate about the cause. My search pointed to Glen Maxey.
I read about his battles for ethics reform, environmental concerns, access to Medicaid, and many other causes. He was and is a champion of the disabled, elderly and children, which includes his hard work for the children's insurance program. He built a reputation as someone who put other people's needs before his own. Then there is his courageous personal story overcoming discrimination, and fighting for gay rights.
When I saw Dean at Plaza Saltillo in June of 2003, Glen was there leading the large gathering. The next day, I went to his office and told him I wanted to volunteer. In typical Glen fashion, he immediately put me to work. Of the many lessons learned from him, the most important ones were including all people in the process, and compassion for those less-fortunate. Also, I have come to learn from him that voter registration and GOTV are the most essential factors in changing a political landscape.
Because of his passion of giving a helping hand to those in need, and the ability to register the greatest number of voters, Glen is deeply qualified to be the next Travis County tax assessor-collector.
I'm proud to support Glen, and ask you to do the same.

Posted by Captain Kroc at 08:02 AM | Comments (0) | TrackBack
In politics today...
Larry Joe Doherty is apparently distributing campaign lit that doesn't have a union bug on it or 'Printed In House'.
Things are getting really nasty in the Thompson vs. Dukes race for HD 46...First, the ethics complaint filed by a Dukes crony against Thompson has been dismissed. And then there is the ridiculous little lawsuit filed by Dukes' family against Thompson regarding the CTRMA's employment of Dukes' sister immediately before Dukes voted, as part of CAMPO, to turn control of Central Texas toll roads over to CTRMA.

Sal over at Muckracker has brought this up a number of times. So have I. Why she declined to sue us is unknown. I mean, it's not like Sal and I are poor.
Laura Morrison's having an open house at her campaign office on Thursday after all this primary bullshit is over...Thursday, March 6th; 6:00 pm - 8:00 pm; 632 B North Lamar
Dukes Desperately Tries to Stop Thompson's Momentum: Has Family File Bogus Defamation Claim for Ad Based on Austin American-Statesman Reporting

Just a day after the Texas Ethics Commission summarily dismissed a bogus ethics complaint filed by a known Dukes supporter against Democrat Brian Thompson, the Dukes family has filed a lawsuit against Thompson for a campaign ad that contains facts that were first published by the Austin American-Statesman in 2004.

The advertisement over which the lawsuit has been filed can be viewed here.

"I welcome the chance to have my day in court," said Brian Thompson, Democratic candidate for HD 46. "Since defamation cases allow for an open and extensive discovery process, I look forward to exploring Rep. Dukes's and Stacy Dukes-Rhone's alleged contracts and associations with numerous governmental entities around Austin."

The baseless lawsuit takes issue with a campaign advertisement that criticizes Rep. Dukes for voting to toll roads while hiding her sister's $44,000 toll road contract.

"Rep. Dukes's vote for toll roads and her sister's toll-road contract were well-established by the news media in Austin prior to this campaign," said Thompson.

According to the Austin American-Statesman, Rep. Dukes was "feeling the heat for voting to approve a project that financially benefits her sister, Stacy Rhone." (Source: "Questions about conflicts of interest on CAMPO board" Austin American-Statesman, published on September 23, 2004)

With specific regard to whether a member of the Dukes family had a toll road contract, the Statesman makes a definitive and unambiguous statement:

"As the American-Statesman's Ben Wear reported, Rhone holds a $44,000 contract with the general engineering company for the Central Texas Regional Mobility Authority, which will run the toll roads approved by CAMPO. Though officials with the general engineering contractor, HNTB, said Rhone started her public relations work in February this year, she did not sign a contract with HNTB until July 7, about a week before Dukes voted to pass the toll road plan."

(Source: "Questions about conflicts of interest on CAMPO board" Austin American-Statesman, published on September 23, 2004)

The Statesman even called into question the suspicious timing of Dukes' sister's toll road contract: "The timing throws gasoline on a fire of suspicion about the toll roads." (Source: "Questions about conflicts of interest on CAMPO board" Austin American-Statesman, published on September 23, 2004)

The Statesman took Dukes to task for refusing to disclose the fact that her sister had a toll road contract:


"It is her [Stacy Dukes-Rhone's] relationship to Dukes .... that has caused people to criticize the circumstances under which she got a contract with HNTB. That could have been avoided if Dukes had disclosed those details herself."

(Source: "Questions about conflicts of interest on CAMPO board" Austin American-Statesman, published on September 23, 2004)

The Statesman offered two suggestions aimed directly at Rep. Dukes:

"Members of the Capital Area Metropolitan Planning Organization board should voluntarily and immediately disclose their potential conflicts of interest, and moreover, abstain from voting on matters that represent financial gain for themselves, business partners or family members."

(Source: "Questions about conflicts of interest on CAMPO board" Austin American-Statesman, published on September 23, 2004)


"In the meantime, CAMPO members should publicly disclose their potential conflicts of interest, including those that involve siblings."

(Source: "Questions about conflicts of interest on CAMPO board" Austin American-Statesman, published on September 23, 2004)

The facts are clear, and substantiate the ad.

FACT: Rep. Dukes voted for toll roads.

FACT: Rep. Dukes' sister had a $44,000 toll road contract.

FACT: A sister is considered family.

FACT: Rep. Dukes failed to disclose her sister's $44,000 toll road contract prior to voting for toll roads.

FACT: Drivers all across Travis County are now paying tolls on toll roads that Rep. Dukes supported.

In a previous version of the lawsuit that was leaked to the media before Thompson was actually served (which suggests that the true intent of the baseless lawsuit has more to do with trying to score political points than actually litigating a legitimate claim) the Dukes family attempted to sue Thompson for an ad that was not even his.

According to a write-up on the Austin Chronicle web site, "The family of Rep. Dawnna Dukes seems to be trying to sue her primary opponent Brian Thompson for an attack ad he didn't have anything to do with."

(Source: Austin Chronicle, "The Man Behind the Ad" available online here)

The Chronicle confirms that the Thompson Campaign had nothing to do with the primary ad addressed in the leaked petition:


"Now we've heard from the person who did create the ad: Sal Costello, the man behind the People for Efficient Transportation PAC (which runs AustinTollParty.com) and a perennial critic of Dukes, has weighed in. And yes, he confirms the ad the Dukes family quotes at great length in their complaint against Thompson is not a Thompson ad, but came from Costello's group, and is hosted on Costello's YouTube account. Isn't he worried that now he might get dragged into the legal battle? Not so much. "She's threatened to sue me personally, and it's always nonsense," said Costello."

(Source: Austin Chronicle, "The Man Behind the Ad" available online here )

For more information contact the campaign office at (512) 524-5682 or e-mail info@electbrianthompson.com
Posted by mcblogger at 12:14 AM | Comments (0) | TrackBack
March 02, 2008
Roundin' up the TPA
It is time again for the Texas Progressive Alliance's weekly blog round-up. This week's round-up is compiled by Vince from Capitol Annex.
Burnt Orange Report is covering all kinds of races this week. In addition to their notable endorsement of Obama and analysis of how he can win and his Presidential primary poll numbers, Matt Glazer has reported that State Rep. Kino Flores has some ethics violation troubles, beyond the $50,000 he received from Craddick supporters.
Eye On Williamson has two posts on the upcoming Presidential Primary in Texas, Why I'm For Barack Obama and Barack can seal the deal in Williamson County. And locally, The Silly Season Is Upon Us - The WCGOP Machine Makes It's Choice.
TXsharon at Bluedaze, while not a football fan, reports on illegal gifts of SuperBowl tickets to Phil King and Michael Williams. Considering that the most recent pipeline explosion sent flames 600 -700 feet into the air, we need Railroad Commissioners without conflicts making decisions that will keep Texans safe.
WhosPlayin of WhosPlayin.com endorsed Obama for President and Aimlessness thinks Supreme Court Justice Antonin Scalia needs to go back to law school and get a refresher course on the U.S. Constitution. Talk about your "tortured" logic.
Musings endorses Hillary Clinton for President,citing her toughness, service, compassion, ability to work across the aisle and her solutions-oriented approach to governing as reasons why she is the choice for a new direction in Washington.
The Texas Cloverleaf digs up a report by the GAO that toll road public-private partnerships might not be the best thing for taxpayers. While at the same time, a new state rail system venture is brought back into the public spotlight in Texas.
The Texas Cloverleaf gets its hide chapped when the Dallas Morning News endorses the primary opponent of Dallas County Sheriff Lupe Valdez. The endorsement is destroyed in typical Cloverleaf fashion.
CouldBeTrue at South Texas Chisme wonders if James Leininger is giving up the fight for school vouchers, i.e. destroying public schools in favor a theocratic education. In any case, Leininger is distancing himself from Tom Craddick.
Off the Kuff looks at the yard sign primary in his neighborhood.
Team McBlogger has decided to swim against the tide and endorse Senator Hillary Clinton in the Presidential Primary. Then they compounded the good decision making with a trip to the opening of her Texas HQ in Austin to see Bill Clinton. You know, the guy who's married to the candidate. Apparently, a couple of thousand people also had the same idea.
At Half Empty, with Edwards gone, Hal has thrown his support to Barack Obama. And, after a day of sAfter much soul searching, thought and input from great bloggers across the nation, Refinish69 has decided to endorse Obama for President in 2008.eething anger, Hal at Half Empty asks this question of the Republican Party of Texas, who are acting as surrogates for the John Cornyn senatorial campaign: Are you sure you want a dog in this hunt?
After much soul searching, thought and input from great bloggers across the nation, Refinish69 has decided to endorse Obama for President in 2008.
Open Source Dem at Brains and Eggs has`part two of "Texas in Play."
BossKittyat BlueBloggin shows us that voting is still a major problem in this country considering Washington DC Has 10,000 Mystery Voters.
Jaye at Winding Road in Urban Area endorses Hillary Clinton for President.
John Coby's mom is for Hillary Clinton. "I can't remember when our country was in such a horrible situation considering the war in Iraq, our debt, our status in the world. My country is in trouble and I believe Hillary Clinton can begin to solve the problems beginning on day one."
Vince at Capitol Annex notes that Marissa Marquez in House District 77 has been trashing bloggers, and endorses Hillary Clinton for president.
Posted by mcblogger at 12:31 PM | Comments (0) | TrackBack
The oil may get low sooner than we think
For all the talk about drilling our way to energy independence, which is little more than than rambling by ridiculous little people with ridiculous little ideas, there is one inescapable fact. The well will always peak and from there on out that oil is going to get more and more expensive to the point of production costs going asymptotic, mostly because the reservoir pressure drops to the point where you are spending more and more to lift the next barrel of oil. It's happening in Mexico in the Cantarell field and in the Ghawar in Saudi Arabia.
The other inescapable fact is that as oil increases in value, those states that produce it will find themselves more and more affluent. And affluent people tend to become rabid consumers, especially when gasoline in 7 cents a gallon.
The economies of many big oil-exporting countries are growing so fast that their need for energy within their borders is crimping how much they can sell abroad, adding new strains to the global oil market.

Experts say the sharp growth, if it continues, means several of the world's most important suppliers may need to start importing oil within a decade to power all the new cars, houses and businesses they are buying and creating with their oil wealth.

Indonesia has already made this flip. By some projections, the same thing could happen within five years to Mexico, the No. 2 source of foreign oil for the United States, and soon after that to Iran, the world's fourth-largest exporter. In some cases, the governments of these countries subsidize gasoline heavily for their citizens, selling it for as little as 7 cents a gallon, a practice that industry experts say fosters wasteful habits.

"It is a very serious threat that a lot of major exporters that we count on today for international oil supply are no longer going to be net exporters any more in 5 to 10 years," said Amy Myers Jaffe, an oil analyst at Rice University.
The best part? Consumers in these countries care less about pollution than the rest of the world...
In Mexico City the other day, a bricklayer named Jaime Guerrero arrived at a local Chevrolet dealership. His extended family cried "bravo!" as he signed the papers for his first car.

"To have a new car in my name is a dream transformed into reality," said Mr. Guerrero, 26. He and his family piled in and weaved through the chaotic traffic of the capital, hunting for a priest to douse the car with holy water.

"I don't worry about the climate or shortages of oil in the world," Mr. Guerrero said. "I just worry if gasoline prices go up."
Frankly, it's a little hard for me to criticize Mr. Guerrero because he's representative not only of people in Mexico, but of people in the US and around the world. Given that, it's damn time we give him a cheaper, cleaner, long-term alternative.
And just FYI, no damn interior decorator is going to do that. It's going to take someone like Dale Henry.
Posted by mcblogger at 11:34 AM | Comments (0) | TrackBack
March 01, 2008
Color me impressed
What many of you know is that we at Team McBlogger seldom unanimously agree on anything. Even when it comes to drinking we're wildly divergent. Some people prefer beer, others prefer real drinks. Obvs, the scotch drinkers are usually right. About everything. The gin and beer drinkers delude themselves into thinking they are right. Mostly because they're dumb (I offer, as evidence of their stupidity, their taste in alcoholic beverage).
However, one thing we can all agree on is the need to acknowledge when one of our own does something incredible. Mike Nicholson has been hard at work for the Obama campaign making television spots. Really good spots.
During elections we're inundated with bad TV ads. The good ones really stand out and the people that make those ads need to be acknowledged.
Take a well deserved bow, Mike!
Posted by mcblogger at 10:58 AM | Comments (0) | TrackBack