February 29, 2008
Matzo endorses Rick Reed; McBlogger spits scotch all over his dinner
Normally, I'd be out to drinks on a Friday night. However, work was pretty evil today and after running errands I came back to finish up some stuff before going out later. While eating dinner I saw this and thus, the post.
I like Rick Reed. I really think he's a nice guy. Now his campaign is crowing about being endorsed by this racist cracker.
"Rick Reed is the only candidate for Travis County District Attorney who has had the courage to stand up and candidly tell the voters of Travis County that, if elected, he will uniformly seek imprisonment for life without parole, rather than the death penalty, in all capital murder cases."

Now If you'll pardon me, I have a show to do and a fifth of Jamisons to choke down.
This is what really angers me...
"I am honored to have the endorsement of Kinky Friedman," remarked Reed. "Kinky and I have both given considerable thought to this issue, he as a potential 2010 gubernatorial candidate, and I as a candidate for Travis County District Attorney."
OH REALLY, Rick? You're honored to have the endorsement of a man who made a joke about African-American children AND fucked up the Gubernatorial race last year, guaranteeing (with a little help from Team Bell and C4N3P) the re-election of 39%. If you're HONORED to have the endorsement of this douche then I seriously have to question your judgment.
And I shit in Matzo's hat.

Posted by mcblogger at 09:15 PM | Comments (2) | TrackBack
Jokes of My Father's : The Poor Boss
My Father labors daily under the delusion that he has it far worse than his employees. For him, this is more than a joke... it's how he perceives his life.
The Half-Wit

A man owned a small farm in Georgia. The Georgia State Wage & Hour Department claimed he was not paying proper wages to his help and sent an agent out to interview him.

"I need a list of your employees and how much you pay them," demanded the agent. "Well," replied the farmer, "there's my farm hand who's been with me for 3 years. I pay him $200 a week plus free room and board. The cook has been here for 18 months, and I pay her $150 per week plus free room and board. Then there's the half-wit who works about 18 hours every day and does about 90% of all the work around here. He makes about $10 per week, pays his own room and board, and I buy him a bottle of bourbon every Saturday night. He also sleeps with
my wife occasionally."

" That's the guy I want to talk to...the half-wit," said the agent.

"That would be me," replied the farmer
Posted by mcblogger at 07:11 PM | Comments (0) | TrackBack
The Bush Legacy and telecom immunity
Love me some Richard Clarke. He's got the best take on the FISA bill I've seen so far:
Besides overstating successes in Afghanistan, painting a rosy future for Iraq, and touting unfinished domestic objectives, he again used his favorite tactic - fear - as a tool to scare Congress and the American people. On one issue in particular - FISA (Foreign Intelligence Surveillance Act) - the president misconstrued the truth and manipulated the facts.

Let me be clear: Our ability to track and monitor terrorists overseas would not cease should the Protect America Act expire. If this were true, the president would not threaten to terminate any temporary extension with his veto pen. All surveillance currently occurring would continue even after legislative provisions lapsed because authorizations issued under the act are in effect up to a full year.

Simply put, it was wrong for the president to suggest that warrants issued in compliance with FISA would suddenly evaporate with congressional inaction. Instead - even though Congress extended the Protect America Act by two weeks - he is using the existence of the sunset provision to cast his political opponents in a negative light.

For this president, fear is an easier political tactic than compromise. With FISA, he is attempting to rattle Congress into hastily expanding his own executive powers at the expense of civil liberties and constitutional protections.

I spent most of my career in government fighting to protect this country in order to defend these very rights. And I know every member of Congress - whether Democrat or Republican - holds public office in the same pursuit.

That is why in 2001, I presented this president with a comprehensive analysis regarding the threat from al-Qaeda. It was obvious to me then - and remains a fateful reality now - that this enemy sought to attack our country. Then, the president ignored the warnings and played down the threats. Ironically, it is the fear from these extremely real threats that the president today uses as a wedge in a vast and partisan political game. This is - and has been - a very reckless way to pursue the very ominous dangers our country faces. And once again, during the current debate over FISA, he continues to place political objectives above the practical steps needed to defeat this threat.
Of course, this is all about Telecom Immunity. That's the real objective. That's what must be stopped. So, to all the members of Congress who are thinking about voting for this bill (we see your IP's so we know you're paying attention), think again. It will be a campaign issue.
Bush is sticking with his "I'll veto to protect 'merican's" bullshit. Just as an FYI to any Republican thinking of sticking with our douchebag President, you're toast.
Posted by mcblogger at 04:07 PM | Comments (0) | TrackBack
UPDATE - CD10 : Endorsement Fun
Dan Grant has been rolling on with the endorsements. He picked up the Tejano Democrats in Harris County and he picked up the Austin American Statesman. This is, of course, in addition to the plethora he's already received. He also picked up, earlier this week, the Houston Chronicle endorsement.
U.S. Congress, District 10, Democrat Dan Grant - A graduate of the London School of Economics and Georgetown University, Grant has deep foreign policy experience earned as a U.S. Agency for International Development official in Afghanistan and Iraq. He favors an immediate pullout of the bulk of American troops from Iraq. Closer to home, Grant says his domestic priorities will be supporting policies geared to economic recovery and health care reform.
Finally, I just heard that Dan had received the endorsement of long time Travis County DA, Ronnie Earle.
Posted by mcblogger at 04:00 PM | Comments (0) | TrackBack
The response
Barfly, a few weeks ago, found out about this. Here is Kimmel's response
Posted by mcblogger at 02:59 PM | Comments (0) | TrackBack
Hillary says "not so much" to corporate welfare
Senator Clinton (who ROCKS, by the way) is cosponsoring legislation in the Senate to ban the use of private military contractors in Iraq. Some call it the privatization/mercenarization of our armed forces. We call it corporate welfare since prior to Uncle Sam's large checks, Blackwater was a little organization providing corporate security and training to police officers. Full text in the supersize.
In other Hillary news, the campaign announced it raised $35 million. In February. Mostly from small donors. So much for the accusation that Hillary's only raising money from rich lobbyists.
Washington, DC – Senator Hillary Rodham Clinton announced today that she has cosponsored legislation to ban the use of Blackwater and other private mercenary firms in Iraq. "From this war's very beginning, this administration has permitted thousands of heavily-armed military contractors to march through Iraq without any law or court to rein them in or hold them accountable. These private security contractors have been reckless and have compromised our mission in Iraq. The time to show these contractors the door is long past due. We need to stop filling the coffers of contractors in Iraq, and make sure that armed personnel in Iraq are fully accountable to the U.S. government and follow the chain of command," said Senator Clinton. The legislation requires that all personnel at any U.S. diplomatic or consular mission in Iraq be provided security services only by Federal Government Personnel. It also includes a whistleblower clause to protect contract personnel who uncover contract violations, criminal actions, or human rights abuses.
Posted by mcblogger at 12:54 PM | Comments (0) | TrackBack
If you bought me these I might like you more
This is a bag of Zapp's Spicy Creole Tomato Chips Spiked with Tabasco. These are, quite simply, the most delicious food since bacon. The best part? They have them at HEB AND Randalls!
And yes, all you aspiring candidates out there, we DO change endorsements for those who give us delicious things to eat or drink (like scotch!)
Posted by mcblogger at 10:57 AM | Comments (0) | TrackBack
The Candidate. Brought to you by Valero
(Lotsa posts today... I have more than $4 million wired out that I have to bird dog. SO, while I'm stuck in the office ALL DAY, I'll going to take occasional breaks and give you something fun to read. I'm large like that)
Only in Texas would a candidate for the Railroad Commission ask for ethics guidance from one of the companies said candidate will be regulating if elected. This year the candidate is Art Hall.
Former San Antonio City Councilman Art Hall has accepted more than $5,000 in contributions from Valero Energy's political action committee and several of its employees, according to records from the Texas Ethics Commission.

On February 8, Hall received a $5,000 contribution from the Valero Political Action Committee, a PAC notorious for giving thousands of dollars to Texas' most conservative Republicans-- and Railroad Commissioner Michael L. Williams, the man Hall and Dale Henry (D-Lampasas) seek to replace in the November general election.

In addition to the $5,000 from Valero's PAC, Hall also took more than $2,000 from Valero employees and attorneys in late January and February. According to Hall's most recent filing with the Texas Ethics Commission, he received the following contributions from Valero employees and attorneys:

Robert Bower, Valero Attorney, $500 2/23
Theodore Guidry, Valero employee, $500, 1/26
Diane Hirsch, Valero Attorney, $300, 2/23
Martin Loeber, Valero Attorney, $500, 2/23
Rich Walsh, Valero Attorney, $1,500, 2/23
Parker Wilson, Valero Attorney, $500, 2/23

"The money that Art Hall has accepted from Valero's PAC and its employees is especially troubling given the fact that he is very connected to Valero through the fact that his wife is an attorney for Valero," said Vince Leibowitz, campaign director for Dale Henry, Hall's principal opponent.

According to Hall's Personal Financial Statement on file with the Texas Ethics Commission, Hall's wife owns between 5,000 and 9,999 shares of stock in Valero which, if sold, would represent a net gain of $10,000 to $24,999.

"All of this is especially disturbing given the fact that Art Hall is actually getting advice from Valero on what constitutes a conflict of interest for his campaign," said Leibowitz.
Do yourself a favor, vote for Dale Henry. He'll have an easier time beating Michael Williams. Not to mention that with Henry on the RRC, Texans will finally have someone looking out for them.
Posted by mcblogger at 09:47 AM | Comments (0) | TrackBack
Tara Rios Ybarra and a rabbi walk into a bar
Stop me if you've heard this one before. Texas Republicans, specifically CradDICK, can't get rid of a State Rep (Juan Escobar), who is all the time actually representing his district and making his constituents happy, in a general election. So, they decide to run someone in the Democratic Primary. That person is Tara Rios Ybarra. Vince has more up on her fundraising (lots and lots of money from TLR) as well as some information on her primary consultant whose client lists reads like a biblical list of demons.
Don't look at me that way... How would YOU describe a list that includes 39%, Todd Baxter and Ben Bentzin?
Unfortunately, it doesn't end there. There is also Marisa Marquez in El Paso. She's running against Rep. Moreno. Here's what Moreno's campaign has to say about her...
"Marisa Marquez has shown time and again that when it's time to live up to her campaign rhetoric, she falls short every time," stated Roger Garza, spokesperson for the Paul Moreno campaign. "How can voters honestly expect to believe that she is not a Craddick Democrat when Marquez consistently takes money from Tom Craddick's staunchest supporters?"
Given her funding, which clearly speaks for itself, I'm going to agree with Garza.
Posted by mcblogger at 09:23 AM | Comments (0) | TrackBack
Cornyn fights back (with a 28 gauge)
Sorry, just couldn't resist another dig at an adult who claims to be a MAN and a TEXAN who hunts with a goddamn 28 gauge shotgun. What's the problem, princess? You afraid your shoulder will get sore? Of course, he's worried about more than that. He has to fight someone for re-election. Someone who's already making him his bitch. Which is why his dippy little campaign manager sent out an email talking about Rick going 'over the line'. See, Rick criticized his lame attempt to swiftboat him. He also thought Cornyn was pretty weak for voting against armor for our troops. Cornyn's not happy with that... he doesn't refute the fact that he voted against the armor, he just thinks Rick's mean for bringing it up. He'll of course claim this is patently untrue. Media Matters looked into it and concluded it was true. So did Vote Vets. None of that matters to Cornyn's campaign manager who thinks it's all really mean.
Hon, this is Texas. EVERYTHING is over the line. Maybe you'd be more comfortable running a race in North Dakota.
Lookit, R's. With every email you piss us and EVERY TEXAN off. You wanna play this as politics as usual, go ahead. However you're just going to come away beaten down like a baby seal. We're meaner than you and we know damn well this country and this state can't afford more of your mistakes. Our troops can't afford another WMD goose chase. Our people can't afford higher interest rates because you refuse to tax your buddies. Our economy can't handle your singular focus on high oil prices to help your friends in the energy industry.
We're going to elect Rick. Period. We're going to bloody you while we do it. We're going to be ugly, nasty and downright mean. And the brill part is that all we have to do is tell the truth. We'll call out every lie and we'll make sure the rest of this state knows just what kind of a coward you are for voting to protect telcos and the President over the rights of your constituents.
We'll never let them forget about their fancy Senator who hunts with a 28 gauge shotgun.
While you're good and pissed off at Senator John Cornyn, go take his little poll.
Posted by mcblogger at 12:51 AM | Comments (0) | TrackBack
February 28, 2008
Do it for Ann
Posted by mcblogger at 06:24 PM | Comments (0) | TrackBack
Obama, Clinton trail McCain
We've all got work to do and I don't want to hear another thing from Obama, et al, about how well he'll do in the general election.
Posted by mcblogger at 03:33 PM | Comments (0) | TrackBack
Dr. Hospital Bed is spreading around his money
James Leininger (the DR is silent) is pulling out the stops again this cycle and funding some losers around the state in an effort to continue the corrupt leadership of Speaker CradDICK and the rest of the R's. Of course, Leininger isn't the only R digging deep to keep the R's in power, Bob Perry is also on board and giving not just to R's but to D's as well. Well, they call themselves D's but everyone knows they're really Republicans.
Craddick D Kevin Bailey continues to rake in the Republican money taking $23,500 from Perry and $25,000 from Texans for Lawsuit Reform. Aaron Pena, another Craddick D received $25,000 from Bob Perry, $10,000 from Craddick's Texas Builds Jobs & Opportunity for a Secure Future PAC, and $40,000 from TLR. And Craddick "Wannade" Tara Rios Ybarra received $25,000 from Perry and over $50,000 from TLR. Dawnna Dukes received $24,000 from Bob Perry which is just as good as Craddick money.
We've talked about Dukes quite a bit. Ybarra haven't really talked about much. The reality is that while these are D's they are CradDICK allies through and through. Vote for these people at your peril!
Posted by mcblogger at 01:47 PM | Comments (0) | TrackBack
Hey Non-working slacker! Travis County needs YOU!
Poll workers are needed to serve on Tuesday, March 4th. All poll workers to include Election Judges, Alternate Election Judges and Clerks must go through training provided by Travis Co. Elections.

Trainings are being held both day and evenings now through Saturday.

Pay is $7.00 an hour which is set by the office of the Texas Secretary of State.

Please phone Travis Co. Elections at 854 - 9552.
Posted by mcblogger at 11:49 AM | Comments (0) | TrackBack
Dawnna Dukes and the art of lying like a rug
Dawnna Dukes, unable to refute the arguments made against her re-election and without a leg to stand on, has resorted to out and out lies about her opponent, Brian Thompson.
Oh, and she STILL HASN'T FILED AN ACCURATE ETHICS REPORT. STILL. WE'VE BEEN WAITING BUT THERE'S BEEN NOTHING. Much like what she's done for her constituents, there has been


NOTHING.


Full text of the release from the Thompson campaign is after the jump. When you're done seething about all this, feel free to volunteer for Thompson or send him a few bucks. He needs it and District 46 desperately needs new leadership.
Desperate Dukes Lies in Ads Thompson to File Temporary Restraining Order, Says, "I won't be swift-boated" In a desperate move eerily reminiscent of the Republican tactics that characterize her 'Swift Boat' donors, Craddick Democrat Dawnna Dukes has resorted to bald-faced lies to smear her Democratic challenger, Brian Thompson.

"Dawnna Dukes is following the same script of lies and deception authored by the Republican 'Swift Boat' donors who just happen to be funding her campaign," said Democratic challenger Brian Thompson. "It is pathetic that a 14-year incumbent has such a dismal record that she has to rely on bald-faced lies to try and save her job, a job that apparently kept her from paying her taxes but didn't keep her from taking a luxury vacation to France when Republicans were passing a tax bill by one vote."

Here are the undisputed, irrefutable facts about Brian Thompson's voting record.

FACT: Democrat Brian Thompson voted in Travis County in 2002.
FACT: Democrat Brian Thompson voted in Travis County in 2005.
FACT: Democrat Brian Thompson voted in Travis County in 2006.
FACT: Democrat Brian Thompson voted in Travis County in 2007.
FACT: Democrat Brian Thompson voted in the Democratic Primary eight days ago, on 2/19/2008 at the Fiesta on 381/2 Street, just a few feet from his East Austin home.

The television ad that Dawnna Dukes is continuing to air says, "her opponent, well, he never even bothered to vote ever."

That is nothing more than a bald-faced lie that is quickly proven totally incorrect and inaccurate by the most cursory glance at any number of publicly available documents. These documents proving Thompson's voting record have already been presented to Dukes, and every television station airing these totally false ads.

Apparently, Dukes simply refuses to let the truth or any semblance of decency get in the way of her desperate campaign to totally misrepresent Thompson's voting record.

On Monday, Thompson sent a letter to Dukes, KXAN, KVUE, KEYE, KTBC, Time Warner Cable, and the Austin American-Statesman alerting them to the blatant lies in the Dukes campaign ad. Because those ads are still running, Thompson has been left with no choice but to seek a temporary restraining order to have the inaccurate ads pulled.

This afternoon, Thompson will seek injunctive relief from a Travis County judge, and ask that the inaccurate ads be thrown off the air.

Thompson personally informed Dukes that her ads were blatant lies at the Cherrywood Neighborhood Association meeting on Thursday, February 21, 2008. After that meeting, Dukes had personal knowledge that her ads lied about Thompson's voting record. Dukes decided to run the false ads anyway, despite their total inaccuracies.

"Ms. Duke's intentional effort to score cheap political points by lying about my voting record is merely the latest example in a long line of troubling yet deliberate attempts she has engaged in to mislead the public," Thompson said.

Dukes has acknowledged misreporting 8 years (and approximately $89,000) worth of expenses charged on 18 different campaign credit cards. Even though she promised multiple news outlets more than two months ago that she would fix these mistakes, she still has yet to do so. She continues to mislead her constituents and deny them the opportunity to see exactly how she spent $89,000 worth of campaign funds before they have the chance to vote on March 4.

In addition, according to a KEYE News report titled, "Records show Texas State Rep. Dawnna Dukes failed to pay taxes," she misled her constituents by failing to pay her own taxes and follow the very laws she has been entrusted to pass. Rather than accept responsibility for her tax troubles, she offered three contradictory excuses on three different occasions, misleading the public again about why she refused to pay her taxes. Despite her unwillingness to fulfill her tax obligations in a timely manner, she still managed to pay for a luxury trip to Paris while skipping a crucial school finance vote on the Texas House floor.

Now, Dukes has chosen to focus her pattern of deception on Thompson, and intentionally lie about his voting record to score cheap political points.

"I'm not going to be swift-boated by a Craddick Democrat who just pocketed a $24,000 check from the largest Republican donor in Texas; the same man who gave more than $4,000,000 to the reprehensible 'Swift Boat' attack ads," Thompson said.
Posted by mcblogger at 11:04 AM | Comments (0) | TrackBack
Stupijectivity : Traditional Journalism's last refuge
How many times have you heard someone in the press talk about how they must be objective, even in the face of blatantly false information? Basically, that they must present all sides of an issue?
Think about this for example... under these rules, it would make sense to write an article about two groups of people you differ on what 2+2 equals.
Some believe that 2+2=6. Others believe that 2+2=4.
Simplistic? You betcha. Change it to this...
Some believe that tax cuts increase government revenues. Other believe that tax cuts produce less revenue that would be obtained with no cuts.
It's the same basic premise... one group believes that you get more than your inputs and receive a free lunch while another believes that you get exactly what you put in, no more, no less. The latter, in both cases is EMPIRICALLY right. That former 'argument' in the second example is pure supply side bullshit and it's completely wrong since it's based on the Laffer Curve and we're already taxing on the left part of the curve from which additional cuts equal diminished revenue.
Welcome to the world of the stupijective.

Posted by mcblogger at 10:00 AM | Comments (0) | TrackBack
Roundin' up the TPA
This week's round-up is compiled by Vince from Capitol Annex.
TXsharon has a broken modem so Bluedaze is suffering but she managed to post about The RRC's approval of Atmos Energy's extravagant spending--bendover Texans. Also read about howPhil King meets Karma in Wise County and hear the horrendous sounds of the Barnett Shale.
Off the Kuff offers his incomplete list of endorsements for the Democratic primaries, and for his birthday rounds up his complete list of candidate interviews.
Gary at Easter Lemming Liberal News has blogged an eventful week or two climaxing with Paul Burka becoming a believer in the Obama Borg - Democrats can take back Texas. Wow.
Over at McBlogger Mayor McSleaze commemorates Kirk Watson's Deer In The Headlights Moment while McBlogger, beverage in hand, watches the Debate and puts the smackdown on wingnuts still drinking the school voucher Kool-Aid
The Texas Cloverleaf makes it back safely from Oklahoma City and discusses the National Stonewall Democrats meeting there, as well as the upcoming LGBT Presidential Town Hall in Dallas on Monday night.
PDiddie at Brains and Eggs had a report on Obama's visit to Houston last Tuesday, and also noted the end of the Fidel Castro era in Cuba. Open Source Dem had part three of his "Texas in Play" series, entitled "Jim Crow Lives".
Hal, who writes Half Empty, went to early vote last Wednesday and has some poll observations and some Fort Bend County stats.
Bill Howell of StoutDemBlog reminds us of some Texas election history that is relevant for this year's Democratic Primary, in Don't Be Confused By Names.
Muse was at the Bill Clinton fundraiser in Houston this week where she fulfilled a lifelong dream to touch him – handshake! She notes that not all college students are for Obama – witness the Daily Texan endorsement for Hillary. And, she receives an email where Obama encourages Republicans to crash the Democratic primary, to vote against the bad, scary Hillary. More Hillary stuff coming this week on musings!
WhosPlayin tries to explain the "Obama Movement", and has a run-down of which Texas blogs are endorsing Clinton or Obama.
Vince at Capitol Annex notes that the Texas Democratic Party has instructed county and precinct officials not to interpret election results for the media or political campaigns, and asks if national Democrats will still respect us (or call or visit) after March 4.

Posted by mcblogger at 08:30 AM | Comments (0) | TrackBack
February 27, 2008
Attempted Swiftboating of Veteran Candidate...Backfires!
Challenged by (non-veteran) Republican Senator John Cornyn in Texas to release his military records, Democrat Rick Noriega releases them in full and ends up looking like a hero. Oops. Now the only question that remains is whether or not the chickenshit Cornyn will release his records. Failing that, will thye good Senator explain exactly HOW he managed to avoid the draft?

read more | digg story
Posted by mcblogger at 10:01 PM | Comments (0) | TrackBack
THIS makes me so mad!
As unbelievable as it sounds, there are some really stupid people working at the Dallas Fed, namely W. Michael Cox and Richard Alm. Well, maybe calling them stupid is too harsh. They are more like idiot savants, so narrowly focused on one piece of data that they ignore the fact that their research is largely pointless.
Cox and Alm hypothesized that the gap between rich and poor isn't that large in terms of of per person consumption. And they've proved it!
Richer households are larger – an average of 3.1 people in the top fifth, compared with 2.5 people in the middle fifth and 1.7 in the bottom fifth. If we look at consumption per person, the difference between the richest and poorest households falls to just 2.1 to 1. The average person in the middle fifth consumes just 29 percent more than someone living in a bottom-fifth household.

To understand why consumption is a better guideline of economic prosperity than income, it helps to consider how our lives have changed. Nearly all American families now have refrigerators, stoves, color TVs, telephones and radios. Air-conditioners, cars, VCRs or DVD players, microwave ovens, washing machines, clothes dryers and cellphones have reached more than 80 percent of households.
They do acknowledge that the gap in income is 15 to 1. They also acknowledge that people in the lowest fifth of wage earners (also known as more than 30% of this country) are basically living on double what they earn. They explain this a number of ways...the poor are selling assets (because everyone knows that the poor are very asset rich), cashing in insurance policies (because everyone knows the poor are loaded in terms of fully vested insurance policies) and living off their savings (because everyone... you get the gist, right? On this one though, I have to ask these two idiots, When, exactly, were the poor supposed to build up positive balances in their bank accounts while spending more than they make?).
Ok, so I lied. These are two of the DUMBEST economists on the face of the planet. Seriously, they lump in here the working poor, retirees and people who are taking time off from work (or are between jobs). Now those people do have disposable savings and non-taxable sources of income. However, even these folks aren't living on 9k per year. But, let's think in terms of averaging. What do you do about the massive number of people in this group who are making the average or less and have nothing to fall back on? Obviously, they aren't living beyond their means. What is THEIR level of consumption? These two brill economists make no attempt to even consider that. Nor do they even bother to analyze the fact that at a certain level of consumption, income becomes largely irrelevant. Which is the most interesting bit of data that can be used to refute the claims of certain 'conservatives' who think if you pay the poor an actual living wage all they'll do is spend every dime. This data supports the progressive idea... the poor would actually build savings just like those in the middle fifth and above income groups if they actually made enough TO SAVE.
This data could have been very useful in terms of talking about wage inequality and the need for living wages. Instead, the two economists from the Dallas Fed choose to make it all about buying stuff. Nice work, guys.
For another excellent counterpoint, click here.
Posted by mcblogger at 03:15 PM | Comments (0) | TrackBack
A word of advice... Keep your vote to yourself
I've received a few emails today from good hearted people who wanted to let me know why they were voting against some of the endorsements we made.
Keep in mind, I'd have absolutely no way of knowing HOW they voted, they could have lied to me or just kept their mouths shut. Nevertheless, they went out of their way to let me know about individual candidates where we differ.
Frankly, I don't care. Vote for whom you want. We didn't publish (yes, WE, not just ME) endorsements as some kind of demand, we published them because they were the candidates we were supporting. Should you go with someone else, just keep it to yourself. We seriously DON'T NEED TO KNOW. And we're sure as hell not going to smooth things over and salve your conscience. If you did something you feel bad about, then feel bad about it.
Don't look to us for redemption or forgiveness.
Posted by mcblogger at 01:52 PM | Comments (1) | TrackBack
GM and GIANT Hybrid SUV
This is it. The Yukon Hybrid. At best, this beast gets 22 miles per gallon. It's also $50k. Which is why GM will sell few of them and then moan about how the market really doesn't want hybrids.
Meanwhile, Toyota and Honda will sell every hybrid they can make.
Posted by mcblogger at 11:36 AM | Comments (0) | TrackBack
Bush and his lies about FISA
Don't cave in, D's (and a few) R's in the House. We're watching you and while this issue may not be foremost on people's minds, imagine how front and center it can become. In an election year. You don't want that so why not do the right thing AND CYA! Drop Bush in the grease on this and stand with Pelosi!
El Presidente is all about telecom immunity because he knows it's the only thing that will save him from an eventual stretch in the federal pen. See, Bush ordered all this. He brow beat the companies into submission. Now he can't deliver the immunity they so desperately need. And he's sounding more and more desperate by the day...
``The House's refusal to act is undermining our ability to get cooperation from private companies, and that undermines our effort to protect us from terrorist attacks,'' Bush said in his weekly radio address, the second week in a row he has discussed the issue.

The Democratic-controlled House of Representatives has balked at passing a Bush-backed bill that would give telecommunications companies such as AT&T Inc. protection from privacy lawsuits for helping the administration conduct wiretapping without warrants.

The bill, approved by the Senate, would extend the spying authority for six years. The prior law expired Feb. 16 after Bush said he wouldn't sign a brief extension while the House debated the issue.

Democrats argued the law's expiration wouldn't hobble surveillance of foreign-based terrorists or other enemies, since orders issued to telephone companies under the law remain in effect for a year.

Bush, in his radio address, said lawmakers who oppose the legislation are favoring trial lawyers over national security. ``Terrorists are planning the next attack on America,'' Bush said. ``To protect America from such attacks, we must protect our telecommunications companies from abusive lawsuits.''
Terrorism is all about instilling fear in a target. Bush is working hard to instill fear in the American people to, yet again, expand the powers of the Presidency. Doesn't that, by definition, make Bush a terrorist? Ponder that for a second...
Interesting, huh?
As for the first quote, these companies, like all entities in the US, can be compelled to cooperate with a court order, usually in the form of a warrant. That's what the Fourth Amendment to the Constitution is all about. These companies did what Bush wanted, they did something illegal based on his assurances, which he never should have given. Now, they're in trouble. However, so is he. It's pretty obvious that this ISN'T about these companies... it's about Bush keeping himself out a scenic vacation to a lovely spot in Kansas.
Sign the petition now. Ask The House to uphold the rule of law in the United States and let's restore accountability to the executive branch.
Posted by mcblogger at 09:43 AM | Comments (0) | TrackBack
Tina Fey is making me watch SNL again...
An open letter to Tina Fey:
OK. You got me. I'm not happy about it, but you do. First, it's 30 Rock to which I am thoroughly addicted (it was easier giving up cigarettes... you are making the sitcom equivalent of H... I hope you're happy). Now you're back on SNL talking up Hillary and doing some awesome bit, pleading with Texas and Ohio to vote for her.
I DO things on Saturday night. Now I have to make sure and watch SNL? Damn, you Tina Fey... but thanks for endorsing Hillary!
Bitch is the new black, yo!
Posted by mcblogger at 08:56 AM | Comments (1) | TrackBack
February 26, 2008
Finally! The Hedgies start to cave on taxes!
We've talked before about hedge fund managers who pay only 15% of their income in taxes. Via the NYT comes an article about Peter Peterson of the Blackstone Group acknowledging that it's time for the private equity flippers should start paying normal taxes. Just like you and me.
Posted by mcblogger at 02:48 PM | Comments (0) | TrackBack
Texas House News O The Day - Thompson and Betty Brown
Dawnna Dukes is still, despite her protests to the contrary, taking money from forces aligned with Speaker CradDICK. Some of her contributors include Bob Perry And Harold Simmons (of Swiftboat fame) and Michael Stevens who is one of the largest Republican donors in Texas (in terms of dollars, not physical size)

Brian Thompson could seriously use some of your help... financial or volunteer. If you want better government, then you gotta work to make it happen, folks!

Just for fun, here's a great video from Thomspon and the endorsement from the Slag (hey! Everyone gets one right every now and then!)
Betty Brown up in HD 4 has a serious challenger named Wade Gent. Yeah, they're both Republicans. However, like with some Democrats, there are good and bad Republicans. Gent is a good one who genuinely cares about the people in the district and wants to serve them. Betty Brown would rather toll the whole district, which is exactly what the big business funded Empower Texans wants.

ET has sent out a mailer on Betty's behalf claiming that her opponent has taken money from 'librul casino interests'. It's all a lie since the family in question, The LaMantia's, have given a ton of money to mostly Republicans... like Speaker CradDICK and Lt. Gov. Dewhurst, both of whom are supported by none other than Betty Brown. Which makes Betty a pretty big hypocrite.

The letter claims that Betty is a leader in the Texas House but the reality is that she's, at best, a back bencher with no real power despite being an ardent supporter of Speaker CradDICK. Why else would it take so long for necessary transportation projects in her district to get done? The reality is that the projects now being built were shoved through by former State Rep. Clyde Alexander who was far and away more effective than the tired, old Brown.

They've even gone so far as to cast Betty Brown as a reformer. Which she most certainly is not. Of course, the M Q Sullivan of ET would never want anyone to know about how Betty Brown voted to raise taxes on the middle class and reduce them on the wealthy in some kind trickle down experiment that did exactly what Democrats said it would do... PROVIDE NO PROPERTY TAX RELIEF. Further, her stupid experiments in reforming school funding have resulted in little additional money going to schools. Betty's answer? Throw up your hands, abandon responsibility and talk about how great vouchers would be.

That's pretty ballsy, Betty... to admit you're such a screw up that you can't fix the problem you were hired to solve but STILL want to keep your job? Wouldn't it be great if we could all abandon our responsibilities and give up, yet still get to keep our jobs like Betty Brown of Terrell?
Posted by mcblogger at 01:24 PM | Comments (0) | TrackBack
EV through the roof
Wanna see something impressive? Here's EV up huge in Harris County. Here it is in Travis County. All over Texas, the EV is overwhelmingly Democratic and far higher than ever.
Posted by mcblogger at 10:54 AM | Comments (0) | TrackBack
Heather Wilson (R-New Mexico) and magical wiretap (that's not illegal)
Last night, Rep. Heather Wilson was on CSPAN bleating on about how we're "less safe and less secure" because the D's in the House won't pass retroactive immunity. What she's leaving unsaid? That it was illegal. What Bush did and what the companies aided and abetted, was ILLEGAL.
So, who is Heather Wilson? A former topless dancer, Heather has fear-mongered her way into the US House despite her horrendous haircut and criminal sense of style. Mostly by making the people of Albuquerque so scared they've actually become incontinent.
Later, Rep. Phil Gingrey (R-Georgia) came on to lie about the telecom companies by saying that they were REQUIRED by the Patriot Act to comply with the wiretaps. Which is why they now need retroactive immunity for doing something illegal. Phil, seriously, does your brain actually control your speech or are you simply a robot controlled by the White House?
Finally, toward the end of the Republican's pantomime, was Michael McCaul, my Congressman, who's scared of them terrawrists. He called this all a 'dangerous game of politics'. He's right... the future of our country is at stake. Will we cave in to fear and allow Republicans like Michael McCaul to take our rights and make us slaves or will we turn them out and drive them from office?
The bottom line, Republicans, is that the American people will NEVER forgive immunity. NEVER. The only thing you can do is pass a liability cap. However, we're going to find out just how far up it went.
And people will be going to jail.
(Oh, and Mike... I feel shame when it says 10th Congressional District of Texas under your name. That was Jake Pickle's seat. Before that, it was Lyndon Johnson's. Those were real Texans, brave men who did what was best for their nation. You are a scared little politician. And Dan Grant is going to beat you like a drum.)
Posted by mcblogger at 08:04 AM | Comments (2) | TrackBack
February 25, 2008
More good news for Skelly
We wrote up Michael Skelly a while back. Tuesday came some more good news for him in terms of polling vs. Culberson and fundraising. Needless to say, it looks like a Democrat has a great chance to take over CD 7.
And the people of Houston could really use the help.
Posted by mcblogger at 02:53 PM | Comments (0) | TrackBack
DHS and the plan to gut civil service
Apparently, DHS has given up on that brill idea to gut civil service laws and hire non-union folks.
The Department of Homeland Security, in a court filing Friday, said it will not pursue rules to curb union rights and will abide by regular civil service labor-management procedures.

Shortly afterward, a federal court issued an order closing the case, and the union that fought the rules declared victory.

Colleen M. Kelley, president of the National Treasury Employees Union, yesterday called the result "a welcome end to a battle well worth fighting."

The battle began in the summer of 2002, when the Bush administration signaled that it wanted to create a separate personnel system for Homeland Security, changing how employees would be paid, promoted and disciplined.

Bush officials contended that the Sept. 11, 2001, terrorist attacks required changes that would give more discretion to managers and permit quicker deployment of workers without notifying their union representatives.

The plan outraged federal union leaders and a number of Democrats in Congress. When the department and the Office of Personnel Management issued rules for a new personnel system in February 2005, the NTEU and other employee groups sued. The union also began lobbying campaigns to stop the rules on Capitol Hill.

The proposed rules would have allowed the Department of Homeland Security to override any provision in a union contract by issuing a department-wide directive. The rules also would have made it difficult, if not impossible, for unions to negotiate over arrangements for staffing, deployments, technology and other workplace matters.

In August 2005, U.S. District Judge Rosemary M. Collyer blocked the department's plan, saying it did not ensure collective-bargaining rights for Homeland Security employees. A year later, a federal appeals court ruled against the department.
Just curious, but how much taxpayer money was wasted on advancing a stupid idea dreamed up by retarded Republicans on a purely ideological crusade?
Posted by mcblogger at 11:20 AM | Comments (0) | TrackBack
Rich : Grand Old White Party
Oh, if you haven't read Frank Rich's column this week then go take a look here. Well worth the read.
I know, I know... short posts suck. Sorry. It's the end of the month (look at a calender!) and I'm terribly busy.
Posted by mcblogger at 09:08 AM | Comments (0) | TrackBack
February 24, 2008
Governor Warped
Commenting on Governor Rick Perry's lack of political savvy serves little purpose since enough Texas voters bought his sales pitch and reelected him.
On the other hand, his book, "On My Honor", gives the rest of us a chance to remark on his frame of mind, which seems to have meandered into some bizarre, paranoid realm.
The fact that no mainstream publisher would touch this rubbish should indicate that Perry has gone off the deep end. More troubling is that the book's proceeds are slated to destroy an organization that battles for our civil liberties, promote hatred towards gays and lesbians, and purge college professors.
Though the governor denounces the ACLU for draining the Boy Scouts resources, blame the scouts for their financial situation since paying lawyers to defend their discriminatory ways prevents that money from being used for humanitarian purposes and taking care of their bills.
Another Perry desire is to fire college professors who have different beliefs than him. If parents read the conservative and corporatist propaganda forced into their children's junior high and high school books by school boards, they would thank the colleges for instilling true patriotic, civic, and family values of shared responsibility and community support rather than the greed and self-serving mentality foisted on them by right-wing philosophy.
The biggest disappointment of Perry's ramblings is his corruption of the Boy Scout ideals for his personal political agenda. The thought that he was a member of that proud organization makes one shudder with disgust.

Posted by Captain Kroc at 05:23 PM | Comments (0) | TrackBack
Sign War in Sector 11-W
Cameron Loop is one of those obscure two lane roads in Southwest Austin left over from a time when the land, now being covered by subdivisions and apartments, grazed goats and cattle. And one of the sure harbingers of a forthcoming election is the appearance of candidates' signs. One or two will show up here and there, like the first hesitant buds of Spring, then, in a week or two, signs are popping up everywhere like a field of political wildflowers.
Normally, all the signs manage to co-exist with one another, so imagine my surprise when I drove by the spot where one of Gary Cobb's signs had stood for the last few weeks. Overnight, a Mindy Montford (one of Cobb's rivals in the DA race) sign had sprouted, and right in front of his!
Well, that was rather rude, thought I, but as a continued down the road, I saw that ALL the Gary Cobb signs now had Montford signs in front of them.
All quite uncalled for, since as you can see, there's plenty of space for signs.
Now, I'm not going to blame Mindy Montford personally for this. It's not like she was driving around in the middle of the night with a trunk full of yardsigns and a hammer. Nor am I going to suggest that this should have any effect on how anyone should vote in the DA's race. But it would be nice if Mindy Montford would ask her supporters to not act like douchebags.
Posted by mayor mcsleaze at 02:16 PM | Comments (0) | TrackBack
A Message To Ralph What's-His-Name
Slightly higher production values than my "Fuck you, Ralph!"
Posted by mayor mcsleaze at 12:10 PM | Comments (0) | TrackBack
February 23, 2008
Tolls : Overspending; Safety Concerns and more
It should come as no surprise that despite TXDOT's protestations of poverty, they still found the time to give TXDOT MANAGERS thousands of dollars each from a massive taxpayer funded bonus pool. It shouldn't surprise anyone because it's always the Republican way to give money to managers... not the people who actually, you know, do the work.
Senator Hinojosa is thinking about sunsetting TXDOT? Oh, be still my beating heart! However, we'd much rather you just got rid of the management. Like the 'tards Saenz and Houghton. Seriously, even for Republicans y'all are pretty damn stupid.
There's a rumor going around that Rep. Leo Berman (R - I CAN DO WHAT I WANT) recently told a crowd that he didn't care if taxpayers wanted an indexed gas tax, he was only for toll roads and he'd never work to index the gas tax.

Does he have a Republican opponent? Or D running against him?
No one in East Texas likes TTC - 69. And those good folks own lots of guns.
Toll roads are in even worse shape than non-toll roads? You mean privatization isn't giving us better roads? Say it ain't so
Posted by mcblogger at 04:47 PM | Comments (0) | TrackBack
February 22, 2008
Wilkes Sentenced and the Grand Old Docket
You too want to know what's happening with all those Republican corruption scandals? Cool how great minds think alike. TPM is doing the Grand Old Docket, a list of the players and linking them to the current disposition of their cases.
In related news, Brent Wilkes was sentenced to 12 years. In the federal pen. When he comes out he'll be far more buff. He'll also answer to the name 'Princess'.
Posted by mcblogger at 03:45 PM | Comments (0) | TrackBack
Muth's (half) Truths and outright lies
Vouchers are a great idea, according to some guy named Muth. So is a Contract with Conservatives. Welcome to the world of the nutter right blogosphere.
In Muth's world, public education is a bottomless money pit into which our tax dollars sink. Of course, he's right if only because we haven't been putting enough into them since the 1980's.
There is only one way to truly improve the public schools…and paying teachers more money ain't it.

The only way to force the public schools to perform better is to force them to compete with other schools. And that means giving parents the power and the authority and the means to make a free choice in education.

If the neighborhood, government-run, union-controlled public school does an adequate job in a safe environment, parents will send their kids there. If not, they'll send their kids elsewhere. It's as American as apple pie.

This is the exact same concept as the Kenny Guinn Millennium Scholarships. Students who qualify can go to any approved public OR PRIVATE college or university in Nevada. Why shouldn't the parents of elementary or secondary school kids have the same choice? Our priority should be on saving our students' futures, not saving our schools.
Where to begin... first off, if you invest just enough money into a company to keep it going but not enough to really improve effiency and production, you have what's called a stripper company. For a while, things will be OK. However, as your capital investment continues at a super low rate, you'll lose your best staff and eventually you'll start losing money. That's basically what Republicans have done to public schools. By not making necessary investments in Teacher pay and pensions, not to mention our substandard facilities, we're seeing poor test scores and substandard educations.
The Republican answer? Rather than admitting the error and correcting it, they decide to throw up their hands and scrap the whole thing by giving folks vouchers. In Texas, your voucher would be around 6-7k per year. You'll need all that and more to send your kid to a private school. Think about paying 8-10k PER SEMESTER.
Of course, the point is ALWAYS lost on Republicans that if WE put 20k per year per student into public schools they'd be in pretty good shape, too.
Posted by mcblogger at 01:51 PM | Comments (0) | TrackBack
Tolls : Dunnam calls out TXDOT
Spot.On.
Jim Dunnam

Waco Tribune-Herald

Copyright 2008

Take the toll route?

Tolling Interstate 35 lanes through Waco is a terrible idea, and I'm committed to stopping it.

The Texas Transportation Department is claiming budget shortfalls over the next 25 years. Its claims are exaggerated.

One independent analysis says the agency is overestimating the shortfall by $30 billion. In addition, the 2007 state auditor's report identified an $8.6 billion error in the shortfall and questioned another $37 billion because of improper documentation.

At a recent Senate committee hearing, TxDOT admitted to another billion-dollar "accounting error."

At that Senate hearing, Sen. Steve Ogden expressed dismay at TxDOT's financials, calling them "screwed up."

More diplomatic, Lt. Gov. David Dewhurst wrote that TxDOT "does not show the complete financial picture."

Sen. Kirk Watson summed it up best, stating Texans "cannot trust the Texas Department of Transportation or the policies that are consigning Texas to inadequate roads and privatized tollways."

Even a cursory look at the facts proves the senators right. The current state budget appropriates $16.9 billion to TxDOT — that's a $1.8 billion (12 percent) increase over its previous budget. In fact, the 2007 Legislature gave TxDOT over $200 million more than TxDOT even requested.

In addition, TxDOT's planning process doesn't factor another $9 billion in revenue — $3 billion in State Highway Fund bonds, $5 billion in voter-approved general obligation bonds and the possibility of $1.3 billion in Mobility Fund bonds.

At the Senate hearing, Sen. Judith Zaffirini suggested the "funding crisis" and the "solution" of toll roads is simply TxDOT "scheming to promote its own political agenda."

So what is that agenda?

Gov. Rick Perry and his appointees overseeing TxDOT make no secret they want to make Texas a toll road state.

Their ultimate goal is to create a new privatized source of money that will be free from public accountability.

Tolling Texas roads was an idea sold by Perry in 2003 as a limited tool for communities that wanted tolls. However, once voters said OK, Perry revealed his true plans — a Spanish-run Trans-Texas Corridor and a series of toll roads crisscrossing Texas.

The first phase would take 71,661 acres and 8,036 other parcels of private land to build a road that would cost Texans more than $20 to travel one-way from Dallas to Austin.

Once this real agenda came out, the Legislature promptly stopped it, overwhelmingly passing a moratorium on most toll road projects.

Threatening Waco

Perry's reaction was to have TxDOT start threatening local cities. That's exactly what just happened to Waco — either "agree" to toll I-35 lanes or TxDOT will cancel existing projects and delay all plans to expand I-35.

While threatening Waco with "toll lanes or no lanes," TxDOT chose to award more than $84 million from "Strategic Priority Funds" to Grayson County for local projects — that's most of the cost of putting eight full lanes on I-35 through Waco.

While undoubtedly important to Grayson County, these projects are not statewide "strategic priorities" like I-35.
This just shows that the tolls agenda is one of choice, not necessity.

Money from Perry's toll lanes will go to issue bonds for other projects. The bond money will be separate from the main state budget, meaning there will be almost no legislative accountability.

And lack of legislative accountability is the exact reason TxDOT feels safe in threatening our communities and thumbing its nose at the Legislature. TxDOT's main funding, the gas tax, is dedicated by the Texas Constitution.

That means TxDOT can ignore the Legislature and still know it will get its money.

Bonds from toll roads will be like another dedicated revenue source, making TxDOT autonomous and the situation worse.

TxDOT needs to be reined in and made accountable. TxDOT should provide the Legislature with accurate information; but how to pay for the roads should be decided by the Legislature.

The Legislature will work to address Texas transportation needs responsibly through cooperation at the federal, state and local levels. But in order to do that, TxDOT must be an honest and accountable partner.

Our forefathers gave us great free roads in Texas. Our legacy should not mean our children have to pay an extra $3 to drive from Lorena on I-35 to buy a Health Camp burger. Instead, Central Texans need to stand up and say "no" to toll lanes on I-35 — and I intend to do just that.

Jim Dunnam, D-Waco, is State Representative for District 57.

(Via TTC Archives)
Posted by mcblogger at 11:56 AM | Comments (0) | TrackBack
SC wimps out on wiretapping...
This is SOOO surprising considering the makeup of Bush's Court. One wonders if they'll even address the legality of it when it's finally shoved down their throats.
The Supreme Court yesterday declined without comment to hear the American Civil Liberties Union's challenge of the Bush administration's domestic spying program.
In other news, the NSA totally heard that convo between you and your friend about that skanque you banged last night. They'd really like to talk to her.
Posted by mcblogger at 09:24 AM | Comments (0) | TrackBack
Loving me some Hillary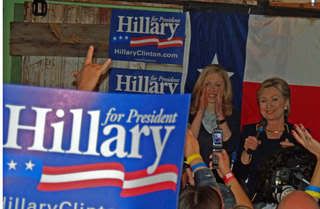 Hill's opening statement and her closing statement. Honestly, The Mayor and I were impressed and the crowd tonight was pretty clearly divided. We did, of course, differ on the impact of this statement...
Hillary just said, "If your campaign is going to be based on words, I think they should be your own." Best line of the night. She added, "If you talk about change, it's not change you can believe in, it's change you can xerox." It's a good line, but... ooh. Ouch. Even the media didn't like that one.

Does she have a tin ear? Or do people just love Obama and don't want to hear it?

When she starts saying things like that, the first reaction is "there's a good line;" the second thing you think is, "ooh, I'm glad my wife isn't like that."
For us, we were thinking..."Damn, I hope she gets to use something like that against Old Grandpa 100 Years In Iraq." Frankly, THAT'S the bite in the knife we need in this country. We need someone who cares enough about winning this election to pull out the stops and call bullshit.
Obama came across as tired and irritable. Hillary had a sharp tongue and used it to great effect. The gooders watching the debate with us of course thought she was over the top. Get over it. Politics ain't an ice cream social in Texas. Feel good crap is only going to get you so far and then you better have something there. Obama's weak on that and that's where Hillary has her impact. She gets it. She knows how to fight and win.
One last note... we got to see some OLD friends tonight, Mike, Melissa and Todd from our Austin For Kerry days. They're all about Obama. We love them anyway!
(Photo : WMM - Taken at Guero's)
Posted by mcblogger at 01:22 AM | Comments (2) | TrackBack
February 21, 2008
It's crowded and I'm not liveblogging
Mother Egans is packed like a package of tuna. Many old KAB people and some folks who are on the mail list who haven't been in months. Wow. The turnout is amazing all over town... Austin has effectively shut down to watch this debate (which may help explain the extraordinary EV turnout...more on that later).
I'm quitting this now because liveblogging this from a BlackBerry is torture when there are two drinks in front of me.

Posted by mcblogger at 07:01 PM | Comments (0) | TrackBack
In which we endorse candidates (Outside of Austin)
This is list of races and the candidates we're endorsing around the State of Texas in the Democratic Primary.
HD 36
Sandra Rodriguez is our pick in a race pitting her against Rep. Kino Flores. The only thing that distinguishes Flores is his support for Republican Speaker CradDICK. That and his ethics issues.
HD 20
Leonard Surrat is the best choice for Williamson County Democrats.
SD 11
We're endorsing Joe Jaworski in this race. He's the best candidate for a number of reasons, among them are his professional experience and the fact that he's clearly positioned best to beat 'Toxic' Mike Jackson.
The rest of these people we're just going to blanket endorse. Many of them have served for years, some are running against CradDICK D's or are being challenged by CradDICK D's. All deserve your support.
State Representative, District 43 - Rep. Juan Escobar
Fighting against Tara Ybarra Rios. A Republican in Democratic clothing.
State Representative, District 77 - Rep. Paul Moreno
State Representative, District 140 - Armando Walle
Running against Rep. Kevin Bailey who really needs to be retired.
State Representative, District 145 - Carol Alvarado
State Representative, District 146 - Rep. Borris Miles
A little crazy at times? Perhaps. The alternative, though, is unthinkable. It's Al Edwards. Ugh.
State Representative, District 147 - Rep. Garnet Coleman
Really? You need to be told to vote for this guy? Really? Just go do it!
Posted by mcblogger at 03:13 PM | Comments (0) | TrackBack
Debate-O-Rama
As you no doubt are aware, the D Presidential candidates (GO HILLARY!) are in town tonight for a debate. I'll, of course, be watching at a bar with a scotch in one hand and a cigarette in the other that I'll be gesturing wildly with to show my support for HILLARY while other, lesser people (Obama people who drink beer, natch) will try to stay out of the way, lest they get burned.
So who is covering all the madness? KXAN, of course! You can access their coverage here. They also have a cool new poll out showing a dead heat here in Texas.
In other Presidential primary news some people endorsed Obama and Todd Hill over at BOR has a great piece up on the Obamathon in Dallas yesterday. Muse over at Musings is loving some Bill (so do I, but not in THAT way).
Posted by mcblogger at 01:32 PM | Comments (0) | TrackBack
Dan Grant and The Ad
Here it is, boys and girls! Dan's television debut. I gotta say I love the endorsement contrast.
Posted by mcblogger at 12:26 PM | Comments (0) | TrackBack
Making the funny go away... The Watson Incident
There are two rules in comedy:
1) NEVER try to piggyback off another comic's work
2) NEVER forget the first rule
Hank Klinger and the always late to the party (to the point where they're hanging out with the dregs) TXGOP, sent out an email this AM about Kirk's little incident on MSNBC. The same one that ran out of funny about the time Kirk sent out an email OWNING the gaffe and making it just another part of who he is.
We had three posts about this up by noon yesterday. It took the TXGOP almost 48 hours to get something mediocre out. Want to know why Republican's suck? Because they're stupid and slow and have all the comedic genius of Larry, The Cable Guy.
You're lame, Hans. LLLAAAMMMEEEE!
Posted by mcblogger at 11:15 AM | Comments (0) | TrackBack
Take THAT you stupid non-functional satellite!
Remember that satellite the US was supposed to shoot down (the one loaded with a bunch of hydrazine propellant on board)?Apparently the Navy's aim is pretty good.
Posted by mcblogger at 10:56 AM | Comments (0) | TrackBack
Having Drinks with the Debaters
This evening I'll be going to Mother Egan's on 6th@West to watch The Debate with my peeps from Keep Austin Blue. Anyone who doesn't have drinks while watching a lame debate is just setting themselves up for mindnumbing boredom.
I'll be cheering for our girl even if SOME OTHERS are going for that man.
Posted by mcblogger at 10:44 AM | Comments (0) | TrackBack
The controversy over who invented the telephone
Yeah, I thought it was A.G. Bell as well but as it turns out there are STILL questions. After 132 years. At least there are for people who spend an inordinate amount of time on mind numbingly boring historical minutiae.
Posted by mcblogger at 09:05 AM | Comments (0) | TrackBack
February 20, 2008
I Feel Dirty Writing This
A sex scandal involving John McCain? Eeeeewwww! That's worse than thinking about your parents doing the nasty.
Talk about being in bed with lobbyists!
Posted by mayor mcsleaze at 08:31 PM | Comments (0) | TrackBack
More problems in Iraq
Apparently, our troops are having some problems with our Iraqi friends.
The biggest reason for the recent drop in violence in Iraq, especially among our troops, has been the Iraqi civilian brigades known as the Awakening Movement. These are Sunnis who have joined the United States forces in fighting al-Queda in Iraq. These groups have been a huge help to U.S. troops.

But eveidently, the U.S. troops aren't getting enough training or enough intelligence, because they have been attacking fighters from the Awakening Movement without provocation. And the Iraqis don't like it. While they are trying to help us, they must be as afraid of our troops as the enemy. It looks like our soldiers can't tell their friends from their enemies in Iraq.

Because of this, the AM fighters in at least two provinces are saying they will no longer fight with U.S. troops. In Babil and Diyala provinces, our troops are once again on their own. This is not making progress -- this is going backwards. You can't blame the AM fighters. Why should they help our troops when we are attacking them?

This is just more evidence why we must get our troops out of Iraq. Bush has placed them in the middle of a civil war, where they can't tell their friends from their enemies. Instead of winning friends, we are losing them. Is it any wonder that the casualties are starting to rise again?
Enough. Let them fight their civil war and bring our friends and family home.
Posted by mcblogger at 06:47 PM | Comments (0) | TrackBack
Killing a satellite
Oh, if this is just another excuse to test an ASAT weapon then I'm gonna be super disappointed. We'll also look like losers if it doesn't work.
Posted by mcblogger at 01:03 PM | Comments (0) | TrackBack
TLR no mas?
The morons who brought us 'lawsuit reform' have been dissolved, according to a press release from TXIR (via BOR).
Good riddance, douchies!
Posted by mcblogger at 12:28 PM | Comments (0) | TrackBack
LEAVE KIRK WATSON ALONE!!!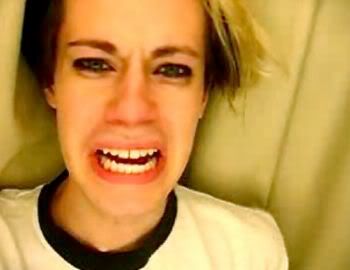 LEAVE HIM ALONE! You are lucky he even endorsed Obama for you BASTARDS! LEAVE KIRK WATSON ALONE!…..Please.
How fucking dare anyone out there make fun of Kirk Watson after all he has been through!
Chris Matthews kept him waiting in the studio for hours!
HE'S A HUMAN! What you don't realize is that Kirk is being on TV for YOU and all you do is write a bunch of crap about him.
Chris Matthews talked about accomplishments and said if Obama had any accomplishments he would've listed them off no matter what.
Speaking of accomplishments, when is it an accomplishment to publicly humiliate someone who doesn't have anything to say?
Leave Kirk Alone Please…. !
Leave Kirk Watson alone!…right now!….I mean it.!
Anyone that has a problem with him you deal with me, because he is working on his weekly newsletter email right now.
LEAVE HIM ALONE!
Posted by mayor mcsleaze at 11:50 AM | Comments (1) | TrackBack
UPDATED - In which we endorse candidates (Travis County and Statewide)
This is the mega list... every race in which we wanted to endorse in Travis County. I hope you're happy since it took us literally hours of thinking and many, many bottles of scotch to get through this. The Presidential endorsement was obviously contentious which is why Captain Kroc is now in hospital having a bit of a bottle removed from his, well from various part of him. However, he did help contribute to this despite his near constant pain.
I've never been one to shy away from cutting a motherfucker.
County Court at Law 8
This was an easy decision for us. While we like Mr. Berrera and find him clearly qualified, we feel that Mr. Lipscombe is the better choice. Our recommendation is based on one simple factor. During the endorsement meetings where we've seen both candidates, it's been clear that Lipscombe has a vision for what he'd like to do with the court and the work he'd put into to keep non-violent offenders from being put into the black hole that is the Texas Department of Corrections system. We have confidence in the ability of Lipscombe to be an excellent judge.
District Attorney
First, all of the candidates meet the baseline qualification for this job. They are all extremely competent and seem quite earnest about their desire to serve. However, we have to pick one and our endorsement goes to Rosemary Lehmberg. We've been consistently most impressed with her at endorsement meetings and it's clear she has the broadest base of knowledge and experience from which to draw. In many ways, she is a continuation of the fantastic job that Ronnie Earle has done in the office.
98th District Court
We've damn near had night sweats over this one. Both of the candidates are overqualified for this position. Both would do an excellent job. Both are amazing and wonderful people.
This race has reminded us of Eric Shepherd vs. Elena Diaz in 2006. Two amazing people, one choice. On this race, we decided to go with the person, not the attorney, we knew best. That would be Andy Hathcock.
353rd District Court
Scott Ozmun. Seriously, you have to ask?
427th District Court
This was an extremely difficult decision to make and our endorsement goes to Karyl Anderson Krug.
We kid, kid...we're joking with you! We're totally endorsing Jim Coronado. Despite the best efforts of Krug, we know that Coronado is qualified for the job. We also know that he is a judge. And frankly, we're sick to DEATH of Krug's sniping. Our only regret is that we can't vote for JUDGE Coronado twice.
HD 46
Brian Thompson. No contest. He's extremely qualified and very energetic about the opportunity to serve the people of 46. His stand on the privatization of schools and infrastructure is the right one and diametrically opposed to that of Dukes who, contrary to her advertising, IS more of the same. The candidate of change, of renewal and prosperity for East Austin and Travis County is Brian Thompson. Dukes is a remnant of an inglorious past when Democrats were on the sidelines. It's time to elect someone who cares more for the people in the district than their own success. Not to mention this piece of news which pretty much seals the deal on the need to retire Dukes.
Tax Assessor-Collector
First, let's just state that when it comes to the basic function of this job, tax collection, both candidates are evenly matched. However, when it comes to actually helping people affected by dramatically escalating value and commensurately higher taxes, Nelda has been abysmal. Glen has promised to do a better job of that and we're willing to give him a shot since no similar commitment has been made by Spears. On voter registration, we've been very disappointed with Spears' deficiencies and her unwillingness to correct them.
It's time for a change and that change is Glen Maxey.
US Senate
Rick Noriega. I mean, really. We're written a ton about him. Feel free to click here if you need a reason to vote for him. Chances are, whoever you are, he's voted for YOU at point while in the Lege.
A word about Ray McMurrey... he seems like a genuine and very earnest person. We thought he did fairly well in the debate vs. Noriega. We may find ourselves one day supporting him. That day is not likely to come soon. Too much bad blood and frankly, we've been disgusted at his focus on tearing apart Noriega. Having been involved in statewide campaigns, not to mention all the smaller ones we've advised and worked on, this is a case study in what to do if you want to piss off voters, especially the people whose support you claim to want.
CD10
Dan Grant. There are many reasons why, but this is just one. McCaul is going to be out of office this year and of the two candidates in the Democratic Primary, we're most confident in Dan's ability to offer thoughtful and equitable leadership.
Texas SC, Place 7
Sam Houston is well qualified and the best campaigner.
Texas SC, Place 8
Both candidates are well qualified and here, we decide to stick to our roots. We're going with Judge Susan Criss due to her solid progressive credentials and her ability to fight and win this seat. She is, of the two candidates, the best chance Democrats have in Place 8.
Travis County Commission, PCT 3
Karen Huber gets our endorsement as the candidate with the strongest chance to take on pustule Gerald Daugherty. Huber is staunchly anti-toll and her environmental credentials are impeccable. She's exactly the type of person who has occasionally voted for Republicans and should have been voting for Democrats the entire time.
Travis County Constable, PCT 1
We honestly don't know a damn thing about this race other than that Danny Thomas is running. We urge voters in precinct 1 to vote for anyone other than Danny Thomas. There's been enough bigotry and it's time to put an end to it.
Travis County Constable, PCT 2
Paul Labuda and not just because of the issues Ballesteros will have in the general election. Paul is extremely intelligent, hard working and capable of performing the duties of Constable. In point of fact, he's just as experienced as Bruce Elfant was during his first run for Constable. And we love us some Bruce.
Travis County Constable, Precinct 3
Richard McCain. Duh, Of course. Frankly, we're surprised we even have to announce this since Constable McCain is over and above his Keel-inspired opponent. We're sure he'll glide to easy victory but we want to make clear... if you live in Precinct 3, you need to go vote for the best Constable you've had in decades.
Travis County Constable, PCT 4
Alonzo "Al" Reyes. Seriously, we're tired of the conflict and infighting between certain Constables in this county. If you don't know what we're talking about then don't worry... just go vote for the extremely competent and very reasonable Reyes.
Texas Railroad Commission
Dale Henry is over and above his opponent in terms of competence and general knowledge of the Commission and the industry it regulates. Dale's run a very strong campaign so far and it's certain he'll continue on to beat Republican Michael Williams in November.
Posted by mcblogger at 11:20 AM | Comments (6) | TrackBack
Video of Watson v. Matthews
We love Senator Watson but this is just some funny shit. Mostly because we're going for Sen. Clinton.
Posted by mcblogger at 10:31 AM | Comments (0) | TrackBack
February 19, 2008
Kirk Watson v. Chris Matthews
Just now, on MSNBC... Chris Matthews put TX Sen. Kirk Watson on the spot by asking him to name ANY of Senator Obama's accomplishments in the Senate. He couldn't name one.
Rep. Jones from Ohio promptly jumped in and talked about what Senator Clinton had actually done. Kirk then tried to jump in and pile onto Hillary which went over Rep. Jones the wrong way and Matthews then once again reminded Sen. Watson that the issue was his inability to name Obama's accomplishments. Watson stammered and again talked about vague feelings about Obama (he unites people, he inspires people, he's the candidate of flowers, rainbows and pretty things).
This, of course, follows Sen. Obama stepping on Sen. Clinton's speech after her loss in the Wisconsin primary. Nicely done, Sen. Obama. Good to see that your kindler, gentler politics applies more to Republicans than your fellow Democrats. Keep it civil, Senator. You don't want to get on our bad side. We're meaner than Clinton AND the Republicans and we haven't even been drinking yet.
And Sen. Watson... find out something about the people you endorse! That was just damn embarrassing.
Posted by mcblogger at 10:07 PM | Comments (3) | TrackBack
Paying for the nukes twice
The NYT has a great article up about all the nuclear waste that's piling up waiting for permanent storage. The cool part is that we paid for disposal of it with our electricity rates. The other cool thing is that we're going to pay for the delay in storing the waste with our tax dollars.
Cool, huh?
The only answer is to recycle the waste into plutonium and uranium and continue the fuel cycle. It's saves on uranium mining and gives us a long term solution since the wastes left over from the recycling usually have extremely short half-lifes, in some cases minutes or hours. Those wastes can then be vitrified into glass and they won't affect the water table in a long term storage facility.
What we have to do is get more comfortable with running reactors on plutonium. REACTOR grade plutonium, Ralph.
Posted by mcblogger at 07:54 PM | Comments (0) | TrackBack
CD10 : NAIS on the brain
Remember this post? It prompted this, this, this and this all in a very short timeframe. So what's the dealio?
Well, for one thing, the information WAS up on Doherty's website. For another, KUT did pull it down after being asked by the Doherty campaign. The campaign itself has not, to my knowledge, distanced itself from the comment.

Posted by mcblogger at 10:42 AM | Comments (0) | TrackBack
Dale Henry collecting the endorsements
We've long said that Dale Henry is the most qualified person to serve on the Railroad Commission. Apparently, others are saying the same thing. First, there was the endorsement in the Austin Chronicle. Then Star-Telegram. Now the Brian/College Station Eagle.
Add to them all the Daily Texan at UT. Nice work, Dale!
Posted by barfly at 09:12 AM | Comments (0) | TrackBack
Caribbean strong man resigns
You know, there's just no way to funny this up. Castro resigned. The story is here. Knock yourself out.
Seriously, can you get excited about the resignation of this fossil? Can there be anything more irrelevant to what's happening today than Cuba? I really don't even care if the Friedmanite shock 'therapists' go in and fuck it all up. I hate the tropics and I'm not so much for rum.
Cocktail flu... that's why I'm such a bitch today.
Posted by mcblogger at 08:53 AM | Comments (0) | TrackBack
February 18, 2008
Keep This Quiet
Though it might be too early to name a running mate, McBlogger, having a spy embedded in the highest echelon of the Republican Party, can share the prevailing choice among John McCain and his inner staff.
The criterion was someone who epitomized conservative principles and would be tough on the opposition.
The choice came down to a flip of the coin.

Posted by Captain Kroc at 09:39 PM | Comments (0) | TrackBack
Somethign good comes from the WGA strike
Well, other than the writers finally getting what they deserve. That's great and all but I'm most excited about two things...
1) 30 Rock is coming back on April 10 with 5 new episodes.
2) 24 won't be back until early 2009. It's kinda like a the Baby Jesus himself smiling down on you!
See y'all... every cloud brings with it good things. Like not having to watch another ridiculous season of that stupid show.
Posted by barfly at 08:02 PM | Comments (0) | TrackBack
Touble ahead for Dukes
Matt's at BOR has been doing some great work keeping the spotlight on Dukes. now it turns out we haven't been the only ones looking at her. It appears that KEYE is also getting it on the action...
Tonight at 10:00pm, investigative reporter Nanci Wilson of KEYE News will be airing an expose on Craddick Democrat, Dawnna Dukes. Yesterday, KEYE teased the story repeatedly. According to the previews aired yesterday, Dukes is running a defunct company that has accepted state dollars, her car has been repossessed, and subcontractors have sued her for non-payment.

Perhaps she couldn't find a way to pay those bills with her campaign credit card.

Tune in to KEYE Channel 42, or for cable subscribers on Channel 5 or in High Definition on 305 tonight at 10:00 to watch.

And remember, Dukes's opponent Brian Thompson is having his final fundraiser tonight from 5:30 to 7:30 at the Belmont on 6th. We are only $300 away from getting the $1,000 match from a donor who wishes to remain anonymous until the 8 day out report. Help raise $300 today.
Could this be yet another in a series of questionable practices by Dukes? Can't wait to see what the people at KEYE have come up with.
Finally, I'd just like to ask once again... where is that damn ethics report, Dawnna? It's been almost 10 weeks and nada.
Posted by barfly at 02:41 PM | Comments (0) | TrackBack
FISA... where lies and exaggeration come to live
Unlike the rubber stamps in the Senate, the House Democrats handed a HUGE victory to citizens in this country when they decided to put off consideration of the Senate FISA bill until they were damn well ready. Which means the temporary law passed in August will expire this weekend.
Bush is already claiming that it leaves us open to terrorist attack. Which is bullshit because the taps already in place have a year to run and new ones can be obtained, instantly, with a 72 hour window in which the government can then seek a warrant from the FISA Court. That's the old law. It gives the government 72 hours to obtain a warrant AFTER a tap has been initiated. Needless to say, Bush's argument is pretty weak that this is about 'protecting 'merucans'. The reality is that this is all about protecting the corporations that cooperated illegally with the government on the illegal wiretaps Bush authorized between 2001 and 2005. See, without immunity, these companies are going to be sued. And during discovery, the people of the US will find out just how it goes up the executive branch. That could leave Bush himself open to prosecution AFTER leaving office.
The funny thing about this? These companies claim they were just doing their patriotic duty which is crap. They knew they were doing something illegal and, in the case of Qwest, some refused because the government wouldn't give the companies a letter from the AG saying this was all legal. THAT'S what they need to be immune from prosecution and lay this all off on the executive branch. They didn't get it because the program wasn't legal which means the boards of these companies should fire and sue the executives and legal advisers who allowed the taps to happen.
Yes, this is all about protecting the illegal actions of telecom companies and the President. Not protecting Americans. Even Cornyn got in on the action...
Sen. John Cornyn (R-Texas) told Cybercast News Service the expiration of the law does in fact present a clear and present danger. "It is a fact that 3,000 people died on September 11. It is a fact we have been able to use this [FISA] capability to stop further terrorist attacks. Now I know it's a little hard to prove something that didn't happen, but the testimony from highly placed officials within the intelligence community, the director of national intelligence, and others say this is an essential activity that will save lives."
Oh, but Senator Cornyn, DNI McConnell directly contradicts you on this. He says this will have no effect on intelligence gathering, other than making the Administration do things legally. Which means, Junior John, that your gutless defense of an illegal program is making you look weak as hell. What kind of a Texan are you, Senator? One of the cowardly ones?
For that matter, what kind of Texans is Hans Klinger of the Texas GOP? Friday afternoon he issued a press release going after Lampson, Rodriguez and Edwards for leaving along with the rest of Congress when it was clear there was an impasse. I guess no one told Hans that the nation IS still protected by wiretapping laws and that the real issue is an immunity deal for companies and President Bush. Wait... just reread the first part.
Hans, bubie, let me clue you in on something since you're evidently smart enough to write but not to keep your mouth closed when you breathe. Lampson is the only one you've got a prayer of beating and considering that only a nutter will get through the R primary in FBC, you're probably screwed there. Rodriguez is in a strong position and Chet Edwards... well, Chet's going to beat down whoever you run against him like Ali did Frazier in Manilla.
Texans know these Congressman did the right thing. It's the President and Congressional Republicans who are off the reservation. And we all know it.
Posted by mcblogger at 12:33 PM | Comments (0) | TrackBack
KUT interviews The Boys in CD10
Both Dan Grant and Larry Joe Doherty were interviewed by Ben Philpott at KUT. Both do a good job, but Grant's idea about how to do the stimulus package the right way was spot on.
Posted by mcblogger at 09:24 AM | Comments (0) | TrackBack
February 17, 2008
The Hopes and Fears of All the Years
There are those moments in history when events converge that make the future enlightening, if we're fortunate, or foreboding, if we're not. We hope that the outcome, after the ebb and flow, is a continuation of a humanitarian path started millennia ago.
In regards to this country, the Declaration of Independence, the Gettysburg Address, the enacting of the Marshall Plan, the election of JFK, and the civil rights movement are events that moved us forward, and enriched the human spirit.
For many, the election of Barack Obama as this country's President will belong on this list.
While his rhetorical skills are matched by few, make no mistake of his tenacity and ability to defend this country against our enemies. Don't confuse his calm demeanor for weakness. Those who think that do so at the risk of sounding naïve and manipulated. Our most effective leaders were reasoned and disciplined, and their public discourse rarely used a divisive word or phrase to drive home a point. He has the fortitude to stand up to opposition and to fight for his beliefs.
The world needs inspiration and hope more than it needs complex analysis of the issues. The path that has narrowed and darkened does not need someone who will only fill the potholes, but someone who will broaden and clear it to allow all to travel, uninhibited by lesser expectations.
Obama has captured the imagination and idealism of our noblest endeavors. He inspires us to move beyond our dreams and make them real.
Let us not forget the words of Barbara Jordan.
"A spirit of harmony will survive in America only if each of us remembers…when bitterness and self-interest seem to prevail, that we share a common destiny."
Are we, as a country, brave enough to take that step?

Posted by Captain Kroc at 04:19 PM | Comments (1) | TrackBack
Pics From HillaryFest
Okay, my fingers have finally thawed out enough for me to be able to plug my camera into the computer, so here are a few images from last night.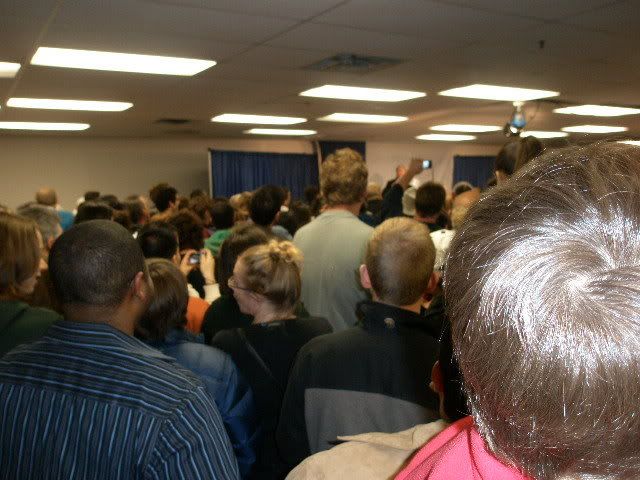 Early in the evening, inside, while it was still possible to move. Soon afterwords, McBlogger and went outside in search of breathable air (which we found) and strong drink (which was sadly lacking.)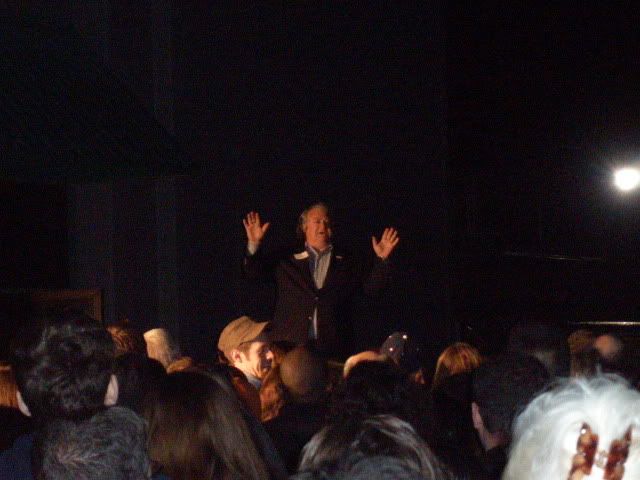 Attorney General Jim Mattox warms up the outdoors crowd with a reprise of William Jennings Bryan's "Cross of Gold" speech. Actually, I'm not sure what he was doing. We could see him, but the sound being piped out was of a woman speaking inside. An odd juxtaposition.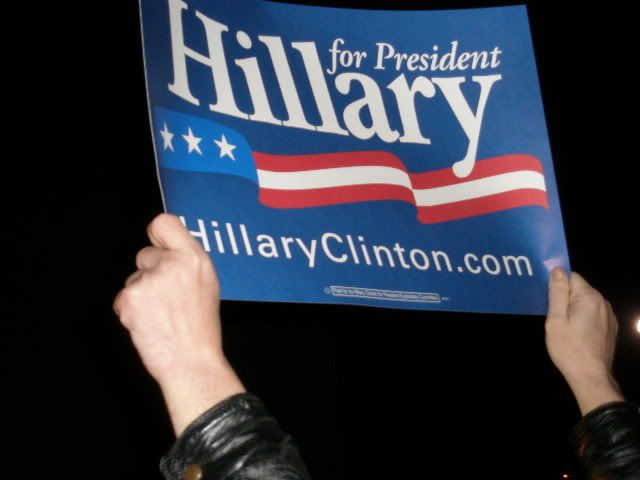 The obligatory "Anonymous hands holding rally sign" shot required by the FEC in all series of political rally pictures.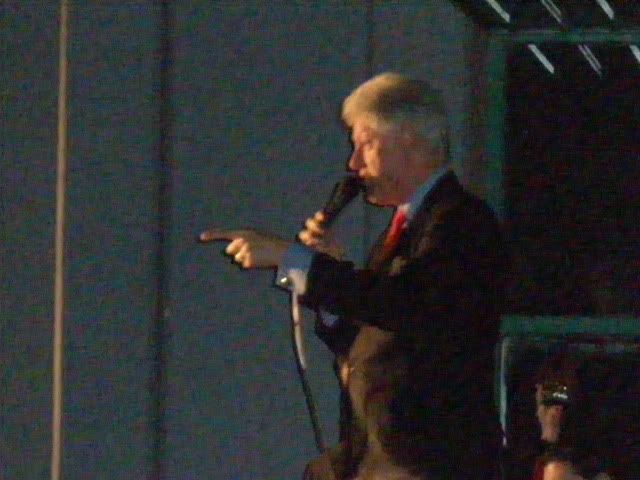 The Big Dog brings it home. We luv yah, Bill!
Posted by mayor mcsleaze at 11:22 AM | Comments (0) | TrackBack
February 16, 2008
Clinton ... too many people
Rep. Eddie R is speaking now. I can hear him but I can't see him because the event has split in two due to overcrowding... Too many people, too many fire marshalls.
No joke.
Everything's going smoothly and people are waiting patiently, but very enthusiastically for the President. If you're coming down, would you PLEASE bring me some scotch? I'm thirsty.

Posted by mcblogger at 09:05 PM | Comments (0) | TrackBack
live from HillaryFest!
The Mayor and I are here and the turnout is AMAZING! The President hasn't made it yet and there's no booze (damn you, broken flask), but I have run into a ton of people. There's a very strong organization in Austin I didn't know existed.
Yeah, The Mayor and I were feeling a little out in the woods with our endorsement. Tonight, though, it's clear there are lot of people who think as we do.

Posted by mcblogger at 08:05 PM | Comments (2) | TrackBack
Roundin' up the TPA
It is time once again for the Texas Progressive Alliance Weekly Blog Round-Up. This week's round-up, compiled by TXsharon from Bluedaze.

Gary at Easter Lemming Liberal News urges Texans to NOT give to veterans by mail. At least not without some investigation. Read about the fake veteran's charities scam supported by Republicans in Cheating Charitable Givers and Veterans.
Mayor McSleaze at McBlogger takes some time out of his busy schedule to ask a few important questions of Michael Moore and our friends at MoveOn.Org.
What is Congress to do?! The Texas Cloverleaf looks at how the Bush administration continues to ignore the US House and hurt Texas, in it's blatant disregard of the Congressional order to end the DOT's plan for Mexican trucks in America.
Plastic bags are now extinct in Ireland. TXsharon at Bluedaze wants to know why the U.S. can't do the same.
How much was the Katy Freeway expansion in Houston supposed to cost? Off the Kuff digs through some story archives to show that what TxDOT is saying now about initial cost estimates is not what it was saying then.
Open Source Dem at Brains and Eggs comments on the possibility of brokered conventions in both Austin and Denver this summer, and how the March 4 primary in Texas will clarify -- or muddy -- the outlook.
CouldBeTrue at South Texas Chisme cautions reasonable people to be wary about arguing over that d*mn fence! Republicans are building a monument to racism and fear not trying to solve any problems with a coherent policy.
Hal has a a couple of postings this week at Half Empty, this one is the main event, a new theory on whether there is a new canary about to sing to the Feds about Tom DeLay's past indiscretions, and this one is about some motivation for that.
WCNews at Eye On Williamson has this wrap up from last week's hearings on TxDOT at the capitol, Without Williamson, TxDOT Becomes Scapegoat.
Phillip Martin at Burnt Orange Report has done an exhaustively comprehensive analysis of how Texas hybrid primary/caucus system works, as well as looked at some of the politics of each of Texas' 31 Senate Districts that will award delegates on March 4. Read the two-part series here: Part 1 (caucus explanation) and Part 2 (delegate analysis).
BossKitty at BlueBloggin looks into Customs:
"Hand Over That Cell Phone, iPod & Laptop" and just how intrusive the government has become putting travelers and their company's private information at risk.
As we get ever nearer to the most important Texas primary in recent memory, The Texas Blue thinks potential prognosticators should keep five things in mind when it comes to making predictions.
In addition to a ton of Texas presidential race coverage, Vince at Capitol Annex reveals that State Rep. Phil King (R-Weatherford) has taken an illegal contribution from an energy lobbyist.
Posted by mcblogger at 04:26 PM | Comments (0) | TrackBack
If it talks like a Republican and thinks like a Republican
It must be Nelda Wells-Spears. The reality, as Spears should know, is that illegal immigrants voting is a non-existent problem. However, requiring a photo ID to vote, instead of just a card, is a de facto POLL TAX. So then, the question becomes what does Spears have to gain from keeping the poorest among us from voting?
In a time when gas is $3.00/gallon, why heap another cost on to the backs of our poor?
Posted by mcblogger at 11:28 AM | Comments (0) | TrackBack
February 15, 2008
ABA Judicial Preference Poll
The Austin Bar Association (it's not what you think it is, trust me) has released their Judicial Preference poll...
1: 98th District Court

Robert D. Ettinger (D) 9.30%

Andy Hathcock (D) 51.87%

Rhonda Hurley (D) 38.83%

2: 353rd District Court

Madeleine Connor (D) 9.94%

Scott Ozmun (D) 90.06%

3: 427th District Court

Jim Coronado (D) 72.69%

Melissa Goodwin (R) 21.38%

Karyl Anderson Krug (D) 5.93%

4: County Court at Law No. 8

Carlos H. Barrera (D) 43.35%

John Lipscombe (D) 56.65%

According to the release, this was a high turn out year.
Posted by mcblogger at 02:04 PM | Comments (0) | TrackBack
How underwhelming...
Hightower, in an effort to stay relevant outside of his weekly column, has endorsed Obama and pledged to campaign for him. This would make it the first time in years he's actually done anything. Remember how much he helped the Democrats in 2006?
Yeah, neither do I. Oh sure, it was promised but there was never any follow through. But maybe this time will be different, Obama people!
Posted by mcblogger at 12:42 PM | Comments (0) | TrackBack
Sandra Rodriguez is NOT Kino Flores
Matt over at BOR has a great piece up about the Flores/Rodriguez race. I know it will surprise none of you, but we're for Sandra Rodriguez. We support her in large part because she's intelligent, talented and will be an excellent representative for the people of HD 36. We also think she'll be much better than Kino Flores by virtue of the fact (and we've confirmed this) that she's NOT Kino Flores.
Kino was one of the members of the Iscariot Caucus. His proudest achievement is continuing the corrupt Speakership of Tom Craddick. So, if you want to help Sandra out, click here. Needless to say, it's a bit like giving money to someone doing God's work.
Posted by mcblogger at 10:21 AM | Comments (0) | TrackBack
Funny things...
John Cougar Mellencamp slaps down McCain for using one of his songs. Mellencamp is a Democrat and McCain isn't (despite what some 'tards seem to think)
Ann Coulter : the best thing that had ever happened to the campaign of "B. Hussein Obama" was when he was born "half black."

Why won't this bitch just die? I mean really, people are killed every day in the US. Why aren't any of them Ann Coulter?
We don't want free health care! We just want what Vice President Cheney has! CheneyCare for EVERYONE!
The Russians have developed a theory that would allow them to travel through time. Save yourself some time... buy a Russian dubbed copy of 'Back To The Future'.
The makers of the Storm Worm are making some phat bank. How much? By estimates from the nice folks at IBM, $2m per day. That is a lot of penis enlargement drugs, fake Rolex watches and Canadian pharmaceuticals.
Iran's old clerics are being pushed aside... by even more militant assholes who want nukes and an aggresive foreign policy. Please note, this came after (and some would argue as an effect of) Bush's saber rattling over the last two years. Not to mention McCain who just will.not.shut.up. about Iran.
In case you were wondering, here's a top ten list of reasons why Republicans hate them some John McCain. At least the nutters who make up 'the base'
Have a goodun'
Posted by mcblogger at 08:58 AM | Comments (2) | TrackBack
February 14, 2008
Just how BIG is DoD's Budget?
BIG. In point of fact, it is just a few billion shy of being more than what the rest of the ENTIRE PLANET spends on defense. And brings up a good point... Instead of raising taxes, the Republicans have just run massive deficits. Which drives up the cost of borrowing. Which in turn makes it more expensive for consumers to buy cars, houses, everything. Which acts as a drag on the economy, not just in higher borrowing costs but in terms of a weaker dollar. A weaker dollar means dramatically more expensive energy prices which leads to inflationary increases in the prices of EVERYTHING. The end result, if we're lucky, will be a mild recession.
If we're not lucky... well, read The Grapes of Wrath.
The reality is that our infrastructure and social safety net are crumbling. It's not just the roads and medicare/medicaid, it's schools, police, fire depts, community colleges and universities. By spending an inordinate amount on defense, we're sacrificing our economic prosperity now and in the future. Food for thought for all the 'strong on defense' hawks.
Posted by mcblogger at 07:52 PM | Comments (0) | TrackBack
Oh, Lubbuttocks...
You know, despite a few friends and an uncle that went to Texas Tech on a dare, I don't know squat about the school. Other than that it's the West Texas version of Sam Houston State. Or, maybe even more accurately, Austin Community College. I keed, I keed... except that this makes my facetiousness sound legit.
What a bunch of crybabies. Not to mention the fact that they've got an Okie leading a YCT chapter? What kind of Texans are y'all? How can they be so pathetic as to be led by someone from Oklahoma? You know, it's hard enough attracting good, qualified educators to Lubbutocks and it's smell. Now they'll have to contend with a bunch of whiney, bitchy students?
Yeah, I too think they'll be saying "Fuck That. I'd rather work at a JuCo". At least the kids there were smart enough not to go to school in Lubbuttocks.

(apologies to KC who we love!)
Posted by mcblogger at 11:56 AM | Comments (0) | TrackBack
Presidential Endorsement
Leadership is a word bandied about endlessly by politicians today. All say they have it while campaigning. All candidates claim to be the leader for whom voters are searching. All of them are usually wrong. Living in Texas, we've become absolutely disgusted by the word 'leadership', especially when used by Republicans for whom it is more a punchline than a true description of character. A leader does what's right, regardless of political repercussions, and stands up to defend their actions. We see it more and more from Democrats today, but even in
our party it's still distressingly rare. That's why when we see it, we are so overwhelmed; it causes us to instantly want to pick up a sheaf of slate cards and begin walking door to door.
That, and that alone, is what has made this decision so hard. Both Sen. Barack Obama and Sen. Hillary Clinton are leaders in the highest and truest sense of the word. However, like all voters we must pick one. This year, we pick Sen. Hillary Clinton.
We realize this country is still, to an extent, polarized on significant issues. However, glossing over them will not make the polarization disappear. Neither will wishful thinking or hope. Hard work, communication and defending ideas aggressively will change minds, open dialog and eliminate the vacuum in which bad policy flourishes. While we have been impressed with Sen. Obama's rhetorical skills, we find his substance lacking. We do not find a similar problem with Clinton. On policy, the two are virtually identical having been driven to the center by John Edwards and his balanced proposals, supported by the vast majority of Americans. Preparedness is another factor but none of us view this as a clear indicator of a better candidate. Both Clinton and Obama are prepared, despite what idiotic pundits on Sunday morning entertainment programs may say. No, in the end, it comes down to leadership style and tenacity. While it's wonderful that Sen. Obama has inspired so many, it's also naive to believe that real change can come so easily.
Voters in the United States, Democratic and Republican, want change. Obama has interpreted that to mean that voters want a kindler, gentler politics with the ultimate end being compromise, not consensus. History has proven this position resoundingly wrong. People want to be fought over. People want to be persuaded. Yes, people even want to hear attacks. If it did not work, candidates and strategists would not employ them. Voters want change but the change they want is a return to the rule of law, to fiscal sanity, to policies that make sense for and benefit the majority of our country. Wishful thinking and 'compromising' with the baser impulses of the radical right won't put our listing ship of state on an even keel. A single minded focus on solving problems, gradually if needed, is the only thing that can correct us and keep us sailing into the 21st century. We need a leader who will not back down in the face of intense opposition to the entrenched forces that threaten to destroy our country with their greed and monomaniacal fixation on maintaining the status quo.
Obama's pitch for being the nominee involves the premise that the only way we'll win is to give voters something to vote for. We've also heard the argument that voters will come out in droves to vote against Hillary. As many of us discovered on November 3rd, 2004, having a reason to vote against someone is not enough. Neither is voting exclusively for someone. There must be a synthesis, a reason to support our candidate and a reason to vote against the candidate of the Republicans. If anyone can clearly establish that message, it's Clinton.
Hope and transcendence are all well and good, but we need solid, results-oriented leadership. We need a fighter willing to put herself between them and us, someone who will help restore our rights and prepare our nation for a bright and prosperous future. While we greatly respect the Senator from Illinois, our endorsement and support go to Senator Hillary Clinton.
(This represents the endorsement of The Mayor, Boobilicious and I)
Posted by mcblogger at 10:23 AM | Comments (5) | TrackBack
FISA (now with Telecom Immunity) passes the Senate
While everyone is focused on the primaries today, the United States Senate has, as expected, passed the FISA 'reform' bill which gives legal cover to the President's illegal warrantless wiretapping as well protecting telecom companies for their cooperation with the program.
To say I'm profoundly disappointed in both Democrats AND Republicans would be an understatement. You can see them here (the YEA's are the ones who betrayed their Oath of Office... Cornyn and Hutchison are in there, the traitorous cowards that they are). This country is going down a path to imperialism and dictatorship that many democracies have tread. We, the voters, have a chance... and it's simple. EXCHANGE ALL OF THEM. EVERYONE THAT VOTES YEA FOR THIS BILL SHOULD BE DEFEATED IN THEIR NEXT ELECTION, REPUBLICAN AND DEMOCRAT ALIKE.
I do not recognize a Democrat who would sell out my rights for 'security' anymore than I would a Republican. These men and women have EARNED the animosity coming to them. Even Sen.'s Webb and McCain, two men whose military service and intelligence should have made them immune to the clamor to abandon the Constitution.
Sen.'s Dodd and Feingold once again stood solid.
"Unfortunately, those who are advocating this notion that you have to give up liberties to be more secure are apparently prevailing," Mr. Dodd said. "They're convincing people that we're at risk either politically, or at risk as a nation."
The fight now moves to the House of Representatives where it will hopefully be won or at least stalemated.
The House has already rejected the idea of immunity for the phone companies, and Democratic leaders reacted angrily to the Senate vote. But Congressional officials said it appeared that the House would ultimately be forced to accept some sort of legal protection for the phone carriers in negotiations between the two chambers this week.
If your concern was for the companies and those they employ, Congress could easily have established a liability cap. However, they instead decided to cripple the rights of those who sought restitution for the illegal wiretapping. In short, the victim has been victimized once again.
To put this simply, there is NO debate, there is no compromise, there is no bipartisanship when it comes to the Constitution. You either protect and defend it, or you are actively fighting to dismantle it as the legal basis for this country and the document that guarantees our rights.
Posted by mcblogger at 09:33 AM | Comments (0) | TrackBack
AusChron endorsements
Disappointment and joy, all mixed into one noxious cocktail. Think a manhattan made with cheap bourbon.
US Senate - Rep. Noriega
353rd Judicial District - Scott Ozmun
District Attorney - Rosemary Lehmberg
Railroad Commissioner - Dale Henry
We couldn't agree more with these. However, it was the dual endorsements that began to show a trend toward the weak.
CD10 - Dan Grant and Larry Joe Doherty
They seem to like Dan and clearly found him to be more knowledgeable on the issues he'll face in Congress. However, they are buying to the hokey idea that Doherty's 'AwShucks' good ole boy manner will win votes and will charm what they perceive to be bunch of yokels in Houston metro and the mid-counties. Despite the fact that Dan is clearly doing well (at least in terms of endorsements) in Houston. And those people are anything but yokels.

TAC - Glen Maxey and Nelda Spears
Oh. Come. On. The TAC from Travis County has been MIA almost as much as Dawnna Dukes (who we'll get to in a moment). Glen is clearly the stronger candidate and a large part of the reason Travis County has a what they call a 94% voter registration rate.
Not to mention their absolute lack of an endorsement of Judge Coronado who is clearly more qualified than his opponent. However, this pales in comparison to their endorsement of Dawnna Dukes for HD 46. There, they spend an inordinate amount of time chastising Thompson for criticizing Dukes' very bad votes including the one that led to many of the bad acts she was supposedly trying to stop, her vote to continue the corrupt Speakership of Tom Craddick. Without that vote, she wouldn't have needed to be such a "strong advocate of crucial social programs on the budget committee". Frankly, I think she could have done absolutely nothing and achieved the same effect. Everyone knows it was the rest of the caucus, NOT DUKES, who did the truly heavy lifting with the help of some Republican allies.
While completely ignoring her absenteeism at critical times, they do chastise her for 'taking her constituents for granted'. What they fail to do is even take her to task for possibly profiting from legislation she helped to pass that also happened to benefit the film community. The same film community that helps make the Chronicle publisher Black's year during the SouthBySouthwest Festival.
It should be noted that Thompson yesterday received the endorsement of the powerful League of Conservation Voters endorsement. Glad to see someone still putting thought into endorsements.
UPDATE - This afternoon I was informed that Black was not involved in the decision to endorse Dukes. I apologize for the error but not for criticizing what was a tone-deaf endorsement.
Posted by mcblogger at 12:56 AM | Comments (3) | TrackBack
February 13, 2008
Tolls : A week of fun
Carona comes out in favor of raising the gas tax. He still won't commit to ending toll deals which is a real concern. The reality is that tolling isn't a good way to raise money. Period. It's not good for taxpayers and it's certainly not good for invesotrs.
Speaking of investors, they're taking a bath on the Central Texas toll roads...
According to that statement, the three roads will make $8.7 billion in toll revenue through 2042. In that same time, there will be $7.2 billion in debt payments for that borrowed $2.2 billion, $1.1 billion in operations costs, $752 million in routine maintenance and $388 million for long-term maintenance. The net of all that? Almost $750 million in the hole over 35 years.

More like an economic jalopy.
Yeah, the traffic projections aren't panning out either. Traffic is about 73% of the projections. Didn't see that one coming
TURF's suit moves ahead with depositions due this week from TTC Commissioners Saenz and Houghton. Good luck, TURF!
In other privatization news, the Camino Columbia toll road (the first private 'superhighway' in Texas) was sold... to one of it's original investors. The road was built for $90million and sold for $12million. What a great investment! If you're looking for other great investments with a similar return, you might try Bear Stearns. I hear they are trying to unload some SIV's chock full of subprime paper.
Posted by mcblogger at 06:30 PM | Comments (0) | TrackBack
Congress "Investigates" Baseball, Ignores Roger Clemens' Role In 9/11
Another freaking whitewash. Why did we elect these guys again?
Posted by mayor mcsleaze at 02:59 PM | Comments (0) | TrackBack
A reason to support Dale Henry...
...he actually knows what the RRC does.
Posted by mcblogger at 02:22 PM | Comments (0) | TrackBack
Oh, let's all freak out!
So, the Obama campaign opens an office in Houston and someone puts up a Che Guevara flag. Pandemonium ensues. Then there's this from Orland Sanchez...
Che was a terrorist who invaded my homeland and took away our freedom. My family and millions of other Cubans fled the communist state that he (Che) and Fidel Castro imposed on our homeland....

I am requesting on behalf of all Cuban-Americans that Senator Obama demand that the image of Che be removed from his campaign office and that the staffer that hung the flag is dismissed immediately from the campaign staff.
Which all has the Obama campaign scrambling. A bit.
Josh Earnest, an Obama spokesman, just called to say the campaign supports all volunteers, and appreciates their enthusiasm. But he said, "Clearly the display of that symbol doesn't reflect Sen. Obama's views or his policy toward Cuba."
Of all the stupid crap to focus on (instead of the erosion of our liberties, our economy in shambles, millions without health insurance, deteriorating infrastructure) this is probably the dumbest. Is there no limit to the triviality that will make it into the news? Of course, we do kind of live in a glass house on this one. But then again, we aren't exactly reporting the news all the time.
Posted by mcblogger at 09:50 AM | Comments (0) | TrackBack
Like hope, but different
Scared, stupid old man...
And here's why I really dislike Grandpa Pander... He's now FOR the tax cuts he was against in 2001 and 2003. Usually it's funny to watch someone compromise their last shred of integrity. However, this is just sad.
``We need to make the Bush tax cuts permanent. We need to abolish the alternative minimum tax,'' he said last week in Wichita, Kansas. ``We need to have a corporate tax cut from 35 to at least 25 percent.'' The cost of those proposals would exceed $5 trillion over 10 years, according to the Center for Budget and Policy Priorities in Washington. ... On the stump, McCain seems uncomfortable with economic prescriptions, preferring to talk about the war on terror. In December, he told the Boston Globe that economics ``is not something I've understood as well as I should.''
The scariest thing? When they started talking about a stimulus package last month, his initial reaction was to propose a spending cut at the Federal level which would have actually SLOWED growth, further damaging the economy.
Whichever Democrat faces this douche needs to call his proposals what they are... bullshit. Supply side economics didn't work for Reagan and they certainly haven't worked for Bush. Not to mention that they are a massive failure for those of us in the bottom 90% of earners.
Posted by mcblogger at 07:58 AM | Comments (0) | TrackBack
February 12, 2008
Mamas, don't let yer babies be taught no messican!
Via Salon come comes word that a mama in Grapevine doesn't want her baby to have to learn spanish as part of a bilingual education program in the public school system.
"Ashleigh feels the course would be a waste of her time since she has no aspirations in the future to have a career requiring bilingual talents," Allison wrote to the principal, "nor does she feel compelled to accommodate those who live in our country who refuse to learn the primary and current native tongue of English."
The comedy is, of course, that 'Ashleigh feels...'. I'd be willing to bet that deep down, mama and daddy's undiluted racism aside, Ashleigh doesn't really care. Apparently, her parents care more about their prejudice than making their daughter smarter.
And, just a heads up to the mom, Spanish has been spoken in Texas a hell of lot longer than English.

Posted by mcblogger at 03:17 PM | Comments (0) | TrackBack
FISA ... this is just sad
Final passage of the bill is still hours away, but all the amendments to the bill to strip away telecom immunity (basically, giving the telecom companies a pass for their past illegal actions) and restore the rule of law failed overwhelmingly. With help from the Democrats.
More here at FDL, KOS and from Greenwald. You can click here to sign a petition asking the House not to give in on telecom immunity.
In case you were wondering, our own Senator's John Cornyn and Kay Bailey Hutchison voted to keep OFF the amendments protecting the Constitution from the bill. None of this is particularly surprising since Cornyn and Hutchison are well known as nothing more than rubber stamps for President Bush. They've abdicated their responsibility to Texans (and violated their Oath of Office) by voting against these amendments. It's good to see that AT&T's money buys folks that stay bought. You're a real asset to the people of Texas, Senators. Way to sell out your constituents.
Oh, but it was about protecting 'Mericans, right? Not really. The only reason this bill was needed was to strip the requirement that you actually have to obtain a warrant to tap communications so that you can eavesdrop on a US citizen. Now the President can do that at will. The other reason was to protect telecom companies (like SATX based AT&T) from being sued by people whose rights were violated by the company.
Finally, at the end of the day, Cornyn may have actually believed that this was the right thing to do protect us from terrorists. Which makes him a coward. As Franklin said more than 200 years ago, he that would give up essential liberty for temporary safety deserves neither.
Just FYI... exclusivity, the provision within the bill establishing that this bill IS the law and that the Executive must obey it, was stripped. The original FISA had exclusivity which is why Bush and the telco's were afraid of prosecution for their illegal actions. The Senate has now given them a pass on prosecution AND the ability to ignore the provisions of the new law when they feel like it.
PLEASE take a 20 seconds out of your day and sign the petition. If you want to restore the rule of law in the United States, it's one thing you can. Aside from electing BETTER DEMOCRATS and, as it turns out, BETTER REPUBLICANS.
Posted by mcblogger at 02:00 PM | Comments (1) | TrackBack
The Debate
Well, so there will be a presidential debate in Texas, here in Austin no less. If drinks are being served, we'll be happy to attend.
Posted by mcblogger at 12:10 PM | Comments (0) | TrackBack
Well put
I really couldn't have said it better myself. Except for the Obama part... I'm still not convinced that the new Coke is anything other than shit.
Posted by mcblogger at 11:07 AM | Comments (0) | TrackBack
Larry Joe Doherty supports NAIS?
According to the candidate profile over at KUT...
Doherty supports the National Animal Identification System. Opponents of the program claim it is designed to benefit major agricultural software campaign donors. His opponent, Mr. Grant, is fighting against it.
This is interesting because CD10 is composed of a lot of rural area and a large number of farmers and ranchers, none of whom support NAIS. Not to mention that one of the main reasons people in the rural areas are interested in supporting a Democrat in the general is that McCaul (R - Clear Channel Communications) loves him some NAIS. The fact that it will cause small farmers and ranchers to go out of business and drive up the cost of food at the store is irrelevant to a millionaire like McCaul. Apparently, it is to Mr. Doherty as well.
Posted by mcblogger at 09:11 AM | Comments (0) | TrackBack
FISA ALERT - Telecom Immunity back from the dead
The FISA bill with Telecom Immunity is coming back to the floor of the Senate tomorrow. Click here to send them a message...no immunity for the illegal actions of telecom companies. Tell Bush and the Republicans that it's time for the reckoning.
Posted by mcblogger at 12:45 AM | Comments (0) | TrackBack
February 11, 2008
Notes on the TAC race
Oh, this isn't good at all. Recently, and after the recent Voter ID hearing, Nelda Wells Spears, our current TAC, was asked why she'd never taken the time to defend the right to vote in testimony to the Lege on their idiotic Voter ID bills. Her response is chilling...
Ms. Spears response was shocking. She said she thought requiring ID and proof of citizenship when registering to vote was a great idea and something we needed.
No one is sure if Nelda knows she was tacitly supporting Jim Crow laws and poll taxes. I would assume she does but lets be honest, so much has come out about her this cycle that it really wouldn't surprise me if she didn't realize she was actively supporting the disenfranchisement of minorities.
I didn't realize it but there IS a Republican who has filed to run against either Glen or Nelda, Don Zimmerman. His ass website can be found here. If you even think of voting for this guy you are out of your mind. Why? He takes publicity shots with people like Ron Paul and Gerald the Gargantuan. Oh, and he's a PaulTard, one of those people so in love with the Austrian School that they are blind to the fact that it's mostly a massive load. Of doodie.

He also fought valiantly asked a bond issue that would have helped RRISD expand it's strained school system. He was operating under the assumption that portabuildings are good enough for the poor kids who have to go to public school. You're one hell of a guy, Zimmerman! Fighting to keep kids from going to good schools and receiving a good education. Here's a pic of him with his gross pals.
Posted by mcblogger at 08:03 PM | Comments (0) | TrackBack
News From The O-Cult
I received the following in an email from a person who, to avoid embarrassment, shall remain unidentified beyond the information that, in 2006, this person actually ran for elected office as a candidate of the Democratic Party.
However, my 6 year old has been supporting Barack from the beginning-that he could inspire a 6 year old from a TV speech was pretty amazing. He was my second choice by a hair- I was hoping for an Edwards/Obama ticket.
Just think, if the kid was a couple of years younger we might be hearing about the political merits of a Barney/Edwards ticket.
Posted by mayor mcsleaze at 03:46 PM | Comments (0) | TrackBack
Does Bob Perry own John Davis?
He does,according to John Davis.
Posted by mcblogger at 02:03 PM | Comments (0) | TrackBack
There's a debate a comin'
This Wednesday, Keep Austin Blue and the University Democrats will co-host a debate between Ray McMurrey and Rep. Rick Noriega. Here are the deets...
The debate will be Wednesday, February 13th. Doors (Jester Center A121A) will open at 8:00 and the debate will start promptly at 8:15.

Here's a link

to maps of the area near Jester.

The Brazos Garage is at the corner of MLK and Brazos, the Dobie Garage is at Whitis and 21st and there is a Central Lot at University and 20th and another at 20th and Whitis. Here is a map of the immediate vicinity.
What is needed right now are some questions for the moderators (Karen Brooks of the DMN and Eileen Smith of Texas Monthly) to select. Please email yours here.
Posted by mcblogger at 11:42 AM | Comments (2) | TrackBack
Endorsement vomit
I thought I would wait and just do one post about all the recent endorsements out... It's like some rank tasting medicine. Better all at once.
Rick Noriega was endorsed on the D side of the US Senate race by the Texas State Teachers Assoc. over Ray McMurrey who is a teacher
CapCity YD's also announced their endorsements. I'd join this if I could find someone who'd take my money. I thought y'all loves alcoholic bloggers? Where's the love, Kim?

U.S. Senate: Richard J. (Rick) Noriega
U.S. House of Representatives, District 10: Dan Grant
Texas Railroad Commissioner: Art Hall
Texas Supreme Court, Seat 7: Sam Houston
Texas Supreme Court, Seat 8: Susan Criss (in a runoff with Linda Reyna Yanez)
Texas State Rep. Dist. 46: Brian T. Thompson (unanimously)
353rd District Court Judge: Scott Ozmun
427th District Court Judge: Jim Coronado
Judge, 98th District Court: Andy Hathcock
Judge, County Court at Law #8: John Lipscombe
Travis County District Attorney: Rosemary Lehmberg (in a runoff with Gary Cobb)
Travis County Tax Assessor/Collector: Glen Maxey
Travis County Democratic Party Chair: Andy Brown
Travis County Commissioner, Precinct 3: Karen Huber
Travis County Constable, Precinct 1: Willie Joe Madison
Travis County Constable, Precinct 2: Paul Labuda
Travis County Constable, Precinct 3: Richard McCain
Travis County Constable, Precinct 4: Maria Canchola
Dan Grant was endorsed by Rep. Senfronia Thompson. This is a huge deal for us, at least, because we love us some Senfronia!
Posted by mcblogger at 10:35 AM | Comments (0) | TrackBack
February 10, 2008
This is what I do for you...
...I give. I share. I bring you the best political cheese.

You people owe me so big. I want drinks from all of you when I see you next.
Posted by mcblogger at 12:35 PM | Comments (3) | TrackBack
February 09, 2008
Obama wins NE, WA, LA
Taking a stand for banality, people in Nebraska, Washington State and Louisiana (it's still a state?!?) voted to make Obama the Democratic candidate.
Obama won NE (both precincts!) as well as Wasington State (well, Seattle but what's the diff) by large margins. No one's told me the differential in Louisiana.
And now, I'm going back to my drinking. And please, Hillary people, don't cry. You'll just piss me off.
Posted by mcblogger at 09:53 PM | Comments (0) | TrackBack
We hear rumors...
... and then we report them to you.

Today's super fun rumor is that Art Hall is dodging and weaving on plans for a debate/discussion in Houston in Late February between himself and Dale Henry. Wonder what gives? I mean, even Noriega is debating McMurrey. What's Art afraid of?
In other RRC election news, Art Hall was apparently confused about what exactly the RRC does. Just FYI to all of you undecided peeps out there, it would be nice if our candidate actually knew what the office does. It would certainly set him apart from the Republican in the race.
Posted by mcblogger at 03:36 PM | Comments (0) | TrackBack
Best in Show
Alright, the most anticipated event in the world, the Westminster Dog Show, is back this Monday and Tuesday. Yeah! Break out the cognac.
Lester Holt will be playing the commentator role of Buck Laughlin since Fred Willard was unavailable, while the best in show judge is Dr. J Donald Jones, who is a retired counseling psychologist. No doubt.
For the first time, this year's television coverage will be going behind the scenes. This is so off the hook. The suspense is unbearable.
A Kennel Club news release states, "It's a unique experience in the world of sports. Try to think of another event where the fans can have that kind of access to the stars. Can you imagine hanging out backstage with Bruce Springsteen at his concert or being in the dugout with Derek Jeter during a baseball game?" Bruce who? Derek who? The Kennel Club is being a little too modest.
If this is not enough excitement to keep you from sleeping till then, the club is welcoming four new breeds. Hysteria could rule.
What does this have to do with politics? Nothing
It's just fun watching prancing, egomaniacal creatures being controlled by nutty handlers. Wait – it is politics.

Posted by Captain Kroc at 12:38 PM | Comments (0) | TrackBack
Bush At CPAC: Democrats Threaten Peace And Prosperity
Yeah, that'll totally ruin the war and recession thing he's got going.
Posted by mayor mcsleaze at 09:38 AM | Comments (0) | TrackBack
February 08, 2008
Roundin' up the TPA - Feb 5th
Here's this week's round-up, compiled by Vince from Capitol Annex.
Why would Bill Peacock write a commercial for the energy industry? Find out on Bluedaze as TXsharon shines a light into the dark corners of Texas Public Policy Foundation.
Off the Kuff takes a look at the messy finances of State Supreme Court Justice David Medina, and wonders what else is out there that we haven't heard about yet.
Phillip Martin at Burnt Orange Report says thank you to John Edwards.
McBlogger at McBlogger takes a look at the
Free Market Foundation's campaign against the Parent PAC and it's leader, Carolyn Boyle. Apparently, they are unhappy that we endorsed her in 2006. And that she's been beating them and their lame candidates.
Nat-Wu of Three Wise Men tells us why free trade isn't everything it's cracked up to be, at least for the American worker.
WCNews at Eye On Williamson has more from the recent House Elections Committee hearing on voterr fraud, Abbott May Have To Explain His Partisan Voter Fraud Record.
XicanoPwr begins a Politics of Humanity series. The first one takes a look the Department of Homeland Security recent decision to eliminate the Violence Against Women Act's domestic violence program that was meant to protect undocumented immigrants from abusive spouses who use their position as citizens to intimidate their spouses who did not have legal immigrant status in the United States. The second post in the series takes a look at Immigration and Customs Enforcement's (ICE) inhumane policy of of drugging immigrants and their recent settlement case.
We recently passed the "one-year mark," meaning President Bush now has less than one year left in his job. Is he planning on coming home to roost when his tenure ends? Not everyone in DFW thinks that's the best idea.
Open Source Dem at Brains and Eggs has the inside dope on the Harris County Democratic Party's efforts to turn the county blue (and why the partners-in-charge may be shooting themselves in the feet).
Gary at Easter Lemming Liberal News sent people to his other blog for a lesson in how to put someone to sleep with government lies about economics, among other items.

Vince at Capitol Annex wonders if State Rep. Leo Berman (R-Tyler) will actually make good on his claim that he will ask AG Greg Abbott to answer to charges that his "voter fraud" prosecutions are race-based.
Posted by mcblogger at 08:02 PM | Comments (0) | TrackBack
Abandon hope all ye who click on this entry
Pink Lady has declared that Hillary will be the candidate. So, that's that.
What, I couldn't let y'all think we were all up in Hill's Kool-Aid. Just The Mayor.
Posted by mcblogger at 02:45 PM | Comments (0) | TrackBack
May I see your papers?
Customs and Border agents are being a little intrusive in their searches. Two issues here:
1) An electronic device should be as secure as a briefcase. You may be able to look inside the briefcase, but you can't look AT the contents. A computer is the same thing, but easier. You should only be able to xray the damn thing. It's not like anyone has managed to digitize a bomb and put it in a Word document. Unless you count a conference call agenda.
"It's one thing to say it's reasonable for government agents to open your luggage," said David D. Cole, a law professor at Georgetown University. "It's another thing to say it's reasonable for them to read your mind and everything you have thought over the last year. What a laptop records is as personal as a diary but much more extensive. It records every Web site you have searched. Every e-mail you have sent. It's as if you're crossing the border with your home in your suitcase."
2) WTF? Profiling?
Customs sometimes singles out passengers for extensive questioning and searches based on "information from various systems and specific techniques for selecting passengers," including the Interagency Border Inspection System, according to a statement on the CBP Web site. "CBP officers may, unfortunately, inconvenience law-abiding citizens in order to detect those involved in illicit activities," the statement said. But the factors agents use to single out passengers are not transparent, and travelers generally have little access to the data to see whether there are errors.

Although Customs said it does not profile by race or ethnicity, an officers' training guide states that "it is permissible and indeed advisable to consider an individual's connections to countries that are associated with significant terrorist activity."

"What's the difference between that and targeting people because they are Arab or Muslim?" Cole said, noting that the countries the government focuses on are generally predominantly Arab or Muslim.
What's next? Allowing the fuckers at TSA to do shit like this? Congress needs to act to restrict this kind 'security'.
(h/t to BlueBloggin')
Posted by mcblogger at 02:14 PM | Comments (0) | TrackBack
Thank you, Senate Democrats (and FU Sen. Gregg)
By a wide margin, the stimulus package has passed both the House and Senate. It's now on it's way to Bush who has been waiting for it, crayon in hand (make your mark here, Mr. President!).
Senate Republicans blocked a measure Wednesday that would have expanded aid to the elderly and disabled vets. It would have also given subsidies for heating oil and coal to people desperately pinched by the increase in oil prices and would have extended unemployment benefits to those whose benefits had already expired. Senate Republicans didn't like helping out the poor and elderly. Especially our own Senator John Cornyn who was congratulated on the vote by the tone deaf folks over at Lone Star Times (read the comments if you want to see some true 'compassionate' conservatism). Let's hope the senior citizens of Texas don't forget that while they've been going broke on a fixed income paying for gasoline, Sen. Cornyn's more concerned with keeping oil company tax cuts in place than helping them out 'the little people'.
What IS it with you Republicans? You're OK with corporate welfare but extend a helping hand to your fellow citizens and you throw a fit? Damn. And here I thought only Cheney was heartless. You people are so full of hate you'll drive the whole damn country into a depression just to make your damn point. To wit, this from Senator Gregg

"We have to remember that every dollar being spent on the stimulus package is being borrowed from our children. And our children's children," said Sen. Judd Gregg, R-N.H., who voted against the bill.
Gee, Senator, I don't remember you voting against any of those tax cuts that gave us massive deficits and dramatically increased federal debt. Methinks your 'conversion' to fiscal conservatism is a little late in coming.
The good news? Sen. Reid in his first decent act of the new year has decided to bring the extended benefits up over and over again. Good on you, Harry. Now drop this telecom immunity BS and let's get this country working again!

Posted by mcblogger at 12:11 PM | Comments (1) | TrackBack
You ROCK, Lloyd Doggett
For no other reason than trying to help more families get help to afford college. Thank you from all of us at McBlogger.
Posted by mcblogger at 08:22 AM | Comments (0) | TrackBack
Lamar Smith is Famous!
Have I mentioned lately how grateful I am that thanks to re-re-redistricting this asshole isn't my Congressman and Lloyd Doggett is?

Posted by mayor mcsleaze at 06:30 AM | Comments (0) | TrackBack
February 07, 2008
Is That A Hypocritical Sack Of Shit On TV, Or Is It Just Michael Moore?
About a minute into this clip, the filmmaker proclaims that his morals as a Catholic preclude him from voting for Hillary Clinton, because, in case you haven't heard, she voted for a war. (WARNING: Contains Larry King)
Of course, Moore's concern for his soul didn't preclude him from supporting General Wesley Clark in the 2004 primaries. Having been a general, one could say that Clark had actually been in the war business: after all, he did conduct NATO's aerial bombardment of Yugoslavia during the Kosovo crisis. And in the 2004 general election, Moore campaigned for John Kerry, who had sat in the Senate and cast the same Yes vote on the Iraq War Resolution that Hillary Clinton did. Kerry even promised to do a better job of fighting that war, unlike Clinton's current vow to end it.
And while we're on the subject of the fashionable left, you may recall that last week the "progressive" PAC MoveOn.org rushed to climb on the Obama endorsement bandwagon. The last time they had been in the news was last September, when they ran their controversial "General Betray Us" ad, which led to our own Senator Boxturtle's resolution condemning the group. One of the Senators who voted against the measure was Hillary Clinton. Mr. Audacity of Hope? Recorded as "Not Voting". Fine job of remembering who has stood with you in the past, and who ducked out of the room, guys!
Posted by mayor mcsleaze at 04:00 PM | Comments (0) | TrackBack
The Republicans have the candidate...
...who will be beaten by either Clinton or Obama. It's John McCain. So long, Mittens!
Posted by mcblogger at 12:35 PM | Comments (0) | TrackBack
Why solve problems when you can transcend them?
If only it were as easy as Obama wants to think it is. If only there weren't nasty, hateful people in the world (they're known as 'bloggers' and their lesser opposition 'Republican Consultants'). Maybe then we could transcend and take our politics to a higher level.
Or, then again, maybe we could tell the feel good shitheel to shut the fuck up and start talking like a US Senator, not Deepak Chopra. Since my preferred candidate has dropped out of the Presidential race, I'm left having to pick between Clinton and Obama. Neither thrill me but either are infinitely preferable to any of the fucktards on the R side.
I want to like Obama. I loved him in 2004. But this 'new kind of politics' is some of the most cynical bullshit I've ever heard. And people are buying it like discounted gasoline. Dionne nails it over at the WaPo...my favorite part
The larger difference between Clinton and Obama is in their respective theories of change. Implicit in the Clinton narrative, as she put it on the stump last weekend, is the idea that "making change is hard." Only someone with carefully laid plans and the toughness to go toe-to-toe with the Republicans in the daily and weekly Washington slog can hope to achieve reform.

Obama agrees to an extent. "I know how hard change is," he says. But he promises to transcend the old fights -- the liberation narrative again -- by building a "bottom-up" movement to create inexorable pressure for reform that would draw in even Republicans.
Uhm. Yeah. I totally see the people supporting Huckabee just clamoring to join your fight.
Posted by mcblogger at 11:28 AM | Comments (4) | TrackBack
Oregon rolls out domestic partnerships
Good news from the pacific northwest...
A state law allowing Oregon's same-sex couples to register as domestic partners belatedly took effect after a federal judge ruled the state's process of disqualifying petition signatures was consistent enough to be valid.

The state quickly announced Friday that the domestic partnership applications were available online, and jubilant gay rights activists predicted hundreds of couples would line up on Monday morning at county offices to register.

"We're a family. We've been waiting for this for a long time," said a beaming Cathy Kravitz of Portland. She said she and her partner of 21 years will be among those registering Monday.

The law passed by the 2007 Legislature was to take effect when the new year started, but U.S. District Judge Michael Mosman suspended it to hear testimony about a petition drive that sought to put the law before voters.

The petitions fell 96 signatures short of the 55,179 needed to refer the law to the November 2008 ballot. The petitioners claim that county clerks rejected signatures improperly.

The Alliance Defense Fund, an Arizona-based group that advocates for Christian legal issues, said it would appeal Mosman's ruling.
The fight, of course, continues. Texas will join the rest of the nation in offering this sometime in 2690.
Posted by mcblogger at 09:06 AM | Comments (0) | TrackBack
February 06, 2008
Voter ID and Voter Registration : The party never stops
OK, so first off we have Greg Abbott continuing to persecute minority Democrats for helping people vote.
Hebert complained to Berman's committee last week that Abbott has prosecuted Texans "who appear to have done little more than mistakenly help senior citizens by delivering already completed and sealed ballots to the post office or an elections administrative office."

Of 13 voter fraud-related indictments, virtually all are African Americans or Hispanic senior citizens, Hebert noted.

He told the committee: "What is especially troubling is that while Greg Abbott's office has prosecuted minority seniors for simply mailing ballots, he has not prosecuted anyone on the other side of the aisle for what appear to be open and shut cases of real voter fraud."

Hebert told the committee about alleged voter fraud in heavily Republican Highland Park involving the mishandling of over 100 ballots and a memo from local prosecutors calling on Abbott to investigate the 2005 complaint. He explained that the attorney general's office handed off the complaint to the Texas secretary of state "for evaluation of as potential criminal prosecution."

He called that "a stalling tactic" because it is the AG's office that evaluates criminal prosecution.

Nothing has happened, according to Hebert.(HouChron)
This came out during a recent hearing on, AGAIN, voter ID laws that we don't need. Harris County TAC Bettencourt was there. Noticeably absent was Travis County's TAC, Nelda Wells-Spears. She's busy trying to keep her elected office in the face of strong opposition from former Rep. Glen Maxey. Maxey recently released an ad regarding her offices purging of thousands of voters. She blames it on the state. Maxey calls bullshit. The Statesman doesn't really know what to make of all this...

Maxey is widely considered an expert on voter registration and has focused his campaign on that task, which is handled by the tax office. He has accused Spears of mishandling two separate issues.

One involves the possibility that hundreds or thousands of Travis County residents' registrations may have been canceled when a new statewide voter-registration database came online last year.

Spears sent letters to 8,500 county residents warning of a potential problem. She and the secretary of state's office blamed each other for the situation.

Meanwhile, Maxey sent out fliers accusing Spears of being more eager to point fingers than to solve the problem.

On Wednesday, Spears and Scott Haywood, a spokesman for the secretary of state's office, said that they had worked things out.
So there was a problem but it's been fixed? How did it become a problem in the first place? How did the SOS get pulled into what is a in fact a function of the county? The only thing that's clear is that Nelda ISN'T on top of this. While we understand that the TAC can't just register people out of thin air, if a mistake was made, why not send out letters to those who were purged along with a new registration card?
Apparently, no one thought that about. Spears thought the problem would be self evident.
Spears, quoting state law, said she is not allowed to restore those purged voters unless they re-register or the county clerk's office can produce paperwork it says it doesn't have.

She added that those voters had clues that they were not properly signed up, such as not getting a registration card in the mail.
No, ma'am. When something gets screwed up or when a mistake is made, you don't wait for someone to catch it. Unless you're either lazy, immature or stupid. These folks had no idea what was happening and your solution was to just sit back and let those who were purged catch the mistake? You never heard of being proactive when it comes to solving a problem?
It's never been more clear than now that we need a new TAC. Period.
Posted by mcblogger at 03:12 PM | Comments (0) | TrackBack
God's Will?
On the same day Mike Huckabee wins the Arkansas, Alabama, and Tennessee primaries, and media whore Mississippi Governor Haley Barbour worms his way into contention as running mate for John McCain, tornados rip through these respective states causing death and destruction.
Of course, there's no correlation. What do you take me for – an evangelical?
In other news on spirituality, Maharishi Mahesh Yogi, the guru of the Beatles until John Lennon accused him of inappropriate advances on Mia Farrow (for crying out loud, who didn't hit on Mia back in the day), died in his home in the Netherlands.
All together now – "om"

Posted by Captain Kroc at 02:04 PM | Comments (2) | TrackBack
The TXDOT hearing... doodie aflyin'
Well, it's been interesting. First off was this article in the Star-T detailing out the problems with TXDOT's claims of poverty.
Poor planning inside the Texas Department of Transportation -- and not a shortage of state or federal funding -- is to blame for an ongoing cash crunch that led the agency to stop most road work in 2008, members of two state Senate committees said.

"I think we have an agency in turmoil. I think we have an agency in chaos," state Sen. Judith Zaffirini, D-Laredo, said during a joint meeting of the Senate finance and transportation committees in Austin. "I think it's intellectually dishonest to blame Congress or the state Legislature for problems caused by poor planning."
Then we moved on to the Trans hearing yesterday during which TXDOT got bitchslapped. Or did they? Sources have told us that members of the Senate Trans Committee met with TXDOT officials the day before the hearing a closed door session. Additionally, other's have called the Republicans on the commission 'chummy' with TXDOT officials during the meeting yesterday with the exception of Sen. Ogden who is really feeling the heat from anti-privatization forces. Not from the Stahls, of course, because they have lost all influence as a result of their sellout during the session last year on a toll moratorium.
CapAnnex has their own take and a great quote from Zaffrini

"The impression out there is that, really, this is a ploy to put pressure on us to go back to the toll road plan," said Sen. Judith Zaffirini, D-Laredo, who said the Texas Department of Transportation is scheming to promote its own agenda.(

DMN

)
Then there was this one from Ogden...
"This is screwed up," said Sen. Steve Ogden, chairman of the Senate Finance Committee. "I understand how to do a cash flow statement. I understand how to do an income statement. This isn't one of them. This is really bad."
EOW brings the point home by pointing out (again) that the Republicans who've stood in the way of gas tax increases repeatedly since 1993 are the ones who should bear the blame. These same folks then pushed through the privatization legislation in this first place.
Finally, in what I'd like to call "To MOTO, with love", I'd like to take a moment to say THANK YOU to Sen.'s Watson and Zaffirini. Glad to know you guys are finally seeing through the bullshit and the lies. Welcome back to the light, kids!
Posted by mcblogger at 12:53 PM | Comments (0) | TrackBack
This man owes $105 million dollars
A judge reduced the award of $10 million to a family who was harassed by the Nutters Phelps to $5million. Apparently, the church doesn't have the $10million, but they do have the $5million. Which is great because I'd love nothing more than to see them scrubbed out of existence.
How you feel about the war is irrelevant. Respect the men and women fighting it. Period.
Posted by mcblogger at 10:43 AM | Comments (0) | TrackBack
I've got the spins bad...
...and no, smart ass, it's not from my morning sunshine in a glass. Gin doesn't give me the spins. However, our fucked up DA's race does. Here's something on it. Here's something else. And then this. Oh, and please look at this.
Seriously, I'm already getting hella sick of this race. Hopefully, it's over March 4th barring a runoff which is more than likely the outcome. So, will Mindy's money buy her way into a run off with Lehmberg? Will Reed pull off an upset? Will it be Cobb vs. Lehmberg? I certainly hope not. I like all of these people. I think they're all qualified in their own ways for this job. However, I think Lehmberg has the breadth and depth needed. That's what sets her apart from the other candidates.
So, yeah. That's who I'm voting for.
Posted by mcblogger at 09:14 AM | Comments (0) | TrackBack
February 05, 2008
Give Brian Some Love
Travis County is the bluest county in Texas and on March 4th, voters have a chance to make it a TRUE BLUE Delegation in the Texas Legislature.
Brian Thompson
is running against Dawwna Dukes for District 46. Brian has received every major endorsement in the Travis County area and for good reason. He cares about the district and is willing to vote for the people of Texas instead of supporting Tom Craddick and his minions who have thrown children of SCHIP, stolen women's rights away each legislative session, sold out Texas land owners for the Trans Texas Corridor, and were instrumental in writing legalized discrimination into the Texas Constitution.
Click here to help Brian beat Dawnna Dukes.
Brian Thompson has been endorsed by the Texas Progressive Alliance. He has also been endorsed by :
Austin Progressive Coalition
University Democrats
Victory Fund
Central Austin Democrats
Texas Environmental Democrats
Southwest Austin Democrats
Capital Area Progressive Democrats
Teamsters Local 657
Capital Area Asian American Democrats
Austin Stonewall Democrats
South Austin Democrats
Austin Gay and Lesbian Political Caucus
Brain has also been endorsed by Lon Burnam
House District 80
Lon Burnam is the only Democrat in the House who has voted against Craddick from the beginning. It is time we had more strong Democrats in the Texas Legislature who are not afraid to speak out against the autocratic rule of
Tom Craddick and the devastation which is being wrought on Texas and our quality of life. The time has come to hold our elected officials accountable for their action and non-action when it comes to taking care of their districts and the rest of Texas.
Brian is willing to work to make the quality of life better for all Texans and not just a select few. Teachers and students alike will have a strong advocate in the Ledge once Brian is elected. Women and children will not
have to worry about their rights being stolen from them by the privileged who can buy their way out of any problem and are willing to let the rest of Texas suffer. Our retired teachers will not see Brian vote against a raise in their pension. Brian will be at the forefront leading the charge for changes and fighting injustice as an elected officials should be instead of skipping votes or voting the right way but not speaking out. It is time for strong leadership in HD46. Brian will be a welcome addition to some of the already strong voices for Texas and Travis County!
Posted by mcblogger at 03:14 PM | Comments (0) | TrackBack
You might think it's a joke, but it's not. You'll just wish it was.
When McBlogger and I took in 'Sweeney Todd' over the holidays, we stumbled across a display for 'Me & You, Us, Forever'. Laughter ensued. So imagine my maniacal glee upon finding the fucking trailer. My thoughts during the viewing? No way. This is too obvious in it's shittiness. This is a joke. Or at least a Geico commercial.

Alas, it is a real movie. A movie aimed squarely at that 'Christian' market that has turned into somewhat of a cash cow. It was originally tapped by that assclown Mel Gibson. Because it appeals to the segment of America that takes issue with tits and swears, yet doesn't care about the little things like substantial plots or production value. Blerg. All kidding aside, it did put a mildly interesting query into my head. Who is more pathetic/ idiotic/ socially retarded, the folks that see 'Me & You, Us, Forever' or this.

You have to admit, it's kinda a head scratcher.
Posted by barfly at 02:12 PM | Comments (1) | TrackBack
Tolls : This week in BS
Today is the Joint Committee hearing on TXDOT. Sal is liveblogging it and so far we have Tran Commissioner Saenz admitting to Senator Watson that he's incompetent. That's right, a Transportation Commissioner of the State of Texas admitted he was incompetent and that the poor mouthing TXDOT has been doing is based on nothing.

Keep going, Kirk. Do what Carona was too fat and lazy to do.
Dewhurst is apparently not buying TXDOTs protestations of poverty...
"I'm at a loss to see why they're saying (that) now when we've given them additional tools they've chosen not to take advantage of," Dewhurst said in an interview late Friday afternoon. "It appears they haven't used them. Maybe we're wrong." TxDOT officials were not available early Monday for comment. But I'll be hearing from them later in the day and will post what they have to say.
TXDOT is looking for people to serve on Corridor 'Advisory Committees'. This gives ordinary citizens (you and me) a chance to feel like we're 'part of the process' and 'being listened to' without actually, you know, listening us or giving us any real power. Cool, no?
Posted by mcblogger at 12:04 PM | Comments (0) | TrackBack
See Dawnna Vote
You've heard time and time again why Dawnna Dukes is wrong for her district. However, much of that has centered around her absenteeism, campaign finance reports, and "Vegas Vacation."
But, what about her voting record? Dukes apologists claim that her voting record is in line with her district. But, it isn't. Here are a large number of reasons you should support TexRoots candidate Brian Thompson in the House District 46 race.
Dawnna Dukes has voted against renewable energy. Dukes voted against requiring that a certain portion of money from Governor Perry's slush funds, (aka the Texas Enterprise Fund and Texas Emerging Technology Fund) be required to be spent on companies that develop renewable energy technologies. [House Bill 1, 80th Legislature, Amendment 8, Record Vote 220, House Journal, p. 1275 & House Bill 1, 80th Legislature, Amendment 12, Record Vote 221, House Journal, p. 1277.]
Dawnna Dukes has voted against Texas children. Dawnna Dukes thought that making sure Governor Perry could give corporate welfare to his campaign contributors was more important than at-risk youth. She voted against taking money from the Emerging Technology Fund to fund programs for at-risk youth prevention with the Department of Family and Protective Services, and voted against additional funding for the same program in another instance on the same day. [House Bill 1, 80th Legislature, Amendment 18, Record Vote 223, House Journal, p. 1283 & House Bill 1, 80th Legislature, Amendment 21, Record Vote 226, House Journal, p. 1278].
Dawnna Dukes voted against HIV/AIDS Prevention. Dawnna Dukes betrayed hundreds of thousands of Texans who need to be educated about the dangers of HIV/AIDS. [House Bill 1, 80th Legislature, Amendment 29, Record Vote 228, House Journal, p. 1291.]
Dawnna Dukes Voted Against Quality Schools & College Students. Dawnna Dukes thought it was more important for the Office of State Federal Relations' budget to have enough money to hire Washington lobbyists than to put more money in the Teach for Texas Loan Repayment Program, which serves to recruit and retain quality public school teachers and help college graduates who are over-burdened with student loans. [House Bill 1, 80th Legislature, Amendment 76, Record Vote 236, House Journal, p. 1324]
Dwanna Dukes Voted Against Halting Public Corruption. Dukes didn't believe it was important to fund the Public Integrity Unit of the Travis County DA's office (which prosecutes public officials) at higher levels. She thought courthouse preservation was more important. [House Bill 1, 80th Legislature, Amendment 84, Record Vote 240, House Journal, p. 1331.]
Dawnna Dukes Voted Against Clean Air. Dawnna Dukes voted against additional funding for the Texas Emission Reduction Plan grants. [House Bill 1, 80th Legislature, Amendment 98, Record Vote 242, House Journal, p. 1345.]
Dawnna Dukes Voted For State Funding For Washington Lobbyists. Dawnna Dukes voted against restrictions that would have prevented state funding being used for hiring Washington Lobbyists. [House Bill 1, 80th Legislature, Amendment 132, Record Vote 246, House Journal, p. 1363.]
Dawnna Dukes Voted Against Restoring CHIP To Pre-2003 Levels. Dawnna Dukes voted against restoring CHIP to pre-2003 levels and voted against using all federal funds appropriated to the state for the Children's Health Insurance Program to actually insure children. [House Bill 109, 80th Legislature, Amendment 23, Record Vote 279, House Journal, p. 1522.] She also voted against paying providers for care provided to eligible CHIP recipients in the event of a state error that led to a child being dropped or denied coverage. [House Bill 109, 80th Legislature, Amendment 24, Record Vote 280, House Journal, p. 1523.]
Dawnna Dukes Voted Against Infant Children. Dawnna Dukes voted to require infant children to be subjected to a waiting period for CHIP qualification. [House Bill 109, 80th Legislature, Amendment 26, Record Vote 282, House Journal, p. 1525]
Posted by mcblogger at 09:33 AM | Comments (0) | TrackBack
February 04, 2008
Paul Moreno - Progressive Leadership for Texas
(McBlogger's note : We're doing something new to promote TexRoots candidates. Today, It's Rep. Moreno)
This election season, Tom Craddick and his allies are playing a skillful game of chess. Recognizing that he is unlikely to gain any votes for his continued Speakership in the general election--as Republicans are projected to fall like flies across the state--Craddick has, in effect moved all of his pawns on the chessboard into Democratic districts in an attempt to defeat progressive, anti-Craddick state representatives.
One district where Tom Craddick has deployed his pawns is Texas House District 77, against none other than the Dean and Conscience of the Texas House--Rep. Paul Moreno (D-El Paso).
Paul Moreno was born in El Paso. He served six years as a U.S. Marine in Korea, and was awarded the Silver Star and numerous Bronze Stars. He earned his bachelor's degree from Texas Western College (now UT-El Paso), and a law degree from UT School of Law. He was first elected to the Texas House in 1967, and is among the longest serving members of that body, and the longest serving Latino elected official in America.
Paul Moreno has a distinguished record of public service to his district, and the entire state. He has been endorsed as part of the Texas Progressive Alliance's TexRoots 08 slate, and needs our support.
Some of the most important legislation of the past three decades bears Moreno's fingerprints, such as The Bilingual Education Act of 1983-84. Moreno, along with the Mexical American Legislative Caucus (of which he was the first Chair in 1975), helped push this legislation through the House. He fought to add farmworkers to the unemployment compensation legislation for the first time since 1913 in 1985. In 1987, he fought for a minimum wage bill for farm workers and helped end conservative attempts to alter House Bill 72 (comprehensive education reform).
Too, in more than four decades in the House, Moreno has worked hard to provide El Paso's citizens with a quality public education system.
Moreno was key to the passage of the Children's Health Insurance Program, and has fought for teacher pay raises and teacher retirement.
Moreno has also brought billions of dollars in appropriations to the el Paso Community. The University of Texas-El Paso, Texas Tech Academic Health Science Center, and Franklin Mountain State Park are only a few institutions which have seen the benefit of Moreno's tenure.
A member of the "Dirty Thirty" and the "Killer Ds," Paul Moreno is a true Progressive. He is a true champion for the poor, the working poor, the elderly, students, teachers, minorities, the handicapped, and more.
Moreno is often called two things, "The Conscience of the Texas House" and "Kill Bill." He's called "Kill Bill" because, over the years, he has killed more anti-Progressive legislation than most any other members. He's called the "Conscience of the Texas House" because he is that not-so-little voice who speaks up when that body goes down the wrong path and does things that aren't in the best interest of ordinary Texans.
Last session, following a hate-filled personal privilege speech by Rep. Leo Berman (R-Tyler), Rep. Moreno took the floor for a point of personal privilege. Many thought it would be the moment he announced his retirement. Instead, he renewed his commitment to the people of El Paso and the people of Texas:

I heard that yesterday, my city, my beloved city of El Paso, was accused of having a bond issue of $240 million, or something like that, and that we were doing nothing but educating illegal aliens. When I heard that, that really hurt me. When you talk about the city of El Paso, educating illegal aliens, you're talking about my children.

My family has been in El Paso for seven generations. Five of my brothers, and many of you have heard this, five of my brothers have served in the military. Five of my six brothers have served in the military. Two of my brothers-in-law, one of them was severely wounded in Europe. My other brother-in-law died as a result of agent orange, suffered in Vietnam. I have a cousin that was killed in Korea with me, died, from Denver. In El Paso, a very good friend of mine received the medal of honor. His name is Sandrocio Guillen, we call him El Mocho. And when they say that they're teaching illegal aliens, that hurts. That hurts very, very, very, very much. We should have the respect and the dignity that we as humans should give other people.

We had a good government here when Pete Laney was speaker. When he was elected the first election, I voted against him. I voted against Pete Laney because I thought he wasn't liberal enough, and I voted against him, and I think I'm the only one who's ever voted against Pete Laney. But most of you members that were here, during the Pete Laney era remember the appropriations bill that we had. Pete Laney placed me in the appropriations committee and we were able to bring an appropriations bill to this house. I opened up the debate in favor of the appropriations bill, thanks to my good friend Representative Pitts. He asked me to open the debate for the approval of the appropriations bill. We passed that appropriations bill without one dissent. At that time I said, "Paul, we're doing a good job." This is Texas, this is finally America, this is finally what you've been looking for—then something happened.

Leadership changed, and please, please, Mr. Speaker, don't take anything personal, but you have your deep political beliefs, and so does your group, and I noticed a lot of changes that happened. And when those changes happened, we started going down. Tonight I was determined to make a decision, and none of my friends changed my opinion. This country, this state, is in a worse position for Mexican Americans than it was when I first got elected. When I first got elected, there were eight of us, eight Mexican Americans. Yes, we knew—we knew our stand, we knew where we belonged. But there was respect. Now, the respect, in my opinion, has somewhat diminished. And in those days, the Mexican Americans were low in numbers, but we were still satisfied because we knew that there were very little of us and we were glad we were getting at least a little bit of it. Now things are changing.
If you have any doubt that Paul Moreno deserves re-election to the House, you should
read his personal privilege speech
.
Paul Moreno is a true progressive champion. He deserves our support, which is why he is endorsed by the Texas Progressive Alliance. Please join us in supporting Rep. Moreno by making your contribution to his campaign today, via the TPA's Act Blue page for TexRoots.
Posted by mcblogger at 08:08 PM | Comments (0) | TrackBack
Mehlman hopes for a miracle
The WaPo has a great article up about the Republicans casting about for a message that will unify them. Mehlman has the best quote:
Former Republican Party chairman Ken Mehlman said the party's past successes came when candidates found ways to apply a "core set of principles" to the changing problems of a new generation. "Ronald Reagan and others thought about things like . . . how to apply conservative principles to solve gas lines, Soviet advancement, stagflation," Mehlman said in an interview Wednesday.

He expressed confidence that the wide-open Republican primary is prompting discussion about how conservative ideas can be adapted to solve access to health care, dependence on foreign oil and terrorism concerns. But he acknowledged that, for now, all the thinking appears to be tactical.

"The candidates in both parties have to be concerned about making sure they have a message and a rationale that is broad-based," he said. "The effect of the political process, I hope, will be to encourage that kind of thinking."
See, here's the problem and Krugman NAILS it in his criticism of Obama... Reaganomics were a FAILURE. The only thing keeping it from being worse was a Democratic Congress through most of his term. Bush hasn't had that which is why so many things have gone south, so fast.
But why would a self-proclaimed progressive say anything that lends credibility to this rewriting of history — particularly right now, when Reaganomics has just failed all over again?

Like Ronald Reagan, President Bush began his term in office with big tax cuts for the rich and promises that the benefits would trickle down to the middle class. Like Reagan, he also began his term with an economic slump, then claimed that the recovery from that slump proved the success of his policies.

And like Reaganomics — but more quickly — Bushonomics has ended in grief. The public mood today is as grim as it was in 1992. Wages are lagging behind inflation. Employment growth in the Bush years has been pathetic compared with job creation in the Clinton era. Even if we don't have a formal recession — and the odds now are that we will — the optimism of the 1990s has evaporated.

This is, in short, a time when progressives ought to be driving home the idea that the right's ideas don't work, and never have.
Go ahead, Ken. Get your candidate to talk like Reagan. It'll be fun to see 400 Democrats in Congress... and one in the White House.

Posted by mcblogger at 02:57 PM | Comments (1) | TrackBack
Earmarks in perspective
Recently, we made reference to Bush's complaints about 'earmarks'. We stated that he was complaining about 1% of the Federal Budget.
We were wrong. It's actually less than that. It's .55% of the Federal Budget that Bush wants Congress to pass. $3.1 trillion and they are complaining about not having enough money to public education and infrastructure projects?
Posted by mcblogger at 01:48 PM | Comments (0) | TrackBack
Did you know?
Apparently, the rain forests at or near the equator are being destroyed at a very rapid pace. We should be concerned because they are the 'lungs of the world' and they are shrinking as our ability to pollute the air and overload it with CO2 is increasing. But there's hope! The Europeans want to pay the poor equatorial countries not to cut down their forests.
That's the goal of the post-Bali talks, looking for ways to integrate forest preservation into the world's emerging "carbon trading" system. A government earning carbon credits for "avoided deforestation" could then sell them to a European power plant, for example, to meet its emission-reduction quota.

"These forests are the greatest global public utility," Britain's conservationist Prince Charles said in the lead-up to Bali. "As a matter of urgency we have to find ways to make them more valuable alive than dead."

Observed the World Wildlife Fund's Duncan Pollard, "Suddenly you have the whole world looking at deforestation."
I'm all for carbon caps and a trading system. The problem is, how do you get that money down to the guy who's cutting trees for a living and making $0.75 PER DAY? Love the macro idea, just want to see the mechanism to get that money down to the micro level.
As a side note, here are some other things that are shrinking:
The likelihood that I'll soon be taking a trip to The Betty. I kinda shit all over that idea yesterday at the Superbowl Fun Time Party/Intervention with some people who are no longer friends.
Senator John Cornyn's ability to stand up like real Senator instead of a coward
Y'all have a goodun'!
Posted by mcblogger at 11:57 AM | Comments (0) | TrackBack
Good News, Everyone!
Americans are not the only idiots on the planet! According to a recent poll, twenty-three percent of Britons think World War Two Prime Minister Winston Churchill was a myth.
Indian political leader Mahatma Gandhi and Battle of Waterloo victor the Duke of Wellington also appeared in the top 10 of people thought to be myths.

Meanwhile, 58 percent thought Sir Arthur Conan Doyle's fictional detective Holmes actually existed; 33 percent thought the same of W. E. Johns' fictional pilot and adventurer Biggles.
All is not lost, though: 100% still blame Yoko Ono for breaking up the Beatles.
Posted by mayor mcsleaze at 09:53 AM | Comments (0) | TrackBack
Granger has an opponent
Kay Granger (R - Really Bad Margaritas) has a challenger according to Vince over at Cap Annex.
Tracey Smith (D-Fort Worth), a former TV and newspaper report in the DF/W Metroplex has stepped up to challenge former Fort Worth Mayor Kay Granger (R-Fort Worth) in her bid for another term as the district's Congresswoman.
Mr. Smith, we hope the people of Fort Worth send you Congress. It'll be a huge improvement over Kay and her hair.
Posted by mcblogger at 09:23 AM | Comments (0) | TrackBack
February 03, 2008
Take a new TX GOP poll!
Hans Klinger, Tina Fish and Co. have sent out another email. About another poll they are doing to try to help the R Presidential candidates bone up on issues that are important to Texans. Go let them know what you think is important.
Posted by mcblogger at 01:11 PM | Comments (0) | TrackBack
February 02, 2008
What About Pat Buchanan? Will No One Think About Pat Buchanan?

Not that I'd want to influence anybody's vote, but...
"If you've got a Hillary and McCain race, you've got a third option: That's the pistol on the bed table."

-- Pat Buchanan on MSNBC

Chances are, of course, that the old kultur kampfer is just venting some steam out his ass. But hope does spring eternal.

It's what keeps us buying lottery tickets, after all.
Posted by mayor mcsleaze at 03:52 PM | Comments (0) | TrackBack
I'm F*cking Matt Damon
I'm not a big fan of Jimmy Kimmel, but I might have to start watching just to see when Sarah Silverman is on. Yeah, at times she can be too much, but I love her anyway. Especially in this:
Actually, this almost makes me forgive Matt Damon for 'The Brothers Grimm'. Almost. I have already forgiven Heath Ledger, because that is what you do when someone dies.
Posted by barfly at 12:53 PM | Comments (0) | TrackBack
February 01, 2008
MoveOn Endorses Obama
This is probably good new for Clinton. Given MoveOn's history, they'll produce some embarrassingly stupid hit piece on Hillary, which Obama will end up having to disavow.
Meanwhile Eli Pariser puts on his John Peter Zenger costume and rakes in the donations to keep his internet pyramid scheme ticking over until the next chance to hurt progressives.
Posted by mayor mcsleaze at 03:38 PM | Comments (0) | TrackBack
The Week In Smut
Wherever naked buttocks appear, the FCC is there. And a good thing too, because as we all know naked buttocks make Baby Jesus cry.
The Federal Communications Commission has proposed a $1.4 million fine against 52 ABC Television Network stations over a 2003 broadcast of cop drama "NYPD Blue".

The fine is for a scene where a boy surprises a woman as she prepares to take a shower. The scene depicted "multiple, close-up views" of the woman's "nude buttocks" according to an agency order issued late Friday.

FCC's definition of indecent content requires that the broadcast "depicts or describes sexual or excretory activities" in a "patently offensive way" and is aired between the hours of 6 a.m. and 10 p.m.

The agency rejected the network's argument that "the buttocks are not a sexual organ."
Shell was today accused of making "obscene" profits at a time when pensioners, motorists and industry are struggling with higher energy prices when it unveiled annual earnings of $27.6bn (£13.9bn).

The oil major has made British corporate history with the record figures, which are equivalent to more than £1.5m an hour and come at the end of a three month period when crude prices have averaged over $90 a barrel.

Jeroen van der Veer, chief executive of Royal Dutch Shell, described the performance as "satisfactory" and admitted that overall production for the year had actually dropped 2%.
No word yet on the effect of oil profits on Baby Jesus, nor what scale of fines might be anticipated.
Posted by mayor mcsleaze at 02:31 PM | Comments (0) | TrackBack
Calling Bullshit : Hope Now
Apparently, I wasn't the only who thought Bush and Paulson's little plan to 'cure' the mortgage market in the US was a load of horseshit...
So what exactly does Hope Now do for the market? We think there is not much more to it than a 1-800 number for consumers.

We wonder why this led Paulson, a legendary Wall Street insider, to even think about doing this. First, he is a Republican, so we are not sure how he can justify his intrusion into market activities – however nominal it might be – with his political stance. (Bush has long ago stopped being a Republican in the classic sense.)

And even if he has some noble objective in mind, the numbers don't justify the harm to his reputation, especially on Wall Street. All this for perhaps 1.2 million borrowers, many of whom would have gotten relief from servicers anyway? This seems like a bad trade for the former chairman of Goldman Sachs & Co.

The administration is painting this as an industry-led effort. The government is simply facilitating it. Facilitating what? The fact that servicers can, if they want to, modify loans upon reset? Of course they can. Loan modifications are spelled out in servicing agreements.

This, my friends, is politics – and it is hollow politics at that. When Paulson came to office, we thought he would be a Treasury secretary of substance. That Hope Now is just an empty shell.
Oh, and don't forget, when you call the 800 number, please don't call the one Connecticut native George Bush is giving out.
Posted by mcblogger at 02:30 PM | Comments (0) | TrackBack
Coulter endorses Hillary
I... I don't know what to say. The meat is around 1:00 in.
Posted by mcblogger at 01:13 PM | Comments (1) | TrackBack
New Republican group to dump money into negative ads
Looks like there are some really rich fat, white people looking to become VERY public. And very unpopular. That's typically what happens when you start playing in politics with heavily negative groups. Like Freedom's Watch. Fresh off their unsuccessful campaign to 'catapult the propaganda' on the surge, they're now trying to scare people about illegal aliens.
Because that's worked so well for the Republicans. Their only success so far was the election of Robert Latta. In a 64% Republican OH district. Against a D who has run three times and was significantly underfunded. And may, in fact, have been mostly dead.
At this point I have to wonder, why would these people still be in business? 9/11 helped Ari's career because Bush was popular afterward. Now, Ari's real lack of talent is showing as is his rank incompetence. So who the hell would continue funding this ridiculously bad PR firm? Why none other than gambling-meister Sheldon Adelson, the billionaire chair of the Las Vegas Sands Corp. which owns the Venetian Hotel. Guess I'll be staying at the Bellagio next time I go to Vegas.
Freedom's Watch, with its close White House connections and network of Bob Perrys, is a whole new breed.

The group aims to raise and spend approximately $250 million for the 2008 cycle, a vast amount of money they apparently plan to use not only on the presidential election, but to greater effect in numerous House and Senate races throughout the country, where six figures can go a long way.

To review the White House connections: the group is headed by Bradley Blakeman, a former Bush White House official, Mel Sembler, a millionaire former Bush admbassador to Italy, and Ari Fleischer, who serves as the group's spokesman. Much of its support so far has come from Sembler and casino magnate and billionaire Sheldon Adelson, the sixth richest person in the world. (The group intends to "broaden its base" as time goes on, Fleischer says.) The group got off the ground with a $15 million effort to support the president's surge strategy in August, but it's sticking around for the long haul.
And more, via Carpetbagger...
Adelson personally wrote an $80,000 check to Freedom's Watch on Dec. 7, according to Federal Election Commission documents, just four days before the election that gave Republican Robert Latta the House seat representing the district around Bowling Green. Behind a blood-red foreground, the group's ad showed Latinos hurrying under fences and being frisked by police as a narrator accused Democratic candidate Robin Weirauch and "liberals in Congress" of supporting free health care for illegal immigrants.

Fleischer said the turn toward the immigration issue should not have been a surprise.

"To us it wasn't a broadening" of the mission, he said. "We said prosperity through free enterprise and domestic issues were going to be on the agenda. But something had to come first, and what came first was the 'surge' and the president's policies in Iraq."

Fleischer cautioned that the scope of the group's involvement in the 2008 elections has not been decided. But the roughly $100,000 ad campaign in Ohio is a good indication.
So, lemme get this straight, Ari... you're going to use an issue that's so divisive it's tearing your own party apart and driving one of the largest voting blocs in the US to your opposition? That's sooper smart, Ari.
More on Ari and BS is over at FDL.
Posted by mcblogger at 11:35 AM | Comments (0) | TrackBack
Tolls : Polls are fun!
As part of TURF's successful lawsuit against TXDOT, a number of embarrassing documents have been recovered. Among them is a poll conducted last year regarding the TTC. It's a push poll, meant to 'educate' respondents about all the amazing benefits of the TTC and then ask them how they fell about it.
It's a bit like calling someone, saying that President Bush is going to give them $1,000 and asking how they feel about President Bush. I'd bet $100 that his approval would be in the mid to high 50s, instead of the 20's where he currently sits.
The best part about it... TXDOT PAID FOR IT WITH YOUR TAX DOLLARS! The second best part, the poll is tainted and couldn't be used anyway.
1) The sample is HEAVILY Anglo
2) The sample was obviously concentrated into three geographic areas, Dallas Metro, Houston Metro and possibly Austin Metro.
3) Privatization is not mentioned. Not one single time.
4) Tolling is mentioned only in the abstract.
5) There's no mention of the fact that TXDOT will NOT be able to make major improvements to 35 due to the special provisions of the TTC privatization agreement.
6) There's nothing in the poll regarding TXDOT being forced by CintraZachry/Bluebonnet to drop speed limits on 35 to make the TTC more attractive.
7) There's no mention of the fact that should the traffic figures fail to materialize, the taxpayers will be responsible for paying off the bonds... and the profits of CintraZachry/Bluebonnet
8) The sample was not representative of average Texans in terms of party ID, income or education
Of those that actually knew something about TTC35 or TTC69, 18% were likely to support which contrasts nicely to the 28% that were less likely. The remaining people wanted to know what was going on with Britney and K-Fed who were in a custody battle at the time.
One thing is for sure, the more Texans find out about the TTC and the alternatives to it, the less they like the TTC. This was the Governors best shot to put perfume on this pig and it failed.
Posted by mcblogger at 10:11 AM | Comments (0) | TrackBack