October 31, 2007
Rules for trick or treating my house
1) If you don't have a costume, fuck off you little twerp.
2) If your costume is 'teen slut' without even a hint of irony, then fuck off skank.
3) If you have obvious teenage acne, get a job you shiftless loser and buy your own candy.
4) The greeting is 'trick or treat' not 'can I have some candy'. 'Tard.
5) If you're old enough to drive WTF are you doing asking me for candy? Why aren't you out drive by egging your friends?
6) Don't. Comment. On. My. Candy. I have good shit and bad shit. Say something and see which I give you.
7) Yes. I'm drinking and smoking. Get over it.
Happy Halloween!

Posted by mcblogger at 08:22 PM | Comments (0) | TrackBack
It's OK to be gay and Republican now...
Coby has a post up discussing the reaction of one right wing talk show host in Houston regarding Senator Craig's attempt at finding love in all the wrong places.
The Republican party is making conservatives look bad. Hell, even Chris Baker, the right wing Republican idiot of KTRH was defending Senator Craig's behavior claiming it was OK to be a gay Congressman or Senator as long as you voted like a conservative.
Well, if you say so, Chris. Still, I'd like to see someone gay run and win against Speaker CradDICK before I believe that the Republican party has changed. Until then, you're all the same group of racist homophobes you've always been.
(As a personal note.. I've been through MSP many times and can tell you it was a RARE event for me to see someone I'd even remotely consider fucking. People in the midwest, while extremely nice and pleasant, are kinda gross)
Posted by mcblogger at 07:13 PM | Comments (0) | TrackBack
HouChron : You SUCK, Cornyn
Well, maybe they do write it a bit more eloquently. However, I'm sure that's what they were thinking when they wrote this piece beating up Senator Loser McLamerson for voting to kill the DREAM Act.
No, John. No one is buying your lame excuses anymore.
Posted by mcblogger at 02:51 PM | Comments (0) | TrackBack
Travis County Chair's race... and then there were two
What was looking to be a three way race for Travis County Democratic Party Chair has evolved into a two way race with the withdrawal of local CPA and longtime Democratic activist, Rosie Mendoza
That is why I wanted to be the first to inform you that after much deliberation, I have decided to withdraw as a candidate for Travis County Democratic Party Chair. This was one of the hardest decisions I have ever made, but I wholeheartedly believe that it is the right decision for the future of our Party.

In recent elections, there has not been a contested race for Chair of the TCDP but this year there are three declared candidates, including myself. The race has already caused divisions in a community that should be united as we move into the 2008 election year. Current developments put us on a course for a highly contested Democratic primary, plus a likely primary run-off in April. With that in mind, even conservative estimates show that we (the three candidates) will end up spending several hundred thousand dollars combined to win this campaign.

I cannot, in good conscience, contribute to a campaign that risks fracturing us on the eve of the most important election in our lifetime nor can I justify spending tens-of-thousands of dollars from donors for an intra-Party campaign while some of our incredible incumbent Democrats like Representatives Donna Howard and Valinda Bolton need every available dollar to win re-election over well-funded Republican opponents next Fall.

When families disagree (and we are family, bound by our shared values) we must consider the consequences of our actions. We must be prepared to place the success of our Party over the success of the individuals. Today, I am taking that individual first step, and I sincerely hope that the two remaining candidates - Andy Brown and Fidel Acevedo - will consider our shared vision and values before continuing toward a costly race in March.

The 2008 election presents enormous opportunities and challenges for Democrats across Texas. The next Chair must enter his/her term with the credibility to unify the Party, keep it on solid financial ground, clearly communicate our vision and values and substantially increase voter turnout in all the communities of our Democratic base. Then, and only then, Travis County can live up to its full potential as not just a blue oasis in a red state, but as a driving force behind statewide Democratic victories in 2008 and 2010!
I gotta tell you, I met her and I loved her. She's extremely genuine and has a fantastic reputation. So why did I choose to support Andy? Mostly because I know him better and I love his giant novelty checks. I also have a lot of respect for Fidel 'Ace' Acevedo. The real deciding factor, at least for me (and I know many others)? Kirk Watson. Mendoza was seen by many as his preferred candidate. The only thing that could have been worse these days in Travis County Dem circles was support from CradDICK The Whiney himself. Kirk's got a ton of fence mending to do.
I did want to take some time thought to thank (I know, I know...serious moments are lame) Andy, Fidel and Rosie for putting themselves out there for Travis County Democrats. Win, lose or withdraw, you're all amazing people.
Posted by mcblogger at 01:50 PM | Comments (0) | TrackBack
Dallas : Bag the Trinity Tollway
(via Texas Cloverleaf)
Posted by mcblogger at 11:40 AM | Comments (0) | TrackBack
Iran : Russia and the US face off...
The US is working hard to get the UK on board with possible military action against Iran.
The Pentagon is keen to have the Royal Navy's cooperation in the event of an attack, to prevent Iran from introducing mines to the Persian Gulf to block oil exports in retaliation.

The White House and Downing Street would rationalize such an attack as a protective measure to protect troops in Iraq. But moderates in the US government are concerned that the counterterrorist justification can be used as a cover for military action that could escalate into all out war with Iran.
What they should be doing is effectively negotiating with the Russians. Except Condi and Bush are too dumb to do that.
Posted by mcblogger at 09:53 AM | Comments (0) | TrackBack
The Case of Mike McCaul and the fake Panel
Vince is, to say the least, spot on...
Number one, McCaul is wrong. The public and private sector have focused a lot of energy on protecting tech infrastructure from e-terrorists.

Number two, McCaul has to realize he's in trouble next fall if he is going out and creating Blue Ribbon Panels for himself to be involved in so that he can look important.
Let me go one further. Even if this little 'blue-ribbon panel' was real, the people on those are usually, you know, smart. McCaul is the last person I'd want on it, given that he's functionally a 'tard. How else can you explain his lock step voting record with our failure of a President. He'd probably spend all the panel's time working on a firewall to protect a Trash 80.
What a douche.
Posted by mcblogger at 08:56 AM | Comments (0) | TrackBack
Senator Pickles?
The lovely folks over at Belo's Trailblazer blog have a bit of comedy up on the site...
CNN just ran a piece speculating that First Lady Laura Bush, fresh from forays into foreign affairs -- a Wall St. Journal op-ed denouncing the anti-democracy crackdown in Burma, a Middle East trip to promote breast cancer awareness and rebuild America's image – might foreshadow an interest in elective office.

CNN noted that Sen. Kay Bailey Hutchison plans to give up her seat by 2012. Texas Republican National Committeeman Bill Crocker was on camera saying that Mrs. Bush is so popular, she'd be a strong contender for the Senate if she wants it.

The CNN headline on the story: "Signs Laura Bush may run"
Rock! Running against her will be a blast! I can see the campaign slogan now... Laura Bush : The Bush who still drinks!
Yeah, even in Texas the last name Bush is going to be a non-starter for a long time.
Posted by mcblogger at 12:27 AM | Comments (0) | TrackBack
October 30, 2007
CradDICK whines about the trials
The big, bad, mean 'ol trial lawyers are out to get CradDICK. According to CradDICK, who has decided to implement a strategy of calling himself a martyr. And everyone is laughing at the goofy old man whose paranoid ravings are about as crazy as Kucinich's visits with aliens.
Tom, that breath you feel on the back of your neck isn't from some trial lawyer trying to stop corporate abuse. It's the breath of Texas voters, the vast majority of whom (regardless of party) ARE out to make sure you NEVER sit on the dais again.
Posted by mcblogger at 07:50 PM | Comments (0) | TrackBack
Cleland v. Chambliss... the rematch?
Saxby Chambliss (R-Chickenhawk) beat Sen Max Cleland in 2002 due mostly to a series of ads that questioned Cleland's patriotism and called him everything, including Osama bin Laden's best friend. Cleland lost both legs and one arm as a result of his service in Vietnam. Saxby didn't serve in the military. He didn't have to because of people like Max.
Needless to say, Chambliss isn't someone you'd want to dine with. He'd probably stab you with a fork, blame the terrorists and then accuse you of cooperating with them. The interesting thing is that someone is doing polling on a rematch for next year... and Chambliss could be in trouble.
A new

InsiderAdvantage/Majority Opinion

survey in Georgia finds that a rematch of Sen. Saxby Chambliss (R-GA) versus former Sen. Max Cleland (D), who lost to Chambliss in 2002, might be the Democratic Party's strongest hope for reclaiming the Senate seat.

The poll found Chambliss leading Cleland 36% to 24%, with 40% undecided.

Said pollster Matt Towery: "The key to this survey versus other surveys that have been conducted with other potential U.S. Senate candidates is that when you add Cleland to the mix, the undecided vote soars, leaving Chambliss well below the 50 percent mark."
Wonder if people in GA realize that good ole Saxby voted to allow the Administration to tap their phones?
Posted by mcblogger at 02:00 PM | Comments (0) | TrackBack
Even the Brits have dumb judges
A British judge has ruled that An Inconvenient Truth is not science. IBD recaps the take down without a bit of critical thinking.
Gee, Justice Burton, we knew about the islands being evacuated that have subsequently been swallowed by the sea. We blogged about it. The problem with the argument that the movie isn't science is flawed by the notion that it's a legal argument being made. It's not. The film is a documentary and all the evidence used to make it is available from the producers and their company. Not to mention on the web with just a bit of research.
Actually, let's take a look at just one more of Justice Burton's mistakes...
Error 3 - This one is pretty easy since the gulfstream depends on a delicate balance of salinity and temperature to drive it. Should that be altered by higher levels of freshwater or higher/lower temps in the wrong zones and the current COULD shut down rapidly. We just don't know and the point of the movie was to show it was something that warming could make happen. Could 'slow down' in his 'expert' opinion? Ha. I love me some judges but when it comes to climate science the last person I'm going to listen to is a JD. I read the IPCC report... 'slowdown' was the best we could expect.
Now, take a look at what Justice Burton posted above and then consider why a judge should never be the one deciding something like this. Specifically, look at Errors 5-7 and Burton's rebuttal. When WILL they start teaching Occam's Razor to the kids in law school?
Posted by mcblogger at 10:43 AM | Comments (0) | TrackBack
Catching a killer
I heard about this last night while doing something I rarely, if ever, do... watching local news. They said the Kilgore KFC murders had been solved. Color me confused as well. I knew there was a place called 'Kilgore' since I went to some kind of weirdo oil field museum there as a child. Given the existence of a strange small town in East Texas, it can be generally assumed it has a KFC. None of that was really throwing me off, it was the talking head referring to the murders as 'solved'. Actually, it sounds like the killer just confessed.
On Sept. 23, 1983, five people were abducted from a Kentucky Fried Chicken during a holdup in Kilgore. Their bodies were found the next day along an oilfield road in Rusk County, about 15 miles from the restaurant. Four of them were restaurant employees, the fifth one of their friends.

On Monday, Romeo Pinkerton, 49, right, pleaded guilty to the five deaths as a part of a plea deal that will save his life, but for which he will have to serve five life sentences. The victims' families approved the deal.

Pinkerton and his cousin, Darnell Hartsfield, were accused in the killings. Hartsfield is expected to stand trial next year.
If I'm ever kidnapped I'd really like to ask for the following...
1) Not to have these bumbling cops on the case. 24 years to solve this and in the end the guy turns himself in?
2) That it not be from a KFC. I really have more than enough to hide... I don't need people to know about my repulsive fast food addiction.
3) That my kidnapper/would-be murderer be a little easier on the eyes.
Posted by mcblogger at 09:54 AM | Comments (0) | TrackBack
Roundup time in the TPA 10/30
It's Tuesday, and that means it's once again time for the Texas Progressive Alliance Blog Round-Up. This week's round-up is compiled, as always, by Vince from Capitol Annex.
Refinish69 from Doing My Part For The Left is outraged with certain politicians in Fort Worth,Texas. Homophobia Rears Its Nasty Head in Fort Worth City Council Race tells who is being a jerk and how to contact one of them.
Muse was at Armando Walle's campaign kick-off and reports why it's time for a change in Texas House District 140. Kevin Bailey (Craddick D) has been serving Craddick and not the district. Walle, who is from the district and has a proven track record of service and leadership, already has a large group of supporters lined up to help him take back 140 for the people.
Phillip Martin of Burnt Orange Report provides a detailed chart and analysis updating what's going on with the Craddick D's. The post brought forward an interesting reader response as well.
TXsharon at Bluedaze gives the Texas Railroad Commission Protection Money Breakdown. and makes it easy for you to take action. So, please take that action before you become the next victim of RRC Malpractice.
Hal at Half Empty wonders whether FEMA has finally taken a page out of George Orwell's book when they held a 'news conference' this past week without a single journalist in attendance.
WhosPlayin notes that he would gladly pay the $13.30 per year per person to pay for SCHIP.
McBlogger takes a look at the strange world of Focus on the Family and the very odd people that attended their Values Voters conference.
CouldBeTrue at South Texas Chisme notes that Perry appointed a public corruption figure to the UT System Board of Regents.
Johncoby at Bay Area Houston finds the highest and lowest costs for electricity in the Houston area. Power Watch: Highest and lowest electricity rates for November.
Stace at DosCentavos features the trailer to the upcoming Jesse Salmeron film, This Is America. "This is America" is the story of a family torn apart by deportation.
NatWu at Three Wise Men exposes the truth about why we need Net Neutrality, especially with all the recent Telecom shenanigans.
North Texas Liberal's Texas Toad gives a breakdown on the factions of the "Trinity Vote" in Dallas Weighs Pros and Cons of Trinity Toll Road.
WCNews at Eye On Williamson wonders What Will John Carter's Excuse Be This Time For Voting Against Health Care For Children?
Off the Kuff gives his recommendations for the state and local bonds and propositions.
NYTexan at BlueBloggin asks how many wars and how many enemies can Bush have?
Vince at Capitol Annex notes that Tom Craddick has borrowed a page from Warren Chisum in announcing that trial lawyers were behind efforts to remove him during the 8oth Legislative Session and wonders why, since he reported it some months ago, it is suddenly "news" to the mainstream media.
In the wake of the Houston Chronicle's announcement of a "position-elimination program", PDiddie at Brains and Eggs recounts his personal experience with Hearst newspapers, budgets, and staff cutbacks in The Trouble with the Newspaper Bidness.
Posted by mcblogger at 09:03 AM | Comments (0) | TrackBack
Fox Financial News Anchor or Porn Star?
Go take the quiz at Radar... I only scored 5/10.
Posted by mcblogger at 01:23 AM | Comments (2) | TrackBack
There are smart people in Longview
And one of them is named Sarah White...
Rep. Louie Gohmert, R-Tyler, was one of the members of Congress who voted against SCHIP reauthorization this month — despite recent polls showing about 80 percent of Americans support it nationwide.

Gohmert declares, "Low-income children should not be left without health care ..." But he excuses his no vote by criticizing "earmarks" in the bill and claiming that it "included a dramatic expansion of the program to many children who are not from poor families ..."

I guess it all depends on what you mean by "poor." A single parent with one child who makes $13,690 per year qualifies as poor

in America. That child would actually qualify for Medicaid. But CHIP was designed for children from families whose incomes are just above that level — it subsidizes private coverage for low-income working families so that kids can go to a primary-care physician, not just the ER. Earmarks, unfortunately are routinely added to all kinds of bills for such pork-barrel projects as Alaska's infamous "Bridge to Nowhere." Congress could and should end the practice of earmarks altogether — as one of several necessary steps to make itself accountable to voters again. But they make a lame excuse for voting against SCHIP.

Gohmert and others seem to be trying to scare us Americans into just accepting the status quo — expensive and inequitable private health insurance policies (if you can get one). Yet you don't hear them propose abolishing the generous government plan for their health care — a plan most Americans would feel fortunate to have.

Remember when the insurance industry first rolled out HMOs in the 80s? They promised that we would enjoy lower health care costs — and it would be easier to get in to see the doctor.

Instead, costs have soared and today's health insurance industry has become a gargantuan gatekeeper — fighting to keep our health care claims from storming the castle and raiding its treasure.

Gohmert claims that the Democrats "have taken the SCHIP program designed for poor children and used it to expand Hillary-care to unbelievable proportions." This 'ad feminem' attack seems to refer to his objection that states could enroll children of families who earn up to three times the poverty level. That's still only a total of $41,070 for a single parent and child to live on — and it may take a fourth of that to pay for private health insurance.

If recent history is any guide, the cost of private insurance will keep going up — and more working and middle class people will be unable to buy it. Yet anything that could cut into profits for the financial sector will usually get labeled "socialistic, communistic" or downright left-handed by some detractors.

Despite the mudslinging against so-called "Washington-controlled" health care, there's nothing really so scary about a government-supported health care program. Since the 1960s Medicare has helped secure health care for America's seniors. Our children deserve the same kind of concern.
Won't someone, ANYONE, run against the absurdly stupid Gohmert?
Posted by mcblogger at 12:11 AM | Comments (0) | TrackBack
October 29, 2007
Tolls : TURF wins!; TXDoT to slow down 35 and more
TURF won, obtaining a continuance in the suit to force TXDoT to back off their TTC propaganda campaign...
Judge Orlinda Naranjo granted Texans Uniting for Reform and Freedom (TURF) a continuance allowing TURF to move to the discovery phase and depose top Transportation Department (TxDOT) officials, including Transportation Commission Chairman Ric Williamson himself. Allowing discovery is vital for TURF to force TxDOT to hand over key documents that they've been withholding via Open Records requests. TURF is seeking to immediately halt the illegal advertising campaign and lobbying by TxDOT.
Of course, they've also been busy down in SA
With a U.S. 281 tollway plan racing toward the finish line, critics Monday filed yet another lawsuit they hope will slam on the brakes.

This time, they went to a federal court in San Antonio and reached back to the First and 14th amendments of the Constitution, which protect freedom of speech and provide equal protection under the law.

The lawsuit seeks to remove non-elected officials from the Metropolitan Planning Organization board and to ban Sheila McNeil, a city councilwoman who serves as chairwoman, from squelching some discussions on toll issues.

"The people of Texas are fed up with out-of-control, abusive government," said Terri Hall of Texans Uniting for Reform and Freedom. "This is taxation without representation."
Congratulations to Terri and Hank!
Sal Costello has come across some interesting information regarding a plan to make the 130 Tollway more competitive with the 35 Freeway, by dropping the speed on 35.
The Texas Department of Transportation (TxDOT) has agreed to consider lowering the maximum speed limit on a stretch of interstate highway that competes with a planned toll road. Cintra-Zachary, a joint Spanish-US venture, paid TxDOT $1.3 billion for the right to collect tolls on 40-miles of State Highway 130 set for construction beginning in 2009. Although TxDOT suggested that free market competition was part of the goal of using a public-private partnerships to construct and operate roads, the contract it signed on March 22 to construct this portion of SH130 was specifically designed to limit the desirability of alternate, free routes.

"The compensation amount owing from TxDOT to Developer on account of the competing facility shall be equal to the loss of toll revenues, if any, attributable to the competing facility," the contract states. (11.3.2.1)
Yeah, we knew this was going to happen. Granted we didn't see them dragging down speeds, we just thought they'd stop the state from making improvements to 35 which the poorly written and negotiated contract obviously allows. Of course, we have our BRILLIANT Texas Transportation Commission to blame for that. Which is why you never let a Republican negotiate... they'll give concessions that aren't even necessary.
There a couple of great articles on privatization over at the TTC Blog...this one from Newsweek and this one from Time. The gist? Privatization is still rolling along and it's not all it's cracked up to be. Of course, people have to learn one way or another that the taxes they currently pay aren't keeping up with the paying for the services they demand. Which is exactly what people in 1980 predicted Reagan would start.
Posted by mcblogger at 06:26 PM | Comments (0) | TrackBack
Checking up on the Iscariot Caucus
Phillip at BOR has a post up about what's happening with the Iscariot Caucus. Apparently, only 5 five remain solidly behind CradDICK, many have primary opponents and a few have come back from the dark side.
Posted by mcblogger at 01:08 PM | Comments (0) | TrackBack
Analysis : Jindal's win means Landrieu is in trouble
Part of the electoral math that plays into a 60+ D Senate Majority in January, 2009 is retaining all Democratic seats up for re-elect.
That may not happen, given the results of LA's gubernatorial primary last week which saw Former Rep. and Bush Apologist Bobby Jindal functionally elected in a traditional LA free-for-all primary with 54% of the total vote. How will this effect Landrieu? It isn't that R's have made massive gains in LA, it's that the D's haven't recovered from Katrina...
And next year the Democrats' top officeholder, Ms Landrieu, looks like facing an uphill battle. When she was last elected, in 2002, she won in large part thanks to a landslide in her home city, heavily Democratic New Orleans. Whereas the city's predilections haven't changed dramatically, its size has, and its electoral significance along with it. In 2002 almost 133,000 New Orleanians voted in the Senate race. On October 20th less than 60% of that number turned up at the polls, a sign of the city's post-Katrina shrinkage. Ms Landrieu won New Orleans by almost 80,000 votes in 2002, twice her overall margin of victory. This time, that was more votes than all the candidates got combined in the city that was once the alpha and the omega of Louisiana politics.
Posted by mcblogger at 10:07 AM | Comments (0) | TrackBack
More on the US Attorney scandal
Congress is continuing it's hearings and a Republican former AG dropped Bush and his minions in the grease...
Richard L. Thornburgh, who served as attorney general under Presidents Ronald Reagan and George H.W. Bush, accused the Justice Department yesterday of prosecuting a prominent Pennsylvania Democrat for political reasons, one of a series of cases singled out by House Democrats as examples of alleged GOP meddling at the Justice Department.

Thornburgh, who served as attorney general from 1988 to 1991 and whose law firm represents Cyril Wecht, a nationally known coroner from Pittsburgh, testified yesterday that Wecht had been indicted for mail fraud and a "hodgepodge" of other charges by overzealous prosecutors keen on pleasing political appointees in Washington.

"He has always been a contentious, outspoken, highly critical and highly visible Democratic figure in western Pennsylvania," Thornburgh told the House Judiciary Committee. "In other words, he would qualify as an ideal target for a Republican U.S. attorney trying to curry favor with a department which demonstrated that if you play by its rules, you will advance."
Posted by mcblogger at 09:05 AM | Comments (0) | TrackBack
October 28, 2007
Peak Oil was last year?
Yes, according to a report in The Guardian (via ELLN)
World oil production has already peaked and will fall by half as soon as 2030, according to a report which also warns that extreme shortages of fossil fuels will lead to wars and social breakdown.

The German-based Energy Watch Group will release its study in London today saying that global oil production peaked in 2006 - much earlier than most experts had expected. The report, which predicts that production will now fall by 7% a year, comes after oil prices set new records almost every day last week, on Friday hitting more than $90 (£44) a barrel.

"The world soon will not be able to produce all the oil it needs as demand is rising while supply is falling. This is a huge problem for the world economy," said Hans-Josef Fell, EWG's founder and the German MP behind the country's successful support system for renewable energy.

The report's author, Joerg Schindler, said its most alarming finding was the steep decline in oil production after its peak, which he says is now behind us.

Can we please move on from crap about drilling our way to energy independence and supply, a la this little retard decorator?
Posted by mcblogger at 12:04 PM | Comments (0) | TrackBack
October 27, 2007
You just know this will be at Whataburger soon
From Forbes
CKE's Hardee's began serving its new Country Breakfast Burrito to the dismay of health nuts everywhere. The so-called breakfast sandwich contains bacon, sausage, ham, cheese, potatoes and gravy. With 920 calories and 60 grams of fat the sandwich accounts for approximately two-thirds of an average person's daily caloric intake, according to the U.S. government's Center for Nutrition Policy and Promotion.

St. Louis-based Hardee's makes no apologies for its new burrito. Marketing chief Brad Haley said: "The burrito offers the sort of big breakfast item normally found in sit-down restaurants with an added advantage. It makes this big country breakfast portable."

But health advocacy groups disagree. Jayne Hurley, the senior nutritionist of The Center for Science in the Public Interest called the burrito "another lousy invention by a fast-food company."

"We don't try to hide what these are," said Haley. "When consumers go to other fast-food places they feel like they've got to buy two of their breakfast sandwiches or burritos to fill up. This is really designed to fill you up." Hardee's is known for marketing to young males whose primary concern is for size and taste, not nutrition. Products like the Monster Thickburger are not intended for the health conscious consumer.



'Really designed to fill you up' and make you a giant fatass.
Posted by mcblogger at 10:45 AM | Comments (0) | TrackBack
October 26, 2007
The Jena 6 : When not everything is as it appears
I've held off on posting anything about this because it was hard to get my head around some things. In fact, it still is. Granted, every place in this country has it's share of racist assholes, from Louisiana to Michigan (trust me, they're there) racism is national thing. However, it certainly seemed like a lot of them were living in the Gret Stet of Louisiana. An 'all-white tree'? Noose being used for decoration? Kids getting in fights because of color? Kids being indicted for attempted second-degree murder?
The biggest issue I had was simple... why were SIX kids beating ONE kid unconscious? Frankly, I don't care about the provocation. Six on one may be great for sex (no, I've never tried it) but not so much for a fight.
The Christian Science Monitor ran an article from someone who actually lives in Jena and writes for the Jena paper. After reading it, I'm almost certain that while well intentioned, he's a little clueless about how things are for blacks in Jena. The picture he paints is one of everyone being go-along, get-along which I don't think may be wholly accurate. The excuse regarding the noose hanging from a tree is really interesting...
Myth 2: Nooses a Signal to Black Students. An investigation by school officials, police, and an FBI agent revealed the true motivation behind the placing of two nooses in the tree the day after the assembly. According to the expulsion committee, the crudely constructed nooses were not aimed at black students. Instead, they were understood to be a prank by three white students aimed at their fellow white friends, members of the school rodeo team. (The students apparently got the idea from watching episodes of "Lonesome Dove.") The committee further concluded that the three young teens had no knowledge that nooses symbolize the terrible legacy of the lynchings of countless blacks in American history. When informed of this history by school officials, they became visibly remorseful because they had many black friends. Another myth concerns their punishment, which was not a three-day suspension, but rather nine days at an alternative facility followed by two weeks of in-school suspension, Saturday detentions, attendance at Discipline Court, and evaluation by licensed mental-health professionals. The students who hung the nooses have not publicly come forward to give their version of events.
Lonesome Dove? Yeah, right. However, this is where he starts making a good point... these kids got punished, despite their ridiculous story about razzing their shit-kicker friends, far worse than what was reported by the media which made it sound like they got a slap on the wrist.
Then there was the DA who 'threatened' the black students...
Myth 4: DA's Threat to Black Students. When District Attorney Reed Walters spoke to Jena High students at an assembly in September, he did not tell black students that he could make their life miserable with "the stroke of a pen." Instead, according to Walters, "two or three girls, white girls, were chit-chatting on their cellphones or playing with their cellphones right in the middle of my dissertation. I got a little irritated at them and said, 'Pay attention to me. I am right now having to deal with an aggravated rape case where I've got to decide whether the death penalty applies or not.' I said, 'Look, I can be your best friend or your worst enemy. With the stroke of a pen I can make your life miserable so I want you to call me before you do something stupid.'"

Mr. Walters had been called to the assembly by police, who had been at the school earlier that day dealing with some students who were causing disturbances. Teachers and students have confirmed Walters's version of events.
Stupid thing to say? Oh hell yeah, but largely typical of a powertripping asshole. Racist? Maybe or maybe not. You really can't tell from the accurate version of events. You could make the case for him being racist from his seeking attempted murder indictments for the six black kids. However, you could also say he was doing it because of the brutality of the attack which seems just as, on balance, likely. And the reality is, not all these kids were the saints they were made out to be...
Myth 10: Jena 6 as Model Youth. While some members were simply caught up in the moment, others had criminal records. Bell had at least four prior violent-crime arrests before the December attack, and was on probation during most of this year.
Bell is the one whose conviction was just overturned. Note these are arrests, not convictions. Juvenile records are usually kept closed so we don't know his conviction history. He was, coincidentally, the kid who started the attack.
Myth 11: Jena Is One of the Most Racist Towns in America. Actually, Jena is a wonderful place to live for both whites and blacks. The media's distortion and outright lies concerning the case have given this rural Louisiana town a label it doesn't deserve.

Myth 12: Two Levels of Justice. Outside protesters were convinced that the prosecution of the Jena 6 was proof of a racially biased system of justice. But the US Justice Department's investigation found no evidence to support such a claim. In fact, the percentage of blacks and whites prosecuted matches the parish's population statistics.
11 may be true, but coming from a white newspaper reporter it's hardly evidence. Just as the ultra rich think the economy is great and that gas price increases are nuisance, white folks in a small town usually don't see just how bad things are for their black neighbors. As for 12, who could argue with the Bush Justice Dept. Honestly, I'm surprised they had the staff to send out to investigate.
At the end of the day I still have questions. However, I finally have some answers and a clearer narrative. I know there is still racism in this country. And I know some will use it as a reason for violence.
Posted by mcblogger at 06:35 PM | Comments (0) | TrackBack
Oversight... Waxman at work
For those of you who, like me, have been disapointed in the Democratic Congress not taking on the Administration directly, the WaPo reminds us that investigations are ongoing. Lot's of them. And we have Henry Waxman to thank for finally forcing Congress to do it's job by checking Presidential power...
Waxman has become the Bush administration's worst nightmare: a Democrat in the majority with subpoena power and the inclination to overturn rocks. But in Waxman the White House also faces an indefatigable capital veteran -- with a staff renowned for its depth and experience -- who has been waiting for this for 14 years.

These days, the 16-term congressman is always ready with a hearing, a fresh crop of internal administration e-mails or a new explosive report. And he has more than two dozen investigations underway, on such issues as the politicization of the entire federal government, formaldehyde in Federal Emergency Management Agency trailers, global warming, and safety concerns about the diabetes drug Avandia.

"We have to let people know they have someone watching them after six years with no oversight at all," said Waxman, 68. "And we've got a lot of low-hanging fruit to pick."

Republicans have their share of complaints. They say that Waxman's staff cuts corners, plays "gotcha" with witnesses and committee Republicans, bypasses GOP staff members by interviewing witnesses rather than depositioning them, and would rather investigate than legislate. But even some of them speak with grudging admiration.

"For the administration, and for a lot of others, people need to be careful now," said Rep. Thomas M. Davis III (Va.), the ranking Republican on the committee. "Someone is looking over their shoulder."

Republicans and Democrats say that Waxman has marshaled three ingredients from his staff -- tenacity, experience and loyalty -- to make it one of the brightest spots on the new Congress's otherwise mixed record. The number of Democratic staff members has doubled, to about 75, since the party took control. About 25 investigators make up the core of Waxman's team.
We all have to remember that oversight is a painstaking process and the American people are lucky to have someone like Henry Waxman taking on the task. When the final chapter is written in the book on the history of Republican incompetence during this era, it'll be Waxman who comes out the hero. Not just for saving taxpayers billions, but by taking those responsible to task for their illegal actions.
Posted by mcblogger at 12:08 PM | Comments (0) | TrackBack
Democrats roll out S-CHIP, Part 2
With some slight modifications to make Connecticut native George W. Bush and his Republican killjoy's happy, the Democrats are advancing S-CHIP v. 2.1
Just one week after failing to override President Bush's veto, House Democrats will put a new version of their $35 billion expansion of the State Children's Health Insurance Program to a vote today, hoping that minor changes will win enough Republicans to beat Bush this round.

The new version will underscore that illegal immigrants will not have access to the expanded program. It will ease adults off the program in one year, rather than the two in the vetoed version. And it establishes a firmer eligibility cap at 300 percent of the federal poverty line, just more than $60,000 for a family of four.

The move took Republican leaders by surprise. Bush administration officials yesterday voiced conciliation, suggesting the president could accept legislation that would expand the program by about $20 billion over five years, far bigger than the $5 billion expansion that Bush initially proposed. At the same time, Health and Human Services Secretary Mike Leavitt has been meeting with House and Senate Republicans, urging them to hold the line against an even larger bill. And Bush continues to oppose the tobacco tax increase that Democrats want to fund the measure.

House Majority Leader Steny H. Hoyer (D-Md.) has been meeting all week with some of the 45 House Republicans who voted for the first bill, looking for ways to win the dozen or so votes that supporters needed to override another veto. But Democratic leaders have yet to reach out to the Republicans who voted against the measure.

"When they need my vote, they don't even have the courage to ask me for it," complained Rep. Ric Keller (R-Fla.), who has suffered through a barrage of advertisements from Democratic allies accusing him of forsaking children.
Oh, Congressman Keller... you have no idea how bad it can get. Think those ads are bad? Just wait for the ones that'll roll next summer. Real tear jerkers.
EOW wants to know how fatass John Carter is going to vote (oh, don't look at me that way... bitchboy is starting to look like a bleached out version of Rerun from What's Happening!) and I want to know how Mike McCaul (R-ClearChannel Communications) will be voting. Will Mike vote for the health of children AND lower property tax bills for his constituents, or will he vote to make some idiot from Connecticut happy?
People are watching...
Posted by mcblogger at 09:09 AM | Comments (0) | TrackBack
Welcome to a new member of the team!

We're pleased to announce that Fry Kid has joined us here at Team McBlogger where he will use his detailed knowledge of everything to delight and entertain you.
Or, maybe he'll piss you off. I told him that was OK as well.
Posted by mcblogger at 08:03 AM | Comments (0) | TrackBack
October 25, 2007
GOP: Not just stupid...really fucking stupid
A recent Rasmussen poll revealed that in a 3-way Clinton-Guliani-Colbert match up, Steven Colbert would net 13% of the vote (about the same amount any "well known" 3rd party candidate would get, according to Ed Kilgore ). The kicker is that Colbert is pulling more support from Guliani than he is from Hillary.
To quote the Democratic Strategist:
Are there actually a lot of Colbert viewers who don't understand that his Fox Bloviator shtick is a joke? Or is Rudy benefitting from a hitherto-undiscovered segment of the electorate that doesn't understand he's dead serious?
Posted by Fry Kid at 05:13 PM | Comments (0) | TrackBack
Rangel's tax bill : EXCELLENT WORK
FINALLY, the Democrats roll out a great tax bill that fixes the AMT, closes corporate loopholes (while dropping corporate rates a little to keep job growth good) and fairly distributes the tax burden by cutting taxes on the middle class and raising them on the rich and super rich.
Under the plan unveiled today, tax burdens would be altered through an array of changes affecting ordinary households and businesses. Some of the highlights:

* Eliminate the Alternative Minimum Tax. This proposal is intended to prevent the AMT from hitting 23 million households this year. The AMT was imposed in the late 1960s to make sure that the wealthiest Americans paid at least some tax, but it has applied to a growing number of households because it is not indexed for inflation. Given the difficulty of passing his overall plan, Rangel plans to move forward with a short-term bill to defuse the AMT for this year.

* Impose a surcharge on higher-income people. The most affluent taxpayers, earning at least $200,000 for couples filing joint returns, would face a new surcharge of 4%, moving up to 4.6% for those earning over $500,000.

* Reduce the corporate income tax. The top rate for the corporate income tax would fall from 35% to 30.5%, a move supported by the Bush administration to enhance U.S. competitiveness. At the same time, the plan would seek to end a range of provisions that Rangel views as loopholes.

* Ease burdens for working families. To accomplish this, the plan would increase the standard deduction, make the Earned Income Tax Credit for the working poor more generous, and increase the amount of the refundable child tax credit.

* Increase taxes for managers of private-equity funds, the investment pools that often buy publicly traded companies and take them private. Executives of these funds have claimed earnings at a 15% capital gains tax rate, rather than the 35% they might otherwise pay for ordinary income. Rangel said today that such favorable treatment was not justified.
Stick with this plan, Democrats. Across the board. No one listens to the Republicans tax policies. Why? Because they are all geared toward income stratification (concentrating money with the richest Americans). Further, we have got to start paying the debt and reining in future deficits which are about to balloon back up because of the Bush tax cuts. It's the only way to secure the long term future of the United States.
Now we'll be able to talk about infrastructure improvements and securing entitlement programs, two things that'll help the economy and business more than a tax cut.
Fantastic job, Congressman Rangel!

Posted by mcblogger at 01:21 PM | Comments (0) | TrackBack
Irrelevant Republicans?
Michael Crawford over at Bilerico Project has a great post up about whether or not the Republicans will learn their lesson before they become completely irrelevant.
The Value Voters Summit showed just how out of the mainstream the Republican Party has become after decades of pandering to the increasingly extreme views of white conservative evangelicals who place a greater value on tax cuts for the wealthy, bashing gays, vilifying anyone with skin darker than former KKK member David Duke and cheerleading the Iraq war than on solving issues around poverty, joblessness, HIV/AIDS and global climate change. Meanwhile, President Bush has vetoed a bill that would have increased the number of poor kids who have access to medical care while asking for $46 billions more for his failed war.

The conference attendees also spent an inordinate amount of time deifying former president Ronald Reagan in clear violation of the first commandant which states: I am the Lord your God. You shall have no other gods before me.
Your Ad Here

More important is the refusal of the GOP to evolve as our nation becomes increasingly diverse and as the global economy increases the need for diplomacy and international cooperation over America's big stick. The GOP continues it blind obsession with the straight male voters at its own peril.
Posted by mcblogger at 11:53 AM | Comments (1) | TrackBack
Help us help the children
Well, sort of, in a rather circuitous way. By donating to these worthy Democratic causes you can help children around the United States. Your pennies a day, less than the cost of a cup of coffee, will help elect Democrats who will help the children in America. For less than the cost of your after work tallboy at 7-11, you can help elect people who actually care about their constituents. So, take a moment and do something for your kids and the ones I hope to purchase (if I can find a variety that haven't already been adopted by some ridiculous celebrity).
TexBlog PAC is having a fundraiser in Houston next week!


Monday, October 29th, 2007 - 5:30 to 7:30 pm


At the Home of David Mincberg


5406 Braeburn, Bellaire, 77401


For additional information, or to sponsor the event, call Charles Kuffner at 713-825-0013.


Contributions and sponsorships can be completed online.

TDP is asking for a help in raising $6,000 for candidate recruitment and training to take the 6 seats we need for a majority in the Texas House of Representatives. From Boyd Richie...
I am writing today to ask for your assistance in raising $6,000 online to help win those six seats, take back the House in 2008 and elect more Democrats up and down the ballot. I'll give you my word: every dollar we raise in this effort will go toward training Democratic candidates to run winning campaigns.
Won't you please help? Help the children?
Posted by mcblogger at 09:30 AM | Comments (0) | TrackBack
Obama and Hillary stick with Dodd
At least, on immunity for the illegal actions of some telecom companies they are supporting Dodd.
Posted by mcblogger at 08:48 AM | Comments (0) | TrackBack
Weak sisters kill a DREAM
Well, the cloture vote on the DREAM Act failed... Dos Centavos has the deets. Honestly, this is really getting old. Has anyone thought about what we're going to do when these dummies get their way and remove 11 million people from the workforce?
Republicans (and a few D's) are really, really stupid.
Posted by mcblogger at 12:13 AM | Comments (0) | TrackBack
October 24, 2007
Since when do kids have checking accounts?
Oh, this is a little insane... apparently, the children of wealthy donors are becoming big contributors to campaigns in what appears to be an effort to skirt campaign finance laws.
Elrick Williams's toddler niece Carlyn may be one of the youngest contributors to this year's presidential campaign. The 2-year-old gave $2,300 to Sen. Barack Obama (D-Ill.).

So did her sister and brother, Imara, 13, and Ishmael, 9, and her cousins Chan and Alexis, both 13. Altogether, according to newly released campaign finance reports, the extended family of Williams, a wealthy Chicago financier, handed over nearly a dozen checks in March for the maximum allowed under federal law to Obama.

Such campaign donations from young children would almost certainly run afoul of campaign finance regulations, several campaign lawyers said. But as bundlers seek to raise higher and higher sums for presidential contenders this year, the number who are turning to checks from underage givers appears to be on the rise.

"It's not difficult for a banker or a trial lawyer or a hedge fund manager to come up with $2,300, and they're often left wanting to do more," said Massie Ritsch, a spokesman for the Center for Responsive Politics. "That's when they look across the dinner table at their children and see an opportunity."
And don't worry, Republicans... you people are doing it as well...
A supporter of former Massachusetts governor Mitt Romney (R), Susan Henken of Dover, Mass., wrote her own $2,300 check, and her 13-year-old son, Samuel, and 15-year-old daughter, Julia, each wrote $2,300 checks, for example. Samuel used money from his bar mitzvah and money he earned "dog sitting," and Julia used babysitting money to make the contributions, their mother said. "My children like to donate to a lot of causes. That's just how it is in my house," Henken said.
My checking account, which I opened at 12 with my Dad, never had more than $500 in it. What the hell kind of dog is little Samuel 'sitting' for? And they consider Romney a 'cause'? Bet these two are a barrel of laughs with their peers.
As always, the WaPo finds a MOTO to really hammer the point home. For those whose brains don't work...
"What's driving it is a desire by maxed-out donors to max out on their maxing out," said Fred Wertheimer, president of campaign finance reform organization Democracy 21, who sought, unsuccessfully, to outlaw child donations five years ago. "More often than not, you're dealing with people who are simply trying to circumvent the limits of what they can give."
No... really?
Posted by mcblogger at 01:34 PM | Comments (0) | TrackBack
TPJ : Austin's Spendthrift City Council
With the city council elections coming up next year, it's worth talking about all the great incentives that our marvelous city council has lavished on companies that promise to move or expand here. Simply put, as this TPJ report discovered, the incentives cost Austinites more than $100 mm and, as it turns out, weren't even necessary.
In August, city development staff made a presentation to a subcommittee of the Austin City Council on existing incentive agreements. Council members wanted to review the effectiveness of this program. The presentation estimated that the city had committed itself to $80 million in development incentives. Yet a Texans for Public Justice review of the underlying agreements found that this estimate omitted at least $37 million of program costs, including subsidies from city-owned Austin Energy and rebates of city fees.

The total $117 million cost of the city's incentive deals is equal to the city giving away the average annual property-tax revenue for 128,635 homes.3 The city says it must divert some public funds from such public assets as parks, libraries and public safety programs to entice private businesses to generate jobs and economic growth.

Yet the city counts torrid growth among its most urgent challenges and it even earmarked $5.4 million of its 2008 budget for managing this growth. For the foreseeable future, businesses will continue to invest in Austin en masse without a publicly subsidized handout. While depressed areas can make an argument for such incentives, does publicly subsidized growth constitute smart growth in the Live Music Capital of the World?
Let's be honest... if the economy in Austin were in the toilet (it isn't) or our citizens were a bunch of uneducated trash (they aren't) or if Austin was a relatively high tax area (which it sooo isn't) then abatements would make sense. However, none of that is true and that's why giving the abatements just to give them is stupid, short sighted, and (probably the most offensive) VERY anti-capitalist.
Check out the rest of the article for information on companies that either came here or expanded without the incentives. And of course, the most offensive of the abatements, the one for the Domain. Unfortunately, bad tax policy and ridiculous development incentives aren't limited to Austin. Even Hutto has been touched by them.
EOW a few weeks ago posted about the City of Hutto granting a massive tax break to the Carmel Creek developer. The funniest thing is the idiot Hutto Mayor Love (via the AAS)...
Hutto approves incentives to retail developments on a case-by-case basis, City Manager Ed Broussard said. The recently approved package provided the city leverage in reaching a separate agreement that gives it more control over landscaping, parks and other infrastructure on the site, he said.

Giving up a portion of the sales tax was necessary for Hutto, Love said.

"If the complex wasn't there, what sales tax would we have?" he asked.M
Hutto is rapidly expanding due to cheap housing and the higher relative cost of living in Travis and Southern WillCo. Since people are moving there, retail is going there as well. Because retail goes where the people are. Retail should never receive abatements. That's the dumbest thing I've ever heard.
Mayor Love, much like some of our leaders in Austin, you don't understand how and when incentives should be used. You're like very green salesman, willing to give up everything just to close the sale and then finding excuses as to why it was a great deal. Problem is, there's always someone better and smarter than you to burst your dumb little bubble.
Posted by mcblogger at 10:37 AM | Comments (0) | TrackBack
Roundup time in the TPA
It's another week and that means it's time to show some love for the best posts from the members of the Texas Progressive Alliance for the preceding week. Check out the best that the Alliance has to offer, brought to you this week by Vince at Capitol Annex.
PDiddie at Brains and Eggs has an advance of the Max Cleland-Karl Rove debate, coming up this Friday, October 26.
Diarist Scott Cobbat Texas Kaos updates us on the growing movement to hold rogue Judge Sharon Keller accountable for her callous disregard for the responsibility of the Appeals court while she displays her intoxication with its power.
State Senator Craig Estes, Senate District 30, was given numerous examples of Texas Railroad Commission malpractice, negligence, incompetence and cronyism at his recent Town Hall Meeting in Wise County. TXsharon at Bluedaze asks: Will Senator Estes Investigate the RRC's Malpractice?
Adam at Three Wise Men looks into the future to give us his expert opinion on the 2010 Texas Gubernatorial race.
McBlogger has been keeping a watchful eye on what's happening in Congress with FISA expansion.
At Half Empty, Hal ponders the question: which Republican candidate can the evangelicals support for President?
Muse vs. State Senator Eltife. A whole lotta safe sex going on or should the the State of Texas get involved in adults getting free condoms on campus?
Todd Hill at Burnt Orange Report interviews Dan Barrett, the only Democrat in the special election race for HD 97 in Fort Worth.
WCNews at Eye on Williamson reports on some unbelievable statements made by County Commissioner Cynthia Long on the children that are being detained at the T. Don Hutto facility in Taylor, Texas.
Vince at Capitol Annex takes a look at a State Representative, Fred Brown (R-Bryan), who has scheduled an oversight hearing of an agency that is investigating his business partner.
Bradley at North Texas Liberal celebrates one of the first and only times Sen. John Cornyn has been on the right side of the issue: securing H-2B visas for seasonal workers and joining with Sen. Barbara Mikulski of Maryland to help save small business... at least for another year.
Are government emails covered by open record laws? Off the Kuff takes a look.
CouldBeTrue at South Texas Chisme wonders if a Dallas minister will lose his church's tax exempt status by slamming Mitt Romney because 'he's not a Christian.'
Nytexan at BlueBloggin wonders why Homeland Security purchases products from China when Americans industry is disappearing and jobs are declining.
The Texas Cloverleaf looks into the pending libel and slander lawsuit against Dallas Republicans, including State Rep. Tony Goolsby.
Gary at Easter Lemming Liberal News updated on political news and gossip in the Pasadena area. Like most gossip one item was wrong.
Think arbitration is fair? Think again. John Coby at Bay Area Houston notes that the bottom line from the data is clear. In the nearly 20,000 cases where NAF [National Arbitration Forum] reached a decision, First USA prevailed in an astonishing 99.6 percent of cases.
Refinish69 at Doing My Part For The Left thinks Texas State Senator Kevin Eltife Needs Some Education.
Posted by mcblogger at 09:05 AM | Comments (0) | TrackBack
October 23, 2007
Britney. Arrested. Again.
This time, it's for hit and run...
The charges stem from an Aug. 6 wreck during which paparazzi filmed Spears steering her car into another vehicle as she tried to turn into a spot in a Studio City parking lot.

The video showed her walking away after assessing the damage to her own car.

The owner of the other car, Kim Robard-Rifkin, filed a police report three days later.
Would someone please just beat this bitch down?
Posted by mcblogger at 02:51 PM | Comments (0) | TrackBack
Yes, Kay Granger SHOULD know better...
...than to vote to sustain Bush's veto on S-CHIP.
Of course, she should also know better than to give people a recipe for liquid ass.
Posted by mcblogger at 01:38 PM | Comments (0) | TrackBack
Early Voting (or, Is it Fall already?)
Early voting started yesterday apparently and we missed it. If you're in the Austin area, just go to Randalls and be done with it. You can also pick me up a pack of cigarettes while you're there (I LOVE holding up the line for cigarettes... it's SOOO annoying).
If you're looking for how to vote, EOW has some great links up to a variety of sources (I would totally plagiarize but I haven't got that kind of time). Here's how I'm voting...
1-3 YES
4-6 NO - Prop 5 is the dumbest. No more tax breaks for businesses. If your business plan only works through some ridiculous tax scheme, then you need to reprice and increase your margins.
7-11 YES
12 - Road Bonds. NO. Is accountability just not an issue for you folks? General revenue? Come on. The Lege and the Lege alone needs to fix transportation financing, especially before we give the state the authority to issue another $5 bn when the first $3 bn we authorized a few years ago hasn't even been issued. Oh, and let's not forget the unreliability of the Texas Transportation Commission's numbers regarding the funding gap and the fact that TXDoT's estimate is based on what it cost to eliminate all congestion, all the time.
Nah, vote against this turkey and let the Lege know that it's time for real solutions, not gimmicks.
13-15 NO. The possibility of abuse is too great on 13. 14 gets tired, old people off the bench (let's be honest, some of these folks have to have one foot in the grave before they'll leave). 15 is a slush fund for 39%, just like the Texas Enterprise Fund we approved a few years back. Not to mention that we'll be paying over $1.6 Bn in interest on these bonds and that $3 bn is a drop in the bucket compared to what's being spent elsewhere. What about just budgeting the money with the surplus?
16 - NO. I'm so glad they saved this for last... this is the 'Shitty Developer Bail-Out Amendment'. Basically, a developer builds a subdivision on raw land and doesn't put in adequate water and wastewater facilities. That's what the State is now asking us to cover the cost of improving. Nope. A better idea would have been to create an responsibility on the part of the developer to improve the facilities at cost. And allowed homeowners to sue the shit out of them if they don't. The idea that companies can not or should not be sued into bankruptcy has created a big problem in business ethics which is that it's more cost effective to do the wrong thing. That's gotta change and this isn't what the Lege should have sent to us.
More on this at the Star-Telegram...
Posted by mcblogger at 11:19 AM | Comments (1) | TrackBack
Watts Withdraws
Per the release...
"For the last five months I have been exploring a race for the United States Senate because I believe that our junior senator, John Cornyn, has let Texas down and is more concerned with his cronies and friends in Washington than with what's best for Texas.

"After spending the last several months putting everything into this
campaign, I have seen the toll this effort has taken on my young children.
For these reasons, my wife and I have made the decision that I will not be
seeking the Democratic nomination for the United States Senate in 2008. I
was brought up to believe that public service is a noble endeavor and I will
continue to be involved at some level in the future. However, I realize that
my time now should be devoted to serving my children so they may grow up in
a healthy environment with both parents at home to meet their needs.

"The reasons for creating my exploratory committee still exist. As I have
criss-crossed the state and met and talked with tens of thousands of good
Texans, it is evident how much the people of Texas want and need a Senator
who will fight every day for their interests and not the special interests.
We need to elect a new Senator in Texas and I will personally do everything
possible to support the Democratic nominee.

"It is hard to express the gratitude I feel for all the support my family
and I have received as we have pursued this effort. I know that our vision
for the future of Texas is one that all of our friends and supporters share.
It's been one of the greatest blessings of my life for their faith in me,
and for all of their hard work over the past months. While the decision not
to seek the Democratic nomination for the United States Senate has been a
difficult one, I know that it is the right one for my family at this time."
I gotta tell you, running for office is a pain in the ass, especially statewide. It is unbelievably hard on families and I can completely understand this, especially since he has younger children. While I didn't like him as a candidate for Senate against Cornyn, I do have a tremendous amount of respect for the man and what he's accomplished in this life.
Thank you, Mikal, for exiting as gracefully as you entered and for helping to bring attention to this race.
Posted by mcblogger at 09:20 AM | Comments (0) | TrackBack
Stealing is wrong...
Oh, I too feel the pinch from the excessive cost of gasoline. However, I don't have nearly the balls to do this.
Posted by mcblogger at 09:03 AM | Comments (0) | TrackBack
October 22, 2007
Al Qaida in Iraq dealt a serious blow?
According to the WaPo, yes. Which will make, what, the 18th time we've heard this story? Not everyone is as sure as the White House...
"I think it would be premature at this point," a senior intelligence official said of a victory declaration over AQI, as the group is known. Despite recent U.S. gains, he said, AQI retains "the ability for surprise and for catastrophic attacks." Earlier periods of optimism, such as immediately following the June 2006 death of AQI founder Abu Musab al-Zarqawi in a U.S. air raid, not only proved unfounded but were followed by expanded operations by the militant organization.

There is widespread agreement that AQI has suffered major blows over the past three months. Among the indicators cited is a sharp drop in suicide bombings, the group's signature attack, from more than 60 in January to around 30 a month since July. Captures and interrogations of AQI leaders over the summer had what a senior military intelligence official called a "cascade effect," leading to other killings and captures. The flow of foreign fighters through Syria into Iraq has also diminished, although officials are unsure of the reason and are concerned that the broader al-Qaeda network may be diverting new recruits to Afghanistan and elsewhere.
Of course, today was a big day in geopolitics, with Syria voicing support for Turkey (strange) and bin Laden (who doesn't matter, remember?) staged a comeback with another tape on al Jazeera.
Osama Bin Laden has called on fighters in Iraq to unite and stand shoulder to shoulder in a new audiotape. In the tape broadcast by Al Jazeera on Monday, a voice sounding like bin Laden admitted that mistakes have been made in Iraq and exhorted the fighters to rectify them. "Some of you have been lax in one duty, which is to unite your ranks," bin Laden said. "Beware of division ... The Muslim world is waiting for you to gather under one banner."
Again, I'd just like to ask... why isn't this guy dead yet?
Posted by mcblogger at 02:23 PM | Comments (0) | TrackBack
Strange Days
The so-called values voters had a little convo in DC sponsored by Focus on the Family to discuss the 2008 election and who they wanted to support for President.
Indeed, one finds a devoted group looking for someone to devote themselves to. For the most part they are without a candidate, despite the controversial results of a straw poll in which Mitt Romney narrowly defeated Mike Huckabee.

"I've just turned 18 and this is the first election I can vote in," said Kelly Roggensack, a political science and business marketing major. "I don't want to vote for Rudy Giuliani, whom I don't fully support. It's going to be really upsetting."

"People are less trusting. They want to drill down to see if this is really a conservative candidate," said Family Research Council President Tony Perkins.

Perhaps most prominent of these drillers is James C. Dobson, the conservative stalwart and founder and chairman of Focus on the Family. Recently he suggested he'd side with a smaller party if not satisfied with the nominee's commitment to ending abortion and stemming gay marriage.
So that will be the excuse in 2008 when they lose... the R's didn't nominate someone these particular Christians could support. Right.
The rest of the article of course includes the prerequisite persecution discussion...
Indeed, for three days, it was a huddle of people with "shared values." The 2,000-plus participants banded together, bracing themselves for the constant attacks they expect on their beliefs as Christians. They are fighting on multiple fronts -- fighting the government, fighting pop culture and fighting universities.
And
Standing by the Abstinence Clearinghouse Booth, which offered a plethora of items including "Pet your dog, not your date" T-shirts, Kurt Gernaat and his wife, Mary Beth, explained their own sense of struggle.

They live in Holland, Mich. Kurt is the fire chief in Blendon Township. Mary Beth works for a nonprofit. They're youth leaders at their church. They eat dinner with their 14-year-old daughter and 12-year-old son every night. And they feel outgunned.

"We're being bombarded with music and advertising," Mary Beth said.

"Television is a huge battle," Kurt added. "Even if the show's okay, the commercials are terrible."

Yet this impulse, the desire for a mother to keep her kids away from "Sex in the City" and Sarah Jessica Parker, is not unique to Christians. Right?
No joke, my parents would have laughed at these two lightweights for whining. Don't want your kids watching something? Tell them to turn off the TV. Want to know what they think? Talk to them and explain things the way you want it seen. In short, ACT LIKE A PARENT. Part of that, Kurt and Mary Beth, is trusting your kids to make the right choices. In the end, you've either done your job or you haven't.
Then there is the stock College Republican know-it-all just out of her freshman philosophy class...
Mary Novick said the revulsion at such things comes from natural law. Sitting at a table with fellow College Republicans from the Franciscan University of Steubenville in Ohio, she explained: "Natural law comes from God and ["Sex in the City" shows a] disregard for the sanctity of love and marriage and human dignity. It's within our nature to be repulsed from that."

Novick is a smartly dressed woman with a pink sweater, pearls and impeccable posture. She is president of the campus chapter of the College Republicans. The six who've traveled with her are friendly, outspoken and polite. They are not the foot soldiers of the Reagan Revolution, but the children of those foot soldiers. And they're troubled by the leaders in the Republican field for president.
Natural law? You mean the law of the bible, right Mary? I certainly don't think you're talking about this natural law.
But what about health care and Hillary? Well, if you really must know...
Having come of age during the Clinton years, the group was asked: What's so wrong with Hillary?

"Ooooh," 20-year-old journalism major Emily Espinola groaned. "What do you want? She wants to be a dictator. I really think she wants to be a dictator, because she's a socialist. She wants to socialize medicine and she presents it in this beautiful wonderful way but she doesn't talk about the consequences, which are more taxes, bigger government."

"What will end up happening with her health plan is making rationing by wait lists," Novick said. "The elderly or anybody who has any kind of really kind of life-threatening illness will end up being euthanized by wait lists."

"It happens in Canada all the time," Espinola said. "I have friends in Canada who can vouch for it."
Mary and Emily have never had the pleasure of having to deal with the PPO or HMO to get something done. Please pardon their ignorance. Oh, and as for Emily's 'friend' in Canada, let's just say it's her 'boyfriend'. They met in Niagra Falls when she was there on vacay with her parents (who were stressing out about what young Emily was listening to on her iPod). You wouldn't know him. I don't care if you have family and friends in Ontario, there's no way you or they would know him. Because you're all heathens.
Posted by mcblogger at 11:03 AM | Comments (0) | TrackBack
Hu opens the Communist Party Congress
Just in case you were wondering, the faux commies in China opened their party Congress last week and enshrined the philosophy of President Hu Jintao into doctrine. That was, seriously, the only thing they apparently did.
Hu, dressed in his trademark blue suit and television-friendly red tie, used his two-and-one-half-hour speech mainly to underline his doctrine of "scientific development," which he described as "an important guiding principle for China's economic and social development and a major strategic thought that we must uphold and apply" to pursue "socialism with Chinese characteristics."

The party announced Sunday that Hu's innovation will be enshrined in the party charter during the week-long 17th National Congress as a historical contribution to Marxist ideology. The move constitutes an endorsement by the party faithful of Hu's emphasis on tempering breakneck economic development with such social concerns as protecting the environment and guaranteeing that the poor have access to education and health care.

Just as important, it ushers Hu into a pantheon of historical Communist figures who have shaped Marxist doctrine. In the eyes of the Chinese party, Hu, 64, will be joining a line of ideological greats that began with Marx and Lenin and has continued over more than a century with Mao Zedong, Deng Xiaoping and Jiang Zemin.

"The Politburo formulated the guiding principles for the current amendment to the constitution, stressing that the amendment must follow the guidance of Marxism-Leninism, Mao Zedong Thought, Deng Xiaoping Theory and the important thought of [Jiang's] Three Represents, [as well as] embody the Scientific Development Outlook," Li Dongsheng, the congress spokesman, said at a news conference.
He spoke for TWO AND ONE HALF HOURS?!?!? Can you imagine being the guy or gal in the audience who had a large coffee prior to the start and about two hours in desperately need to use the restroom?
I really think this is all pretty exciting. I wonder Tyler Perry will make it into a movie starring Tyler Perry. And the exhumed corpse of Mao.
Posted by mcblogger at 09:17 AM | Comments (0) | TrackBack
October 21, 2007
Uhm, Nancy, you really don't get this PR stuff do you?
Last week, after Republicans stopped the veto override on S-CHIP, Rep. Stark made this comment...
"You don't have money to fund the war or children," Stark accused Republicans. "But you're going to spend it to blow up innocent people if we can get enough kids to grow old enough for you to send to Iraq to get their heads blown off for the president's amusement."

After numerous Republicans called on him to apologize, Stark said it was they who should be apologizing, for failing to provide the votes to override Bush's veto.
Nancy Pelosi took the time to slap Stark on the wrist...
"While members of Congress are passionate about their views, what Congressman Stark said during the debate was inappropriate and distracted from the seriousness of the subject at hand _ providing health care for America's children," Pelosi said.
Nance... seriously, what he said WASN'T over the top. More than 70% of this country is pissed as hell about Bush's veto and the obstinate Republicans who continue to support him. Further, it's not a distraction. IT'S REALITY. We either spend money on ourselves or spend money on another contract with Halliburton and Blackwater. Which is more important, Madam Speaker?
Instead of beating up on members of your caucus, why don't you try focusing all your energies on the Republicans who are the real obstacle to progress in this country?

Posted by mcblogger at 01:46 PM | Comments (1) | TrackBack
Reason #3296 why Verizon and AT&T suck
Verizon joins AT&T in admitting that it complied with Bush's illegal wiretapping order...
Verizon also disclosed that the FBI, using administrative subpoenas, sought information identifying not just a person making a call, but all the people that customer called, as well as the people those people called. Verizon does not keep data on this "two-generation community of interest" for customers, but the request highlights the broad reach of the government's quest for data.

The disclosures, in a letter from Verizon to three Democrats on the House Energy and Commerce Committee investigating the carriers' participation in government surveillance programs, demonstrated the willingness of telecom companies to comply with government requests for data, even, at times, without traditional legal supporting documents. The committee members also got letters from AT&T and Qwest Communications International, but those letters did not provide details on customer data given to the government. None of the three carriers gave details on any classified government surveillance program.
DO NOT GIVE THESE COMPANIES IMMUNITY.
Posted by mcblogger at 11:54 AM | Comments (1) | TrackBack
October 20, 2007
Fundraising going well for Noriega...
So sayeth the Q3 reports and Hal at Half Empty...
Electronic filings came screaming in on the deadline, and now that the dust has settled, it looks like Rick Noriega's campaign pulled in 508 kilodollars to Watts' 443. That's a very nearly 13% margin.

Now that's saying something. That's saying something that a lot of people thought would ever be said. Watts claimed that he was the candidate who could pull in the necessary contributions needed to defeat Cornyn in '08, what with his 30-day $1.1 million blitz, implying that "you ain't seen nothin' yet".

Exactly.
Posted by mcblogger at 02:15 PM | Comments (0) | TrackBack
Another Republican leaves the dark side...
This time, in Colorado. John Coby over at Bay Area Houston has the story on the why...
Posted by mcblogger at 10:40 AM | Comments (0) | TrackBack
October 19, 2007
Global warming is pretty damn expensive
According to a new study, the costs of global warming and climate change far outweigh the benefits.
The analysis, conducted by the university's Center for Integrative Environmental Research and funded in part by the advocacy group Environmental Defense, represents the first comprehensive economic analysis of global warming's impact on the nation in the years to come. But the study's authors declined to put an overall price tag on climate change's future impact, saying it is impossible to predict how it would affect the U.S. economy on a broad scale.

"Economic costs of climate change will occur throughout the country," said Matthias Ruth, the study's lead author, in a conference call with reporters. "We've connected the dots as far as the data would allow."

Global warming will strain public budgets and raise the costs of cooling American homes, the authors write, and it will provide only temporary benefits to the mid-Atlantic's agricultural sector. For example, a predicted rise in sea level would require Hawaii to spend nearly $2 billion on upgrading its drinking water and wastewater facilities over the next 20 years.
Posted by mcblogger at 06:30 PM | Comments (0) | TrackBack
Bush discovers fiscal responsibility?
Reid and Pelosi need to eat this son of a bitch alive...CT Native Bush is threatening to veto the budget bills and he's still lying through his teeth about tax revenues since his tax cuts took effect, further proving that he understands the Laffer Curve as well as I understand the vagina.
Not to mention the fact that his new found 'fiscal responsibility' is all BS.
Stanley Collender, managing director of Qorvis Communications and a federal budget specialist, said the debate is disconnected from the improving deficit numbers. "It's purely a power play by the White House," he said. "If these spending bills were coming from a Republican-controlled Congress, the president would be signing them and applauding the House and Senate for their fiscal responsibility."

Democrats are just as eager to fight over spending proposals, particularly the State Children's Health Insurance Program. Bush, who did not veto a single appropriations bill while Republicans controlled Congress, rejected a bipartisan proposal to more than double spending on SCHIP over the next five years. Polls show Bush on the wrong side of public opinion, and many congressional Republicans have opposed him on the issue, although not enough to override the veto.

"What happened to compassionate conservatism?" Democratic National Committee Chairman Howard Dean asked in a statement Monday. "President Bush and his Republican friends are willing to spend billions of dollars on their failed Iraq strategy, but they have no problem denying our children the health care they need and deserve. That's just plain wrong."

White House aides recognize that the SCHIP fight is, in many ways, a political loser, but they hope to portray it as part of a broader struggle over spending and taxes.
We need roads. We need schools. We need police. All these things will grow the economy and the tax base. THESE projects are reasons to run a deficit and Congress should get to it. You don't run a deficit to send money overseas so you can invade a country and fail at rebuilding it.
Let him veto... then beat the hell out of the Republicans until they override. Don't let yesterday be the end.
Posted by mcblogger at 02:55 PM | Comments (0) | TrackBack
Inflation schmation
Oh, I agree with ELLN and Bonddad...
So -- why am I focusing on these two paragraphs rather than the headline number? I am personally having a really difficult time believing the "headline" inflation number largely because my personal experience just isn't jibing with an "inflation is benign" scenario. Here's why. I go shopping every 4-5 days. Over the last year or so I have seen chicken increase from about $4-$5 to $7-$8. Milk is now almost $4/gallon when it use to be $2.99/gallon. Simply put, the numbers just aren't adding up. While I don't know what is wrong exactly with the BLS' calculations and/or methodology, it simply isn't tracking what I am seeing at the retail level. Now I realize that the prices above are for food which isn't part of "core" inflation. This also illustrates how incredibly stupid the Fed's reliance on "core" inflation is. Core inflation is a great measure if you don't consume food or energy. For that small minority of the population that actually does consume food and energy, total inflation is a hell of a lot more relevant to daily life.
The CPI ex food and energy has never made much sense to me since inflationary pressure in those two sectors tend to hold down inflation in core prices because, simply, there is less money to purchase core items. This gives a false impression of the strength or weakness of the economy.
Of course, if the Fed started taking total CPI into account along with money supply, short rates would be in the 8-9% range. That would break inflation in energy costs rapidly.
Finally, the most irritating thing about all this is that wage growth is still non-existent. The reality is that when you take into account total CPI, more than 95% of the people in this country have seen their purchasing power erode since the Supply-side/Trickle-down Revolution began. How's that for a successful economic policy?
Posted by mcblogger at 12:16 PM | Comments (0) | TrackBack
Elizabeth Ames Jones should stick to chintz
Elizabeth Ames Jones is a member of the Texas Railroad Commission, which oversees the oil and gas industry here in Texas. Her qualifications to be on the RRC? None. She's a former interior decorator. I can totally see how picking out the perfect vase would qualify you to oversee drilling and production in Texas.
Sharon over at Bluedaze has a great post up about her ridiculous little op/ed in the Washington Post. In it, Jones talks about out how great the RRC is and how well they've done monitoring private companies. You can see more about how excellent they are at stopping polluting companies from dirtying the environmenthere, here, here and here. Phillip has more on her great op/ed piece in the Chronicle (we need to use more oil and gas). Needless to say, Lizzy just doesn't live in reality...
The gist of Jones' stupid commentary is that we can drill our way to energy independence. She writes as if there is some magic pool of oil in the US that we've somehow overlooked for the last 100 years. This argument rather neatly makes my point that perhaps she should stick to fabric choices and abandon the oil and gas gig. She obviously doesn't know a thing about the O&G industry.
Posted by mcblogger at 08:05 AM | Comments (0) | TrackBack
Now they're concerned about bin Laden?
Well, the Republican shenanigans on the FISA reform bill were nothing more than a straw man (NYT)...
But after an afternoon of partisan sniping, Democratic leaders put off that vote because of a competing measure from Republicans that . . . declared that nothing in the broader bill should be construed as prohibiting intelligence officials from conducting the surveillance needed to prevent Mr. bin Laden or Al Qaeda "from attacking the United States." Had it passed, it threatened to derail the Democratic measure altogether.

Democrats denounced the Republicans' poison pill on Mr. bin Laden as a cynical political ploy and "a cheap shot." But Democratic leaders realized that they were at risk of losing the votes of a contingent of more moderate Democrats who did not want to be left vulnerable for voting against a resolution to stop Al Qaeda, officials said. So the leaders pulled the measure, promising to take it up again next week once they could solidify support.
Let's see... the Republicans had year after interminable year to find bin Laden and they failed. Bush even joked about it. FAILED. Even still, some of the D's in the House got all flustered like a bunch of kids...instead of beating the Republicans down. Girls and boys, let me tell you a little secret : Bullies will keep needling you until you throw a punch. They are losing the PR debate. No one listens to or believes them any more. They have to do this. You have to fight back. It's that simple.
In the Senate, Leahy sniped at the W. Va. Lawnchair and Dumbass Feinstein bleated on about how wonderful bipartisanship is, even when it tramples over the Fourth Amendment rights of Americans...
At the second day of confirmation hearings for President Bush's Attorney General-nominee Michael Mukasey, Leahy warned that "the Intelligence Committee is about to cave on this," citing pressure from the White House and press reports suggesting the administration had gotten its way.

"[Administration officials] know that it was illegal conduct and that there is no saving grace for the president to say, 'Well, I was acting with authority,' " said Leahy. "Otherwise there wouldn't be so much pressure on us to immunize illegal conduct by either people acting within our government or within the private industry."

Leahy's remarks signal that a bipartisan accord to overhaul the 1978 Foreign Intelligence Surveillance Act (FISA), reached Wednesday by the Intelligence panel's leaders and the White House, could divide Democrats and hit a roadblock on his panel as well. The Intelligence Committee marks up the bill Thursday afternoon, after which it will be referred to Judiciary, where more Democrats have openly opposed retroactive immunity language.

His comments also come as House Democratic efforts to overhaul the law are falling into disarray, after House Republicans used parliamentary maneuvers to force leaders to pull the Democrats' FISA rewrite from the floor late Wednesday.

Attempting to resolve a central point of contention, Senate Intelligence panel Chairman Jay Rockefeller (D-W.Va.) reportedly reached a deal Wednesday with Director of National Intelligence Mike McConnell to give full retroactive immunity to telephone companies if they can demonstrate they were cooperating lawfully with the secret wiretapping program when suits were levied against them.

Not all Democrats on the Judiciary Committee appeared to share Leahy's concerns. Sen. Dianne Feinstein (D-Calif.), who sits on both the Judiciary and Intelligence panels, signaled she was likely to support the bipartisan approach.

"At this stage, it is a bipartisan bill," Feinstein said. "I'm absolutely convinced that the only way we can legislate on this is on a bipartisan basis. This bill so far is bipartisan — that's good news."
So, bipartisanship for the sake of being bipartisan? Yeah, just because you guys caved into the demands of the Republicans doesn't mean it's 'bipartisan'. You might want to check with your constituents in CA, Diane.
The bottom line on this is that even AG Ashcroft wouldn't sign a letter releasing the telco's from liability. They had no 'get out of jail free' card. FISA even gave the Administration 48 hours to obtain a warrant, AFTER the tap had been initiated. Under current law, there is no reason for the Administration to have done anything illegal. Further, there is no reason for a private company to have cooperated with the illegal activity.
Sen. Dodd's hold may not be enough if Senate Majority Leader Harry Reid has his way(CQ)...
Tim Starks of Congressional Quarterly reports that Senate Majority Leader Harry Reid (D-NV) plans to bring the Senate's surveillance bill up for floor debate in mid-November. That's despite the hold that Sen. Chris Dodd (D-CT) plans to place on the measure — something first reported by Election Central's Greg Sargent.

The Senate intelligence committee is still marking up the bill behind closed doors, according to staffers. A joint statement from committee leaders Jay Rockefeller (D-WV) and Kit Bond (R-MO) will follow when the mark-up concludes, but that may not occur today.
Click here to support Senator Dodd. This bill needs to die and the Democrats in Congress need to run the debate.
Posted by mcblogger at 12:16 AM | Comments (0) | TrackBack
October 18, 2007
Chris Dodd with the save!
Chris Dodd is putting a hold on the wiretapping bill because of the telco immunity. More to come...

Posted by mcblogger at 04:34 PM | Comments (0) | TrackBack
Why is DPS protecting Dr. Hospital Bed?
There is video in the possession of DPS that shows The Darkness possibly lobbying for a voucher bill, live and in person. Courts have ordered DPS to turn over the video. Citing security concerns they've refused and have, to date, spent more than $165,000 in taxpayer funds to keep the tape.
Now the case is going to the Third Court of Appeals. How much more of our money will they spend to keep something which belongs to the people of this state hidden? When will they stop using our money to protect Dr. Leininger?
Posted by mcblogger at 03:55 PM | Comments (0) | TrackBack
Expansion of FISA...
I'm pretty pissed after reading this so let me summarize what's going on with FISA expansion.
Rockefeller, Chair of the Senate Intel Committee, supports a compromise version that includes immunity for companies that cooperated with Bush's illegal wiretapping. The bill still has to get through Senate Judiciary and Leahy and Specter have both said they want more information. We can only hope they don't fold up like the West Virginia Lawnchair. The House version of the bill isn't that bad and does provide some protections. It was pulled from the floor yesterday because of Republican shenanigans. The Senate compromise version hasn't been seen yet. However, we do not it includes immunity for telcos that cooperated with Bush's illegal wiretaps.
I'm as pragmatic as the next guy but Constitutional protections are something you don't play politics with, especially when you have such broad support on the issue. So why would the D's cave? Fear...
But conservative Democrats worried about Republicans' charges that the Democratic bill extended too many rights to suspected terrorists. "There is absolutely no reason our intelligence officials should have to consult government lawyers before listening in to terrorist communications with the likes of Osama bin Laden, al-Qaeda and other foreign terror groups," said House Minority Leader John A. Boehner (R-Ohio).

The measure "extends our Constitution beyond American soil to our enemies who want to cut the heads off Americans," said Rep. Louie Gohmert (R-Tex.).
If you people are going to be intimidated by Gohmert then what kind of Democrats are you? This is a guy who speaks in nothing but hyperbole. It's so bad that his own constituents laugh at him. In East Texas. You wanna get him to shut up? Shout. His. Ass. Down.
As for Boehner, why is it so important for Republicans to protect companies that engaged in illegal activity and didn't obey the law? What do YOU get out of it, John? Campaign contributions? What IS your payoff, Rep. Boehner? We already know that there are Republicans who can be bought. The only question is if you're one of them. If you're not then why the hell support giving these folks immunity?
Why is it so important for you to not protect the citizens of this country, John? Wiretap restrictions aren't hurting our troops. Why is it necessary for you to hamper the Fourth Amendment Rights of the citizens of this nation?
These companies broke the law. I don't care what they thought they had by way of protection from the Federal Government. Don't give them immunity under any circumstances. Unless they produce, as law proscribes, a neat letter from AG Ashcroft.
What? They didn't get that? Then they don't get immunity.
Posted by mcblogger at 11:56 AM | Comments (0) | TrackBack
The 'Weak' Nancy Pelosi
It's been difficult to criticize Speaker Pelosi, mostly because I realize she's in a tough spot as far as policy. However, both she and Reid have done an abysmal job of controlling the debate and messaging. On that, I don't think there is any disagreement.
Darin Murphy has a great piece up on Pelosi's performance on the View. It's obvious, she's not tough enough.
If there was any doubt before, which there wasn't, it's gone now. Watching Nancy Pelosi on The View yesterday morning provided the final proof that the backbone of the House is only as strong as its speaker. Her body language said it all. There she sat in the center of the table, sandwiched between Elizabeth Hasselbeck and the "Is the world flat? I don't know" lady, looking anxious and devoid of stately confidence. She could barely look in the eyes of America's Favorite True Believer on her left, who immediately smelled fear and pounced on her prey. "If the violence in Iraq had gone up," she started in (I'm paraphrasing), "you would be insisting that the surge was a failure. Now that the reports say it's gone down drastically, aren't you willing to admit that the surge is a success?" So what does Pelosi do? Does she make like Bill Clinton versus Chris Wallace, lean into her face and retort "young lady, don't try that little conservative hit job on me. You obviously don't know fudged numbers when you see them"? No. Instead she looks somewhere in Hasselbeck's general direction and squeaks meekly, "But that's still a lot of deaths." (I'm not paraphrasing). She then quickly changes the subject as she spends the rest of the interview leaning away from Hasselbeck and focusing on the three women on her right, wishing to God they had sat her down beside Whoopi.
Come on, Nancy! Stick it to them and start rolling bill after bill to the floor. Let Bush veto and keep bringing them back. It's time to take a stand and bury these losers. Have some fun with the S-CHIP override and make. them. cave.
I know you got it, Madame Speaker. I know you can do it. But please, for the love of God, don't let an idiot like Elizabeth Hasselbeck fluster you. Even if you come across as mean, put the bitch in her place.
Posted by mcblogger at 10:14 AM | Comments (1) | TrackBack
ENDA and pragmatism...
I'm changing my opinion... it doesn't happen often but it's happening now. I think Congress should pass ENDA any way it can, even if it means dropping out protections for the transgendered.
The WaPo has a great article up on this. I'm not thrilled about the fact that so many members of even my own party won't vote to protect the transgendered, in fact I'm hugely dismayed. However, I'm loathe to attack people who are at least willing to support ENDA without the TG protections because the alternative (the REALISTIC one) features a large number of people that would like to see myself and every other LGBT person incinerated.
While not a perfect bill, it does go a long way to protecting gay and lesbian people who are, every day, fired from jobs without any cause other than being gay or lesbian. At the end of the day, you have to think about them. Is it fair to ignore them when we know that including TG protections will kill the bill outright?
Advancing Civil rights has always been a halting march toward more freedom. What we are seeing is that sexuality is no different than race. There is no reason for us to give up the fight and I know Democrats in Congress will continue to fight for TG protections.
Posted by mcblogger at 09:13 AM | Comments (1) | TrackBack
Oh, yes. Let's waste money on a Constitutional Convention
A South Carolina Republican wants a Constitutional Convention to keep the brown people at bay...
Senate President Pro Tem Glenn McConnell is calling for a national constitutional convention that would give states the right to deny benefits to illegal immigrants and have them forced out of the country.

It is an unprecedented move that would first require approval by the S.C. Legislature, then 33 other states would have to sign on, and 38 would be needed to approve a constitutional amendment.

"I don't know where else to go," McConnell, R-Charleston, said Thursday. "It's really an act of frustration. The state is bearing the burden because of the power
OK, this immigration crap has got to stop. Pink Lady has a post up about nutters in VA who want to deny the immigrants, well, everything. Has it not occurred to these folks that illegals PAY TAXES and support our economy?
I guess this will be Leo Berman's next dumbass idea.
Posted by mcblogger at 08:28 AM | Comments (1) | TrackBack
Around the State
This week's round-up is compiled by Vince from Capitol Annex.
Barney Frank responds to GLBT activists: "Now, this is the issue: Does a political party say to its most militant, committed, ideologically driven believers in purity that they have a veto over what the party does?" Evan at The Caucus Blog responds.
BossKitty at Bluebloggin asks why are so many Texans still illiterate?
The Texas Cloverleaf endorses Karen Guerra for 16th District Court Judge in Denton County.
Burnt Orange Report highlights the hard work being done across the nation. A broad coalition has launched a campaign to override President Bush's SCHIP veto and Kay Granger is public enemy number 1 in Texas. Ads, analysis, polls, and outrage... BOR has it all.
North Texas Liberal asks, "Could Congress override Bush's veto?" Speaker Pelosi and Sen. Kennedy seem to think that SCHIP is worth fighting for. So do we.
Vince from Capitol Annex notes that Kay Granger should have known better when it comes to her recent "no" vote on the reauthorization and expansion of SCHIP.
Gary at Easter Lemming Liberal News cannot stop writing about conservative bloggers repeatedly attacking a family who were in a terrible automobile accident and received government health care and liked it. Maybe next time your kids are in the hospitable you'll be attacked by right-wing idiots and more slime in the right-wing noise machine.
McBlogger has a story up about a State Representative you should know.
A supervisor for CPS Energy in San Antonio has a hangman's noose displayed in his cubicle. PDiddie at Brains and Eggs posts the details, including a photo.
Muse notes that Kay Bailey Hutchinson is trying out harder helmet hair styles so that the words of mean bloggers will bounce right off her in her imaginary (or not) run for governor in 2010.
Warning from TXsharon: Calibrate your outrage meter before visiting Bluedaze to read how Bush policies have weakened the Clean Water Act so Texas water is no longer fit for drinking, swimming or fishing.
CouldBeTrue from South Texas Chisme notes that Presidential Candidate Tom Tancredo wants to build that d*mn fence north of Brownsville. Either you're with the fence or he'll move the boundaries so your town's part of Mexico.
Unsurprised at Al Gore's Nobel Peace Prize, nor at his acceptance speech, Hal at Half Empty surprises everyone with the Moonwalking Mannequin Bird.
Rattlebrain Randy prefers a little bit of disaster - sure it may hurt his constituents, but it helps his friends in the insurance industry, notes Blue 19th.
At Texas Kaos, diarist persiancowboy invites members of the general public to sign on to the complaint against rogue Judge Sharon Keller for her callous use of judicial power.
Off the Kuff reports that State Rep. Garnet Coleman is urging AG Greg Abbott to sue to block a recent Center for Medicaid and State Operations directive that will result in the loss of CHIP coverage for thousands of children.
Stop Cornyn is fuming about Cornyn's vote against children. After voting against Texas children twice, now Junior John wants a watered down version to save face. It is time to fully fund children's health insurance.
Posted by mcblogger at 12:12 AM | Comments (1) | TrackBack
October 17, 2007
Signing Statements and the Democrats
You know how Bush has been adding signing statements to almost every piece of legislation he's signed? My question is when are the Democrats going to pass a law overriding all those signing statements, retroactively? That's one piece of legislation that even the current crop of Republicans will be hard pressed not to vote for.
The statements are, after all, unconstitutional.
Posted by mcblogger at 03:03 PM | Comments (0) | TrackBack
Midday fun...
Iscariot Caucus member Robert Puente announces retirement. Color us ssssaaaaaddddddd
Kevin Eltife is always good for some laughs. His latest is to beat up on UT Tyler about condoms being given away from the student health center. Problem is, the ADULT students are the ones requesting them. It is a good idea and we'll be happy to debate it, Kevin. Just as soon as you handle more pressing and important business, like fixing transportation finance. Once that's done, you can scream about the immorality of condoms all you want. Until then, though, shut the fuck up, you ridiculous twerp.

Oh, and Kev... the culture war is over. We won because all your great ideas did was increase teen pregnancy and teen STD rates. Abstinence only my ass.
Posted by mcblogger at 02:07 PM | Comments (0) | TrackBack
Grassley : Bush is lying like a motherfucker
In this mornings press conference, the Nutmegger Cowboy declared that he wasn't included in the discussions on S-CHIP. Sen. Charles Grassley, during an interview on CNBC, said that he had a list of names and times when Senators and Representatives met with Administration officials to discuss the bill. I guess Bush meant to say that Democrats in Congress chose not to do what he wanted them to do.
Posted by mcblogger at 12:18 PM | Comments (0) | TrackBack
Spellings for Governor?
This cinches it... the bitch is dumb as a box of rocks.
You'll remember Spellings from her pathetic performance on Texas Monthly Talks.
Posted by mcblogger at 12:01 PM | Comments (1) | TrackBack
Another D files for Supreme Court
According to Hal at Half Empty, Attorney Sam Houston has filed to run against some douche named Wainwright. Which, to me, sounds like a totally made-up name.
Posted by mcblogger at 10:58 AM | Comments (0) | TrackBack
Bush is playing Congress like a fiddle
He's on right now beating them up on the slow pace of bills, not having the budget ready, S-CHIP, etc. Says the S-CHIP override vote won't succeed and he's right... problem is, politically, it's going to kill Republicans in 2008. The rest of it, like the Armenian genocide vote, is spot the fuck on. Congress is failing like a motherfucker, mostly because of the Republicans.
The budget is a punch that lands. Congress has to get off it's ass and that starts with the leadership. This press conference is a broadside attack. Congress needs to answer it forcefully and with no mercy for any of the Republicans. It's their fault nothing is being done.
And kill his candidate for AG. In fact, don't act on ANY of the nominees from the Executive Branch.
Posted by mcblogger at 09:45 AM | Comments (0) | TrackBack
Hitting CradDICK
Elise Hu has almost hit CradDICK and Pat Rose (we're trying to be nice) with her car. Doll, if you'd told me this Friday night I totally would have paid your tab at the bar!

(H/T to Pink Dome)
Posted by mcblogger at 08:53 AM | Comments (0) | TrackBack
Rudy 9-11/39% in 2008?
Yep. According to Matt Lewis at Townhall...
Giuliani has also developed a bond with Texas Gov. Rick Perry, whom he helped win re-election last year. That groundwork could make Perry a high-profile ally in Texas, although the governor hasn't yet endorsed a presidential candidate.

Bracewell & Giuliani's political action committee gave $10,000 to Perry a year ago, just a few weeks before his re-election. Perry and Giuliani have talked in person and by telephone several times and have a good relationship, Black said...

...Bracewell & Giuliani represents a business consortium involved in the Trans-Texas Corridor, a costly, high-profile toll road pushed by Perry and opposed by farmers and ranchers.
And Texas Conservatives. And Democrats. And, well, 70% of the STATE OF TEXAS.
Matt seems to think that Texans won't vote for Hillary or Obama. StreetLevel disagrees.
Sen. Cornyn will lose his Senate seat. While he has come out in "mild" disagreement w/the President on the illegal immigration issue it has not been nearly enough. This huge block of Texas GOP voters are not in the forgiving mood and their numbers are significant enough to sway the vote against the GOP by simply bowing out of the process. Texas, as I understand it, has 34 electoral votes 2nd only to California. All 34 electoral votes will go to the Democratic candidate in Nov 08. This is my prediction and my opinion. Unless the President and the GOP hierarchy make some kind of miraculous turn around.
One thing is certain. Texans will not vote a ticket with Rick Perry on it. This state ain't red anymore.
Bonus Comedy! Pink Dome has more on the coming endorsement of Rudy 9/11 by 39% and Mike Williams of the RRC (I know, who the fuck is he, anyway?)
Posted by mcblogger at 12:48 AM | Comments (0) | TrackBack
October 16, 2007
Deal Keller
If ever there was a damn good reason to replace every single Republican on the Texas Supreme Court with Democrats, Sharon Keller's irresponsible action would have to be it. Here's what's been said over the last few days...
The former Chair of the Texas Bar, Mary Alice Roberts, filed a judicial complaint against Keller
PDiddie has more from former AG Mattox on what should be done to Keller
Kuff has more on the complaint filed against Keller by the Harris County Criminal Lawyers Assoc
Dig Deeper Texas has the details on another complaint filed by lawyers against Keller
TMN has the details on the complaint filed against Keller by Judge Susan Criss who is running for the Supreme Court in 2008
Kuff has more on the call from the Houston Chronicle for Keller's resignation
Burnt Orange Report has the details on Lon Burnam's complaint against Keller
Sharon, don't go away mad... just go away.
Posted by mcblogger at 08:08 PM | Comments (0) | TrackBack
Interesting Question...
Somervell County Salon has a interesting question related to attempts to retroactively limit the liability of telecom companies that cooperated with Bush's illegal wiretapping scheme...what's to stop any President from breaking the law through a third party?
Posted by mcblogger at 03:10 PM | Comments (0) | TrackBack
Running low in Atlanta...
Lake Lanier is almost empty. Atlanta is almost out of water. Will this be the next economic disaster of Republican mismanagement?
The state says all would be well if the Feds would stop releasing water. Problem is, people downstream (not to mention wildlife) need that water. The real question is why does Atlanta find itself in this spot? A drought may not foreseeable, but they aren't out of the realm of possibility. You folks never thought about building more reservoirs and holding facilities? Maybe a desal plant on the Atlantic coast?

It's called foresight. Quit electing dumbasses like Sonny Perdue.
Posted by mcblogger at 12:34 PM | Comments (0) | TrackBack
Auto-Fellatio
It appears, according to EOW, that Mikee Krusee, TTC Chair Dick Williamson and a jelly doughnut who goes by the name John Carona had a lovefest where they talked about their plans for transportation infrastructure and pledged to work together.
The gist? Williamson's not completely giving up on the corporate welfare scheme known as public/private partnerships and corporate tolling. Carona is saying he'll work to get the gas tax up. Krusee is saying the public doesn't want it. In other words, screw the taxpayer, lie about what you're planning and lie about what can be done.
As EOW astutely points out, the fear of raising the gas tax is not that of public ire. It's simply a lack of political will on the part of the Republicans. That'll change early in 2009 when a new Democratic legislature convenes. But let's go back to the three dicks pleasuring one another...
Indeed, this morning's talk on the future of transportation funding in Texas found the men sharing much more common ground than bones of contention, leading Carona at one point to describe the talk as "a love fest."
Yes, yes. We get it, John. You love Dick. And Mikee. Neat.
Krusee, though, pointed out that his amendment last session to index the gas tax went down in flames. The problem is that the public just doesn't want to pay for roads, he said. They shot down reform of the gas tax as well as public-private toll partnerships. That leaves bonding as the only way to finance roads, but that method also has problems as it pushes the costs to future generations, he said.
Oh, no, the public does want to pay for roads. The public wasn't asked to vote on this, the Lege was.
Carona said that he agreed with the over the horizon ideas presented by his counterparts but that to convince lawmakers to change course on transportation should be done in baby steps – and on a biennial basis. He added that the Big Three – Perry, Dewhurst and Craddick– must push transportation funding in a more prominent manner. Big changes in public policy only happen when the state's leadership support them, Carona said. "It's important for them to make public statements on this," he said. "We need their help."
OK, John, reality check. CradDICK isn't going to be speaker in January, 2009. The Senate can work without Dewhearse. Which leaves only 39% as a roadblock. In other words, half the job is going to be done for you by the Democrats just taking back the House. So what the hell are you whining about? You need whose help?
Three Republicans. Three excuses. No solutions. Time to make some big changes in 2008. Starting with Krusee.
Posted by mcblogger at 10:57 AM | Comments (0) | TrackBack
Naked Boys Singing
No, it's the name of the movie. And yes, I do want to see it.
In "Naked Boys Singing!" 10 grown men (including one natural redhead) go full monty while belting out show tunes and high-kicking like muscular Rockettes. The show's injury log must make for very colorful reading.
I mean, who wouldn't want to spend 90 minutes in a dark place with hot, naked men?
Posted by mcblogger at 08:55 AM | Comments (0) | TrackBack
October 15, 2007
Is it just me?
Or do you get really irritated with that obnoxious douchebag AT&T is using on their wireless data commercials?
Speaking of wireless broadband, don't bother with AT&T. Go to Sprint. I have accounts with both and can tell you Sprint's network is way faster.
Posted by mcblogger at 07:40 PM | Comments (0) | TrackBack
Blackwater's founder has a suggestion
The WaPo has a great article up about Blackwater which ends with the following...
n the end, he said, Blackwater is always ultimately answerable as a business to its government customers.

"We're open honest Americans trying to do a good job," he said. "If they don't like what we're doing then" -- he snapped his fingers -- "cut off that revenue steam right now."
Couldn't agree with you more, Mr. Prince.
Posted by mcblogger at 11:25 AM | Comments (0) | TrackBack
Democrats better for personal wealth
By 29% v. 24%, Democrats have the edge on with voters when asked "Which party would be better for your personal finances'. The depressing part, 20% said neither and the balance either didn't know or didn't understand the question, according to a CNBC poll released this AM.
The bottom line? Democrats are ahead but not by much, for the first time in 15 years, on economic issues.
Posted by mcblogger at 10:52 AM | Comments (0) | TrackBack
Where do young men go to get off?
Apparently, the local Republican county chair
The chairman of the Republican Party in Brown County faces criminal charges for allegedly fondling a 16-year-old Ethan House runaway and providing the boy with beer and marijuana late last year.

Donald Fleischman, 37, of Allouez, was charged last month with two counts of child enticement, two counts of contributing to the delinquency of a child and a single charge of exposing himself to a child.
Don, just a bit of advice. Blame it on movies or 'gay culture' or something. Just don't chalk it up to alcohol and illegal drug use. That's pretty tired.
Posted by mcblogger at 06:54 AM | Comments (0) | TrackBack
October 14, 2007
Hope for the future
We've talked a lot about transportation here with an emphasis on tolling and infrastructure privatization. Many of you around Texas and the nation have been able to follow what's going on in our corner of the world, even if you've felt a little left out or overwhelmed by some of the specifics. I know this because you've taken the time to email me and tell me that you're not following me on some of this stuff. 'Why are you so concerned with tolls?' is a common question.
It's simple. Infrastructure privatization and tolls aren't a good deal for the citizens of Austin. It's more than likely not a good deal for you in your area. To recap, it's the most expensive option for funding infrastructure improvements, toll taxes are extremely regressive and it leaves open the door for infrastructure privatization.
Which brings me to what happened last Monday night. Four people stood up for the people of Central Texas. One of them was Representative Eddie Rodriguez. Despite all the hype about tolls being the transportation panacea, Rep. Rodriguez made a decision based on research, common sense and what's best for his constituents.
He also noticed that the plan, touted by the AAS, Chamber and a certain overreaching State Senator as relieving congestion, didn't do ANYTHING to relieve our current congestion points. In fact, even after these roads are built our congestion will get worse.
In the wake of this, comes opinions out of the Statesman, which has been unabashed in their support of tolling, despite the fact that it doesn't fix our traffic problems. They spent a recent editorial lauding CAMPO and their great decision. Never mind the fact that they've been convinced that tolls are the only way by some really poor decision making. Their point has been 'indexing the gas tax would be best, but that's not going to happen so we have to take what we can get'. What they fail to mention is that the Lege is going to change dramatically as political power realigns in this state in 2008. They also fail to mention that should things change and TXDoT shift back to a bias for free roads, we can't undo what's done. In other words, CAMPO made a decision out of desperation and stupidity which we're all stuck paying.
Well, some members of CAMPO did.
A true public servant is someone who can withstand massive amounts of pressure from all sides and do the right thing. We know that Rep. Rodriguez was receiving the same pressure from members of the Chamber that Councilwoman Kim and the other 'no' votes received. On behalf of everyone here, thank you for standing up to it and doing what's best for all Central Texas. You voted not to tie Central Texas taxpayers to this ridiculous project. We won't forget that.
Rodriguez is someone everyone in Texas should know. He's a leader, in the truest sense of the word. He's the future of the Democratic Party in Texas, one of many who'll be doing the heavy lifting to make our state a better place for all Texans.
Posted by mcblogger at 09:54 AM | Comments (1) | TrackBack
October 13, 2007
Nightmare Factory
While well-adjusted people have disturbing dreams about falling, being nude in public, or exes, I, on the other hand, have nightmares about the U.S. Supreme Court.
A junior high lunch cafeteria was the setting. Everything, including the lunch lady, was covered in corporate logos, much like you would find at a NASCAR race. Sitting at a table in the far right corner wearing "Hello I'm ____" tags were Scalia, Roberts, Alito, and Thomas. Thomas' tag said "Stupid", Scalia's "I'm with stupid", Robert's and Alito's "Slimy" and "Sleazy". I don't remember which was which. They had Kennedy – "Confused"- cornered and questioning his manhood.
"Cool guys don't hang out with tree-huggers," said Scalia.
"Yeah, "said Thomas, who was sitting on Scalia's lap like a ventriloquist's dummy. He had pubic hair glued to his lip.
Occasionally, Ruthie, a little girl with thick glasses and an attitude walked by the table and threatened to kick them in the balls. Apparently, she had done this before because every time she came close, they would cover their crotch.
Then I was transported to a Wal-Mart parking lot. Clergy were selling dispensations to people who wanted to be forgiven for shopping at other stores. There was a carnival atmosphere with Justices Breyer and Souter inside dunking booths.
After blinking, I found myself in a mega-church. All the men were wearing gray-flannel suits and the women were members of the state Eagle Forum contact list. On the altar were posters with slogans - "Debt is Prosperity" and "Consumerism is Salvation". At the lectern, John Hagee was preaching from the Book of Hedge Funds. (For those that might have forgotten, the book was found in the secret archives of Aleister Crowley who had swindled it from an antique dealer in Cairo. The dealer had discovered the writings in a partially collapsed Jerusalem catacomb that sits under land now owned by Bibi Netanyahu)
I turned around and found myself in the chambers of the court. With the strains of Pizzetti filling the air, the Heritage Foundation and the Cato Institute had set up information booths in the aisles. Lawyers from the Carlyle Group were arguing the case that since corporations were now considered to have the same rights as individuals, that affirmative action should be afforded them. Strangely, only the conservative justices were sitting. For an instance, I saw Justice Stevens in a holding cell guarded by "security specialists".
What finally woke me up was the unfurling of the American flag covered with skulls, presented by John Cornyn.
Shitake mushrooms have that effect on me.
Nah, I made up the Cornyn thing

Posted by Captain Kroc at 10:29 PM | Comments (0) | TrackBack
It's not 1985. And I don't feel like Sally Field.
Evan Smith recently interviewed KBH for 50 minutes over the phone. They would have done a face to face, but Kay was recuperating from an unfortunate face lift accident which left one ear clearly higher than the other.
I kid, I kid...It's because she was busy in Washington trying to figure out a way to get back in the good graces of Connecticut native George W. Bush after voting, surprisingly, with the majority to expand the SCHIP program (credit where it's due... and just a reminder, JOHN CORNYN VOTED AGAINST INSURING POOR KIDS). Needless to say, when Kay went to have to dinner with the President and Pickles last week it was, well, awkward. She was also busy trying to come up with a way to take away more of your rights to fight the war on terra.
Evan was asking about Kay's run for Governor in 2010. She wimped out in 2006 because she's was afraid of the masculinity of 39% and something to do with Miracle Grow and some kind of 'tomato' plant scandal. Does that sound right? Regardless, she evidently thinks she's going to run in 2010 which isn't really all that curious since she's the only popular elected Republican in Texas and she's their only hope of holding an executive office in 2010 when she'll be what, 90? She also said she hates blogs. I can't deny the fact that she doesn't like blogs, right now, she doesn't like blogs.
The mood of the country right now is pretty frustrated. People don't like the partisanship -- there's kind of a toxic atmosphere about politics -- I think the blogs, interestingly, feed on that. The intemperate nature of blogs, and the lack of accountability, have had an overall toxic influence on our elections. These blogs are cynical and mean -- on all sides. I don't think that's good. Even if you disagree with the mainstream media, there's a sense of integrity and honesty and standards. There are journalistic standards, which blogs don't have.
Oh, Kay, people don't like being lied to, manipulated and sold down the river. They just haven't realized that's what you've been doing all this time in Washington. As for being 'intemperate' and having a 'toxic influence on our elections', just think of us as some much needed chemotherapy for the cancer republican (and, less frequently, Democratic) corruption. If you don't like what we write about what you're doing, did it ever occur to you to start doing the right thing for the people of Texas? Granted, voting for SCHIP was a good start, but come on... you've voted to basically gut our rights under the Constitution. When are you going to walk that one back?
Kay, you really shouldn't waste Evan's hair-oiling time talking about integrity and honesty, two things you've really never understood, especially in relation to blogs. Blogs are nothing if not brutally honest. It's a shame that even we at McBlogger have more integrity than you. Yes, we may be needlessly crude at times and more than little drunk but we are at least honest about what we write. It's a shame we can't say the same for someone serving in the US Senate.
Oh, and start wearing pantsuits... your legs aren't what they once were.
(H/T to PinkLady)
Posted by mcblogger at 11:34 AM | Comments (0) | TrackBack
A tax proposal that makes sense...
Steve over at Who's Playin' has the deets on an upcoming Democratic proposal for a new surcharge to pay for the Iraq Occupation and the ongoing War on Terror.
If this war is important enough to fight, then it ought to be important enough to pay for.

We know that this proposal is going to be controversial – I don't expect to get the support of our leadership or the support of our caucus at this point – but by putting together this bill we hope people will stop ignoring what this war is costing American taxpayers and call the President's bluff on fiscal responsibility.

And please realize, that if such a proposal is not passed, and the war continues, one of two things will happen. We will either run up insurmountable debts, or we will drain the treasury dry of funds that are essential to making the domestic investments in education, health, medical research, science, law enforcement, that our crucial to creating a stronger country and more prosperous families.

It is time for the President and the Congress to face up to some really hard choices. It is time for all of us to face up to the consequences of the President's actions.
I'm all for it. The Republicans have financed everything on a credit card and the result is declining economic prospects in the US and a substantially weakened dollar. It's up to the Demcorats to fix it. And woe be to any Republican who dares to call them tax and spend liberals. At least we don't pass our debts to our kids.
Posted by mcblogger at 10:38 AM | Comments (0) | TrackBack
October 12, 2007
Jokes of My Father's : Assualting Religion
Yeah, this one made me laugh...
A crusty old man walks into the local First Baptist Church and says to the secretary, 'I would like to join this damn church.' The astonished woman replies, 'I beg your pardon, sir. I must have misunderstood you. What did you say?' 'Listen up, damn it. I said I want to join this damn church!' 'I'm very sorry sir, but that kind of language is not tolerated in this church.' The secretary leaves her desk and goes into the pastor's study to inform him of her situation. The pastor agrees that the secretary does not have to listen to that foul language. They both return to her office and the pastor asks the old geezer, 'Sir, what seems to be the problem here?' 'There is no damn problem,' the man says. 'I just won $200 million bucks in the damn lottery and I want to join this damn church to get rid of some of this damn money.' 'I see,' said the pastor. 'And is this bitch giving you a hard time?'
Posted by mcblogger at 12:59 PM | Comments (1) | TrackBack
Jews just need to be 'perfected'
So sayeth the always sensitive and emaciated Ann Coulter
In a recent interview on CNBC's The Big Idea with Donny Deustch she said that Jews need to be "perfected." By that she means that they should be Christians. Coulter then went on to say that we should all be Christians and that all would be well (guess she's never seen a bar fight between boys from one baptist church vs. boys from ANOTHER baptist church in the same community). She also invited Deustch (who is Jewish) to go to church with her.
After the commercial break, she came back for a game of CYA...
COULTER: No. I'm sorry. It is not intended to be. I don't think you should take it that way, but that is what Christians consider themselves: perfected Jews. We believe the Old Testament. As you know from the Old Testament, God was constantly getting fed up with humans for not being able to, you know, live up to all the laws. What Christians believe -- this is just a statement of what the New Testament is -- is that that's why Christ came and died for our sins. Christians believe the Old Testament. You don't believe our testament.
But Ann, that wasn't what you SAID...
Just FYI, CNBC is reairing the interview tonight (it's The Big Idea with Donny Deustch).
Posted by mcblogger at 09:39 AM | Comments (0) | TrackBack
Friedmanite utility dereg fails. Officially.
Again, we're talking about utility deregulation. This time, from an analysis in the late to the party Chron (via Kuff)
[T]he very structure of Texas' deregulated market exposes customers to the full impact of rising natural gas prices more than in other states, or even in parts of Texas still served by regulated electric companies, municipally owned utilities or electric cooperatives.

The 25 percent of Texans living in those regulated markets generally pay less than rates available in markets that have been opened to competition.

Houston residential consumers use an average of 1,130 kilowatt hours a month. Bills for that much power would range from $125.43 to $163.85 based on rates available in Houston at the end of September for a one-year, fixed-rate plan. The average rate available in Houston would produce a monthly bill of $142.95.

The same amount of electricity would cost $97.41 in San Antonio and $105.32 in Austin, both served by municipally owned utilities.

Deregulation supporters say its success should not be judged just on price, and point to the variety of electricity service options available to customers. But they have been slow to take advantage of the choices.

The variety of service options? Like what? 12/12 plan that keeps my power on only for 12 hours a day and pulls me off the grid for the 12 that I'm at work/stuck in traffic? What difference does it make if the kWh is still more expensive than the pinko's in Austin are paying?
Pretty sad when the widely derided most liberal city in Texas has better and cheaper utility service than the capitalist powerhouses of Dallas and Houston. But at least Dallas and Houston people have their choice from a 'variety of service options'.
Variety of service options... You can stick that up a variety of assholes.
Posted by mcblogger at 09:12 AM | Comments (0) | TrackBack
October 11, 2007
Draw your own conclusions...
Naomi Klein has written a thoroughgoing indictment of Milton Friedman and his Chicago School of economic theory which is functionally supply-side with a penchant for what Friedman called 'economic shock treatment'. Basically, you create the conditions that allow the economy to get sooo bad that the people will accept a change, any change, that promises to fix the problems. In theory, it should expand services and create wealth across every economic level. In practice, it creates massive stratification and does little to fix or create critical services. It also makes everyone not already wealthy destitute...
Klein argues that Friedmanian free market rules do exactly what they were designed to do: they don't create a perfectly harmonious economy, complete with the much-lauded "trickle-down" effect, but rather, turn the already wealthy into the super-rich and the organized working class into the disposable poor. Further, she describes these orchestrated raids on the public sphere in the wake of catastrophic events, like war, as exciting marketing opportunities or "disaster capitalism."
So, why even mention this? Simple. This is about to happen to us and you might as well be prepared for it. Since the supply-side revolution Reagan ushered in more than 26 years ago, we've seen economic stratification climb to alarming levels not seen since the Gilded Age. Despite the fact that it doesn't really help anyone other than those already rich.
Which brings us to the tax issue we mentioned yesterday. The supply siders will tell you that cutting taxes will increase economic growth and create surplus revenues. That's actually not true since it's dependent on the Laffer Curve and even it is subject to the law of diminishing returns. What's needed is a balance in marginal tax rates and efficient use of the money by the government, not endless deficits, mounting debt and low taxes for the already rich. That and the fact that tax policy has less of an impact on business conditions than interest rates.
Think, for a second, about our crumbling infrastructure, our rising deficit, underfunded entitlement programs... it's all leading up to a situation in which things will spin violently out of the control. Of course, when that happens, then we'll be ready for shock treatment.
Think it can't happen here? Cause a massive economic disruption in the US and people will accept anything that will fix it.
They elected Reagan, didn't they? Think of that as a dry run.
One other note about investments and taxes... I'm a HUGE fan of massive capital gains taxes, especially on gains realized in less than two years. Why? Because I hate traders and speculators. I'm a long term investor...THAT more than anything done by private equity companies actually provides long term stability and growth in businesses. It also stabilizes the retirements of hundreds of millions of people.
Posted by mcblogger at 03:15 PM | Comments (1) | TrackBack
Tolls : New lights making for some happy voters
Gotta say, this comes as one hell of a surprise...
That's also when new traffic lights on Texas 71 at Texas 130 were turned on. Before then, there was no light on Texas 71 between Ross Road east of Onion Creek and FM 973 near the airport, a stretch of about a mile and a half.

The new luminous obstruction, according to some of the e-mails and calls I've been getting, initially added at least 15 minutes to some people's morning commute. One Bastrop resident says her commute ballooned from 30 minutes to 80 minutes or more. One person wrote, perhaps engaging in hyperbole, that the backup extended as far as 10 miles.
What about the 'no new lights' promise from TXDoT's Bob Daigh and our representatives on CAMPO? Turns out, not so much...
A couple of things stand out here. Wear, in his typically pedestrian way, wends around to it at the end. The light has to be there because there are no flyways from 71 to 130 and vice versa. As for why, I'm thinking it's probably too expensive and as we all know, TXDoT's hardly been a good steward of the public's funds... remember those flyways at 45/35? Same thing here. I guess TXDoT's retards think if they don't budget for it, we don't need it. As always, they are Johnny On-The-Spot with the most incomplete solution.
Given all that, you have to put in lights because God knows they aren't going to spend money creating an express pass through for folks on TX 71 who've NEVER had to stop at this intersection before. Now, traffic on 71 is what some would call pretty heavy due to commuters. Traffic on 130 is non-existent for the most part. So what kind of sense does it make to have the lights going green on both roads for roughly the same amount of time? TXDoT never heard of a simple optical sensor? I have one in my garage they can use if they need it. It can trip the light and go green on 130 when a car shows up that needs to go east on 71. That makes much more sense than timing a light for nonexistent traffic.
TXDoT is not only giving us an expensive solution, it's not even a complete solution. Great work, y'all! Thanks for angering people in Bastrop County and Eastern Travis County!
Just for fun, in the wake of CAMPO's decision on Monday, comes a News 8 poll that doesn't bode well for those seeking re-election. I told you people were 'upset'
Posted by mcblogger at 12:18 PM | Comments (0) | TrackBack
Don't forget...
The HDCC thing tonight... 6:30 at Scholz.
Go on and put it in your outlook and on your blackberry. Now. No, I'm not terribly excited about the beer-only venue but it's for a good cause!
Posted by mcblogger at 11:43 AM | Comments (0) | TrackBack
Betrayus the Sycophant...
Oh, I can't want to see the Congressional Resolution condemning the American Conservative...
In common parlance, the phrase "political general" is an epithet, the inverse of the warrior or frontline soldier. In any serious war, with big issues at stake, to assign command to a political general is to court disaster--so at least most Americans believe. [...]

David Petraeus is a political general. Yet in presenting his recent assessment of the Iraq War and in describing the "way forward," Petraeus demonstrated that he is a political general of the worst kind -- one who indulges in the politics of accommodation that is Washington's bread and butter but has thereby deferred a far more urgent political imperative, namely, bringing our military policies into harmony with our political purposes.
Posted by mcblogger at 09:08 AM | Comments (0) | TrackBack
October 10, 2007
Shelly throws a new nutty
It's been a while since last we visited Shelly...ELLN tipped me off to her going loony beating up on some kid the Democrats are using as an example of the real world impact of vetoing S-CHIP. To hear Shelly tell it, the Frost's are multi-millionaires who live a lavish lifestyle that includes going through the pain in the ass of applying for a state-run child's insurance program. Check out the ELLN link and the subsequent information from Think Progress. These people are surviving on a combined income of $55,000 per year. I WOULD HAVE PROBLEMS SURVIVING ON $55,000 A YEAR AND I'VE ONLY GOT MYSELF TO WORRY ABOUT.
Shelly, for those of you that don't know, is pretty clueless when it comes to reality, especially when it conflicts with her narrow belief system. She doesn't realize that applying for state benefits is a pain in the ass process. Most people, if they can afford it, would much rather pay for private care and have less to worry about. For these people, they had only two options... no insurance or CHIP for their kids.
Shelly doesn't come out and accuse the Frosts of lying about their income and means, she just alludes to it. That's Shelly's way of giving a hand job to Mitch McConnell, John Cornyn and Boehner. I've always thought Shelly was pretty much a skank. Now I realize she's really a hooker.
Anything for a buck, eh Michelle?
Posted by mcblogger at 11:04 AM | Comments (0) | TrackBack
Unfortunate product placements
Via Something Awful...
Posted by mcblogger at 09:23 AM | Comments (0) | TrackBack
October 09, 2007
Abstaining from funding...
Kuff has more on the decision to cut funding for abstinence only sex ed. Since it's been such a stunning success, at least in terms of creating higher teen pregnancies and higher teen STD rates! Good job, radical right! You're focus on ideology vs. reality has served your kids well.
Posted by mcblogger at 08:06 PM | Comments (0) | TrackBack
Someone tell Harry Reid to get the dick out of his ass
According to Senate Majority Leader Harry Reid, making private equity managers pay the same taxes the rest of us pay isn't even going to come up this year.
Senate Majority Leader Harry M. Reid (D-Nev.) has told private-equity firms in recent weeks that a tax-hike proposal they have spent millions of dollars to defeat will not get through the Senate this year, according to executives and lobbyists.

Reid's assurance all but ends the year's highest-profile battle over a major tax increase. Democratic lawmakers, including some presidential candidates, had been pushing to more than double the tax rate on the massive earnings of private-equity managers, who the Democrats say have been chronically undertaxed.
Harry, a word of advice... GET A BILL ON THE FLOOR. RECORD THE VOTES. MAKE THE REPUBLICANS TAKE A STAND AGAINST ORDINARY AMERICANS. I know you're kind of sloppy at PR, but not even bringing the thing to battle is just stupid. This could be a wonderful campaign issue, but if you don't let it come up then we can't use it as effectively. Damn, I know you're smart as a whip so why the fuck can't you see this?
This is a debate we're ready for. This is one we can win and crush the Republicans on economic issues. Get something, ANYTHING, moving and let's take the fuckers head on.
On the lighter side, Senator Obama has come out, chiding the lobbyists who kept this legislation down and trumpeted his intention (if elected) to close the loopholes that let private equity managers get away with this. My question? Why not do something now since you are, you know, IN THE FUCKING SENATE.
Idiots.
Posted by mcblogger at 12:33 PM | Comments (0) | TrackBack
'Round the TPA
It's Monday, and that means it is time again for the Texas Progressive Alliance Weekly Blog Round Up. This week's round-up is compiled by Vince from Capitol Annex.
TXsharon says, "YOU SUCK AT&T" and she can only say that because she doesn't use AT&T. Over at Bluedaze she tells why, if you use AT&T for your Internets, you can't say they suck.
Stace at Dos Centavos reports on racism and bigotry committed by a corporation and a UT fraternity.
What's
really going on in Irving? Xanthippas at Three Wise Men notes there's more going on in the immigration crackdown than possible profiling and arrests.
CouldBeTrue at South Texas Chisme notes that NOW wants to know why U.S. District Judge Judge Samuel Kent was 'punished' with a 4 month vacation after the investigation into sexual harassment charges concluded.
Criticism of Hillary Clinton's laugh is no laughing matter, so says PDiddie at Brains and Eggs in HRC:LOL.
Might be time for a bit of horsetrading on the floor of the Senate, and one of Texas Kaos' regular diarists, Fake Consultant, has a bit of advice on the subject for Majority Leader Harry Reid in On Larry Craig, And Filibusters or Wanna Make a Trade?
Truth, it has been said, is the first casualty of war. The Republican-Media coalition must have declared war on Social Security, and Blue 19th exposes their lies.
Human rights advocates cheered the Williamson County Commission's vote to sever ties with the operator of the T. Don Hutto holding facility for undocumented immigrants, but Eye On Williamson's wcnews wonders if a battle within the Republican party over the county's share of the profits may have driven their decision.
McBlogger at McBlogger speculates as to the reasons Sharon Keller (Chief Justice of the Texas Court of Criminal Appeals) needed to get out of work at 5 on Sept. 25th.
Vince at Capitol Annex tells us about the Texas Conservative Coalition's new Election Integrity Task Force, its new Chairwoman and its likely recommendations.
Peter at B and B writes about the quixotic attempts by a group of environmentally-conscious Republicans to get their chosen political party to care about conservation and stewardship: Republicans for Environmental Protection, all 70 of them, meet in San Antonio.
Off the Kuff looks at the ongoing dispute between the Harris County Appraisal District and the State Comptroller over how commercial properties are taxed.
In Texas Kaos dairy, Dallas and Denton drinking water at risk by TxDOT's route selection choice for FM299, Faith Chatham's shares a letter from Highland Village Parents Group activist/homeowner Susie Venable to Mayor Tom Leppert of Dallas regarding the City Water Department's failure to monitor possible MTBE contamination issues. Despite cries of running out of money, TxDOT selected the only route (of 8) which would double project costs by requiring bridges to be built across three tributaries to Lake Lewisville (drinking water source for Denton and Dallas Counties) in the area of the lake already contaminated by MTBE.
Gary at Easter Lemming updates the Pasadena Mayor Manlove resignation and his running for Lampson's seat. There are a lot of happy faces at city hall. Easter Lemming broke the story back on the 22nd.
Trinity Trickey strikes again at The Texas Cloverleaf. This time pro toll road literature features the war on trees and the fight against Angela Hunt by the powers that be. Only in Dallas.
This week's installment of GLBTube at the Houston GLBT Political Caucus Blog is a double feature: first, a sampling of clips related to ENDA; then gay republicans are running ads in order to sabotage hypocritical presidential candidates!
WhosPlayin hammers away on GOP Congressman Michael Burgess for dissing Muslims and being one of 30 boneheads to vote for giving mercenary firms like Blackwater a license to kill.
The Texas Blue looks at how the evangelical social movement isn't playing nice-nice with the Republican Party any longer, and why that is good for America.
Earl Ofari Hutchinson, author, syndicated columnist, political analyst and commentator, who is on a virtual book tour will stop by Para Justicia y Libertad on Oct 11 to discuss his new book The Latino Challenge to Black America: Towards a Conversation Between African-Americans and Hispanics.
Hal at Half Empty counted a Lucky Seven congressional candidates that want to run against Nick Lampson in Texas CD 22. He ROFLs and LMAOs.
Posted by mcblogger at 11:33 AM | Comments (0) | TrackBack
Tolls : CAMPO drops us in the grease, Eckhardt puts aloe on the burn
You had to be there to believe it. The anti-toll faction even at this, the meeting to vote on the TIP which included few public comments, was still 50-55% of the crowd with the balance made up of folks who were either undecided or those who worked for the Chamber.
It's rare, but not unknown, for me to see an organization with minimal political power decide to squander what little remains. All the Chamber has done is unify the anti-toll right with the left which already hated the Chamber and is functionally capable of electing their candidates anyway. I feel bad for the Chamber because they'll think they got their way (the TIP was going to pass with or without their dumb campaign) but really all they did was fully marginalize themselves into irrelevance, especially in west Austin. Their endorsement will be nice and poisonous.
The vast majority of the anti-toll people at the CAMPO meeting last night weren't liberal Democrats. Most of them are moderate to conservative Republicans with a heavy salting of Libertarians. Traditionally, they are the pro-business folks a Chamber endorsement would appeal to. Not so much anymore. I saw three groups tonight taking pictures and gathering names of those who were part of TakeOnTraffic... they'll be looking for these people on ethics filings from now to eternity.
So, the TIP passed and Senator Watson will get his toll roads. Here's the list of those that voted for all of them...
Travis County Judge Sam Biscoe, Texas Department of Transportation Austin district engineer Bob Daigh, Travis County Commissioner Gerald Daugherty, Austin City Council Member Betty Dunkerley, Kyle Mayor Miguel Gonzalez, state Rep. Mike Krusee, Cedar Park Mayor Bob Lemon, Williamson County Commissioner Cynthia Long, Round Rock Mayor Nyle Maxwell, Austin City Council Member Brewster McCracken, Georgetown Mayor Gary Nelon, former Austin Mayor Pro Tem John Trevino and Austin Mayor Will Wynn.
Judge Biscoe looked as out of place as I've ever seen him. He won't last another cycle. Daugherty is in serious trouble and will likely be gone in 2008. Red Tag Betty is already gone, as is Brewster. Brewster tonight saw his political flame flashout and with it his hopes of being Mayor. No, Brewster, the Chamber can't help you. Truth be told, they didn't do anything for Will either (I worked on the campaign, they helped as much as they hurt). What got Wynn re-elected was the fact that Danny Thomas was a psycho homophobe and Jennifer Gale was, well, Jennifer Gale. Wanna see nasty, Brewster? Just wait for the endorsement meetings. People don't like you anyway and you've just given them another reason to treat you like shit.
Will, you've been a real disappointment on this issue. We all see we need roads, but you let impatience get the better of you. That was stupid.
As for the WilCo folks, Krusee's toast and Maxwell will join him in irrelevance. Cedar Park is a gray area for me but if the crowd tonight was any indication, I think Lemon is going to have issues as well.
As for the others...
Watson voted yes on four of them and recused himself on U.S. 290 East because he is a director of a bank with land along U.S. 290 East in Elgin. And Travis County Commissioner Sarah Eckhardt voted yes on all but Texas 45 Southwest.
Eckhardt voted yes as part of a deal to get amendments passed to the TIP (see below). Watson voted yes because he's a dumbass. To wit...
"We're not left with the ability to just say no," Watson said after the meeting adjourned. "Because if we just say no, then we saddle our community and our children with even more congestion."
Senator, enough with the hyperbole. You failed, along with your colleagues, to do anything about transportation funding last session so your talk about not being left with alternatives is worthless because you didn't do anything to create them. All those opposed were asking you to do was think about the long term impact of what you were doing and work hard for an alternative in 2009. You failed to even do that.
We have long term transportation funding problems in this state and they have to be fixed. You don't accomplish that by caving into TXDoT and saddling taxpayers, most of whom are your very constituents, with mountains of debt serviced by exorbitant tolls. It's irresponsible and stupid, Kirk.
Suprisingly, it's the no votes that were most interesting...
"I do believe there is enough money to do some or all of these roads as free roads," said CAMPO board member Jeff Mills of Sunset Valley. "TxDOT just isn't going to do it."

Mills voted against all five, as did Austin City Council Member Jennifer Kim, state Rep. Eddie Rodriguez and Hays County Judge Elizabeth Sumter.
Mad props to all those with the intelligence to stand up to TXDoT's plan and say 'NO'.
Remember Eckhardt's yes vote? Here's why...
The board also voted on a set of four "covenants" as amendments, setting out how excess revenue would be spent, stipulating that the Central Texas Regional Mobility Authority would operate the roads and mandating that each road have as much or more free capacity as at present.
Just so you know, this was ALL Eckhardt. She was the one that forced these amendments. Why? Because she knew as we all did that the TIP would pass. She tried to make it as palatable as possible. One of the amendments stipulated funding from tolls to fund public transportation expansion, something that I don't think anyone can complain about. This will, of course, be the silver lining in a very dark storm cloud. EOW has more on Eckhardt's vote. NONE of the other yes votes offered anything similar.
The money quote comes from Krusee...
"We took a year this time to make sure everyone knew what they were voting on and what the consequences would be," Krusee said.
Yep. And now what comes next is inevitable. Which brings to mind an interesting conversation I had with one of the Chamber folks I happened to know. I explained to him that they'd really cut their own throats politically and that many of the people up on that stage wouldn't hold office after 2008 and 2010. He laughed and said something to the effect of 'Sal (Costello, head of the Austin Toll Party) didn't have the ability to be really effective'. I replied, 'Who said anything about Sal?'.
Make no mistake, y'all made a lot of enemies last night. Common cause is a powerful force.
Finally, there are two issues that have been bugging about this TIP.
1) None of this, other than super expensive toll road at the Y in Oak Hill, does a damn thing to solve our current congestion issues which are primarily related to bottlenecks on existing freeways. It never occurred to CAMPO that we had some more pressing issues?
2) If the toll revenue fails to be less than what's needed to service the debt used to build the roads, who's going to pay? Property taxes, anyone?
Thanks a bunch CAMPO! You've just made tolling an issue all the way into the 2010 cycle.
Posted by mcblogger at 09:27 AM | Comments (2) | TrackBack
October 08, 2007
National inSecurity
Why even play this game? The Democrats are proposing next week a sweeping bill to give surveillance powers to the Administration. Granted, the laws are more restrictive than those passed in August. Still, it's clearly a violation of the Fourth Amendment. And that's only the surveillance part of the bill.
The bill would require the Justice Department inspector general to audit the use of the umbrella warrant and issue quarterly reports to a special FISA court and to Congress, according to congressional aides involved in drafting the legislation. It would clarify that no court order is required for intercepting communications between people overseas that are routed through the United States. It would specify that the collections of e-mails and phone calls could come only from communications service providers -- as opposed to hospitals, libraries or advocacy groups. And it would require a court order when the government is seeking communications of a person inside the United States, but only if that person is the target.

A target is defined as a person, group, cell or government of interest to a foreign intelligence investigation.

"Democrats have made huge strides in making improvements over the Protect America Act," said Tim Sparapani, senior legislative counsel for the American Civil Liberties Union. "Yet we think that the Constitution requires as a minimum that an individualized warrant is required whenever an American's communications are targeted. This is going to be the big sticking point."

Democrats are wary of being called weak on national security. That concern is exacerbated by the government's withholding of details on its surveillance activities that would enable Congress to gauge whether expanded powers are needed, said Mark Agrast, senior fellow at the Center for American Progress.
The Administration also wants blanket immunity to telecom companies that aided the Administration in their illegal surveillance...
The bill would not include a key administrative objective: immunity for telecommunications firms facing lawsuits in connection with the administration's post-Sept. 11 surveillance program. House Democrats have said that as long as the administration withholds requested documents explaining the basis for the warrantless surveillance program, they cannot consider immunity for firms alleged to have facilitated it.

The White House on Friday evening told the chairmen of the Senate and House intelligence and judiciary committees that it would put together that information by Oct. 22 but would not say when or whether it would make the information available to lawmakers.

"We have told the White House for weeks that the House plans to consider FISA legislation on October 17," said a senior Democratic congressional aide involved in the White House negotiations. "How can members of Congress consider any proposal for immunity if the documents relating to the company's conduct aren't even being assembled by White House lawyers until October 22?"
Good question... why not let the existing law stand instead of writing a law that violates the Fourth Amendment? Why buy into the R frame on national security? Why not actually fight this and make the R's look like they are taking people's rights (which is exactly what they are doing)?
In the Senate, Democrats are working with Republican colleagues on a bill to be introduced this month that probably will contain some form of relief for telecom companies -- an issue that was sidestepped in August to help win passage of the Protect America Act.

Four possibilities are being discussed, said a Senate aide familiar with the discussions. The broadest would be blanket immunity, which would immunize anyone, including government officials, who had anything to do with any surveillance program. That is the approach the government favors and is strongly opposed by civil liberties advocates.

The second is targeted immunity, in which companies that can prove they were acting in good faith would be granted immunity from prosecution. The third is substitution, in which the government would replace the defendant in the lawsuit. Finally, there is indemnification. The cases would proceed through the court system, and if there were financial penalties, the government would assume them, the aide said.

Aides spoke on condition of anonymity because they are not authorized to speak on the record.
How about this... MASSIVE, billion dollar penalties for companies that complied, regardless of the reason. It's the only way to punish these entities for not respecting the privacy of their customers. Further, it's only way to keep this from happening again.
Adding a new perspective on the debate, a group of prominent computer scientists from organizations including Sun Microsystems, Columbia University and the University of Pennsylvania recently warned that the current emergency law opens doors to the interception of purely domestic communications without a warrant. The computer scientists are concerned that the government's actions could threaten the privacy and security of U.S. communications.

Administration officials have testified that any information gathered that involves an American who is not a target will be "minimized" -- their identities blacked out -- so that their privacy is protected.
Oh, sure. Just 'trust us'. Yeah, not so much.
Check out Somervell County Salon for their take...
Posted by mcblogger at 04:03 PM | Comments (0) | TrackBack
Geopolitics and the stupid, irrational candidates
I have to tell you, when it comes to policy in the middle east, the Democratic candidates are about as dumb as the Republican candidates.
None of the top three can say they'll have the troops out by January, 2013, a little more than five years from now. Does that mean we should support Gravel? It just might because crazy old man bullshit aside, he's the only one who seems to get it. Kucinich is just pretending and those of you who think differently are a bunch of tools. Kucinich is an even bigger egomaniac than Bush.
The political reality in the region is that the Saudis don't want the Iranians in control of Iraq. Neither do the Syrians. Neither do the Turks. The Syrians don't want the Turks in control of Iraq. Neither do the Saudis and Iranians. Get the picture? It's a complex balance of multiple forces and we could pull out tomorrow and no faction would be able to move in. Should the Iranians start pumping up the Shia, the other powers will aid the Sunnis. There is no risk, despite what our idiot President says, of an Iranian or 'al Qaida' takeover of Iraq.
The Democrats need to get that through their obstinate heads and realize they CAN pull troops out of Iraq, certainly before 2013. There is a civil war going on in Iraq. One power or another will eventually be victorious. None of the players in the region will allow anything other than a fully independent Iraqi state to be created, probably around a strongman. Let's hope he's more like Putin and less like Hussein.
Posted by mcblogger at 11:49 AM | Comments (0) | TrackBack
Tolls : For anyone waffling on the TIP
Via EOW comes word that of the public comments received to date, 75% have been anti-toll. Just a little something interesting for those of you about to vote on a massive infrastructure project this evening. The decision you make could potentially saddle us with BILLIONS in new taxes for the next 50 years and do little to alleviate the traffic problems we have now.
Don't focus on how regressive the gas tax is. What you're thinking about doing is FAR more regressive as the tolls are more expensive and will effect us all.
We're counting on you to do the right thing and tell TXDoT that their plan for Central Texas is unacceptable. I'm not going to lie, what we're asking you to do is not only kill this plan, but develop a better one. Neither will be easy. However, if you're the leaders you claim to be, it's exactly what you have to do.

Posted by mcblogger at 09:15 AM | Comments (0) | TrackBack
October 07, 2007
Deadlines are a Keller
Much has been made out of Justice Sharon Keller's decision not to wait for the appeal of Michael Richards (not THAT Michael Richards) because she wanted to close the court at 5:00 sharp (here, here, here and here). Which is apparently the usual time they close, even when a man is set to be executed. I sometimes have to work until 10 or 11 at night and I keep my staff at the office until everything is wrapped up, especially at the end of the month. So, while I don't have a lot of sympathy for a judge who is soooo anal about closing shop on time, the whole this has started me thinking about two things
1) I shouldn't worry too much about my job and staying late. I mean, come on... if a Judge thinks a person's life is less important than getting out of work on time, then maybe I'm taking the whole 'underwriting and closing loans so people can buy houses on time' thing too seriously.
2) Maybe Sharon had something important she needed to get to.
It's the second one that really brought it home for me. Maybe there WAS an important reason Sharon had to leave on time. Maybe we've all been a little too critical and we should look at what could have been going on with Sharon. Which leaves me wondering, what could Sharon have been running off to?
She needed to get home to cook dinner for the family - This one sounds terribly realistic. How many times have YOU disappointed your family by not being home to cook a healthy and wholesome meal for dinner? I know it happens to many of us, so I could see how this might be the case for Sharon. That is, I could see it until I remembered that awful eponymous drive-up her family runs on Northwest Highway in Dallas. If her cooking is anything like that, I'm sure her family stopped asking her to cook in 1982. Not so much with the home for dinner thing
She had an appointment for a haircut - I know what this is like. My time with Stylist is always precious and I hate being late for it. That's because Stylist has a wicked good sense of humor and gives me candy as well as a massage. I doubt Sharron's guy/gal is funny. Or has good candy. Or gives her a massage. However, I can understand her wanting to look good. But if that's the case, why does her hair look like ass? Even in her horrible campaign pics? Nah, I don't think Sharron really cares about looking good.
Sharron had a very important happy hour - Actually, this one would pull me out of work as well so calling this out would be a bit like poop telling vomit it stinks.
2 for 1 burgers at Huts?
Oh, hell, there are any number of excuses we can think up to cover for Sharon. However, none of them are as good as the one reason she should have kept the court open... it was the right thing to do. Regardless of guilt or innocence, you don't refuse to hear an appeal in a death penalty case. EVER.
Posted by mcblogger at 01:05 PM | Comments (0) | TrackBack
October 06, 2007
Gross...
There is a festival next Saturday. In Round Rock. As if that wasn't enough to get you up and on your way, I think this will pretty much do it.
If you go, I want pictures. I've heard that Betty Brown and Bill Zedler will be competing.
Posted by mcblogger at 10:51 AM | Comments (0) | TrackBack
October 05, 2007
Blackwater : Another case of corporate welfare
Texas Kaos has a great piece up on Blackwater and it's operations in Iraq. Forget for a moment that the company's employees have acted poorly and with malice in Iraq, damaging the reputation of the United States. Forget that many of their employees are little more than murderers. Focus on one thing and one thing only... Corporate Welfare. This is a company that wouldn't exist if they weren't part of the government food chain. This is a company that survives not by the managerial panache of it's leadership, but only through the largesse of the Republican Administration that pumps our tax dollars into it.
Don't shut it down... nationalize it. The grounds are war profiteering. Screw the investors.
Posted by mcblogger at 03:24 PM | Comments (1) | TrackBack
It's about time...
Rep. Dunnam has a great post up over at BOR regarding the friendliness in the Lege between members of different parties and the consideration that Democrats have had for their Republican colleagues. It appears that's finally breaking down...
Recently, Rep. Allen Vaught politely declined to meet with a potential opponent of Dan Branch. Allen explained that, in the greater interest of Dallas County, he did not think he should be personally involved in county House races. This is Allen's choice, and certainly understandable.

Imagine Allen's surprise when he received a copy of the invitation to former Rep. Bill Keffer's fundraiser this month. Of course, you can guess correctly that Linda Harper-Brown's name is on it; heck, she did the same against Republican incumbents during the 2006 primaries. But you might be surprised by some of the other host names: Joe Driver, Ken Paxton, Jim Jackson, and Jodie Laubenberg. Oh, and Rep. Dan Branch. But wait, you say, Joe Driver isn't like Harper-Brown? And Paxton has always treated other members with respect, hasn't he? And this is how Mr. Branch says thank you to Allen Vaught?

This is being duplicated across the state. These incidents are neither isolated nor uncalculated. We must recognize the great effort our Republican colleagues are making, as incumbent elected officials, to actively campaign against Democratic House members. We must understand that when our Republican colleagues go after one of us, they are going after all of us. You might be in a safe district and say to yourself, "Well, they are not coming after me," but the truth is that when they attack one of us, they attack all of us. Their goal is to weaken our collective voice by defeating us one by one.
And who is leading the attack against Democratic members of the Lege? None other than that old crone Arlene Wohlgemuth (the dumbass who tried to beat Chet Edwards in 2004), Linda Harper-Brown (who is interrupting her busy Crisco and bacon sandwich eating schedule) and our old friend CradDICK the Best Mud Salesman in Midland.
The reality is that the Democrat's goodwill has never been reciprocated. Further, the idea that 'you don't campaign against other members' is just patently absurd and Vaught's an idiot for thinking it. Those seats belong to the people of the State of Texas, not to some member. Regardless, the Democrats are going to have to realize, especially the new guys, that Texas politics ain't pretty and it ain't nice. If you need friends while in the Lege, may I suggest a nice bartender?
This is a knife fight and my daddy always told me the one who wins a knife fight is the guy who brings the gun. We, the thousands of activists around the state, are your gun. Don't be in the way and quit trying to protect, via action or inaction, your 'friends'.
And someone needs to be helping the guy running against Branch. Y'all up in Dallas Co... there is no goddamn reason why a Republican should be representing the gayborhood. HP and UP aren't that damn red. No more excuses... we got rid of Stick and Baxter. Y'all get on the stick and retire that dipshit Branch.

Posted by mcblogger at 01:43 PM | Comments (0) | TrackBack
ENDA not SPLENDA
The Employee Non-Discrimination Act is being held in Congress... by the people who want it for one simple reason : it doesn't include protections for the transgendered.
Even though gender identity and sexual orientation are two different things - many people who have changed gender are not gay - leading gay rights organizations refused to abandon transgender people even if it meant delaying passage of a landmark bill they have sought for more than a decade.

That's because discrimination against gays and lesbians often is based on their refusal to conform to gender norms, advocates said.

"A lot of the discrimination against people who are gay or lesbian is coming less from hostility to a specific sexual orientation as from the expectation of what it means to be a man or what it means to be a woman," said Christopher Anders, a legislative counsel for the American Civil Liberties Union who has worked on the anti-discrimination bill for years.

"The more masculine a gay man is, or the more feminine a lesbian is, the less the likelihood of discrimination," Anders said.
Click here to ask Congress to end discrimination. Period.
Posted by mcblogger at 11:48 AM | Comments (0) | TrackBack
"A Strong and Vibrant Economy"
President Bush used the mediocre job report to beat up Congress about raising taxes on the 'hard-workin' people of 'Merica'. By 'hard-workin' people' he means those making more than $200m per year which is the only income class that has seen any growth in their income. It's also a relatively few people in this country.
I referred to the mediocre job report. August was revised up from -4,000 to +89,000. That means that in August, using BLS' numbers, the economy added 89m jobs. That's only 61m short of STATIC employment. The economy needs to produce 150m jobs per month to keep employment at a static percentage. Why? Because of growth in the population of the work force, balanced by deaths and retirements. In August, as in most of the months of this terrific expansion, the miraculous republican economy hasn't even produced enough jobs to keep up with the new people coming into the economy. So, there's no wage growth and jobs, not even the bad ones that are the real 'strength' of this economy, are still fewer than they should be.
The September report which came out today will probably be revised downward. However, for today it was 110m jobs. The unemployment rate 'ticked up' to 4.7% but in reality it's far higher since BLS no longer counts people who've 'dropped out of the workforce' which is their nice way of saying people who've been unemployed longer than 12 weeks in most cases. The real number is probably 2.5-3% higher and there's a really easy way to prove it. Just look at the earnings of the nations largest retailer, Wal-Mart. The lower end of the economy(which includes everyone making less than 200m per year), the one that actually spends money and generates consumer spending, is hurting and they aren't buying at Wal-Mart or other discount retailers.
They are going without. And that's what Connecticut native George W. Bush calls a 'Strong and Vibrant Economy'.
Posted by mcblogger at 09:33 AM | Comments (0) | TrackBack
October 04, 2007
Wanna see something funny?
How does Sly Turner : Speaker Of The House, hit you?
I know, it took me a while to come up for air as well. Who'd have thought that a man with no real power outside his own district and who can count less than 20 people in The Lege as supporters would be a good speculative speaker?
Actually, come to think of it, there may not be 20 people in The Lege next session that like Turner. We already know some of them are going the way of the dodo.
Posted by mcblogger at 04:12 PM | Comments (0) | TrackBack
Edwards blows them away in KY
Senator Edwards today held a town hall in Kentucky which I'm informed is a real state just like Texas. Except smaller and with more toothless people. I think they make bourbon there and have some kind of horse race? Does that sound right?
Anyway, Edwards comes to Columbus, KY to have a chat with folks. Columbus has a population of 229 people. However, more than 1200 people showed up to hear what Edwards had to say. Not bad for a guy the media has already said is out of the game.
"The establishment wants you to believe that a candidate who says no to lobbyists and rejects the financial arms race that is drowning our democracy in waves of corporate money can't be elected," said Edwards. "I think that couldn't be further from the truth."

Edwards continued: "The press, the pundits, the career politicians – they all think the most electable candidate is the one with the most money and the most ties to Washington. I think the most electable candidate is the one with the best ideas, who can go to every corner of America and tell the truth about how badly Washington is broken.

"If this race comes down to a corporate Democratic politician against a corporate Republican, all bets are off. But if our party – the Democratic Party – rejects the broken system, says no to the corporate interests and stands once and for all with the people, we're going to win in small towns, we're going to win in Kentucky and we're going to win all across America."

Columbus, a small town in rural Kentucky, won Edwards' visit through an online competition organized by the campaign through the website Eventful.com. Residents from Columbus, population 229, used Eventful.com to lobby for Edwards' visit, organizing a national effort that generated thousands of votes and successfully outbid competition from more populous communities.

Shawn Dixon, a 24-year old Columbus native, who, like Edwards, was the first in his family to attend college, led the drive to bring Edwards to his home town. "When John Edwards said he'd visit any town in America that demanded him the most, I don't think there's anyone who would have guessed he'd end up in Columbus, Kentucky," said Dixon, who is now a first-year student at the NYU School of Law. "To us, it means a lot to see a candidate you can trust to make good on a promise – it's a good indication of what kind of president he'll be. I am supporting John Edwards because he understands the challenges facing small towns like Columbus, and he has the strength and the vision we need to bring real change not only to rural America, but to all of America."

Edwards attended a community barbeque and hosted a town hall forum with Columbus residents. Located on the banks of the Mississippi on the far western edge of Kentucky, Columbus is roughly a three-hour drive from the nearest urban areas, Memphis, Nashville or St. Louis.

Also, take a at the reaffirmation of an endorsement
if you're worried about his decision to use public financing.
Posted by mcblogger at 02:49 PM | Comments (1) | TrackBack
Tolls : Reason steps into the TTC debate
No, not that reason, THIS Reason. The same people who think free trade agreements are a hoot without ever realizing one inescapable fact... that they always drag down the stronger partner IF there isn't parity between them prior to the agreement going into effect. The same folks who years ago told us utility deregulation would save consumers tons of money (it's cost them more than their old regulated service). The same people who've been pimping tolls for a while as the transportation panacea.
Yeah. These are a bunch of Randroids and Friedmanite Libertarians shouting crap to anyone who'll listen. Now, they've decided to advocate for the massive toll road project that is the TTC.
This is all too sinister for Jerome Corsi, the Vietnam War veteran who helped lead the Swift Boat charge against John Kerry. Corsi has knitted disparate strands of each of these separate road projects to help convince fellow xenophobes such as Pat Buchanan, Phyllis Schlafly, Lou Dobbs and the John Birch Society that the corridor is the first leg of a secret federal project called the NAFTA Superhighway, a four-football-field wide monstrosity that would run from Mexico's Yucatan to Canada's Yukon.
Oh, it's something Swift Boat Corsi is involved with? Shit, I better run right out and support the TTC. Problem is, public opposition to TTC isn't based on conspiracies and no amount of lying by the uninformed spinners at Reason will change that.
Uhm...yeah. For the folks at Reason who aren't even, you know, IN TEXAS, public opposition to the TTC isn't based on paranoia. It's based on the financing structure, the privatization of infrastructure and of course the fact that the TTC will pave over (in it's current configuration) more than a 100,000 arces of the best farmland in this country. Let's also consider the tens of thousands of people on family farms that will be displaced.
However, in terms of paranoia, maybe someone should tell the reasonable people at Reason that the TTC that will run parallel to the 35 will be bringing in goods from the Mexican Pacific coast, NOT from Houston. Goods that didn't go through American customs. Considering how little of the shipping into the US we inspect today, do they really think it's a good idea to start allowing in more uninspected shipping? To have a shipping container loaded with a
nuke able to get into the US and come with in 25 miles of three of the largest cities in the state?
Corsi, despite his lies about Kerry in 2004, is right about one thing in this piece... foreign ownership. To Reason, it's just another asset sale and more buyers means higher prices for the remaining assets we don't privatize. However, what Reason doesn't tell you is that the toll money is leaving our shores at a time when we are already laboring under a weak dollar created in large part by our massive trade deficit. Any economist worth a damn, one interested in long term gain, would tell you that the best thing to do is to use our own money to finance our own infrastructure.
Finally, where the crack team from Reason really fails is on cost. Compared to just expanding the 35 corridor, the TTC is actually more expensive. Why? Because most expansion plans would be through already owned rural ROW with city bypasses to the west and in some cases the east of the cities along 35. A hell of lot less expensive than a massive eminent domain purchase followed up by a massive construction project.
The TTC isn't a reasonable project at all. Even the people at Reason should have figured that out instead of railing on about what Jerome Corsi is doing.
Posted by mcblogger at 01:53 PM | Comments (0) | TrackBack
Rally for S-CHIP
Rally for Kids Health


Outside Chase Tower (Location of Sen. Cornyn's office)


221 West Sixth Street


Austin, TX 78701


Thursday, 4 Oct 2007, 6:00 PM
Posted by mcblogger at 10:21 AM | Comments (0) | TrackBack
Housing : Democrats go after Bush
Yesterday, the Democrats went on the offensive regarding the foreclosure increase in the housing industry...
The effort by Senate Majority Leader Harry Reid, House Speaker Nancy Pelosi and others is an attempt by Democrats to step up pressure on the White House to respond to the troubles in the housing market.

Democrats have been critical of the Bush administration's response to the mortgage market problems, which started among loans made to borrowers with weak credit and has spread to other loans.

At an 11:30 a.m. press conference, the lawmakers are expected to reiterate calls for more funding to help homeowners avoid foreclosure. To alleviate strain in the mortgage market, they will also ask the Bush administration to further increase the investment portfolio caps for home-loan finance companies Fannie Mae and Freddie Mac.
The Bush Admin said that HUD Secretary Jackson was on top of it but we all know that's not true. To date, all the Administration has done is block Congressional initiatives, even those with bipartisan support. They've also rolled out FHA Secured. Which is a great program. Problem is, no one is offering it.
No, I'm completely serious. My company is one of many that has survived this mess and will NOT be purchasing these mortgages via our TPO relationships. Why? Because we can't find anyone to take them from us. Bush was hoping that the market would react well to FHA Secured. Instead, the market has said, 'No Thanks'. Connecticut native Bush needs to realize that sometimes there are problems created BY a free market that simply can't be fixed by the free market. Government must create additional incentive if they ask private business to take on astronomically more risk.
It would also be nice if he'd stop being such and asshole about Agency expansion and let Congress get to work...

Posted by mcblogger at 09:00 AM | Comments (0) | TrackBack
Edwards Tells Olbermann Hillary's 33% Lead Is "Superficial"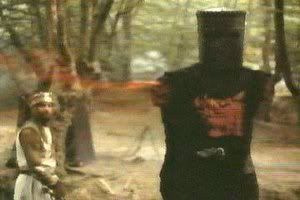 Just a flesh wound!
Posted by mayor mcsleaze at 08:01 AM | Comments (0) | TrackBack
October 03, 2007
Tolls : What CAMPO should fix...
Talking with Sister Ruth and The Mayor Saturday it became clear that there are a few choke points on Austin roads that, if fixed, would make life in Central Texas much better. It also brings to mind a conversation I had with Rep. Eddie Rodriguez about the upcoming vote on October 8th. What do you fix? What projects make the most sense? How do you best spend the money we have NOW?
Here are some ideas. Feel free to add your suggestions in the comments.
1) Widen or deck MOPAC from 35th St to the 290 interchange
2) Go with Fix 290's plan for the Y at Oak Hill
3) Flyway from 183 to northbound 35
4) Flyway from 290 to southbound 35
5) Widen the ramp from MOPAC to eastbound 360
6) Widen access from eastbound 360 to southbound MOPAC and build a flyway to northbound MOPAC
Obviously, 1 and 6 are the most expensive and could potentially be budget busters. It would also be nice to complete 183 out to the airport. However, on a DAILY basis, these are the most frustrating parts of our infrastructure. You'll notice I left off 35. That was simple... the only way you're going to fix it is to pull traffic off it and the only way you'll do that is to kill the tolls on the 130. Any other solution is too expensive and utterly stupid.
Sal has more on almost one billion we have to spend... and the games TXDoT is playing with it. While we're talking about TXDoT and more specifically our wonderful District Engineer, one question still remains... what about the missing DC's at 45 and 35 in Round Rock? If the flyways were budgeted but the holdup is the environmental clearance, when will that be done?
Has ANYONE audited the 45/1 tollway? Where DID all that money disappear?
Posted by mcblogger at 03:30 PM | Comments (0) | TrackBack
Noriega's got the big MO!
Kuff has more on the numbers in the Texas Senate race... the short version is that Cornyn is in trouble with around 50% to re-elect. Cornyn is well known around the state and the remainder of his number (30%) is more than likely Yellow Cat Republicans. As the race heats up and Noriega becomes the clear challenger, expect the name ID to rise dramatically, as well as his polling numbers. This number is similar to what Perry had going into 2006 and we all remember how that ended up. The difference this time? No C4N3P and Kinky.
In other news, Noriega announced his Q3 fundraising numbers and they are, in a word, great. Not to mention more than $140k from Bloggers for Rick. Thanks to EVERYONE who donated! You made a VERY real difference!
Posted by mcblogger at 12:53 PM | Comments (0) | TrackBack
Bush vetos S-CHIP, then heads to PA to sell it
Right now, Connecticut native George Bush is in Lancaster, PA trying to sell his economic policies. To a handpicked bunch of supporters. Maybe 150 of them. I wonder how much they had to be paid to come listen?
Having vetoed that S-CHIP bill earlier, he has decided to go out into the world and talk about why it was a good idea. He talks about keeping taxes low but the increase in the program was negligible compared to the war funding appropriation. Seriously, it was 3-4% of the war funding. Regardless of the size, this is a cost effective, long term program that keeps emergency room visits low and actually has the net effect of lowering health care costs and taxes. Bush would know that if he'd actually spent time analyzing the costs of kids without health care on a community. Look at Travis County's budget.
He's also saying it was about keeping bureaucrats out of your health care decisions. It must be nice to not have to deal with that stuff. If he did, he'd know that whether they work for the government or the health insurer, a bureaucrat will be making decisions. Given that, doesn't it make sense to go with the more efficient operation and the cheapest payment?
That would be the government. Problem is, Bush can't see that because he's blind to financial reality. It's a talent that helped him run companies into bankruptcy AND change the US budget from surplus to deficit almost overnight.
The stocks of private insurers are up across the board.
Posted by mcblogger at 10:57 AM | Comments (0) | TrackBack
McCain replaced by PanderBot 9000
It was only a matter of time before Ronco started making robots to replace humans in an effort to expand the market for the pocket fisherman, that crappy rotisserie and of course, knives. Lots and lots of knives. Their first replacement was of Senator John McCain sometime around 2002. That model was recently replaced by a PanderBot 9000. According to the company, the PanderBot is a fully functional AI with limited personality imprints from the original human (in McCain's case, the imprint was classed as SENILE OLD MAN) and a fully functional bio-mechanical chassis. It's the perfect politician, able to form opinions and beliefs on a variety of subjects given nothing more than an audience. Case in point, when asked the question "A recent poll found that 55 percent of Americans believe the U.S. Constitution establishes a Christian nation. What do you think?" McCain recently said...
I would probably have to say yes, that the Constitution established the United States of America as a Christian nation. But I say that in the broadest sense. The lady that holds her lamp beside the golden door doesn't say, "I only welcome Christians." We welcome the poor, the tired, the huddled masses. But when they come here they know that they are in a nation founded on Christian principles.
The robot, even if reality conflicts with what it is saying, will pander relentlessly. In this case, the unit has ignored the fact that there is:
1) A prohibition against religious tests in the Constitution
2) No mention of God in the Constitution
3) A First Amendment to the Constitution
4) A treaty negotiated by our first President, ratified by Congress and signed by our second President that clearly says the United States is NOT a Christian nation (it's Article 11).
Amazing, right? No one ever said Ronco's shit was any good.
Posted by mcblogger at 07:53 AM | Comments (0) | TrackBack
October 02, 2007
All Around the TPA
It's another week and that means it's time for another installment of the Texas Progressive Alliance's Blog Round-Up. This week's round-up was complied by Vince from Capitol Annex.
Blue 19th wonders: Can someone ask Randy Neugebauer why he hates college students?
Evan at the Houston GLBT Political Caucus Blog asks where's Human Rights Campaign as leaders in congress are considering leaving transgender works out of ENDA because, unlike other GLBT political organizations, H.R.C. has been silent so far, and that's unacceptable.
In How are these alike? Fort Worth and Wise County TXsharon of Bluedaze warns Fort Worth residents about the dangers of Barnett Shale drilling, conflicts of interest and good old boy politics.
McBlogger goes all medieval on the Texas Transportation Commission's derriere... Like toll roads? Not McBlogger!
Texas Kaos community member Carol Gee gives a primer on terms we're all going to need to become much more familiar with in 50 Ways to Understand the Protect America Act.
Managing diabetes is a real pain, according to PDiddie at Brains and Eggs.
WCNews at Eye on Williamson analyzes the latest actions regarding HD-52 in Krusee's Influence And Credibility Are Gone, Time For HD-52 To Start Over.
BossKitty at Blue Bloggin notes that Lloyd Doggett (D-Austin), representing the 25th District of Texas, hits Bush in the nose again, and this time its on SCHIP. She also tells about some of the antics of Pete Sessions (R-Dallas) on the vote--and how that's all about earmarks.
In a pair of posts, Nat-Wu at Three Wise Men asks if the city of Irving is practicing racist law enforcement.
Off the Kuff takes a look at State Proposition 2, which an education bond issue that should not be confused with the Houston ISD's more controversial referendum.
Over at Stop Cornyn, Matt tells us how John Cornyn has once again voted against Texas Children. Another post at Stop Cornyn notes just how out of touch Cornyn's vote was.
Texas Toad at North Texas Liberal talks about the Project Farm Team meeting, with guest speaker Vince Leibowitz, and how that organization can turn Denton County blue.
The Texas Blue, one of the recent additions to the Texas Progressive Alliance has an audio interview with State Representative Kirk England, who discusses his background and what motivated his recent decision to switch from the Republican Party to the Democratic Party.
Vince at Capitol Annex tells us how Rick Perry's decision to order the state's two largest retirement systems to divest in Iranian-related investments could cause a special session.
Refinish69 at Doing My Part For The Left gives his views about people saying elect any Democrat and why he thinks that is total BS in Rick Noriega, Dan Grant and John Edwards 3 Great Democrats To Get Elected
Half Empty'scoverage of a presentation by Hank Gilbert makes note of what a huge issue the Trans Texas Corridor is. Hal attended Hank Gilbert's informative discussion on Saturday and reports.
B and B has only one simple request... Stop The Border Wall.
Posted by mcblogger at 05:53 PM | Comments (0) | TrackBack
What do Larry Craig and Shannon Bailey have in common?
They have both decided to stay in office...Larry's decided that he's going to see where his appeal goes. Yesterday, the Texas Stonewall Caucus had a General Membership meeting and a last minute vote to remove Shannon, who refused the request of the board to resign, failed to obtain a 2/3 majority. For a recap, reread the entry for the August meeting.
Posted by mcblogger at 12:05 PM | Comments (0) | TrackBack
HDCC Fundraiser for a Democratic Majority
The Texas House Democratic Campaign Caucus is having a fundraiser at Scholz Garden on the 11th and you should really go. I probably will, but that don't let that stop you. Now it's never been more important to support them. Next year we have to take back the House. Texas simply can't afford more Republican failure.
Posted by mcblogger at 10:23 AM | Comments (0) | TrackBack
Tolls : CAMPO's next step
What happens next? Since the CAMPO meeting last month, we've all been wondering exactly what is going to happen on October 8th. Granted we're not as concerned with it as we are with, say, the return of Drawn Together on Comedy Central, but we are curious as to exactly how CAMPO is going to vote on the TIP.
No, no... I mean the actual mechanism. I want to know if they are going to vote on the individual amendments or the TIP as one big project. Further, who'll make that decision and under what rules? Simply put, will the Chair (Senator Watson) be making all the decisions by fiat?
It's clear from the recent TTI report that Austin is congested like a man with serious allergies when the cedar starts to pick up. Anyone who has to go anywhere during the morning or afternoon knows that. Personally, I find it amusing as hell that the Statesman chooses to pay so much attention to THIS TTI report and not to the one detailing gas tax indexing as the cheapest alternative to soaking taxpayers with tolls. Which brings us back 'round the mountain to where we began... how is all this going to happen?
And will any of the members be allowed to bring motions?
Why don't we get this settled out before we actually, you know, have the meeting. Oh, and please have the chamber mooks come on out again. It was a blast!
Posted by mcblogger at 08:45 AM | Comments (0) | TrackBack
October 01, 2007
Just Another Day In The Highest Court In The Land
The U.S. Supreme Court declined Monday to hear a challenge to Alabama's ban on the sale of sex toys, ending a nine-year legal battle and sending a warning to store owners to clean off their shelves.

An adult-store owner had asked the justices to throw out the law as an unconstitutional intrusion into the privacy of the bedroom. But the Supreme Court declined to hear the appeal, leaving intact a lower court ruling that upheld the law.

Sherri Williams, owner of Pleasures stores in Huntsville and Decatur, said she was disappointed, but plans to sue again on First Amendment free speech grounds.

"My motto has been they are going to have to pry this vibrator from my cold, dead hand. I refuse to give up," she said.
More, if you can take it.
Posted by mayor mcsleaze at 10:13 PM | Comments (0) | TrackBack
Meanwhile
Sorry about the lack of posts today. We've been busy. While we're off doing exotic things like working, I'd like to know your thoughts on the following TV shows I just dreamed up...
1) Urban Combat Driving
2) Fat, Hairy Bitches (formerly known as America's Funniest Pet Moments)
3) Ultimate Drinking Championship
4) Buck Owens and George Jones : The Untold Story
5) Extreme Electronics Challenge
6) Screw 'Em
7) What Judd Hirsch did last week
I should sooo program for the fall 2008 schedule. At the very least, I know I could beat Fox and the CW.
Posted by mcblogger at 07:43 PM | Comments (0) | TrackBack
Super advanced electric car? Yeah. Sure.
Many companies are talking about electric cars that charge in 5 minutes and can run for 500 miles. Yeah, while we think eventually this will happen, we have serious doubts as to it happening now.
Posted by mcblogger at 10:59 AM | Comments (2) | TrackBack
Tolls : Big news on anti-TTC efforts; Krusee's still with CradDICK and more
Stewards of the Range in cooperations with the American Land Foundation have aided four Texas cities in a coordinated effort to stop the TTC.
Texans have finally found a way to fight the Trans-Texas Corridor (TTC) by requiring the government agencies to comply with the coordination requirement found in state and federal law.

On Friday, August 24, 2007, the four cities of Bartlett, Holland, Little River-Academy, and Rogers sent notification letters to the Texas Department of Transportation (TxDoT), Governor Rick Perry, and Attorney General Greg Abbott, informing them that they had formed a commission under the authority of Chapter 391 of the Texas Local Government Code and were demanding the agency now coordinate all studies, plans and management activities with the Commission on the Trans-Texas Corridor.
Our good friends at TURF, Terri Hall and Hank Gilbert, have been busy as well, filing suit to stop TXDoT from spending taxpayer money on a propoganda campaign aimed at 'selling' the TTC to Texans.
TURF founder Terri Hall says, "Between TxDOT's PR campaign, report to Congress asking that all limitations on tolling be lifted including buying back existing interstates, and chairman Ric Williamson's recent trip to D.C. lobbying for the same, it's clear they've not only crossed the line into illegal lobbying, but they leaped over it. The citizens of Texas are fed up with TxDOT's blatant disregard for the public's disdain of toll roads and their infinite attempts to cram toll roads down our throats using TAXPAYER MONEY to do it! It's high time someone puts a stop to it!"
The TRO they had requested was shut down on Wednesday, but the PR value alone is incredible as more and more people learn that TXDoT is using taxpayer money to promote something opposed by more than 60% of Texans.
Mike Krusee is having a fundraiser that will be headlined by none other than Speaker CradDICK and 39%. PLEASE someone go and take pix. Could Maldanado really be this lucky? Is Krusee really this stupid? Come on, Mikey... we're going to beat the hell out of you anyway. Why make it easy for us?
Doublepaying your toll? Yeah, apparently we aren't alone. More fuckups on the incredible CTRMA toll road system (brought to you by some really stupid decision making).
There's no mention of how TxDOT actually arrives at that number. I think most taxpayers/toll payers would prefer an independent audit to see how often this is really happening. Thre's no mention about what they're doing to fix the problem. Just a glitch, oh well, deal with it. The other thing that I didn't find in this article was whose responsibility it is for finding who gets "tagged" by the glitch? If a driver gets double charged and never notices, does TxDOT get to keep the money? More than likely that was part of the fine print when acquiring a TxTag. Here's Mr. Davis again.
This is an extremely interesting story coming a little more than a week before CAMPO is set to vote to massively expand tolling across Central Texas. The lawsuit is proceeding forward.
You may have seen an email from Hairdo bragging about her bill to keep tolls off publicly owned roads. Turns out, she wrote that bill full of loopholes so large they could pass a city bus.
Texas senator Kay Bailey Hutchinson (Repub) has now issued a statement claiming that none of her "toll prohibition bills" really prohibit tolling! A statement of Sept 12 from her office says: "Efforts to toll newly constructed lanes or new highways would not be prohibited in Sen Hutchinson's amendment (S AMDT 2825 to HR3074), or in S2109 or HR3510."

"I've long believed that if local communities and the state want to come together and build a toll road, they should be able to do it," she is quoted.
So do we. The problem is, a small minority wants the tolls. The rest of us just want the roads and we want you to use the most sensible funding option, the indexed gas tax, to pay for them. We don't want it privatized. Hairdo is, of course, running for Governor on a platform of completely ignoring the transportation needs of the citizens of Texas (how much do we get back in federal gas tax dollars?). Of course, unless the Democrat who runs against her goes really nasty then she'll probably win. And hopefully have a meaner than a rottweiler Democratic Lege to deal with.
It's also worth noting that we have now spent enough on this stupid war in Iraq to have rebuilt our crumbling infrastructure. Across the entire country. Without tolls.
Posted by mcblogger at 08:58 AM | Comments (0) | TrackBack