July 31, 2007
EXCLUSIVE! Pictures of Fred Thompson and his child bride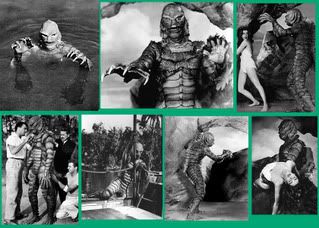 (h/t to Harry Balczak who astutely pointed out how much the Creature and Fred Thompson look alike)
Posted by mcblogger at 05:52 PM | Comments (0) | TrackBack
Noriega for Texas, an introduction
Posted by mcblogger at 12:53 PM | Comments (0) | TrackBack
Yeah, it's time Congress took control
You've seen it over the last two weeks or so, just as I have. The news about various Executive Orders designed, ostensibly, to protect this country but in reality will do nothing more than rationalize the conversion of this country from a Constitutional Republic to a Dictatorship. Oh, it will be done for our safety and security. All under the guise of 'continuity of government' and 'protection of the homeland from enemies internal and external'.
It's also bullshit and, unlike 2001, we aren't ready to accept it. Not by a long shot.
The executive orders are also wholly illegal. The Constitution of the United States makes no provision for it's suspension. There is no 'hold' clause. The Rights guaranteed within are absolute and can not be waived. No signing statement can overcome that, and no act of Congress can undo it, save the Amendment process. And now, it would seem, we have our legal reason for impeaching the President, violation of his Oath of Office.
Don't waste time calling the Democrats in Congress... call the Republicans. The Democrats would love nothing more than to remove him from office. FIrst, there needs to be a limit on Presidential pardons that restricts them to specific illegal acts, not a blanket for all crimes committed in the United States. With that out of the way, begin the impeachment process and amend the UCMJ to make sure that the military knows that there ARE unequivocal limits on the power of their Commander in Chief.
We live in an inherently unsafe world. We always have, though we've insulated ourselves with fences, military spending and a belief that we are protected. The fact of the matter is that no one can stop someone hellbent on killing people from doing just that. Banning all guns will not make us anymore safe than a police state. It's time Americans remembered what it MEANS to be American. Our freedom and liberty is far more important than transitory security.
Congress must act. If ever there was an issue that deserved bipartisan support, this is it.
Posted by mcblogger at 11:52 AM | Comments (0) | TrackBack
Interesting take on last weeks debate
Regarding the questions on GLBT issues, one guy was happy with no one. Except for Kucinich. He's most upset with Senator Obama's response and while I'm loathe to agree with someone who thinks Kucinich hung the moon (he was playing to the crowd), Sen. Obama's response was one of the weakest I've ever heard. Including Sister Ruth's response when a child asked her why she drank so much.
Unfortunately, among the five Democrats asked to respond to one of these two questions on Monday, only Ohio Congressman Dennis Kucinich failed to disappoint.

None, however, offered as dispiriting an answer as did Barack Obama, so widely admired for the promise of candor and vigor he conveys in his demeanor and discourse.

Clustered alongside the now obligatory Democratic profession that equal rights must be guaranteed for all Americans, gays and lesbians included, the Illinois Democrat said, "With respect to marriage, it's my belief that it's up to the individual denominations to make a decision as to whether they want to recognize marriage or not."

Why does Obama continue to give credence to the canard that equal civil marriage laws will somehow pose a threat to the prerogative of any religious institution to determine which unions are eligible for its blessings.

Reverend Longcrier specifically asked how it could be "acceptable to use religion to deny gay Americans their full and equal rights," raising the troubling prospect that in his practiced answers Obama in fact has no real interest in being responsive to a question. The amendment that CNN moderator Anderson Cooper made to Longcrier's query, pressing Obama to explain how barring gay marriage differed from preventing interracial unions, made the candidate's non-answer even more stark.

Americans have rightly come to expect the Democrats to be the guarantors of the Constitution's separation of church and state, yet Obama, a lawmaker, editor of the Law Review while at Harvard, and a former constitutional law professor at the University of Chicago, ignored that responsibility.

This man knows better.

And if he doesn't know his law, he surely knows his politics. Suggesting that religious institutions have primacy in deciding who can gain civil marriage rights plays directly into the hands of Christian conservatives.

Denominations? That wasn't the question and quit being an asshole, McJerky. Beside, anyone who would be impressed with your pseudo-religious crap won't be voting for you anyway... mostly because of the color of your skin.
Discrimination's a bitch, ain't it Senator?
Posted by mcblogger at 09:33 AM | Comments (0) | TrackBack
Don't you just hate it....
When bad things happen to someone you just don't like?
Somervell County Salon is reporting that Senator Ted Stevens' house has been raided by the FBI
BlueBloggin' has more on the unfortunate seizure that hit Chief Justice Roberts while on vacay at his home in Maine. Don't worry... he's fine. In other SC news, Feet to Fire has a great article up about the public perception that the courts have shifted too far right. Good to see the public finally keeping up with reality.
Dungeon Diary has the deets on the impeachment bill that will hit the House soon to remove Gonzo from office. We'll be crying big tears if that happens. Totally.
Posted by mcblogger at 01:20 AM | Comments (0) | TrackBack
July 30, 2007
TPA Roundup
It's Monday, and that means it is time for another Texas Progressive Alliance Texas Blog Round-Up. This week's round-up is brought to you by Capitol Annex.
Diarist Libby Shaw at Texas Kaos has had enough, and she shares the letter she wrote Senators Kay Bailey Hutchison and John Cornyn in Tell Me That Our Elected U.S. Lawmakers Do Not Embrace a W. Monarchy.
Could Be True ponders the often asked question (by the Right), "Why Post Election Information in Spanish" at South Texas Chisme.
Vince at Capitol Annex reveals a letter
House Speaker Tom Craddick sent to former Parliamentarian Denise Davis telling her to keep her mouth shut about her time as Parliamentarian.
Texas Education just took another hit thanks to Governor Perry, according to a post by TXSharon at Bluedaze. Rick Perry appointed Dr. Don McLeroy as the Chairman of the Texas State Board of Education. McLeroy is known for his radical fundamentalist views. This is especially bad because textbooks are up for review this year.
Hal at Half Empty ponders early endorsements in the Democratic Primary for U.S. Senate in An Endorsement Is Worth Watt Price?
Matt at Stop Cornyn lets us know that John Kerry has announced a contest to Remove Republican Roadblocks (like John Cornyn).
Karl-Thomas at Burnt Orange Report tells us about Town Lake
being named after Lady Bird Johnson.
Muse at Musings has the invite to LTC Rick Noriega's change of command ceremony at the Alamo on August 4th. Noriega will take command of the 1st Battalion, 141st Infantry Regiment, which can trace its history back to the Republic of Texas. The event is open to the public.
Thought we were done with Accenture and HHSC privatization? Charles at Off the Kuff says think again.
Stace at Dos Centavos tells us about a Pew study which finds Latino political participation is not matching up to Latino population growth. Will demographic changes be enough to put Democrats over the top?
Gary at Easter Lemming Liberal News points to a peer reviewed study that shows illegal immigrants are not criminals--they go to jail at an amazing low one-fifth rate of current citizens. Perhaps we should promote immigration to reduce the crime rate in the United States?
Dembones at Eye On Williamson County posts on the similarities between the new "right-wing" talking points on Iraq and the change in rhetoric by Rep. John Carter (R-Round Rock) on bringing troops home from Iraq in John Carter Heeds Grover Norquist Talking Points.
John C. at Bay Area Houston, in Raising Campaign Cash 2007 from Bob Perry tells us that, during the first part of 2007, Bob Perry didn't get close to his record contributions of 2006 of $4.5 Million. In 2007 he only donated $471,000 with $250,000 doing to Texans for Lawsuit Reform. HillCo PAC, another fine anti-consumer organization received $50,000 and Lt. Governor Dewhurst received $25,000.
Texas Toad at North Texas Liberal tells us that Carrollton attorney Karen Guerra is set to run as a Democrat for the 16th District Court in 2008.
Steve at Who's Playin'? tell us about three North Texas men calling for impeachment with a freeway banner over I-35 in Lewisville during rush hour.
Mayor McSleaze at McBlogger takes on recent changes in the dress code for visitors at the White House.
And, don't forget about these other Texas Progressive Alliance Members:
Three Wise Men,
In The Pink Texas,
Marc's Miscellany,
Common Sense,
The Agonist,
People's Republic of Seabrook,
McBlogger,
B and B,
Brains and Eggs,
Feet To The Fire, and
Who's Playin'.
Posted by ShakesMcJunkie at 03:04 PM | Comments (0) | TrackBack
I would love to see the guy that did this...
See more here.
Posted by mcblogger at 12:28 PM | Comments (0) | TrackBack
Tolls : Bipartisan coalition takes initial steps to kill TTC
Late last week, a bipartisan majority in the House passed the Hunter-Kaptur Amendment to the 2008 Transportation Appropriations Bill.
The House approved an amendment crafted by Kaptur, a Democrat, and U.S. Rep. Duncan Hunter (CA-52), a Republican, which prohibits the use of federal funds for Bush Administration officials to participate in continental working groups under the secretive Security and Prosperity Partnership (SPP). The proposal to create the NAFTA Super Highway has become a topic of enormous controversy in Texas and the heartland states.

"The Hunter-Kaptur Amendment," Kaptur said, "was a victory for openness in trade negotiations, highway safety, good wages, and fair trade policies. The grip of global corporations was loosened last night as House members cheered this amendment's passage and its call for transparency and oversight over the Executive Branch in trade proceedings."
No, it's not the end of all federal money and financing for TTC. However, it's a first step that desperately needed to be taken. The next one will be changing bias at the federal level from private to public financing for transportation projects.
Posted by mcblogger at 07:07 AM | Comments (0) | TrackBack
July 29, 2007
They Hate Us For Our Flip Flops
Thinking about standing in line in the summer heat to tour the White House? Better plan ahead, Tourist Guy!
New signs are posted around the White House indicating a new strict enforcement of the dress code, the Washington Post reported Thursday. The code applies to all visitors and staff members, including tourists.

Some tourists are finding the strict clothing restrictions at the White House un-American.

The forbidden items include jeans, sneakers, mini-skirts, t-shirts, tank tops and absolutely no flip flops.
Some historians believe that peoples' desires to wear bluejeans and listen to rock music helped cause the collapse of the Soviet Empire a couple of decades ago. Mister Bush, tear down this dress code!
Posted by mayor mcsleaze at 07:58 AM | Comments (0) | TrackBack
July 28, 2007
Edwards : The Hair Video
Damn. Nice work, y'all!
Posted by mcblogger at 11:37 AM | Comments (0) | TrackBack
July 27, 2007
35E Freeway in Lewisville during rush hour
YOU GO WHO'S PLAYIN'!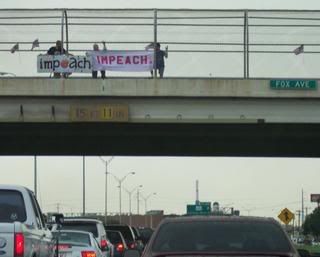 Posted by mcblogger at 04:06 PM | Comments (0) | TrackBack
Edwards is leading the debate
From the WSJ no less...
This week, the former North Carolina senator has made his most prominent bid yet to place the oft-ignored issue of poverty prominently on the 2008 agenda, with a four-day tour of some of the most run-down parts of the South and Midwest, beginning with his sixth trip this campaign to this city, devastated by Hurricane Katrina. He has talked about the issue more than any of his rivals, and was the first to craft a "poverty" plank in his platform.

About the time Mr. Edwards announced plans for his tour, one of his better-positioned rivals, Illinois Sen. Barack Obama, posted a poverty plan on his Website. Mr. Edwards ended his tour -- wending through a poultry plant and an industrial neighborhood hit by factory closing -- Wednesday in Kentucky. On that day, Mr. Obama delivered a major speech on the subject in Washington, D.C.

An Obama campaign official dismissed as "absurd" the notion that Mr. Edwards drove the debate on poverty or any other issues. But some voters feel otherwise. "I appreciate Edwards because he's at least talking about poverty," said Scott Myers-Lipton, a San Jose State University professor who caught Mr. Edwards speaking in New Orleans. "He's the only one talking about it."

"He's a serious candidate and he's not to be discounted just because he lags in the national polls," says Democratic pollster Mark Mellman, who is neutral in the nomination contest. "It's a smart strategy for the front-runners to follow him."
Say what you will about the other contenders, Edwards is the one bringing the party as a whole back to progressive ideals that appeal to the vast majority of Americans.
Posted by mcblogger at 01:57 PM | Comments (0) | TrackBack
Wealth Condensation...
In case you were wondering what 'trickle-down' and 'supply side' economics really means, here's a great resource for you in understanding how wealth gets concentrated in an economy.
Maybe it's time to reimplement a progressive tax system? You know, one that actually taxes unearned income as much as earned income?
Posted by mcblogger at 10:52 AM | Comments (0) | TrackBack
Stupid catch phrase becomes a beer
From the Dept. of Jumping on a Bandwagon filled with nothing but Stupid...
A local microbrewery has launched a beer for one of America's most recognizable rednecks: Larry the Cable Guy.

Git-R-Done beer, named for the comedian's famous catchphrase, was launched Saturday by SchillingBridge Winery & MicroBrewery, from the small town where the 44-year-old actor-comedian grew up.

The owners of the small family winery say the light beer is made from high-quality ingredients with more "flavor and body" than popular corporate beers.

Mike Schilling, who runs the winery with his wife, Sharon, is confident Git-R-Done beer will appeal to the comedian's fan base.

"Rednecks love quality, too," he said.
Yeah, that last line made me laugh as well. Rednecks are all the time buying expensive microbrews.
Posted by mcblogger at 09:12 AM | Comments (2) | TrackBack
Hot Dog Security
(via Wired)
In a very frank conversation with the Chicago Tribune's editorial board, Homeland Security Secretary Michael Chertoff

told the nation

his "gut feeling" is that something Al Qaeda is afoot this summer.

A DHS cafeteria employee then rang us to fill us in on the new Homeland Security Threat Level system.

The longer explanation:

* Fried, Bacon-Wrapped Tijuana Danger Dog Topped With Jalapenos, Onions and Mayo
* Chicago Dog With Everything
* Hebrew National Kosher Dog With Relish and Onions
* Microwaved Oscar Meyer Wieners on White Bread Roll with Ketchup
* Steamed Tofu Pup on Sprouted Wheat Roll

Though Chertoff didn't explicitly make it clear in his statement, I'm pretty sure the nation is now at Threat Level Chicago Dog with Everything.
Posted by mcblogger at 12:58 AM | Comments (0) | TrackBack
July 26, 2007
Dan Grant's strong fundraising numbers
Kuff has more on Dan Grant's strong fundraising number for Q2. In it, he raised basically on par with the other declared candidate for the Democratic nomination in CD 10, Larry Joe Doherty. Both raised just under $80m in Q2, putting both in a great position vs. the Republican incumbent, Mike McCaul.
The interesting thing? Larry Joe was the odds on favorite for fundraising, given his status as a television personality. However, Grant's take over the quarter proves he's going to be in this for the long run and has what it takes to raise enough to beat McCaul.
Posted by mcblogger at 11:18 AM | Comments (1) | TrackBack
Dregs : Speakers Race Opinions; Noriega slams Cornyn
So, former Speaker Rayford Price sent in a scathing opinion on CradDICK's dictatorial hold on the Speakership. Harvey 'Sure, I'll show up!' Kronberg has the PDF of the letter... the bottom line? The House should have been able to free themselves of this albatross at any time during the session. CradDICK overstepped his authority. Duh.
The Rio Grande Guardian caught quite a bit of Rick's visit to the valley...

Noriega joked that he ought to come down more often to the Valley, so that the region gets more attention from Cornyn. He said it was quite remarkable that Cornyn would announce a bill for a VA hospital in the Valley within days of confirming his decision to set up an exploratory committee.

"I need to come back more often so the Valley can, maybe, get their levees fixed, get their interstate built, get better health care," Noriega said. "I'll keep coming back so that the Valley can finally be paid attention, after six years of the junior Senator not knowing where the Valley was on the map. If it holds people's feet to the fire, I am coming down here more often."

Noriega said his intention was to "speak truth to power" over the coming months on behalf of millions of Texans who have not had proper representation in the U.S. Senate for the past six years. "This senator decided early on to represent one Texan - the President of the United States. He has carried George Bush's brief case. He has not represented the 22 million people that live in the state of Texas," Noriega said.

Noriega offered an example of what he believes is inadequate representation. "You have a united border leadership saying that a border wall will not work. Not to listen to that advice is not to represent the people of South Texas," Noriega said. "The question is will Texas voters hold him (Cornyn) accountable for voting for the border wall on two occasions? No one is holding his feet to the fire."

[...]

Noriega was just as critical of Cornyn over his help for Valley veterans. Last week, Cornyn announced he was filing legislation that would require the VA to report on the inpatient care needs of Valley veterans.

`The veterans have been screaming for a VA hospital for years. It has taken Mr. Cornyn six years and the threat of opposition to finally speak up on the issue," Noriega said. "A veterans' hospital would have been my issue the first year, not the sixth year. Not when it is election time."

Noriega said his duties in the National Guard in the Valley have included "putting people on buses, either to Kingsville, to El Paso, or to Sam Houston, so some poor guy can get an appointment he made four months ago." He said more people need to realize that Texas does not end in San Antonio.

"This is one of the most patriotic parts of the state. You look at the number of people who serve from the Valley, it is quite impressive. It's powerful and it's moving. The people should have a voice," Noriega said.
Now would be a great time to go and drop a $1 or two to Rick... go on, it'll make you feel good!
Posted by mcblogger at 09:46 AM | Comments (0) | TrackBack
July 25, 2007
Deficits as far as the eye can see
Just a little more about Cheney, this time the great ideas he had on the economy...
So Greenspan sent Cheney a study by one of the central bank's senior economists showing that big deficits lead to higher long-term interest rates, according to a person with firsthand knowledge. Higher rates, Greenspan believed, would wipe out any short-term benefit from a tax cut.
And history has shown, Greenspan's senior economist was right.
Posted by mcblogger at 06:34 PM | Comments (0) | TrackBack
Stratfor : US Presidential Race and geopolitics
Strategic Forecasting has a great email out regarding the Presidential race and how it's being read around the world. Their analysis is spot on and I'm posting the entire text after the jump...not to mention a really good analysis on who the Democrats should be focusing on for a win given historical trends (Edwards).
Gaming the U.S. Elections By George Friedman

Domestic politics in most countries normally are of little interest geopolitically. On the whole this is true of the United States as well. Most political debates are more operatic than meaningful, most political actors are interchangeable and the distinctions between candidates rarely make a difference. The policies they advocate are so transformed by Congress and the Supreme Court -- the checks and balances the Founding Fathers liked so much, coupled with federalism -- that the president rarely decides anything.

That is not how the world perceives the role, however. In spite of evidence to the contrary, the president of the United States is perceived as the ultimate "decider," someone whose power determines the course of action of the world's strongest nation. Therefore, when presidents weaken, the behavior of foreign powers tends to shift, and when elections approach, their behavior shifts even more. The expectation of change on the burning issue of Iraq is based on the misperception that the American presidency is inherently powerful or that presidents shape the consensus rather than react to it.

The inability of Congress to make any decisive move on Iraq demonstrates that immobility isn't built only into the presidency. The two houses of Congress are designed to be gridlocked. Moreover, the congressional indecision reveals that behind all of the arias being sung, there is a basic consensus on Iraq: the United States should not have gone into Iraq and now that it is there, it should leave. There is more to it than that, though. The real consensus is that the United States should not simply leave, but rather do it in such a way that it retains the benefits of staying without actually having to be there. To sum up the contradiction, all of the players on the stage want to have their cake and eat it, too. We are only being a trifle ironic. When all is said and done, that is the policy the system has generated.

The United States has been in roughly this same position with the same policy since World War II. The first time was in 1952 in Korea, when the war was at a stalemate, the initial rationale for it forgotten and Harry Truman's popularity about the same as President George W. Bush's is now. The second time was in 1968, when any hope of success in the Vietnam War appeared to be slipping away and Lyndon Johnson's presidency collapsed.

In both cases, the new president followed the logic of the popular consensus, regardless of whether it made sense. In the Korean instance, the national position favored decisive action more than withdrawal -- as long as the war would end. In Vietnam the demand was for an end to the war, but without a defeat -- which was not going to happen.

During Korea, Dwight D. Eisenhower appeared a formidable enemy to the Chinese and his secret threat of using nuclear weapons seemed credible. The war ended in a negotiated stalemate. In the case of Vietnam, the public desire to get out of Vietnam without a defeat allowed Richard Nixon to be elected on a platform of having a secret plan to end the war. He then continued the war for four years, playing off the fundamental contradiction in the consensus. Adlai Stevenson, who ran against Eisenhower, might not have been nearly as effective in convincing the Chinese to close the deal on Korea, but we doubt that Hubert Humphrey would have differed much from Nixon -- or that Bobby Kennedy, once in power, would have matched his rhetoric with action.

Yet the fact is that the world does not see the limits of the presidency. In the case of Iraq, the perception of the various players in Iraq and in the region is that the president of the United States matters a great deal. Each of them is trying to determine whether he should deal with the current president or with his successor. They wonder who the next president will be and try to forecast the policies that will break the strange consensus that has been reached.

Therefore, we need to begin handicapping the presidency as we did in 2004, looking for patterns. In other words, policy implications aside, let's treat the election as we might a geopolitical problem, looking for predictive patterns. Let's begin with what we regard as the three rules of American presidential politics since 1960:

The first rule is that no Democrat from outside the old Confederacy has won the White House since John F. Kennedy. Lyndon Johnson, Jimmy Carter and Bill Clinton were all from the Confederacy. Walter Mondale, Michael Dukakis and John Kerry were from way outside the Confederacy. Al Gore was from the Confederacy but lost, proving that this is necessary, but not a sufficient basis for a Democratic win. The reason for this rule is simple. Until 1964, the American South was solidly democratic. In 1964 the Deep South flipped Republican and stayed there. If the South and mountain states go Republican, then the Democrats must do extraordinarily well in the rest of the country. They usually don't do extraordinarily well, so they need a candidate that can break into the South. Carter and Clinton did it, while Johnson did extraordinarily well outside the South.

The second rule is that no Republican has won the White House since Eisenhower who wasn't from one of the two huge Sunbelt states: California or Texas (Eisenhower, though born in Texas, was raised in Kansas). Nixon and Reagan were from California. Both Bush presidents were from Texas. Gerald Ford was from Michigan, Robert Dole from Kansas. They both lost. Again the reason is obvious, particularly if the candidate is from California -- pick up the southern and mountain states, pull in Texas and watch the Democrats scramble. Midwestern Republicans lose and northeastern Republicans do not get nominated.

The third rule is that no sitting senator has won the presidency since Kennedy. The reason is, again, simple. Senators make speeches and vote, all of which are carefully recorded in the Congressional record. Governors live in archival obscurity and don't have to address most issues of burning importance to the nation. Johnson came the closest to being a sitting senator but he too had a gap of four years and an assassination before he ran. After him, former Vice President Nixon, Gov. Carter, Gov. Reagan, Vice President Bush, Gov. Clinton and Gov. Bush all won the presidency. The path is strewn with fallen senators.

That being the case, the Democrats appear poised to commit electoral suicide again, with two northern senators (Hillary Clinton and Barack Obama) in the lead, and the one southern contender, John Edwards, well back in the race. The Republicans, however, are not able to play to their strength. There are no potential candidates in Texas or California to draw on. Texas right now just doesn't have players ready for the national scene. California does, but Arnold Schwarzenegger is constitutionally ineligible by birth. In a normal year, a charismatic Republican governor of California would run against a northern Democratic senator and mop the floor. It's not going to happen this time.

Instead, the Republicans appear to be choosing between a Massachusetts governor, Mitt Romney, and a former mayor of New York, Rudy Giuliani. Unless Texan Ron Paul can pull off a miracle, the Republicans appear to be going with their suicide hand just like the Democrats. Even if Fred Thompson gets the nomination, he comes from Tennessee, and while he can hold the South, he will have to do some heavy lifting elsewhere.

Unless Obama and Clinton self-destruct and Edwards creeps in, or Paul does get a miracle, this election is shaping up as one that will break all the rules. Either a northern Democratic senator wins or a northeastern Republican (excluding Thompson for the moment) does. The entire dynamic of presidential politics is in flux. All bets are off as to the outcome and all bets are off as to the behavior of the new president, whose promises and obligations are completely unpredictable.

If one is to ask whether the Iranians look this carefully at U.S. politics and whether they are knowledgeable about the patterns, the answer is absolutely yes. We would say that the Iranians have far more insight into American politics than Americans have into Iranian politics. They have to. Iranians have been playing off the Americans since World War II, whatever their ideology. In due course the underlying weirdness of the pattern this year will begin intruding.

Here is what the Iranian's are seeing: First, they are seeing Bush become increasingly weak. He is still maintaining his ability to act in Iraq, but only barely. Second, they see a Congress that is cautiously bombastic -- making sweeping declarations, but backing off from voting on them. Third, they see a Republican Party splitting in Congress. Finally, they see a presidential election shaping up in unprecedented ways with inherently unexpected outcomes. More important, for example, a Giuliani-Clinton race would be so wildly unpredictable that it is unclear what would emerge on the other side. Any other pairing would be equally unpredictable.

This results in diplomatic paralysis across the board. As the complexity unfolds, no one -- not only in the Iraq arena -- is sure how to play the United States. They don't know how any successor to Bush will behave. They don't know how to game out who the successor to Bush is likely to be. They don't know how the election will play out. From Iraq and Iran to Russia and China, the United States is becoming the enigma and there won't be a hint of clarity for 18 months.

This gives Bush his strange strength. No president this low in the polls should be acting with the confidence he shows. Part of it could be psychological, but part of it has to do with the appreciation that, given the strange dynamics, he is not your normal lame duck. Everyone else is tied in knots in terms of policy and in terms of the election. Bush alone has room to maneuver, and the Iranians are likely calculating that it would probably be safer to deal with this president now rather than expect the unexpected in 2008.

Contact Us
Analysis Comments - analysis@stratfor.com
Customer Service, Access, Account Issues - service@stratfor.com
Posted by mcblogger at 02:13 PM | Comments (5) | TrackBack
What would YOU do...
Received via email...
Can you imagine some guy going 90 mph on the interstate with these balloons trailing about a few yards behind him?
Instructions for a fun time on the freeway...............
Step 1. Tie balloons to car.
Step 2. Drive like a bat out of hell....
Step 3. Watch people freak out!
Posted by mcblogger at 12:16 PM | Comments (1) | TrackBack
It's not under oath...
...but they are lies, nonetheless.
Of course, it ain't gonna happen until Republicans in the Senate are so afraid of losing their seats that they cave in. I certainly hope THAT doesn't happen. I'd much rather see Bush convicted after he leaves office and I really don't want Cornyn to do a thing to save his decaying ass.
There is a ton of interesting stuff that's come out over the last couple of days...apparently, Bush signed what is more than likey an illegal Executive Order condemning those who oppose his wildly misguided policies in Iraq.
"I don't actually think they're very strong," said Roberts of his words. "I get a lot of flak that they're understated and the situation is worse than I say. ... When Bush exercises this authority [under the new Executive Order] ... there's no check to it. It doesn't have to be ratified by Congress. The people who bear the brunt of these dictatorial police state actions have no recourse to the judiciary. So it really is a form of total, absolute, one-man rule. ... The American people don't really understand the danger that they face."
The piece goes on to speculate (keep in mind, this is a CONSERVATIVE speculating) that Bush, et al., may well have other plans in store for 2008 and 2009, namely not leaving office. Uhm... if that happens, you WILL see people in the streets.

However, Roberts emphasized, "the problem with this reasoning is that it assumes that Cheney and Rove and the Republicans are ignorant of these facts, or it assumes that they are content for the Republican Party to be destroyed after Bush has his fling." Roberts believes instead that Cheney and Rove intend to use a renewal of the War on Terror to rally the American people around the Republican Party. "Something's in the works," he said, adding that the Executive Orders need to create a police state are already in place.

"The administration figures themselves and prominent Republican propagandists ... are preparing us for another 9/11 event or series of events," Roberts continued. "Chertoff has predicted them. ... The National Intelligence Estimate is saying that al Qaeda has regrouped. ... You have to count on the fact that if al Qaeda's not going to do it, it's going to be orchestrated. ... The Republicans are praying for another 9/11."

Hartmann asked what we as the people can do if impeachment isn't about to happen. "If enough people were suspicious and alert, it would be harder for the administration to get away with it," Roberts replied. However, he added, "I don't think these wake-up calls are likely to be effective," pointing out the dominance of the mainstream media.

"Americans think their danger is terrorists," said Roberts. "They don't understand the terrorists cannot take away habeas corpus, the Bill of Rights, the Constitution. ... The terrorists are not anything like the threat that we face to the Bill of Rights and the Constitution from our own government in the name of fighting terrorism. Americans just aren't able to perceive that."
More on the EO is at BOR and Blue Bloggin' has a great post up about the Administrations plans not to prosecute any official cited by Congress for contempt. Exactly who does the DoJ work for, Mr. President?
(video via PinkDome)
Posted by mcblogger at 09:00 AM | Comments (0) | TrackBack
Dregs : 39% in another scandal; Ciro has a weak opponent; Judge Criss and Noriega takes command
Vince at Capitol Annex has more on the newest scandal to hit 39%, that of poor Republican management at the Texas Department of Aging and Disability Services.
Hundreds of residents at Texas' state schools for the mentally retarded have suffered serious abuse and neglect at the hands of those paid to watch over them, a Dallas Morning News review shows.

Documents released by all but three of the 12 state schools operated by the state Department of Aging and Disability Services outline everything from horrific physical violence and neglect to frightening verbal threats, derogatory slurs and pranks.(DMN)
Matt at BOR has a great piece up about Ciro Rodriguez's presumed Republican opponent, Francisco Canseco, and his fuzzy fundraising. Apparently, Canseco is loaning himself money, then talking about what a brilliant fundraiser he is. Anyone seen a picture of this clown? Does he have an L on his forehead?
Finally, Judge Susan Criss has a new website up as part of her campaign for the Texas Supreme Court! If elected, Judge Criss will make the first rational, intelligent person elected to the Court since Bob Gammage. She'll also be the first Democrat to serve since Gammage. Wait... I'm being redundant.
You're invited to witness the Change of Command Ceremony when Lt. Col. Rick Noriega (yes, THAT Rick Noriega) will take charge of the 1st Battalion 141st Infantry Regiment (The First Texas) on Saturday, August 4th at 9:00 AM. As in the morning. People in the military do shit WAY too early in the day.
Posted by mcblogger at 12:45 AM | Comments (0) | TrackBack
July 24, 2007
Tolls : 39%, a Special and Sunsets
BothVince at Capitol Annex and wcnews at EOW posted about 39%'s intention to call a special session (Oh God no) to have the Lege require all state run pensions to divest any holdings in companies that invest in Iran. On it's face, it's a ridiculous thing to do since few American companies have any investments in Iran. However, it may well be to open the door to investment in something closer to 39%'s heart, the tolling of Texas roads. Cintra and Macquarie both could use some capital from a stable source... what better investor than a pension fund in a state you're trying to rape?
As the sunset review of TXDoT begins, TTC Chair Dick Williamson is asking everyone who'll take his call in the Governor's office to call a special session to repeal the gas tax and institute a mileage tax. Of course, he's being very discreet about it but the idea of a Vehicle Mileage Tax is going to come out sooner or later which is interesting to me since gas tax increases are usually condemned as punishing rural populations while a VMT would REALLY beat the shit out of them in relation to their urban counterparts who have access to public transportation, not to mention shorter drive times. There is one other interesting point to mention, how exactly would this VMT be calculated? End of year mileage at inspection time? What about those who live within 2 hours of the border? What's to stop them from registering their cars in another state? Exactly how would you tax traffic traveling on Texas highways from out of state?

Of course the logical flaws in the retarded dreams of Dick Williamson and 39% don't end there... they commissioned a study to help them pimp toll roads. The kicker? They spent more than $3 MILLION of our tax dollars to tell us what we already knew, namely that there is a massive transportation funding shortfall. It went on to say that Texas needs more toll roads and should be charging drivers more for the luxury of driving on them.

Go ahead, Dick. Drive up those rates and watch how fast the people of this state turn on you. If you think this past session was bad, just keep it up. You ain't seen nothin' yet!
One last note on the new VMTax... Kuff has more on extreme commutes of more than one hour which almost 10% of Texans currently drive daily. Wonder how many of them have heard of the VMT and are ready for it?
Posted by mcblogger at 03:55 PM | Comments (0) | TrackBack
GOP gears up and Cornyn on the road with Rove
Kuff has more on the GOP's 2008 campaign kick-off which was anything but ebullient. Then Blue Bloggin' has a great post up about the Cornyn/Rove roadshow.
Yeah, now might be a good time to drop some money to Rick Noriega. Seriously, even a buck... just a take a minute and click the link.
Posted by mcblogger at 11:34 AM | Comments (0) | TrackBack
Privatization... just look at how well it's gone for water
With all the talk about how wonderful it is to privatize roads, I thought it might be a good idea to look at another public resource that is being privatized around the world...water. Wanna see some massive failure? Just look at what happened in Grenoble, France which saw water rates increase dramatically in the wake of privatization that was supposed to SAVE consumers money. There's also the ample failures, well documented outside of the US by new organizations around the world.
The bottom line... there are SOME things that can truly be delivered most efficiently as a public service. While government may not be good at making soap and building TV's, not to mention retailing, it is extremely good at providing courts, law enforcement, fire departments, roads and, well, water. Fortunately, we have a chance to stop road privatization before this goes too far.
Posted by mcblogger at 09:19 AM | Comments (0) | TrackBack
Texas Progressive Round-up
Another week, another TPA round-up (H/T to Vince at Capitol Annex)
Each week, the Texas Progressive Alliance compiles the weekly Texas Blog Round Up, modeled after the 50State Blog Round Up. It is published on member blogs every Monday. Here is this week's installment, brought to you by Vince from Capitol Annex.
John C. at Bay Area Houston Blog once again looks at the Houston
City Council's Own Chickenhawk and explores how he was once again punk'd on his own radio show.
Muse at Musings brings us some photos from State Rep. Rick Noriega's announcement that he'll form an exploratory committee to run against U.S. Senator John Cornyn in 2008.
TxSharon At BlueDaze revals that the government paid $400,000 for a new marketing plan that will fool us into believing that Endless, Forever War in Iraq is a good thing.
WCNew at Eye On Williamson tells us about the Texas Department of Transportation's efforts to continue justify its existence in TxDOT's Sunset Review Kick-Off Party & Media Blitz.
Texas Toad at North Texas Liberal tells us that the U.S. Senate Majority Leader has finally decided to call out the GOP in Iraq in Senator Reid's Jujitsu On Iraq.
Hal at Half Empty explores Governor Perry's choice of Don McLeroy to head the State Board of Education in Governor Perry
Names 'Academically Unacceptable' To Head Texas School Board.
Gary at Easter Lemming Liberal News reminds everyone to see Michael Moore's SiCKO and reminds us to call senators and congressmen about the healthcare
crisis, while telling us why he won't be bothering to call Senator John Cornyn.
McBlogger at McBlogger wants to know why Stonewall Democrats President Shannon Bailey hasn't resigned yet.
Krazypuppy at Texas Kaos is celebrating his own recovery from minor surgery this week by commiserating in his own inimitable way with the President's latest colorectal adventure.
What is the Texas GOP doing to get ready for 2008? Charles Kuffner at Off the Kuff takes a look.
Do you want a red border fence or a green one? Will it make Texas look fat? CouldBeTrue at South Texas Chisme blogs about how the Republicans are all about PR and imagery. Chertoff opened his mouth and proved it once again.
MexicoBob at Who's Playin'? explores some issues related to some outdated marijuana references in the City of Highland Village's smoking ordinance in Texas Town To Allow Public Smoking Of Weed.
PMBryant at B and B explores journalists downplaying the effects of gender bias during an article on women and their career choice.
PDiddie at Brains & Eggs quotes Dave McNeely's column regarding the potential 18th Texan to serve in the US Senate.
Posted by mcblogger at 12:19 AM | Comments (0) | TrackBack
July 23, 2007
Puente has a challenger and other primary news
Word on the street in SA is that CradDICK D Robert Puente will be facing a challenger in the primary next year. Can't wait to see how this one plays out.
In other SA related news, rumors are STILL flying about a challenger toVan de Putte but no names are as yet being mentioned seriously. I personally know of many people who were very disappointed with her performance during the last session, especially related to transportation and tolling which is WILDLY unpopular in SA. If a challenger arises and pins that on her effectively, they'll win. It's really a shame because she's served her constituents well on many other issues. However, on this one she's really fucking them hard without vasoline or a kiss.
And yeah, Leti, they know it.
Posted by mcblogger at 03:19 PM | Comments (0) | TrackBack
Iraq, Terror and why are people so fucking dumb??!?!
Have you seen Orson Scott Card's jeremiad on why the War on Terror is important? Take a look here. Seriously, it's always nice to see someone who was once rational completely lose his mind. He spends paragraph after paragraph comparing the WOT to WW2 and insinuating that Bush is the American version of Churchill. Funny me, I always thought that was FDR, especially when it came to drinking.
The whole thing is such a rambling mess that I honestly wouldn't know where to begin with excepts. It's very obvious he's extremely scared of Islam (why?) and has cooked up one hell of a fantasy scenario...
But if we do insane things like withdrawing from Iraq (which would be seen by everyone as a massive victory for Al-Qaeda and Iran and a proof that America cannot be relied on as an ally) or allowing Iran to develop nuclear weapons, then several things will certainly happen:

A. All the Muslim nations that have trusted us will immediately make friends with Iran or be toppled by Islamicist coups and revolutions.

B. Israel will be destroyed and its population slaughtered in a new holocaust. We might be able to bring out a few survivors.

C. Europe will be neutralized. Radical Islam will completely dominate the Muslim populations in European nations, and the governments will almost certainly bend their foreign policy to accommodate their demands. America will have no allies.

D. The world economic order, from which America skims its prosperity, probably would not endure. Oil still calls the shots, and Russia and China will join with Islam to marginalize or shatter the American economy. Never mind that the resulting worldwide depression would ruin their own economies. If America is brought down, they will feel like relative winners. And without America as a beacon of hope, what internal opposition would they have to worry about? None.
Peppered throughout the piece are historical anecdotes (like where Hitler went wrong) and Lincoln's true goal during the Civil War (he wanted to hold on to the Presidency long enough to win the fight). The Hitler related stuff is really the best as far as comedy (seriously, read it and tell me you don't think of long supply chains). The biggest issue is that Card, like so many of the cowards on the right, see a massive enemy when in fact there are only a handful of fanatics with whom we really have to contend. They can't visualize how to fight that enemy, so instead they blunder about trying to remake countries and failing miserably at it.
In the same vein of We Have To Win In Iraq (whatever THAT means... I thought we achieved the goal of knocking out Saddam) Or They'll Come Here And Kill Us, Under Secretary of Defense Eric Edelman sent a nasty little note to Senator Clinton basically accusing her of treason...
Premature and public discussion of the withdrawal of U.S. forces from Iraq reinforces enemy propaganda that the United States will abandon its allies in Iraq, much as we are perceived to have done in Vietnam, Lebanon and Somalia. … [S]uch talk understandably unnerves the very same Iraqi allies we are asking to assume enormous personal risks.
Left out of his oh-so-kind note is the fact that his boss (Secy of Defense Gates) actually thinks talking about departure is exactly what the Iraqi's need to get their asses in gear.
Finally, EOW has nice piece up on Glenn Greenwald's take down of Ted Sorenson who, while a great speechwriter 50 years ago, is clearly slipping a little...
The United States is not a "nation under siege." That is a ludicrously melodramatic description of the terrorist threat and it is precisely the failure to challenge such fear-mongering sloganeering that has enabled so many of the destructive policies of the last six years. Any political figure who is authentically interested in the type of real debate which Sorensen touts will challenge, not bolster, this misleading premise. More importantly, a genuine debate regarding how to recover from the last six years (soon to be "last eight years") will require a fundamental re-examination of America's role in the world and, most of all, whether we want to continue to maintain imperial dominance. Contrary to conventional Beltway fears, this is plainly a debate which the American public is not only willing, but eager, to engage.
Uhm... yeah. What he said. We shouldn't be afraid, they should be afraid. However, as long as the R's can sell fear, that's just what they'll do. That and the need for invasions and bombs when in reality all you need is a unit made up of really mean Americans who will hunt down and kill, anywhere in the world, terrorists.
Sounds mean, right? Oh pish. You don't stop a fanatic by bombing his/her hometown... s/he's not there and s/he doesn't care about those left behind anyway. You also don't stop them by negotiating. You kill them until their numbers dwindle to zero. You need assassins, not an Army battalion. That, my friends, is the number one reason why none of you should even think of voting for a Republican. They just don't get it.
Maybe they aren't mean enough.
Posted by mcblogger at 12:01 PM | Comments (0) | TrackBack
Fun on bikes!
Love the song. Love the video. Love it.
Posted by barfly at 09:02 AM | Comments (1) | TrackBack
July 22, 2007
Tolls : Innovative NW residents find way around tolls on 183A
Apparently, cash strapped (yeah, the 'time machines' sure are expensive!) Central Texans, specifically those that live in far NW and Cedar Park, have found an inventive way to avoid the tolls on the newly completed tollway. They just decided to jump them.
The numbers are particularly bad for the northbound all-electronic gantry, which looms over the road just north of the Lakeline Mall Drive exit. In June, 38 percent of northbound drivers in that section did not have a toll tag.
The good news, at least for CTRMA, is that traffic is running at about 125% of the 2004 projections, making this the first toll project in the country (including the 45/1 and 130 facilities here in Austin Metro) that actually exceeded expectations. Unfortunately, what Ben Wear (seriously, ARE YOU RETARED, BEN?) didn't mention until the very end is that the toll jumpers are part of the overall traffic number. Meaning, more than 20% of the transactions have no value and the road is still being discounted to those early adopters who have tags. Of course, anyone who has seen traffic going on 183 over the last ten years could have told you that road was a good idea.
The question is, how much are consumers going to like it when they realized just how badly they are getting fucked? You know, when they start getting the full monthly bill... Mine is still running more than $20 per month and I'm rarely on the roads.
Posted by mcblogger at 11:30 AM | Comments (0) | TrackBack
July 21, 2007
Good question...
For ALL the candidates...
Posted by mcblogger at 11:54 AM | Comments (0) | TrackBack
July 20, 2007
Webb puts the smack down on Lindsay Graham
Hal at Half Empty has the transcript of Senator Webb bitch slapping Senator Graham on MTP...
SEN. WEBB: You know, this is one thing I really—this is one thing I really take objection to...

SEN. GRAHAM: ...the soldiers are speaking, my friend. Let them win.

SEN. WEBB: ...is politicians who—at the...

SEN. GRAHAM: Let them win.

SEN. WEBB: Politicians who—may I speak?

SEN. GRAHAM: They want to win, let them win.

SEN. WEBB: Is politicians who try to put their political views into the mouths of soldiers. You can look at poll after poll, and the political views of the United States military are no different than the country at large. Go take a look at The New York Times today.
That's right, Lindsay... quit putting words into the troops mouths.
Posted by mcblogger at 12:22 PM | Comments (0) | TrackBack
What the man on the street thinks...
So, I'm totally loving it when the AP or some other news organization decides to run a man on the street piece involving polling data. This time, the data relates to a drop in the approval rating of Congress...
Public satisfaction with the job lawmakers are doing has fallen 11 points since May, to 24 percent, according to an Associated Press-Ipsos poll. That's lower than for President Bush, who hasn't fared well lately, either.

Bush has been taking heat over the Iraq war, his decision to spare a former top vice presidential aide from going to prison and his desire for an overhaul of immigration laws that critics said would give a free pass to illegal immigrants. His job approval rating in the AP-Ipsos survey remained virtually unchanged at 33 percent.
OK, so there's the data... now let's find out what some of the respondents have to say... lucky for us, the AP managed to include a Democrat AND one of the few remaining self-identified Republicans
Poll respondents from both political parties say they're tired of the fighting between Congress and the White House and want the two branches of government to work together on such issues as education, health care and the Iraq war.

"They don't approve of anything he does," Theresa Holsten, 55, a Republican and unemployed resident of Lawton, Okla., said of Congress. "He can't do anything right, according to what some people say. It irritates the living daylights out of me."

Tammy Lambirth, 42, a data researcher from San Antonio, disapproves of "all the fighting that they do all the time."

The latest tussle involves Bush's refusal to hand over documents and let former White House aides answer questions from the Democratic-controlled Congress about the firing of U.S. attorneys. The dispute could end up in federal court.

"The Republicans are just stonewalling everything, and the Democrats are just not stepping up and making them do what they need to do, especially about Iraq," said Lambirth, a Democrat. "They need to make our troops get out of Iraq."
Basically... we're pissed off that the Democrats in Congress can't get anything done because of the Republicans. So, overall, we'll cut the marks for Congress. Either that, or we're tired of them Democrats always telling Bush he's wrong.
Ms. Holsten, sweetie, you're UNEM-FUCKING-PLOYED. What the fuck are you doing identifying yourself as a Republican? Oh, and they're right. Bush can't do a fucking thing right. In point of fact, Ms. Holsten, all he's proven is his ability to make a thoroughgoing mess of things.

Posted by mcblogger at 09:02 AM | Comments (0) | TrackBack
July 19, 2007
Put up or shut up...
The NYT has a great article up by the folks at CQ about fundraising number for Senatorial candidates. Here's what they had to say about Texas...
John Cornyn of Texas, who raised $2.1 million in the second quarter and banked $5.3 million, needs plenty of campaign money because he represents the nation's second-most populous state.

He could face a wealthy Democratic challenger with deep pockets for a political campaign. Lawyer Mikal Watts reported $5 million in second-quarter receipts for his "exploratory" effort, chiefly in the form of contributions and loans that Watts made to his own campaign. Watts raised about $1.1 million from individual donors.

Watts, though will have serious competition for the Democratic nomination from state Rep. Rick Noriega, who recently filed paperwork establishing a Senate exploratory committee. Noriega has been touted by some Texas Democratic insiders as their strongest prospect in years to break a long Republican Party winning streak for statewide office in the home state of President (and former Texas governor) George W. Bush.
Strongest prospect?!?! OH HELL YEAH! That's why, if you're interested in change, you need to give to Rick's campaign. The goal has ALWAYS been to show the broadest level of support possible. The amount you give is unimportant. Give $1. Give $5. Whatever you feel comfortable with, just take a moment and give something.
It's time to take a stand and show our support.
Posted by mcblogger at 11:36 AM | Comments (0) | TrackBack
From the Dept. of Shocking Developments
Apparently, Republicans LOVE sucking them some cock...
(h/t to Sister Ruth for calling tonight to tell me about this and ask if this was normal. Dumbass)
Posted by mcblogger at 09:35 AM | Comments (0) | TrackBack
July 18, 2007
There are some ugly fucking people in the world
I'm on my way back to Austin. Rather, I would be if AMERICAN AIRLINES actually flew on-time. I have to apologize about the pathetic paucity of posts (who says I can't be alliterative on less than 4 hours of sleep?!!?)from me over the last week or so. I resigned effective midnight, July 9th and started work for me new employer the next morning. Needless to say, things have been a little hectic. I know, I know... it seems like I'm moving around all the time. However, it was more money and less stress... who the hell wouldn't say yes? What're you, my loan officer?
ANYWAY, I've been in Dallas for the last couple of days and am finally heading back to civilization and hopefully a return to normalcy or at least what passes for normalcy.
With that out of the way, I'm sitting at DFW waiting on a plane to come in from Tampa so it can take me and some really fugly people back to Austin. Seriously, you should see some of these folks. No, not all of them but a few look like extras from Deliverance.
I need a drink.
Posted by mcblogger at 02:29 PM | Comments (0) | TrackBack
Moving to impeach Cheney
It's a waste of time and yet another effort on the part of Kucinich to draw attention to himself (Look at me! Look at me! I can fling poop, too!), however, more Representatives have signed on the impeachment bill.
Don't get me wrong, I'd love nothing more than to see Cheney booted from office in disgrace. However, I still don't know the legal basis for it. And the fact that this is more about Presidential politics than it is reality just irritates me as I know it will lead no where. Just having a majority of Americans 'for it' doesn't mean it will happen.
It's not nice to provide false hope, Denny.
Posted by mcblogger at 06:50 AM | Comments (0) | TrackBack
July 17, 2007
In case you wondered
This is why we don't let children vote.
In 1972, Richard Nixon's campaign was caught in dirty tricks in its effort to rig the election of 1972. In July, 2007, John Edwards and Hillary Clinton were caught planning dirty tricks to rig the election of 2007.
Yes, Hillary and Edwards have fiendishly scheduled it for 2008. The bastards.
Posted by mayor mcsleaze at 08:36 PM | Comments (0) | TrackBack
Stonewall Texas... there's dumb and then there is dumb
Members of the Texas Stonewall Democrats Caucus board met via conference call and NO DECISION HAS BEEN MADE WITH REGARD TO PRESIDENT SHANNON BAILEY. Shannon, you may recall, was arrested in Dallas June 15, 2007 for indecent exposure. We've not commented on this because we, being stupid, keep expecting Shannon to do the right thing.
HOWEVER, that hasn't happened yet. What's it going to take, Shannon? And no, I don't want to hear about how the police in Dallas are 'targeting gays'. The reality is they are targeting public fucking. Gay or straight, it doesn't matter.
Posted by mcblogger at 11:34 AM | Comments (1) | TrackBack
Texas Blogger Round-Up for July 16
(McBlogger notes... Vince at Capitol Annex wrote this up and I copied and pasted it because I'm, you know, LAZY. I was going to post it yesterday but got delayed because of work. Deal.With.It.)
Last week, member blogs in the Texas Progressive Alliance premiered a new feature, the Texas Blog Round Up, modeled after the 50 State Blog Round Up. We plan to bring this to our readers every week. So, without further ado, here is this week's installment, brought to you
by Vince from Capitol Annex.
Lady Bird Was Ours
Among many Texas blogs authoring poignant posts about the passing of Lady Bird Johnson was Muse from Fort Bend-based Musings. In Lady Bird Was Ours, Muse offers personal reflections about the former First Lady and reminds us that, though Lady Bird now belongs to the ages, she still belongs to us.
Deja Vu All Over Again
Can you see any progress in Iraq? Chances are you can't, but Texas Senator John Cornyn can (evidently through rose colored glasses). In Cornyn Sees Progress In Iraq, Texas Toad of Denton County-based North Texas Liberal explores how Rubberstamping Republican Cornyn's recent votes fail to support our troops.
Who Is For Whom?
Though we're months away from the Democratic Primary, the race to determine what Democrat will take on John Cornyn is already heating up on the blogs. In Watts v. Noriega In The Blogosphere, Hal at Fort Bend-based Half Empty explores the various blogs to determine what blogs are supporting State Rep. Rick Noriega's exploration and which blogs are
in support of attorney Mikal Watts. And, he asks the important question, "where are all the pro-Watts bloggers?"
Need Birth Control? Better Have Cash.
Could Be True at South Texas Chisme explores difficulties Houston-area female college students (and others around the state) may be having when it comes to obtaining birth control pills from their college health services department, thanks to changes in Meidcaid reimbursement policies in Stupid, Stupid, Stupid. College Health Centers To Charge More For Birth Control.
Craddick Stands By His Man
McBlogger at Austin-based McBlogger tells us that House Speaker Tom Craddick is standing by his man and keeping former State Rep. Terry Keel (R-Austin) on as House Parliamentarian...all the while
trying to find a challenger for Travis County Constable Richard McCain, who defeated Keel's brother for that post in 2004. Check it all out in Speaking of People We Don't Like.
Even Right Wingers Know When To Pull Out
John C. at Bay Area Houston explores the fact that, according to a recent poll, even the listeners of one of the most right-wing radio stations in Houston are in favor of pulling out from war-torn Iraq in Right Wing Radio Listeners Want Out Of Iraq.
What Can You Buy With $900 Million?
Though Harris County is proposing a $900 million bond package for various
courthouse and jail projects, Charles Kuffner at Houston-based Off The Kuff tells us that he has serious concerns whether or not the bond package will do anything to alleviate a serious guard shortage at the Harris County Jail. Though it is now being discussed in the media, Charles says he's still not satisfied the issue is being addressed in County Bonds and Staffing Issues.
A Closer Look At Terry Keel
Matt Glazer at Burnt Orange Report takes a closer look at some ethical issues facing new House Parliamentarian Terry Keel, such as potential conflicts of interest concerning Keel's future rulings, his continuing to maintain his
private law practice while working for the state, and ponders exactly when Keel began working for Speaker Craddick as a result of a close examination of when Keel was issued a Capitol identification card in Keel's Conflict Of Interest.
Rick Perry v. Community Colleges
Few of Governor Perry's recent vetoes has garnered more attention than his veto of community college
employee health insurance appropriations. Marc G. at Marc's Miscellany explores the issue further, and takes issue with Perry's accusation that community colleges have essentially
falsified their appropriations requests in More On Perry's Battle With Community Colleges.
Perry's Defiant Response To Congress
WCNews at Eye On Williamson takes a closer look at a defiant response letter Texas Governor Rick Perry recently sent to Congressional leaders who criticized public-private partnerships to build transportation projects such as the Trans Texas Corridor in Governor Perry Uses Fuzzy Math In Letter To Congress.
Sunday Funnies
For your weekly dose of some of the best political cartoons from around the state and nation, be sure to check out Perry Dorrell's Sunday Funnies (Late Edition) at Brains And Eggs.
TYC Still Plagued With Difficulties
Vince Leibowitz at Capitol Annex
takes a look at the fact that the Texas Youth Commission remains plagued with difficulties concerning a recent incident in which violent juveniles were set for release with little or no review in Texas Youth Commission Can't Seem To Get Its Act Together.
'I Couldn't Make It' Is No Excuse
Matt Glazer at Stop
Cornyn explores Senator John Cornyn's evident shunning of the funeral of former First Lady Lady Bird Johnson in Cornyn Refuses To Honor Lady Bird
Attacking Women's Health
"Women's health services are under perennial assault here in Texas-but it's not just Dan Patrick, Warren Chisum, and the odd mad bomber who want to control women's health choices.
Texas Kaos' Moiv is keeping an eye on them, and in Operation Rescue's Back-Not a Secret Anymore she covers just how wide spread this now open conspiracy against women-involving politicians, fringe religious figures, and Ricky Skaggs so far."
Posted by mcblogger at 06:35 AM | Comments (0) | TrackBack
Cornyn snubs the First Lady??!?!
Oh, come on! It's the former First Lady of the United States. The wife of a President from your home state, Senator. What the hell were you thinking?
Give to Rick Noriega now and let's say goodbye to Junior John.
Posted by mcblogger at 12:20 AM | Comments (0) | TrackBack
July 16, 2007
Help put Rick over the top!
(McBlogger notes : I'm endorsing Rick Noriega and requesting your help. This is my personal endorsement, not an endorsement by the entire blog.)
800 Donors in 4 weeks. 200 donors a week. 29 a day. That is our lofty goal. Change the equation. Power a political revolution. We need your help!
Lt Col. Rick Noriega is my candidate and I'm not asking for your money, I'm only asking for your support. 800 donors is a statement that we are tired of politics as usual in Texas.
Be one of the first 800 to change Texas forever. Donate any amount today!
Candidates should not be allowed to buy elections or allow special interests to buy the nomination $1,000 at a time. 800 donors sends a message that we are ready to crash the gate and take back our party. 800 donors shows support across a cross-section of Texans who are ready to take control of their lives and make a change for the better.
You can tell the state and country you are ready for a change by donating any amount. I'm joining forces with other Texas Bloggers to say that a dollar is as important as $1,000.
Texas bloggers throughout the state are working together to support Rick Noriega, not by raising hundreds of thousands of dollars, but saying it is time to support a people powered revolution. I'm one of them.
Now all we need is you. Donate. Get your friends to donate. A donation of any amount changes the equation.
Change the Equation with any donation.
Today we are asking for you to help us change the political landscape in Texas. We are asking for you to sign up with the team, not buy influence. Campaigns should be about people and ideas, not bank accounts and millionaires.
With your donation, of any amount, we can not only stop Cornyn, but we will change the face of politics in Texas forever.
Posted by mcblogger at 11:35 AM | Comments (0) | TrackBack
Editorial Wrap Up : Get us OUT of Iraq, fuckers!
Two editorials stood out to me today, both had the same point: Congress needs to get us out of Iraq now since the President has continued to follow is own insane advice and refuses to acknowledge reality.
This is NOT a 'let's beat up on the Congressional Democrats' post. They've done all they can to date. It's been up to the President to change and adapt. That hasn't happened. So, the only choice we have left is to put a terrific amount of pressure on Republican Senators and Representatives to flip and override a Bush veto on a withdrawal. In short, it's time for Congress to fully emasculate the crazy man in the White House.
To that end, the Star-Trib in Minneapolis-St. Paul is calling on Senator Norm Coleman to flip and join Senate Democrats in this effort.
President Bush, having dispatched top officials to Capitol Hill to shore up support on Iraq, saw defections occurring instead and ended up in a high-stakes power showdown on Thursday. After lecturing Congress on its role (consultation, by his lights), he emphasized his power as chief decider. But it's way past time for all that. Members of Congress must counter his stance with a strong new, and newly bipartisan, effort to responsibly end this war. ... Since Bush is having his logic all ways and clearly is in denial about the state of affairs in Iraq, senior members of Congress -- despite Bush's implication that they are overstepping their authority -- must get beyond their party interests and/or 2008 campaign maneuvering and craft a firm, joint message to Bush. Minnesota Sen. Norm Coleman, who has shown at least a limited willingness to differ with the president on Iraq policy, is in the right position to be a player in such an effort. But it can't be Sen. Levin this and Sen. Warner that. Just as it took truly bipartisan cohesion to get out of Vietnam, it will take more than a determined majority and a few straggling Republicans to turn Bush around.
Then this from the Sac Bee, for those Democrats out there who still want to beat up on the Speaker...
Three significant events happened last week regarding U.S. policy in Iraq.

First, the president issued a preliminary report required by Congress on progress in Iraq. It offers unwarranted optimism and no adjustments to Bush's current strategy. It states that the "overall trajectory" has "begun to stabilize" compared to the "deteriorating trajectory" in 2006. But, the administration notes, none of 18 benchmarks has been reached. In eight, "satisfactory" progress has been made; in 10, only "unsatisfactory" or "mixed" progress.

Second was the 223-201 vote in the House in favor of a bill (HR 2956) to require U.S. combat forces to start leaving Iraq within 120 days. Speaker Nancy Pelosi said she will bring back similar bills "as often as necessary, hopefully with an increasing level of support from our Republican colleagues, until pressure from the American people causes the president to change his mind and change his policy."

Third, Sens. John Warner, R-Va., and Richard Lugar, R-Ind., have drafted legislation that admits reality: A "unified, pluralist, democratic government" is "not likely to be achieved in the near future" in Iraq, and the U.S. military cannot "interpose itself indefinitely between sectarian factions." It rejects a "poorly planned or precipitous" pullout, but requires Bush to come up with a plan by Oct. 16 to keep U.S. troops from "policing the civil strife or sectarian violence in Iraq" and focus instead on protecting Iraq's borders, targeting terrorists and defending U.S. assets. Implementation would begin by Dec. 31.
The President has already shut the door on the Republican proposal, proving once more than he has no intention of working with Congress or acknowledging reality. Now you can be mad the Speaker for not bringing up impeachment (personally, I'd love nothing more but the investigations have not yet uncovered enough evidence to prosecute, nor are there the essential Republican votes to impeach... we don't have THAT large a majority) but don't jump up her ass over this. Call Republican members of Congress. ANY Republican member of Congress. Bitch them out.
Posted by mcblogger at 09:37 AM | Comments (0) | TrackBack
The man without a country
Sister Ruth called a week or so ago to warn against falling asleep with CNN on. Apparently she woke up and there was President Poopyhead blathering away like he does to one of those crowds pre-screened to exclude anyone who might notice that the emperor is not only naked, but speaking gibberish to boot. It got me to wondering about what life is going to be like for Bush after that glorious day that three-quarters of America is longing for, the day he moves out of the White House. The day he no longer lives in the Potemkin village where he is universally loved, when he finally comes within shouting distance of those of us who've endured his reign like an eight-year bout of the stomach flu. Welcome back to the Reality-Based World, George!
Some presidents spend their retirements playing golf. Some continue in public service of one sort or another. America's original tyrant, George III descended into madness, went blind and deaf in his old age. Still nominally King of England, he lived on, unaware as Napoleon Bonaparte conquered most of Europe and lost it as well. What will the future hold for our King George? I like to think he'll end up like Howard Hughes did, holed up in a hotel room somewhere. Wearing Kleenex boxes over his shoes. A fridge full of mayonnaise jars of his own pee.
Posted by mayor mcsleaze at 07:30 AM | Comments (0) | TrackBack
Tancredo and that's it?!?!?
This is the NAACP debate for the Republicans...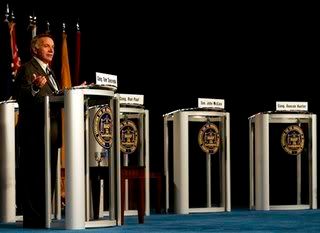 Kudos to the NAACP for not canceling this. Someone smart must have known this would be a great photo.
(via BlueBloggin')
Posted by mcblogger at 05:23 AM | Comments (0) | TrackBack
July 15, 2007
What? You mean firefighters don't like Rudy?
A group of firefighters have decided to tell the truth and shame the devil by calling Rudy 'I'm all about 9/11' Guiliani 'full of shit'. The videos are very enlightening.
Posted by mcblogger at 11:44 AM | Comments (0) | TrackBack
July 14, 2007
Clinton and Edwards team up?
Oh, I don't know what I think about this...
ABC News' Teddy Davis and Lindsey Ellerson Report: Democratic rivals Sen. Hillary Clinton, D-N.Y., and former Sen. John Edwards, D-N.C., were caught on tape Thursday privately conferring and agreeing to have their campaigns collaborate.

"Our guys should talk," Clinton said to Edwards.

The former first lady's remarks were picked up by an open microphone following a Democratic presidential candidates forum held at the annual NAACP convention.
Posted by mcblogger at 01:00 PM | Comments (1) | TrackBack
July 13, 2007
Making fun of the Campaign for America's Future
OK, remember the video from the CPAC convention? Well, the folks at CAF loved it so much they screened it at their convention... then asked the guy to produce one about their convention. Upon viewing it, the people running the convention decided not to show it. Why? Because it made fun of them. Turns out, people don't like others poking fun at them (something liberals AND conservatives have in common).
I went to The Nation and watched the video, fully intending to find something funny about people who take themselves WAY too seriously. Instead, I found something horrible. I found an unfunny video.
Sorry, Max... it blows. Calling it 'edgy' don't make it so. It's honestly a rather mediocre effort given the target rich environment (and all you could come up with was asking over and over again about the Obama girl?).
Posted by mcblogger at 02:04 PM | Comments (1) | TrackBack
Tolls : It bears repeating...
The toll moratorium that's not so much a toll moratorium doesn't include TTC 35.
"The moratorium doesn't affect TTC-35," Williamson said. "I don't know what else to say."

State Rep. Lois Kolkhorst, R-Brenham, got an assurance read into the House record for SB 792 last month that says no construction of TTC-35 projects, except for Loop 9 around Dallas-Fort Worth, would start over the next two years.

Gov. Rick Perry's office told her that work couldn't start within two years anyway because environmental studies won't be finished.

But today, in a conference call Williamson and other officials held with reporters, Texas Department of Transportation Assistant Director Amadeo Saenz said otherwise.

A big-picture environmental study for TTC-35 could get federal clearance this summer and the first second-phase studies to determine specific alignments could be finished in a year or year and a half, Saenz said.

TxDOT announced two weeks ago that they're ready to pursue 87 toll projects statewide, including three four-lane TTC-35 tollways — one from I-35 south of San Antonio to I-10 near Seguin, a segment from Austin to Dallas and another from Dallas to Oklahoma.

Williamson said today that a construction contract could be ready within two years for the toll-road from Austin to Dallas.
Didn't see this one coming at all...
Posted by mcblogger at 11:56 AM | Comments (0) | TrackBack
Speaking of people we don't like...
It would appear that Austin's own former Rep. Terry Keel will stay on as House Parliamentarian in an effort to 'stand by his man'.
Former Austin Rep. Terry Keel, a Republican who only thought he was leaving the House when his last term ran out in January, plans to stick around as the House parliamentarian, a post he suddenly filled after the previous parliamentarian, Denise Davis, resigned late in the regular legislative session.

Davis and her assistant, Chris Griesel, quit the night House Speaker Tom Craddick told the House he didn't have to recognize any motions for him to relinquish the speaker's job.
Yeah, I don't think anyone will soon forget Terry's role in keeping the dictatorial CradDICK on the dais.
In other Keel related news (yes, I'll be taking a shower after writing this post. In bleach), Terry's been working double time to find a challenger for Travis County Constable Richard McCain who beat Keel's inept brother in 2004. Word on the street is that Keel has recruited three Republicans... two to run in the R primary and one to flip and run against McCain in the D primary. Will it work? Sure. About as well as Keel's buttcut hair.

Give it up, loser. And rethink your hair.
Posted by mcblogger at 07:52 AM | Comments (0) | TrackBack
July 12, 2007
The Internet is kaput

Breaking News: All Online Data Lost After Internet Crash
Posted by mayor mcsleaze at 09:30 PM | Comments (0) | TrackBack
In an effort to bring closure, someone shoots Soprano
via The Onion
Actor James Gandolfini, best known for his portrayal of mob kingpin Tony Soprano on the hit HBO show The Sopranos, was shot to death Tuesday in a Greenwich Village restaurant by a fan unable to accept the open-ended conclusion of the series finale that aired earlier this month.

According to police reports, 28-year-old marketing research assistant Louis Bowen walked into the small Italian restaurant Occhiuto's at approximately 7:40 p.m. and headed directly toward Gandolfini's table. Bowen then drew a snub-nosed .38 revolver from his jacket and shot Gandolfini point-blank in the head three times before dropping the gun and calmly exiting the eatery.

Bowen was apprehended two blocks away by two NYPD officers and reportedly put up no resistance.

"I couldn't let it just hang," Bowen told police in a post-arrest confession released to the media. "Eight years of my life, and a fucking artsy cut to black? It was eating me up inside."
Posted by mcblogger at 07:17 PM | Comments (0) | TrackBack
Noriega's announcement gets pushed
It's sad to say, but the reason is solid. Out of respect for Lady Bird and her family, Rep. Noriega has postponed his Senate announcement until Monday at 11. On a less somber note, Mike Hailey at Capitol Inside has a great article Noriega's shrewd use of earned media
Noriega - a lieutenant colonel who spent 14 months on active duty in Afghanistan with the Army National Guard in the war on terror - confirmed in newspaper interviews this past weekend that he would be forming an exploratory committee this week to gauge support for a possible campaign for the seat that Republican U.S. Senator John Cornyn plans to seek again next year. Noriega announced Tuesday that he will formally announce at a Texas Capitol press conference on Thursday that he's filed the necessary paperwork with the Federal Election Commission for the exploratory effort. That's three potential press hits in less than a week. In this day and age, exploratory committees are formed after the water has been tested, the trial balloons floated and the campaign machinery put in place. Potential candidates don't organize exploratory committees to help them decide whether or not they really want to run. With scattered possible exceptions, candidates form exploratory committees to guarantee a double-dose of publicity to use as a campaign springboard once they've decided that they're running.
Posted by mcblogger at 06:39 AM | Comments (0) | TrackBack
Lady Bird passes
It sucks to lose someone you respect...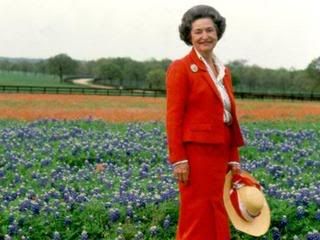 Godspeed, Lady Bird.
Posted by mcblogger at 12:21 AM | Comments (0) | TrackBack
July 11, 2007
National Organization Of Restoring Men
You have to read this, then this.
What is NORM all about? Please, just click the links.
My only question is, what does the giant wax cock have to say about this? I think now is the time for it to stand up and speak.
Posted by Boobilicious at 09:44 PM | Comments (0) | TrackBack
IN YOUR FACE Obama Girl!
Two can play this YouTube game.

Posted by mayor mcsleaze at 02:04 PM | Comments (1) | TrackBack
Ernie Fletcher's got nothing better to do?
Oh, come on... do you really want to keep your universities from being able to compete for some of the best people in the country?
Posted by mcblogger at 11:32 AM | Comments (0) | TrackBack
Fear factor
No one could have forseen that the Bushites would play the Terra! Terra! Terra! card for the umpteenth time.
DHS jefe Michael Chertoff says he has a "gut feeling" something big and scary may be coming.
Dammit, man! You were warned about those jalapenos!
Posted by mayor mcsleaze at 08:32 AM | Comments (0) | TrackBack
Farm Bureau bitchslaps Perry
EOW has the full story on the op/ed piece written by Texas Farm Bureau President Kenneth Dierschke taking Perry apart on his veto of the eminent domain bill, HB 2006.
Governor Perry's explanation of his veto of the eminent domain bill on editorial pages statewide was almost as astonishing as his decision to strike down House Bill 2006 in the first place.

The governor has done a great disservice to rural and urban property owners. Governor Perry has said a great deal about private property rights, yet he rejected the opportunity to sign the most significant property rights legislation in more than a decade. HB 2006 passed the Texas House with 125 out of 150 votes. The Senate passed it unanimously. Few bills get through the Legislature with that kind of support.

Despite reports that he intended to veto the bill, many of us could not square that with what the governor has often said about property rights protection. The governor knew that many of the groups supporting HB 2006 have been his supporters. Yet, we were never contacted by the governor's office about his concerns. In fact, our request to meet with him late in the session and prior to the veto fell on deaf ears.
The Governor, it should be noted, has been hard pressed to justify the cost numbers put out by TXDoT on this bill. To say they were questionable would be understatement.
Posted by mcblogger at 06:51 AM | Comments (0) | TrackBack
July 10, 2007
Columbia... extreme emerging market?
Apparently so, at least according to CNBC which told me this morning that kidnappings throughout the country (and especially in Bogotá) are down 78%! That's EXTREME!!
Posted by mcblogger at 05:52 PM | Comments (0) | TrackBack
Ah, Florida. Again
Delray man blames shooting on argument over Bible

An argument over the Bible may have been the reason someone fired a gun into a home with two children, according to a police report.
Talk about being unclear on the concept.
Posted by mayor mcsleaze at 05:33 PM | Comments (0) | TrackBack
Look at me! Look at me! Look at meeeeeee!!!!
Someone once said that the key to understanding Republican spokesmodel Ann Coulter was that she suffered from a form of Attention Deficit Disorder: she hates it when no one is paying attention to her. Sad to say, Living Saint Cindy Sheehan seems to have confirmed that she is a fellow afflictee.
You may recall her Memorial Day tantrum, when she first announced ahe was sick of the peace movement and retiring to her home, which escalated into an angry announcement that she was "leaving" the Democratic Party. (Which I think would be akin to me saying I've given up flying to Paris on the Concorde for lunch.) And of course that retirement was followed by making the rounds of liberal and disident radio shows, including Sheehan's revelation that, as a structural engineer, some of the events of 9/11 seemed fishy to her.
As it happened, Cindy's "retirement" lasted only a little longer than Paris Hilton's sojourn in the slammer. In the wake of Popo's personal amnesty for justice obstructor Scooty Libby, Sheehan announced her return to the political arena with an email that revealed (1) she was pissed and (2) she no longer believed in paragraph breaks.
That, however, was the teaser for her big "look at me!" moment, issuing a threat to House Speaker Nancy Pelosi that unless impeachment is underway by the time Sheehan's traveling roadshow rolls into Washington on July 23, she would run as an independent against Pelosi in 2008. She amplified her feelings in a diary on Daily Kos:
Well, the cat got out of the bag early as they so often will do. I was going to announce on July 10th (my 50th birthday) before our Journey for Humanity that I would run against House Speaker Nancy Pelosi (D-Ca) if she didn't put impeachment back on the table before our tour reached DC on July 23rd. Impeachment was never hers to take off the table as it is a Constitutional remedy for BushCo, not an optional smorgasbord choice. However, the story was leaked to the AP and we couldn't keep the big announcement under wrap
Yeah, well Cindy, when you tell everyone at your big Cindy Sheehan Is Going Away Forever Festival about your plans, it's no surprise that word gets out, since people have cell phones and internets and stuff.
The feedback I have been receiving since then has been about three to one positive and supportive.
Of course, that was before people started commenting on the diary, back when she was talking mostly to people who've mistaken her for Gandhi, or maybe Chauncey the Gardener. But lest she leave anyone unsure where she stands...
The Democrats are the party of slavery and were the party that started every war in the 20th Century except the other Bush debacle. The Federal Reserve, permanent federal (and unconstitutional) income taxes, Japanese Concentration Camps and, not one, but two atom bombs dropped on the innocent citizens of Japan were brought to us via the Democrats.
That's right, Cindy, there's been no realignment in American political parties in the last century and a half. And who could ever forgive Woodrow Wilson for invading Belgium and sinking the Lusitania, Franklin Roosevelt for attacking Poland and bombing Pearl Harbor, or Harry Truman for sending his army south across the 38th Parallel? In fact, the Democrats are so damned evil I'm surprised she dadn't just switch to the GOP.
Of course, Cindy, if you think the income tax is unconstitutional, you might want to take a little break from the black helicopters crowd and read the 16th Amendment sometime. Just sayin'.
I know that some people will read this and accuse me of saying awful things about Cindy, "who has gone through so much." Well, lots of people go through a lot. That doesn't give them license to go batshit insane. And Sheehan needs therapy, not more applause. For your own good, Cindy, and the good of the cause of peace. chill out, get some help, and quit acting like a lunatic.
Posted by mayor mcsleaze at 08:45 AM | Comments (2) | TrackBack
New group fighting vouchers
Raise Your Hand Texas has rolled out a potent anti-voucher site. Check it out when you have a chance!
Posted by mcblogger at 07:18 AM | Comments (0) | TrackBack
Texas Round-Up
It's 11:30, do you know where your blogger is?

McBloggersees "little Patty Rose" at one of his favorite Austin bars.

Taking Texas Back

Texas Kaos continues its podcast series,
hosted by Refinish69.
This week features an interview with Mike Engelhart, who is running for
151st District Court Judge in Harris County.

Going Public

Capitol Annex takes a look at the implications the Initial Public Offering (IPO) of equity firm Kolberg Kravis Roberts (KKR), which is
presently negotiating to purchase utility giant TXU.

Do you want Blackwater types patroling our border?

STXC tells the story of DynCorp International, a Virginia-based military security firm, stating it could train and deploy 1,000 private
agents to the U.S.-Mexico border within 13 months, offering a quick surge of law enforcement officers to a region struggling to clamp down on illegal immigration.

Don¹t Forget that Senate Race

Burnt
Orange Report reminds us that Cornyn is awful and either Watts or Noriega are an improvement to Junior Cornyn.

Half Empty explores the idea of another draft movement.
Why not draft Mikal Watts For Chief Justice of Texas 3rd Court of Appeals?
Border sheriffs ask: "Where's our money?"

Remember all that money that was allocated by the Lege for border security? Border sheriffs want to know why their buddy Rick Perry isn't giving more of it to them.
Off the Kuff takes a look.
Posted by mcblogger at 12:38 AM | Comments (0) | TrackBack
July 09, 2007
Cornyn has a bad day in Harris County
Apparently, the zombie-like John Cornyn came to Pasadena to talk to his constituents. However, though you might expect hundreds to turn out to see one of our Senators (I mean, the novelty of it alone! Now that Strom Thurmond is finally at rest, he's the only member of Congress that subsists entirely off the flesh of humans), not many people actually came. Of those that did come, they were overwhelmingly elderly and kinda upset since they'd been lured into the event when the sign at the street was changed to 'CRACKER BARREL' and a banner declaring 1/2 PRICE BUFFET was put up over the door.
Instead, they had to sit in a room and listen to stupid. But they weren't upset... they got coupons to IHOP for listening to him for 30 minutes.
Posted by mcblogger at 03:17 PM | Comments (0) | TrackBack
Man dressed as tree robs branch bank
Which would you rather read? Another screed about toll roads, or this?
According to police, a man with tree branches duct-taped to his head and torso walked into a Citizens Bank just as it opened Saturday morning and demanded cash from a teller. Police said the disguise was the most bizarre they'd ever seen.

"He really went out on a limb," Sgt. Ernie Goodno said Sunday.
Sgt Goodno thinks he a comedian, eh? Better keep your day job, flatfoot.
The robber, who showed no weapon, fled with an undisclosed amount of cash. Though the branches and leaves obscured much of the man's face, someone who saw images from the bank's security camera recognized the robber and called police.

James Coldwell, 49, of Manchester, was arrested at his home early Sunday morning. He was expected to be arraigned Monday.
Posted by mayor mcsleaze at 01:41 PM | Comments (0) | TrackBack
Some other things the iPhone can do...
Posted by mcblogger at 06:45 AM | Comments (0) | TrackBack
July 08, 2007
Yeah... because a priest is not a professional...
I'm going to share with you all a cardinal rule I learned in business... you absolutely never work with clergy. Period. They will find a way to screw you and they'll justify it through faith. Especially baptist pastors. Seriously, those guys are worse than used car salesman.
Coffee in America has a diary up over at Kos regarding a TX SC decision not to allow a woman to sue her minister. Why would she be suing her minister? Because when she went to him to talk, in confidence, about an extramarital affair, he blabbed about it to the entire congregation. Because his faith dictated all but giving her the scarlet letter.
Go see a marriage counselor, not a man of God. At least then, you can sue the shit out of him/her for being a gossipy old woman.
Posted by mcblogger at 03:15 PM | Comments (0) | TrackBack
July 07, 2007
It's 11:30, do you know where your blogger is?
I'm at LaLa's one of the few decent bars left in Austin and its crowded as fuck. How the fuck did so many people find out about my little smoke filled paradise? More specifically...
How the fuck did little Patty


Rose find out about LaLa's
Yes, that's right. Little non-drinking, non-smoking Patty Rose was at LaLa's tonight. Tying up a table drinking water with his gimp friends.
OMG! Too many people (and a state rep) at LaLa's?!?!? What IS the world coming to??!?
Posted by mcblogger at 11:35 PM | Comments (0) | TrackBack
Noriega in the Star-Telegram
Kuff has more over at DRN...yeah, I'm not even posting a synopsis. Just click the damn link when you have some time.
Oh, OK... fine. I'll give you a taste:
On Monday, Noriega is expected to file the paperwork that will allow him to raise money for the Senate bid. He made no mention of first-term Republican Sen. John Cornyn, who is expected to seek re-election next year. Nor did he mention potential Democratic rivals Mikal Watts, a San Antonio lawyer who has pledged to use millions of dollars from his personal fortune to finance his own Senate bid, or Dallas lawyer Emil Reichstadt.

The primary will be March 11.

A lieutenant colonel in the Army National Guard, Noriega has been touted as a Senate candidate ever since his unit was deployed to Afghanistan in January 2005. His unit was later part of a border security detail assigned to Laredo.

He cited a litany of errors that he said have caused worldwide esteem for the United States to fall in recent years, including "mismanagement of the war on terror, the acrimony of the national debate on immigration issues, the squandering of the environment, [and] the inability to provide reasonable health care."
Posted by mcblogger at 03:18 PM | Comments (0) | TrackBack
Fundamentalists can be a real drag
Around 2000 people marched in a pride parade in Jerusalem, despite protests by Orthodox Jews (the Jewish equivalent of Fundy Muslims and Fundy Christians), which is cool and all except for one thing. Some dick decided to bring his homemade bomb.
JERUSALEM (Reuters) - Israeli police detained an Orthodox Jewish man carrying a small homemade bomb in Jerusalem on Thursday, as thousands of Israelis marched in support of gay rights in defiance of religious protesters.

"Police stopped a 32-year-old religious Jew who was carrying a homemade explosive device," police spokesman Micky Rosenfeld said of the arrest before the annual Gay Pride march began.
Can't you freaks hate on others without bringing bombs? Maybe just bring some signs a la the Nutters Phelps?
H/T to Dungeon Diary
Posted by mcblogger at 11:55 AM | Comments (0) | TrackBack
July 06, 2007
We support keeping bars open later, too!
Who's Playin' has a post up about a debate going on in Lewisville regarding the midnight mandatory closing time (you don't have to go home but you can't stay here) that bar patrons in Lewisville are forced to obey. Apparently, there are forces at work trying to keep the bars open until 2 AM.
I think this is a great idea. We at McBlogger fully endorse later (or, no) closing times for bars.
Unfortunately, every good idea has to have someone to shit all over it. In Lewisville, that dumbass is none other than Councilman Lathan Watts who has had pithy things to say about the issue like...
"A man smarter than I am once told me nothing good happens after midnight."

"I don't see how you curb an alcoholic problem by increasing the supply of alcohol."
What, exactly, is an 'alcoholic problem'? As for the 'smart man', I'll say only that I bet that son of a bitch was the life the of the party. Kinda like I'm sure Lathan is (just give him some Lime Sherbet Punch and watch...him... GO!).
Posted by mcblogger at 04:18 PM | Comments (0) | TrackBack
Tolls : Kirk Watson is a really decent guy
You know, it's rare that a Senator who disagrees with so many of his colleagues will run interference for them, but that's exactly what Kirk is doing. This last session, there was a tremendous amount of momentum to rejuvenate transportation funding in this state and really address our problems. All that enthusiasm turned to shit by the end of the session because of two issues:
1) Republicans are pussies when it comes to doing the right thing and raising the damn gas tax. They'd rather us all have to deal with unreasonably high corporate toll taxes.
2) Republicans from DFW Metro are a bunch of fat candy asses (yeah, you Fatass McFaterson) when it comes to dealing with the RMA's who just happen to INTIMIDATE THEM.
Still, Watson doesn't drop them in the grease. He takes time out of his busy summer schedule to pen an op/ed piece in the Schlockman basically saying we need to stop fighting over the 'funding tools' out our disposal and start making decisions. I couldn't agree more.
If the environment was ever ripe for the creation of tools other than toll roads, it was during the past six months. It didn't happen. If you want less traffic and dislike toll roads, you should be disappointed.

Instead, the state budget effectively decreased funding for the Department of Transportation, since it didn't provide enough money to keep up with double-digit inflation in the cost of road building. There was talk about raising the gas tax, or at least indexing it to inflation, and reducing the need for toll roads. But tax bills must start in the state House of Representatives, and a potential increase never made it to the floor.
Note that he doesn't single out Krusee, CradDICK or that simpleton Chisum, all of whom played a roll in keeping that bill off the floor. And all of whom happen to be Republican. For those Republicans out there always pissed off about partisanship on the part of the Democrats, here's one Democrat who's not pointing fingers and assigning blame, no matter how richly that blame may be deserved.
Kirk is, of course, right and honestly a bit of a MOTO for writing shit like this...

It costs money to increase road capacity and enhance mobility. There are no free roads. And it will take generations to pay for our current needs — not to mention our future ones — using only the financing tools we've been given. That means we'll spend more and more of our lives sitting in traffic, and our children will have to fix the problems we'll leave them.

I fear for our economy, our air quality and our quality of life if Central Texas becomes a gridlocked mess where every highway is like Interstate 35, every surface street is like Lamar Boulevard at rush hour, and every neighborhood needs speed bumps because so many drivers are desperate for a short cut.

We have too much traffic. More people are coming. And they'll be driving cars.

But more roads and road capacity are not coming for all of those people and cars — not without more money. And the only possibilities are gas taxes (which the Legislature has rejected), property taxes (which are unfair and already too high), toll roads and innovative growth strategies that give people options besides their cars.

We all have a lot of work to do on this issue. We can't just pretend we can get something for nothing. Nor can we defer to an almost instinctive distaste for things like toll roads or land-use planning.

It's time for us to honestly assess our needs and come together around tools that will meet them.
Yes we need infrastructure. If you want to be brutally honest, we should have had this discussion in 1995. However, Laney and Bullock didn't want it and then Governor Bush was too hopped up on the exotic chemicals coming from Karl Rove's mouth to even think straight. However, we don't need to jump into a 40 year contract. We can more than afford to wait another year or two. Here are some suggestions for either the next session or, if by some miracle, a transportation special.
1) Let the voters decide... indexed gas tax to meet transportation goals or STATE controlled and operated toll roads.
2) Restructure TXDoT and make all transportation related offices elected, not appointed, including the metro and county levels.
The first idea will put the decision in the hands of voters, not the Lege which is too full of stupid Republicans to ever acknowledge that taxes aren't a waste of money. It also eliminates the corporate middleman (that's called disintermediation for all you non-B school folks) who will exist not to protect taxpayers from liability, but instead to increase their liability while demanding hefty profits for a service that should be provided at cost.
The second will make TXDoT more responsive to the people of this state. Plus, it creates a much more public platform from which a commissioner can call out the bad actions of the Lege. Or the Governor.
The bottom line question was, is and should always be What is best for the people of Texas? The reality is that it's a broad based fuels tax that will allow the state to borrow at much cheaper rates than those available to private companies. This will allow TXDoT to dramatically expand the building of roads around the state, providing jobs and a massive amount of economic growth that will create the kind of broad-based prosperity Texans deserve. It'll also take care of pollution and traffic delays, which both Watson and I agree would be a good thing (I don't like sitting in traffic either, Kirk).
The reality that Senator Watson is trying to make clear is that given the current republican-saturated nature of the Lege, none of this is likely to happen. We need to get him some help and we need to make sure that we don't jump from one bad situation to another.
(h/t to EOW which has a slightly different take)
Posted by mcblogger at 01:28 PM | Comments (2) | TrackBack
Ann Coulter, a great American
Uhm... sure, Duncan Hunter. Whatev.
Posted by mcblogger at 11:22 AM | Comments (0) | TrackBack
TX-Senate : Carping little bitches
Over at BOR, the comments have been on fire regarding Rep. Noriega's decision to throw his hat into the ring for the senate seat currently held by former human John Cornyn. The convo has pretty much been back and forth between those entrenched in the Watts camp and those who are pro-Noriega. Some negative comments about both, but nothing of real substance. Some positive comments about both from people who are a little more balanced and some who obvs haven't developed a hatred or love for one or the other.
I also heard someone, at an event I attended last night, make some jackass comment to the effect that Rep. Noriega should instead run for Railroad Commissioner. I wondered, aloud, if maybe Mikal Watts would be better served running for a judicial seat. The record of the altercation will clearly show that I DID NOT, in fact, throw the first punch and that any glass lodged in Mr. Mouthy's neck was purely an accident.
In other words, more than 8 months out from the primary, things are already heating up. Ladies and gentleman, I give you a primary. And for those of you who aren't up to it... Texas politics is brutal. So don't be surprised if it gets a lot nastier.
That being said, I've been asked why I'm supporting Noriega. It's simple... he has the campaign, legislative and life experience to not only win the seat but to do a great job for all Texans. Am I completely discounting Watts? Absolutely not. The man has made a career out of helping people who've been screwed by companies. I have a tremendous amount of respect for the man. I do not, however, think he's the best choice for Texans. Further, his highly nuanced responses to direct questions will be problematic, as will his (from the reports I've seen) uninspiring speaking style on the stump. A great lawyer? Without a doubt. A good candidate? Not so much.
Now, before any of the pro-Noriega folks launch into the inevitable Tony Sanchez comparisons because of the ability to self-fund, let me point out one decisive difference... Watt's has shown an ability, at least in the Garcia race, to put the money to extraordinarily good use. Fortunately, so has Noriega (who, it should be noted, is a damn good fundraiser).
For those of you thinking that Noriega should 'wait his turn', you need to either STFU or put your name into the hat. Not so much with the orderly waiting to run for offices. This is a free for all. Let the best person win.

Posted by mcblogger at 09:10 AM | Comments (0) | TrackBack
July 05, 2007
Olbermann : Resign, Mr. President
A tad overwrought, but nicely put...
Posted by mcblogger at 07:24 PM | Comments (0) | TrackBack
Pet Spa... have people lost their minds??!!?
This is the Pet Spa... via Gizmodo
think it is safe to say that most cats and dogs have traumatic experiences with this device, but at least they will smell nice afterwards. Sure, being covered water and chemicals in a tight space is something all pets love, right?

The Pet Spa system will clean, de-flea and dry your beloved pet in a matter of only 30 minutes. It does include special technologies that prevent the pet from being uncomfortable—because, you know, being drenched with water and chemicals isn't uncomfortable at all. The machine will monitor water temperatures and if it were to rise or fall 3 degrees from the set temperature the system will kick off to prevent panic and/or damage to the pet. For larger dogs or extremely fat cats, you are stuck with the hose. Oh well, hosing off a cat has to be one of the funnest experiences of anyone's day.
Posted by mcblogger at 04:15 PM | Comments (0) | TrackBack
CEO compensation floating into the stratosphere
Jobsanger has a great piece up about executive compensation and just how out of whack it is, not only from the perspective of performance (they really aren't EARNING that money, from the shareholder perspective) but also from the perspective of the gap between what the lowest paid workers are earning vs. their compensation. I think it's high time for a linkage between the two.
Posted by mcblogger at 10:46 AM | Comments (0) | TrackBack
More on the Libby Amnesty
Apparently, Republicans are just as irritated about Connecticut native George W. Bush's commutation of Scooter Libby's sentence as we are...

"How can parents instill values and morality in their children?" asked a befuddled Sen. Chuck Hagel (R-NE). "How can educators teach our children? How can the rule of law for every American be applied equally if we have two standards of justice in America – one for the powerful and the other for the rest of us?"

Former Senator Bill Frist joined Hagel in slamming Bush's actions, saying the commutation amounted to unfair treatment. "He is not above the law," said the clearly enraged Republican from Tennessee. "If an ordinary citizen committed these crimes, he would go to jail."

You would think, of all places, President Bush would find some love in his home state of Texas -- but not so. Sen. Kay Bailey Hutchison said the Libby communion jeopardizes the nation's entire legal system.

"I very much worry that with the evidence that we have seen that grand juries across America are going to start asking questions about what is obstruction of justice, what is perjury," the senator said. "And I don't want there to be any lessening of the standard. Because our system of criminal justice depends on people telling the truth, the whole truth, and nothing but the truth. That is the lynch pin of our criminal justice system and I don't want it to be faded in any way."

Fellow Republican Texan Tom Delay, himself indicted, nonetheless issued a scathing attack on the commutation.

"No man is above the law, and no man is below the law," Delay said, choking back tears. "That's the principle that we all hold very dear in this country."
Oh, and just in case you were wondering about just how 'excessive' Scooter's sentence was, check out this.

Posted by mcblogger at 08:50 AM | Comments (0) | TrackBack
July 04, 2007
Rick Announces Exploratory Committee!
Via Muse...
On July 4th, 1776, the Declaration of Independence was signed by delegates to the Second Continental Congress. The Declaration states that all people are creatures equal under God, with rights and liberties that cannot be violated. This signing was an act of treason under British law, carrying the threat of execution and utter ruin for entire families. We recognize this day as a celebration of patriotism and of the courage it takes to stand up to the sitting government when it is wrong.

This day I share with you my intent. My intent that, in the days to come, our family forms an exploratory committee and joins with me in my choice to run for the United States Senate. Why?

Why, on the first Independence Day I have spent at home in four years, would I risk a safe legislative seat, take a leave of absence from my job, sell property to lend money to a campaign. Why would I ask my family to allow me to be gone again?

Why? Because as Americans, it is our duty to stand up and speak when things have gone off the rails. It is in our very fabric, our soul; it is God's requirement of us as heirs to the legacy of this country, to exercise the right to speak out as our forefathers taught us.

Our nation is headed in the wrong direction. It is lead by those whose choice is to divide Americans to maintain power. It is the vision of the powerful that are either unwilling or unable to unite people, to foster common ground for the common good.

We as a nation have been the envy of the world when we have maintained our moral compass. I believe we have begun to let that slip away.
Our mismanagement of the war on terror, the acrimony of the national debate on immigration issues, the squandering of the environment, the inability to provide reasonable health care, the decay of our respect for human rights, the refusal to improve education, the willingness to sacrifice the many for the few....we are losing our global moral leadership.

This day reminds us of our legacy as Americans to stand up when things have gone wrong. This call to duty runs in our veins lives in our very bones, as both Texans and Americans. The thing that has always pushed my button is bullies. I have always been compelled to step in when wrongs are being perpetrated, when a group is headed in the wrong direction.

The draft effort asking me to run for the United States Senate has been an astounding honor. I and my entire family are humbled by it. We have prayed about this call. We have asked God every day that if we undertake this immense and necessary task, that it is for the right reasons. That I meet this challenge for God, for Texas and for the country we share and love, not for myself.

This is a daunting endeavor in a multitude of ways. When someone exhibits leadership, they invite attention. No one is perfect, certainly not any of us. We are a regular family that has grown into leadership and responsibility through a commitment to public service. I see it like being a soldier. My wife sees it as a calling, like the ministry.

We are a regular family. We aren't perfect and we don't want to hold ourselves up as perfect. It remains to be seen if a regular family can offer themselves up for service to their country without being overwhelmed by money or criticism.

In Texas, we tell our children that if they work hard and play by the rules, they can do anything. We are about to find out if that is true. We are regular Texans like you, answering a call to service, and hopefully, we have prepared as a family for the inevitable onslaught. As Americans the greater good is more important.

Today is the right time for all of us to stand up and say that there has got to be a better way. When our forefathers created this country, they risked their lives, their families, their property and their futures. This is going to take all of us, all of you--our time, our treasure, our patience, our faith. I am answering your call, and that of my Maker, and I am asking you to come with me.

As we jump in, it is because we know that we have the support and prayers of all of you. God bless each of you this July 4th, bless the United States of America, and God bless Texas.
Posted by mcblogger at 04:27 PM | Comments (0) | TrackBack
Who knew a Prius could go a hundred miles an hour?
I am impressed. And apparently some famous guy's son was driving it.
Al Gore III, 24, of Los Angeles, was allegedly driving a blue Toyota Prius on the southbound San Diego (5) Freeway about 100 mph about 2:15 a.m. when a sheriff's deputy stopped him at the Crown Valley Parkway exit, said Orange County sheriff's spokesman Jim Amormino.
Posted by mayor mcsleaze at 01:39 PM | Comments (0) | TrackBack
Happy Independence Day!
That's all... nothing more to say. Enjoy the rain...
Posted by mcblogger at 11:48 AM | Comments (0) | TrackBack
Senate : Baseslice talks some shit
Wayne Slater at the DMN has a good piece up about the D side of the Senate race. He's concentrating in this article about Watts and raises one of my own concerns... from what I've heard Watts gets bogged down easily in Q&A and overly nuances his positions. Which is the kiss of death in Texas politics. Still, the most interesting thing is what Mikey Baseslice had to say...
Still, Mr. Cornyn has the advantage of incumbency in a state that trends Republican. And Mr. Baselice, the GOP pollster, said that despite Mr. Watts' considerable wealth, the fact that he is a trial lawyer will make him "an easy target" in a general election.
Mike, we've seen the real world effects of tort reform... it's called gut the consumer and people are all too familiar with it. You really don't want to open this debate, Mike. You aren't the only one who can run a statewide pushpoll and whichever Democrat gets through the primary is going to have money to run one after the other.
I almost feel sorry for the Republicans in this state, especially their consultants. They think they actually won in 2006 without ever once realizing that it was the lack of resources for the Democrats that actually caused the defeat. In areas where Democrats did receive funding, Lege races for example, Democrats won seat after seat. Defeat is going to be a bitch for y'all.
The reality is that Noriega is going to win the primary. For one thing, Watts, while a good guy, isn't going to sell well around the state with the D primary voters. Sure, he'll have money to do mail and TV, but so will Noriega. In that kind of race, it's experience over novelty and Noriega takes it. As for the general... please. With money, either of these guys will be able to make Cornyn one of the most hated men in the state.
After all, he's the dickhead who thinks it was a great idea to commute the sentence of a known perjurer who compromised national security.
Posted by mcblogger at 10:06 AM | Comments (0) | TrackBack
July 03, 2007
Balancing on abortion
I find myself thinking Greg is mellowing out and making sense. Which really pisses me off. He's got a great post up about a piece in the NYT about differing views on abortion and why Democrats should look seriously at the issue itself, rather than getting stuck on pro-life/pro-choice debate that goes nowhere.
The standard response from Democratic leaders has been that anyone lost to them over this issue is not coming back - and that regrettable as that might be, there is nothing to be done. But that is not what I heard from these voters.

Many of them, Catholic women in particular, are liberal, deep-in-their-heart Democrats who support social spending, who opposed the war from the start and who cross their arms over their chests reflexively when they say the word "Republican." Some could fairly be described as desperate to find a way home. And if the party they'd prefer doesn't send a car for them, with a really polite driver, it will have only itself to blame
The reality? Both sides need to STFU. The VAST majority of Americans do not fall into one camp or another. Sorry to both of you but you're as delusional as Bush if you think most people agree with you. You might try associating with people outside of church (you pro-lifers) and outside of your club meeting ( OK, pro-choicers?). You'll find that most people, if given the option, would make the choice to carry to term except in cases of incest or rape. Most people want few, if any, restrictions placed on women in those circumstances. Further, after about the first trimester, support falls off dramatically for abortion rights, even among women.
Now, for you pro-life nutters out there, you should be PRAYING for oral EC solutions, not trying to stop them.
This is a damn divisive issue, not least of which because some old white men have inserted themselves into a debate that's really about a medical procedure THEY WILL NEVER HAVE. That being said, it's the women on the pro-life side that need to be listened to. It's time we start talking and come to some sort of compromise so people will stop making voting decisions based on this one issue.
That is the reality with which our party is confronted and it's time we addressed it, rather than calling those on the left and the right who vote on only that issue stupid.
Posted by mcblogger at 06:45 PM | Comments (3) | TrackBack
Chris Bell brings the funny
Apparently, Congressman Bell had the same experience I've had with the not-too-smart folks at TSA. Granted, these people are just doing their jobs, but I gotta tell you what Chris details here reminds me a lot of my last trip to MN.
Damn, Chris! Why couldn't you have been more like this on the campaign trail?!?!?
Travelers on Flight 1859Y probably didn't know just how safe they were. It was the keen eyesight of two Transportation Safety Administration workers at Reagan National Airport in Washington that led to the discovery. Thanks to them, the offending bottle of shampoo that exceeded four ounces did not make it on board the plane and the skin cream, hair gel, cologne, shaving cream, style ointment, breath spray and eye drops were carefully inspected and placed in a plastic bag. It's just that kind of attention to detail that's winning the war against terror and that makes us all breathe a little easier when flying these days.

I must admit at first the TSA workers' heroism was lost on me since it was my bag and my shampoo. But then, after having time to reflect, I could see exactly why they were bound and determined to enforce the rules against containers with more than four ounces of fluid.

Sure, to the average lay person, it seems ludicrous that even the cleverest terrorist could carry out some evil plot with just a bottle of shampoo. But those are the same naysayers who probably couldn't see how a plane could easily be overtaken with just a pair of nail clippers.

See, the folks at TSA have to constantly think outside the box. Granted, they rarely engage in that sort of thinking until after someone has already attempted a new form of terrorism. But who wants to quibble about motivation?

The fact is that after a plot has been uncovered, widely publicized and will quite likely never be attempted again, TSA officials don't just sit back and do nothing. They react!
The terrorists used box cutters on 9/11. Instead of just addressing the insanity that had led to box cutters being allowed on planes in the first place, TSA went a step further.

With their unique vision, they could see the same plot being carried out with instruments usually reserved for manicures. Instead of just waiting for someone to commit "clip havoc," they took action. Bravo!

The same was true for shoes. After the attempted shoe bombing plot was foiled a few years ago, TSA went to work.

Sure, there was technology available that would have allowed people to simply step onto a scanning device with their shoes still on. But why spend millions of taxpayer dollars on that sort of convenience?

People act like flying is supposed to be enjoyable just because they're spending hundreds of dollars on tickets. Welcome to the new world.
And now fluids. To the untrained eye, it might look like a harmless bottle of shampoo. But why do you think it says "no more tears" on some bottles? A lot of people obviously don't see what shampoo in the wrong hands can do. But I'm glad we have the TSA to think through all of this for us.

Do you really want to have to read about an entire flight crew being blinded and disabled by a large bottle of Pantene? I didn't think so. Now stop your complaining.
Posted by mcblogger at 03:01 PM | Comments (2) | TrackBack
Nutty bitch says what?
Apparently, someone thought Hill's Soprano's-like turn was full of messages and symbolism. Evil messages. That someone was Ann Althouse and TRex over at FDG has a hilarious take down on her post in which she says
4. Bill says "No onion rings?" and Hillary responds "I'm looking out for ya." Now, the script says onion rings, because that's what the Sopranos were eating in that final scene, but I doubt if any blogger will disagree with my assertion that, coming from Bill Clinton, the "O" of an onion ring is a vagina symbol.Hillary says no to that, driving the symbolism home. She's "looking out" all right, vigilant over her husband, denying him the sustenance he craves. What does she have for him? Carrot sticks! The one closest to the camera has a rather disgusting greasy sheen to it. Here, Bill, in retaliation for all of your excessive "O" consumption, you may have a large bowl of phallic symbols! When we hear him say "No onion rings?," the camera is on her, and Bill is off-screen, but at the bottom of the screen we see the carrot/phallus he's holding toward her. Oh, yes, I know that Hillary supplying carrots is supposed to remind that Hillary will provide us with health care, that she's "looking out for" us, but come on, they're carrots! Everyone knows carrots are phallic symbols. But they're cut up into little carrot sticks, you say? Just listen to yourself! I'm not going to point out everything.
Seeing symbolism in everything is just plain crazy. Sometimes, Ann, an onion ring is just and onion ring. Carrot sticks, especially raw ones, are never phallic (and if you really think so, Ann, you need to broaden your dating horizons) but are instead just gross.
The important thing that Ann misses is that Hillary ordered crudités WITHOUT RANCH. Which makes me wonder exactly what Hillary has against one of the few truly American foods. What's next? Burgers without bacon and cheese?! PEANUTS WITHOUT SALT?
It's true I'm not a huge fan of Hillary's, but reading this much into what amounts to a craptastic campaign video is really a bit deranged.
Finally, while Hillary is far and away better than any of the Republican candidates, I'd much rather have Gore with a side of Robert Rubin, if I'm forced to pick from 90's politicos. Since I don't, I'm gonna stick with Edwards.
How can I not? Hillary is sticking with that terrible Celine Dion song. Sure, Celine has a great voice and her creepy husband may, in fact, NOT be a svengali, but I just can't like her. Ever. It's totally because of Titanic.
I wonder why Ann's not ripping on that? Maybe she likes Celine Dion?
Posted by mcblogger at 12:10 PM | Comments (0) | TrackBack
Asswipe Cornyn first to applaud Bush's latest crime
Via Texas Kaos, Senator Boxturtle couldn't even wait for Bush to stop pissing on the concept of justice to lap it up and pronounce it an excellent vintage. Noriega or Watts or Whomever, will someone please kick this moron's balls into another dimension?
Posted by mayor mcsleaze at 10:10 AM | Comments (0) | TrackBack
Noriega gets some attention...
... this time from the Texas Observer
It's easy to see Noriega's appeal to the netroots: besides his politics, he's served in both Afghanistan and on the Texas-Mexico border, immediately giving him authority on two issues that Cornyn could use to bully a different opponent. A run-down of many of the widely read blogs is available at Brains and Eggs. There's also detailed information going up on the Draft Rick Noriega site, where it looks like they'll be tracking primary opponents like Watts or maybe (emphasis on maybe) U.S. Rep. Chet Edwards.

At the same time, these draft movements don't exactly have the best track record. When we checked in with Charles Kuffner, the author of Off the Kuff and a member of the Draft Noriega squad, he laid out some ways this might be different. For one, the candidate is an actual politician. "It's not like we're trying to persuade someone to come out and run. We know Rick Noriega is seriously considering it," Kuffner said. Additionally, Kuffner is friends with Rick's wife Melissa Noriega, who was recently elected to the Houston city council. Kuffner knows Rick. And while he's not part of the campaign, he is in touch with them.
Of course, many bloggers around the state including Muse, Coby and Todd have been keeping track of the guy I hope to help persuade to run for Senate. Check 'em out! Then head over to Half Empty where Hal has taken the time to post about some of Rick's legislative accomplishments. Gee, wouldn't it be nice to elect someone to the Senate who actually has legislative experience? You know, instead of some jackass who made a really shitty AG?
Finally, Rick has received support from his fellow Texas Representatives as well as a separate note from Rep. Gallego.
While certain politicians were talking about the "war on terror", Lt. Col. Noriega was actually fighting it by serving a 14-month tour of duty in Afghanistan. While certain politicians were failing the test of leadership in response to Hurricane Katrina, Lt. Col. Noriega was brought in to serve as Incident Commander and direct logistics at the George Brown Convention Center, helping thousands of Katrina evacuees. While certain politicians were talking about the need for immigration reform and border security, Lt. Col. Noriega was actually securing the border as the Commander for the Laredo Border Sector. Texas needs leadership by example, the type of leadership Rick Noriega has given his state and country.

For more than a decade, Rick has also been on the front lines fighting for a better Texas. He and I have stood side by side to protect and defend our children by providing children's health insurance. We have worked together to give teachers a necessary and needed pay raise, and put more resources into public education. We have worked together to protect our environment and clean up our air, especially in places like Houston.
All in all, looks like we're not the only runs saying Run, Rick. Run!
Posted by mcblogger at 09:20 AM | Comments (0) | TrackBack
Get well, Kuff!
What IS it with bloggers getting sick? First it was Jobsanger in Amarillo, now it's Kuffner over in Houston! Get well soon, hermano!
Posted by mcblogger at 12:35 AM | Comments (0) | TrackBack
July 02, 2007
Libby and the Way-Back Machine
So I'm watching this documentary film, "So Goes the Nation," last night about the 2004 election and i just get pissed off all over again about the apparently dominant mindset at that time. Then, of course, i stew about it all day today until the news of Libby's commuted sentence plops into the watery porcelain bowl of breaking national news. it got me to thinking, what if Scooter had been given his pass back in '04? With apologies to Letterman...
Top 10 reactions if Scooter Libby's sentence had been commuted in 2004:
10. "Good, we need Scooter out of jail so he can help keep us all safe
from Saddam Hussein destroying another landmark."
9. "Yea! Scooter's free! See how mad the Democrats are? I told you
they hate freedom."
8. "Yeah, I know, it's a profoundly treasonous offense that Libby
committed, but at least he's not a French-looking flip-flopper like
that John Kerry."
7. "Really? Well, 9-11 did change everything."
6. "Of course Bush pardoned him. It's Christian to forgive, and the
President is a fine Christian man."
5. "This really pisses me off. I'm going to write my Congressman here
in Texas about it...hey, wait, who is my congressman again? I lost
track because they keep redrawing the damn lines."
4. "Libby should take a vacation somewhere to celebrate. New Orleans
is always a lot of fun."
3. "Ever since that Diebold machine 'commuted' my vote for Kerry,
nothing surprises me anymore."
2. "Sure, I disagree with Libby intentionally endangering the
career and very life of an undercover public servant, but I like how he
did it so decisively. You know where he stands on the issue of undercover CIA identities."
1. "Today, a commuted sentence; tomorrow, the Medal of Freedom!"

Posted by hbalczak at 07:33 PM | Comments (0) | TrackBack
Fuck fuck fuck!
Posted by mayor mcsleaze at 05:40 PM | Comments (1) | TrackBack
Ann, you ignorant slut
The voice of the conservative movement, Ann Coulter, is once again trying to dig herself out of the hole in which she finds herself. This time, she's using Bill Maher as her excuse.
Here is my full sentence on "Good Morning America," which the media deceptively truncated, referring to a joke I told about Edwards six months ago that made liberals cry: "But about the same time, you know, Bill Maher was not joking and saying he wished Dick Cheney had been killed in a terrorist attack -- so I've learned my lesson: If I'm going to say anything about John Edwards in the future, I'll just wish he had been killed in a terrorist assassination plot."
Oh, yes, Ann. The context makes all the difference. Just as it did when you called Edwards a faggot. Actually, what irritates me most about it is that you try to excuse your behavior... by using the immature logic of a child. "Well, Bill Maher did it first, so myahhh".
At least when we say something nasty, we own it. Pathetic, Ann. So much for your 'mean girl' bullshit. You're about as tough as tissue paper.
Posted by mcblogger at 12:17 PM | Comments (0) | TrackBack
Porny Elephant
Yep, you read that correctly. Sunday morning an inflatable blue elephant visited Bridge Community church in Galveston. The elephant is part of National Porn Sunday campaign which is trying to beat out battle the multibillion dollar Porn industry. All bad puns aside, the 25ft inflatable blue elephant is a symbol of the "elephant in the pew," said J.R. Mahon, pastor of XXXChurch.com, which spearheads the National Porn Sunday movement. Although their website name seems a bit askew, the group claims that 47 percent of Christian families say porn is a problem in their home, and 40 million people look at Internet porn daily. By addressing the problem in the church, the group is taking a proactive approach by reinforcing family values.
Porn is a problem? Lay off the bread, bitch, then maybe he wouldn't have to obsess over Ms. May's narrow waist. Cut the time at the buffet, bubba, and maybe she'll stop fantasizing about Edward, the poolboy and his rippled abs.
(h/t to Kuff)
Posted by mcblogger at 09:14 AM | Comments (0) | TrackBack
July 01, 2007
Calling Bullshit : Document Subpoena Fight Edition
Looks like the Congressional Democrats are gearing up for a fight with the tremendously unpopular President Bush about his ridiculous decision not to obey their subpoena.
In a letter to White House counsel Fred Fielding, the heads of the Senate and House Judiciary committees demanded an explanation in 10 days of why the White House claimed executive privilege on subpoenaed documents, and vowed to invoke "the full force of law."

The White House - echoing the senior Republican on the Senate panel - urged the chairmen to accept the administration's earlier offer to allow private, off-the-record interviews with current and former aides to President Bush.

"If the committees just want the facts, then they should withdraw the subpoenas and accept the president's offer, instead of this continued pattern of gross overreach and confrontation," said White House spokesman Tony Fratto.
No, no, no. We want testimony. On the record. And we want documents. We don't care about executive privilege. This isn't something Connecticut native George W. Bush or Sen. Specter get to decide. We want answers and if you don't want to give them, you need to do the honorable thing.
Yeah, you could resign, too.
Posted by mcblogger at 05:17 PM | Comments (0) | TrackBack
It's not magic, it's SCIENCE!
Imagine being able to light a lamp... without wires! From the Chron
Massachusetts Institute of Technology researchers announced last week they had made a 60-watt light bulb glow by sending it energy wirelessly, potentially previewing a future in which cell phones and other gadgets get juice without having to be plugged in.

The breakthrough, disclosed in Science Express, an online publication of the journal Science, is being called "WiTricity" by the scientists.

The concept of sending power wirelessly isn't new, but its wide-scale use has been dismissed as inefficient because electromagnetic energy generated by the charging device would radiate in all directions.

Last fall, though, MIT physics professor Marin Soljacic explained how to transfer the power with specially tuned waves. The key is to get the charging device and a gadget to resonate at the same frequency -- allowing them to efficiently exchange energy.

It's similar to how an opera star can break a wine glass that happens to resonate at the same frequency as her voice. In fact, the concept is so basic in physics that inventor Nikola Tesla sought a century ago to build a huge tower on Long Island that would wirelessly beam power along with communications.

The new step described in Science was that the MIT team put the concept into action. The scientists lit a 60-watt bulb that was 7 feet away from the power-generating appliance.

The development raises the prospect that we might eliminate some of the clutter of cables in our evermore electronic world.
Yeah. I think I'll stick with shielded cables.
Posted by mcblogger at 09:43 AM | Comments (2) | TrackBack