August 31, 2006
Republicans Are Fucking Dumb
"Not A Blue Dot in Travis!"
The Travis County Republican Party is having a
I-want-some-of-the-crack-they're-smoking
moment....
From today's Austin-American Statesman:


Old-timers might wonder how the Rs landed at Scholz Garten, the close-by-the-Capitol hangout long cherished by liberals. Sally Aiello, the county party's executive director, reminded that the party had 2002 and 2004 kickoffs there, adding: "We're kicking the liberals out of downtown and celebrating November victories early."
Riiiiiigggggggggghhhhhhhhhhhhhhhtttttttttttttttttt.
Sort of like in 2004 when Travis County Democrats swept the elections? Apparently the name of their kickoff is "Not a Blue Dot in Travis!." Grimace wasn't even sure what the fuck that was supposed to mean, since the last time we checked, Travis County was, well, almost completely blue, and it most definitely will be with the elections of 4 Democratic 3rd Court of Appeals candidates, 2 District Judges, and when we take back the 6th leg seat, it'll be sweet.
That being said, Grimace has a gift for you. The Repuglicans will be at Scholz on September 10 from 6 p.m. to 9 p.m., and you can click here or on the image above to download your very own 11" X 17" "I'm a Blue Dot!" poster. Just print it out and show up at Scholz. Grimace will see you there.
I don't know if Travis County Repuglicans are fucking funny or just fucking dumb. Methinks its a little of both. But let's remember, it was their state party chair, Tina Benkiser, that had this gem of a quote during the GOP State Convention:

At Saturday morning's prayer meeting, party leader Tina Benkiser assured them that God was watching over the two-day confab.

"He is the chairman of this party," she said against a backdrop of flags and a GOP seal with its red, white and blue logo.
Posted by grimace at 08:08 PM | Comments (9) | TrackBack
PJs that will get your kid assaulted at a sleepover
Is your little tyke looking for a way to take the fight for the Lord into dreamland? Maybe even freak the fuck out of the other boys (or girls) at sleepovers (not to mention the parents of the normal kids)? Check THIS out...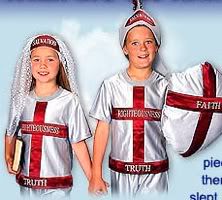 At this point, I have to ask... IS nothing sacred to these people? What happened to dragging the kids to church and letting them be normal kids the rest of the time? I feel for kids who wear this crap. They are sooo going to get beaten up, not for their beliefs but for their creepiness.

Posted by mcblogger at 04:05 PM | Comments (0) | TrackBack
Governor Perry pushed for the sale of Texas Parks
Oh, that Tricky Ricky... always finding a way to out scum the next guy...
While publicly distancing itself from the dealings, the governor's office appears to have privately pushed for an auction that would guarantee that only one-fourth of the property remained green space, according to e-mails and documents obtained through the state's open-records law.

The governor's proposal would also set aside several gas well drilling sites on the 400 acres, according to the documents. The property is at Eagle Mountain Lake, just northwest of Fort Worth, and has become the subject of intense interest by several residential developers.
So what does the Governor's office have to say?
A spokeswoman for Perry has said that the governor wants the Texas Parks and Wildlife Department and the General Land Office to come up with a plan for the property that best suits the state's needs. She denied that the governor's office pushed any plan or made any recommendations for the site.

"We're monitoring the situation," spokeswoman Kathy Walt said.
Just like a stupid Republican... you're MONITORING the situation? I would say you're doing a bit more than that, Kathy. In case you didn't realize, you're boss is the reason FOR the situation.
Posted by mcblogger at 02:01 PM | Comments (0) | TrackBack
Gang violence in Round Rock? Whatev...
KXAN is reporting that there was a big gang fight at a Round Rock high school. Of course, then you start reading the article and come to this...
Up to about 10 students may have been involved in this fight, and the school district says four of them were arrested by Round Rock police.
Oh shit. Only 10 kids? You gotta be kidding me. The way the damn thing was headlined you expected to read about a riot. I HATE KXAN.
As a side note, I wonder how long it will take Krusee, Douche Fleece and the ridiculous John Carter to comment on this and try to make an issue out of it? Krusee will say it's why we need toll roads, natch. Fleece will whine about how Mark Strama is a Democrat and God doesn't love him so he's allowing the children to fight (forgetting the fact it's outside his district) and Carter will blame immigrants. Because that's what Carter thinks about all the time in his little rat brain.
Well, that and how to keep the great unwashed (read:citizens of the US, Democrats) from voting.
Posted by mcblogger at 12:04 PM | Comments (2) | TrackBack
Toll Roads all over the place
Somervell County Salon has a series of great posts up about the new toll roads going into action as early as Friday.
The North Texas Liberal has a piece up regarding a press release from Denton County Commissioner candidate Amy Manuel that's well worth the read
More toll roads? Oh I think not...
Posted by mcblogger at 11:02 AM | Comments (1) | TrackBack
Horse racing operation run by a Bush appointee? On the government's dime?
From the NYT
Mr. Tomlinson, a Republican with close ties to the White House, was ousted last year from another post, at the Corporation for Public Broadcasting, after another inquiry found evidence that he had violated rules meant to insulate public television and radio from political influence.

His renomination to a new term as chairman of the State Department office that oversees foreign broadcasts, the Broadcasting Board of Governors, is pending before the Senate.

Mr. Tomlinson's position at the broadcasting board makes him one of the administration's top officials overseeing public diplomacy and puts him in charge of the Voice of America and Radio Free Europe.
So what was he doing? Well, running a horse racing operation and hiring his cronies for jobs they never did. And Bush is standing by the crooked son of a bitch...
A spokeswoman for the White House, Emily Lawrimore, said President Bush continued to support Mr. Tomlinson's renomination. Ms. Lawrimore declined to comment on the State Department report.
I guess the President forgot that when something stinks it's best to move away from it.
Posted by mcblogger at 09:37 AM | Comments (7) | TrackBack
Olberman Slams Rumsfeld
Olbermann blogged it here for those who'd rather not watch.
Posted by mcblogger at 02:06 AM | Comments (0) | TrackBack
Bolton Fundraiser...
Looks like Valinda Bolton did well tonight at her fundraiser! Sister Ruth went (alone, since The Mayor was in SA on business and I was all about working my real job... you know, the one that actually pays for things like FOOD and BOOZE and MY MORTGAGE) and said it was very well attended. While she didn't have fundraising totals (or pictures, natch) she said it was a great event.
I'm loving the fact that Valinda ia already building so much steam. Welch should follow Bentzin's lead and drop out. Good job Bolton and Co!
Posted by mcblogger at 12:20 AM | Comments (0) | TrackBack
August 30, 2006
CD 22 and 23 : An interesting day...
Ciro Rodriguez has dropped out of the race in CD23 narrowing down the field to four Democrats, Albert Uresti, Lukin Gilliland, Rick Bolanos, and Augie Beltran. The announcement was made tonight at the AFL-CIO endorsement meeting in SA.
I think just about everyone right now is looking at Gilliland (based on funding) as the front runner with Uresti a close runner up. Should be an interesting race and the hope is to hold Bonilla to no more than 50% in the Special so that everyone can get behind one Democrat to beat the hell out of Bush's tool.
Matt at BOR has more...
Then over in the Sugar Land area (CD22), there are now THREE Republican write-in candidates. HAHAHAHAHAHA The third candidate is apparently some guy from Lago Vista (Austin Metro) named Joe Reasbeck.

Posted by mcblogger at 09:45 PM | Comments (0) | TrackBack
Loves me some Scott Hochberg...
Charles Kuffner has an excellent interview up with Scott Hochberg discussing the state budget as well as school finance. This from the man who spearheaded the D effort on school finance in the House and one of the Representatives for whom I have an abundance of respect. Not that I don't like them all, I just think Scott out of all of the Democratic Representatives has the best grasp on the financial situation facing Texas and what needs to be done to fix it.

Posted by mcblogger at 02:42 PM | Comments (2) | TrackBack
Good news for Ankrum, Bad for McCaul in CD10
The Ankrum campaign wanted some hard polling data on CD10, so they spent some money on a poll. I'm sure many would consider this a waste of resources but in this case Ted hit pay dirt. Here are the questions (lest someone think this a push poll) and the percentages. As Ted pointed out in his email, CD10 has been referred to as the 'second reddest district in Texas' by some analysts who clearly don't understand what anyone who's been out of a metro recently knows with absolute certainty... rural voters are ANGRY.
Q1. Are you a registered voter who intends to vote in the election? Only "yes" answers continued with the call

Q2. Michael McCaul is your current Representative in Congress. What are your thoughts on his reelection?
34.7% Would you definitely vote to reelect him
39.1% Would you consider other candidates
26.1% Would you definitely vote to replace him


Q3. The three Candidates for Congress are Michael McCaul, the Republican, Ted Ankrum, the Democrat, and Michael Badnarik, the Libertarian.
50.8% Would you vote for Michael McCaul, the Republican
41.6% Would you vote for Ted Ankrum, the Democrat
7.6% Would you vote for Michael Badnarik, the Libertarian


Q4 In times such as these, should a Representative follow the lead of the President or follow the opinion of voters in their District? In a situation where the two do not agree:
23.2% The Representative should follow the President
76.8% The Representative should follow the voters


Q5. What is your opinion of President Bush' job performance on a scale of 1 to 4, where 1 means you strongly approve and 4 means you strongly disapprove?
25.7% Strongly approve
22.8% Somewhat approve
9.4% Some disapproval
42.0% Strong disapproval
Question 4 is the one that should stand out. More than 75% of the voters think a Congressman should be responsive to the people, not the President. McCaul (R-Clear Channel Communications) has completely ignored his Constitutional duty as a Congressman to check the power of the President and has instead worked diligently to further the President's failed policies acting, in effect, as little more than a rubber stamp for whatever the President wants.
I've been telling some of my incredulous friends here in Austin that Texas, if the Democrats seize the moment, is ready to flip in one cycle. The reason is rural voters who have been, even more miserably than urban voters, really stomped on by Republicans in Washington and Austin. What's needed is for everyone to ditch the pessimism and realize that we are on the cusp of a transformation in Texas politics.
Now is the time for bold commitment, not meekly playing the numbers and only working on 'sure things'.
Posted by mcblogger at 12:49 PM | Comments (22) | TrackBack
Proof positive that Perry and Republicans have failed Texas
We've been talking about it for a while but now there is some definitive data. During Perry's Administration, poverty rates in the state of Texas have INCREASED and real wages have declined. Is this the Republican economic miracle? Make everyone poor?
"As a state, we look pretty good in per-capita income, but we look terrible when you look at poverty numbers," said Eva Deluna Castro, an analyst at the Center for Public Policy Priorities, which advocates for low- and middle-income Texans. "If we mention these numbers, people think we're trying to start class wars. But if you don't acknowledge the gap is getting bigger, you can't come up with any long-term solutions."
Then there's this from the DMN
Jay Dunn, a manager at Stewpot, said that six years ago, the homeless ministry served about 300 free lunches per day. Now, the downtown Dallas kitchen dishes out about 550 meals during a typical lunch hour.

"The numbers are moving in the wrong direction," he said.

Central Dallas Ministries is a nonprofit group that tries to fill the gap between what working families bring home and what they need to survive. Executive director Larry James said that gap is widening.

From May to July of last year, about 8,000 families walked through the resource center's doors, he said. Over the same period this year, 13,000 sought help.

"It isn't that people aren't working or that they're not willing to work," he said. "It's that they're not earning enough."

The rising cost of housing, food, gasoline and utilities drains the pocketbooks of people who can afford it least, he said. When wages dive as expenses climb, more families are pushed into poverty.

"The economy is certainly a big factor in all this. ... It pushes everything down," Mr. Dunn said. "If somebody was making $50,000 a year, and now he's making $35,000 a year, what happens to the guy who was making $35,000 a year?"
The other side is that higher incomes are doing quite well due to tax cuts and the reality that they are not impacted greatly by inflation. Of course, what most of that group doesn't understand is that the more the lower income levels sink, the greater the burden on city, county and state services. Further, it means that less money can go to discretionary spending which means that the middle manager at a corporate officer will be joining the ranks of the downwardly mobile sooner, rather than later. That will definitely put a crimp into corporate profits.
If people have learned nothing from US economic cycles since WWII, they should have picked up on the fact that for the economy to grow and for prosperity to be most generally spread, stable and long lasting, the lowest earners must have livable incomes. The Republicans, in their zeal to concentrate wealth up from even the middle class, have forgotten to put fuel into the engine of the economy.
As an aside, you can place place all the blame on lower skilled and uneducated people for dropping median incomes and increasing the poverty percentages. However, that's only a symptom of the disease that currently plagues Texas. There is absolutely no reason why people should be working, even at Wal Mart, for less than $12/hour in Dallas Metro.
Posted by mcblogger at 09:22 AM | Comments (0) | TrackBack
What the hell is going on in Hutto?
Retards. You're buying water you won't use instead of using competitive bidding and actually thinking about building a lake. What's the plan here? That development will go so well in the next two years that the surplus water will be used?
Then you have, thrown into the mix, a Republican Williamson County Commissioner who's precinct covers Hutto and who just happens to be an investor in... wait for it... the water company that inked the lucrative contract with Hutto.
So what's going on up there, Hutto city council members? Have you all lost your minds and decided to screw over taxpayers to benefit one County Commissioner?
Posted by mcblogger at 01:10 AM | Comments (0) | TrackBack
August 29, 2006
Texas isn't the only place to implement stupid laws
Apparently drinking standing is a bigger problem in England than we realized. Here I was thinking their only problem was an unnatural affinity for sherry, port and Guinness.
ENGLAND'S latest public health crisis is a plague of bellicose, over-balancing drinkers. Such at least is the message from Preston, Lancashire, where the police want pub-goers to sit down. They are worried that the inevitable jostling and shoving at the bar leads to trouble — and that standing drinkers, when they drop, have further to fall. Backed by the local health officials, the authorities are trying to impose a no-standing policy in the city's pubs by autumn.
Granted, not quite as draconian as Austin's smoker discrimination and moral purity law (still hate you for that, Glen) but come on! Have we not learned the futility of laws to modify behavior in bars? Even the smoking ordinance isn't really working at a number of establishments.
Where are they? Don't you wish YOU knew...
August 28, 2006
Op-Ed Contributor
Bar None
By JACK TURNER
Thoiry, France
ENGLAND'S latest public health crisis is a plague of bellicose, over-balancing drinkers. Such at least is the message from Preston, Lancashire, where the police want pub-goers to sit down. They are worried that the inevitable jostling and shoving at the bar leads to trouble — and that standing drinkers, when they drop, have further to fall. Backed by the local health officials, the authorities are trying to impose a no-standing policy in the city's pubs by autumn.
Anyone who's spent much time in an English pub might sympathize with the impulse, but the method seems questionable. And history shows that, however commendable the reasoning, efforts to control how people drink — or eat, or smoke — tend to backfire.
Bars and pubs are notoriously difficult places in which to regulate behavior. For much of the 20th century, bars in Australia and New Zealand closed at 6 p.m., the idea being that this would encourage men to spend the evenings with their families, rather than frittering away their time (and money) on liquor. The measure dated from the First World War, and was largely the doing of the Women's Christian Temperance Union, which held that a sober, moral home front would accelerate the successful prosecution of the war.
In fact, the only thing that accelerated was the drinking, now crammed into 60 liquid minutes. To speed things up some pubs fitted a spigot on a hose to fill drinkers' glasses as soon as they emptied. Publicans pulled up the carpet and tiled all exposed surfaces so they could hose down the premises afterwards. The result was that men became too drunk to spend time with their families. The money was gone (and the morals?), only faster.
Alcoholic fluids, it might be argued, bring out people's contrary nature, but carping about other patterns of consumption has seldom fared any better. The history of Lenten dietary regulations dates back much further but is not always any brighter. The medieval Roman Catholic Church stipulated a diet free of meat, dairy and eggs for Lent, Advent, special fasting days and, depending on where you were, Wednesdays and Saturdays as well — in other words, nearly half the year.
The result was a quite extraordinary ingenuity in devising meat-free dishes to ease the tedium. Those who could afford it went all out to brighten the Lenten fare of fish and vegetables with exotic ingredients: foremost among them spices, denounced by the church for their luxurious expense, their incitement to appetite and, not least, their purportedly aphrodisiac properties.
The unintended consequence was that for the well-to-do the "lean" days of fish were often far more luxurious — and asked more of the cook — than the "fat," indulgent days of meat. The dietary martinets of the Middle Ages were due credit, indirectly, for some of the medieval cook's spiced masterpieces, ancestors of today's bouillabaisse and Christmas puddings.
There is nothing, however, particularly religious about this instinct. After the French Revolution, the intensely irreligious Jacobins promoted communal "civic" meals in the streets of Paris, with the aim of promoting fraternity and frugality in equal measure.
These years of civic meals were followed immediately after by the stunning success of a new, uniquely French idea: the restaurant. Within a couple of years the new dining establishments had popped up all over town, and Paris was established as the gastronomic capital of the world, and the elitist Michelin guide was just around the corner. So much for fraternity.
While the revolutionaries and utopians took on the conspicuous excesses of the upper classes, just as often as not the Puritan impulse tends to aim at the disempowered. In Lancashire and elsewhere, propping up the bar is, of course, historically a working-class pastime. Women of all classes present a still more inviting target.
For the first decades of the 20th century, the issue of female smoking was so contentious that even Big Tobacco scrupled at advertising to women — which was precisely why, of course, the flappers made such a point of smoking. The taboo crumpled in the late 20's when American Tobacco coined the slogan "Reach for a Lucky instead of a sweet." This was one of the most successful advertising campaigns of all time.
Ram a message down people's throats and they tend to gag. Unremarkably, the point was lost on Hitler, a vegetarian who tried convincing the Germans that the future was meat-free, and whose efforts at dietary reform went the way of his other delusions. From what I've seen, present-day Germany is a lonely place for a vegetarian.
The United States is of course no stranger to Puritanism, which has seldom been confined to the pulpit. The behaviorist psychologist B. F. Skinner proposed a solution to the age-old problem of the sweet tooth in his 1948 book "Walden 2." In his fictional community, children lived happily indifferent to lollipops thanks to the rigorous conditioning they received. Backsliders were made to wear lollipops around their necks for a few hours until all temptation was "psychologically concealed."
Though Skinner went on to become one of the more famous psychologists of the century, his utopian vision was more widely regarded as a dystopia, inimical to basic human freedoms. Several communities modeled upon Skinner's vision were established and survive in the United States, though whether they have succeeded in lollipop control has, I confess, eluded my researches.
So what should they do in Lancashire? The answer, I think, is known to anyone who has visited the tourist spots of Paris or Rome. Many a footsore traveler has retreated to a cafe only to find, when the check arrives, that a coffee costs double when seated. In Lancashire maybe they should do the same but they should, so to speak, turn the tables. Charge more to stand, and they'll be falling over themselves to sit down.
Jack Turner, the author of "Spice: The History of a Temptation," is writing a book about cooks.

Posted by mcblogger at 08:00 PM | Comments (1) | TrackBack
Perry calls special election to replace disgraced R who resigned
The Houston Chronicle has more...
The winner of the special election will serve DeLay's district in Congress from the day the election results are certified until a new Congress begins in January.

At that point, the winner of the general election will take over as the representative of Congressional District 22.

If the same person wins the special election as the general election, it will give that person a leg-up in seniority over other incoming members of Congress.

If Democratic former U.S. Rep. Nick Lampson wins the seat, it will be up to the U.S. House leadership as to whether he regains his seniority from his previous service.
The last desperate gasp on the part of Perry and the R's to try to hold on to this seat.How pathetic... I'd be willing to bet even the most die hard Republican's in CD22 are going to be pissed as hell at this sad tactic.
"This district has been without a congressmen for far too long,'' said Mike Malaise, Lampson's campaign manager. "This should have happened back in May. It's not just a matter of sitting up in Washington and taking votes. It is a full-service operation.
Amen, Mike. It's a shame Tricky Ricky put's partisanship ahead of the interests of the people in CD22. Of course, it's also not suprising from a Governor who thinks pollution is better than clean air. It should be clear that Tricky Ricky stopped caring about Texans the same day he was first sworn into elected office.

Posted by mcblogger at 03:34 PM | Comments (0) | TrackBack
Let's beat up on the Texas Trust, shall we?
Many people, especially the entrenched losers in the Democratic Party who refuse to understand that things change, are fond of talking about circular firing squads. Of course, just as they are wrong about campaign issues, messaging, press and everything else, they are wrong about the nature of the firing squad. It's not a circle, it's a line and the guns are all pointed in one direction... unfortunately for them, it's usually at their hearts.
Let's take the Texas Democratic Trust, the group of trial lawyers and their consultant hangers-on who have managed over the years, by listening to bad advice and making horrific strategic blunders(John Sharp's 2002 Urban Only Strategy, for example), to make the Democratic Party the minority in Texas. Their latest decision has a number of tongues wagging across Texas.
The Trust, ably represented by Fred Baron and Matt Angle, presented their plans at this past weekend's SDEC meeting. While they committed to funding TDP and SOME Lege races this year, they made it clear (as one source put it) that they could give less of a damn about the 2006 Statewide Ticket. Of course, many of them have already thrown their support behind OSB so it's no real suprise and at the end of the day, it's their money. Still, to hear so many within the TDP heirarchy talking about this as a good decision is, for me at least, irritating beyond belief.
This year we have a fantastic slate of statewide candidates all of whom stand a good chance of winning their races. However, even today there are those who don't want to see it because pessimism is so much easier. The Trust has been a valuable ally and the consultants tied to them are not uniformly bad. Still, there is a profound lack of wisdom in their decision making, as well as an attitude that the only thing Democrats can do is throw up their hands and wait for demographic changes that will begin to positively effect us in 2010. The only problem with that is that already those changes are being counterbalanced by R outreach to those communities. In short, the demographic change the Trust and their consultants predict will sweep Democrats into office in 2010 and beyond is unlikely have much of an effect.
The alternative? Be competitive in every race, every cycle and never again let a Republican candidate walk into office with unfunded Democratic opponents. However, yet again, this is what the Trust is doing.
It's futile to get mad at the Trust for deciding to use their money the way they see fit. Of course, it's also futile to whine about it and cast about with a 'woe is me' attitude. What we have to keep doing is working hard to elect Democrats and help out every single one, no matter how hopeless the race may look. Keep in mind that since 1994 the Trust has been very wrong on a lot of races and the best revenge is winning. As for those within the Party heirarchy... we've already stopped listening to those of you that haven't been replaced. That's why we started winning again and why we'll continue to do so in 2006.
Posted by mcblogger at 03:30 PM | Comments (5) | TrackBack
CBS all excited about Survivor:Race War
I don't watch reality TV, mostly because it makes you dumber and as we all know that's the last thing I need. For instance, I set myself on fire last night while boiling pasta. And I wasn't even drinking yet, can you beat that? I thought not. Don't even try to compete with me in the stupid olympics. I win every time...
Apparently, the NYC City Council has decided to take the initiative and enter the stupid olympics as a team, despite the fact that they are sure to lose to my vastly superior retardation.
NEW YORK - As CBS prepares to launch a new season of the hit reality show "Survivor," this time featuring teams divided by race, enraged city officials are saying it promotes divisiveness and are calling for the network to reconsider. ADVERTISEMENT

"The idea of having a battle of the races is preposterous," City Councilman John Liu said Thursday. "How could anybody be so desperate for ratings?"
Well, Councilman Liu, it is CBS, the network that brought us King of Queens, Everybody Loves Raymond and The Nanny. I would say they are pretty damn desperate.
Still, I won't watch and isn't that really the best way to get a network not to do something? Protest all you want but a sure and certain way to get a show 86'd is to just change the channel.
Honestly, I don't know why anyone would think that CBS would mishandle Survivor: Crackers v. Heebs v. Meskins v. Coloreds v. Chinks v. Dagos v. Drunken Micks.
Did I miss anyone? Seriously, let me know in the comments if there is an ethnic slur I left out. I think racism is stupid, but to completely ignore it and pretend it doesn't exist is even dumber. Let CBS run their show. We've got bigger things to worry about.
Posted by mcblogger at 12:05 PM | Comments (2) | TrackBack
Drunk Irishmen invent perpetual motion machine
Apparently, some former oil company people in Ireland have discovered a new kind of physics that allows a simple arrangement of magnets on a wheel to produce more energy than it consumes. In short, ladies and gentleman, they have invented a perpetual motion machine that violates classical physics, as well as common sense. This is, of course, not the first time the Irish have violated common sense. The first and most heinous violation of common sense on the part of the Irish was the creation of Guinness.
There is a test rig with wheels and cogs and four magnets meticulously aligned so as to create the maximum tension between their fields and one other magnet fixed to a point opposite. A motor rotates the wheel bearing the magnets and a computer takes 28,000 measurements a second. The magnets, naturally, act upon one another. And when it is all over, the computer tells us that almost three times the amount of energy has come out of the system as went in. In fact, this piece of equipment is 285% efficient.

That's a lot of "free energy" and, supposedly, a slap in the face for one of physics' most basic laws, the principle of conservation of energy: in an isolated system (the planet, say), energy can be neither created nor destroyed; it can only be converted from one form into another.

Don't believe it? Well, neither did they at first.

"We couldn't believe it at first, either," says McCarthy, chief executive of the company.

See? But now that they've done all this research and offered a challenge to anyone willing to try and disprove the technology they are actually getting some attention.

Is it just me or does this feel like some kind of email scam to you?

Posted by mcblogger at 09:27 AM | Comments (2) | TrackBack

Dregs : Ford to go private, Coal feels the burn, Events and good stuff from the NYT

Looks like the Ford family is considering taking their eponymous car company private so they can privately run it into the ground

The Fords are reportedly mulling the possibility of bringing their company back into the family fold, which would end 50 years on the stock exchange and pave the way for Bill Ford and his inner circle to retool the struggling automaker without further meddling by shareholders.

Yeah, couldn't have anything to do with lackluster management, could it Bill? Gee, you've only held public capital for 50 years and the entire time voting control has rested in control of the Ford family which is one of the main reasons why Ford sucks almost as hard as GM. Good luck with that whole private company thing, Bill.

I must admit I flubbed on this last week and I'm glad to say Phillip Martin had my back. TXU is getting bitchslapped along with Governor Pollute-a-lot Tricky Ricky. The story and a bunch of great links are over at BOR where they feature, you know, real news unlike McBlogger which features stories about sex toys. And vitamin water.
Muse has a great post up about the party in Sugar Land this Sunday. I am thinking about going but it's a long drive... still looks like a fun event mostly because PDiddie and Muse will be there. I'm told liquor will be making an appearence as well. IN MY BLOODSTREAM.
The NYT was all over things today. First off they took on the Bush Admin and their irrational need to secure information that has been in the public domain for DECADES. Next thing you know they'll be trying to keep the identity of the people at Cheney's energy committee meeting in 2001 secret. Wait...

Then, they roll out with a piece from a jurist on what's going on with the Afghan courts. Looks like things might actually be going right for a change... if only Bush will get off his ass and make sure we provide the support to them now that we should have been providing all along. You know, instead of invading Iraq.

Posted by mcblogger at 02:31 AM | Comments (1) | TrackBack

I guess it's better than phone sex

Teledildonics and I would sooo buy stock in a company that provided a complete solution...

Kotaku tells us that the Xbox 360 now has cameras with video chat, and while chatting there is a command to make your chat-partner's controller vibrate. Even though it takes holding down both triggers at once, making one-handed enjoyment complicated, it seems like this is just a few tiny hardware hacks away from being consumer-level teledildonics. It's my theory that not being truly marketed as porn/sextoy/teledildonics will make it adapted by consumers quickly and easily.

Posted by mcblogger at 12:09 AM | Comments (0) | TrackBack

August 28, 2006

Real wages are falling to lowest level in almost 60 years

You know things are bad when Bush's Treasury Secretary says

But in a sign that Republicans may be growing concerned about the public's mood, the new Treasury secretary, Henry M. Paulson Jr., adopted a somewhat different tone from Mr. Bush in his first major speech, delivered early this month.

"Many aren't seeing significant increases in their take-home pay," Mr. Paulson said. "Their increases in wages are being eaten up by high energy prices and rising health care costs, among others."

At the same time, he said that the Bush administration was not responsible for the situation, pointing out that inequality had been increasing for many years. "It is neither fair nor useful," Mr. Paulson said, "to blame any political party."

Read the whole article in the supersize. The gist is that while productivity of American workers has continued to climb dramatically, the vast majority of those workers have not seen a gain in their wages commensurate with the increase. Worse, when inflation is factored in, wages have actually declined since Bush took office. So much for Republican prosperity...

August 28, 2006
Real Wages Fail to Match a Rise in Productivity
By STEVEN GREENHOUSE and DAVID LEONHARDT

With the economy beginning to slow, the current expansion has a chance to become the first sustained period of economic growth since World War II that fails to offer a prolonged increase in real wages for most workers.

That situation is adding to fears among Republicans that the economy will hurt vulnerable incumbents in this year's midterm elections even though overall growth has been healthy for much of the last five years.

The median hourly wage for American workers has declined 2 percent since 2003, after factoring in inflation. The drop has been especially notable, economists say, because productivity — the amount that an average worker produces in an hour and the basic wellspring of a nation's living standards — has risen steadily over the same period.

As a result, wages and salaries now make up the lowest share of the nation's gross domestic product since the government began recording the data in 1947, while corporate profits have climbed to their highest share since the 1960's. UBS, the investment bank, recently described the current period as "the golden era of profitability."

Until the last year, stagnating wages were somewhat offset by the rising value of benefits, especially health insurance, which caused overall compensation for most Americans to continue increasing. Since last summer, however, the value of workers' benefits has also failed to keep pace with inflation, according to government data.

At the very top of the income spectrum, many workers have continued to receive raises that outpace inflation, and the gains have been large enough to keep average income and consumer spending rising.

In a speech on Friday, Ben S. Bernanke, the Federal Reserve chairman, did not specifically discuss wages, but he warned that the unequal distribution of the economy's spoils could derail the trade liberalization of recent decades. Because recent economic changes "threaten the livelihoods of some workers and the profits of some firms," Mr. Bernanke said, policy makers must try "to ensure that the benefits of global economic integration are sufficiently widely shared."

Political analysts are divided over how much the wage trends will help Democrats this fall in their effort to take control of the House and, in a bigger stretch, the Senate. Some see parallels to watershed political years like 1980, 1992 and 1994, when wage growth fell behind inflation, party alignments shifted and dozens of incumbents were thrown out of office.

"It's a dangerous time for any party to have control of the federal government — the presidency, the Senate and the House," said Charles Cook, who publishes a nonpartisan political newsletter. "It all feeds into 'it's a time for a change' sentiment. It's a highly combustible mixture."

But others say that war in Iraq and terrorism, not the economy, will dominate the campaign and that Democrats have yet to offer an economic vision that appeals to voters.

"National economic policies are more clearly in focus in presidential campaigns," said Richard T. Curtin, director of the University of Michigan's consumer surveys. "When you're electing your local House members, you don't debate that on those issues as much."

Moreover, polls show that Americans are less dissatisfied with the economy than they were in the early 1980's or early 90's. Rising house and stock values have lifted the net worth of many families over the last few years, and interest rates remain fairly low.

But polls show that Americans disapprove of President Bush's handling of the economy by wide margins and that anxiety about the future is growing. Earlier this month, the University of Michigan reported that consumer confidence had fallen sharply in recent months, with people's expectations for the future now as downbeat as they were in 1992 and 1993, when the job market had not yet recovered from a recession.

"Some people who aren't partisans say, 'Yes, the economy's pretty good, so why are people so agitated and anxious?' " said Frank Luntz, a Republican campaign consultant. "The answer is they don't feel it in their weekly paychecks."

But Mr. Luntz predicted that the economic mood would not do significant damage to Republicans this fall because voters blamed corporate America, not the government, for their problems.

Economists offer various reasons for the stagnation of wages. Although the economy continues to add jobs, global trade, immigration, layoffs and technology — as well as the insecurity caused by them — appear to have eroded workers' bargaining power.

Trade unions are much weaker than they once were, while the buying power of the minimum wage is at a 50-year low. And health care is far more expensive than it was a decade ago, causing companies to spend more on benefits at the expense of wages.

Together, these forces have caused a growing share of the economy to go to companies instead of workers' paychecks. In the first quarter of 2006, wages and salaries represented 45 percent of gross domestic product, down from almost 50 percent in the first quarter of 2001 and a record 53.6 percent in the first quarter of 1970, according to the Commerce Department. Each percentage point now equals about $132 billion.

Total employee compensation — wages plus benefits — has fared a little better. Its share was briefly lower than its current level of 56.1 percent in the mid-1990's and otherwise has not been so low since 1966.

Over the last year, the value of employee benefits has risen only 3.4 percent, while inflation has exceeded 4 percent, according to the Labor Department.

In Europe and Japan, the profit share of economic output is also at or near record levels, noted Larry Hatheway, chief economist for UBS Investment Bank, who said that this highlighted the pressures of globalization on wages. Many Americans, be they apparel workers or software programmers, are facing more comptition from China and India.

In another recent report on the boom in profits, economists at Goldman Sachs wrote, "The most important contributor to higher profit margins over the past five years has been a decline in labor's share of national income." Low interest rates and the moderate cost of capital goods, like computers, have also played a role, though economists note that an economic slowdown could hurt profits in coming months.

For most of the last century, wages and productivity — the key measure of the economy's efficiency — have risen together, increasing rapidly through the 1950's and 60's and far more slowly in the 1970's and 80's.

But in recent years, the productivity gains have continued while the pay increases have not kept up. Worker productivity rose 16.6 percent from 2000 to 2005, while total compensation for the median worker rose 7.2 percent, according to Labor Department statistics analyzed by the Economic Policy Institute, a liberal research group. Benefits accounted for most of the increase.

"If I had to sum it up," said Jared Bernstein, a senior economist at the institute, "it comes down to bargaining power and the lack of ability of many in the work force to claim their fair share of growth."

Nominal wages have accelerated in the last year, but the spike in oil costs has eaten up the gains. Now the job market appears to be weakening, after a protracted series of interest-rate increases by the Federal Reserve.

Unless these trends reverse, the current expansion may lack even an extended period of modest wage growth like one that occurred in the mid-1980's.

The most recent recession ended in late 2001. Hourly wages continued to rise in 2002 and peaked in early 2003, largely on the lingering strength of the 1990's boom.

Average family income, adjusted for inflation, has continued to advance at a good clip, a fact Mr. Bush has cited when speaking about the economy. But these gains are a result mainly of increases at the top of the income spectrum that pull up the overall numbers. Even for workers at the 90th percentile of earners — making about $80,000 a year — inflation has outpaced their pay increases over the last three years, according to the Labor Department.

"There are two economies out there," Mr. Cook, the political analyst, said. "One has been just white hot, going great guns. Those are the people who have benefited from globalization, technology, greater productivity and higher corporate earnings.

"And then there's the working stiffs,'' he added, "who just don't feel like they're getting ahead despite the fact that they're working very hard. And there are a lot more people in that group than the other group."

In 2004, the top 1 percent of earners — a group that includes many chief executives — received 11.2 percent of all wage income, up from 8.7 percent a decade earlier and less than 6 percent three decades ago, according to Emmanuel Saez and Thomas Piketty, economists who analyzed the tax data.

With the midterm campaign expected to heat up after Labor Day, Democrats are saying that they will help workers by making health care more affordable and lifting the minimum wage. Democrats have criticized Republicans for passing tax cuts mainly benefiting high-income families at a time when most families are failing to keep up.

Republicans counter that the tax cuts passed during Mr. Bush's first term helped lifted the economy out of recession. Unless the cuts are extended, a move many Democrats oppose, the economy will suffer, and so will wages, Republicans say.

But in a sign that Republicans may be growing concerned about the public's mood, the new Treasury secretary, Henry M. Paulson Jr., adopted a somewhat different tone from Mr. Bush in his first major speech, delivered early this month.

"Many aren't seeing significant increases in their take-home pay," Mr. Paulson said. "Their increases in wages are being eaten up by high energy prices and rising health care costs, among others."

At the same time, he said that the Bush administration was not responsible for the situation, pointing out that inequality had been increasing for many years. "It is neither fair nor useful," Mr. Paulson said, "to blame any political party."

Copyright 2006 The New York Times Company

Posted by mcblogger at 06:12 PM | Comments (0) | TrackBack

Homeland Security couldn't secure a paper bag

What a damn joke. First up was this piece from a guy flying in Canada where it appears people are just as insanely stupid about security as they are here in Estados Unidos. Apparently, the dork (he took his iPod with him to the lav... it's a like a little kid dragging their favorite things all over the place) lost his iPod in the toilet which stopped it up and caused the flight crew to go batshit crazy and head for an emergency landing. Because of an iPod. Seriously, as dumb and loserish as this guy was (you don't know the half of it... click the link) for taking them damn thing with thim to the lav, the next part is balls out insanity.

Then comes word that TSA can't tell the diff between makeup and a bomb. In West Virginia, natch.

"The bomb squad is on site and the woman is being interviewed by the FBI," the TSA's Amy von Walter said. "It looks like there were four items containing liquids ... two of those containers tested positive."

But law enforcement sources say the substances that tested positive were cosmetic-based products and not a threat CBS News reports.

So, the next time you go through the check point at your local airport, don't for a minute feel secure. You aren't because at anytime a terrorist iPod might fall into the toilet (and yes, they asked him if he wanted it back).







Posted by mcblogger at 12:09 PM | Comments (2) | TrackBack

Bob Herbert is in deep shit...

Judge Herbert has dropped himself in the grease with endorsements of Republicans in CD 22. Interesting stuff up on Musings and The View from 22.

Shit. Even their judge's don't know the law. How pathetic.

Posted by mcblogger at 10:15 AM | Comments (0) | TrackBack

The good old days...

Seriously, can you think of a more wholesome image than the Jackson's?

Posted by mcblogger at 12:41 AM | Comments (0) | TrackBack

August 27, 2006

Liebermania!

How do you keep an act viable, always producing a product that appeals to the changing tastes of a fickle public? The answer, as Madonna has so brilliantly illustrated, is to reinvent oneself. Keep coming up with a fresh look, and even if you're putting out pretty much the same crap as always, well, that's where the marketing department earns its keep.

The latest to go down the reinvention road is the endangered senator from Connecticut, Joe Lieberman. In an op-ed piece in the Hartford Courant, the three-term senator proclaims himself the posterboy for the New Politix:
{For added entertainment value, read all the quotes in Joe's condescending, whiny voice.}


A new politics of unity, purpose and hope, in which our top priority is not to win the election by tearing down our opponents but to help the people we serve build a better future.

...While simultaniously proclaiming his opponent Ned Lamont, hero of Kos and the rest of the liberal blogosphere


Represents the old politics of partisanship, polarization and negativism.

My opponent's idea of change is no change. He wants to simply wrap the partisanship and polarization of the last few years in a blue ribbon instead of red one.

Still, even for a rockstar like Joe Lieberman, there are limits to reinvention. In the same piece, he can't help bragging

When the Department of Defense tried to close the New London submarine base in 2005, I immediately went to work with Gov. M. Jodi Rell, Sen. Chris Dodd, our Democratic and Republican House members and a nonpartisan team of local leaders to provide a united, effective voice for our constituents in Washington. We called ourselves Team Connecticut, and that is exactly what we were.

Because we worked together as a team, and checked our party differences at the door for the good of our state, we were able to save the sub base and the 31,000 jobs that depend on it, protect our state's economy and preserve a vital part of our national defense.

Because you never know when you might need that sub base if the Soviet Union starts acting up on us. And meanwhile, the pork doesn't fall far from the barrel.

Joe, you material girl!

Posted by mayor mcsleaze at 02:00 PM | Comments (0) | TrackBack

Well, which IS it, John Carter? Answer me, DAMNIT!

Corruption in Washington is nothing new, for the town, the nation or even the century. Take Congressman John Carter, a man so disgusting that his presence actually hurts the already tarnished image of the US Congress. It's a sad day when a member of Congress actually outsleazes disgraced former Congressman Tom DeLay.

This is the same John Carter who thinks brown and black people shouldn't have the right to vote, remember? The same John Carter who votes to drill for oil without regard to environmental impact. The same John Carter who would rather cut health care for the elederly than reverse the tax cuts on the rich.

Yeah, THAT John Carter.

The Statesman ran a piece yesterday on gas prices and how it's not really translating into anger at politicians. Here's the part that caught my eye...

Mary Beth Harrell, who is challenging Rep. John Carter, R-Round Rock, said voters are sensitive to gas prices but concerned with the bigger picture: Congress isn't taking action on long-term energy solutions.

She has questioned Carter's ownership of at least $1 million in oil company stocks. Carter says he inherited it from his father, a long-time Exxon-Mobil Corp. employee, that it poses no conflict of interest and that he plans to sell it.

So what's the story today? That it was just something inherited from daddy? Or that we shouldn't worry about it because it poses no conflict of interest? Or that it's irrelevant because you're going to sell it?

First off, John, it IS a conflict of interest. You voted to cut taxes on oil companies and so personally benefited from that vote. Second, if you're going to sell it anyway, why haven't you sold it yet? Do you enjoy the massive dividends that all your votes have brought to you? WHEN are you going to sell? It's only one million dollars so it's not like you're going impact the market when you sell. And honestly, if you really believe it's not a conflict of interest to vote to enrich yourself, why sell at all?

You're a liar, Congressman Carter.

Posted by mcblogger at 12:28 PM | Comments (1) | TrackBack

August 26, 2006

Oh, now I remember why I'm voting for Chris Bell...

Just go read this... Stanford posted it and it's spot on! This is the kind of thing we need to see more of out of the Bell campaign. Tough, hard hitting and take no fucking prisoners.

Great job, Team Bell!

Posted by mcblogger at 04:35 PM | Comments (1) | TrackBack

Katherine Harris says the darndest things!

"God is the one who chooses our rulers."

For everything else, there's silicone!

Posted by mayor mcsleaze at 03:54 PM | Comments (1)

August 25, 2006

A helping hand to those in need

British 'rock star' (whatever in the hell THAT means in an age where girls actually WANT to have sex with Keith Richards) Pete Doherty managed to really irritate the 'go to rehab and get clean' crowd last week when it was revealed that he snuck some coke (a little pick me up) to a teenager in the same facility.

That kid has got the hook UP. Not only does he score in rehab (hard but not impossible) he has a rock star BRINGING it to him. It reminds of the time I was going to a CAP-D meeting and walked into the wrong room. I was pretty drunk by that point so I didn't think it unusual that I didn't recognize anyone. I sat down in an empty chair that had been placed with others into a circle and broke out my flask.

Let me tell you, I would have helped those poor people out if it hadn't been for Mr. 10-Year-Chip asking me to leave.

I just hope when my time comes and I'm forced into The Betty that there is someone nice to help me get through the rough spots, know what I mean?

Posted by mcblogger at 03:25 PM | Comments (0) | TrackBack

Pluto demoted, signs deal with MTV Networks

You've no doubt heard unfortunate little Pluto, right? No? Jesus, where the fuck have you been? Here. Go catch up on news.

Demotion from full planet to lowly d-list planet has actually helped Pluto's television career. The dwarf recently signed a deal with MTV Networks' unit VH1 to appear on Celebrity Fit Club as well as several episodes of Tori Spelling's acclaimed (I know, I was suprised as well but it really is funny) So NoTORIous. Pluto will apparently play an agent modeled on Entourage star Jeremy Piven's Ari Gold. Only more schlubby and willing to put up with Tori Spelling.

Posted by mcblogger at 02:12 PM | Comments (2) | TrackBack

Recession in 2007? Bitch, it's already here!

You're going to see it soon enough in the Q3 economic numbers. The preliminaries should be out in mid-October and then no one will be able to deny it. The recession itself will be officially declared probably in Q2 of next year, sometime in April.

Nouriel Roubini of Roubini Global Economics said

"This is the biggest housing slump in the last four or five decades: every housing indicator is in free fall, including now housing prices," Roubini said. The decline in investment in the housing sector will exceed the drop in investment when the Nasdaq collapsed in 2000 and 2001, he said.
And the impact of the bursting of the bubble will affect every household in America, not just the few people who owned significant shares in technology companies during the dot-com boom, he said. Prices are falling even in the Midwest, which never experienced a bubble, "a scary signal" of how much pain the drop in household wealth could cause.

Personally, I think it's a function of high energy prices more than anything. People are ridiculously clueless as to how much they are affected by the price of gas.


Posted by mcblogger at 01:33 PM | Comments (0) | TrackBack

Speaking of Questionable Naming

Speaking of questionable naming, check out what company is pursuing a $30 million bid for the naming rights of the National Football League Arizona Cardinals Stadium:

First, they shook up the Scottsdale establishment. Now the family behind the Pink Taco restaurant chain is rattling the Arizona Cardinals' cage.

Would you believe Pink Taco Stadium? That's what the Morton family, famous for creating the Hard Rock Café and Morton's Steakhouse, is saying they want to name Cardinals Stadium.

They are offering $30 million for 10 years as evidence of their commitment and are promising to pursue an agreement with the Arizona Cardinals.

For anyone who is familiar with NFL football, you are well aware that this would be the perfect name for the Cardinals Stadium. For those of you who are not familiar, here is a look from Wikipedia:



The Cardinals have historically been known as a chronic loser. They were NFL Champions in 1925 and 1947. However, the team has not won a league title since then, and thus currently holds the NFL record for the longest championship drought. The team has also won only two division titles (1974 and 1975) since their 1947 NFL championship. Despite being the oldest existing professional football franchise in the United States, the Cardinals have an all-time postseason record of 2-5 (not counting the 1964 Bert Bell Benefit Bowl)."

How awesome is it that one of the worst football teams in existence could theoretically play at Pink Taco Stadium?

Locally, the restaurant, named after a slang term for the vulva, caused a stir in Scottsdale when Mayor Mary Manross objected to the restaurant's opening in Scottsdale's Waterfront project.

Dalton said the team doesn't wanted to be associated with the Pink Taco brand, but wouldn't say exactly why.

Me likes.

Posted by grimace at 11:19 AM | Comments (2) | TrackBack

I'm guessing the food's better than Auschwitz

A restaurant in Mumbai, India opened recently with a name that invoked history in an unusual way. Ladies and Gentleman, I give you Hitler's Cross Bar and Grill.

The restaurant's name and its marketing gimmick had infuriated India's Jewish population, which had said it would fight any attempts at "rehabilitating Hitler."

Germany and Israel joined the protests with the Israeli consul-general in Mumbai writing to city authorities urging them to take steps to get the restaurant's name changed.

At first, God help me, I actually thought the Germans and Israeli's were overreacting. Then I looked at the picture again and had to acknowledge that is really offensive. Both my grandfather's fought in Europe and neither of them would have thought this was in good taste. One of them was extremely upset when we was told by a cousin (who was too stupid for words) that a car my mother had recently purchased was German. In the 80's.

The restaurant has decided to change the name but has not yet decided to what. Feel free to leave your suggestions in the comments.

photo courtesy Reuters

Posted by mcblogger at 11:00 AM | Comments (2) | TrackBack

Mann Coulter Gets Her Shit Handed to Her

Grimace can't even believe this shit is free to watch online. It's easily worth $100 or 600 chicken nuggets to view it.

Your favorite adam-apple-woman, Mann Coulter, was on Faux News last night, and completely got her shit handed to her like the bitch that she is. It all went down on

Hannity

and Colmes

which makes it all the more unbelievable.

Apparently someone who could actually speak and stand up and call her on the bullshit, Kirsten Powers, was a fill-in for

Colmes

and so she let loose. Mann Coulter can only handle it for about 20 seconds. Someone will definitely be fired.

Crooks and Liars has the video.

Posted by grimace at 09:14 AM | Comments (6) | TrackBack

Please note the right wing nutter adverts...

... to the right of our posts. PLEASE click on them repeatedly. Over and over again. Then switch computers and do it again. Rinse, wash, repeat.

Why? I WANT SOME OF THEIR MONEY. See, this morning I went ahead and paid the server bill. No, it wasn't much... not even close to a bar tab. HOWEVER, I see no reason why Republicans shouldn't pay to keep our labor of love up and running.

So, take a moment, dear heart, and click that ad. As many times as you can!

Posted by mcblogger at 01:09 AM | Comments (2) | TrackBack

August 24, 2006

PerryBlog : Just a little less ridiculous than Malkin

Much like the Bell campaign, Camp Tricky Ricky is going all out to beat up on poor OSB. Of course, they're doing about as bad a job of it as Team Bell did because really, OSB is pret-a-porter comedy. Trying to one up that is just going to make you look bad, especially since

The Only Person More

Lame Than Grandma


Is Rick Perry



To really amp up the cheese, Robert Black and the entire cast of 'tards have rolled out the Perry Alliance Network (which is it??!? An Alliance or a Network!?!?!) Blog that's even more retarded than Bell's. Here are some sample post titles:

1,000,000 Reasons I love Rick!
Rick is sooo AWESOME!
Carole Strayhorn is gayer than Liberace
I'd have sex with Rick but that would be gay so I'll just wish I could turn into a woman, knock Anita out of the way and have sex with Rick
Nothing's sacred:Turning YOUR Church into a Rick Perry Worship Center
One BILLION reasons I hate Carole Strayhorn
Carole Strayhorn flip-flops almost as much as party switcher Rick but Rick's OK because he like totally rocks. And I love him! Strayhorn's not cool
Did I mention today how much I love Rick and hate Strayhorn
Amazing things Rick has done for Texas that Strayhorn, Craddick and Dewhearst had nothing to do with
Rick stopped people from suing doctors for, you know, hurting them but that's totally cool and we love him for it
Rick wants to let TXU pollute the air but it's all good because the breeze will so blow all that to Louisiana... nothing to worry about at all
We HATE Carole Strayhorn even more today
Rick Perry's all about 'creative accounting'! Just take a look at the budget!

... this goes on and on (seriously, the damn thing is approaching ten million sycophantic posts) and almost every one is the written equivalent of a blow job from the author of the post to Tricky Ricky.

So I ask you, loyal readers... who's more lame, Tricky Ricky or the people who suck up to him?

(Thanks to PinkLady for uncovering this miasma and posting about it. Bitch. My eyes are bleeding now. Happy?)

Posted by mcblogger at 07:00 PM | Comments (27) | TrackBack

Why I Love America, Part Deux

Earlier today, I was going to write about the gay porn star who donated his craft to Israeli troops, (because EVERYONE knows that "gays are the chosen people" - that's why I always have some around. They are the most fun of all peoples) but I found something better.

Better than gay porn? Say it ain't so!

Indeed! It inclueds hiding your penis pump from your mom and an airport security guard mistook your explaination as a "bomb"! Shit howdy! I envision some red faces....

Now I want to know, is a penis pump recognized the same under Texas law as a vibrator? (For those of you who don't know the LAW - it is illegal to own more than 5 vibrators, or you can go to jail. Or have a don't ask, don't tell policy...)

Evidence ruled sufficient in penis pump case

August 24, 2006

BY STEFANO ESPOSITO Staff Reporter

"The female airport security guard held the small, black, squeezable rubber object she'd just plucked out of Mardin Amin's backpack, and eyed it suspiciously.

Standing next to his mother, an embarrassed Amin whispered out of one corner of his mouth that it was a "pump" -- as in a penis pump. The guard misunderstood the Iraqi man and thought she heard the word "bomb," Amin's attorney told a Cook County judge Wednesday.

"He told her it's a pump," attorney Eileen O'Neill-Burke said as a cluster of burly, snickering police officers watched the court proceedings. "He's standing with his mother. Of course he's not going to shout this out."

But after listening to the female guard testify she heard Amin "clearly" say the word bomb during the Aug. 16 incident at O'Hare Airport, Judge Gerald Winiecki decided there was enough evidence for the case to move forward. Amin, 29, is charged with felony disorderly conduct and faces up to three years in prison if convicted.

Hid it from mom

Prosecutors say Amin, who was on his way to Turkey with his mother and two small children last week, twice told security officials that he was carrying a bomb. Only later did he admit he had initially lied about the rubber object's true function because he didn't want his mother to know he was carrying a penis pump, prosecutors say.

After Wednesday's hearing, a mostly jovial Amin said airport security officials never gave him an opportunity to explain the misunderstanding. And he said he would never utter the word "bomb" while going through security.

'Half of America' uses it

"Come on -- what do you think?" said Amin, who lives in Skokie and works for a janitorial service.

Amin may not want his mother to know he has a penis pump, but he said he doesn't consider it an unusual device to own.

"It's normal," he said. "Half of America they use it." Amin is due back in court Sept. 13."

So which half of America is using one and why are they holding out on me?!

Posted by at 04:43 PM | Comments (1) | TrackBack

Circular firing squad? Nope, our weapons are pointed at you, Al

I LIKE RAHM EMMANUEL. He's a showboat and he's an asshole but the fucker get's things done. You have to give him that. There is an article up on Rolling Stone right now (I think I ripped it from ELLN) regarding a comment Emmanuel made regarding bloggers that's taken out of context.

Q: Are bloggers too powerful? A: Do I think they're important? Yes. Do I think the [bloggers] and Al Sharpton alone are the future of the Democratic Party? No! Welcome in, contribute, but it's about winning in November and moving the country forward, not about a firing squad in a circle. -- Q&A with U.S. representative Rahm Emanuel, Aug. 28th issue of New York magazine

The context was the D primary in CT. Given that, is it any wonder Al Sharpton was included? The real problem I have is that oft repeated line about the circular firing squad that Al From (THE Loser of the Universe) has been shopping around for years. What Al gets only too well is that the guns are pointed AT him. The DLC is his final refuge and because of that most of us have decided to ignore the DLC because with him at the helm they are nothing more than useless with a few notable exceptions, including Emmanuel who actually has more in common with the D base than even he realizes.

The author of the RS piece is worried about a schism in the Democratic Party and there really isn't one. The only schism is between those of us who are on Chapter 2 and the DLC which is stuck reading Chapter 1. The entire Democratic Party knows what we want, the DLC is the one out of touch. In fact, I would say they are about as out of touch with the American people as President Bush.

Posted by mcblogger at 12:40 PM | Comments (0) | TrackBack

GOP takes on Kos or When the useless attack the self-important

The GOP has decided that attacking our leaders is not so easy these days. So they've decided to go after bloggers. Bitches didn't even have the courtesy to mention the diligent agitators at McBlogger which would make us sad if we weren't already so contemptuous of the GOP.

It's not that we don't like Republican's, we have friends who claim (inexplicably) to be Republican. We even think it's cute as hell when the R's run a candidate in Travis County. But going after Kos? Calling Democrat's 'Defeatocrats'? That crosses a whole new threshold of lame previously untouched by any R with the notable exception of Pflugerville douche Jack Stick who was dumb enough to run against Strama.

I'm posting the entire hit piece in the supersize because I'm not evil enough today to make you actually go to the site. That's McBlogger, always thinking of our loyal readers!

WHO IS MARKOS MOULITSAS ZUNIGA?

A Partisan "Nutroot" Who Turned His Hate-Filled Blog Daily Kos Into A Leadership Post In The Democrat Party

________________________________________

MOULITSAS BACK FROM SUMMER VACATION: FOCUSED ON ELECTING LAMONT DEFEATOCRATS

Daily Kos Blogger Markos Moulitsas Zuniga Back From "Relaxing" Vacation:

Moulitsas Just Got Back From Summer Vacation: "I got back from El Salvador really early this morning, so I'm still catching up on the last week's news." (The Daily Kos Website, www.dailykos.com, Accessed 8/22/06)

*
Moulitsas: "I'm still playing catchup after my very relaxing, very nice vacation." (Daily Kos Website, www.dailykos.com, Accessed 8/22/06)

But Moulitsas Wasted No Time In Attacking Sen. Joe Lieberman (D-CT):

Moulitsas Called Sen. Lieberman "Selfish" And "A Sore Loser." "I was annoyed to see not just that Lieberman is still a sore loser, but also that he is now coordinating efforts with one of the most endangered Republican congresscritters in Connecticut by using the same pollster. ... None of this is surprising given those of us who have seen the selfish Lieberman working for himself the last three years." (Daily Kos Website, www.dailykos.com, Accessed 8/22/06)

Now A Rested Moulitsas Is Focused On Electing Lamont Defeatocrats All Across The Country:

Daily Kos "Netroots August Fundraising Push Update #1": "Our goal is to amass 100 new contributions for each House candidate and 250 for each Senate candidate." (Daily Kos Website, www.dailykos.com, Accessed 8/22/06)

MOULITSAS' DAY JOB: OUT-OF-THE-MAINSTREAM BLOG DAILY KOS

Moulitsas Called "Liberal," "Angry," And "Vile":

"[M]arkos Moulitsas [Is] The Creator Of The Daily Kos, The Popular Liberal Political Weblog (www.dailykos.com)." (Anne E. Kornblut, "The Peculiar Power Of The Chattering Class," The New York Times, 4/2/06)

* Slate Called Moulitsas "Leading Liberal Blogger." (Torie Bosch, "WMD? Really?" Slate, 6/22/06)

* Moulitsas Was Called The "Most Vile Of The Angry Left Bloggers." (Donald Luskin, "America's Looniest Liberal Pundit," National Review, 9/26/05)

Moulitsas Provides Fellow Bloggers With A Regular Dose Of Hate And Division:

Moulitsas Denounced Four American Contractors Who Were Mutilated By Terrorists In Fallujah, Iraq. Moulitsas: "I feel nothing over the death of mercenaries ... Screw them." (Matthew Klam, Op-Ed, "Fear And Laptops On The Campaign Trai--," The New York Times, 9/26/04)

*
Moulitsas Said He Did Not Regret His Remarks. ABC's Jake Tapper: "Do you have any regrets writing that?" Markos Moulitsas: "Absolutely not. The blogs are a raw, emotional medium. And they are what they are. And they're not measured conversation. They're not edited. They're raw." (ABC's "Nightline," 7/24/06)

Moulitsas' Posts On President Bush Include Profanity And Call Him A "Moron." "[T]he CIA wouldn't give Bush the rationale for war he seeked [sic]. So they made shit up, and now they're trying to pin it on the intelligence community. Bush lied, people died. Or, in the alternative, Bush is an incompetent moron, and people died." (Daily Kos Website, www.dailykos.com, Accessed 8/15/06)

*
Moulitsas Has Called President Bush And Vice President Cheney "Evil." "Phew! I have been sweating rumors that Bush will replace Cheney with someone more exciting, charismatic, engaging, friendly, and, well, less evil. ... I want to believe. And seriously, Bush needs Cheney so he, himself, can look less evil." (Daily Kos Website, www.dailykos.com/, Accessed 8/15/06)

Moulitsas Blasted The American Public For Their Lack Of Concern For American Troops Dying In Iraq. "36 US killed this month already. 161 wounded. Too bad the media doesn't care anymore. Too bad the Republicans don't care anymore. Too bad the neocons don't care anymore. Too bad the American public doesn't seem to care anymore." (Daily Kos Website, www.dailykos.com/, Accessed 8/15/06)

Moulitsas Radical Position On War On Terror:

Moulitsas On Fighting Terrorism: "The French Are Right." "I know it's not the most popular thing to say, but the French are right. You don't win wars against terrorism on the battlefield." (Daily Kos Website, www.dailykos.com/, Accessed 8/15/06)

Moulitsas Called The People Who Work In The Pentagon "Idiots." "Will those idiots in the White House, Pentagon and State still claim that things are improving in Iraq?" (Daily Kos Website, www.dailykos.com/, Accessed 8/15/06)

Moulitsas Mocked The Significance Of Freedom. "Bush remains defiant, vowing to hold fast against the terroristic [sic] hordes ... 'Freedom has its enemies.' As political rhetoric, that simple phrase is brilliant. As reality, it's a complete joke." (Daily Kos Website, www.dailykos.com/, Accessed 8/15/06)

Moulitsas Also Provides Liberal Bloggers A Venue To Promote Their Own Extreme Messages And Ideologies:

"In October Of 2003 ... Moulitsas Transferred His Site Over To A Technology Called Scoop, Which Allowed Registered Readers To Maintain Diaries - Their Own Unique Weblogs." (Benjamin Wallace-Wells, "Kos Call: For America's Number One Liberal Blogger, Politics Is Like Sports: It's All About Winning," Washington Monthly, 1/1/06)

*
"Soon, Moulitsas's Site Had Spawned Eponymous New Stars, Well-Read Diarists Who Carried Moulitsas's Crusades Forward When He Was Otherwise Engaged Or Asleep ... If They Were Good - Or Outrageous - Enough, He Promoted Them To The Main Site, Allowing Them To Share Space With Him And Exposing Them To An Audience That Was Growing By The Tens Of Thousands." (Benjamin Wallace-Wells, "Kos Call: For America's Number One Liberal Blogger, Politics Is Like Sports: It's All About Winning," Washington Monthly, 1/1/06)

Devilstower, A Blogger On The Daily Kos Main Site, Compares Republican Party To Hezbollah. "The Republican Party has become the Hezbollah of language, quite willing to bring a rocket launcher into the midst of stale phraseology, and willing to accept the risk this represents." (Daily Kos Website, www.dailykos.com, Accessed 8/21/06)

"One Diarist Labeled Israel 'A Destabilizing Force In The Region' And Saw 'No Difference Between Iran's Support Of Hezbollah And Hamas In The Form Of Finances And Even Arms And The United States' Financial Support Of Israel.'" (Dean Barnett, "Kos, Hezbollah, And Israel," The Daily Standard, 7/23/06)

*
"[T]he Author Opened His Essay With The Declaration, 'Israel Is Showing The Entire World Why The Iranian President Was Absolutely Right To Suggest That Israel Cease Being A Sovereign State As Is.'" (Dean Barnett, "Kos, Hezbollah, And Israel," The Daily Standard, 7/23/06)

"In One Diary, The Author Labeled Israel's Actions As A 'Pogrom By Bomb.'" (Dean Barnett, "Kos, Hezbollah, And Israel," The Daily Standard, 7/23/06)

"[Maryscott] O'Connor [Posted A Blog On Daily Kos] Which Concluded With A Wish That Bush, 'After Contracting Incurable Cancer And Suffering For Protracted Periods Of Time Without Benefit Of Medication,' Go To Hell." (David Finkel, "The Left, Online And Outraged," The Washington Post, 4/15/06)

MOULITSAS' NEW JOB: CO-CHAIR OF THE DEMOCRAT PARTY

Moulitsas Has Become Important Player In The Democrat Party:

"[M]oulitsas ... Chats With Senate Leadership Aides Several Times A Week And Has Brainstormed With Democratic Operatives About The Fall Campaign ..." (Jonathan Darman, "The War's Left Front," Newsweek, 7/3/06)

*
"[Senate Minority Leader Harry Reid] Has Worked Closely With Liberal Internet Community Sites Like DailyKos.Com - His Office Is In Near Daily Contact With Kos - And Other Web Logs, Internet Forum Sites And News Services To Build A Grassroots Base." ("Riding The Cyber Tiger," National Journal's CongressDaily, 5/27/05)

*
"Every Third Week, Moulitsas Has A Standing Phone Call With Congressional Powerbroker Rep. Rahm Emmanud [Sic] (D-Ill) ..." (Benjamin Wallace-Wells, "Kos Call: For America's Number One Liberal Blogger, Politics Is Like Sports: It's All About Winning," Washington Monthly, 1/1/06)

"Moulitsas Has Become So Well Incorporated Into The Party Machinery That The Democratic Congressional Campaign Committee (DCCC) Uses Him To Recruit Candidates." (Benjamin Wallace-Wells, "Kos Call: For America's Number One Liberal Blogger, Politics Is Like Sports: It's All About Winning," Washington Monthly, 1/1/06)

Two-Thirds Of Democrat Leadership Fled To "YearlyKos Convention" Sponsored By "Left-Leaning Blog" Daily Kos:

"YearlyKos Is Sponsored By One Of The Most Popular Left-Leaning Blogs, The Daily Kos ..." (Lawrence Mower, "Dean Urges Bloggers To Seek Political Office," Las Vegas Review-Journal, 6/11/06)

*
"[The YearlyKos] Drew Two-Thirds Of The Democratic Leadership ... And Several Potential Presidential Candidates ..." (Matthew Continetti, "Kiss Of Death?" The Weekly Standard, 7/17/06)

Moulitsas Is Critical Fundraiser For Liberal Democrats:

"Moulitsas, As King Kos, Sits In The Throne Overseeing The Largest Political Site On The Internet, With Substantial Power To Direct The Conversation And Raise Money." (Michael Scherer, "Not Just Bush-Haters In Bathrobes," Salon.com, 6/9/06)

*
"In 2004, His Blog Raised More Than $574,000 For Political Candidates." (Anthony Martinez Beven, "Blogging For Bucks," Detroit [MI] Free Press, 2/4/06)

Moulitsas Is Supporting Next Generation Of Liberal Defeatocrats In Races Across The Country:

"Moulitsas Is Aggressively Talking Up The Party's Challengers In Senate Races In Virginia, Montana, Ohio And Nevada." (Jonathan Darman, "The War's Left Front," Newsweek, 7/3/06)

*
"[Ohio Senate Candidate Rep. Sherrod] Brown's Candidacy Is Now Obsessively Promoted On Daily Kos." (Jonathan Darman, "The War's Left Front," Newsweek, 7/3/06)

*
Moulitsas Is Backing Democrat Jim Webb's Virginia Senate Campaign. (Matthew Continetti, "Kiss Of Death?" The Weekly Standard, 7/17/06)

*
Moulitsas Is Backing Democrat Jon Tester's Montana Senate Campaign. (Gwen Florio, "Senate Battle Begins," Great Falls [MT] Tribune, 6/8/06)

MOULITSAS' MISSION: TAKING OVER THE DEMOCRAT PARTY

Moulitsas Has Plans To Take Over The Party:

"Markos Moulitsas Zuniga Is Sitting On His Back Porch In Berkeley, Calif., Listening To The Hummingbirds And Explaining His Plans To Seize Control Of The Democratic Party." (Jonathan Darman, "The War's Left Front," Newsweek, 7/3/06)

*
Moulitsas: "We're not sitting around waiting for the so-called professionals to give us power in the party ... We're taking it for ourselves." (Jonathan Darman, "The War's Left Front," Newsweek, 7/3/06)

Moulitsas In Fight With Democratic Leadership Council (DLC) For Soul Of Democrat Party:

"[I]n Late August Of 2005 [Moulitsas] Declared On His Site That He Had A Secret Plan To Destroy The Democratic Leadership Council." (Benjamin Wallace-Wells, "Kos Call: For America's Number One Liberal Blogger, Politics Is Like Sports: It's All About Winning," Washington Monthly, 1/1/06)

*
Moulitsas: "No calls for a truce will bebrooked [sic] ... Appeals to party unity will fall on deaf ear ... We need to make the DLC radioactive. And we will. With everyone's help, we really can. Stay tuned." (Benjamin Wallace-Wells, "Kos Call: For America's Number One Liberal Blogger, Politics Is Like Sports: It's All About Winning," Washington Monthly, 1/1/06)

*
"Three Days Before The Scheduled Unveiling, Moulitsas Wrote That He'd Changed His Mind." (Benjamin Wallace-Wells, "Kos Call: For America's Number One Liberal Blogger, Politics Is Like Sports: It's All About Winning," Washington Monthly, 1/1/06)

Moulitsas: "[The DLC] live[s] every day as though it is still 1992 ... They are definitely a relic of a bygone era." (Stuart Steers, "Top Dems To Gather In City To Formulate Party Strategy," Rocky Mountain [CO] News, 7/22/06)

Moulitsas Vehemently Opposed DLC Member Sen. Joe Lieberman (D-CT) In Democrat Primary:

"[The Daily Kos' Markos Moulitsas Zuniga] Is Doing Everything He Can To Make That Primary Fatal For Lieberman - Rallying Other Bloggers, Ginning Up Money And Making [Ned] Lamont The Poster Child For The 'People-Powered Movement.'" (Jonathan Darman, "The War's Left Front," Newsweek, 7/3/06)

*
"Markos Moulitsas ... Actually Appeared In An Ad For Lamont Earlier This Month And They Are Now Asking People To Donate More Money To Lamont's Campaign In Reaction To This." (CNN's "The Situation Room," 7/3/06)

"Markos Moulitsas Zuniga, Founder Of The Liberal Website Daily Kos, Called On Reid To Strip Lieberman Of His Senate Committee Assignments ..." (Ellen Barry and Richard Simon, "To Stay In, Lieberman Faces An Uphill Climb," Los Angeles Times, 8/10/06)

MOULITSAS IS A FAT CAT LIBERAL BLOGGER FOR HIRE

Moulitsas Makes An "Excellent Living":

"[Moulitsas Achieved] Enough Success With Kos That He Says He Is Able To Live In Costly Berkeley, Calif., Entirely Off Its Ad Revenue ..." (Daniel Terdiman, "A Blog For Baseball Fans Builds A League Of Sites," The New York Times, 4/18/05)

*
Moulitsas: "I make an excellent living. Absolutely." (ABC's "Nightline," 7/24/06)

*
Ads On Daily Kos Can Sell For More Than $1.1 Million A Year.

o Number One Ad Slot On Daily Kos Costs $4,200 A Week Or $218,400 A Year. (Blogads Website, w ww.blogads.com, Assessed 8/16/06)

o Number Two Slot On Daily Kos Costs $2,800 A Week Or $145,600 A Year. (Blogads Website, www.blogads.com, Assessed 8/16/06)

o Remaining Seven Ads On Daily Kos Each Cost $2,125 A Week Or $110,500 Each A Year For A Total Of $773,500 A Year. (Blogads Website, www.blogads.com, Assessed 8/16/06)

o Two Daily Kos Classifieds Each Cost $75 A Week Or $3,900 Each A Year For A Total Of $7,800 A Year. (Blogads Website, www.blogads.com, Assessed 8/16/06)

Moulitsas' Former Business Partner Jerome Armstrong Was Investigated By SEC; Permanently Banned From Stock-Touting:

"[R]eports Surfaced That Jerome Armstrong, An Influential Blogger Who Coauthored A Book With Moulitsas And Also Started A Political Consulting Firm With Him, Was Being Investigated By The Securities And Exchange Commission For Allegedly Promoting A Stock Online In Exchange For Money." (Michael M. Grynbaum, "Bloggers Battle Old-School Media For Political Clout," The Boston Globe, 7/6/06)

*
"[A]rmstrong Agreed To A December 2003 SEC Settlement That Permanently Bans Him From Stock-Touting." (Deborah Orin, "Stock Shock In Past Of Dem Hopeful's Aide," New York Post, 6/29/06)

*
"Armstrong Also Signed A Court Agreement With The SEC That He Can't Deny - Or Let Anyone Else Deny - 'Any Allegation In The Complaint' That Accused Him Of Touting Worthless Stock For Pay." (Deborah Orin, "Stock Shock In Past Of Dem Hopeful's Aide," New York Post, 6/29/06)

Moulitsas Sent Out E-Mail To Fellow Liberal Bloggers Requesting The Jerome Armstrong Story "Be Kept Under Wraps":

"On The Plank, A Blog Hosted On The New Republic's Website, [Jason] Zengerle [Senior Editor For The New Republic] Posted An E-Mail Written By Moulitsas To An Online List Of What Zengerle Described As 'Elite Liberal Bloggers,' Asking That The Armstrong Story Be Kept Under Wraps." (Michael M. Grynbaum, "Bloggers Battle Old-School Media For Political Clout," The Boston Globe, 7/6/06)

*
"'My Request To You Guys Is That You Ignore This For Now. It Would Make My Life Easier If We Can Confine The Story,' Moulitsas Wrote In The E-Mail. Zengerle Also Noted That Several Bloggers On The List Belonged To The Liberal Blog Advertising Network, Which Was Cofounded By Moulitsas." (Michael M. Grynbaum, "Bloggers Battle Old-School Media For Political Clout," The Boston Globe, 7/6/06)

Moulitsas Allegedly Hired By Howard Dean's 2004 Campaign To Keep Him From Supporting Other Campaigns:

"Howard Dean's Presidential Campaign Hired Two Internet Political 'Bloggers' As Consultants So That They Would Say Positive Things About The Former Governor's Campaign In Their Online Journals, According To A Former High-Profile Dean Aide." (William M. Bulkeley and James Bandler, "Dean Campaign Made Payments To Two Bloggers," The Wall Street Journal, 1/14/05)

*
"The Partisan Democratic Political Bloggers Who Were Hired By The Dean Campaign Were Jerome Armstrong, Who Publishes The Blog MyDD, And Markos Zuniga, Who Publishes DailyKos." (William M. Bulkeley and James Bandler, "Dean Campaign Made Payments To Two Bloggers," The Wall Street Journal, 1/14/05)

"[Zephyr Teachout , The Former Head Of Internet Outreach For Dean's Campaign] Said The Campaign Never Explicitly Asked The Bloggers To Promote Mr. Dean. But She Said The Dean Campaign Wanted To Keep Them From Shifting To Rivals." (William M. Bulkeley and James Bandler, "Dean Campaign Made Payments To Two Bloggers," The Wall Street Journal, 1/14/05)

Moulitsas Criticized For Promoting 2008 Hopeful Former Gov. Mark Warner (D-VA) On Website After Partner Was Hired As Warner Consultant:

"[The New Republic's] Zengerle Also Echoed Critics Who Note That Moulitsas Began Promoting Former Virginia Governor Mark Warner On His Website After Armstrong Was Hired As A Consultant For Warner's Presidential Campaign. (Critics Charge That Daily Kos Did The Same For Other Armstrong Clients, Including Ohio Representative Sherrod Brown.) Zengerle Suggested Armstrong Was Charging Consulting Fees For Access To Moulitsas." (Michael M. Grynbaum, "Bloggers Battle Old-School Media For Political Clout," The Boston Globe, 7/6/06)

"Moulitsas Who Declined To Comment For This Article Vehemently Denied The Charges, Calling Zengerle's Assertions About The Advertising Network 'Ludicrous' And Denying That His Views Are Influenced By Armstrong's Choice Of Clients." (Michael M. Grynbaum, "Bloggers Battle Old-School Media For Political Clout," The Boston Globe, 7/6/06)

*
Moulitsas: "Let me be crystal clear. I deny that charge completely." (Michael M. Grynbaum, "Bloggers Battle Old-School Media For Political Clout," The Boston Globe, 7/6/06)

Questions Surround Moulitsas' Switch Of Support From Ohio Dem Senate Candidate Paul Hackett To Opponent Sherrod Brown After Brown Hired Jerome Armstrong:

"A Number Of The Questions Centered On Ohio, Where Democrat Sherrod Brown Hired Armstrong In April 2005 For A Possible Run For The U.S. Senate." (Editorial, "Kos Meets World," National Review, 7/5/06)

"Moulitsas At First Preferred Insurgent Democrat Paul Hackett ... But Then Brown Decided To Run, And Within Days Moulitsas Did An About-Face, Writing That 'It Might Be A Good Idea For Hackett To Stand Down.'" (Editorial, "Kos Meets World," National Review, 7/5/06)

"The Question Is Whether Moulitsas's Tie To Brown Through Armstrong Played A Role In His Quick Change Of Support." (Editorial, "Kos Meets World," National Review, 7/5/06)

Posted by mcblogger at 10:37 AM | Comments (497) | TrackBack

Coulter : Ann's just so damn horsey

HAHAHAHAHAHAHA

According to the San Francisco Chronicle, the city zoo has named one of its horses "Coulter" — a direct attack on the beauty of best-selling humorist Ann Coulter!

Or maybe not. The zookeepers refused to "confirm or deny that the horse was named with Ann Coulter in mind."

via Wonkette

Posted by mcblogger at 09:20 AM | Comments (2) | TrackBack

TTC : What Ben Wear missed

Kuff has some stuff up about this today as well. Just pointing out that's it not just the bloggers who live along the 35 who know the TTC is an issue.

Ben Wear has an article up on the TTC that completely missed the point. Ben wrote it from the perspective of how it's effecting Perry's doubtful re-election and in so doing managed to miss the overarching point that the people opposing the TTC know more about what's needed for transportation than the geeks at the thinktanks who have accepted as a gospel truth toll roads everywhere are a necessity.

A little research would do Ben a world of good. The biggest problem in this state is that we collect a gas tax and only spend a little over half the money ON transportation. A smaller problem is that we don't spend it efficiently.

We do need a slight increase in the gas tax. We also need to make sure we can continue to receive federal highway dollars and have those dollars spent efficiently (yeah, we need TX DoT to be able to audit contractors). That means pollution in the metro's is a first class concern.

First and foremost though, WE NEED TO SPEND TRANSPORTATION TAXES ON TRANSPORTATION. The estimated realistic shortfall over 50 years is anywhere from $50-60 Bn. If we simply increase the gas tax by $0.05/gallon and no longer divert transportation tax revenue from TX DoT, we can easily cover that gap and make critical improvements now with bond issues. Perry's pie in the sky $86 Bn over 25 years is nothing more than the delusional rambling of a deeply disturbed lunatic.

The problem for Perry is that his campaign contributors can't make as much money on freeways. The TTC plan allows Zachry to get paid not only for building the roads but for operating them as well. That's not a case of having your hand in the public purse. That's a case of stealing the purse and beating the state to death with it using Perry and Todd Staples as your accomplices.

It's time for reporters to do a better job of actually getting the facts, learning the issues and pointing out when the politico's are LYING.

"If someone has a better idea . . . please lay out that plan," Perry said. "None of them do. My point is, if you're going to be afraid to lay out plans to take the state forward, you might choose a different line of work."

Oh, Tricky Ricky... Bell's out there and so is Hank. You're about to get your ass kicked, Mofo.

Posted by mcblogger at 02:26 AM | Comments (1) | TrackBack

August 23, 2006

Hackett beats up on Van Taylor

Here's the link up on Crooks and Liars... trust me, it's worth the time to watch this douche meltdown on live TV.

Update: Phillip over at BOR has put it up at YouTube...

Posted by mcblogger at 10:18 PM | Comments (1) | TrackBack

Rarely is the question answered, our children is not learning

So I get back to the mayoral mansion a little while ago to find a flyer hot off the inkjet stuck on my door...


ENTERTAINMENT
PASSBOOK 2007
COUPON BOOK 20$
DOLLARS SUPPORT
THE COVINGTON BAND
GET THE AT xxxx
CHIAN GROV

{In case you can't find "Chian Grov" in your Austin gazetteer, that's because the street is actually "China Grove".}

Support the band? Sorry, get back to me when you're raising money for textbooks.

Posted by mayor mcsleaze at 07:14 PM | Comments (0) | TrackBack

A sorry excuse for Armageddon

Sister Ruth has been on my case to broaden my horizens. She's been hounding me to try watching Scarborough Country in the evenings instead of flipping over to Comedy Central for the six-hundreth repeat of Chappelle. I've actually been making an effort this week; so far not impressed. Last night, in fact, I must have dozed off during Olberman because I woke up to an alarmed-looking panel led by that horrible Rita McRaspyVoice and the BREAKING NEWS alarm. WTF? I wondered? Have the predictions of Paul Wolfowitz and Xoxpopicoatlteq, Mayan Goddess of Treesloths for this date come true? Is the world actually coming to an end ? Do I have time for a beer run before the Big One hits?

As I shook myself free of morpheus' embrace though it turned out that the breaking news was TOM CRUISE HAS BEEN FIRED! Unless he's actually been fired out of a cannon in the direction of the Middle East, who gives a flying fuck?

Here's a little rule of thumb about news, since MSNBC seems confused: Cruise missiles: News. Tom Cruise: Not News. In case Tom Cruise is ever hit by a cruise missile: Justice.

Posted by mayor mcsleaze at 03:26 PM | Comments (0) | TrackBack

I would sooo love to see this on the 35

( via Bluebonnet at PinkDome)

Posted by mcblogger at 01:35 PM | Comments (0) | TrackBack

TTC : Now an outer loop for DFW?

Somervell County Salon has a interesting post up about the TTC and Perry's efforts to diffuse opposition which apparently includes giving DFW yet ANOTHER loop?

...I direct you to expand the TTC-35 study area to include the route identified by the Regional Transportation Council, effectively expanding the TTC-35 to provide for an outer loop around the Dallas/Fort Worth Metroplex.

So that'll get the DFW politico's on board... but how are you going to placate the people whose land you are about to take, Mr. Perry? And for the politico's, what makes you think folks won't take you out back and shoot you during the next cycle? Word to the wise, if you're going to support Perry's plan you are going to get tagged just like him.

Take a look at his numbers and realize one thing... Texas voters are out for blood (as the meek little chickenshit mayor of Temple found out) and the wise elected who wants to stay in office will stear clear of the TTC.

But, you say, McBlogger (in a whiney voice) you're forgetting about the lack of money to build the roads?! Where does it come from? To which I respond, be patient. I've only got so much free time during the day.

Posted by mcblogger at 01:07 PM | Comments (2) | TrackBack

Teacher gets 15k from AISD... happy trails!

Remember that art teacher whose online art made it's way to into the febrile minds of students? Well, she's finally been settled out and has resigned. For $15,000...

Hoover had been on paid administrative leave since May 22 after another Austin High art teacher, Gayle Andrews, told a colleague about the pictures. That co-worker informed school officials.

Andrews said in signed affidavits that students told her about pictures of Hoover on a photo-sharing Web site. Days later, Andrews asked a student to show her the site on a school district computer.

Thanks a lot, Gayle. The number of boring math teachers inreases in relation to the number of hottie art teachers. You suck!

Posted by mcblogger at 11:08 AM | Comments (3) | TrackBack

Marines pressed back into service in Iraq...

... LaGirlFriday has the story over at Latino's For Texas Blog.

The U.S. Marine Corps said Tuesday it has been authorized to recall thousands of Marines to active duty, primarily because of a shortage of volunteers for duty in Iraq and Afghanistan.

Up to 2,500 Marines will be brought back at any one time, but there is no cap on the total number of Marines who may be forced back into service in the coming years as the military battles the war on terror. The call-ups will begin in the next several months.

This is the first time the Marines have had to use the involuntary recall since the early days of the Iraq combat. The Army has ordered back about 14,000 soldiers since the start of the war.

Marine Col. Guy A. Stratton, head of the manpower mobilization section, estimated that there is a current shortfall of about 1,200 Marines needed to fill positions in upcoming unit deployments.

The call-up affects Marines in the Individual Ready Reserve, a segment of the reserves that consists mainly of those who left active duty but still have time remaining on their eight-year military obligation.

Posted by mcblogger at 09:39 AM | Comments (0) | TrackBack

Oh, so NOW the R's cop to the fact that they screwed up

The SAEN (via PinkDome) has a decidedly mediocre post up about all the great things the R's are doing to the state budget. See, that surplus so many are proud of ISN'T going to be enough to fix the holes in school finance, maintain services at their already low levels AND cut property taxes.

What's the culprit? The business tax that's about as useless as a box of hair.

The package used state surplus funds and expanded state taxes — including business taxes — to lower local school property taxes. The higher state taxes don't cover the entire cost of the property-tax cut because leaders wanted to pass a net tax decrease.

Strayhorn estimated the effort would create a budget shortfall of $23 billion over five years. The nonpartisan Legislative Budget Board put it at $25 billion.

You motherfuckers dug us a $25 BILLION DOLLAR hole?

Yet another example of irresponsible Republican legislature that thinks it can borrow and spend just like Republican's in Washington. Unfortunately, that dog don't hunt here in Austin. Remind me never to let Todd Staples or CradDICK near my checkbook.

Posted by mcblogger at 01:06 AM | Comments (0) | TrackBack

August 22, 2006

BOR, much like Pilgrim's Pride, embarks on expansion program

Burnt Orange Report and Just Another Blog are joining forces to form Just Another Burnt Orange Report. Seriously, welcome to Austin, Matt!

XXXOOO from everyone at McBlogger!

Posted by mcblogger at 09:21 PM | Comments (5) | TrackBack

Win a date with Ernest Borgnine!

We're all about rewards here at McBlogger. From Taco Bell Tuesdays to Friday Happy Hour from 5:00-5:04, the staff enjoys the kind of perks that often make people look for jobs elsewhere.

As a thank you to our readers, we're offering you the chance of a lifetime! That's right, it's all about winning



A Date


With


Ernest


Borgnine




Generosity? You don't know the half of it! Whether you are a boy or a girl, hetero or homo, Ernest* will take you out on the town for the meal of your choice (as long as it's lunch) to a restaurant you pick from an extensive list of two (Delaware Subs or Thundercloud Subs). Think about what an amazing experience it would be to actually dine with the winner of an Academy Award who has worked with everyone from Spencer Tracy to Isaac Hayes. Think of the amazing stories you'll hear! Imagine the romantic moment when he breaks from his lunch, mid sandwich and looks deeply into your eyes, smiles, clears his throat and goes back to eating like it's the only meal he's had in a week.

To enter simply email us with the answer to these questions: For which movie did Borgnine's performance earn him an Oscar? What kind of Oscar was it?

That's McBlogger... always going the extra mile for our loyal readers!

*If Ernest Borgnine is unavailable, substitute Judd Hirsch

Posted by mcblogger at 11:10 AM | Comments (2) | TrackBack

Things that should not be left with Attorney General Greg Abbott

I'm sure you heard about the fact that Attorney General Greg Abbott lost evidence? No? Well, then you must have been reading the Star-Telegram which is just a small step above the Sister Ruth 'What's Happening In My Life' quarterly newsletter. I'm not saying it's a bad newspaper, I'm just saying there are better sources of news out there. Like a urinal wall.

Abbott, it turns out, lost some evidence in a Federal case and the Fed's aren't too pleased about that. It started me thinking, what else should we not entrust to Attorney General Greg Abbott's care?

Children - Attorney General Greg Abbott may seem like the perfect babysitter, but you'd be wrong. Attorney General Greg Abbott is easily distracted, much like a kitten, by shiny, dangling metal objects. Attorney General Greg Abbott is, quite simply, mesmerized by them and incapable of focusing on anything else in their presence. So, if you have wind chimes it's probably a bad idea to use Attorney General Greg Abbott as a babysitter.
Puppies - Attorney General Greg Abbott loves puppies. Specifically, Attorney General Greg Abbott loves to let them run and play. Should one of the puppies, while being watched by Attorney General Greg Abbott, meet with an unfortunate end (say, when they try to cross a busy road), Attorney General Greg Abbott will blame someone else even if Attorney General Greg Abbott is the only one responsible for the care of the puppies. At least that's what we heard.
Evidence - Attorney General Greg Abbott has a habit of losing evidence. It usually turns up again, much like these x-rays when someone turns Warren Chisum, passed out in a drunken stupor on the floor, over to find said evidence lying underneath the intoxicated legislator. However, Attorney General Greg Abbott does tend to misplace things and it's probably best that Attorney General Greg Abbott not be entrusted with much. It would probably also be a good idea if Attorney General Greg Abbott was disbarred.

This isn't, by any means, an exhaustive list of the things which should not be entrusted to Attorney General Greg Abbott so please, just because you don't see something here, don't assume that Attorney General Greg Abbott can be trusted to care for it.

In fact, it would be best if you just didn't trust Attorney General Greg Abbott.

Posted by mcblogger at 02:10 AM | Comments (5) | TrackBack

August 21, 2006

Energy and Pollution : Dicky's proposal

Dicky unveils his energy plan to a collective yawn from the crowd. My first thought when I heard this was coming out was 'who the hell releases a serious policy piece in August when no one is paying attention?' which changed after reading it to 'Ahh... it's not a serious plan'.

Here's the skinny on the plans:

PERRY - Nothing really, other than greenlighting TXU's new coal fired plants so they can begin exporting power to LA, NM, OK, and AK... not mention dumping enough mercury into the air to make our rivers and lakes poisonous. Think I'm kidding? Ask people from Ohio if they can eat fish caught in Ohio. What's for dinner honey? Why a little perch with a side of birth defects from mercury poisoning!

STRAYHORN - Nothing yet but it's still August so maybe she's going to roll it out in Sept. We'll wait and pounce then. Seriously, why not give them some rope to hang themselves. It'll be something stupid and nonsensical... let me guess, heavy on the carbon sequesterization.

DICK FRIEDMAN - Ah, shit... les jus' build us som'more uh those natti gas plants. Seriously, that's the plan. Natural fucking gas plants. Oh, and more biowillie all around which I think is the best part of his plan. Actually, it's the only reasonable part of it.

BELL - Measured and reasonable... nothing shocking here from the milquetoast of the gubernatorial candidates. The suprising thing is how far it eclipses the other plans in it's adequecy to provide the power needed AND protect the environment. I'll give Bell kudo's on that, but the prohibition on nukes is a negative knee-jerk response to the very real potentional of Gen4 and better nuclear facilities, not to mention advanced breeder designs. I constantly get irritated with anti-nuclear greens who are blind to the fact that the technology has advanced beyond the 1950's light water designs that are troublesome (Three Mile Island and Indian Point).

Bell and Dick both were positive on biofuels but not a ringing endorsement. This is one area where I like Hank's ideas on the subject to focus marginal farmers on low maintenence energy crops like Miscanthus that can also be used to feed livestock. Follow that one with projects at Texas universities to bioengineer the crops to render more fully and easily into fuel without compromising them should they be pressed into alternate service. With the right technology and conservation measures we can grow our way to energy independence in years rather than decades.

I do wish Dick would get serious about alternative fuels instead of just rambling on about Willie's soya diesel. I know it's good but we need something better especially since there aren't just a ton of people clamoring for a diesel Jetta.

One of the biggest problems ignored in all plans are the very real issues we have with pollution from cars and trucks in the metro's.

Pollution from IC engines is a problem in Texas (at least as much as our many coal burning power plants). The biggest problem we have are older cars, some of which have been on the roads for 10 years or more, that are not only inefficient when it comes to fuel consumption but are also (because of age itself) very pollutive. Engines, especially if they aren't properly maintained, degrade over time and allow more and more pollution to pass through as exhaust. When you combine it with ancient catalytic converters, you have a perfect NOx and CO2 generator.

The program would consist of loans on a car, insured by the state (similar to the government's FHA home mortgage insurance program), that is very fuel efficient. This would be ideal for poorer citizens as it enables them to purchase a car they ordinarily would not be able to afford AND save money on gas providing a massive benefit to the economy by providing more savings and additional consumer spending... not to mention sales taxes. It'll have a decisive impact on EPA non-compliance in the metro's (let's hear it for Big D and H-town!) which will keep highway dollars flowing to the state.

The best parts? It's a huge boost to the economy. Everyone, from the state and local governments (sales taxes, natch) to car dealers and manufacturers will get a huge boost. If many of the units happen to the plug-in hybrids so will the utilities. The oil companies will feel a little pain but come on... they're making so much the pain won't be that hard to take. The other great part is that it's also way cheap... seriously, as long as 90% of the loans pay it should pay for itself in premiums. Repo'd cars can be sold in auctions, just like they would be anyway.

Toward the future, I think it's important to mandate research at the universities into more advanced energy storage systems. The bottom line is that if we have a battery that can power a car for 400 miles on a single charge, that recharges quickly and has a MTBF of 3-4 years, then we won't need fuel anymore for cars. It's that simple.

Additionally, there is a lot being done in Asia and Europe with photovoltaic systems that will revolutionize direct conversation from sunlight to electricity. Sunflower mirror systems, though not as advanced, are still efficient compared to traditional PV systems making them cost effective for larger buildings. And the state has a lot of those spread all over the place and the systems are in stock today (shoot me an email and I'll give you info on the company that sells them in CA).

All in all, there is something to love in Bell's plan and slightly less in Dick's. There is nothing to even like in Perry's which might as well have been scrawled by a goddamn three year old with a yellow crayon on white paper for all the sense it made. I have to say I was most impressed with Bell's as it shows the keenest sense of balancing environmental concern with our needs as our population expands (much like the belly of an overweight patron at a buffet). Does it go far enough? No, but it's far and away better than the pap produced by Perry and Dicky's ramblings on natural gas fired plants.

Oh, and the biowillie (yeah, I LOVE writing that... I'm a huge fan of Willie and I think what's he done for biofuels is fantastic). Preliminary tally, at least until OSB get's her senile ass in gear, is advantage Team Bell.




Posted by mcblogger at 03:56 PM | Comments (0) | TrackBack

Theocracy in Iraq? Bush Admin is A-OK!

"Senior administration officials have acknowledged to me that they are considering alternatives other than democracy," said one military affairs expert who received an Iraq briefing at the White House last month and agreed to speak only on condition of anonymity.

From the NYT

Posted by mcblogger at 01:12 PM | Comments (0) | TrackBack

Oh, Mr. President... don't go away mad, just go away.

I'm sooo not blogging this statement by statement but he did say some funny stuff in his press conference today. Everytime he gets behind a microphone he looks more and more like a Central American dictator.

On Terrorism... He talked about appealing the federal court's decision. Said that those that 'heralded the decision want government to lose the tools to fight terror'. Funny, the British have been the best at stopping terrorist plots and they didn't need the Patriot Act to do it.

Bitch just called us out. The President actually said that 'there are people in the Democratic Party who think we should leave Iraq tomorrow and they're wrong' and 'they want to leave before the job is done'. Fucking 'tard STILL does not get it. He said that if we leave before the job is done, the enemy will follow us here. Since that was what happened with the VietCong and all. He also said that the US is NOT leaving Iraq while I'm President.

Bush retreaded some of his old talking points on why we invaded though he DID admit that there are no WMD's in Iraq. Funny, many of us didn't have to invade Iraq to find that out. He also threw in 9/11...AND FINALLY A REPORTER ASKED THE RIGHT QUESTION...

Reporter: Mr. President, what did Iraq have to do with the attack on the WTC?
Bush: Nothing and no one in my administration has said that he (Saddam Hussein) ordered the attack.

He also stated that while people may not have agreed with the decision to go, if they hate things now they'll hate it if we pull out. Ladies and gentlement, I give you the first multidecade occupying force fielded by the United States of America.

'We're going to give the Iraqi's the tools to defend themselves'... I guess like we've given Katrina victims the tools to

'I've been reminding people that tax cuts work and pro-growth works'... for making my base richer and bankrupting the country. Yes, Mr. President... trickle down economics work well, except when they don't. Like now.

Posted by mcblogger at 10:00 AM | Comments (2) | TrackBack

Are liquid explosives REALLY a likely threat?

Apparently not... here's the skinny on what teh 'terrorists' in London were going to try to take aboard a plane

Once the plane is over the ocean, very discreetly bring all of your gear into the toilet. You might need to make several trips to avoid drawing attention. Once your kit is in place, put a beaker containing the peroxide / acetone mixture into the ice water bath (Champagne bucket), and start adding the acid, drop by drop, while stirring constantly. Watch the reaction temperature carefully. The mixture will heat, and if it gets too hot, you'll end up with a weak explosive. In fact, if it gets really hot, you'll get a premature explosion possibly sufficient to kill you, but probably no one else.

After a few hours - assuming, by some miracle, that the fumes haven't overcome you or alerted passengers or the flight crew to your activities - you'll have a quantity of TATP with which to carry out your mission. Now all you need to do is dry it for an hour or two.

The genius of this scheme is that TATP is relatively easy to detonate. But you must make enough of it to crash the plane, and you must make it with care to assure potency. One needs quality stuff to commit "mass murder on an unimaginable scale," as Deputy Police Commissioner Paul Stephenson put it. While it's true that a slapdash concoction will explode, it's unlikely to do more than blow out a few windows. At best, an infidel or two might be killed by the blast, and one or two others by flying debris as the cabin suddenly depressurizes, but that's about all you're likely to manage under the most favorable conditions possible.

The full article from The Register is in the supersize but I loved this part...

It's a pity that our security rests in the hands of government officials who understand as little about terrorism as the Florida clowns who needed their informant to suggest attack scenarios, as the 21/7 London bombers who injured no one, as lunatic "shoe bomber" Richard Reid, as the Forest Gate nerve gas attackers who had no nerve gas, as the British nitwits who tried to acquire "red mercury," and as the recent binary liquid bomb attackers who had no binary liquid bombs.

Mass murder in the skies: was the plot feasible?
By Thomas C Greene in Washington
Published Thursday 17th August 2006 09:42 GMT

Analysis The seventh angel poured out his bowl into the air;
And a loud voice came forth out of the temple of Heaven,
From the throne, saying, "It is done!"
--Revelation 16:17

Binary liquid explosives are a sexy staple of Hollywood thrillers. It would be tedious to enumerate the movie terrorists who've employed relatively harmless liquids that, when mixed, immediately rain destruction upon an innocent populace, like the seven angels of God's wrath pouring out their bowls full of pestilence and pain.

The funny thing about these movies is, we never learn just which two chemicals can be handled safely when separate, yet instantly blow us all to kingdom come when combined. Nevertheless, we maintain a great eagerness to believe in these substances, chiefly because action movies wouldn't be as much fun if we didn't.

Now we have news of the recent, supposedly real-world, terrorist plot to destroy commercial airplanes by smuggling onboard the benign precursors to a deadly explosive, and mixing up a batch of liquid death in the lavatories. So, The Register has got to ask, were these guys for real, or have they, and the counterterrorist officials supposedly protecting us, been watching too many action movies?

We're told that the suspects were planning to use TATP, or triacetone triperoxide, a high explosive that supposedly can be made from common household chemicals unlikely to be caught by airport screeners. A little hair dye, drain cleaner, and paint thinner - all easily concealed in drinks bottles - and the forces of evil have effectively smuggled a deadly bomb onboard your plane.

Or at least that's what we're hearing, and loudly, through the mainstream media and its legions of so-called "terrorism experts." But what do these experts know about chemistry? Less than they know about lobbying for Homeland Security pork, which is what most of them do for a living. But they've seen the same movies that you and I have seen, and so the myth of binary liquid explosives dies hard.
Better killing through chemistry

Making a quantity of TATP sufficient to bring down an airplane is not quite as simple as ducking into the toilet and mixing two harmless liquids together.

First, you've got to get adequately concentrated hydrogen peroxide. This is hard to come by, so a large quantity of the three per cent solution sold in pharmacies might have to be concentrated by boiling off the water. Only this is risky, and can lead to mission failure by means of burning down your makeshift lab before a single infidel has been harmed.

But let's assume that you can obtain it in the required concentration, or cook it from a dilute solution without ruining your operation. Fine. The remaining ingredients, acetone and sulfuric acid, are far easier to obtain, and we can assume that you've got them on hand.

Now for the fun part. Take your hydrogen peroxide, acetone, and sulfuric acid, measure them very carefully, and put them into drinks bottles for convenient smuggling onto a plane. It's all right to mix the peroxide and acetone in one container, so long as it remains cool. Don't forget to bring several frozen gel-packs (preferably in a Styrofoam chiller deceptively marked "perishable foods"), a thermometer, a large beaker, a stirring rod, and a medicine dropper. You're going to need them.

It's best to fly first class and order Champagne. The bucket full of ice water, which the airline ought to supply, might possibly be adequate - especially if you have those cold gel-packs handy to supplement the ice, and the Styrofoam chiller handy for insulation - to get you through the cookery without starting a fire in the lavvie.
Easy does it

Once the plane is over the ocean, very discreetly bring all of your gear into the toilet. You might need to make several trips to avoid drawing attention. Once your kit is in place, put a beaker containing the peroxide / acetone mixture into the ice water bath (Champagne bucket), and start adding the acid, drop by drop, while stirring constantly. Watch the reaction temperature carefully. The mixture will heat, and if it gets too hot, you'll end up with a weak explosive. In fact, if it gets really hot, you'll get a premature explosion possibly sufficient to kill you, but probably no one else.

After a few hours - assuming, by some miracle, that the fumes haven't overcome you or alerted passengers or the flight crew to your activities - you'll have a quantity of TATP with which to carry out your mission. Now all you need to do is dry it for an hour or two.

The genius of this scheme is that TATP is relatively easy to detonate. But you must make enough of it to crash the plane, and you must make it with care to assure potency. One needs quality stuff to commit "mass murder on an unimaginable scale," as Deputy Police Commissioner Paul Stephenson put it. While it's true that a slapdash concoction will explode, it's unlikely to do more than blow out a few windows. At best, an infidel or two might be killed by the blast, and one or two others by flying debris as the cabin suddenly depressurizes, but that's about all you're likely to manage under the most favorable conditions possible.

We believe this because a peer-reviewed 2004 study (http://www.technion.ac.il/~keinanj/pub/122.pdf) in the Journal of the American Chemical Society (JACS) entitled "Decomposition of Triacetone Triperoxide is an Entropic Explosion" tells us that the explosive force of TATP comes from the sudden decomposition of a solid into gasses. There's no rapid oxidizing of fuel, as there is with many other explosives: rather, the substance changes state suddenly through an entropic process, and quickly releases a respectable amount of energy when it does. (Thus the lack of ingredients typically associated with explosives makes TATP, a white crystalline powder resembling sugar, difficult to detect with conventional bomb sniffing gear.)
Mrs. Satan

By now you'll be asking why these jihadist wannabes didn't conspire simply to bring TATP onto planes, colored with a bit of vegetable dye, and disguised as, say, a powdered fruit-flavored drink. The reason is that they would be afraid of failing: TATP is notoriously sensitive and unstable. Mainstream journalists like to tell us that terrorists like to call it "the mother of Satan." (Whether this reputation is deserved, or is a consequence of homebrewing by unqualified hacks, remains open to debate.)

It's been claimed that the 7/7 bombers used it, but this has not been positively confirmed. Some sources claim that they used C-4, and others that they used RDX. Nevertheless, the belief that they used TATP has stuck with the media, although going about in a crowded city at rush hour with an unstable homebrew explosive in a backpack is not the brightest of all possible moves. It's surprising that none of the attackers enjoyed an unscheduled launch into Paradise.

So, assuming that the homebrew variety of TATP is highly sensitive and unstable - or at least that our inept jihadists would believe that - to avoid getting blown up in the taxi on the way to the airport, one might, if one were educated in terror tactics primarily by hollywood movies, prefer simply to dump the precursors into an airplane toilet bowl and let the mother of Satan work her magic. Indeed, the mixture will heat rapidly as TATP begins to form, and it will soon explode. But this won't happen with much force, because little TATP will have formed by the time the explosion occurs.

We asked University of Rhode Island Chemistry Professor Jimmie C. Oxley, who has actual, practical experience with TATP, if this is a reasonable assumption, and she tolds us that merely dumping the precursors together would create "a violent reaction," but not a detonation.

To release the energy needed to bring down a plane (far more difficult to do than many imagine, as Aloha Airlines Flight 243 (http://en.wikipedia.org/wiki/Aloha_Flight_243) neatly illustrates), it's necessary to synthesize a good amount of TATP with care.
Jack Bauer sense

So the fabled binary liquid explosive - that is, the sudden mixing of hydrogen peroxide and acetone with sulfuric acid to create a plane-killing explosion, is out of the question. Meanwhile, making TATP ahead of time carries a risk that the mission will fail due to premature detonation, although it is the only plausible approach.

Certainly, if we can imagine a group of jihadists smuggling the necessary chemicals and equipment on board, and cooking up TATP in the lavatory, then we've passed from the realm of action blockbusters to that of situation comedy.

It should be small comfort that the security establishments of the UK and the USA - and the "terrorism experts" who inform them and wheedle billions of dollars out of them for bomb puffers and face recognition gizmos and remote gait analyzers and similar hi-tech phrenology gear - have bought the Hollywood binary liquid explosive myth, and have even acted upon it.

We've given extraordinary credit to a collection of jihadist wannabes with an exceptionally poor grasp of the mechanics of attacking a plane, whose only hope of success would have been a pure accident. They would have had to succeed in spite of their own ignorance and incompetence, and in spite of being under police surveillance for a year.

But the Hollywood myth of binary liquid explosives now moves governments and drives public policy. We have reacted to a movie plot. Liquids are now banned in aircraft cabins (while crystalline white powders would be banned instead, if anyone in charge were serious about security). Nearly everything must now go into the hold, where adequate amounts of explosives can easily be detonated from the cabin with cell phones, which are generally not banned.
Action heroes

The al-Qaeda franchise will pour forth its bowl of pestilence and death. We know this because we've watched it countless times on TV and in the movies, just as our officials have done. Based on their behavior, it's reasonable to suspect that everything John Reid and Michael Chertoff know about counterterrorism, they learned watching the likes of Bruce Willis, Jean-Claude Van Damme, Vin Diesel, and The Rock (whose palpable homoerotic appeal it would be discourteous to emphasize).

It's a pity that our security rests in the hands of government officials who understand as little about terrorism as the Florida clowns who needed their informant to suggest attack scenarios, as the 21/7 London bombers who injured no one, as lunatic "shoe bomber" Richard Reid, as the Forest Gate nerve gas attackers who had no nerve gas, as the British nitwits who tried to acquire "red mercury," and as the recent binary liquid bomb attackers who had no binary liquid bombs.

For some real terror, picture twenty guys who understand op-sec, who are patient, realistic, clever, and willing to die, and who know what can be accomplished with a modest stash of dimethylmercury.

You won't hear about those fellows until it's too late. Our official protectors and deciders trumpet the fools they catch because they haven't got a handle on the people we should really be afraid of. They make policy based on foibles and follies, and Hollywood plots.

Meanwhile, the real thing draws ever closer. ®
Related stories

PayPal freezes out British user in 'terror' list snafu (18 August 2006)
http://www.theregister.co.uk/2006/08/18/paypal_terror_ban/
UK hospitals still 'poorly prepared' for terror attacks (17 August 2006)
http://www.theregister.co.uk/2006/08/17/uk_hospital_preparedness/
BA aborts flight over ringing mobile phone (14 August 2006)
http://www.theregister.co.uk/2006/08/14/ba_aborts_flight/
Breaking phones, banned laptops and scary slang (11 August 2006)
http://www.theregister.co.uk/2006/08/11/1108_letters/
Yanks not impressed with UK terror emergency (10 August 2006)
http://www.theregister.co.uk/2006/08/10/usa_not_impressed/
Terror crackdown at UK airports (10 August 2006)
http://www.theregister.co.uk/2006/08/10/airline_terror/
Amazing terror weapons: the imaginary suitcase nuke (31 July 2006)
http://www.theregister.co.uk/2006/07/31/red_mercury_trial/

Posted by mcblogger at 02:04 AM | Comments (0) | TrackBack

August 20, 2006

Truthiness, Justice, and the American Way

If you watch the Colbert Report you've probably heard about the on-line effort to have the Hungarian government name a new bridge after America's favorite pundit. (And if you don't, isn't it about time you get with the program?) The good news is that the Steven Colbert Bridge has now pulled ahead, now leading Hungarian national hero Nicholas Zrinyi 19%-11%. And the best part is that we know that since these votes are being tallied electronically, the election is completely fair and tamper-proof!

Posted by mayor mcsleaze at 05:39 PM

I have a few extra bucks...let's knock over an African country

Let's say you're a bored British millionaire who's not particularly bright, nor hindered by any outmoded concept of morality. Let's also say that there is a corrupt African country, run by a cannibalistic dictator many would like to see dead. Finally, let's suppose that there is a group of mercenaries floating around Africa who share your amorality and desire for profit.

With that, you have a basic outline for The Wonga Coup (reviewed here at Salon), a new book detailing the exploits of a rogues gallery of people from Margaret Thatcher's son to the scion of a brewery empire in their almost comical efforts to topple a government. Almost, but not quite because they came so close to actually succeeding.

Posted by mcblogger at 02:43 PM | Comments (0) | TrackBack

Can these bones live?

A year after Katrina, the not-so-Rude Pundit offers a travelogue of the Crescent City.
Everywhere a sign
The Lakeview Water Line
The Lifeless Lower Ninth
A Brief Conversation With a Garden District Resident
Outside the Renaissance

Posted by mayor mcsleaze at 02:16 PM | Comments (0) | TrackBack

August 19, 2006

New John Courage video!

John Courage, Democratic candidate for Congress has a fantastic new video up. Drop by and let them know how much you love it!

I would LOVE to see this running in the Austin and San Antonio markets. Great job, Team Courage!

Posted by mcblogger at 02:32 PM | Comments (2) | TrackBack

What Conservatives see when they look at the NYT

Oh, you just have to click this link. Make sure and mouse over Bob Herbert and look at the first item.

Posted by mcblogger at 02:00 PM | Comments (0) | TrackBack

Kristol v. Holbrooke

Great write up of the performance of both when they appeared on Charlie Rose recently. It's a great read to get a glimpse at just how deflated and worthless the neocon position, repped by Kristol, of 'stay the course' has become.

They've lost the initiative.

Posted by mcblogger at 01:33 PM | Comments (0) | TrackBack

August 18, 2006

The stuff that dreams are made of

Remember Elvis sightings? Yeah, that's soooo Twentienth Century.


As a chocolatier to the rich and famous, Martucci Angiano has posed with many celebrities.

But on Thursday she held in her hand a figure that dazzles her more than any Hollywood star: a 2-inch-tall column of chocolate drippings that workers at her gourmet chocolate company believe bears a striking resemblance to the Virgin Mary.

Since the discovery at Bodega Chocolates, Angiano's employees have spent much of their time hovering over the tiny figure, praying and placing rose petals and candles around it.

"I was raised to believe in the Virgin Mary, but this still gives me the chills," Angiano said as she balanced the figure in her hand. "Everyone should see this."

Yes, everyone should see it

And realize that what we have here is a yummy chocolate replica of the Maltese Falcon


Posted by mayor mcsleaze at 08:19 PM | Comments (1) | TrackBack

It's lonely at the bottom

Note to Katherine Harris: If you're going to book an airplane hanger for a campaign event, you'd better have enough warm bodies to fill it up, or you're going to look very, very stupid.

Something like this

And if you put nine speakers' names on a flyer and none of them show up, people are going to start thinking you're a loser.

Katherine Harris' attempt to boost her campaign with a series of high-profile endorsements wilted Thursday when none of the officials appeared at her campaign rally and one of them said Harris wrongly included him on her list of supporters.

State Sen. Daniel Webster, R-Winter Garden, said he has not endorsed Harris and instead is supporting one of her challengers, Orlando attorney Will McBride.

Harris spoke in an airplane hangar that seemed to highlight the modest size of the crowd. She said a last-minute location change -- required because a tree fell on the hangar where the event was supposed to be held -- kept crowd numbers down.

Airport officials, however, said no hangar had been damaged by a tree and that the rally was in the hangar that had been originally booked.

Posted by mayor mcsleaze at 07:10 PM | Comments (0) | TrackBack

Dobbs is upset and making sense about self-sufficiency

I love me some Lou Dobbs. This week's commentary is all about the lack of self-sufficiency in the US...

What a blessing, all these superpower advantages. What other people besides Americans can afford not to make their own clothes? The world has other people for such menial tasks, and they sell us all but a few of our shoes, shirts, slacks, suits, dresses and coats (and, of course, accessories). We now import around 96 percent of our clothing.

What other nation can afford to dismantle its manufacturing base and export high-paying middle-class jobs overseas to lesser, cheaper foreign labor markets and then buy back the goods those poorer people provide us?

And energy? Why, we Americans have money to burn. We spend $15-20 billion each and every month to import fuel for our cars, trucks, office buildings and few remaining factories and plants. We can be heedless to the consequences, because as Vice President Dick Cheney suggests, conservation doesn't work well anyway. So why be bothered with such irritating constraints?

It's gotta be inconvenient for Republicans when someone like Dobbs keeps making sense...

Full text in the supersize

Dobbs: It's good to be a superpower

By Lou Dobbs
CNN

Editor's note: Lou Dobbs' weekly commentary will return on September 6.

NEW YORK (CNN) -- The Soviet Union, Marxist Leninism, the Evil Empire and their ugly metaphor, the Berlin Wall, crumbled and collapsed almost 17 years ago.

At the time, I thought it was strange that the United States didn't have the inclination to celebrate. There were no victory parades and no fireworks; nor did Congress declare a V-CW Day, as in Victory in the Cold War. There weren't even any grand speeches about America's emergence as the World's Only Superpower.

But a grand smugness did grip most of Washington. And hubris became the foundation of almost every national policy, foreign and domestic. And why not? We were entitled as the World's Only Superpower.

What a blessing, all these superpower advantages. What other people besides Americans can afford not to make their own clothes? The world has other people for such menial tasks, and they sell us all but a few of our shoes, shirts, slacks, suits, dresses and coats (and, of course, accessories). We now import around 96 percent of our clothing.

What other nation can afford to dismantle its manufacturing base and export high-paying middle-class jobs overseas to lesser, cheaper foreign labor markets and then buy back the goods those poorer people provide us?

And energy? Why, we Americans have money to burn. We spend $15-20 billion each and every month to import fuel for our cars, trucks, office buildings and few remaining factories and plants. We can be heedless to the consequences, because as Vice President Dick Cheney suggests, conservation doesn't work well anyway. So why be bothered with such irritating constraints?

Because we're a superpower, we needn't concern ourselves with silly little annoyances like trade and budget deficits. Who cares? What greater proof of our superpower status can there be than 30 consecutive years of trade deficits, evaporating surpluses in services and agricultural goods and even technology.

Our trade deficit in manufacturing soared nearly 300 percent from 1997 to 2005, surging to $662.5 billion. Our business and government leaders soothingly remind us that we are a technology economy and needn't be distracted by developments like the reversal of what was a $35-billion surplus in high-tech goods to what is now a $44-billion deficit. It's great to be The Superpower.

What about all that money we're burning? Not to worry. Spend it if you got it. Well, we really don't have it, actually. We're borrowing more than $2 billion a day to send to those lesser souls who are uncomfortably situated in poorer nations that can only aspire to our superpower status.

As to our government's budget deficit, again, that's not a problem. Our federal government keeps two sets of books: one that shows our budget deficit shrank to $319 billion last year and the Treasury Department set that shows $760 billion. Now, we don't want anyone to get needlessly anxious here. It turns out that our national debts and commitments actually stand at an incredible $49 trillion. But let's just keep that little number amongst ourselves.

The federal government uses a quaint accounting system that would be illegal for any large enterprise in America, and there are those who believe our government should be more transparent, or perhaps honest, if you will. One of those with a very unpopular wet-blanket attitude is David Williams of the Citizens Against Government Waste. "If this happened in the private sector, we would call the government 'Enron,' " Williams says.

David, David, David...A little less negativity, please. David Williams is among that small, insignificant and clearly irrelevant group of eccentric rationalists who care about cause and effect, truth and consequence.

Rep. Jim Cooper, a Tennessee Democrat, is among them as well. In his new book, Cooper writes about things like the fact that our federal government last year paid out $38 billion to the wrong people and that $20 billion of taxpayer money simply disappeared from the government's treasury.

Negativists like Williams and Cooper get all a-gaggle over the fact that the GAO can't certify the books of the Pentagon, the Department of Homeland Security, the Energy Department and NASA. They're even upset that the federal government has failed its annual audit for nine years in a row. Talk about Nervous Nellies.

So what if the U.S. debt rating is heading for junk status by 2025, according to Standard & Poor's. That's a problem for nations that aren't superpowers, don't you think?

When it comes to international relations, our superpower status is even clearer. Though admittedly, it is a little embarrassing to watch how easily the United States imposes its will on the Middle East and brings aspiring superpowers like China to heel on issues like human rights and democracy.

Looking back, I'm grateful that we didn't celebrate our emergence as the World's Only Superpower those many years ago. In our current exalted state, it's clear we were wise not to do so.

Posted by mcblogger at 03:24 PM | Comments (8) | TrackBack

KBH must have Alzheimers

This is a picture of KBH and a total stranger. That's not Kay's husband but she thought he was when out to dinner one night at a DC restaurant. She wouldn't leave until she had a picture taken and kept going on about 'getting to the ball so she could talk to Nancy'.

Alzheimers is a devastating disease both for the afflicted and for their loved ones. After reading Somervell County Salon this morning, I can say with relative certainty (or at least with as much certainty as Republicans that there are WMD's in Iraq) that KBH is in the early stages of the disease.

Here's the set up. At a stump speech in Waxahachie KBH said

"We differ on the war on terror," Hutchison said. "I'll never say we shouldn't look at other options but we have to stabilize Iraq before we think about pulling out. We went in to make sure there were no weapons of mass destruction and there's still no proof that there wasn't.

I know, I know... you just want to reach out, while shaking your head and saying "Bless her heart".

Kay, every inspection has failed to find WMDs (our own, UN and foreign inspections). We know no WMDs were there and that the evidence y'all trotted out was all fake. So what will it take to prove it? Nothing more than what has already been done.

The burden of proof is on you. Until we see it, we'll just go with the hard evidence that actually exists.

Kay, sometimes an empty desert is just that, an empty desert. Your head's just a little too screwed up to realize it, dear. It breaks my heart to say this, but I think it may be time for a home. Before she hurts herself... or others.

(ed. note - One of my Grandmother's died from Alzheimers and I have nothing but sympathy for the Hutchison family as she clearly begins the long decline. My advice is to put her into a care facility. Seriously, it really is the best way. Walnut Place in Dallas is quite nice and I think she'd be very happy there. After a while she'll stop trying to leave that floor.)

Posted by mcblogger at 01:34 PM | Comments (3) | TrackBack

Deputy British PM : "Bush is Crap"

from The Indepent

John Prescott has given vent to his private feelings about the Bush presidency, summing up George Bush's administration in a single word: crap.

The Deputy Prime Minister's condemnation of President Bush and his approach to the Middle East could cause a diplomatic row but it will please Labour MPs who are furious about Tony Blair's backing of the United States over the bombing of Lebanon.

Full text in the supersize

Bush is crap, says Prescott
Deputy PM criticises US handling of Middle East, condemning 'cowboy' President at private meeting
By Colin Brown, Deputy Political Editor
Published: 17 August 2006

John Prescott has given vent to his private feelings about the Bush presidency, summing up George Bush's administration in a single word: crap.

The Deputy Prime Minister's condemnation of President Bush and his approach to the Middle East could cause a diplomatic row but it will please Labour MPs who are furious about Tony Blair's backing of the United States over the bombing of Lebanon.

The remark is said to have been made at a private meeting in Mr Prescott's Whitehall office on Tuesday with Muslim MPs and other Labour MPs with constituencies representing large Muslim communities. Muslim MPs wanted to press home their objections to British foreign policy and discuss ways of improving relations with the Muslim communities.

Some of the MPs present said yesterday they could not remember Mr Prescott making the remark. He has been at pains to avoid breaking ranks with Mr Blair in public although he is believed to have raised concern about the bombing of Lebanon at a private meeting of the Cabinet. But Harry Cohen, the MP whose constituency includes Walthamstow, scene of some of the police raids in the alleged "terror plot" investigation, said Mr Prescott had definitely used the word "crap" about the Bush administration.

"He was talking in the context of the 'road map' in the Middle East. He said he only gave support to the war on Iraq because they were promised the road map. But he said the Bush administration had been crap on that. We all laughed and he said to an official, 'Don't minute that'." Mr Cohen added: "We also had a laugh when he said old Bush is just a cowboy with his Stetson on. But then he said, 'I can hardly talk about that can I?'

Last night, an official from the Deputy Prime Minister's office said: " These discussions are intended to be private and remain within the four walls. They are private so that there may be frank discussions."

And today Mr Prescott issued a statement in which he said: "This is an inaccurate report of a private conversation and it is not my view. "

Told that others at the meeting could not recall the words, Mr Cohen said: " He did. I stand by that."

Many Labour MPs have been infuriated by the spectacle of Mr Bush and Mr Blair jointly supporting the Israeli action. The Labour MPs went to see Mr Prescott to lodge their criticism of the Government's foreign policy and some said last night that they would be delighted if he did break ranks over the Bush administration following the outcry at the bombing of the Lebanon.

In the private discussions with Mr Prescott, the Labour MPs representing large Muslim communities pulled no punches in their criticism of Mr Blair for giving his backing to Mr Bush. Another of those who was contacted about the conversations did not deny Mr Prescott's words, but laughed and said: " I can't discuss that." When asked whether he had heard Mr Prescott use the "C-word", he said: "I don't remember that."

The Deputy Prime Minister is said to have made it clear he strongly backed the efforts by Mr Blair to persuade the Bush administration to revive the road map for Palestine and Israel. Mr Blair has given a commitment that he will give the peace process his priority when he returns from his holiday in the Caribbean.

"There was a very robust exchange of views," said the MP. " We had a row about community relations. The Deputy Prime Minister was told in no uncertain terms that the Government was relying too much on the elders in the Muslim community who didn't have the credibility that was needed."

Muslim Labour MPs also told Mr Prescott that they needed to retain their own credibility in their communities, which was one of the reasons why they had signed a controversial letter calling for a change in British foreign policy. They said it was not helpful for the Government to have attacked their letter.

Mr Prescott has been accused in the past of making his feelings known about the Republican administration in the White House. He became friendly with Al Gore, the unsuccessful Democrat presidential candidate in 2000, during the negotiations on the Kyoto treaty and allegedly told Mr Gore after his defeat that he was sorry he lost the race to Mr Bush.

Mr Prescott is also known to have used the word "crap" in relation to political events before. Earlier this month, he angrily rejected claims that he could resign over the row about his links to the bid by the tycoon Philip Anschutz for a super-casino at the Millennium Dome as "a load of crap".

Mr Prescott was left in charge by Mr Blair when the Prime Minister went on his delayed holiday but has largely taken a back seat while John Reid, the Home Secretary, has led for the Government on security and the alleged terror plot to blow up planes across the Atlantic.

Behind the scenes, Mr Prescott had to contend with growing backbench demands for Parliament to be recalled to debate the crisis in the Middle East. It remains an option, in spite of the ceasefire in the Lebanon. Campaigners claimed they had the signatures of more than 150 MPs from all parties for a recall. Significantly, they included Ann Keen, the parliamentary private secretary to Gordon Brown, the Chancellor, who is on paternity leave following the birth of his second child. Jim Sheridan, the Labour MP for Paisley and Renfrewshire North, resigned as the parliamentary private secretary to the defence ministers over the bombing of Lebanon.

Mr Prescott has been keen to show Labour MPs that he is prepared to listen to their grievances but has insisted on party discipline to avoid splits. He will be furious at his alleged remarks being repeated, but the signs of dissent within the Cabinet are becoming greater.

Straight-talker's way with words

* Posing with a crab in a jar at the Millennium Dome, while Peter Mandelson was standing for election to Labour's ruling national executive committee, he said to cameramen: "You know what his name is? He's called Peter. Do you think you will get on the executive, Peter?"

* When asked why a car was transporting him and his wife 200 yards to the Labour Party Conference in 1999:

"Because of the security reasons for one thing and second, my wife doesn't like to have her hair blown about. Have you got another silly question?"

* On the Millennium Dome: "If we can't make this work, we're not much of a government."

* "The green belt is a Labour achievement, and we mean to build on it." (Radio interview, January 1998)

* On the Tories at the 1996 Labour conference: "They are up to their necks in sleaze. The best slogan for their conference next week is " Life's better under the Tories" - sounds like one of Steven Norris's chat-up lines."

* When asked by a journalist about Peter Law's decision to quit the Labour Party after 35 years: "Why are you asking me about this? I don't care, it's a Welsh situation, I'm a national politician."

John Prescott has given vent to his private feelings about the Bush presidency, summing up George Bush's administration in a single word: crap.

The Deputy Prime Minister's condemnation of President Bush and his approach to the Middle East could cause a diplomatic row but it will please Labour MPs who are furious about Tony Blair's backing of the United States over the bombing of Lebanon.

The remark is said to have been made at a private meeting in Mr Prescott's Whitehall office on Tuesday with Muslim MPs and other Labour MPs with constituencies representing large Muslim communities. Muslim MPs wanted to press home their objections to British foreign policy and discuss ways of improving relations with the Muslim communities.

Some of the MPs present said yesterday they could not remember Mr Prescott making the remark. He has been at pains to avoid breaking ranks with Mr Blair in public although he is believed to have raised concern about the bombing of Lebanon at a private meeting of the Cabinet. But Harry Cohen, the MP whose constituency includes Walthamstow, scene of some of the police raids in the alleged "terror plot" investigation, said Mr Prescott had definitely used the word "crap" about the Bush administration.

"He was talking in the context of the 'road map' in the Middle East. He said he only gave support to the war on Iraq because they were promised the road map. But he said the Bush administration had been crap on that. We all laughed and he said to an official, 'Don't minute that'." Mr Cohen added: "We also had a laugh when he said old Bush is just a cowboy with his Stetson on. But then he said, 'I can hardly talk about that can I?'

Last night, an official from the Deputy Prime Minister's office said: " These discussions are intended to be private and remain within the four walls. They are private so that there may be frank discussions."

And today Mr Prescott issued a statement in which he said: "This is an inaccurate report of a private conversation and it is not my view. "

Told that others at the meeting could not recall the words, Mr Cohen said: " He did. I stand by that."

Many Labour MPs have been infuriated by the spectacle of Mr Bush and Mr Blair jointly supporting the Israeli action. The Labour MPs went to see Mr Prescott to lodge their criticism of the Government's foreign policy and some said last night that they would be delighted if he did break ranks over the Bush administration following the outcry at the bombing of the Lebanon.

In the private discussions with Mr Prescott, the Labour MPs representing large Muslim communities pulled no punches in their criticism of Mr Blair for giving his backing to Mr Bush. Another of those who was contacted about the conversations did not deny Mr Prescott's words, but laughed and said: " I can't discuss that." When asked whether he had heard Mr Prescott use the "C-word", he said: "I don't remember that."

The Deputy Prime Minister is said to have made it clear he strongly backed the efforts by Mr Blair to persuade the Bush administration to revive the road map for Palestine and Israel. Mr Blair has given a commitment that he will give the peace process his priority when he returns from his holiday in the Caribbean.

"There was a very robust exchange of views," said the MP. " We had a row about community relations. The Deputy Prime Minister was told in no uncertain terms that the Government was relying too much on the elders in the Muslim community who didn't have the credibility that was needed."

Muslim Labour MPs also told Mr Prescott that they needed to retain their own credibility in their communities, which was one of the reasons why they had signed a controversial letter calling for a change in British foreign policy. They said it was not helpful for the Government to have attacked their letter.

Mr Prescott has been accused in the past of making his feelings known about the Republican administration in the White House. He became friendly with Al Gore, the unsuccessful Democrat presidential candidate in 2000, during the negotiations on the Kyoto treaty and allegedly told Mr Gore after his defeat that he was sorry he lost the race to Mr Bush.

Mr Prescott is also known to have used the word "crap" in relation to political events before. Earlier this month, he angrily rejected claims that he could resign over the row about his links to the bid by the tycoon Philip Anschutz for a super-casino at the Millennium Dome as "a load of crap".

Mr Prescott was left in charge by Mr Blair when the Prime Minister went on his delayed holiday but has largely taken a back seat while John Reid, the Home Secretary, has led for the Government on security and the alleged terror plot to blow up planes across the Atlantic.

Behind the scenes, Mr Prescott had to contend with growing backbench demands for Parliament to be recalled to debate the crisis in the Middle East. It remains an option, in spite of the ceasefire in the Lebanon. Campaigners claimed they had the signatures of more than 150 MPs from all parties for a recall. Significantly, they included Ann Keen, the parliamentary private secretary to Gordon Brown, the Chancellor, who is on paternity leave following the birth of his second child. Jim Sheridan, the Labour MP for Paisley and Renfrewshire North, resigned as the parliamentary private secretary to the defence ministers over the bombing of Lebanon.

Mr Prescott has been keen to show Labour MPs that he is prepared to listen to their grievances but has insisted on party discipline to avoid splits. He will be furious at his alleged remarks being repeated, but the signs of dissent within the Cabinet are becoming greater.

Straight-talker's way with words

* Posing with a crab in a jar at the Millennium Dome, while Peter Mandelson was standing for election to Labour's ruling national executive committee, he said to cameramen: "You know what his name is? He's called Peter. Do you think you will get on the executive, Peter?"

* When asked why a car was transporting him and his wife 200 yards to the Labour Party Conference in 1999:

"Because of the security reasons for one thing and second, my wife doesn't like to have her hair blown about. Have you got another silly question?"

* On the Millennium Dome: "If we can't make this work, we're not much of a government."

* "The green belt is a Labour achievement, and we mean to build on it." (Radio interview, January 1998)

* On the Tories at the 1996 Labour conference: "They are up to their necks in sleaze. The best slogan for their conference next week is " Life's better under the Tories" - sounds like one of Steven Norris's chat-up lines."

* When asked by a journalist about Peter Law's decision to quit the Labour Party after 35 years: "Why are you asking me about this? I don't care, it's a Welsh situation, I'm a national politician."


Posted by mcblogger at 01:08 PM | Comments (0) | TrackBack

Bush talks about his economic failure

Bush is giving a press conference right now from Camp David where he is on holiday (AGAIN) with his economic team which is amusing as hell. The only thing they're good at is taking vacations. Here are the highlights:

Foundation of economy is strong - This has to be the funniest of the funny. Because of irresponsible spending, tax cuts and policy, the foundation has been eroded dramatically. Reid should get out there now to talk about it.
Credit tax cuts and economic expansion for the 'strong foundation' - Whatev. One more time, say it with me, TAX CUTS, UNLESS TAXES ARE SUPER HIGH AND GOVERNMENT ISN'T SPENDING, DO NOT CREATE ECONOMIC GROWTH. Laffer should STFU because retarded people like President Bush keep believing him.
What's driven the economy has, to a large extent, been low interest rates, cheap energy and consumers willing to spend. That is now going away and with no wage growth, there isn't a thing to support it. This is the real difference between R's and D's... R's want a big business top-down economy. D's want a bottom-up, consumer driven economy that really maximizes capitalism's ability to spread the wealth completely to society. The last time we went with the R model, we ended it with the Great Depression. You wanna do that again?
Benefits to labor - 5.5 million new jobs - Economic growth helps American workers Not so much...and I haven't even mentioned negative wage growth. He did mention Nelson Gonzales, one of the founders of AlienWare (click the link... seriously)
Federal tax revenues up dramatically (still not equivalent to 2001 levels... your cuts didn't pay for themselves). Drops Congress in the grease on spending. Wants line item veto (It's a fucking laundry list for the expansion of executive power)
We (his stilted economic team) discussed ways to improve education - Did someone finally tell him NCLB is an underfunded failure? I feel so sorry for Paulson. He's the only competent person within the Administration. I can't imagine being surrounded by fools is fun.
We talked about the need of the Admin to work with Congress to restrain Social Security... I can't wait till all those sanctimonious boomers who voted for Bush get screwed! ROCK!
Will continue to invest in new energy technologies... like hydrogen.

Now taking questions and they all seem to be focused on Lebanon, Hezbollah, Israel, Bob and Carol.

NSA wiretap decision - "I would say that those who herald the decision simply do not understand the world in which they live" That's like shit telling vomit it stinks. Mr. Bush has made clear time and time again that HE doesn't understand the world (anyone remember WMD's? That Iraq 'IS just a bunch of homogenous 'A-RABS'?'). This is his QAD way of saying those who want the program to go away are just helping the terrorists. Considering the Brit's can arrest and investigate suspects without these powers, I have to laugh.

"If al Quada is calling in to America, I want to know why." I guess it never occured to the President Retardo that they MIGHT be dialing at random to get the NSA, FBI and CIA to waste time tracking down non-existent leads. This is intelligence by laziness.

And with the best quote of the day...

Reporter: "The Administration doesn't think it's getting the credit it deserves" Gee, 63% of the country dissaproves of Bush's handling of the economy. Sounds like they are EXACTLY getting the credit they deserve.

Posted by mcblogger at 11:24 AM | Comments (0) | TrackBack

Blacks can't swim?

Who knew... well, I mean other than this dipshit Florida Republican. Who just happens to be running in Katherine Harris' district (how's THAT for foreshadowing




Is there something in the water there or is stupid just congenital defect in Republicans?

(hat tip to the RedState)

Posted by mcblogger at 02:46 AM | Comments (1) | TrackBack

Today is the motherfuckin' day

That's right, bitch. Check out showtimes here.

Posted by mcblogger at 01:33 AM | Comments (0) | TrackBack

August 17, 2006

Say hi to the buttertroll


Can you believe that there are actually people who've invited this assclown to town this Saturday?

Of course, this being Austin, he can expect a warm welcome...

Citizen's Arrest of Karl Rove!
Saturday, August 19th @ 5:30PM
Meet up with Cindy Sheehan, CODEPINK Austin, and National CODEPINK to make a citizen's arrest of Rove for his numerous crimes.

Bring signs, banners, and any thing else to let Rove and his supporters know that there is a new branch of law enforcement in town and we plan to hold them accountable.

We will gather outside the parking garage of the Renaissance Hotel. If you are facing the main entrance of the hotel, the garage is on your right.

Posted by mayor mcsleaze at 10:39 PM | Comments (4) | TrackBack

Help these folks out!

Do I really need to say more? Through some money at Hank, Juan and Shane!

Posted by mcblogger at 02:35 PM | Comments (0) | TrackBack

The best mobile laser platform money can buy

I want one of these. I want to have it on top of my car for those pesky slow drivers.

What is it it?

THE MOBILE TACTICAL HIGH ENERGY LASER.

Here's how it works...

The target destruction is achieved by projecting a highly focused, high-power laser beam, delivered by a chemical laser, with enough energy to affect the target, and explode it in midair

I see no reason why this shouldn't work on the asshole driving too slow in front of me in the far left lane. With a W04 sticker on the back of their car.

The video is long and rather choppy but the scenes of a missile being blown up are decent. Kinda makes you wonder why Bush is on about Patriot missile systems.

Posted by mcblogger at 02:33 PM | Comments (0) | TrackBack

TNR loves them some Ann Coulter and not so much with the wiretaps

Check out this diary at Daily Kos to see how much. It's rather lame, actually... the fact that that TNR likes Coulter, not the diary.

Again, don't get mad when Coulter launches into her tired schtick. It's just her way of getting noticed since she's too emaciated land a date without it. As for TNR... come on, it's just LAME

US Federal Judge tells the NSA enough with the wiretaps. BOR and PinkDome both have posts up about it and links to MSM articles. I'm not posting more because until the SC rules, this is all much ado about nothing.

Posted by mcblogger at 12:45 PM | Comments (0) | TrackBack

Suze Orman is a goddamn idiot

Every morning without fail I have to see this woman. She redefines master of the obvious. She's Suze Orman, the empress of things you should already know about finances. I'm all the time forced to see her on CNBC when they cut to 'Suze Says' just before commercial breaks in the morning.

Things that Suze will teach you:

Don't let others borrow your car. You're liable for anything they might do
Balance your checkbook
Put some money away for retirement
Shop around for a mortgage
Don't run up credit card balances that exceed three times your annual salary
If you work retail at Wal Mart you shouldn't shop at Neiman's
Don't get sick
Don't have kids... they suck the money out of you

I could go on and on if no one were to stop me... oh, wait! There isn't (much like Suze...)

Don't eat out a whole bunch
Buying a Mercedes when you work at Burger King=Super bad idea
You need a tan
Don't buy rental property if you can't afford it

See what I'm talking about here? This moron has made a career and fleeced millions by dispensing common sense financial advice that any high school (or jr. high) life skills class should have taught you earlier in life.

If you'd been paying attention (don't worry, I wasn't either).

So, if you're a complete dumbass, check out Suze on amazon and buy some of her crap. Note I'm not providing a link... if you're too stupid to google it yourself (and there is a search window for google ON THIS PAGE) then you're hopeless. Even the banal financial advice Suze can mete out will be useless to you.

Posted by mcblogger at 11:55 AM | Comments (0) | TrackBack

Wal Mart takes a dump on Democrats

(shout out to jobsanger for the heads up)

Wal Mart, the mega retailer from hell, has decided to target Democrats by issuing a 'voter guide' to it's 18,000 Iowa employees. Wake Up Wal Mart had this to say

"We welcome Wal-Mart's attempts to try and defend itself with its employees, political leaders and the American people," the group's statement said. "The debate over Wal-Mart is of critical importance to the future of our country. Sadly, not one single employee or any citizen will ever hear the truth from Wal-Mart about the negative impact it has on its workers or working families because Wal-Mart does everything it can to hide its real record."

Wonder who will do this next...

Posted by mcblogger at 01:51 AM | Comments (1) | TrackBack

August 16, 2006

Live and in person... Judges!

Tonight at Mother Egan's here in Austin it's the KAB meetup! It's all about the Judicial candidates tonight... here's the break down

Keep Austin Blue Social Hour (3rd Wednesday of the Month) Wednesday, August 16, 2006
The decisions made by our courts affect us every day, but few people know very much about the judges' races on the ballot. This month we're doing our best to change this by featuring judicial candidates from Travis County:
Jim Coronado Candidate for Justice, 3rd Court of Appeals, Place 2
Diane Henson Candidate for Justice, 3rd Court of Appeals, Place 3
Mina Brees Candidate for Justice, 3rd Court of Appeals, Place 5 (representative)
Bree Buchanon Candidate for Justice, 3rd Court of Appeals, Place 6
Charlie Baird Candidate for Judge, 299th District Court
Orlinda Naranjo Candidate for Judge, 419th District Court
Susan Steeg Candidate for Justice of the Peace, Precinct 3
TIME: 6:30 – 8:00 p.m. PLACE: Mother Egan's Irish Pub (715 W. 6th St) CONTACT: info@keepaustinblue.org
Join us at Mother Egan's Irish Pub, 715 West 6th Street. As always we gather to socialize around 6:30 and start our speakers around 7:15. We had a great Meetup in July and we're looking forward to an even better one this month!

This would be a good time to meet the folks who help make the laws passed by our idiot Lege a little easier to live with here in Texas. Come say thanks for stepping up and running!

Posted by mcblogger at 03:29 PM | Comments (0) | TrackBack

Newest Republican trend? Midwifing...

Rather than pay the high cost of health care (caused by his Party's policies), Rep. Jindal decided to take up a new hobby, midwifing. In fact, his first test subject was his wife.







"We certainly didn't expect this," the Louisiana Republican said later Tuesday. " I certainly don't remember the first two being this gross when they came out. I think it was the

Bennigan's

she (his wife, Supriya) had last night."

I'm sure there's more funny in here but I just can't think of it.

Maybe something about dry cleaning the sheets?

Posted by mcblogger at 01:26 PM | Comments (0) | TrackBack

Clinton demands male circumcision

Cinton, at the International AIDS Conference in Toronto took Bush and others to task for not doing enough to combat transmission of AIDS, let alone the disease itself.

Former U.S. president Bill Clinton waded into political controversy yesterday, telling a Toronto audience that politicians and policy makers know how to combat HIV-AIDS, they just need to overcome their squeamishness and self-righteousness and act.




Clinton also took the time to make some transmission reducing recommendations.




In an hour-long address, Mr. Clinton called on public-health officials to act on evidence that male circumcision can dramatically reduce the risk of transmission of HIV-AIDS, blasted the U.S. administration for its support of abstinence-only education programs that are doomed to failure, backed needle-exchange programs, called for routine testing in hard-hit regions, lashed out at pharmaceutical companies over the high cost of AIDS drugs for children and demanded that politicians who pilfer AIDS dollars for personal gain be jailed.

Clinton then announced he was converting to Judaism and would take up, as a profession, his long time avocation of mohel.

Posted by mcblogger at 12:14 PM | Comments (0) | TrackBack

The real immigration debate...

While a few have been distracted by the DSCC ad, Congressman Mikey McCaul (R-ClearChannel Communications) is going to be in Houston scapegoating illegals and making the entire border sound like it's as violent as the OK Corral. During the shootout with the Clantons.

Not to mention the standard R talking point that Anna was lucky enough to hear recently at a town hall with Smokey Joe Barton that 'them damn messicans are driving up health care costs'. Luckily, there will actually be a panelist who can poke holes in that:

Another panelist, Dr. Lovell Jones, said immigrants are not to blame for today's health care crisis. He said the bulk of the nation's uninsured are Anglo. He blames the small-business owners who do not provide their employees with insurance.

(thanks to PinkLady)

Posted by mcblogger at 11:33 AM | Comments (0) | TrackBack

Three assholes cause diversion of flight... to Boston

Oh, I would be sooo pissed. CNBC and CNN are both reporting that a United Airlines flight from London to Dulles was diverted because three passangers 'acted up'. Either this is an overbitchy flight crew (and seriously, some of y'all need to calm the fuck down and bring me my cocktail) or a couple of drunk business class dicks.

Whatever ends up being the problem, I would be hella pissed if I was planning to land in Washington and ended up having to go to Boston. If you, dear reader, did that to me I would probably hit you. Hard.

Posted by mcblogger at 09:49 AM | Comments (0) | TrackBack

August 15, 2006

I'm fucking pissed...

What the fuck is wrong with y'all? Over the last several days I've heard complaints from people in damn near every ethnic, gender, sexuality and interest group about how the Democratic Party doesn't recognize them and how they may just stay at home in November.

Seriously, whatever your problem happens to be I'm going to give you some great advice: QUIT COMPLAINING AND GET TO WORK BECAUSE WHAT NONE OF YOU SEEM TO REALIZE IS, IF WE DON'T WIN THEN YOU HAVE EVEN LESS POWER. How much do you think an R Congressman is going to care about your problem? How much do you think a Democrat who is depending on you for re-election is going to care? Get it now? Think things are bad now? Just make sure R's continue control of Congress... then you'll see just how bad things can get. Do you have grandparents who remember the Depression? Ask them for how they got through it because you're going to need it.

If the Democratic Party is nothing more than a bunch of different groups all fighting with one another for power then we really are lost. As long as we refuse to join together and take positive action, we're going to keep losing. Everyone can not always get everything they want 100% of the time. Compromise must start from within.

Oh, and for those of you who want to take ME to task (because I obviously don't understand your position) I'm a gay man and I still intend to vote straight ticket D in November EVEN AFTER JUST ABOUT EVERY DEMOCRAT IN THE LEGE VOTED TO AMEND THE CONSTITUTION TO DISCRIMINATE AGAINST ME.

At least YOU can get married.




Posted by mcblogger at 09:30 PM | Comments (13) | TrackBack

Cruella gets down with the young folks

This is an actual picture from Katherine Harris' actual website, showing her speaking to a Broward County Young Republican Club meeting ...

ummmm, aren't those Young Republicans a little, oh, what's the word... OLD?

Kind of makes you wonder what's on the Early Bird Special, doesn't it?

DEEEE-licious!

Posted by mayor mcsleaze at 09:25 PM

Something else Al Gore is better than Bush at...

Governing is the first thing that comes to mind. The second is making movies. Now we can add STARTING AND RUNNING A BUSINESS to the list of things Gore is better at than Bush.

As opposed to President Bush, whose business ventures were destined for Chapter 11, former Vice President Gore with Current TV is making his mark in a successful business venture.

Posted by mcblogger at 02:37 PM | Comments (0) | TrackBack

A TexRoot's FAQ and a request

Phillip over at BOR has a FAQ up about the TexRoot's that y'all will want to check out. No really, go read it. Now.

He also has some great information up about Shane Sklar who, along with Juan Garcia and Hank Gilbert, was in the first round of TexRoot endorsements.

We have some strong Democrats running this year and we all have to step up to the plate to help them out. To volunteer, just click their names and to contribute click here! They need all the help they can get so even if it's $10 it will make a difference!


Posted by mcblogger at 12:00 PM | Comments (0) | TrackBack

Lay off, Campos...

The DSCC has produced a web ad about R failures in securing America and the war on terror. Marc Campos, whose Daily Commentary I normally enjoy except when he goes on a jag about the Astrochokers (yeah, I wrote it), mentions it in his post today and rips into them for beating up on immigrants.

Please watch the ad here and tell me exactly where they place blame on illegal immigrants for terrorism? Seems to me the ad is pointing out the failures of Republicans to secure the borders not, as Marc is all upset about, beating up on immigrants.

Marc, there is nothing wrong with securing the border or working to improve the domestic economy in Mexico. Republicans have failed to do both. Hyerbole about the DSCC dissing Latino voters does nothing to add to the debate either within the Party or the country.

Seriously, if you want to go down that road let's talk about how many Latino voters dissed Democrats and voted for R's because of gay marriage.

Posted by mcblogger at 10:54 AM | Comments (0) | TrackBack

New skyscaper to tear drive thru bank apart

The Statesmonkey, last week when no one was paying attention, told of a new high rise condo project going up in downtown. Normally this would not make much of a difference to me as I don't live downtown and have no plans to move at the moment (no, I didn't win the lottery this weekend. Thanks for asking, dick). The one issue I have with construction downtown is that it eats parking lots. Like that butt ugly Carr America building (a hex on any business that leases space there!) that ate that fabulous space at 6th and District (if you don't get it then you're probably not yet 21).

But I digress. The real tragedy of his construction project is that it will destroy the amazing Franklin Plaza. Oh, it will leave the building intact but that faux park (if you don't look too closely while on Cesar Chavez or 2nd, it kinda looks like a park) which is really drive thru bank and a PARKING LOT will be eliminated. That, and the fact that this will be another non-descript glass box that looks as elegant as Leslie in the pink bikini. You know the one.

Bastards.

Can we have a new ordinance requiring an inordinately high amount of parking for all new projects? Say two stories of retail in a new building at ground level, then 30 levels of parking, then 1 level of condos. That's my idea.

Thoughts?

Posted by mcblogger at 10:14 AM | Comments (8) | TrackBack

Hank Gilbert but no Todd Staples

Houston Business Connection is running a survey of the candidates in the fall election. Check it out here and you'll discover one notable missing person... part time State Senator and full time buttplug Todd Staples. Todd doesn't even care enough about the peeps in Houston to write something for this? What a dick.

Posted by mcblogger at 12:42 AM | Comments (0) | TrackBack

August 14, 2006

Bentzin (R-Douche) has decided to DeLay himself in HD 48

You had to see it coming... Ben Bentzin, Republican Douche, has decided to drop out of the election for State Rep in HD 48 citing a negative Democratic campaign which makes him the ultimate in whiny titty babies.

I've never understood why pointing out facts about funding are termed negative. Ben... you took money from Bob Perry and in Austin that's going to go as far with voters as admitting a relationship with an 11 year old boy. Don't blame Democrats for your own stupidity.

Posted by mcblogger at 12:12 PM | Comments (4) | TrackBack

New Blogs

Ruminations of a Texas Hippie - great place for good commentary and offbeat information (check out the cargo cult post).

I Hate Dallas - gotta know I have a special place in my heart for anyone who dislikes Dallas.

Is it naptime yet?

Posted by mcblogger at 12:04 PM | Comments (0) | TrackBack

Here it comes again... Now it's Iran that was buying African uranium...

From Arms Control Wonk (via ELLN), comes this bit of lovely... The Administration is retreading the story about African uranium. What's different this time? It's Congolese AND the Iranians were the buyers. It ran first in the Sunday Times but reading this post is like seeing a coming attraction before the movie... you just know it's going to show up in Parade in a another week or two.

I know the last time I tried to purchase uranium it was a HUGE pain in the ass. I had to have a photo ID and the little asshole conducting the sale was having none of my excuses about not having my license with me. I've been through it, I know it isn't easy to buy nuclear material on the black market.

It was oddly like trying to buy cigarettes at Walgreens.

So, rather than bother with MAKING a bomb I just bought a complete one. What? Y'all didn't know I had a nuke? It's a Chinese knockoff of a W88 warhead. They are so good at copying things...




Posted by mcblogger at 10:08 AM | Comments (0) | TrackBack

August 13, 2006

Six lessons from the airplane bomb scare

Great article up at AlterNet on the appropriate lessons from Thursday's arrests. I doubt Lieberman or the White House will learn them, but it's worth throwing them up in the superize. Here's snapshot

Fifth, the plot again reveals how ill-equipped the U.S. Government has been in anticipating plausible attack scenarios and taking steps to prevent them. Liquid bombs were so hard to figure out? Al Qaeda already tried it. DHS has almost completely missed the threat, just as they are missing the vulnerability of cargo holds and God knows what else. Thomas Kean, the former GOP governor and co-chair of the 9/11 Commission, called this liquid bomb error "appalling" and wondered, on an NBC program four months ago, why no progress had been made. What are the tens of billions being spent on? This is Katrina II.

AlterNet
Six Lessons from the London Airline Bombing Plot
By John Tirman, AlterNet
Posted on August 12, 2006, Printed on August 13, 2006
http://www.alternet.org/story/40221/

What we now know about the London-based plot to destroy ten civilian airplanes points to six conclusions.

First, what stopped this plot was law enforcement. Law enforcement. Not a military invasion of Pakistan, Iran, Lebanon, Egypt, or Iraq. Old-fashioned surveillance, development of human sources, putting pieces together, and cooperation with foreign police and intelligence services.

Second, the conspiracy — if it resembles the London bombings of last summer — will likely be home-grown, another of the growing jihad "fashion" in Europe that comprises the new street gangs of this world. It is not a religious movement, it is not fundamentalism. These are thin veneers. It is at root sheer violence undertaken by young men resentful of many things (not least the wars in Iraq and Afghanistan and Lebanon) and ready to kill in return. Under different cirucmstances, it could be Tamils or Red Brigades or Michigan Militiamen, and has been.

Third, if al Qaeda was involved (allegedly from Pakistan), we can thank the failure of the war in Afghanistan and the cozying up to Musharraf to destroy them.

Fourth, there was no involvement by any American-based "cells," according the FBI Director Robert Mueller. As many of us have been saying for nearly five years, and as the 9/11 Commission Report showed, there is virtually no plausible American jihad organization at work, and never has been.

Fifth, the plot again reveals how ill-equipped the U.S. Government has been in anticipating plausible attack scenarios and taking steps to prevent them. Liquid bombs were so hard to figure out? Al Qaeda already tried it. DHS has almost completely missed the threat, just as they are missing the vulnerability of cargo holds and God knows what else. Thomas Kean, the former GOP governor and co-chair of the 9/11 Commission, called this liquid bomb error "appalling" and wondered, on an NBC program four months ago, why no progress had been made. What are the tens of billions being spent on? This is Katrina II.

Sixth, and most important, we must end our involvement in Iraq and sharply refocus our presence in the region. The war president's approach is not working. It's a diversion from the real threat. It's a spur to bitter revenge. It's a big feedback loop that will endanger us for years, if not decades. Our lives are now at stake because the Bush catastrophe has created thousands of new terrorists.

Naturally, the politically expedient are trying to gain an edge. Defeated Senator Joseph Lieberman immediately attacked his victorious primary challenger Ned Lamont, saying that Lamont's leave Iraq policy is somehow connected to this. It's the opposite — the war distracts and inflames. We will see the crowing from the Bushies now, when in fact they were again asleep at the wheel, only this time the Brits saved the day. The war v. law enforcement contrast — remember how John Kerry was ridiculed by Cheney for uggesting that aggressive police work and human intelligence were anti-terror linchpins? — is now buried by conflating the "war against terror" in Iraq with this Scotland Yard and MI5 success.

Reversing America's colossally destructive series of interventions in the Middle East — a cause, a trigger, a recruitment fountain, and a charity for jihad — will require an entirely different mindset, not just an adjustment or a measured retreat. When America responded, after being prodded, to the tsunami victims in Indonesia early last year, it profoundly changed Indonesians' views of the United States. New attitudes of support and cooperation suddenly sprang forth. This "natural experiment" should be examined to learn from, possibly to emulate, in the Persian Gulf and elsewhere.

We're now viewed as destroyers, and destruction is the retort. This is the "new Middle East" that is aborning — one of relentless violence — if we do not end our own relentless violence there. The would-be bombers in London are a reminder of how close it is.

John Tirman is Executive Director of MIT's Center for International Studies. His most recent book is 100 Ways America Is Screwing Up the World (Harper Perennial, 2006).
© 2006 Independent Media Institute. All rights reserved.
View this story online at: http://www.alternet.org/story/40221/

Posted by mcblogger at 05:35 PM | Comments (0) | TrackBack

The most important thing you will read today

Is probably not this story.

North Platte man tells police the CIA will repay the money he stole from Subway; arrested anyway

Joshua Shores told the police that his job making sandwiches was a ruse – that he actually was an undercover agent for the Central Intelligence Agency.

Shores said that he didn't have his badge. He had told other friends that he had lost it and was working menial jobs until the CIA could replace it.

In an apparent effort to toss around big names, Shores revealed that he was actually the son of President George Bush.

The story Shores told didn't do him any good. He was arrested and jailed.




Posted by mayor mcsleaze at 04:23 PM | Comments (0) | TrackBack

Sister Ruth's Hit Parade

I like this one. Catchy lyrics, even though it's hard to dance to.

Posted by sister ruth at 11:25 AM | Comments (0) | TrackBack

August 12, 2006

Perry v. Strayhorn v. Kinky (or, Stop the world, I want to get off)

Seriously, this is getting retarded. Drool coming down the chin, mouth breathing retarded. To what in this ridiculous race am I referring? Why accusations of ethics abuses (and now Kinky'sDicky's nasty, smelly ass has dropped into the debate, as if anyone really gives a good goddamn what the drug addled fuckwit has to say) of course!

Perry has accused Strayhorn of abusing her office which is (as the category in which this is posted implies) analgous to shit telling vomit it smells. Anyone remember when Perry just had to travel to Fort Worth because he had to sign that anti-gay marriage amendment? Well, he neither had to go out of town nor sign it. The entire trip was a... wait for it... fucking campaign stop. OSB made a stop in Hempstead last year and used the opportunity to kick Perry in the gut (I would say balls but at that time they were still in CradDICK's desk) and campaign a bit and it was all captured by people who have the lame task of following her around, not to mention that they must really feel like losers since they have to work for a buttplug like Perry. Come on, can you think of any other job that would devastate your self esteem more? Even cleaning toilets at a truck stop would have more job satisfaction... can you imagine what Robert Black has to do every day just to get out of bed? I would assume it involves a massive dose of lithium.

Did I go off subject?

Dicky has now jumped in to the mix by filing a complaint with the Travis County DA's office. Just what we needed... another opportunist politician jumping on an issue that is too stupid to even address. Now, I'm having to post about it which makes me want to punch Dicky in the head. Hard. Again, I renew my plea... DICK, PLEASE DRINK YOURSELF TO DEATH. SOONER RATHER THAN LATER!

You know, I like none of these people (which is not to say I'm all in love with Bell either. If he wins in November it will be in spite of himself. Still, he actually has a heart AND and IQ in the triple digits, two things the other three don't possess). I think the best way to make Texans truly happy would be to put Dick, Perry and OSB in a box. Then drop that box into the deepest part of the Gulf. At least then they couldn't fuck up the state anymore than they already have.

Posted by mcblogger at 03:31 PM | Comments (17) | TrackBack

August 11, 2006

FIVE bucks for a yard sign?

Holy fuck! Are the goddamn things made of gasoline?

Hello Austin Area Democrats!

I am very happy to announce that the Austin Headquarters currently has yard signs! We are asking for a $5 contribution to help off-set the production cost. So, pool your money for your area or drop by yourself, we would love to see signs all across Austin supporting our gubernatorial candidate. I am suspecting that these will go fast, so act now! But, do not worry, soon all of Texas will be able to go on-line to get yards signs, which will be shipped to you. If you could be so kind as to pass this information along to your friends, it would be greatly appreciated. Please feel free to call or e-mail me with any questions.

Austin Headquarters Location
2520 Longview St., Suite 410
Austin, TX 78705
Sarah Hudson
Deputy Finance Director
Chris Bell for Governor
e-mail: sarah@chrisbell.com

Posted by mayor mcsleaze at 04:31 PM | Comments (7) | TrackBack

The final word from Harry

Just now, as I was sitting here finishing my very important work (read:cocktail), I received the following email from Team McBlogger's resident attorney, Harry Balczak:

I want to let you all know that a particular news item from the last day or two has led me to an epiphany about how I can make a more meaningful contribution to the good of society. It's been great being your friend and going to conventions together and the like, but where I'm going, I can't take you all with me. Goodbye to all of you. It's been fun.

So if some day off in the future you think you see me walking along the streets of Austin, understand that it's not me....It's Fred Astaire, Republican candidate for ....whatever the most important statewide race is that year. I would leave you all with a forwarding address, but what the fuck? anything of value you might send to me i'll just mail back anyway.

Perennially and insincerely yours,
Fred

I know you'll join with all of us here at McBlogger in wishing Harry Mr. Astaire the best.

Posted by mcblogger at 04:23 PM | Comments (1) | TrackBack

Journalism 201: Beyond who, what, when, where, why and how

Well do I remember the day that Professor Anderson introduced us to the catagory of feature writing called the "suck piece". Like obscenity, it's one of those things that's hard to define but easy to recognise, like this DMN love letter to Karen Hughes:

There is little modest, though, about Ms. Hughes' agenda, or the way she approaches it.

An energetic, enthusiastic advocate for the Bush administration, she can fill a room with just her hearty laugh. And her long tenure in the Bush inner circle enhances her stature as she travels the world.

She is consumed by her job, she said, so much so that she says some of her staff has come to call her "the idea factory."

Her latest idea, she said, is overseas summer camps to teach English.

"The English language is something that we have to offer the world that the world wants," she explained. "Young people around the world realize that English gives them the opportunity for a better life. And parents want that for their children."

Who knows, if we get all them furriners speakin' English, maybe some of ir will rub off on the numbnuts in the White House.

Posted by mayor mcsleaze at 12:53 PM | Comments (0) | TrackBack

Senfronia for Speaker!

Rawhide at PinkDome has a post up about Senfronia Thompson (or, the lady EVERYONE wishes was their State Rep... sorry, TC delegation. We love you but Senfronia is, well, Senfronia!) making her bid for the Speaker's dias. Check out her very good website here.

Posted by mcblogger at 12:45 PM | Comments (0) | TrackBack

Bush and Rove want a war. Let's give it to them!

As both Bush's minister of propoganda, Tony Snowjob and their newest ally, Jobenedict Arnoldman, have made it clear, the regime plans to use the endless threat of terrorism to smear Democrats as the midterm elections approach. Their cynical exploitation of the conveniently-timed liquid explosives on a plane scare should be no surpirse.

Democrats must answer these attacks by throwing the War on Terror right back at the GOP. Every day we need to shout:

FIVE YEARS LATER---WHERE'S OSAMA?

Less than five years after Pearl Harbor brought the United States into World War Two, our enemies' armies were destroyed, their cities in ashes, their criminal leaders either dead or in prison.

FIVE YEARS LATER---WHERE'S OSAMA?

Bush's War on Terror has been nothing but an embarrassing failure. Afghanistan still has yet to climb out the pit of anarchy; Al Quaeda is once again active in the Horn of Africa, and we're supposed to be scared that someone might bring lipstick or toothpaste in their carryon luggage.

FIVE YEARS LATER---WHERE'S OSAMA?

Even if half the people in this country still believe Bush's lies that Saddam had WMDs, sixty percent of us know want us out of Iraq. And every day the number of us turning against this fiasco, which has not made us safer but instead made the world a more dangerous place, grows.

FIVE YEARS LATER---WHERE'S OSAMA?

Take part in the uprising against Bush's Reign of Bullshit. If you go to see Oliver Stone's new movie World Trade Center, why not shout out at the end of it

FIVE YEARS LATER---WHERE'S OSAMA?

Posted by mayor mcsleaze at 12:01 PM | Comments (1) | TrackBack

Taliban resurgent : Didn't we kill these guys?

Reuters (via Aljazeera) is reporting that Taliban fighters and Afghan police clashed near Kandahar on Wednesday.

Correct me if I'm wrong, but didn't we 'free' Afghanistan from these assholes in 2001? Yeah, I thought so, too. So, just another case of the Bush Administration failing to do the job for which it was hired. Republicans are tough on terrorism? Like hell. They only thing they're tough on is our eyes

Posted by mcblogger at 01:02 AM | Comments (0) | TrackBack

August 10, 2006

Gilbert and Doggett NEED YOU and voter registration

Hank Gilbert, recently named the first TexRoots statewide candidate is looking for volunteers around the state. Help Hank fight for Texas and beat Todd Staples in November!
The Lloyd Doggett Re-Election Campaign is seeking volunteers and interns that can
assist Congressman Doggett and the campaign staff with a range of responsibilities. Join our team and show the Republicans how hard we Texas Democrats fight and persevere despite their partisan redistricting efforts.
Volunteers are needed to help with mailings, phone banks, canvassing, office/computer needs, and other necessary tasks.
Interns would work directly with all levels of campaign staff on important tasks and would receive invaluable experience on a US Congressional race. As an intern, you would need to be able to commit 15-20 hours a week until the election. If you are interested in either opportunity, please e-mail me at john@votedoggett.com with your
interests, availability, or any questions you may have. What no one can accomplish alone, we can achieve together.

Grassroots Voter Registration Training
When:Thursday, August 17, 5:30pm or 7:30pm
Where:AFL-CIO -1106 Lavaca St # 200, Austin, TX
Neighbor2Neighbor is an organization that wants to help people register voters in their district. We are hosting a meeting to get people deputized as voter registrars and then giving them some training on effective ways to register
voters. We are holding this training session to prepare people for a major voter registration push in South Austin in late August-October 10, but all who would like to be deputized and work in other areas of Travis County are
welcome too! We have two training session scheduled at 5:30pm and 7:30pm that will be exactly the same. Feel free to contact Ken Flippin at 627-9171 or at n2npac@gmail.com with questions and if you are
interested in attending. Snacks and refreshments will be served. Training should last no more than 45 minutes.

Posted by mcblogger at 03:48 PM | Comments (6) | TrackBack

Tim Roemer, I LOVE YOU

He totally just jumped on MSNBC and shit all over Bush, reminding people that 7 out of 10 people in this country think things are going in the wrong direction. Further, the 9/11 Commission detailed, even recently, massive incompetence and failure on the part of the Administration.

Bring it, fatass Rove. You're about to retire.

Posted by mcblogger at 12:09 PM | Comments (1) | TrackBack

Thus speaks the assclown

Islamo-fascists are out to get us.

Thanks Tony Blair (you know, for doing the hard work and all)

We're all about cooperation and working with Britain.

Country is safer now than prior to 9/11 but we're not completely safe and there are people who still want to harm us because of what we believe. There is a huge threat, we are not completely safe, blah blah blah.

Goddamn, Yo! You get in front of cameras and a mike and go fuckall crazy? WE KNOW ALL THIS YOU SHITHEAL. Why, almost five years after 9/11 are we still even talking about al Qaida? That's what we don't know.

Yeah, I know terrorism is a way of life for some and we are unlikely to ever get clear of this (it has been going on for thousands of years). However, al Qaida? All of them SHOULD be dead. Oh, and off the subject but I just remembered thinking it ealier... is it me or does Chertoff look like a cadaver?


Posted by mcblogger at 10:53 AM | Comments (4) | TrackBack

I'm sooo trying not to be partisan about this, but...

Regarding the 'foiled' terrorist plot...

The media is having a ton of fun with this. Every bobble headed anchor is asking unimaginably stupid questions like
"Is it good that these 21 people are in custody?" That was the dipshit on MSNBC, kid you not. I have no idea what Fox is running but I would be willing to bet that it's a graphic of a plane blowing up over the Atlantic.
British government releasing information that the 'terrorists' were Pakistani. As if THAT matters
Bush will address the nation while on a fundraising trip in Wisconsin. Will report on the words of the First Dipshit as they are available
The British told Bush about this on Sunday. Why the hell are we just NOW finding out about it? What was the CAPD? Chertoff and Gonzales have been on TV talking about it as if they played some key role. Losers

And that's where it get's ugly. Seriously, Bush and the Republicans have had virtually unlimited resources to get rid of al Qaida and THEY STILL HAVEN'T FUCKING DONE IT. Almost 5 years later and we're still learning about plots and having to escalate our 'threat level' here in the US. I thought we were in Iraq to keep them from coming here (or Britain).

NO ONE is talking about the failure of the Administration. Except me and now I'm pissed... fucko just landed and I've got a ton of work to do.

Posted by mcblogger at 10:38 AM | Comments (2) | TrackBack

Jordanian authorities : Hijacking Busted (More Terrorism?)

Jordanian Authorities have released information that a Qatar Airways flight from Qatar to Amman was the subject of a busted hijacking. No word yet on whether or not it was terror related or just a mentally imbalanced dick.

Posted by mcblogger at 10:06 AM | Comments (0) | TrackBack

Lieberman the finale

A bunch of different perspectives on the race, why Joe lost, assigning blame and (in general) bitching about the outcome (thanks for chiming in TNR!). The simple fact of the matter is that Joe wasn't, isn't and never will be a centrist. Anyone who says differently has never looked at the record. From the Bankruptcy Middle Class Buttfuck to the Patriot Act, Joe has been unapologetically conservative and unabashadly pseudo-Republican (not to mention his love for radically unnuanced neocon foreign policy).

Not centrist, not moderate and about as far from Democratic as you can get. As for the notion that it's his 'independence' that threatens Democrats, take a look (again) at his record. He's been marching in lock step with the same Republicans hell bent on running the country into the ground.

Let's not kid ourselves. This wasn't a victory for the netroots or the anti-war fringe (either R or D). This was a victory for Connecticut Democrats who finally said no mas to a DINO named Joe.

Time leads the fun with an article about how the Republicans are feverishly working on ways to use the Lieberman defeat to hurt Democrats.

Let Republicans try to brand Democrats as weak on defense. Americans won't buy it because with Republicans it's been nothing but failure and fatigue, why the hell would they believe anything they say? As an added bonus, Joe was defeated because he voted with Republicans on a number of important foreign policy issues. He wasn't beaten because he worked with R's, he was defeated because he was on the wrong side. Right now, I wouldn't give a second thought to the chances of a Republican who thought they could use Lieberman as a foil for their Democratic opponent. That's not the issue and no Democrat will let it go to that without shifting the debate back to Republican failure.

Then comes (as if you're really suprised) TNR (via the NYT) which is all about the rising of the blogs and denigrates the netroots as nothing more than 'counter-Bushies', as if their activism and hard work were nothing more than a protest against an unpopular President. The suprising thing is that unlike so many recently, the author acknowledges the fact the Lieberman has been abusive to his constituency.

Wrapping things up is this read on the race from the NYT Editorial Staff. This is by far the best analysis I've read regarding this and I'm pasting it into the supersize.

Whatever you do, however you may feel, don't go all crazy and think this is either an indication for good things this fall or the death of the Democratic Party. This was about one candidate vs. another, better candidate who thankfully won. Don't read more into it than that.

Editorial
Revenge of the Irate Moderates

*
E-Mail
* Print
* Save

Article Tools Sponsored By
Published: August 9, 2006

The defeat of Senator Joseph Lieberman at the hands of a little-known Connecticut businessman is bound to send a message to politicians of both parties that voters are angry and frustrated over the war in Iraq. The primary upset was not, however, a rebellion against the bipartisanship and centrism that Mr. Lieberman said he represented in the Senate. Instead, Connecticut Democrats were reacting to the way those concepts have been perverted by the Bush White House.

Ned Lamont, a relative political novice, said he ran against Mr. Lieberman because he was offended by the senator's sunny descriptions of what was happening in Iraq and his denunciation of Democrats who criticized the administration's handling of the war. Many other people in Connecticut may have felt that sense of frustration, but no one else had the money and moxie to do what Mr. Lamont did. Mr. Lieberman was stunned to find himself on the defensive, and it was only in the last few weeks that the 18-year veteran mounted a desperate campaign to reclaim his party's support.

Senator Lieberman says he will run as an independent in November, taking on Mr. Lamont and the Republican, Alan Schlesinger. Mr. Schlesinger is a very weak candidate, but Mr. Lieberman should consider the risk of splitting his party if the Republicans are able to convince Mr. Schlesinger to drop out of the race in favor of a stronger nominee.

Mr. Lieberman's supporters have tried to depict Mr. Lamont and his backers as wild-eyed radicals who want to punish the senator for working with Republicans and to force the Democratic Party into a disastrous turn toward extremism. It's hard to imagine Connecticut, which likes to be called the Land of Steady Habits, as an encampment of left-wing isolationists, and it's hard to imagine Mr. Lamont, who worked happily with the Republicans in Greenwich politics, leading that kind of revolution.

The rebellion against Mr. Lieberman was actually an uprising by that rare phenomenon, irate moderates. They are the voters who have been unnerved over the last few years as the country has seemed to be galloping in a deeply unmoderate direction. A war that began at the president's choosing has degenerated into a desperate, bloody mess that has turned much of the world against the United States. The administration's contempt for international agreements, Congressional prerogatives and the authority of the courts has undermined the rule of law abroad and at home.

Yet while all this has been happening, the political discussion in Washington has become a captive of the Bush agenda. Traditional beliefs like every person's right to a day in court, or the conviction that America should not start wars it does not know how to win, wind up being portrayed as extreme. The middle becomes a place where senators struggle to get the president to volunteer to obey the law when the mood strikes him. Attempting to regain the real center becomes a radical alternative.

When Mr. Lieberman told The Washington Post, "I haven't changed. Events around me have changed," he actually put his finger on his political problem. His constituents felt that when the White House led the country into a disastrous international crisis and started subverting the nation's basic traditions, Joe Lieberman should have changed enough to take a lead in fighting back.

Posted by mcblogger at 12:01 AM | Comments (3) | TrackBack

August 09, 2006

Lieberman---Party of One

Feel the Joenertia!

Posted by mayor mcsleaze at 04:12 PM | Comments (1) | TrackBack

Why do you hate our country?

BoingBoing (via ELLN) has a post up referencing a CATO Institute paper on security, terrorism and manipulation...

I'm going to let that sink in for a bit. I DID write C-A-T-O. We've had our differences from time to time (most notably this idea that the market can solve all problems and the one about everyone acting out of enlightened self-interest) but on this they are standing solid ground.

The gist is that we are too afraid and too willing to give up freedoms we are supposedly fighting the war on terror to protect. My favorite line

Terrorists can be defeated
simply by not becoming terrified
— that is, anything that
enhances fear effectively gives
in to them.

I'm posting the entire thing in the SuperSize...

A False Sense
of Insecurity?
BY JOHN MUELLER
Ohio State University D
HISTORICAL RECORD It should be kept in mind that September
11 continues to stand out as an extreme event. Until then,
and since then, no more than 329 people have ever been killed
in a single terrorist attack (in a 1985 Air India explosion). And
extreme events often remain exactly that — aberrations, rather
than harbingers.
A bomb planted in a piece of checked luggage was responsible
for the explosion that caused a Pan Am jet to crash into
Lockerbie, Scotland in 1988, killing 270 people. Since that time,
hundreds of billions of pieces of luggage have been transported
on American carriers and none have exploded to down an
aircraft. (And millions of passengers who checked bags at hotels
and retrieved them before heading to the airport have routinely
lied to airline agents when answering the obligatory question
about whether their luggage had at all times been in their possession.)
This does not mean that one should cease worrying
about luggage on airlines, but it does suggest that extreme events
do not necessarily assure repetition any more than Timothy
McVeigh's Oklahoma City bombing of 1995 has.
Since its alarming release of poison gas in the Tokyo subway
in 1995, the apocalyptic group Aum Shinrikyo appears
to have abandoned the terrorism business and its example has
not been followed. Some sort of terrorist inoculated Tylenol
capsules with cyanide in 1982, killing seven people. However,
that frightening and much-publicized event (it generated
125,000 stories in the print media alone and cost the manufacturer
more than $1 billion) failed to inspire much in the
way of imitation.
I do not want to suggest that all extreme events prove to
be the last in their line, of course. At its time, the "Great War"
of 1914–18 was the worst war of its type, yet an even more
destructive one followed. Moreover, while Aum Shinrikyo
may be under control, Al Qaeda and like-minded terrorist
groups are unlikely to die out any time soon; September 11
marked, after all, their second attempt to destroy the World
Trade Center.
Much of the current alarm is generated from the knowledge
that many of today's terrorists simply want to kill, and kill more
or less randomly, for revenge or as an act of what they take to be
war. At one time, it was probably safe to conclude that terrorism
was committed principally for specific political demands or as
a form of political expression. In the oft-repeated observation of
terrorism expert Brian Jenkins, "Terrorists want a lot of people
watching, not a lot of people dead." Moreover, the suicidal nature
of many attacks, while not new, can be very unsettling because
the would-be perpetrator cannot be deterred by the threat of subsequent
punishment. And terrorism likely will never go away
completely; it has always existed and presumably always will.
A central issue, however, is whether such spectacularly
destructive terrorist acts will become commonplace. Although
there have been many deadly terrorist incidents in the world since
2001, all (thus far, at least) have relied on conventional methods
and have not remotely challenged September 11 quantitatively.
If, as some purported experts repeatedly claim, chemical and biological
attacks are so easy and attractive to terrorists, it is impressive
that none have so far been used in Israel (where four times
as many people die from automobile accidents as from terrorism).
Actually, it is somewhat strange that so much emphasis has been
put on the dangers of high-tech weapons in the first place. Some
of that anxiety may come from the post-September 11 anthrax
scare, even though that event killed only a few people. The bombings
of September 11, by contrast, were remarkably low-tech and
could have happened long ago; both skyscrapers and airplanes
have been around for a century now.
RESPONDING TO TERRORISM
Frantz Fanon, the 20th century revolutionary, contended that
"the aim of terrorism is to terrify." If that is so, terrorists can be
defeated simply by not becoming terrified — that is, anything
that enhances fear effectively gives in to them.
The shock and tragedy of September 11 does demand a
focused and dedicated program to confront international terrorism
and to attempt to prevent a repeat. But it seems sensible
to suggest that part of this reaction should include an effort
by politicians, officials, and the media to inform the public reasonably
and realistically about the terrorist context instead of
playing into the hands of terrorists by frightening the public.
What is needed, as one statistician suggests, is some sort of convincing,
coherent, informed, and nuanced answer to a central
question: "How worried should I be?" Instead, the message the
nation has received so far is, as a Homeland Security official put
(or caricatured) it, "Be scared; be very, very scared — but go on
with your lives." Such messages have led many people to develop
what Leif Wenar of the University of Sheffield has aptly
labeled "a false sense of insecurity."
HYPERBOLIC OVERREACTION For example, there is at present
a great and understandable concern about what would
happen if terrorists were to shoot down an American airliner
or two, perhaps with shoulder-fired missiles. Obviously, that
would be a major tragedy. But the ensuing public reaction to
it, many fear, could come close to destroying the industry.

Terrorists can be defeated simply by not
becoming terrified — that is, anything that enhances
fear effectively gives in to them.

Accordingly, it would seem to be reasonable for those in
charge of our safety to inform the public about how many
airliners would have to crash before flying becomes as dangerous
as driving the same distance in an automobile. It turns
out that someone has made that calculation: University of
Michigan transportation researchers Michael Sivak and
Michael Flannagan, in an article last year in American Scientist,
wrote that they determined there would have to be one
set of September 11 crashes a month for the risks to balance
out. More generally, they calculate that an American's chance
of being killed in one nonstop airline flight is about one in
13 million (even taking the September 11 crashes into
account). To reach that same level of risk when driving on
America's safest roads — rural interstate highways — one
would have to travel a mere 11.2 miles.
Or there ought to be at least some discussion of the almost
completely unaddressed but patently obvious observation
that, in the words of risk analyst David Banks, "It seems
impossible that the United States will ever again experience
takeovers of commercial flights that are then turned into
weapons — no pilot will relinquish control, and passengers
will fight." The scheme worked in 2001 because the hijackers
had the element of surprise working for them; previous
airline hijackings had mostly been fairly harmless as hijackers
generally landed the planes someplace and released the
passengers. The passengers and crew on the fourth plane on
September 11 had fragmentary knowledge about what had
occurred earlier that day and they prevented the plane from
reaching its target. Similar responses are likely for future
attempted hijackings. Nonetheless, notes Banks, "enormous
resources are being invested to prevent this remote contingency."
There is a distinction, he argues, "between realistic
reactions to plausible threats and hyperbolic overreaction to
improbable contingencies."
Moreover, any problems caused by radiological, chemical,
or perhaps biological weapons are likely to stem far more from
the fear and panic they may cause than from the weapons
themselves. While a "dirty bomb" might raise radiation 25 percent
over background levels in an area and therefore into a
range the Environmental Protection Agency considers undesirable,
there ought to be some discussion about whether that
really constitutes "contamination" or much of a danger at all,
given the somewhat arbitrary and exceedingly cautious levels
declared to be acceptable by the epa. The potential use of such
bombs apparently formed the main concern during the
Orange Alert at the end of 2003. Because the bombs simply
raise radiation levels somewhat above normal background levels
in a small area, a common recommendation from nuclear
scientists and engineers is that those exposed should calmly
walk away. But this bit of advice has not been advanced prominently
by those in charge. Effectively, therefore, they encourage
panic. As one nuclear engineer points out, "If you keep
telling them you expect them to panic, they will oblige you.
And that's what we're doing."
POOR RESULTS For their part, biological and chemical weapons
have not proven to be great killers. Although the basic science
about them has been well known for a century at least, both
kinds of weapons are notoriously difficult to create, control,
and focus (and even more so for nuclear weapons).
To this point in history, biological weapons have killed
almost no one. And the notion that large numbers of people
would perish if a small number of chemical weapons were to
be set off is highly questionable. Although they can be hugely
lethal when released in gas chambers, their effectiveness as
weapons has been unimpressive. In World War I, for example,
chemical weapons caused less than one percent of the total
combat deaths; on average, it took a ton of gas to produce one
fatality. In the conclusion to the official British history of the
war, chemical weapons are relegated to a footnote that asserts
that gas "made war uncomfortable...to no purpose." A 1993
analysis by the Office of Technology Assessment finds that a
terrorist would have to deliver a full ton of Sarin nerve gas perfectly
and under absolutely ideal conditions over a heavily
populated area to cause between 3,000 and 8,000 deaths —
something that would require the near-simultaneous detonation
of dozens, even hundreds, of weapons. Under slightly
less ideal circumstances — if there were a moderate wind or
if the sun were out, for example — the death rate would be
only one-tenth as great. The 1995 chemical attack launched
in Tokyo by the well-funded Aum Shinrikyo (attempted only
after several efforts to use biological weaponry had failed completely)
managed to kill only 12 people.
Thus far at least, terrorism is a rather rare and — in appropriate,
comparative context — not a very destructive phenomenon.
However, the enormous sums of money being spent
to deal with the threat have in part been diverted from other,
possibly more worthy, endeavors. The annual budget for the
Department of Homeland Security, for example, now tops $30
billion, while state and local governments spend additional billions.
Some of that money doubtless would have been spent on
similar ventures under earlier budgets, and much of it likely has
wider benefits than simply securing the country against a rather
limited threat. But much of it, as well, has very likely been pulled
away from more beneficial uses.
Accordingly, three key issues, set out by risk analyst Howard
Kunreuther, require careful discussion but do not seem ever to
get it:
How much should we be willing to pay for a small
reduction in probabilities that are already extremely
low?
How much should we be willing to pay for actions
that are primarily reassuring but do little to change the
actual risk?
How can measures such as strengthening the public
health system, which provide much broader benefits
than those against terrorism, get the attention they
deserve?
As Banks puts it, "If terrorists force us to redirect resources
away from sensible programs and future growth in order to
pursue unachievable but politically popular levels of domes-

tic security, then they have won an important victory that
mortgages our future." For instance, measures that delay airline
passengers by half an hour could cost the economy $15 billion
a year, calculates economist Roger Congleton.
HYSTERIA
Filmmaker Michael Moore happened to note on cbs' popular
60 Minutes last year that "the chances of any of us dying in
a terrorist incident is very, very, very small." His interviewer,
Bob Simon, promptly admonished, "But no one sees the
world like that." Both statements, remarkably, are true — the
first only a bit more so than the second.
It would seem to be reasonable for someone in authority to
try to rectify this absurdity. In Kunreuther's words, "More attention
needs to be devoted to giving people perspective on the
remote likelihood of the terrible consequences they imagine."
That would seem to be at least as important as boosting the sale
of duct tape, issuing repeated and costly color-coded alerts
based on vague and unspecific intelligence, and warning people
to beware of Greeks bearing almanacs.
What we need is more pronouncements like the one in a recent
book by Sen. John McCain (R-Ariz.): "Get on the damn elevator!
Fly on the damn plane! Calculate the odds of being harmed by a
terrorist! It's still about as likely as being swept out to sea by a tidal
wave. Suck it up, for crying out loud. You're almost certainly going
to be okay. And in the unlikely event you're not, do you really want
to spend your last days cowering behind plastic sheets and duct
tape? That's not a life worth living, is it?"
But admonitions like that are exceedingly rare, almost nonexistent.
What we mostly get is fearmongering, some of it bordering
on hysteria. Some prominent commentators, like David
Gergen, argue that the United States has become "vulnerable,"
even "fragile." Others, like Sen. Richard Lugar (R-Ind.), are given
to proclaiming that terrorists armed with weapons of mass
destruction present an "existential" threat to the United States
or even, in columnist Charles Krauthammer's view, to "civilization."
A best-selling book by an anonymous cia official
assures us that our "survival" is at stake.
The cosmic alarmism reached a kind of official pinnacle during
last winter's Orange Alert. At the time, Homeland Security
czar Tom Ridge declared that "America is a country that will
not be bent by terror. America is a country that will not be broken
by fear." Meanwhile, however, Gen. Richard Myers, chairman
of the Joint Chiefs of Staff, was telling a television audience
that if terrorists were able to engineer a catastrophic event that
killed 10,000 people, they would successfully "do away with our
way of life." The sudden deaths of that many Americans —
although representing less than four-thousandths of one percent
of the population — would indeed be horrifying and tragic,
but the only way it could "do away with our way of life"
would be if we did that to ourselves in reaction.
All societies are "vulnerable" to tiny bands of suicidal fanatics
in the sense that it is impossible to prevent every terrorist
act. But the United States is hardly "vulnerable" in the sense that
it can be expunged by dramatic acts of terrorist destruction,
even extreme ones. In fact, the country can readily, if grimly,
overcome that kind of damage — as it overcomes some 40,000
deaths each year from automobile accidents. As rand's Bruce
Hoffman put it, "Unfortunately, terrorism is just another fact
of modern life. It's something we have to live with."
P O L I T ICI A N S A N D T H E MEDIA
A problem with getting coherent thinking on the risk of
terrorism is that reporters and politicians find extreme
and alarmist possibilities so much more appealing than
discussions of broader context, much less of statistical
reality. That is, although hysteria and alarmism rarely
make much sense, politicians and the media are often naturally
drawn to them.
There is no reason to suspect that President Bush's concern
about terrorism is anything but genuine. However, his approval
rating did receive the greatest boost for any president in history
in September 2001, and it would be politically unnatural for
him not to notice. His chief political adviser, Karl Rove, declared
last year that the "war" against terrorism will be central to
Bush's reelection campaign. The Democrats, scurrying to keep
up, have stumbled all over each other with plans to expend even
more of the federal budget on the terrorist threat, such as it is,
than President Bush.
This process is hardly new. The preoccupation of the media
and of Jimmy Carter's presidency with the hostages taken by
Iran in 1979 to the exclusion of almost everything else may look
foolish in retrospect, as Carter's secretary of state, Cyrus Vance,
conceded in his memoirs. But it doubtless appeared to be good
politics at the time — Carter's dismal approval rating soared
when the hostages were seized. Similarly, in the 1980s the Reagan
administration became fixated on a handful of American
hostages held by terrorists in Lebanon. At the time, Reagan's
normally judicious secretary of state, George Shultz, was
screaming that we needed desperately to blast somebody
somewhere "on a moment's notice" — even without adequate
evidence — in order to avoid looking like the indecisive "Hamlet
of nations." He apparently preferred the King Lear approach.
Normally, however, only lunatics and children rail at storms;
sensible people invest in umbrellas and lightning rods.
Since September 11, the American public has been treated
to endless yammering about terrorism in the media. Politicians
may believe that, given the public concern on the issue, they
will lose votes if they appear insensitively to be downplaying
the dangers of terrorism (though this fear does not seem to have
infected Sen. McCain). However, the media like to tout that they
are devoted to presenting fair and balanced coverage of important
public issues. I may have missed it, but I have never heard
anyone in the media stress that in every year except 2001, only
a few hundred people in the entire world have died as a result
of international terrorism.
As often noted, the media appear to have a congenital
incapacity for dealing with issues of risk and comparative
probabilities — except, of course, in the sports and financial
sections. But even in their amazingly rare efforts to try, the
issue — one that would seem to be absolutely central to any
rounded discussion of terrorism and terrorism policy —
never goes very far. For example, in 2001 the Washington Post
published an article by a University of Wisconsin economist

that attempted quantitatively to point out how much safer
it was to travel by air than by automobile, even under the
heightened atmosphere of concern inspired by the September
11 attacks. He reports that the article generated a couple
of media inquiries, but nothing more. Gregg Easterbrook's
cover story in the October 7, 2002, New Republic forcefully
argued that biological and chemical weapons are hardly
capable of creating "mass destruction," a perspective relevant
not only to terrorism but also to the drive for war against Iraq
that was going on at the time. The New York Times asked him
to fashion the article into an op-ed piece, but that was the
only interest the article generated in the media.
In addition, it should be pointed out that the response to
September 11 has created a vast and often well-funded terrorism
industry. Its members would be nearly out of business
if terrorism were to be back-burnered, and accordingly they
have every competitive incentive (and they are nothing if not
competitive) to conclude that it is their civic duty to keep the
pot boiling.
Moreover, there is more reputational danger in underplaying
risks than in exaggerating them. People routinely
ridicule futurist H.G. Wells' prediction that the conflict
beginning in 1914 would be "the war that will end war," but
not his equally confident declaration at the end of World War
II that "the end of everything we call life is close at hand." Disproved
doomsayers can always claim that caution induced
by their warnings prevented the predicted calamity from
occurring. (Call this the Y2K effect.) Disproved Pollyannas
have no such convenient refuge.
The challenge, thus, is a difficult one. But it still seems sensible
to suggest that officials and the press at least once in a
while ought to assess probabilities and put them in some sort
of context rather than simply to stress extreme possibilities so
much and so exclusively.
KNOW YOUR AUDIENCE It is easy to blame politicians and the
media for the distorted and context-free condition under which
terrorism is so often discussed. In many respects, however, that
circumstance arises not so much from their own proclivities,
but rather from those of their customers. Hysteria and
alarmism often sell.
The record with respect to fear about crime, for example,
suggests that efforts to deal responsibly with the risks of terrorism
will prove difficult. Fear of crime rose notably in the
mid-1990s, even as statistics were showing crime to be in pronounced
decline. When David Dinkins, running for re-election
as mayor of New York, pointed to such numbers, he was
accused by A. M. Rosenthal of the New York Times of hiding
behind "trivializing statistics" that "are supposed to convince
us that crime is going down." New Yorkers did eventually come
to feel safer from crime, but that was probably less because
crime rates actually declined than because of atmospherics as
graffiti, panhandlers, aggressive windshield washers, and the
homeless were banished or hidden from view. So it may have
made sense in the months after the September 11 attacks to
have armed reservists parading around in airports. It is not clear
how they prevented terrorist attacks, and pulling them from
productive jobs hardly helped the economy. But if they provided
people with a sense of security, their presence may have
been worth it.
In the end, it is not clear how one can deal with the public's
often irrational — or at least erratic — fears about remote dangers.
Some people say they prefer comparatively dangerous
forms of transportation like the private passenger automobile
(the cause of over 3 million American deaths during the 20th
century) to safe ones like commercial airliners because they feel
they have more "control." But they seem to feel no fear on buses
and trains — which actually are more dangerous than airliners
— even without having that sense of control and even though
derailing a speeding train or crashing a speeding bus is likely to
be much easier for a terrorist than downing an airliner. And people
tend to be more alarmed by dramatic fatalities — which the
September 11 crashes certainly provided — than by ones that
cumulate statistically. Thus, the 3,000 deaths of September 11
inspire far more grief and fear than the 100,000 deaths from auto
accidents that have taken place since then. In some respects, fear
of terror may be something like playing the lottery except in
reverse: the chances of winning the lottery or of dying from terrorism
may be microscopic, but for monumental events that
are, or seem, random, one can irrelevantly conclude that one's
chances are just as good, or bad, as those of anyone else.
The communication of risk, then, is no easy task. Risk analyst
Paul Slovic points out that people tend greatly to overestimate
the chances of dramatic or sensational causes of death,
that realistically informing people about risks sometimes only
makes them more frightened, that strong beliefs in this area are
very difficult to modify, that a new sort of calamity tends to be
taken as harbinger of future mishaps, that a disaster tends to
increase fears not only about that kind of danger but of all
kinds, and that people, even professionals, are susceptible to the
way risks are expressed — far less likely, for example, to choose
radiation therapy if told the chances of death are 32 percent
rather than that the chances of survival are 68 percent.
But risk assessment and communication should at least be
part of the policy discussion over terrorism, something that
may well prove to be a far smaller danger than is popularly portrayed.
The constant, unnuanced stoking of fear by politicians
and the media is costly, enervating, potentially counterproductive,
and unjustified by the facts.
CONCLUSION
The policy perspective toward terrorism I suggest may not
be more valid than other ones, and no one knows, of course,
how the problem will play out in future years. However, the
policy advanced here seems to me a sound and sensible one,
and for there to be a really coherent policy discussion, it
should be part of the mix.
Deep concern about extreme events is not necessarily
unreasonable or harmful. Thus, efforts to confront terrorism
and reduce its incidence and destructiveness are justified. But
hysteria is hardly required. As always, there are uncertainties
and risks out there, and plenty of dangers and threats. But
none are existential. The sky, as it happens, is unlikely to fall
anytime soon.

Posted by mcblogger at 12:44 PM | Comments (2) | TrackBack

Bennigans... now you can choose your torture

Bennigans, that rather mediocre chain of Irish-style pubs, has announced that it will allow patrons to vote on items to be included in the menu or taken off.



We thought it was time to allow our loyal patrons the privilege of picking their poison, so to speak. We're excited that people will finally have a chance to vote up or down on the food they sometimes love and mostly hate. - Chris 'Monty Chris-to' O'Shaunessy, token Irish employee of Bennigans.

Vote here when you have a chance. As if any of you actually go to Bennigans. Just the thought of Bennigans makes me want to

Posted by mcblogger at 09:34 AM | Comments (3) | TrackBack

Dregs: GOP playbook and how to defeat it and What's up in 22

BondDad over at BOR recenlty posted a great piece about the R economic talking points for this fall... and how to beat them. Check them out here.
Muse has some terrific (and funny) stuff up over at Musings on CD 22 and what DeLay is up to. Stop by and give her a shout.

Posted by mcblogger at 02:04 AM | Comments (0) | TrackBack

August 08, 2006

Hannity and The AAS have something in common

Couldn't have said it better myself.

Posted by mcblogger at 09:40 PM | Comments (0) | TrackBack

Watching nutter TV and what a Lamont victory really means

I'm watching Fox right now (seriously, I want Lamont/Lieberman results and that cracker Scarborough is on my last nerve... speaking of, Scarborough said he was a southerner but I thought he was from Florida?) and there is a whole lotta funny on right now.

Mary Matalin - Lamont victory indicates a sharp shift to the left for the Democrats. Funny, I don't remember Lamont being a socialist.

Colonel What's-his-name - WORLD WAR 3, WORLD WAR 3, SCARE, WORLD WAR 3, SCARE, WORLD WAR 3 BE AFRAID.

David Horowitz : Jackass Douche -
We invaded Iraq to keep it from becoming Iran. Democrats aregoing to the ultra left. WORLD WAR 3. Islamofascism.

No lie, this douchebag actually said that was the reason we invaded Iraq. Like many in late 2002 and early 2003 I understood that invading Iraq created a very high probability of a theocracy being founded by the majority Shi'ites... there was a reason Saddam was so brutal to them. I guess David didn't get the memo that we actually created the very situation he says we were there to avoid.

Robert Dreyfuss - Conflating Iraq with the War on Terror is like FDR attacking Mexico after Pearl Harbor. Thank you, Mr. Dreyfuss.

So, they've been talking about Iraq, the War on Terror, Democrats, Republicans and the anti-war left (you know, the one that's all the time marching in the streets). If I hear one more person say that this is a battle for the 'heart and soul of the Democratic Party' I'm going to vomit blood.

This is what a Lamont victory means... that the Democratic primary voters in Connecticut finally opted for LEADERSHIP over obsequiousness; rationality over fantasy; integrity over dishonesty. That's it, nothing more. Thinking that this is about the left vs. centrist Democratic Party ignores the fact that Democrats of all stripes (much like more and more Republicans) oppose this war and want those responsible held accountable.

On a side note (but still on the topic of Democrats retaking the party from within) Cynthia McKinney is losing. Fucking YEAH!

All in all, this is a good night for a resurgent and much more responsive Democratic Party.

Posted by mcblogger at 09:07 PM | Comments (5) | TrackBack

Early Happy Hour : Staples, Lebanon, Casting Call and Roy's Taxi closes and more

Only 2:30 and already I'm bored with the day...

The Statesman has a couple good articles up about the ménage à trois between Israel, Lebanon and Hezbollah which can be summed up as follows: Lebanon is interested only in a cease fire that has the Israeli's leaving Lebanon, Israel balks and Hezbollah is buying candy for the little Lebanese kids. Tie it altogether and much like President Bush in 2003 with Iraq, the Israelis have pissed off a neighbor they should be working with and allowed their enemy to win the hearts and minds of the civilian populace.

Let me say that I support Israel's right to defend itself. However, it goes without saying that the way they have prosecuted this conflict is nothing short of retarded.

Even Bush get's it...


Bush said any cease-fire must prevent Hezbollah from strengthening its grip in southern Lebanon, asserting that "it's time to address root causes of problems." He urged the United Nations to work quickly to approve a U.S.-French draft resolution to stop the hostilities.

I know, I know... if he'd only been that clever a couple of years ago.

Live in Austin Metro? Wanna be in a family movie? If you, unlike me, have some concept of what that means then check this out.
Roy's Taxi, the Dollar General of Austin taxi companies, is going out of business... I never really thought they were that bad, though the cabs were ugly as hell.
Message to Garder Selby... Stayhorn is popular in Travis County as well (basically, everywhere but around the Capital where all those R foreigners work). Still doesn't mean she's going to win. However, if her media strategy involves TV that has her doing anything BUT being a giant, she's got a hell of a shot.




Delay to support a write-in? Could the R's get any more lame?

Shit... I stand corrected. Sorry, I forgot about him


Posted by mcblogger at 02:56 PM | Comments (0) | TrackBack

Reverend Death

The story is over at AlterNet about Rev. Hagee in SA. He's one of the nutters who thinks we can hurry the Second Coming along as if JC and The G would be bound by their flawed interpretation of certain parts of the Bible. I really don't think this is that big a deal but I have to say I loved this pic so this got posted. Deal.

Posted by mcblogger at 11:05 AM | Comments (2) | TrackBack

Update - Ask A ... Dildo that may (or may not) have been up Rick Perry's ass

After far too long from our hearts and minds (and other regions best left unmentioned), the Dildo returns to answer those questions some of y'all were so kind to email. Some of you may be wondering where the Dildo has been... which leads us right into the first question.

What's the deepest, darkest place you've ever been? RW, Austin

RW: Given what I am, and where I may or may not have been, isn't the answer really self-evident?












If you have been up Governor Perry's ass, can you tell us what else is up

there? I mean, we've all heard the expression, "a bug up one's ass." And, we

know Rick Perry has some kind of wierd bug up his ass for Bob Perry and

James Leinninger, shitty homes and school vouchers. So, what's the deal? Are

the two Perry's and Leinninger engaging in ass play in the Mansion in

exchange for loyalty and cash? Is the money Rick Perry receives from these

men more "hush money" than campaign contributions? Does Anita get to watch?

Does Dewhurst show up and put makeup on everyone, since we all know he wears

makeup (though he is not rumored to be gay)? Do they snort lines off of

Elizabeth Ames Jones' breasts while playing with the First Dildo? Have you

ever seen Martha Wong in fishnets with a large whip? Actually, that's a lot

of questions, but you can see how they're all related.

Signed,
Inquiring Minds Want 2 Know

IMW2K : Leininger and Dos Perry's are some kinky mofo's. And yes, I have seen Martha in fishnets. All I'll say about that is a friend of mine who was part of a boot in 'Nam saw some brutal shit and my Martha Wong story actually made him throw up. There aren't many things that are truly disturbing in the world today, but that seeing those thighs definitely shook me to my non-vibrating core.








So, Rich, does the Statesman naturally suck or do you have to work
hard to produce such a shitty paper?

Hand to God I'm not now, nor have I ever been Rich Oppel. What I do is completely different from rimming. By the way, Rich needs a tongue scraper. Badly. Just sayin' is all.












Dear Rick Perry's Dildo That May or May Not Have Been Up His Ass,

Tell me how it feels when Bob Perry is using you on Rick. Or, is it
that Rick uses it on Bob and that's why the donations are so, uh,
enormous? Do they call each other Perry during their dildo playtime
and do they think that's cute? Does their silliness over their name-
share thing make you go all limp?

Actually, yes, it does make me go a little limp... as if I've been placed near a blow torch. While I can only say that I may or may not have been up Governor Perry's ass, I can say that I have never been up Bob Perry's ass. There are some depths to which even I will not sink.









OK here's one:

Is it crowded in there right now? what with all those local officials from the Valley and their noses?

Harry Balczak

Harry : Not at all. They were actually being fellated by the Ricky. What, you actually thought they could be bought with a few million dollars? How naive... they were bought with a few million AND one of Tricky Ricky's world class hummers.


Posted by mcblogger at 01:11 AM | Comments (2) | TrackBack

August 07, 2006

DeLay, once the Hammer, now the Nail


Just how unpopular is Tom DeLay?

So unpopular that even Antonin Scalia turned down the Texas Republican Party's request for a stay of a court order preventing them from replacing him on the November ballot. How did this sad state of affairs come about?

Well, you may remember that the clouds started in roll in on Bugsy's picnic last fall when a Travis County grand jury indicted him for various crimes committed by his political action committee TRMPAC, which financed the republican takeover of the Texas House in 2002 which led to the 2003 congressional gerrymandering, parts of which have since been found to be illegal. Despite the ever-darkening sky, DeLay ran in the primary to retain his seat, handily beating several challengers. Then apparently the Lord spoke unto Tom, explaining that come November, even the good people of Sugarland might balk at re-electing an arrorant, shameless crook to Congress. So Tom decided that he would not run for re-election after all. In fact, since people seemed to no longer appreciate him, he was resigning his Congressional seat early (leaving his erstwhile constituents without any representation at all until next January) and inviting the Texas republicans to replace him on the ballot since was changing his official address to his Virginia residence.

The TRP began sorting through the various wackos anxious to get on the ballot aginst Nick Lampson, but meanwhile the Texas Democrats went to court Whether To DeLay liked it or not, they argued, he had run, dammit, and he had won, and a pesky bunch of words written on paper called the LAW limited the republicans' options for calling "do-overs". The Fifth Circuit Court agreed, finding that DeLay could either stay on the ballot or withdraw from the ballot and not be replaced. Tina Binkiser, TRP chair asked Scalia for a stay, which would have allowed a replacement to be named. Scalia's denial today was legalese for "Fuck off."

There does appear to be one final option to replace Bugsy DeLay on the republican line, however...

Under the Texas Election Code, a candidate can be replaced if he dies before the election.

Imagine, if you will, Tina Bekiser and Tom DeLay entering a small room. Inside the room is a chair and a table. Tina bids DeLay sit in the chair. She removes a pistol from her purse and lays it on the table. She says she is sure Tom will "do the right thing" and leaves the room, shutting the door behind her. Tina Benkiser stands in the hall and waits...

Of course, for that to work, Tom DeLay would need to possess a modicum of homor. So I guess Dick Cheney will just have to take him hunting instead.

Posted by mayor mcsleaze at 06:13 PM | Comments (0) | TrackBack

Facts are Goddamn Facts

Pink Dome and Nate over at Common Sense have both posted about a poll today that revealed fully 50% of the US believes Iraq had WMDs. I thought I'd lend it just one more place because it's that important.

The President LIED



about WMD's in Iraq.



There haven't been



WMD's


in Iraq since 1991.



Y'all probably already know this... you're by and large smart folks (notwithstanding the fact that you read this particular blog) but it would appear we're doing a bad job of getting the message out. So, we gotta step it up... email your friends and family, LAUGH at FoxNews wherever you see it displayed (bonus points if you're at a Fox Sports Bar). The sad thing about this is that for Fox it has nothing to do with carrying water for Bush, it has to do with ratings from their audience of ordinarily good people who have been duped into thinking something that just ain't true. They want to believe it so bad that they accept whatever evidence is put forward, no matter how ridiculous.

So, we gotta be louder and don't forget, when someone says something inane like "I'm entitled to my opinion" please remind them that they aren't entitled to their own set of facts.

One last thing... HELP DEMOCRATS OUT.... money or time, just do something.

Posted by mcblogger at 01:40 PM | Comments (0) | TrackBack

TexRoots endorse Sklar, Gilbert and Garcia

The Texas Progressive Alliance , a group of 20 Texas based political blogs, announced today the first round of TexRoots endorsements. I'm going to post up the full press release after the jump (it has a list of blogs involved and information about the candidates). With that, here's some information and links for the candidates (completely plagerized from Phillip over at BOR... why reinvent the wheel, no?).

Today, the Texas Progressive Alliance -- a collection of over 20 Texas blogs united to promote Democratic and progressive candidates and causes -- has launched the first round of

endorsements

for our online fundraising drive.


The candidates were selected by over 20 Texas blogs that are members of the Alliance and comprise the first set of candidates we will promote prior to the November election. Candidates selected for this and future TexRoots solicitations are picked after considering numerous factors, including the strength of the candidates and their opponents, the candidate's use of the internet and blogging, and the demographics of the candidates' districts. To read a complete description of the project, read our full press release below the fold.


We announce our endorsement -- and encourage our readers to donate money through the new Texas-based ActBlue page -- for the following candidates:


Shane Sklar is running for Congress in Texas' CD14. His opponent, 19th Century Republican Ron Paul, has voted against hurricane disaster relief for his Gulf Coast district, believes that only 5% of African-Americans have sensible opinions, and wants to eliminate Social Security. The Lone Star Project recently wrote the following about Sklar and Paul:

Shane Sklar has put together a professional campaign team and quickly built an impressive profile as an unapologetic conservative Democrat, with real world experience in agriculture, business and in government. He displays in-depth knowledge of the district, an eagerness to be an "advocate congressman" and an astute understanding of how difficult a task he has undertaken. These qualities contrast nicely with Paul, who has earned his reputation as an elderly, obstinate ideologue more concerned with tilting at personal ideological windmills than responding to District needs.

Look for more on Shane Sklar -- including a 40/40 feature -- in the coming days. In the meantime, donate to Sklar through ActBlue, volunteer for his campaign, and learn more about him and the TX-14.

Hank Gilbert is running for Commissioner of Agriculture against Republican Todd Staples. Hank is an incredible statewide candidate who knows the issues and, even better, knows what needs to be done to address and solve those issues. I recently started a 40/40 feature on Hank (which will conclude this week as we continue to cover our Texroots endorsed candidates), where I described him in the following way:

Hank's the kind of guy you talk to at a feed store, or on a skeet shoot, or on a cattle drive. Not that I've ever been any of those places -- but I've seen movies, and I can imagine. What I know outside of the movies, though, are the issues that matter -- how droughts are affecting our farmers, how the quality of food I buy at the grocery store is determined by regulations overseen and fought at the Commissioner's level, and how the Trans-Texas Corridor is preparing to destroy hundreds of thousands of acres of irreplacable Texas farmland...

He's natural. He's authentic. He's a real Texan with real concerns about our state and its people, and he's not about to let politics get in the way of imporant public policy. Hank Gilbert is pure Texas -- and he's ready to be our next Commissioner of Agriculture.

Look for more on Hank Gilbert -- including a conclusion of that 40/40 feature -- later this week. In the meantime, donate to Gilbert through ActBlue, volunteer for his campaign, and learn more about him and his true-to-Texas campaign.

Juan Garcia is running against Republican incumbent Gene Seaman for the Texas House in HD 32. The race is one of the most closely watched in Texas, and is one often cited as one of the handful that could turn Democrat in November. As I reported in July, Seaman has already lost numerous supporters to Garcia, who raised over $200k during the last reporting cycle. As the local paper, the Corpus Christi Caller-Times recently reported in a well-researched article about the race in HD-32:

Democrat Juan Garcia has raised more than twice as much money as Republican incumbent state Rep. Gene Seaman since January.

"He is probably going to be a serious contender," Nueces County Republican Party Chairman Mike Bertuzzi said.

Look for more on Juan Garcia as we continue to promote our TexRoots endorsed candidates. In the meantime, watch his bio video on YouTube, donate to Garcia through ActBlue, volunteer for his campaign, and learn more about him as he fights to help turn HD-32 blue.

YAY!

Texas Progressive Alliance Launches 'TexRoots' Fundraising Initiative


Bloggers Unite To Raise Funds For Texas Democratic Candidates


The Texas Progressive Alliance today launched 'TexRoots,' an online fund-raising campaign designed to raise funds for Democratic candidates in Texas via the internet. The launch of 'TexRoots' is the first major coordinated fund-raising effort by Texas blogs of its kind.


The Alliance, a group of blogs and bloggers united to promote Democratic and progressive candidates and causes, launched 'TexRoots' Monday with solicitations for three Texas candidates: Hank Gilbert, candidate for Commissioner of Agriculture, Juan Garcia, candidate for the Texas House of Representatives in District 32, and Shane Sklar, candidate for the U.S. House in Congressional District 14. TexRoots works with the nationally-recognized fund-raising tools of ActBlue.com.


The candidates were selected by over 20 member blogs of the Alliance and comprise the first set of candidates the Alliance will promote prior to the November general election. The Alliance hopes to have as many as five total groups of candidates before November 7. Candidates selected for this and future TexRoots solicitations were picked after a considering a number of factors, including the strength of the candidates and their Republican opponents, the candidate's use of the internet and blogging, and the demographics of the candidates' districts.


"This first group of candidates comprises a good cross-section of regions, ideologies, and ballot races," said Anna Brosovic of Arlington, founder of the Alliance and author of Annatopia.com. "We have a statewide candidate, a congressional candidate, and a candidate for Texas House of Representatives which we believe are worthy of the attention of the Texas Netroots," Brosovic continued.


"It is really a diverse group," said Karl-Thomas Musselman of Austin, another founding member of the Alliance and owner of BurntOrangeReport.com. "These particular candidates range from a career military officer trying to upset one of the state's most entrenched, out-of-touch Republicans in the Texas Legislature to a conservative Democrat opposing the only Congressman in Texas to vote against Hurricane Katrina aide, to a former high school agriculture teacher opposing one of the Trans Texas Corridor's greatest allies."


TexRoots came into being earlier this summer, when the Alliance's member blogs launched a fund-raising drive to activate ActBlue in Texas. After raising $5,000 for the effort, the bloggers have worked behind the scenes for several weeks in anticipation of today's announcement.


"We are pleased that we have been able to raise the funds necessary to activate this important fund-raising tool," said Charles Kuffner, a Houston blogger who writes OffTheKuff.com and is another founding member of the Alliance. "Netroots money has made the difference between being competitive and winning in races all across the country, including here in Texas. Through TexRoots, we can do our part to ensure online support and funding for many of Texas' Democratic candidates."

TexRoots follows a formula similar to the popular national Netroots Candidates fund, raising solicitations launched earlier this year by blogs such as DailyKos and MyDD. However, TexRoots focuses only on Texas candidates.


Solicitations are made by individual bloggers at Alliance member blogs. Typically, member blogs will put up a post discussing the candidates and inviting readers to contribute to fund-raising efforts online. More than 20 Texas bloggers from the Rio Grande Valley and Austin to Dallas/Fort Worth and East Texas participated in Monday's launch


Posted by mcblogger at 12:01 PM | Comments (0) | TrackBack

BP closes Alaska pipeline

BP is shutting in production from Prudhoe Bay because of a 'tiny spill'

BP learned on Friday that data from an internal sensing device found 16 anomalies in 12 locations in an oil transit line on the eastern side of the field. Follow-up inspections found "corrosion-related wall thinning appeared to exceed BP criteria for continued operation," the company said.

Workers also found a small spill, estimated to be about four to five barrels, roughly 200 gallons of crude. BP said the spill has been contained and clean up efforts are under way. It added it was sending additional resources from across the state and North America to hasten the inspection of the remaining transit lines. About 40pc of the lines have been inspected.

Crude as of 11:06 AM is up $1.84 to $76.60 in Merc trading. Spot gasoline has moved up $0.03, just over 1%. OPEC (specifically Saudi Arabia) is saying it can take up the slack but even the floor traders are figuring out that they no longer have the ability o swamp the market.

I guess it's good they caught this early on but it would be nice if they had a slightly more agressive contingency plan.

Posted by mcblogger at 11:09 AM | Comments (1) | TrackBack

A new entry in the lame olympics

Seriously, are Republicans really this desperate?

This is a video supposedly done by a 'cool, hip dude' who's neither cool nor hip. Unless you think black socks with shorts and birkenstocks are cool and hip. If that's the case then we have to talk.

A couple of things stand out...

Anyone who actually saw An Inconvenient Truth knows it's was far from boring. It was actually a very interesting and engaging movie
The producer of this video thought XMen:The Last Stand was good which leads me to believe that the producer is retarded (ask The Mayor about that... we went to see it. Sober.)

This was geared to make it appear cool which is pretty sad. The producer of this is actually a tragically unhip PR firm that specializes in Republican messaging. Exxon is a client which helps explain why they're all about playing down global warming and trashing the former VP. If this is a sample of their work, and they are hired widely, Democrats are going to do very well in 2006. This is hands down the lamest thing since Myron came out of momma's vag.

Make that the third lamest... shitass has a MySpace page with zero friends. In the long history of suck, this has be to a new low.

(mad props to SuperWow! over at PinkDome)

Posted by mcblogger at 01:19 AM | Comments (12) | TrackBack

August 06, 2006

What's the difference...

...between the Austin American Statesman and a steaming pile of dogshit?

When the paper lands in your yard, it comes wrapped in plastic.

Five years after 9/11, country remains divided

Remains divided? Ummm, unlike Mark Lisheron, my memories of 2001 haven't been erased and I recall that the 9/11 attacks united the country like nothing else in my lifetime. Everybody had a flag, everybody was out to get Osama (remember him?} Still, there is no doubt that today the coountry is deeply divided. So something must have happened, someone might be to blame for that change in our national fortunes.

From nearly two dozen interviews with citizens, volunteers, military personnel, academics and researchers, one thing is clear: Americans missed the opportunity Sept. 11 presented to claim and hold a common ground on domestic and foreign matters.

So it's Americans' fault, eh? Why isn't it the fault of a president who, when Americans were chomping at the bit to make whatever sacrifices would be necessary to effectively defeat the threat of terrorism, advised them to go to the mall and get on with their lives? Why isn't it the fault of a bungled intervention in Afghanistan that neither captured Bin Laden nor brought stability to that country? Why isn't it the fault of a disasterous war in Iraq, begun on totally false pretences, resulting in our military being trapped in escalating chaos with no strategy for victory? And why isn't it the fault of an administration which less than a year ago faced with the Katrina catastrophe demonstrated ineptitude on a scale that would have been embarrassing even by Third World standards?

Mr. Lisheron, sorry that we Americans can't seem to live up to the standards of patriotism exemplified by you and your Dear Leader. I guess we're just unworthy of you.

Posted by mayor mcsleaze at 08:22 AM | Comments (0) | TrackBack

August 05, 2006

Saddest headline ever

Sheehan, world's troubles ruin president's vacation

Posted by mayor mcsleaze at 10:01 PM

August 04, 2006

Good news for Doggett, not so good for Courage

Well, the maps been decided...check it out here. The Statesman has additional details.

Posted by mcblogger at 03:31 PM | Comments (0) | TrackBack

Bob Ross sooo rocks



Seriously... you have to remember this guy. Here is a link to some video love.

Can y'all tell that I'm ready to call it a day and get my drink on?




Posted by mcblogger at 01:05 PM | Comments (2) | TrackBack

Is it me or are these people assholes?

Elisabeth Hasselbeck- The View
Oh, Elisabeth. You silly little cunt rag. You annoyed me on Survivor, but when I watch you on The view it fuels the black hatred I have for your skinny little ass. Normally I do not watch this pap. I hope you can believe me. However, as I stopped home to change shoes, I managed to catch the morning after pill smackdown on The View. Seeing Barbara Walters try to tie a can to that bitchy cats tail was somewhat amusing. That bobble headed idiot just loves to go on one of her conservative witch hunts. Even poor Joy Behar, whom I consider to be the most normal, was at a total fucking loss. What made it completely awkward was the Barbara & Elisabeth lovefest that took place after the commercial break. That was as real as Tara Reid's breasts. I can't wait to see Rosie O'Donnell bitch slap that little twit. By the way, getting rid of Star Jones was clearly a step in the right direction.


Tyler- The Real World
Such a bitchy little queen. I admit that I have not really been watching this season. Last season exhausted my patience. When I tried to tune in to this season poor little Paula made me want to slit my wrists. I can not imagine a more pitiful creature. If you have seen it, you know exactly what I mean. Anyway, watching Tyler sharpen his claws on spoiled Svetlana has not been as much fun as I thought it would be. It was like watching a raptor pick at a kitten. That narcissistic little shit makes me ill. He actually makes that harpy Janelle look good. If you can imagine that!


Angela- Project Runway
This fizzy designer with the fashion sense of Punky Brewster managed to survive yet another challenge last night proving the world is indeed unfair. Those damn rosettes! WTF! Laura, whom I had previously thought a tad bitchy, pretty much summed it up. I am really starting to like Laura and Michael. They make a good team. Without them Angela would have been toast. Anyway those poofy concoctions that Angela specializes in are so Cyndi Lauper at the MTV awards circa 1985. As for Keith, I just don't care. The little cheater wasn't all that interesting. Truth be told I would rather have Malan back rather than Keith. Malan was so freaking weird. I could not believe they let him go. At least he could sew. I have a feeling this is going to be a season of Santinos without the wit and humor.




Anyone who appears on Tiara Girls
Yes, yes, yes. I know you thought the height of perversion was Sweet Sixteen on MTV. Well, it has stiff competition in this nauseating trip to Crazy Town. The girls range from pretty to pretty ordinary, with a few trips to the pound. I think anyone of average intelligence can see the outcome of each episode coming. I knew Katarina wasn't going to win shit, with or without lip injections.My heart just breaks to caution them. Not that I know shit about shit, but it seems to me that if your legs look like tootsie rolls, or you can't form a complete sentence, you should probably pack it in and call it a day. I have always found pageants amusing. I remember sitting in the back cackling with friends over which contestants dress looks the most like a blood clot. Thank heavens I can say I was never in a pageant. I missed that Texas ritual. I was crowned twice on a football field but never had to sing 'Love Can Build A Bridge' by The Judds. Lucky me.


Mel Gibson. Obvious reasons.

Posted by barfly at 11:18 AM | Comments (6) | TrackBack

Driving while canine

Neighbors: Dog Drove Car Into House

Neighbors say a dog was behind the wheel of a car when it smashed into a Cumming house and then crashed into another car parked in the garage.

The owner of the delinquent doggie, a contractor, told police he left the animal in his car while he worked on a nearby job.

He left the engine and the air conditioner running because of the heat.

Neighbors believe the dog somehow knocked the vehicle out of park and sent it careening into the house.

But wait, it gets worse. In a drunken tirade to police, the dog blamed the Jews for all the neutering and leash laws in the world.

Posted by mayor mcsleaze at 07:13 AM | Comments (0) | TrackBack

Dregs : Teachers in Trouble, Help out troops, Frost Bank Building sold and more

EOW has a great piece up about upcoming 'pension reform' which is republicanese for 'Let's strip pensions and benefits from public employees and teachers'. Honestly, I have mixed emotions about this... I think it's horrible and it's all the result of bad management at the funds and retard politico's too stupid to realize they should have been putting more money into the system.

Let me make it clear: ANY ORGANIZATION THAT COMPLAINS ABOUT PENSION BENEFITS IS COMPLAINING ABOUT THE FACT THAT THEY HAVEN'T PUT ENOUGH AWAY TO PAY BENEFITS. Everytime I hear about how expensive pensions have become I want to throw something because all this is the result of demographic changes that were ANTICIPATED decades ago. Actuaries have been saying since the early 80's that American businesses and governments are not putting away enough to meet future obligations. Don't let them get away with it!

The mixed part? Some of them DESERVE to become accustomed to eating catfood in their dotage. There are a significant numnber of teachers and public employees who've been 'voting their values'. Time y'all woke up and started voting your wallets and purses.

PD tells me that he's not received much from you people for his military care packages. Seriously y'all, if you can help out please do! These folks deserve more than what the government gives them and unfortunately it's up to us to make something happen (it's not like the R's are going to do much).
It's only been up for a couple of years and already the Frost Bank Building has been sold... to a group from Chicago. The Statesman has additional information. The price? $188 Mn. Kinda makes that that $500k you dropped on a condo look like chump change, no?
Phillip over at BOR has more information up about the DeLay ballot scam decision out today (which Tinky Binky and the retards over at the RPT are appealing to the SC...), including this choice qoute from the 5th Circuit.

We fail to see how removing DeLay from the ballot would protect the voters, inasmuch as it was the voters themselves who selected DeLay as the Republican candidate for the general election.

Good job, TDP!

Have a goodun!

Posted by mcblogger at 02:00 AM | Comments (0) | TrackBack

August 03, 2006

Delay has to remain on ballot!

Yay Team Lampson! Click the link or additional details and some great info on redistricting and possible impacts.

Posted by mcblogger at 01:28 PM | Comments (1) | TrackBack

Feeling trashy? A little Paris-esque? Try these!

For the cheap hooker you really are...


Check them out in more detail here.
I know Sister Ruth is planning to buy some for her iPod, but that's only because she's a skank.

Yes, I wrote it.

Posted by mcblogger at 12:00 PM | Comments (0) | TrackBack

TTC :The Star - Telegram compromises itself and a poll

You may have missed a piece published in the Star-Telegram Monday by Donna Williams. I know I certainly did, but I blame the fact that the Star-Telegram actually sucks MORE than the Statesman, so I don't read it. However, imagine my suprise when I discovered this pro-TTC piece of garbage.

Seriously, imagine it. You don't get it, do you? Well, I was suprised because I actually know who Donna Williams is. She's a VP at Parson's Infrastructure (they design roads and airports). In the article, she's listed as a member of Texans for Safe Reliable Transportation (seriously, that's the real name... come on, even I'm not dumb enough to come up with something like that). Predictably, Donna and her buds at TSRT think toll roads are just nifty (after all, they're funded by toll road interests and their minions). You know, I really didn't mind toll roads until all this TTC shit started up. Now, I'm ready to HANG every toll road advocate.

Here's the short and the sweet on toll roads. Texans and Americans HATE paying taxes unless they are actually getting something for the money. The R's have done a good job saying that taxes are whack and the D's have done a lame job actually teaching people what taxes are for... especially that TAXES BUILD FUCKING ROADS.

Texas has seen a 94% increase in traffic on our roads since 1980. Capacity has only increased by 6%. See the problem? Cram more cars on the same roads and voila! MORE CONGESTION ON THOSE ROADS. The wonderful economic growth Texas has enjoyed hasn't paid for itself. Not by a longshot.

However, the solution ISN'T toll roads...here's the point by point.

Today, our state transportation system is at a crossroads. Texas is the leading exporting state and the second-biggest manufacturing state; it added more than 600,000 jobs in the past 34 months. Our state is growing fast, and transportation taxes and funding sources are not keeping pace.

No joke... we KNOW that already, Donna Dumbass. Of course, you don't want to talk about those taxes being increased because then there would be no need for toll roads.

It is imperative that Texas expedite transportation improvements in the interest of public safety, job creation and overall quality of life. That's why state and local leaders and transportation experts are supporting the Trans-Texas Corridor project, being developed to relieve traffic on our aged, crowded and downright scary Interstate 35.

Again, we haven't kept up with necessary expansion of the 35. In fact, only now is TX DoT finally expanding the road to at least six lanes. That should have been done 10 years ago. And, just for the record, any construction project (public OR private) creates jobs.

The Trans-Texas Corridor (TTC-35) uses many new financing and construction tools to get needed roadways built years sooner, without increasing state gasoline or sales taxes. By harnessing private-sector investment and charging motorists a fee, Texas can build a necessary road much faster, relieving traffic far more quickly.

Oh, Donna. TOLLS ARE A TAX. In fact, tolls on the TTC just between Dallas and Austin will amount to $108.00 using Cintra's mean estimate. For a car or truck that gets 20 MPG, that's like a $10.80 increase in the gas tax. PER GALLON. There's no magic here. They are taking $108.00 out of your pocket... and putting into the pocket of a private corporation. Every time you go from Austin to Dallas. The amazing thing... if we increased gas taxes only slightly, we could fully fund TX DoT and rush projects in the cities. Spread over all Texans, the total tax would amount to an additional $30-40 PER YEAR. That's a hell of a lot cheaper than the 'no new taxes, Toll Road' solution.

The Trans-Texas Corridor and other new transportation projects will improve Texas disaster and hurricane response dramatically. Katrina and Rita proved that hurricanes are not just coastal events -- they can threaten an entire region. Better, safer infrastructure means faster evacuations and fewer lives lost to hurricanes or other natural or man-made disasters.

All expansion will do that. In this regard, the TTC is nothing special. Again, Donna, why be so dumb?

Thousands of new Texas jobs, higher property values and resulting economic development will follow the corridor route. Employers tend to migrate to places where it's easier to transport workers, raw materials and products. The Trans-Texas Corridor will help the state add jobs and stay competitive in the world economy.

Not really since Cintra (the owner of the 50 year lease on the TTC) will have control over the land in the TTC and immediately surrounding it. They're going to charge private operators to set up shop there and that means lots of big business... and a few minimum wage jobs. That's the last thing Texas needs.

And TTC-35 even benefits those who don't want to pay the toll. Every car or truck using TTC-35 will be one less vehicle on I-35, thereby increasing that highway's safety and convenience. In addition, free roads, parallel to most toll roads, will remain a viable option for those who choose not to pay.

This is interesting since we don't know the real terms of the agreement with Cintra. Do they restrict expansion of the 35? TX DoT said no when I went to the meeting in Manor on Tuesday. When I drilled for more detail they admitted that the secret parts of the contract (to which they weren't privy) MAY restrict expansion of freeways. I took that to mean it would.

The state will own these new roads, but private companies and investors will pay to construct and operate them. New state laws enhance private property protections and allow local communities and landowners to share in the benefits. As a result, billions in new, largely untapped private investment will pour into Texas to improve our transportation infrastructure, easing congestion, increasing commuter choice and improving highway safety.

Donna's technically correct that the state will own the land. They are leasing it to Cintra for 50 years which is virtually a lifetime lease. The interesting thing is that we don't know the full details of the lease and whether or not it's set up for perpetual renewal. If that's the case, then it's functionally an outright sale, no matter what language you use.

Oh, and those 'new state laws to protect property owners'? They don't apply to the TTC. Todd Staples, Perry and Craddick all made sure the TTC was specifically exempted. The state can take your land via eminent domain for below market value (they only have to give you fair value, whatever that means) and you can go through the expensive and lengthy process of suing the state. Of course, whether or not you win, the state will have already leased your land to Cintra... even if it's been in your family for generations.

The debate continues. The democratic process is working. But don't let anyone tell you that business as usual can improve Texas transportation. People and jobs are migrating to Texas. We must have the roads and infrastructure to carry them safely and efficiently.

Democratic? This deal was made behind closed doors and the true terms and conditions are a secret. One has to wonder what Perry and Staples are afraid to let Texans see? Business as usual can't fix roads... especially not when business as usual involves secret deals with campaign contributors.

Be sure and check out this poll regarding the TTC.

Posted by mcblogger at 02:40 AM | Comments (0) | TrackBack

August 02, 2006

More news you already knew

Heavy Net users are loners, study suggests

Canadians who spend more time online are more likely to neglect family and real-life friends, says a new Statistics Canada survey, but experts say the numbers paint a bleaker picture than personal experience and other research suggests.

The survey, which examined the Internet habits of 20,000 people across the country, found heavy Internet users — those who spent more than an hour a day surfing the Web for fun — spent at least half an hour per day on the computer rather than interacting with spouses or children.

They also found themselves alone for two extra hours a day and were more likely to shirk household chores, the study concluded.

I can't wait until they release their findings on the Fritos and bean dip diet.

Posted by mayor mcsleaze at 04:37 PM | Comments (3)

Plan B OTC? Maybe but don't throw the coat hangers away yet...

The FDA announced as part of a maneuver going into the confirmation hearing of Dr. Andrew von Eschenbach that it was moving to allow the sale of Plan B as an over the counter medication.

the Food and Drug Administration said Monday that it was moving toward endorsing sale of the morning-after pill without a prescription for women 18 and older, signaling what may be the end of one of the most controversial health policy debates of the Bush administration.

The agency's acting commissioner, Dr. Andrew von Eschenbach, has asked for a meeting with the drug's manufacturer, Barr Pharmaceuticals Inc., to finish plans for allowing over-the-counter sales of the emergency contraceptive, called Plan B. The FDA said it hopes that "the process can be wrapped up in a matter of weeks."

What's the skinny on this? Apparently, Dr. von Eschenbach is worried about the ability of certain Senators to place a hold on a floor vote to confirm him.

"Today's announcement is nothing more than a delay tactic," said Democratic Sens. Hillary Rodham Clinton, D-N.Y., and Patty Murray, D-Wash., in a joint statement. The senators are members of the Health, Education, Labor and Pensions Committee that is scheduled to hear from von Eschenbach today.

Assuming that von Eschenbach is approved by the committee, Clinton and Murray said they would block a floor vote on his confirmation until the FDA makes a final decision on the drug's sale.

The senators removed a similar hold last year that had blocked former FDA Commissioner Lester Crawford's confirmation hearings. At that time, Crawford assured them that a decision on the drug would be made by Sept. 1, 2005, the senators said.

"We lifted our hold in July 2005 on Dr. Crawford's nomination after receiving assurances that the FDA would act by September," Clinton said. "Instead, what they did was to make a decision, and their decision was not to make a decision. Almost a year later, we're still waiting for a decision."

How retarded. Just approve the damn thing.

The best part about this article are the comments after the story on the Statesman's site. Go read them and see if you notice what I did (it has to do with the assumed gender of the posters).

Posted by mcblogger at 03:09 PM | Comments (0) | TrackBack

¡Joementum sί! ¡Venceremos!

Wha's next for Joe Lieberman, who may lose his place on the Connecticut ballot to challenger Ned Lamont next Tuesday?

Given the overlapping developments of troublesome polls in Connecticut, and the sudden illness of Fidel Castro, Senator Joe Lieberman announced today that if he fails to beat Ned Lamont in next week's Democratic primary, he intends to run for the position of El Commandante in Cuba.

Lieberman emphasized that he would look forward to running under Cuba's electoral system, where he wouldn't be subjected to the type of degrading primary challenges that a three-term U.S. Senator has to put up with.

Senator Lieberman also discounted any problems created by cultural differences, saying that as an orthodox Jew, he would have no problem growing a Castro-like beard.

"Besides," Lieberman added, "the Cuban and Jewish people have a lot in common; they both prefer Florida to their home countries."

Posted by mayor mcsleaze at 01:25 PM | Comments (0) | TrackBack

Quote of the day and best screen cap in months

Last night at the TTC meeting in Manor, a Hank Gilbert supporter said the following:

Hank actually knows Texas agriculture. Todd only knows how to cash a lobbyist's check.

Then, via Nate at Common Sense comes this... the most perfect screen cap I've seen in a long time (and the number one thing I'd like to tell Todd Staples)

Posted by mcblogger at 10:50 AM | Comments (0) | TrackBack

Some days it's hard to be good

Especially when people like Maria Luisa Alvarado send out campaign emails that include juicy targets like

In 2002, due of [sic] President Bush's popularity and coattails, a gubernatorial candidate with a hefty treasury lost to Rick Perry. This year things are different.

Yeah, this year we hardly have two dimes to rub together.

Posted by mayor mcsleaze at 07:30 AM | Comments (0) | TrackBack

Dregs: Help the soldiers (and their mothers); Susan Combs, pornographer

Pink Dome is putting together troop packages to send to the men and women deployed in Iraq. PLEASE keep in mind that our troops are not there because they want to be. They are there because of President Bouchebag, so be generous. These are great people serving their country and all of us. Help 'em out!
EOW has a post up about Mary Beth Harrell's press conference regarding Cocksucker Carter's fundraising letter

In an unprecedented show of support, seven military veterans running for U.S. Congress across Texas are taking time from their busy campaign schedules to stand in solidarity with fellow Congressional candidate Mary Beth Harrell, whose oldest boy is currently serving in Iraq. Harrell was recently attacked by her opponent, John Carter, in a fundraising letter.

These seven veterans were so outraged by the attack that they called for this press conference to repudiate the false claims made against Harrell.

So, if you're going to be in the Georgetown area August 3 (or Thursday for the stupid people out there) at 2:00 pm
stop by the Pavilion at Legacy Hills Park in Sun City (200 Del Webb Blvd).

Somervell County Salon has a great post up further detailing the literary exploits of Susan Combs, wannabe Comptroller. Apparently, Susan is all about peddling the soft core porn she writes. I might be willing to cut her some slack on this (porn's cool, admitting to writing it is even cooler) if she weren't dodging it but Fred Head just keeps needling her on it while she remains lamely silent. THAT'S FUNNY.




Posted by mcblogger at 12:47 AM | Comments (11) | TrackBack

August 01, 2006

Public Strategies selling out?

Austin based Public Strategies has been sold to WPP Group of London. What this will mean for former Texas Governor Ann Richards, who has worked there for years, is unknown.

Strictly speaking, the sale ends the independent run of Public Strategies, which was founded in 1988 by Jack Martin, who had been a longtime aide to former U.S. Sen. Lloyd Bentsen, D-Texas. But both companies said the Austin firm's management team will remain in place, including Martin, who is chairman, and President Jeff Eller.

Eller said Public Strategies, now with 175 employees, had rebuffed numerous offers in recent years, but the firm had reached a point where it could use the resources of a media services giant to help it grow.

"This helps us broaden our reach in the U.S. and, equally important, abroad," Eller said. "We're really excited about what their scale and scope bring."

Ann, we'd love to have you here at McBlogger and I can tell you that the pay is amazing (amazingly non-existent) and the benefits are tremendous (they include being a blogger, being spit on because you're a blogger, being ridiculed as a blogger, getting drunk at noon). Come on aboard the SS McBlogger (formerly known as the SS Shitbox), the most amazing media outlet since George.

Posted by mcblogger at 12:47 PM | Comments (0) | TrackBack

Freescale setting up offices... in Manhattan?

The Statesman has an article up about Freescale Semi setting up corporate offices in NYC.

Freescale Semiconductor Inc., which questioned Austin's isolation as a major business center a few years ago when it considered whether to keep its headquarters in Central Texas, has leased office space in a swank Midtown Manhattan high-rise.

The offices, on New York's famed Fifth Avenue near 56th Street, will serve as the part-time work location for a handful of senior executives, including CEO Michel Mayer.

Mayer, if you'll remember, was the one who had a big problem with Austin not having international flights (he comes from France and it's true, ABIA has no direct flights to Charles de Gaulle)

Mayer, a native of France and a longtime resident of Paris, publicly noted Austin's lack of international air connections and scarcity of other major company headquarters in late 2004 and 2005, when his company was considering where to put its permanent headquarters.

Mayer is beginning to sound like a whiny bitch, no? Just wait...

"These guys are on the road a lot," (Freescale spokesman Glaston)Ford said. "You can't run a global operation just sitting in the middle of the United States."

Other technology companies, including STMicroelectronics, which is based in Geneva, Switzerland, also have Manhattan offices, Ford added.

No, you absolutely can't. But you can run it as easily from Austin as you can from Midtown Manhattan. As for ST, they don't have anything listed in NYC except for distributors. They do have three locations in Texas for sales, manufacturing and design. One is in Austin.

As for what industry analyst's are saying...

"I think it's odd for a chip company," said analyst Fred Zieber with Pathfinder Research Inc. in San Jose, Calif.

Couldn't agree more, Fred.

(FD - I own some Freescale but am seriously considering liquidating it)

Posted by mcblogger at 11:30 AM | Comments (0) | TrackBack

This should piss off someone

Something Awful, as part of Photoshop Phriday, recently ripped on collectibles. I missed it because I've been busy but WAS able to catch up this morning. That's where I found this gem...

That's right, folks! Bad taste and nothing else... who else would post this a little more than 24 hours after something about making soy sauce outta pubes?

Posted by mcblogger at 10:36 AM | Comments (2) | TrackBack