February 28, 2006
It's only February
But I'm already sick of South By Southwest. I'm sick of wristbands, I'm sick of showcases, I'm sick of platinum passes... and I promise to rip the lungs right of the next fuckwit who utters the word "interactive" in my presence.
I once had the misfortune to be on a plane leaving Austin on the last day of SXSW. The flight was packed with music industry weasels returning to their respective coasts. And what was all the chatter about? Some hot new band? The Next Big Thing? Errrrrrr no, it was all about how AWFUL the food was in Austin!
Posted by mayor mcsleaze at 07:56 AM | Comments (1) | TrackBack
Oh, this is just stupid...
(crossposted at BOR and KABBlog)
Monday The Daily Texan had a great article up about Chris Bell's inability to file his financial disclosure on time as the ethics laws in Texas require. Here's a quote:

"This was really just nothing more than a mistake. I wasn't trying to hide anything," Bell said.
No one's saying you were, Chris. The problem is that it's state law and if your entire campaign is going to be based on ethics then how in the hell do you do something like this? It's enough to make one think that you are either not serious about ethics or the campaign. Either way, it's not a good omen of things to come should Bell become the Democratic candidate for Governor.
Of course, the fun didn't stop there from the Bell camp. In the February 24th issue of The Texas Observer on page 12 there is an article entitled 'Accentuate the Negative'written by none other than the Bell Campaign's Jason Stanford. Here are some of the choicer quotes...
"If only we could get campaigns to stop throwing mud and stick to the issues, armies of disaffected citizens would come out to vote. That's all great, except for one small problem. It's a load of horse spit and bull corn."
"Shaking hands with strangers poses risks for a candidate running a negative television campaign. Little old ladies are liable to whack you with their canes while they shriek about how much they hate negative campaigning."
"Turns out, negative campaigning helps turnout -- and democracy -- if it's done well."
So, I guess the Bell campaign's strategy with from the get-go was to drag Bob Gammage through the mud. It's unfortunate for them none of it is sticking.
Posted by mcblogger at 12:20 AM | Comments (1) | TrackBack
February 27, 2006
Science... the bane of our existence...
Check out more at The Onion.
Posted by mcblogger at 08:17 PM | Comments (3) | TrackBack
February 26, 2006
Tell me if this is a dumb idea...
I want to buy two websites: IHateShiites.com and IHateSunnis.com and I'm going to offer them for sale to Iraqi's under the theory that if they have some sort of slam book website they'll be able to work out their agression toward one another without having to set fire to mosque's... and Imams.
Seriously... they should all have internet access and computers. Where else was the money to contractors going?
Posted by mcblogger at 10:48 PM | Comments (2) | TrackBack
February 25, 2006
Frank Madla is the suck...
You might remember we recently mentioned that shithead TX State Senator, Frank Madla. Well, it turns out that the folks at the Uresti campaign have one hell of a commercial (or Quicktime) their media people put together.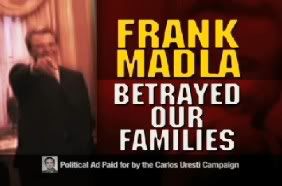 Nice work, peeps! Click here to go to Uresti's website and give the man some money!
Posted by mcblogger at 09:34 PM | Comments (0) | TrackBack
February 24, 2006
The Five Most Dangerous Children's Books ever written
Well, at least according to Sean Hannity...
1. Clifford the Big Red Dog by Norman Birdwell

According to a reliable source,* Norman Birdwell, a close personal friend of Karl Marx and adviser to Pol Pot, was a card-carrying member of the American Communist Party. The metaphor is obvious: a big red canine teaches children the importance of sharing and working together. (While cleverly ignoring the consequences of such un-American behavior.)

Stories include "Clifford Goes to School" and "Clifford Goes to Work, Where He Organizes a Workers' Revolution." Noticeably absent from the collection of short stories are those resulting from the success of the red menace's machinations, such as "Clifford Institutes a Five-Year Plan" or "Clifford Murders Political Dissidents."

* Former Senator Joseph McCarthy
See the rest at McSweeney's...
Posted by mcblogger at 05:03 PM | Comments (7) | TrackBack
February 23, 2006
Goddamn, if you're this dumb the R's are gonna shit all over you
Chris "Don't Mess With Ethics" Bell, Democratic primary candidate for Texas Governor has failed to comply with current Texas Ethics laws that require financial disclosure. Ironic? Of course. Stupid as hell? That, too.
Here's the really dumb thing... the moron didn't let it die. Instead, a minor story has become so much more. This afternoon, Richard Morrison (former DeLay challenger) issued a letter attacking the Gammage campaign for pointing out that Bell did, in fact, break the law.
I've never seen a campaign self-destruct like this.
Posted by mcblogger at 11:06 PM | Comments (1) | TrackBack
February 22, 2006
No shit, Sherlock!
San Francisco plans to harness the power of poo
City officials are hoping to harness the power of dog doo. San Franciscans already recycle more than 60 percent of their garbage, but in this dog-friendly town, animal feces make up nearly 4 percent of residential waste, or 6,500 tons a year — nearly as much as disposable diapers, according to the city.

Within the next few months, Norcal Waste, a garbage hauling company that collects San Francisco's trash, will begin a pilot program under which it will use biodegradable bags and dog-waste carts to pick up droppings at a popular dog park.

The droppings will be tossed into a contraption called a methane digester, which is basically a tank in which bacteria feed on feces for weeks to create methane gas.

The methane could then be piped directly to a gas stove, heater, turbine or anything else powered by natural gas. It can also be used to generate electricity.
Posted by mayor mcsleaze at 06:35 PM | Comments (0) | TrackBack
You deserve a laugh today
Turn your speakers on.
America's Asshole in Chief
Safe for work? Depends where you work!
Posted by mayor mcsleaze at 02:16 PM | Comments (0) | TrackBack
Ron Kirk rises from irrelevancy and promptly sinks back...
Ron Kirk, also known as the guy who got beaten DOWN by John Cornyn in 2002, has endorsed Chris Bell. I gotta say, the parade of has beens and wannabes supporting Chris Bell has indeed been impressive and honestly amusing as hell because none of these people have any grassroots cred.
Organization after organization endorses Bob Gammage while a few papers and some also-ran former candidates endorse Chris Bell. Take Travis County, where we've been beating Republicans... every major Democratic organization, some of which are statewide, endorsed Bob Gammage. Not a single one endorsed Chris Bell. Pitiful, isn't it? Especially when your campaign is based here.
Still, it's great to see all this support for Chris. I'm always overwhelmed when milquetoast supports vanilla pudding.
Posted by mcblogger at 10:39 AM | Comments (0) | TrackBack
February 21, 2006
Don't bring a rifle to a hammer fight
Note to self: Don't drink this guy's last beer.
Marion County authorities said a man is charged with fatally beating his roommate with a sledgehammer and a claw hammer because there was no toilet tissue in the home.

Crow told investigators that the men were fighting over the weekend about the toilet paper when Matthews pulled out a rifle. According to an affidavit, Crow said he then began beating Matthews with the sledgehammer and claw hammer.
Posted by mayor mcsleaze at 02:08 PM
Not so much whining... I'm guessing she's not seen this yet
I just loved this. Check out more at ThoseBastards.
Posted by mcblogger at 01:39 AM | Comments (0) | TrackBack
February 20, 2006
Gold diggin' ho!
Nick Lachey is asking for spousal support from the chick who had questions as to whether canned tuna was actually canned tuna or chicken.
OK, so she's got boobs and a career, two things Nick does not (at the moment) posses. But spousal support? Come on, dude! Just put that crappo band back together, call the folks at TeenPeople and spin out some crappy records a la your earlier career.
Simpson was too busy checking her hair for split ends to comment.
Posted by mcblogger at 12:15 PM | Comments (0) | TrackBack
Damn, y'all SUCK!
Fuck all if the Dallas Stonewall Dems aren't a bunch of catty bitches! Last week there was a story out about the former hooker with the heart of gold running in TX HD 108 against that cocksucker Dan Branch (don't bother checking... he DID vote for HJR6 which led to Prop 2, the 'Faggot, no get married here!Bad!Bad!' law that made last fall so much fun).
Here's the photo matchup

VS.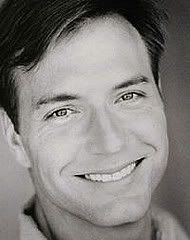 Today, PinkDome has this up... apparently, the DMN got the story when someone from Stonewall Dallas (a jealous former lover? would have liked to have been a jealous former lover? just some mindless, tacky skank?) TIPPED THEM OFF rather than confronting Malin with it privately and giving him an opportunity to come clean.
You know, when we have some good looking, decent people running for office as Democrats can we please not work so diligently to tear them down? Can we at least give them a chance to spin the story? People are OK voting for for someone with a past. Look at this alci just over half of y'all elected.
UPDATE - Just FYI - Malin is the cute one on the right, Branch is the assclown on the left.
Posted by mcblogger at 10:38 AM | Comments (1) | TrackBack
February 19, 2006
Ken Molberg, SDEC Member from Dallas, endorses Gammage
Ken Molberg, former chair of Dallas County Democratic party and current SDEC member today announced a strong endorsement in the governor's race for Bob Gammage. You read the full endorsement here. Here are some highlights with the full text after the jump...


(Gammage)has the intellectual wherewithal, political skills, dedication and stamina to serve the people well, and he will bring those qualities to bear on the important but neglected issues that face us: school finance and property tax reform, ethics, health care, open government, working conditions, and the environment, to name but a few.
Some newspaper editorialists who have endorsed Gammage's opponent, former Congressman Chris Bell of Houston, a genuinely good man, have done so largely on the argument that Bell would more readily cooperate with a rancorous Republican House and Senate. That's hardly an inducement for Democrats to nominate Bell. Cooperate to what end? In repeatedly failing to enact school finance and property tax reform? In burning millions in taxpayer dollars to enact a partisan congressional redistricting scheme of doubtful legality because Tom DeLay insisted on it?
GAMMAGE FOR GOVERNOR
Democrats have a chance on March 7 to help put a grownup back in charge of the governor's mansion. How? By voting for Bob Gammage.
Gammage offers a distinguished background of responsible leadership and experience coupled with a forward-looking vision for the future of our state that is in marked contrast to his rivals of March and November.
I've known Bob Gammage for three decades, maybe more. We have not always been on the same side of every political battle, but I can tell you this for certain: he has the intellectual wherewithal, political skills, dedication and stamina to serve the people well, and he will bring those qualities to bear on the important but neglected issues that face us: school finance and property tax reform, ethics, health care, open government, working conditions, and the environment, to name but a few.
Some newspaper editorialists who have endorsed Gammage's opponent, former Congressman Chris Bell of Houston, a genuinely good man, have done so largely on the argument that Bell would more readily cooperate with a rancorous Republican House and Senate. That's hardly an inducement for Democrats to nominate Bell. Cooperate to what end? In repeatedly failing to enact school finance and property tax reform? In burning millions in taxpayer dollars to enact a partisan congressional redistricting scheme of doubtful legality because Tom DeLay insisted on it?
Perhaps it's best for those editorial writers to remember that it is Republicans like Tom Craddick and Rick Perry who have turned Austin into a mirror image of D.C. partisanship and influence peddling. The last thing this state needs, or the people want, is a governor who will simply go along with the status quo. Bob Gammage, former soldier, state and federal legislator, and state supreme court and appellate court justice, knows the difference between the value of true legislative compromise and rolling over and playing dead. He has made a career of successfully working with disparate forces, but he will not sell out his principles, integrity or constituents.
For all of the positive traits that would make him a better governor than anyone else but Bob Gammage, Chris Bell has nevertheless failed to exude the confidence and excitement that Gammage brings to the campaign. Nor has he adequately explained his support while in Congress for the devastating Bush tax cuts that have led to unfathomable deficits, drilling in the Arctic National Wildlife Refuge, and a bank and credit card-sponsored bankruptcy bill aimed like an arrow at the heart of struggling working families and those overwhelmed by huge medical debts. If you did not know Gammage and Bell by sight, Gammage sounds like the "fresh face" with the "new ideas" in this campaign.
Bob Gammage has called on Texas Democrats to return to their progressive roots, with a focus on educational excellence, affordable prescription drugs, an increase in the state minimum wage, and strengthening campaign finance laws to subdue the "politician for sale" odor that flares our political nostrils. Gammage, a "Dirty Thirty" veteran in the fight against corrupt political machines of the past, offers a true alternative to the mess this state has become under Republican rule—a state now run by the powerful special interests as much as Washington, D.C. is run by the Jack Abramoffs and their ilk. Straight talk, integrity and solid proposals, not hidden agendas or higher ambitions, are Gammage's stock-in-trade.
If you're one of those people accustomed to rooting for Goliath at David's expense, Gammage is not your guy for November. On the other hand, if you want a Democrat who has been tempered on the anvil of experience, hard work and dedication to duty, one who will not bend to undue pressure or place his own ambitions ahead of the people's interests, then give Gammage your vote.
Ken Molberg is the former Democratic Chairman of Dallas County and longtime Texas Democratic Party leader. He also is an attorney who specializes in employment law

Posted by mcblogger at 10:40 PM | Comments (1) | TrackBack
February 18, 2006
When constabulary duty's to be done, to be done
A policeman's lot is NOT a happy one
Citing public pressure, Spotsylvania County's sheriff said yesterday that he has suspended the practice of allowing detectives to receive sexual services during prostitution investigations, a technique that brought the quiet Virginia exurb attention from across the nation and around the world.

"As Sheriff, I understand the feelings and concerns the citizens of this county have expressed," Sheriff Howard D. Smith said in a statement. "And I empathize with those feelings."

Spotsylvania detectives on assignment to crack down on prostitution in county massage parlors visited Moon Spa three times in January and paid for massages, baths and sexual acts on four occasions, court documents show. On one occasion, they left a $350 tip, records show.

Smith and William F. Neely, the county's top prosecutor, said the sexual acts were necessary because the masseuses had poor English skills and would have been unable to make clearly spoken offers of sex for money. Such offers and evidence that more than touching occurred are needed to make a case under Virginia law, they said. Only unmarried detectives were assigned to the cases, Smith said.
Posted by mayor mcsleaze at 01:58 PM
February 17, 2006
The most ridiculous headline you will ever read
From the Mail & Guardian:
Pakistani, Danish diplomatic ties collapse over cartoons
Posted by mayor mcsleaze at 12:53 PM | Comments (0) | TrackBack
Boys will be boys
And who will be more boyish than fraternity boys?
Frat Accused In Alleged Goat Sex Hazing Incident
Member Says Nobody Would Actually Have Sex With Goat
Sadly, the headlines write a check that the story can't quite cash.
Posted by mayor mcsleaze at 11:47 AM
February 16, 2006
Oh, won't someone rid us of Madla...
There is a horrible state senator in Texas. His name is Frank Madla. He runs as a Democrat and he is, if your definition of a Democrat is someone in the mold of Zell Miller or Henry Cuellar. He's too big a pussy to run outright as a Republican because he'd never get elected from his district. Yeah, basically he's a dick.
Karl-Thomas Musselman over at BurntOrangeReport has a great piece up about dear old Frank. The video is a must see for everyone who has ever wanted to see a DINO skewered by careless words out of his own mouth.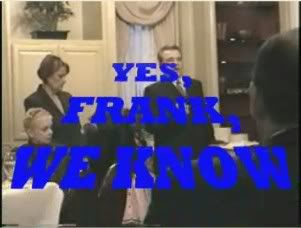 Oh yes, we DO, Frank. And we can't wait for Carlos Uresti to kick your ass on the 7th.
Posted by mcblogger at 11:56 AM | Comments (2) | TrackBack
February 15, 2006
Holy Shit, Y'all! Them moslims are afta Shelly!
Shelly, clearly suffering from delusions of granduer (and laboring under a defect in her imagination that leads her to believe people care about her), says she is being attacked by Muslim hackers.
Can't you just see the kids in a madrasa in Pakistan huddled around the CRT of a trash80 working diligently to bring down... shelly. Yeah, kinda ruins the whole 'war on terror' thing, doesn't it? I mean they could go after NORAD, DoD, the Fed, or even Treasury. INSTEAD, they go after Shelly who is clearly distressed...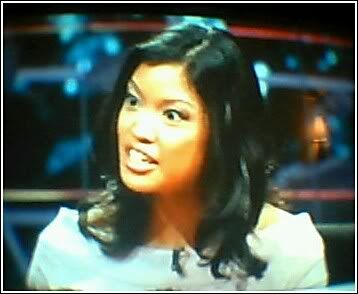 about the whole thing. It saddens me when a media personality (read: total loser) takes a dive off the high board into the deep end. Wait. No, I laugh at that. Sorry, got a little confused there for a second what with the image and all.
Kudos to 100 monkeys typing for the screen caps
Posted by mcblogger at 12:17 PM | Comments (1) | TrackBack
February 14, 2006
The envelope please....
And in the catagory of lamest blog, Make Austin Snnnzzzxxx
Posted by mayor mcsleaze at 05:18 PM
February 13, 2006
One morning, I shot a lawyer in my pajamas. What he was doing in my pajamas, I'll never know
While you're waiting for the next shitty service station restroom post, amuse yourself with this.
Posted by mayor mcsleaze at 01:33 PM | Comments (0) | TrackBack
February 12, 2006
I just don't know what to say...
a) You have to watch this.
b) You have to watch this with the sound on.
c) You have to tell me if this DOESN'T make you laugh. Especially the bit at the end.
Rocks, no? I'm thinking an explanation for this would ruin the whole thing.
Posted by mcblogger at 02:20 AM | Comments (0) | TrackBack
February 11, 2006
New! Super Shitty Service Station SPECTACULAR
This is the first entry in what is bound to be recognized decades from now for it's brilliance and amazing clarity of vision. I say decades from now because there is NO way you bitches will think this is anything other than funny.
Trash.
Still, much like pearls before swine, I offer you SUPER SHITTY SERVICE STATION SPECTACULAR!
We've all been in some rather heinous bathrooms at service stations across the country. In fact, I seem to have a knack for finding them. Some say it's because I have a bladder the size of a shot glass. Others think it has something to do with the fact that I am never in the car without a 44 oz. Diet DP. Personally, I blame Scientology. Whatever the reason, and wherever I am, I manage to find some truly disgusting places to empty my bladder.
This first post takes place while on a trip to visit my parents in East Texas. See, my parents have mastered the art of guilt. In fact, they are currently writing the definitive book on the subject to be used by Catholic and Jewish parents everywhere. So, they're constantly on my ass to visit which leads us to the the trip back home and a stop at an Exxon Station in Bellmead, TX. This particular station isn't the nastiest I've ever been to, but it's pretty damn close. Ladies and Gentleman, Boys and Girls, I present to you the first Super Shitty Service Station, Bellmead Exxon.
Here's the outside of the store, the typical run down, small town Exxon...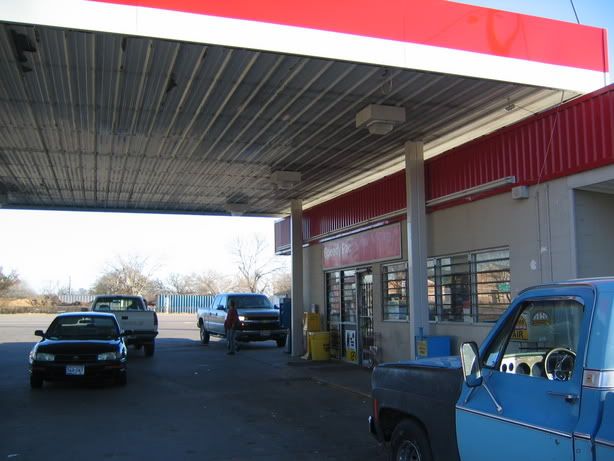 Here's the door with no lock. There was someone sitting in that blue truck outside the bathroom. I didn't think he'd join me, but a lock would have made me feel much better.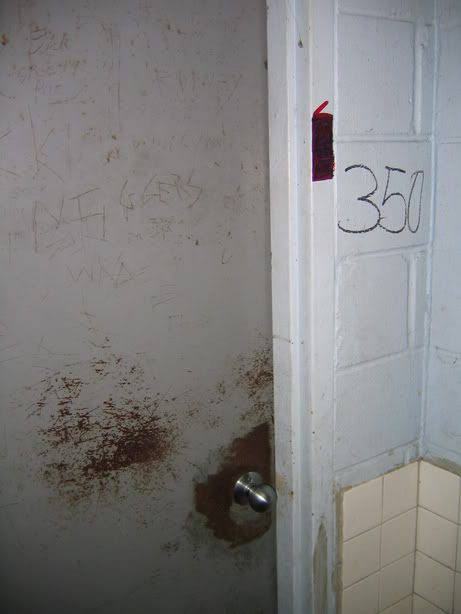 Someone loves them some Zepplin


And here's the rest in all it's putrid glory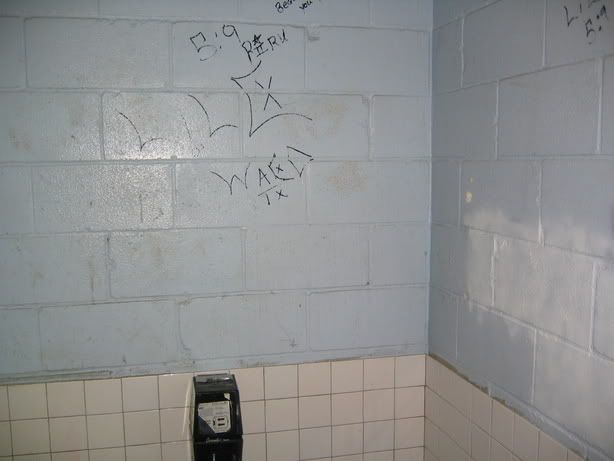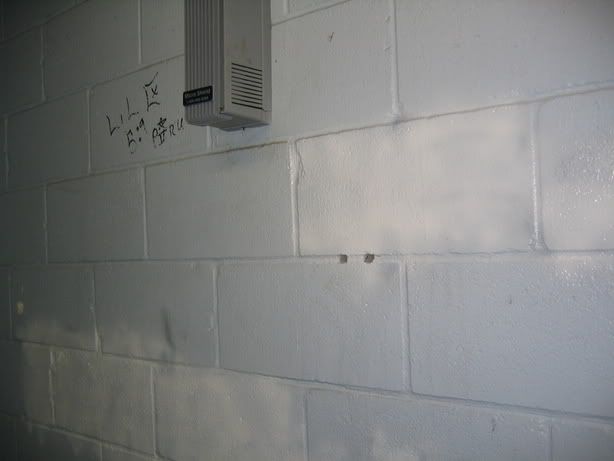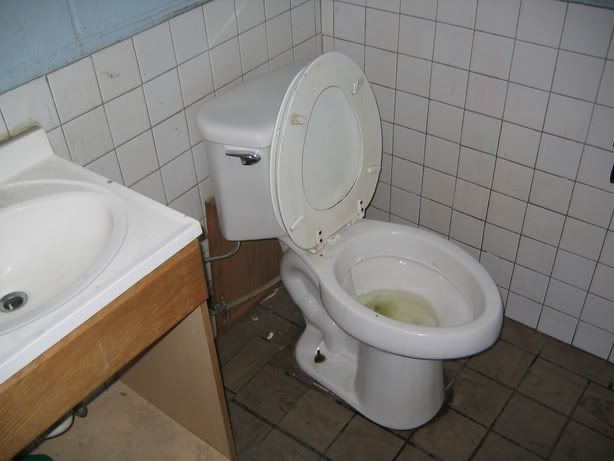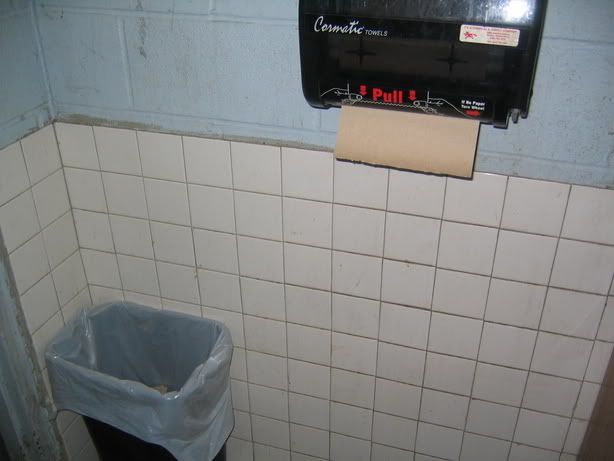 Oh, believe me, there's more on the way. This is, after all, Texas.

Posted by mcblogger at 09:47 PM | Comments (2) | TrackBack
Objects in the overhead compartments may shift during flight
So be careful opening them, you never know what could fall out...
US immigration officials have arrested a Haitian woman after baggage screeners found a human head in her luggage at a Florida airport.

Myrlene Severe, 30, has been charged with failing to declare the head on a customs form and transporting "hazardous material".

She arrived at Florida's Fort Lauderdale airport on Thursday on a flight from Cap Haitien in north Haiti.

Ms Severe said that the head was to ward off evil sprits, officials said.

"Severe stated that she had obtained the package, which contained a human head, from a male in Haiti for use as part of her voodoo beliefs," the US Attorney's Office said in a statement.
Posted by mayor mcsleaze at 09:43 PM | Comments (0) | TrackBack
February 10, 2006
It's that time of year again
If you've been putting off entering the British Parking Awards, better get that paperwork together... they'e coming up on March 10.
Will Manchester Council's Andy Vaughan and his crack Red Team defend the title this year? The anticipation is so thick you could cut it with a knife.
Posted by mayor mcsleaze at 12:47 PM | Comments (1)
February 09, 2006
And you thought your zoo had problems
Germany's gay zoo penguins still fending off female advances
Six gay penguins at a German zoo are still refusing to mate with females of the species flown in from Sweden in 2005, the zoo said.

The problem was that the female Humboldt penguins have proven too shy in their advances, the director of the zoo in the northern port city of Bremerhaven said.

"The Swedes will not make the first move," Heike Kueck said.

The females were flown in last year in a bid to bring the males to mate and help save the Humboldt species from extinction.

Kueck said last year she was optimistic the initiative would be successful because zoo keepers had noticed that at one point a female penguin had managed to cause a couple of males to "separate".

The zoo has 10 male penguins of which six have shown strong signs of preferring male company and formed couples among themselves.

The initiative to "turn" the penguins and make them mate had prompted a furious response from gay rights groups.
Posted by mayor mcsleaze at 09:05 AM | Comments (1)
February 08, 2006
You Can't Make It Up : Reasons for my Re-Tardiness
If this doesn't make you laugh then you probably had a humor bypass sometime in the early 80s.
Two posts of just links in a row. I'm going for the 2006 Lazy Bitch award!

Posted by mcblogger at 04:51 PM | Comments (0) | TrackBack
Bush shits on PBS
Pink Dome has the story and some fab art!
Posted by mcblogger at 12:47 AM | Comments (2) | TrackBack
February 07, 2006
Amazing expression of religious tolerance, part 2347
Okay, this isn't exactly about (in)tolerance. It's just fucking sick.

A Springfield pastor was arrested and charged with animal cruelty after a witness told police he saw the pastor throwing puppies from a pickup truck, according to a report.

"He was actually throwing them, not setting them down, but throwing them as far as the trees. Just chucking them," Tiencken said. "He said, 'I told my wife. You don't have to call the police. You don't have to call them.'"

Tiencken called the police anyway.

The detectives who tracked down Kohn said they found the malnourished mother of the puppies chained-up at Kohn's home along with four or five more puppies that had no food or water, according to the WJXT-TV report
Posted by mayor mcsleaze at 02:46 PM
TMN - Would you like havarti with your freedom fries?
TMN has a great piece up on the ruckus created by some crappy cartoons in some crappy Danish newspaper. As if people don't have real fucking problems. Here's my favorite part...
Similarly, countries don't seem to have a clue how other countries work. Why else would Bahrain demand an apology over the cartoons from little old Queen Margrethe II of Denmark? If you have no clue that a constitutional monarch figurehead—even if she is the chain-smoking cutie 213th in line to the throne of England—doesn't control her state's media, then how are you even qualified to take part in geopolitical conversations for grown-ups?
Posted by mcblogger at 02:40 AM | Comments (3) | TrackBack
February 04, 2006
Follow up to the esteemed Mr. Leininger...
Just for shits and grins, thought I would put up a picture of the man who's responsible for funding every Republican nutter in the state of Texas. Ladies and Gentleman, meet Dr. James Leininger, the man who'd like to destroy public education...
Looking at this I can't help thinking of a certain song by Prince. Oh, you know the one... you sexy mofo
Posted by mcblogger at 02:34 AM | Comments (0) | TrackBack
February 03, 2006
THIS is the voucher guy? This guy?
There is a shitty little newspaper in East Texas. I'm not entirely sure if anyone reads it. There is an editorial up right now about someone y'all will find intensely interesting. Here's a qoute from the article...
The scholarships provided just half the tuition cost $750 per child. For the rest, the family was responsible. And so the boys' mother, a city clerk, taking on that added financial burden, lost first her car, then her electricity, then her apartment. She moved in finally with her mother.
The generous person responsible for just half the tuition? James Leininger... the article is a total puff piece with lots of rich boy blackslapping and trying to 'save some kids from public schools' instead of saving all the kids along with the schools. Cheap bastards.
Posted by mcblogger at 02:10 PM | Comments (2) | TrackBack
Alec and Meryl are dissapointed in the Senate D's
NYDN has a wonderful article about the dissapointment of Alec Baldwin and Meryl Streep in the actions of the Senate Democrats for letting Alito slip through...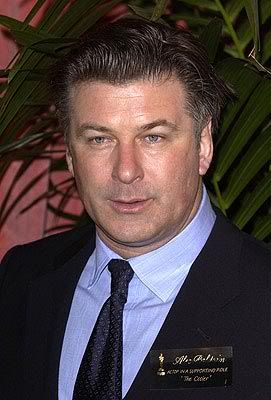 "chicken-bleep Democrats in the Senate. We have a bunch of budding Zell Millers down there," referring to the crusty Georgia senator who backed the Republican agenda in 2004. Although that was almost two years ago, Baldwin says, "I loathe and despise him on a daily basis."
Uhm, Alec... we're all a little upset that the D's couldn't get it together. Calling them a bunch Zell Millers is kinda counterproductive and not at all accurate. They aren't nearly that ugly. Not even Landrieu.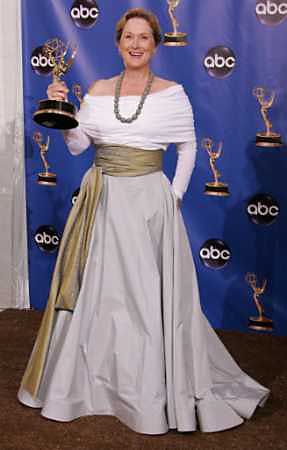 Streep has yet to be inspired by any of the likely Democratic presidential candidates. Her requirements are simple. "I want a candidate to come out of nowhere and have no conflicts," the Oscar winner joked. "I want major campaign reform. I want Jesus to come back and throw the money lenders out."
Yeah. Meryl, my advice is to you is to shit in one hand and wish in the other. See which one fills up first, sweets!
Bitter? Fuck yeah. ESPECIALLY when actors and actresses WHINE about politics. Where the hell were they leading up to the vote?!?! People who whine after the fact, even though they did nothing, suck ass.
Posted by mcblogger at 12:22 AM | Comments (1) | TrackBack
February 02, 2006
Amazing expression of religious tolerance, part 2346
We must not overreact. And it would probably be an overreaction to firebomb these men's houses. But what they have done is no mistake. It is a calculated strategy.
What fiendish strategy could this entry, posted on a Chistian blog, possibly be referring to? A scheme to cut Bono's cocaine with itching powder? A plot to pee in the holy water?
No, it's a reaction to the revelation that the producers of "End of the Spear", a movie about missionaries killed by a tribe in Ecuador and the Indians' eventual conversion to Christianity, cast a gay actor in their film.
Posted by mayor mcsleaze at 05:16 PM | Comments (2) | TrackBack
Creep out family, friends, neighbors and associates
Alan Greenspan retired this week. That event has sparked a week of tributes and ass kissing from the crew at CNBC. Of course, the big event is a charity auction on EBay. Keep in mind, this isn't an auction of something Greenspan donated (like maybe his briefcase,which could throw markets into a tailspin or spur a rally depending on how full it was as he walked into an FOMC meeting) but is instead an auction of work by a painter who only does portraits... of Greenspan.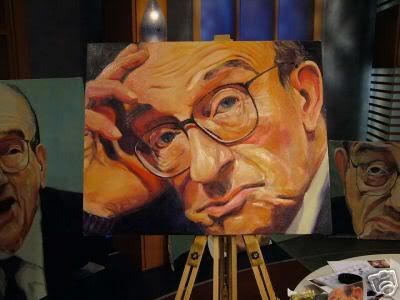 Yes, the auction is for a good cause (Autism Speaks). But why not skip the creepy art and just write a check? The high bid right now is $116,100. How much would you pay for art which might cause a seizure?
I have a ton of respect for Greenspan even though I did feel his fear of inflation was a bit overdone. Still, I'm not sure if the best way to honor his service to the government is by auctioning a painting that reminds me of Munch.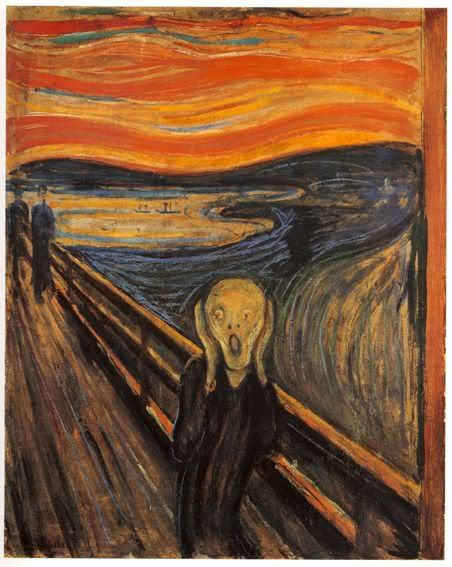 Posted by mcblogger at 03:26 PM | Comments (0) | TrackBack
February 01, 2006
SOTU - What he really said
Last night Excusemaker in Chief Bush announced that he's focused on the following:

Creation of a human-animal hybrid (this came outta Rove's asscrack... these guys have some SERIOUSLY fucked up fantasies)
Freeing us from our dependence on foreign oil all which had the Democrats screaming, in unison, WELCOME TO THE FUCKING PARTY, ASSHOLE.
Free Medical care. And kittens for the tots. And free ice cream at the creamery of your choice, once a month
Yes, it was a blockbuster of a speech (if by 'blockbuster' you mean not well received and by 'speech' you mean someone talking). The real star of the evening was VA Governor Kaine who, though his gestures and facial tics were distracting, managed to bring focus to a Democratic agenda and show D's as the party that actually wants to do something for people. Please, no comments about his halting, Shatner-esque delivery.

Runner up HAD to be the Congressional D's who took the opportunity to pat themselves on the back and heckle the President a little over Social Security and their success at derailing what even most R's called a 'mindnumbingly bad plan'.
In last place, as usual, TN Senator Bill Frist whose cadaver like appearance next to Barack Obama on split screen was terrifying enough to make children scream.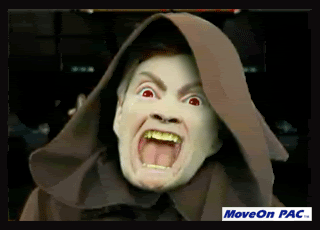 See?
Posted by mcblogger at 12:21 PM | Comments (1) | TrackBack