May 08, 2009
Scummin' it up with The Brew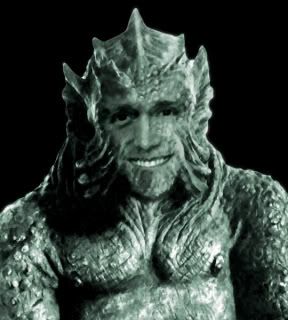 Just when you thought it really wasn't possible for RTM to sink lower than he already had, the nasty little snatch in cooperation with Responsible Growth for Northcross is running a push poll against Leffingwell
Just got a negative robo-call from a group identifying themselves as Responsible Growth for Northcross. it was NASTY -- it attacked Lee and accused him of taking money from Clayton Williams, putting developers over voters, said that Lee doesn't listen...

It then went on to praise Brewster as a progressive who has the support of the film and clean energy industry.
Hmmm... let me think. Brewster's votes on tolls certainly weren't progressive. Actually, none of his transportation votes were what you might call progressive. That alone puts him pretty solidly in the developers camp, not to mention the hip pocket of the Chamber of Commerce. And let's not forget, Release The McCracken never stuck his neck out for Northcross. I wouldn't be surprised if RTM had stock in Wal Mart.
Now, there's something to be said for taking money from someone as classically retarded as Claytie Williams. It's really pretty smart, especially when you know that Lee is like Clayton Williams about as much as Brewster is like Mike Martinez. Which is to say not at all. I'm all about politico's taking money from stupid people to do good things. Lee obviously feels the same way.
Oh, and while we're on the subject of campaign contributors, let's talk about one of Brew's in particular that caught my eye... from our former City Manager, The Demon Toby Futrell. On the sheer evil scale of 1-10, Claytie Williams is a bumbling two. Toby is a 15. Let's all remember that Toby was all in love with the Domain subsidies and converting Northcross into a Wal Mart. Let's also remember that Release The McCracken made a habit out of being Toby's bitch.
Finally, someone reminded me that there's yet another connection to Claytie Williams in all this... His campaign co-chair way back in 90 was none other than former Comptroller and current Mayoral candidate Carol Keeton Rylander McClelland Strayhorn. And, no, she didn't resign when he jokingly suggested she enjoy being raped.
One has to wonder why Brew, if he were really so offended, would focus on a check instead of Carol's silence.
Posted by mcblogger at May 8, 2009 10:20 PM
Trackback Pings
TrackBack URL for this entry:
http://www.mcblogger.com/movabletype/mt-tb.cgi/4485
Comments
Damn you McBlogger, I was not going to look at RTM's financial statements, but you had to provide a link in this post. From this I determined that the "Demon Toby Futrell" has retired to Corpus Christie two blocks from the beach with a man-made boat canal behind her house. Guess she is doing okay.
Posted by: McIndependant
at May 8, 2009 11:10 PM
I've been meaning to ask... what's with the picture of John Kerry à la Swamp Thing?
Posted by: Mayor McSleaze
at May 9, 2009 10:04 AM
McI - Of course she is. The City paid her exceedingly well during her tenure.
McSleaze - It's a Kracken with Brewster's face. It's not the fault of the photoshop artist that Brewster has a John Kerry-esque smile.
Posted by: mcblogger
at May 9, 2009 11:33 AM
Post a comment
Thanks for signing in, . Now you can comment. (sign out)
(If you haven't left a comment here before, you may need to be approved by the site owner before your comment will appear. Until then, it won't appear on the entry. Thanks for waiting.)