April 21, 2009
How YOU should vote : Place One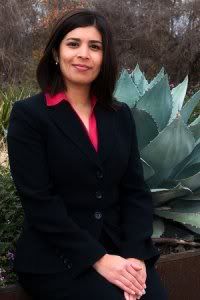 Perla Cavazos wins our endorsement because of her willingness to explore all options and commitment to making the Council (and the City) more proactive in handling the issues which seem to plague us year after year. Additionally, she is genuinely responsive to the needs of a the entire city and truly thinks of it as a whole, not just as 'Downtown plus some other places'.
The fact that she looks like Eva Mendes compared to Chris Riley's Cryptkeeper definitely helped the straight boys who author here make their decision.
While we like Chris and find him knowledgeable, we also found him stuck on several issues and dismissive of other solutions (not to mention more than a little didactic). He seems like the consummate policy wonk, fully aware of conventional wisdom and unwilling (or unable) to think outside the box to discover alternate solutions. Worse, he apparently has never thought it appropriate to question the CW or the assumptions that lead to it. That's not at all what Austin needs. We already have Sen. Watson.
Perla's broad and deep knowledge base helped her during her six and half years as a senior policy analyst in the byzantine world of the Texas Senate. Her mastery of policy intricacies and political considerations there will enable her to translate easily to City Hall which is, obviously, a far calmer environment.
Austin needs the dynamic, thoughtful and creative leadership of Perla Cavazos on the City Council.
Oh and, again, she's fuckin' smokin' hawt!
Supersize this entry to read Mayor McSleaze's thoughts
I concur with McBlogger's endorsement of Perla Cavazos for Place One.
Like the majority of Austin voters, I really haven't been paying much attention this year. But I like Perla, first, because she is smokin' hot, and I also think it would upset the apple cart a little to elect a Latina to one of the seats set aside for Whitey under the so-called "gentleman's agreement".
Chris Riley? Mostly, I am upset by his yard signs. For one thing, they have one of those stylized urban skylines and I HATE those. They remind me of Greg Knappe's signs from 2005. Remember Greg Knappe? He was rumored to be developers' candidate back then. I wore out a pair of shoes blockwalking for Margot Clarke that year and damned if Jennifer Kim didn't end up stomping us in the runoff. Better her than Greg Knappe.
Not only do Chris O'Riley's signs have a skyline on them, they also have on of those wave things that are so popular these days. I suppose it's supposed to make me think of Obama. Or maybe it's supposed to make me think of Pepsi. I'm confused. And the last thing we need in this city is a councilmember who promotes confusion.
---McSleaze
Posted by mcblogger at April 21, 2009 08:58 AM
Trackback Pings
TrackBack URL for this entry:
http://www.mcblogger.com/movabletype/mt-tb.cgi/4425
Comments
Post a comment
Thanks for signing in, . Now you can comment. (sign out)
(If you haven't left a comment here before, you may need to be approved by the site owner before your comment will appear. Until then, it won't appear on the entry. Thanks for waiting.)