April 30, 2009
Does Brewster have swine flu?
Take a look at this shitty little campaign vid from Team Brewster. Seriously, I'll wait for you to get back...
Aside from the content, which we'll get to in a moment, did you notice the sweating? What's up with that... it's like Nixon during the '60 Presidential debate. I know all drafthouse locations have AC, I've nearly been flash frozen by the one at the Village. So, the only reasonable explanation I could think of was that Brewster, you know, has the swine flu.
But that's kind of irrelevant since the message contained in the ad is a little more important. And that message, in case you missed it while Release the McCracken was beating you over the head with it, is that if Austin doesn't elect RTM, we're going to become like Saint Louis which is, according to RTM, a burnt out shell of a city. As you can imagine, some people in St. Louis didn't like that too much...
I mean, other than looking well fed and midwestern (which they clearly were) these people look normal as a damn Rockwell painting. And St. Louis' urban core, just FYI, looks like this...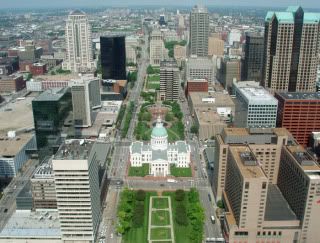 Whatever, RTM... you've only got yourself to sell and, unfortunately for you, we already know that's a worthless item. In the end, your leadership didn't make Austin great... and it certainly won't make it greater. That's the problem with trying to sell yourself as the only candidate who can continue to make our lives awesome... people's lives were good here in Austin before you came along and they'll be fabulous once you're off council this summer.
This entire campaign has been little more than ego masturbation by Release the McCracken.

Posted by mcblogger at April 30, 2009 10:34 AM
Trackback Pings
TrackBack URL for this entry:
http://www.mcblogger.com/movabletype/mt-tb.cgi/4463
Comments
Post a comment
Thanks for signing in, . Now you can comment. (sign out)
(If you haven't left a comment here before, you may need to be approved by the site owner before your comment will appear. Until then, it won't appear on the entry. Thanks for waiting.)