February 13, 2009
Junio John Speaks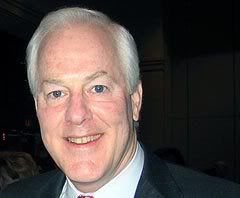 The stimulus bill is not going to work, mostly because of the tax cuts/rebates, which Junior John now says don't work. Which is kinda funny since part of the reason he's voting against it is because it's not 100% tax cuts.
He also conveniently ignores the fact that the overweight toward tax cuts in the bill are the result of compromises to Republicans. Then he mentions a CBO study that says this bill will eventually crowd out private investment. Which is hilarious since this bill isn't even a tenth of the size of the US economy.
Finally, Sen. Cornyn flat out lies about the efficacy of tax cuts vs. spending saying that spending is about half as effective.
It's never been more clear than now that we need a real Democrat in the Senate representing Texas. I don't know that either Sharp or White are that guy. I have no idea what they think about fiscal stimulus in a deflationary environment. I can tell you this, listening to Cornyn makes it clear that we can not afford to elect another ideologue more committed to politics than actually governing.
Which means, Sharp and White camps, you better get some goddamn good people to tell you what to say or I'm going to rain shit all over you both.
Posted by mcblogger at February 13, 2009 02:59 PM
Trackback Pings
TrackBack URL for this entry:
http://www.mcblogger.com/movabletype/mt-tb.cgi/4235
Comments
Post a comment
Thanks for signing in, . Now you can comment. (sign out)
(If you haven't left a comment here before, you may need to be approved by the site owner before your comment will appear. Until then, it won't appear on the entry. Thanks for waiting.)