January 05, 2009
McCracken me up...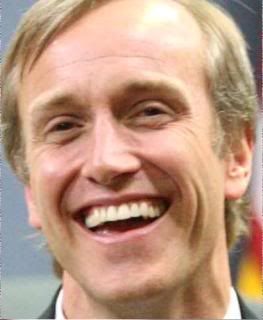 Release the McCracken really is a tragicomic figure in Austin politics. No one really likes him. He has no base. Even his supporters dread him and usually are supporting him because they think he'll do nice things for them like get them zoning variances and not bother them too much about affordable housing in the CBD.
We talked a bit about the Mayoral race a few months ago, mostly focusing on Levy and Carole Strayhorn OldCow. We did mention Brewster and used a picture of Gerald Daugherty instead of Brewster. It was an honest mistake... my picture db is set up by keyword. I typed in 'loathesome, austin' and that's what popped up. I'm ALL the time forgetting that McCracken is filed under 'shameless bottomfeeder, cocksucker, poliwhore, austin'.
I should also mention that Brewster is a spineless cunt, among a class of men I like to call 'spineless cunts'. We'll never forget his ability to fall over himself to satisfy the completely unreasonable demands of The Demon Toby. And we'll also fondly remember Brewster's appointment to that CAMPO working group on mass transit which, coincidentally, did dickall to give us a real public transportation plan. The sad thing is, so many dipshits were on this 'working group' it's little wonder nothing got done. I can see Kirk actually trying to do something while Gerald picked lint out of his navel and Brewster and Krusee groomed one another like apes.
For those of you who really thought Brewster couldn't sink any lower, prepare to be surprised. Now, as an attorney, one would think Brewster would understand the law. Oh, hell. Let's cut the bullshit... Brewster thinks he's got Lee hemmed in with this little stunt because he thinks the City Attorney will issue an opinion that agrees with his thinking. If that doesn't happen Brewster will look craven and cowardly. Actually, now that I think about it, that's what will happen regardless. And then Sarah Coppola HAD to get a quote from Levy the Lunatic.
Former Texas Monthly publisher Mike Levy, who is considering a mayoral run, said Sunday: "If Lee wants to run, it really shouldn't matter if he announces a year or a day before the filing deadline. What I think should be important is whether or not candidates are talking about the issues, especially at a critical time like this for Austin city government."
Run or don't run, Mike. Until you get off the fence, just say 'no comment' when asked for your opinion. It makes you sound like less than a dumbass. What's important is talking about the issues at a critical time like this? Why not just own your ignorance and tell the reporter you really don't understand the issue and can't comment intelligently. Retard.
Kedron Touvell has his take on this at BOR. I should point out that Kedron ran against Brewster in 2006 and lost, mostly because he was unknown and underfunded. If only we'd known better.
Posted by mcblogger at January 5, 2009 09:10 PM
Trackback Pings
TrackBack URL for this entry:
http://www.mcblogger.com/movabletype/mt-tb.cgi/4125
Comments
Okay, I'll scratch you off the blockwalking list for now.
Posted by: Mayor McSleaze
at January 6, 2009 03:59 PM
Post a comment
Thanks for signing in, . Now you can comment. (sign out)
(If you haven't left a comment here before, you may need to be approved by the site owner before your comment will appear. Until then, it won't appear on the entry. Thanks for waiting.)