January 27, 2009
Eleven million?!?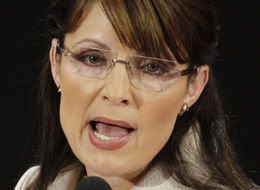 Governor Palin reportedly wants $11 mn for her new book, 'Pick Me! Pick Me!'. Will anyone be dumb enough to pay the tab, hire her a ghostwriter and actually put the thing out to a Barnes and Noble near you?
Posted by mcblogger at January 27, 2009 08:00 PM
Trackback Pings
TrackBack URL for this entry:
http://www.mcblogger.com/movabletype/mt-tb.cgi/4177
Comments
Maybe she will be necked.
On second thought.........oh gosh. Now I need a shower and a brain rinse.
Posted by: johncoby
at January 27, 2009 10:00 PM
Heard the working title is, "Audacity of a Dope"
Seriously, do you think that the book will not skyrocket to #1 on bestsellers list the first week? At many churches, next to the Bible and hymnal will be her book.
The Purpose Driven Life is over 30M and Warren only has man boobs
Posted by: Captain Kroc
at January 28, 2009 09:01 AM
I don't know... with the economy as bad as it is, I foresee this ending up in the discount section at B&N pretty soon
Posted by: mcblogger
at January 28, 2009 11:28 AM
Post a comment
Thanks for signing in, . Now you can comment. (sign out)
(If you haven't left a comment here before, you may need to be approved by the site owner before your comment will appear. Until then, it won't appear on the entry. Thanks for waiting.)