December 11, 2008
This week in Teh Gay
Wednesday was a Day Without Gays, where gays took the day off to protest Prop 8. Or the return of polyester, I wasn't really sure since I didn't get the memo. PDiddie has more which is funny since he's not Teh Gay and seems to know more about what's going on with my team than I.

On the subject of Prop 8, here are some good protest pics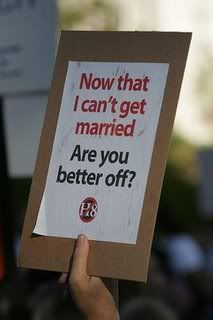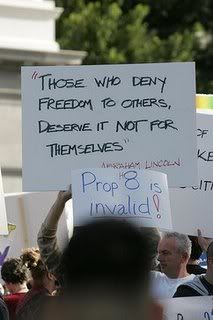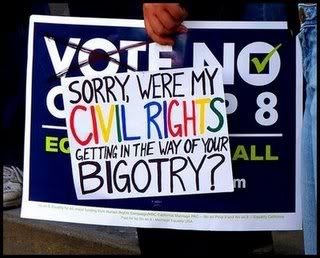 Mike Huckabee was recently on The Daily Show where he got spanked by Jon Stewart. Huckabee wanted to, at one point, make it clear that he was not a homophobe which is exceedingly difficult when you're speaking out against equal rights for gays and lesbians. And, in the case of Prop 8, openly discriminating against them.

My favorite part is when Stewart asks Huckabee when HE decided not to be gay.
Apparently, Teh Gays all need to be in 'education's camps. So say a couple of amateur hour politicos up in Oklahoma. A word of advice for the peeps up in OK, people who scream the loudest about how horrible Teh Gays are usually...

1) Know only one gay person
2) Are gay themselves
3) Are still getting over being rejected by the person in point 1

Just in case you think I'm exaggerating this...
We have to get rid of that and start curing those sinners. It's past time that this nation stopped placating sin and start putting them in education programs. Courts can force drug offenders into treatment centers and violent people into anger management. There's no reason our courts can't do that with homos.
Sure thing... tell you what, you come on down to Texas and pick me up, K? I promise, I won't shoot you with my shotgun, I'll just beat the fucking hell out of you in my front lawn.
And yeah, you slimy hick, I can do it.
Posted by mcblogger at December 11, 2008 09:12 AM
Trackback Pings
TrackBack URL for this entry:
http://www.mcblogger.com/movabletype/mt-tb.cgi/4074
Comments
Post a comment
Thanks for signing in, . Now you can comment. (sign out)
(If you haven't left a comment here before, you may need to be approved by the site owner before your comment will appear. Until then, it won't appear on the entry. Thanks for waiting.)