December 08, 2008
McCracken Releases Self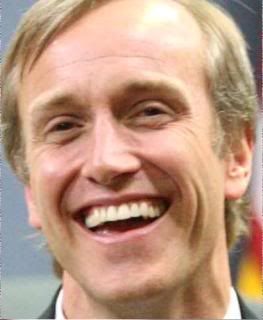 It what will surely be remembered as one of the most depressing events of 2008, Brewster today announced that he's a candidate to be Mayor. Of Austin, for those of you who are susceptible to wishful thinking and thought he'd moved and was running in another city.
He made the announcement at Heliovolt, which was featured in this article in today's Statesman entitled Economic clouds gather over solar energy. The article was about the recession and how it effects solar power system manufacturers not, as you might expect, opportunistic politicos using them as a green springboard to higher office and a fatter ego, destroying them in the process.
The article about Brewster mentions that She With The Many Names is running, Lee Leffingwell is running and Mike "If you thought Rich Oppel was crazy, watch me eat my own doodie" Levy is thinking about running.
The only question I have is why Levy, Carol and Brewster aren't all in a boob hatch in a place where the days are short and mercy is for the weak? And kudos to the Statesman for pointing out some of Brewster's more interesting flip flops, like toll roads (for, against, then for again).
Seriously, haven't these assholes done enough to Austin? Especially Brewster?
Posted by mcblogger at December 8, 2008 02:32 PM
Trackback Pings
TrackBack URL for this entry:
http://www.mcblogger.com/movabletype/mt-tb.cgi/4062
Comments
Post a comment
Thanks for signing in, . Now you can comment. (sign out)
(If you haven't left a comment here before, you may need to be approved by the site owner before your comment will appear. Until then, it won't appear on the entry. Thanks for waiting.)