November 07, 2008
Treasury Sec'y : We're not alone in hating on Summers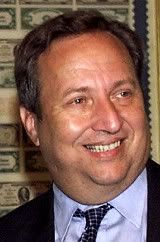 Apparently, we aren't alone in disliking Larry Summers as Treasury Sec'y.
It will not be easy to pick up the pieces and get the economy back on its feet, but we would be going in the wrong direction to put one of the people responsible for getting us in this mess in the top economic position in the Obama administration.
To put it more clearly, anyone so closely aligned to Milton Friedman = super bad choice.
A few have also mentioned Paul Krugman. While we love us some Paul, he's a master of theory but he's light on market mechanics which is exactly what we don't need at Treasury right now. We pointed it out here. And we aren't the only ones.
Posted by mcblogger at November 7, 2008 01:02 PM
Trackback Pings
TrackBack URL for this entry:
http://www.mcblogger.com/movabletype/mt-tb.cgi/3961
Comments
Post a comment
Thanks for signing in, . Now you can comment. (sign out)
(If you haven't left a comment here before, you may need to be approved by the site owner before your comment will appear. Until then, it won't appear on the entry. Thanks for waiting.)