October 24, 2008
Mike McCaul's not like you or me...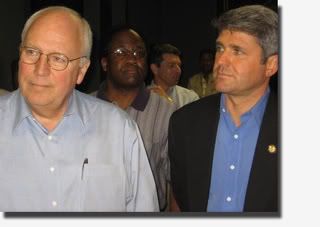 While we ARE better looking than Mike McCaul, we are most definitely not richer than Mike McCaul. Apparently, Mike wanted to keep it that way by voting against the Economic Stabilization Act that recently passed. This was the bill that, just in case you were wondering, kept us from a Depression.
Smart people, Democrats and Republicans, worked hard to create this legislation but Mike McCaul said he was against it. Against stabilizing markets. Against passing something that would keep the economy from going into a tailspin. It's really very easy to understand why he'd do something like this. He's rich. He won the ovarian lottery AND he married well. Which is nice. For him.
It does, however, kind of leave us to twist in the wind when something that effects us (but doesn't touch him) happens. It's especially funny since his 'no regulation' ideology caused this mess in the first place.
It's time to cast off the failed leadership of Micheal McCaul. Frankly, we all deserve better. Especially our troops which Congressman McCaul regards much as one would used kleenex.
Posted by mcblogger at October 24, 2008 09:10 AM
Trackback Pings
TrackBack URL for this entry:
http://www.mcblogger.com/movabletype/mt-tb.cgi/3902
Comments
Post a comment
Thanks for signing in, . Now you can comment. (sign out)
(If you haven't left a comment here before, you may need to be approved by the site owner before your comment will appear. Until then, it won't appear on the entry. Thanks for waiting.)