September 10, 2008
Damn, Obama... that's not the phrase to use!
As reported earlier, the RETARDS (still looking at you former Governor Swift) at the McCain campaign are demanding an apology from Obama for his comment in reference to McCain's weak effort to label himself as a change agent (you can put lipstick on a pig, but it's still a pig) which they interpreted (they're dumb like that) as a slam on their pathetic Veep candidate. In short they thought Obama was calling Sarah Palin a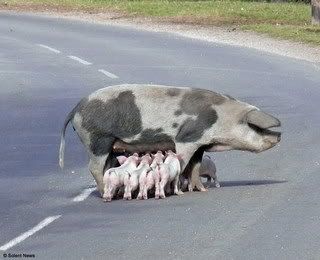 First off, I don't really want to get into a discussion on Governor Palin's sexual proclivities. I do know from experience that people who project a very dominant personality in public tend to be extremely submissive in the bedroom (not to mention being into some pretty gross stuff). AND YES, IT'S DISAPPOINTING.
Second, a quaint, parochial phrase might be a great idea, but you have to be careful which one you choose. I'd like to recommend
You can't make chicken salad out of chicken shit
to describe McCain and his worthless ideas.
What? I want to HEAR Jane Swift actually ask if Sen. Obama is calling Sen. McCain a chickenshit. Then I want her head to explode from the resulting apoplexy when the Obama campaign laughs at her.
Posted by mcblogger at September 10, 2008 01:24 PM
Trackback Pings
TrackBack URL for this entry:
http://www.mcblogger.com/movabletype/mt-tb.cgi/3775
Comments
Q.: So why didn't McPOW ask Obama to apologize for calling him a rotted fish wrapped in a newspaper?
A. Because I don't think he got it.
Posted by: PDiddie
at September 10, 2008 03:14 PM
I think we have a serious problem since Palin has locked in the trailer trash vote.
She is now the spokesperson for White Trash Bags.
Posted by: johncoby
at September 10, 2008 09:04 PM
eh... the PWT was going to vote for them anyway because they think it's stoopid we aren't drilling all over creation.
Posted by: mcblogger
at September 11, 2008 08:56 AM
Post a comment
Thanks for signing in, . Now you can comment. (sign out)
(If you haven't left a comment here before, you may need to be approved by the site owner before your comment will appear. Until then, it won't appear on the entry. Thanks for waiting.)