August 19, 2008
The Future of the Republican Party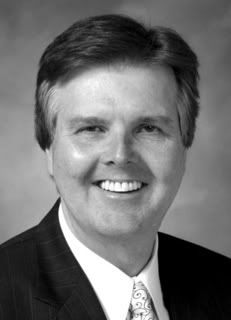 That's right, it's not up and comers like that fuckball Todd Staples who'll get his head handed to him in the R primary in 2010. It's Dan Patrick, radio personality (a contradiction in terms if ever there was one) and State Senator. If any of you 30 other men and women in the Texas Senate want to know why people look at y'all like listing agents at a funeral, he's the reason.
BOR has some information up on Dan's latest antics, trying to get on Finance where he will no doubt make such awesome reco's as:
1) Cutting taxes to zero
2) Cutting spending to zero
Which is his dream. Of course, for the rest of us who like police, state troopers, roads and schools it'll be a nightmare. But that's OK because Dan will manage to get a law passed to privatize the entire state... and we'll pay twice as much as we do now for half as much service.
Take a bow, assweevil. And do something about those fucking teeth. They look like jacked up chiclets.
Posted by mcblogger at August 19, 2008 09:58 AM
Trackback Pings
TrackBack URL for this entry:
http://www.mcblogger.com/movabletype/mt-tb.cgi/3705
Comments
Post a comment
Thanks for signing in, . Now you can comment. (sign out)
(If you haven't left a comment here before, you may need to be approved by the site owner before your comment will appear. Until then, it won't appear on the entry. Thanks for waiting.)