August 27, 2008
Senator Carona and his 'business'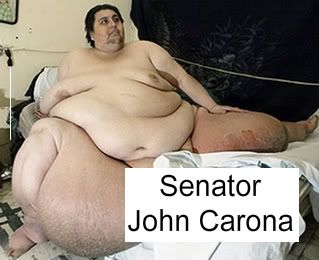 I think HOA's are really just a step above extortionists. But that's me. However, I'm sure anyone who has dealt with an HOA managed by Senator John Carona's company would probably agree. Apparently, the Senator from North Dallas has decided to run his company into the ground by taking in payments... and doing no work.
Principal Management Group wouldn't go on camera, but said the association has been without a board for five years. Now the 300 or so homes are predominately rentals and getting the landlords to pay has been impossible.(

KTRK13

)
Oh, that's not true... HOA's have the ability to foreclose. In fact, they can scare first lien holders (if the unit is financed) into paying the back HOA dues and setting up a mandatory escrow account as part of the note repayment to make sure there is never a time when HOA dues go into arrears again. I know because the servicing division at a bank I worked for did it. HOA dues are serious business. The problem is, there's no board and with no board, there's no oversight. Which means the residents have to go through an arduous process to rid themselves of the albatross. And the garbage it's left on their doorsteps.
Kudos to Harris County Commissioner El Franco Lee for stepping up to the plate and helping these folks out. And shame on Senator Carona for NOT taking the time to make things right.
Please click through here and help Rain Minns, the Democrat running to unseat Carona, today.
Posted by mcblogger at August 27, 2008 09:51 AM
Trackback Pings
TrackBack URL for this entry:
http://www.mcblogger.com/movabletype/mt-tb.cgi/3717
Comments
Post a comment
Thanks for signing in, . Now you can comment. (sign out)
(If you haven't left a comment here before, you may need to be approved by the site owner before your comment will appear. Until then, it won't appear on the entry. Thanks for waiting.)