August 25, 2008
Really, Target? Really?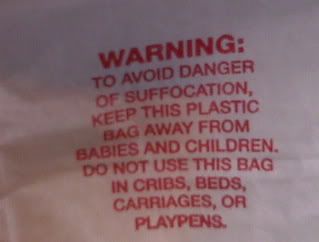 I'm guessing an overwhelming number of Target shoppers are retards who think plastic shopping bags are a swell idea for baby playtime.
What the hell does that say about me since I shop at Target? Oh, and underneath... ideas for "ways to reuse this bag". Idea #1? A trash bin liner. Clever, these people who design the bags at Target.
Posted by mcblogger at August 25, 2008 03:42 PM
Trackback Pings
TrackBack URL for this entry:
http://www.mcblogger.com/movabletype/mt-tb.cgi/3721
Comments
Post a comment
Thanks for signing in, . Now you can comment. (sign out)
(If you haven't left a comment here before, you may need to be approved by the site owner before your comment will appear. Until then, it won't appear on the entry. Thanks for waiting.)