August 04, 2008
Notes on a scandal
So, Pete Sessions (R - North Texas Douchebag) had a fundraiser in a Vegas strip club. He called it a burlesque show, but we've all been to one of those places and we think Pete's a lying sack of shit (granted that's not much of a stretch for the retard).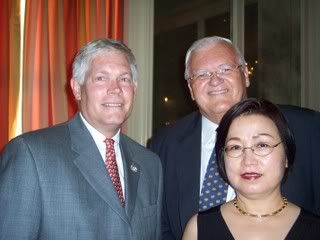 Here's Pete with some supporters. We're really not sure which one is Pete (it was hella dark in the club) but we're reasonably certain he's not Asian. And that he's not a woman.
Here's some more on the scandal with audio and then there's this from D Magazine.
Really, Pete, a burlesque show? What is this, the 1890's??!? Do you really think anyone's going to be believe that you weren't watching the dancing ladies and that 'Little Pete' (girls talk) wasn't standing at full mast?
Posted by mcblogger at August 4, 2008 03:27 PM
Trackback Pings
TrackBack URL for this entry:
http://www.mcblogger.com/movabletype/mt-tb.cgi/3657
Comments
Post a comment
Thanks for signing in, . Now you can comment. (sign out)
(If you haven't left a comment here before, you may need to be approved by the site owner before your comment will appear. Until then, it won't appear on the entry. Thanks for waiting.)