August 13, 2008
Contribute to demons, receive...
... a retarded, cheaply made stuffed elephant. Named Victor.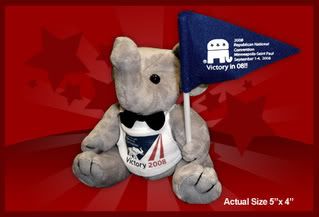 Never, ever, in the history of crap has anything this inane been created as a 'thank you' gift for giving someone money. For me, I'd rather have a handwritten letter from my Republican candidate, much like the one I get from Nagoki Obuyon who sends me a letter every week thanking me for the nutritious food that I give her with my generous donation to whichever company it is that has access to my checking account and gives gruel to starving people around the world. Sally Struthers used to shill for them, but then she got fat and they didn't think it was appropriate.
Apparently people thought SHE was eating all the food meant for those starving people. Isn't that tacky? I'm wwwaaayyy off the point here, right?
So back to the Republicans. They will be giving Victor (or one of these other Made In China nightmares) if you'll just give them $35 which is a pretty good deal when you consider they have to hold these in inventory, package and ship them to you. Oh, and they have to pay whatever nasty factory in China poops these gross things out. Unless... Well, unless they're made from the same material as the carpet in my first apartment which was a petroleum based facsimile of burlap and felt twice as rough.
Which will make this perfect for the kids when they get these from their senile (and cheap) grandparents for birthdays or Christmas. I should know. I have a framed picture of George Bush and Dick Cheney on the nightstand next to my bed at my mother's house that my grandmother gave me when she was starting to run downhill. Toward the end she was giving money to all sorts of Republican organizations. Until my father took control of her accounts and cut the freeloaders off.
That's exactly what this kind of thing is aimed at... Frugal old people who can be easily manipulated by the GOP into being scared of the terrawrists (and terra itself) and think they are giving money so their grandchildren won't go to school with poor kids. Well, that and they think the kids will LOVE the stuffed animals. Even the grandchildren that are 16. Oh, they'll listen intently at Thanksgiving as their grandchildren tell them what they want (MP3 players, a new car, college, a gross of condoms). They'll nod and smile that rheumy smile. In the end they already have your present picked out.
And they got it by helping one of their fellow geriatrics.
Posted by mcblogger at August 13, 2008 09:25 AM
Trackback Pings
TrackBack URL for this entry:
http://www.mcblogger.com/movabletype/mt-tb.cgi/3689
Comments
Post a comment
Thanks for signing in, . Now you can comment. (sign out)
(If you haven't left a comment here before, you may need to be approved by the site owner before your comment will appear. Until then, it won't appear on the entry. Thanks for waiting.)