July 01, 2008
Hate Me If You Must
But I have not yet begun to blog.
A couple of days ago I wrote
...people aren't having his name tattooed on their foreheads. (Be sure to shoot me an email when that starts to happen, m'kay?)
Since then, something has been brought to my attention, which awaits in the Supersize.
WARNING: This is a graphic image which should not be viewed by children, puppies, or anyone with a soul.
Oh. My. Godzilla.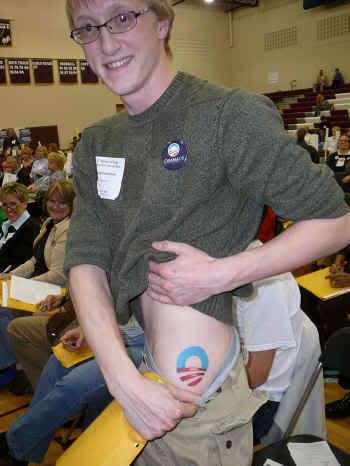 The most dedicated delegate appears to be Sam Hohneke of Muscatine; he says the Obama logo tattooed on his hip is the real thing.
Good news, ladies... he's single!
Posted by mayor mcsleaze at July 1, 2008 05:22 PM
Trackback Pings
TrackBack URL for this entry:
http://www.mcblogger.com/movabletype/mt-tb.cgi/3542
Comments
WTF? Did someone not tell him that shit won't wash off in the bathtub?
Posted by: Queen of the Universe
at July 1, 2008 09:18 PM
that should make his momma proud
Posted by: justin hamilton
at July 1, 2008 09:26 PM
Post a comment
Thanks for signing in, . Now you can comment. (sign out)
(If you haven't left a comment here before, you may need to be approved by the site owner before your comment will appear. Until then, it won't appear on the entry. Thanks for waiting.)