March 09, 2008
Someone put Rachael Ray out of my misery
This weekend, Food Network will be showing (in prime time, natch) Rachael Ray Feeds Your Pets.
This hour-long prime time special combines two of Rachael Ray's greatest passions: food and animals.

Rachael prepares three homemade recipes for her beloved dog, Isaboo, who gobbles them right up!

Rachael Ray Feeds Your Pets entertains and informs as it brings practical advice about safe and nutritious food for your pets.
This bitch and her ersatz food drives me crazy. Anyone else remember her hot dog casserole? Or maybe you remember her other elegant hot dig dishes, hot dog salad or hot dog pizza. This all pales in comparison to her scrumptious ham dip. Girl do lover her nitrates, don't she? Be honest. Even looking at this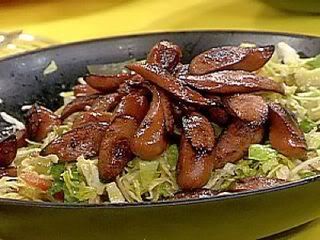 makes you wanna throw up a little, right?
If she feeds this kinda crap to humans, just what do you think she's going to feed her dog? The contents of the TB, soaked in EVOO? Why don't you watch it and tell me.

Posted by mcblogger at March 9, 2008 11:56 AM
Trackback Pings
TrackBack URL for this entry:
http://www.mcblogger.com/movabletype/mt-tb.cgi/3217
Listed below are links to weblogs that reference Someone put Rachael Ray out of my misery:
» If you're going ... from McBlogger: low-calorie but still full-flavor
... to this, would mind throwing up on her for me? Out of all the repulsive b-list celebs that SXSW brings to town, Hot Dog Salad is very much a new low.... [Read More]
Tracked on March 21, 2009 12:17 PM
Comments
Considering a dog will eat its own vomit, Rachel Ray may be at her best cooking for pets.
Posted by: Mayor McSleaze
at March 9, 2008 04:22 PM
Post a comment
Thanks for signing in, . Now you can comment. (sign out)
(If you haven't left a comment here before, you may need to be approved by the site owner before your comment will appear. Until then, it won't appear on the entry. Thanks for waiting.)