February 22, 2008
Loving me some Hillary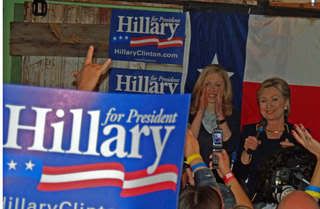 Hill's opening statement and her closing statement. Honestly, The Mayor and I were impressed and the crowd tonight was pretty clearly divided. We did, of course, differ on the impact of this statement...
Hillary just said, "If your campaign is going to be based on words, I think they should be your own." Best line of the night. She added, "If you talk about change, it's not change you can believe in, it's change you can xerox." It's a good line, but... ooh. Ouch. Even the media didn't like that one.

Does she have a tin ear? Or do people just love Obama and don't want to hear it?

When she starts saying things like that, the first reaction is "there's a good line;" the second thing you think is, "ooh, I'm glad my wife isn't like that."
For us, we were thinking..."Damn, I hope she gets to use something like that against Old Grandpa 100 Years In Iraq." Frankly, THAT'S the bite in the knife we need in this country. We need someone who cares enough about winning this election to pull out the stops and call bullshit.
Obama came across as tired and irritable. Hillary had a sharp tongue and used it to great effect. The gooders watching the debate with us of course thought she was over the top. Get over it. Politics ain't an ice cream social in Texas. Feel good crap is only going to get you so far and then you better have something there. Obama's weak on that and that's where Hillary has her impact. She gets it. She knows how to fight and win.
One last note... we got to see some OLD friends tonight, Mike, Melissa and Todd from our Austin For Kerry days. They're all about Obama. We love them anyway!
(Photo : WMM - Taken at Guero's)
Posted by mcblogger at February 22, 2008 01:22 AM
Trackback Pings
TrackBack URL for this entry:
http://www.mcblogger.com/movabletype/mt-tb.cgi/3159
Comments
It was a good line, but the Obamatons just love him that much. I'm just hoping and praying she makes enough of a comeback on the 4th to justify moving forward.
People get sucked into this "getting past the divisiveness in Washington" crap from Obama and I can't believe people buy that. The moderate republican have always been willing to work with us, so we don't need to "come together" there. The ultra right will only use a "come together" stance from a Democrat to get close enough to cut his throat. I am so tired of Democrats like John Kerry and Barack Obama who think if we just play nice with the neo-cons, we can all get along again. And I tired of our nominees being slaughtered by attack ads and our agenda being blocked at every turn. We don't need a group hug with the neo-cons, we need a fighter like Hillary whose taken a beating from them and keeps coming back swinging.
Loving Hillary always! She's our girl!
Posted by: handysandy
at February 24, 2008 07:47 AM
Handy, you nailed it. Spot the hell on!
Posted by: mcblogger
at February 27, 2008 08:59 AM
Post a comment
Thanks for signing in, . Now you can comment. (sign out)
(If you haven't left a comment here before, you may need to be approved by the site owner before your comment will appear. Until then, it won't appear on the entry. Thanks for waiting.)