November 06, 2007
Plastic electricity
Gizmodo has the low down on dual layer plastic photovoltaics. While less efficient than semiconductor based PV systems, these plastic cells are very cheap to produce and drop price/efficiency ratios significantly.
Nobel prize-winning scientist Alan Heeger and his buddies have figured out a way to print more-efficient plastic solar cells, boosting their efficiency to 6.5%, a world record for these photovoltaic polymers. Heeger and his colleagues perform this trick by using two layers of different types of plastic, and whenever one layer doesn't turn light into electricity, the other one picks up the slack. Now the scientists are getting cocky, saying they can improve the tech even further.
Plus, you can make them out of plant or petroleum polymers. Granted this is all still in prototyping, but as we've seen in other systems, the pace of R&D has accelerated in recent years. It's not unlikely that you'll see plastic PV systems commercially deployed by the end of 2009. Shortly thereafter, Sears will be begin offering it as a siding option.
Oh, and here's a graphic.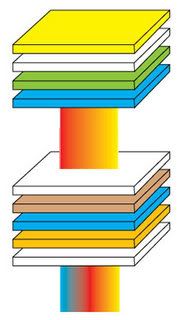 Posted by mcblogger at November 6, 2007 01:03 PM
Trackback Pings
TrackBack URL for this entry:
http://www.mcblogger.com/movabletype/mt-tb.cgi/2209
Comments
Post a comment
Thanks for signing in, . Now you can comment. (sign out)
(If you haven't left a comment here before, you may need to be approved by the site owner before your comment will appear. Until then, it won't appear on the entry. Thanks for waiting.)