June 10, 2007
Yeah... we all feel the same way...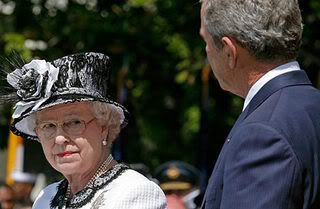 To all our British friends... this is how we all feel. We'd like to proffer an apology for the boorish behavior of our President. Hey, we just barely tolerate him.
(props to PinkDome for the great pic)
Posted by mcblogger at June 10, 2007 12:37 PM
Trackback Pings
TrackBack URL for this entry:
http://www.mcblogger.com/movabletype/mt-tb.cgi/1916
Comments
Old news, McB! Today's gaffe is Georgie calling the Pope "Benny" and asking him what the deal is with his hat.
Posted by: Mayor McSleaze
at June 10, 2007 01:56 PM
I know... I resurrected this from Dead Post Storage and just happen to love image.
Posted by: mcblogger
at June 10, 2007 04:52 PM
Post a comment
Thanks for signing in, . Now you can comment. (sign out)
(If you haven't left a comment here before, you may need to be approved by the site owner before your comment will appear. Until then, it won't appear on the entry. Thanks for waiting.)