June 22, 2007
The world will end during or after 2060
According to Isaac Newton's calculations, recently revealed as part of a public release of Newton's papers by the Israeli National Library, the world will end sometime during or after (but not before, damnit!) 2060.
In one manuscript from the early 1700s, Newton used the cryptic Book of Daniel to calculate the date for the apocalypse, reaching the conclusion that the world would end no earlier than 2060.

"It may end later, but I see no reason for its ending sooner," Newton wrote. However, he added, "This I mention not to assert when the time of the end shall be, but to put a stop to the rash conjectures of fanciful men who are frequently predicting the time of the end, and by doing so bring the sacred prophesies into discredit as often as their predictions fail."
Would someone please clue Robertson and the other 'fanciful men' in? As for me, I'll be in my 80's and with the miracle of cosmetic surgery, I should look like this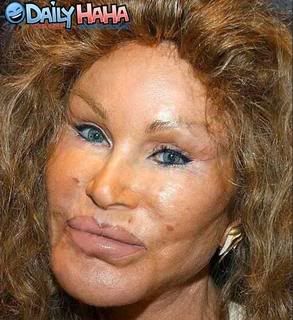 No, I'm not going to change gender. I predict that by the spring of 2059, long hair will be in style for men. So will cat faces.
Posted by mcblogger at June 22, 2007 05:16 PM
Trackback Pings
TrackBack URL for this entry:
http://www.mcblogger.com/movabletype/mt-tb.cgi/2097
Comments
Post a comment
Thanks for signing in, . Now you can comment. (sign out)
(If you haven't left a comment here before, you may need to be approved by the site owner before your comment will appear. Until then, it won't appear on the entry. Thanks for waiting.)