June 18, 2007
Run, Rick... RUN!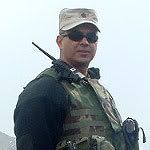 It's not often I'll jump out for a candidate this far away from the Primary. It's also somewhat rare that the Mayor and I will disagree on anything. However, I'm doing something a little unusual because I'm ready to make some waves and I'm ready for candidate that will
BEAT THE SHIT OUT


OF CORNYN.
IMHO, that guy is Rick Noriega. Now, if we can only get him to run... Draft Rick Noriega is a great start and I invite you all to participate. Noriega is the only candidate with the combination of legislative and life experience that will allow him to challenge Cornyn on a level over and above anything he's ever faced.
You'll notice I said it's rare that the Mayor and I disagree. On this, I'm speaking only for myself. I think Spamburgler and Boobilicious are on board with Noriega as well, but I haven't been able to reach them since they've been on a month long bender at some ersatz resort near the Salton Sea. The Mayor's minimum requirement for a candidate is that they look 'vaguely humanoid'. So far, Emil Reichstadt and Mikal Watts have announced a run and both, clearly, fall within the parameters of what the Mayor considers a 'good candidate'. Why such low requirements? Whoever the nominee is, he/she will have to face Cornyn who looks like a cadaver. From an Ed Wood movie.
Whatever happens, Texas Democrats will have a much better looking candidate than the Republicans. Don't laugh, it's more important than you think.
So, the Mayor has opted to withhold his endorsement until he's able to meet all the candidates. It's the sensible thing to do so you know I want none of it.
For me, I'm with Noriega. Now all he has to do is file. Come on, Rick! Texas needs you! I like Mikal fine, but it's you I want to be our candidate. Don't make me settle for less!
Posted by mcblogger at June 18, 2007 01:36 PM
Trackback Pings
TrackBack URL for this entry:
http://www.mcblogger.com/movabletype/mt-tb.cgi/2093
Comments
Spamburgler sezs: Go Rick, beat the shit out of cornyn.
Posted by: spamburgler
at June 18, 2007 05:29 PM
Post a comment
Thanks for signing in, . Now you can comment. (sign out)
(If you haven't left a comment here before, you may need to be approved by the site owner before your comment will appear. Until then, it won't appear on the entry. Thanks for waiting.)