May 11, 2007
Who'da thunk it? Lamar Smith still dumb as a chicken sandwich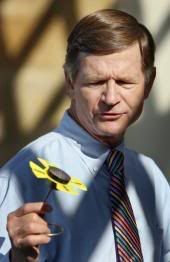 You might wonder what went through the dinosaurs' walnut-sized brains during that brief period between that big ol' rock hitting their planet and extinction. Chances are their thought processes were not unlike those regularly displayed by Lamar Smith.
Matt over at BOR has a post up about my former congressman . The CD-21 Skidmark thinks it's time Congress abandon its "fishing expedition" against that nice Alberto The Torture Guy Gonzales. Speaking with the same earnestness as a man who has just been hit on the head with a shovel, Tom DeLay's bootlicker says
If there are no fish in this lake, we should reel in our lines of question, dock our empty boat and turn to more pressing issues.
As Gonzales himself might say, I can't recall the last time I've heard a more idiotic statement than that. If Congressman Clueless would just pull his head out of his ass for just a minute, he might discover that the "Justice" Department scandal ocean is teeming with fish (and not a few bodies as well).
Posted by mayor mcsleaze at May 11, 2007 12:49 PM
Trackback Pings
TrackBack URL for this entry:
http://www.mcblogger.com/movabletype/mt-tb.cgi/1927
Comments
Post a comment
Thanks for signing in, . Now you can comment. (sign out)
(If you haven't left a comment here before, you may need to be approved by the site owner before your comment will appear. Until then, it won't appear on the entry. Thanks for waiting.)