May 05, 2007
Draft McSleaze for TDP Chair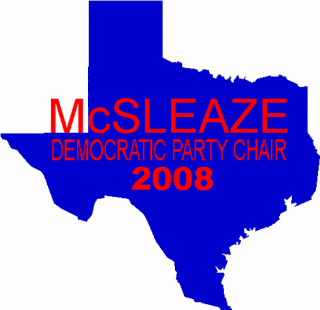 Recently, while at a meeting here in Austin it was suggested that I should run for TDP Chair. This drew raucous laughter, but it made me think. Maybe someone should run for TDP Chair. That someone should not be me, obviously... I'm way too nice. What's needed is a real asshole, someone who can whip everyone into shape while turning TinaFish into his very own pony. There's only one person who can do that. One person with the kind of personal will and evil genius that can make grown men weep, women swoon and turn Texas blue again.
That person is Mayor McSleaze. We're going to draft him to run because TDP needs some change. And some cheap labor imported from overseas through McSleaze's sweatshop contacts. No doubt some of the more liberal elements of the party will have a problem with the fact that McSleaze likes to move his businesses into areas where labor is cheapest and weakest. However, he's just bringing them up to our standards. For example, he recently implemented a 20 minute break per 12 hour shift! He's also instituted a wonderful prescription drug program in conjunction with PPDPharmaco. Needless to say, McSleaze is the real deal... true progressive leadership for the 21st century and beyond.
Truly, 2008 will be an historic realignment cycle where all that we've come to know will be put in question. The Republicans have their evil genius, isn't it best we have our own? While we may revile him for his invention of the boy band, it's just that kind of vengefulness that will restore Texas Democrats to control of government.
Posted by mcblogger at May 5, 2007 04:03 PM
Trackback Pings
TrackBack URL for this entry:
http://www.mcblogger.com/movabletype/mt-tb.cgi/1852
Comments
Yes, but which endorsements will he seek?
Posted by: Karl-T
at May 6, 2007 01:58 PM
Oh, he's already rec'd more than a few... you'll just have to be patient!
Posted by: mcblogger
at May 7, 2007 08:47 AM
Post a comment
Thanks for signing in, . Now you can comment. (sign out)
(If you haven't left a comment here before, you may need to be approved by the site owner before your comment will appear. Until then, it won't appear on the entry. Thanks for waiting.)