May 09, 2007
Corpsyn votes against capitalism?!?!?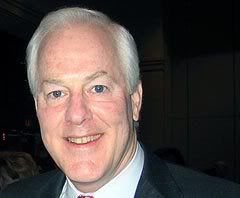 Somervell County Salon has the deets on Corpsyn's vote against price negotiation for drugs. Why the hell wouldn't he want to give America's senior citizens the ability to get the best prices for the medications they need to stay alive?
For that matter, WTF is a REPUBLICAN doing telling folks they can't negotiate for the best price? Negotiation is one of the foundations of modern capitalism. Is Corpsyn really a COMMUNIST?
Now he's voting against drug importation? Come on! Does this guy even care about ordinary Texans or only his big pharma donors?
Posted by mcblogger at May 9, 2007 11:21 AM
Trackback Pings
TrackBack URL for this entry:
http://www.mcblogger.com/movabletype/mt-tb.cgi/1857
Comments
Post a comment
Thanks for signing in, . Now you can comment. (sign out)
(If you haven't left a comment here before, you may need to be approved by the site owner before your comment will appear. Until then, it won't appear on the entry. Thanks for waiting.)