January 22, 2007
Shelly was wrong?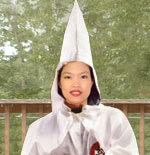 Remember the AP story that Shelly claimed was fake? Turns out, not so much.
I relayed information from multiple sources--CPATT, Centcom, and two other military sources on the ground in Iraq-- that the Associated Press's disputed source, Jamil Hussein, could not be found. As I noted on the 4th, the AP reported that the Ministry of Interior in Iraq has now said a Captain Jamil Hussein does work in the al Khadra police station. I regret the error. But no blogger should apologize for raising legitimate questions about AP's transparency, its reliance on local foreign stringers of dubious origins, and information that sources such as Hussein have provided the AP. I will continue to pursue some of the unresolved issues related to this.
So, basically, she was just quoting other sources and really wasn't that bent out of shape about things. But really she was (her panties were in a full twist over it). She further resolves to hold the AP's feet to the fire on every story, no matter how well documented it is. She's also committed to eat nothing but candy corn until the AP admits that they SHOULD HAVE GIVEN HER NAMES. Personally, I think it's a pretty big deal because candy corn is gross. And it's not going to mix well with the puppy blood she normally uses to wash food down.
Media Matters has more on the fallout from all over the nutter perspective.
Posted by mcblogger at January 22, 2007 11:20 AM
Trackback Pings
TrackBack URL for this entry:
http://www.mcblogger.com/movabletype/mt-tb.cgi/1432
Comments
Post a comment
Thanks for signing in, . Now you can comment. (sign out)
(If you haven't left a comment here before, you may need to be approved by the site owner before your comment will appear. Until then, it won't appear on the entry. Thanks for waiting.)