January 04, 2007
A Legacy is not just a station wagon, Governor 39%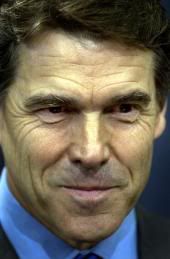 Perry is now the 3rd longest (self)serving Governor in the history of the State of Texas. Which is exciting if you're from a state other than Texas and only then because he's not your Governor. Seriously, try to get the New Mexicans to take him. Even Arkansas has a better Governor than 39%. He's kind of a geek but he at least has a personality that doesn't drive him to make a double-entendre out of eating roast beef and, to my knowledge, no one has ever thought he was gay. Gay men aren't typically named Huckabee, unless they are drag queens.
Naturally, at the beginning of a second full term, most people elected to an executive office would be thinking about a legacy of good government, reform and building an enduring, broad based prosperity. But not Rick Perry who apparently thinks that the best way to guarantee a legacy is to wait until the end of your term to worry about it. Is it any wonder why only 39% of the people in this state voted to re-elect him? Some of the 61% who wanted someone else hated him sooo much they voted for comedian Kinky Friedman who can only be considered a comedian if you think Carrot Top is funny. And if you do, well... just keep that to yourself.
While Perry may be unconcerned, his Spokespuppy Robert Black (no relation to Lewis Black who's actually funny, clever and attractive)
Black said one of the most visible legacies of Perry's administration will be innovative financing to build highways and the

Trans-Texas Corridor

system.

"Texas is pouring more concrete than any other state in the nation," Black said. "That is the most tangible thing that Texans will see for generations."
OK, so Robert really is pretty funny. He's calling government secured private debt 'innovation' which is a laugh riot since it's been around for DECADES. And what will private enterprise use to pay off their low interest rate debt? Tolls paid by you and me and everyone we know.
Black said Perry also oversaw lawsuit reform and an overhaul of the public school finance system. He also noted that Perry got a balanced budget without raising taxes in the face of a $10 billion deficit and won passage of a new business tax this year to pay for property tax cuts.

"There has not been anyone who cut taxes more than Rick Perry," Black said.
Robert, you are a comedic GENIUS! Keeping people from suing corporations for damages is one of the hallmarks of Republican leadership. The really cool part is that even with this 'lawsuit reform' (I chuckle a little when I write that phrase), our insurance rates STILL are among the highest in the nation. As for the tax cutting part... did he cut them before he raised them or vice-versa? I forget.
You can see Robert Black at the Cap City Comedy Club all next week at 6:00 and 9:00. Should you miss that engagement you can also catch him at his day job at the Capitol. Tips are graciously accepted.
Posted by mcblogger at January 4, 2007 10:46 AM
Trackback Pings
TrackBack URL for this entry:
http://www.mcblogger.com/movabletype/mt-tb.cgi/1348
Listed below are links to weblogs that reference A Legacy is not just a station wagon, Governor 39%:
» cp sex lolita young tgp top from tiny teens pic
adult sexy cat costume [Read More]
Tracked on January 27, 2007 11:12 PM
Comments
Post a comment
Thanks for signing in, . Now you can comment. (sign out)
(If you haven't left a comment here before, you may need to be approved by the site owner before your comment will appear. Until then, it won't appear on the entry. Thanks for waiting.)