January 19, 2007
But we still want to have sex with you, Ted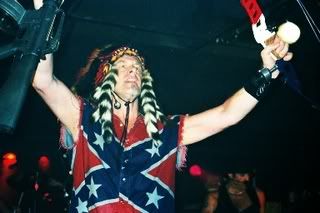 Dear Ted:
I was a little hurt by your remark at the Governor's Inaugural Dance Party. I'm fine with you wearing a Confederate flag shirt, I even find it kind of sexy in a dirty, rural gas-station-attendant fantasy kind of way. Same with the machine guns, but more in a hot-marine-looking-for-fun... you get the idea. I honestly think you're dumb about the language thing, though... this is Texas. Spanish has ALWAYS been spoken here. GTF over it. What really got me was your marriage remark, specifically how much you like the fact that voters approved a ban on 'Faggots gettin' hitched'.
While I've never been that big on marriage, I always kinda harbored the hope that one day you'd walk into my life, take me up in your scrawny arms, hold me as gently as you would one of your bows and kiss me, passionately with all your pent up desire. Then we'd have a great big wedding. It would be a magical day, even though you'll probably get too drunk and throw up everywhere.
KIDDING! I just wanted to grudge fuck you because occasionally I feel a need to scratch an itch called 'talentless bore with greasy, stringy hair'. I sometimes get one called 'one hit wonders', but it rarely makes me think of you. Most of the time, it makes me think of Robbie Williams. Angry sex soooo rocks.
That's right, Ted Nugent. I want to fuck you. Over and over again. I totally think you're gross, but it doesn't stop this weird desire to tap that ass. I want to pound that mangina until you apologize for 'Cat Scratch Fever' and 'Fred Bear'. Whenever you're ready, just drop me a note. I really want to hook up.
XXOO,
McB
(photo credit:Horizontal Bowhunter Magazine... like I could make that up)
Posted by mcblogger at January 19, 2007 11:37 AM
Trackback Pings
TrackBack URL for this entry:
http://www.mcblogger.com/movabletype/mt-tb.cgi/1468
Comments
Post a comment
Thanks for signing in, . Now you can comment. (sign out)
(If you haven't left a comment here before, you may need to be approved by the site owner before your comment will appear. Until then, it won't appear on the entry. Thanks for waiting.)