December 07, 2006
In which Shelly loses her head... again.
ELLN reported on the pajamahadeen going on and on upbraiding the AP on a story that went out on the wire regarding Shiite militia sacking a Sunni mosque, then setting it on fire, burning alive 6 people. The AP has gone back and sourced the story several times yet the conservative bloggers just won't believe it (it's because Tony Snow didn't tell them it was, in fact, real).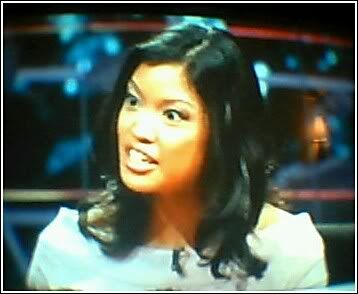 Shelly is, as you might expect, livid. Of course, when she's not fawning over Connecticut native President Bush or Republicans in general, she's livid about something the Democrats have done. Or the media. Or the media AND the Democrats. Even if it's all in her head. I wonder if Sister Ruth's mobile is in there as well?
I'm off topic, aren't I?
Moving on, Shelly is livid about the whole thing. She's angry that the story that's been sourced and documented but which she claims is just not real, keeps getting press. It occurs to me that you could run into her on a street, tell her Hillary Clinton said the Earth was round and she would disagree. She even asked the AP to reveal the names of field correspondents to her:
Last week, I asked the AP's media relations director Linda Wagner:

Who were the two reporters who went back to the Hurriyah neighborhood around the Mustafa mosque to conduct the follow-up reporting?

Here was her e-mail response:

Michelle, We don't publicly identify reporters who work in the field in Iraq because it would endanger their lives. But both are reporters that we know well and who have worked for us for an extended period of time.

Linda M. Wagner
Director of Media Relations and Public Affairs
Associated Press, Corporate Communications
Shelly was unsatisfied by this response (bad Linda!) and DEMANDS. THE. NAMES. While I'm with Shelly on the whole 'MSM sucks' thing, she takes it a bit far in standing adamantly in doubt of anything they write. At least, that is, anything with which she disagrees.
Way to keep the bila a-flowin', Shelly!
Posted by mcblogger at December 7, 2006 03:04 PM
Trackback Pings
TrackBack URL for this entry:
http://www.mcblogger.com/movabletype/mt-tb.cgi/1223
Listed below are links to weblogs that reference In which Shelly loses her head... again.:
» exciting advertising for teens from asian boy connecticut
sora nude [Read More]
Tracked on January 29, 2007 08:39 PM
Comments
Post a comment
Thanks for signing in, . Now you can comment. (sign out)
(If you haven't left a comment here before, you may need to be approved by the site owner before your comment will appear. Until then, it won't appear on the entry. Thanks for waiting.)