December 13, 2006
I like Senator Obama, but...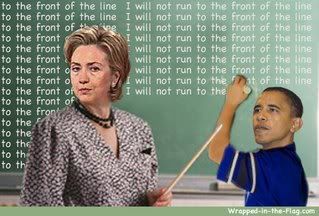 I've read about Sen. Obama's trip to New Hampshire. It seems like everyone had a great time. And that's nice. However, I think this quote sums up the trip (and my feelings) wonderfully:
Some are: "He still has a lot more to prove to people here," said New Hampshire Democratic state Rep.-elect Dan McKenna, after hearing Obama address a rapturous crowd of 1,500 party activists in Manchester on Sunday. "The next time he comes here, people will be looking for more substance."
The excitement over Obama is "great for the party, great for the country," said State Sen. Lou D'Allesandro.But in almost the next breath he said, "All we've gotten from Barack is good looks, good rhetoric, and great publicity."
For all the hype, what do we know about the man? What do we know about where he wants to lead? Don't misunderstand, I like him as a Senator. I even think he might make an excellent VP candidate in 2008. HOWEVER, top of the ticket? We need more than style... we need substance.
And no, I'm not talking about Hillary.
Posted by mcblogger at December 13, 2006 02:02 PM
Trackback Pings
TrackBack URL for this entry:
http://www.mcblogger.com/movabletype/mt-tb.cgi/1265
Listed below are links to weblogs that reference I like Senator Obama, but...:
» Calling Bullshit : Obama announces (and navel gazes) from McBlogger: low-calorie but still full-flavor
Here's the video... Our biggest problem is the smallness of our politics? With that one simple message and his announcement/non-announcement (No plans? No info? You're not going to talk until FEBRUARY?), Senator Obama shows brilliantly why he's the wro... [Read More]
Tracked on January 16, 2007 02:12 PM
» shemale fucking female free movies from how do hungarians celebrate holidays?
puple thumbs [Read More]
Tracked on January 30, 2007 07:36 AM
Comments
Are you talking about my honey John Edwards? Obama is the souffle of the day - pretty, but ready to fall.
Posted by: DemoDame at December 14, 2006 10:48 PM
Post a comment
Thanks for signing in, . Now you can comment. (sign out)
(If you haven't left a comment here before, you may need to be approved by the site owner before your comment will appear. Until then, it won't appear on the entry. Thanks for waiting.)