August 17, 2006
Say hi to the buttertroll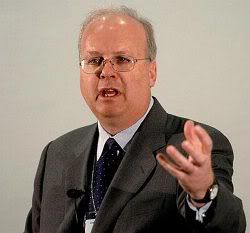 Can you believe that there are actually people who've invited this assclown to town this Saturday?
Of course, this being Austin, he can expect a warm welcome...
Citizen's Arrest of Karl Rove!
Saturday, August 19th @ 5:30PM
Meet up with Cindy Sheehan, CODEPINK Austin, and National CODEPINK to make a citizen's arrest of Rove for his numerous crimes.

Bring signs, banners, and any thing else to let Rove and his supporters know that there is a new branch of law enforcement in town and we plan to hold them accountable.

We will gather outside the parking garage of the Renaissance Hotel. If you are facing the main entrance of the hotel, the garage is on your right.
Posted by mayor mcsleaze at August 17, 2006 10:39 PM
Trackback Pings
TrackBack URL for this entry:
http://www.mcblogger.com/movabletype/mt-tb.cgi/729
Comments
Turd blossoms should not be seen in the hot summer months. They carry infections disease and all precautions should be taken to eradicate them.
Posted by: Sonia at August 18, 2006 09:24 AM
and buttertrolls melt. My happy thought for the day is that Karl Rove will die one day of arteriosclerosis. I probably will as well, but he'll be first and I'll come put a Texas Democrat sticker on this grave.
Posted by: mcblogger at August 18, 2006 09:53 AM
A Texas Democrat sticker on his grave? I'll be happy just to piss on it.
Posted by: mayor mcsleaze at August 18, 2006 03:16 PM
It's really the little things that give you pleasure...
Posted by: mcblogger at August 18, 2006 11:02 PM
Post a comment
Thanks for signing in, . Now you can comment. (sign out)
(If you haven't left a comment here before, you may need to be approved by the site owner before your comment will appear. Until then, it won't appear on the entry. Thanks for waiting.)