August 17, 2006
The best mobile laser platform money can buy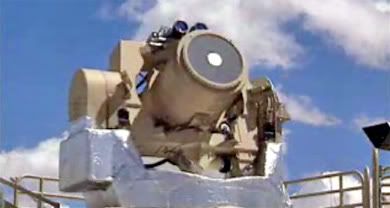 I want one of these. I want to have it on top of my car for those pesky slow drivers.
What is it it?
THE MOBILE TACTICAL HIGH ENERGY LASER.
Here's how it works...
The target destruction is achieved by projecting a highly focused, high-power laser beam, delivered by a chemical laser, with enough energy to affect the target, and explode it in midair
I see no reason why this shouldn't work on the asshole driving too slow in front of me in the far left lane. With a W04 sticker on the back of their car.
The video is long and rather choppy but the scenes of a missile being blown up are decent. Kinda makes you wonder why Bush is on about Patriot missile systems.
Posted by mcblogger at August 17, 2006 02:33 PM
Trackback Pings
TrackBack URL for this entry:
http://www.mcblogger.com/movabletype/mt-tb.cgi/714
Comments
Post a comment
Thanks for signing in, . Now you can comment. (sign out)
(If you haven't left a comment here before, you may need to be approved by the site owner before your comment will appear. Until then, it won't appear on the entry. Thanks for waiting.)