August 14, 2006
Bentzin (R-Douche) has decided to DeLay himself in HD 48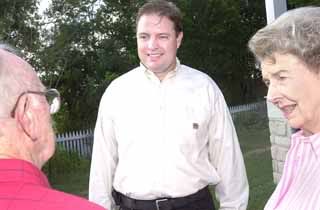 You had to see it coming... Ben Bentzin, Republican Douche, has decided to drop out of the election for State Rep in HD 48 citing a negative Democratic campaign which makes him the ultimate in whiny titty babies.
I've never understood why pointing out facts about funding are termed negative. Ben... you took money from Bob Perry and in Austin that's going to go as far with voters as admitting a relationship with an 11 year old boy. Don't blame Democrats for your own stupidity.
Posted by mcblogger at August 14, 2006 12:12 PM
Trackback Pings
TrackBack URL for this entry:
http://www.mcblogger.com/movabletype/mt-tb.cgi/712
Comments
Bentzin was recruited by the Republicans because he had deep pockets and could presumably hold onto the seat in a GOP-leaning suburban district. He was a terrible candidate with a a terrible team and his exit shows no class. But give Donna Howard credit: she ran an intelligent campaign that should serve as a model for other Democrats in swing districts. She deserves the credit for her own win, not that bumbling loser,
Posted by: d at August 15, 2006 06:14 AM
Agreed. She did an excellent job with the race.
Posted by: mcblogger at August 15, 2006 09:39 AM
How can you credit Howard with running a good race against a bad candidate? You can't have it both ways, and there's no way to know if she can run a good campaign against a good candidate. Guess we'll have to wait until '08.
Posted by: Token at August 15, 2006 09:23 PM
Howard votes with Craddick and you all love her? fuck nuts....
Posted by: mcblogger's blow up doll at August 16, 2006 10:48 PM
Post a comment
Thanks for signing in, . Now you can comment. (sign out)
(If you haven't left a comment here before, you may need to be approved by the site owner before your comment will appear. Until then, it won't appear on the entry. Thanks for waiting.)