July 27, 2006
TTC Road Show in Temple
I went, I saw, I exhausted myself handing out flyers and bumper stickers for Hank. I ran into CanOFun as well as Bree Buchanon, Fred Head, Edward Lindsay, Linda Stall from Corridor Watch, Agnes from Blackland Coalition, Barbara McLean from Forthright, 3rd Left Productions (she's making a TTC doc), Mary Beth Harrell and of course OSB.
1472. That was the official count of the people who attended and signed TX DoT's form. There were probably a few hundred more who didn't. If you have a chance to go to one of the meetings, you really should. This thing is a nightmare, more than I ever could have imagined. Not only is it environmentally a bad idea, it will do nothing to relieve congestion in the cities and will more than likely restrict building additional freeways capacity.
Of the 1472, there were 11 who were for it, including the galactically stupid Mayor of Temple who WOULD.NOT.SHUT.UP. Fucktard. Honestly, the WORST politician I have ever seen. I was rooting for some of the good ole boys who were standing around me to kick the shit out of him in the parking lot as he tried to weasel out. Alas, no bloodsport.
Talked to a TX DoT rep who said the money required to fully expand the 35 freeway to the fifty year traffic projection is 28 bn. That was the official number. UNOFFICIALLY, they were talking about 12-16. Big money to be sure but a hell of a lot better than 30-40 TTC-35 is probably going to cost.
More and some pics in the supersize
The people I felt worst for (other than those who will lose their homes if this thing gets built) were the TX DoT staff who were friendly, courteous and TOLD what to say and do. I don't like Perry playing politics with the staff, especially when he tasks them with selling such an unpopular concept.
All in all a great meeting. Howdy to everyone!
OSB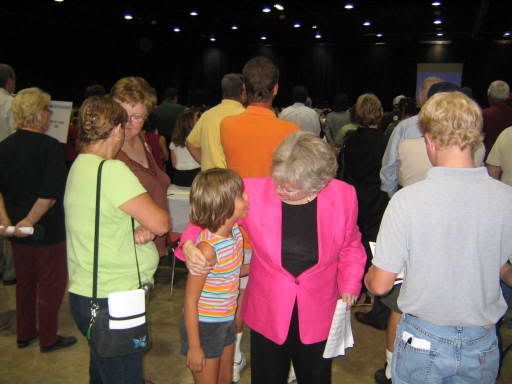 Hank

Mary Beth Harrell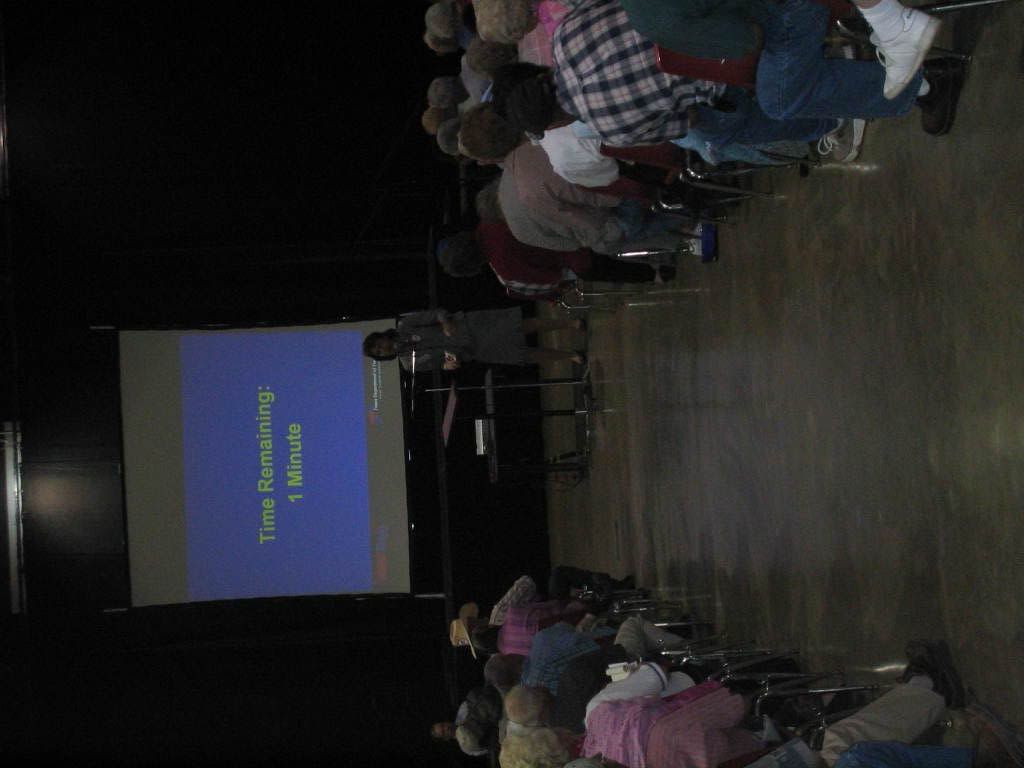 Hank talking to folks
Posted by mcblogger at July 27, 2006 12:10 PM
Trackback Pings
TrackBack URL for this entry:
http://www.mcblogger.com/movabletype/mt-tb.cgi/630
Comments
Post a comment
Thanks for signing in, . Now you can comment. (sign out)
(If you haven't left a comment here before, you may need to be approved by the site owner before your comment will appear. Until then, it won't appear on the entry. Thanks for waiting.)