July 26, 2006
Todd Staples : Promoter of Terrorism
Protecting Texas families by advocating sound anti-terrorism and inspection policies in conjunction with federal officials to ensure a safe and reliable food and water supply, and to secure our borders.
That's lifted straight off Todd's lame page-o-goals (Don't Get Stapled rips on another of Todd's goals here). One has to wonder how Todd's pet project, the TTC will fit into this. It allows for trucks, etc. to pass THROUGHcheck the Texas/Mexico border and NOT BE TOUCHED UNTIL THE SHIPMENT HITS THE TRANSFER HUB IN KANSAS CITY. That's right, Todd's Trans-Texas Corridor could conceiveably allow a nuclear weapon to be transported into the United States and Travel within 30 miles of San Antonio, Austin and Dallas, putting more than TEN MILLION TEXANS at risk.
Sound anti-terrorism? I'm calling bullshit on Todd. He's pandering and cares as much about your security as he does about the rights of hispanics to vote in the valley (the SC recently ruled redistricting that Todd helped push through back in 2003 violated the rights of hispanics in The Valley).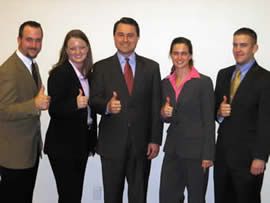 Todd's helping al Qaida by making it easier for them to strike deep in the heart of Texas.
Posted by mcblogger at July 26, 2006 09:54 AM
Trackback Pings
TrackBack URL for this entry:
http://www.mcblogger.com/movabletype/mt-tb.cgi/625
Comments
sound anti-terrorism policies? Does that include blaring Nelly Furtado songs at the border or something? I'd run too if that were the case!
Posted by: Daisy at July 26, 2006 12:57 PM
A-to-the-men, sista! OR Justin Timberlake.
Posted by: mcblogger at July 26, 2006 01:14 PM
speaking of songs to run away from, check out the picture above of Todd and his minions. Now imagine them performing as a band to the tune of "Afternoon Delight". Surreal? maybe, but the lameness of the song is definitely commensurate with the lameness of the group. by the way, i'm enjoying reading all the Todd sucks entries - i had no idea we had such rich material on this guy.
Posted by: Harry Balczak at July 26, 2006 01:21 PM
Harry, no joke... we're just scratching the surface. You have to actually dig him out of the crusty bottom of a Houston sewer and hose him down BEFORE you could just call him slimy.
Just wait... it's going to get so much better!
Posted by: mcblogger at July 26, 2006 01:26 PM
Goddamn, that IS a freakishly large head.
Posted by: PDiddie at July 27, 2006 01:36 AM
isn't it though!
Posted by: mcblogger at July 27, 2006 02:06 AM
A cracked bell can never sound well... Alveredus
Posted by: Alveredus at November 21, 2006 05:26 PM
Post a comment
Thanks for signing in, . Now you can comment. (sign out)
(If you haven't left a comment here before, you may need to be approved by the site owner before your comment will appear. Until then, it won't appear on the entry. Thanks for waiting.)