July 27, 2006
Myron LOVES him some oil rigs in the Gulf
(Seriously, you Republicans have got to hire better spokespeople. Myron makes my eyes hurt and he's just so fucking dumb)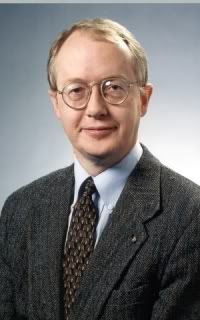 Our old pal Myron Ebell was on CNBC advocating unrestricted drilling in the Gulf of Mexico. Sounds like a great idea, right? Why not put thousands of tons of machinery in one of the most hurricane prone bodies of water on the planet. Even better, let's use the machinery to drill a hole in the floor of the ocean and suck up fuels like natural gas a petroleum. You know, if they spill into the ocean it's only the people on the beachfront in MS, AL, LA, FL and TX who'll be forced to deal with it. At least they're already voting Republican so they're not going anywhere.
Myron LOVES to shill for the people who write his checks, the oil companies that are the ultimate funding source of his shell of an organization, the Competitive Enterprise Institute. They should call themselves the Big Oil Prostitute.
I can dream of a day when the Gulf is so crowded with drilling platforms that you can literally hop from platform to platform, from Texas to the Yucatan. Anyone else think this is kind of dumb? The idea that we can drill our way to energy independence is dumb from a number of perspectives not the least of which is that there's an environmentally better alternative that actually COULD make us independent.
If only people like Myron would stop sacrificing their integrity.
Posted by mcblogger at July 27, 2006 01:15 AM
Trackback Pings
TrackBack URL for this entry:
http://www.mcblogger.com/movabletype/mt-tb.cgi/629
Comments
Post a comment
Thanks for signing in, . Now you can comment. (sign out)
(If you haven't left a comment here before, you may need to be approved by the site owner before your comment will appear. Until then, it won't appear on the entry. Thanks for waiting.)